Since the start of Season 2, we've been working with pro players to fine tune the map Shrine, specifically in regards to Red vs. Blue balance as it pertains to spawning and line of sight discrepancies. With the help of professional teams and players, we've updated the map, and it is now available in the Official HCS File Share, under "HCS Shrine (v2)" and "HCS Shrine Assault (v2)." To learn how to grab the files with the new "Find Player" feature, head here.
As originally stated on May 22, and confirmed in last week's community update, this map will be used in official HCS play starting with HCS Cup #5 this weekend, June 6 and 7.
Here's a detailed look at the changes that were made to balance the Red Rocks with the Blue Rocks:
We've taken a couple small pillars and a 1x1 Flat Block and merged them into the two rocks at the bottom of the Rock Ramp. This should make the rocks, and thus the cover and lines of sight, more symmetrical to the Blue Side. To start, let's take a look at the angle an opposing player would have from Red Jump Up Window. As you see below, the new tall pillar blocks some visibility into the back rocks: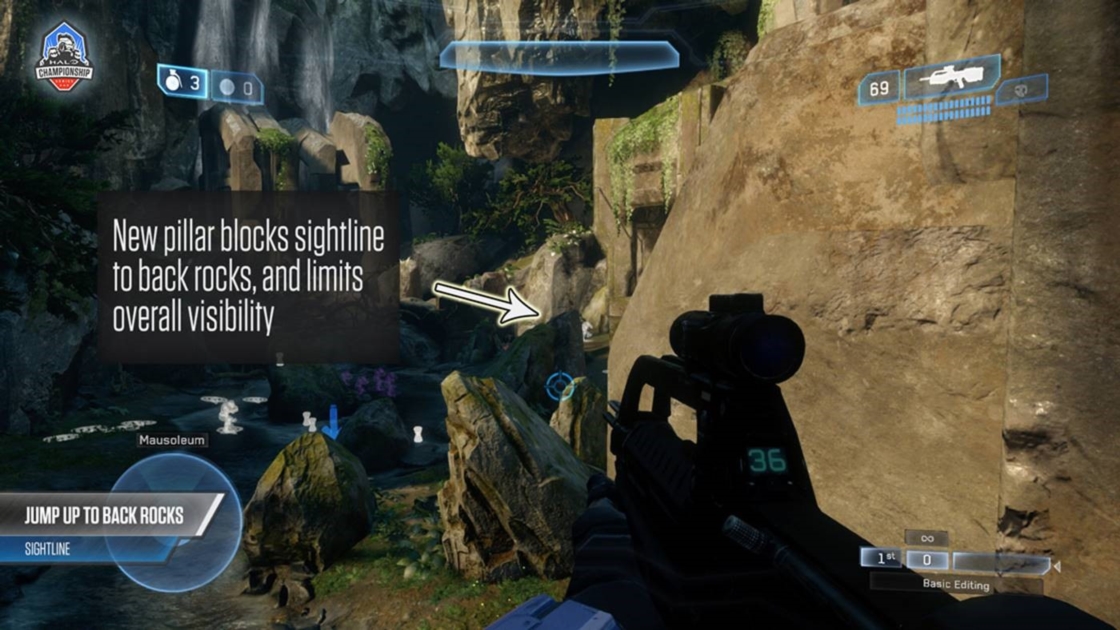 Next, let's take a look at how things have changed from the Red back rocks, looking out: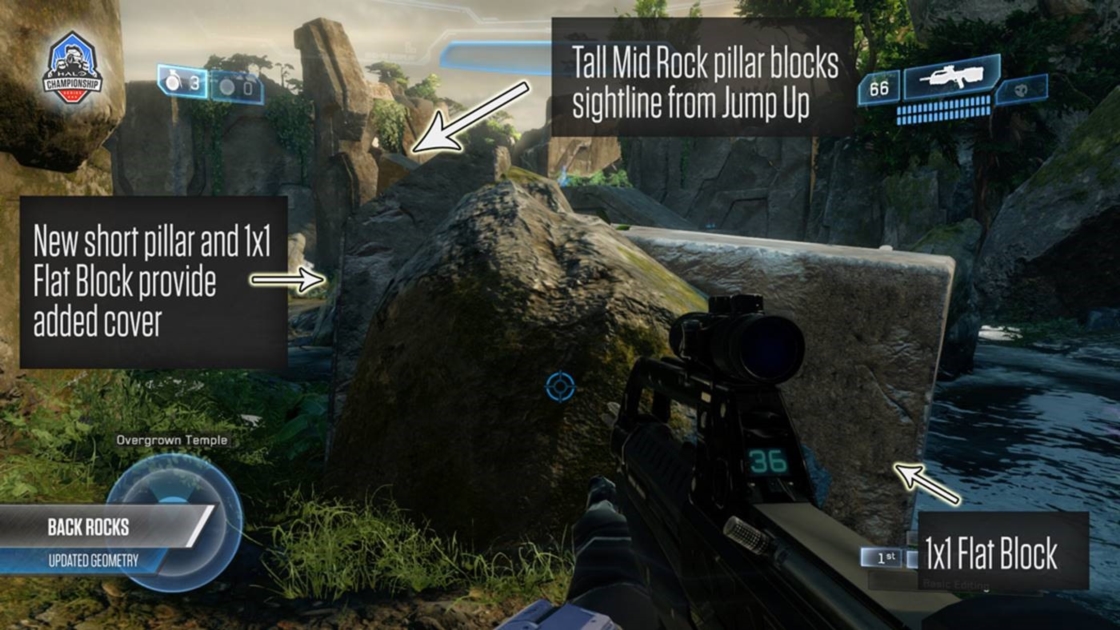 These pillars and 1x1 Flat Block will give you some added cover that is similar to what is offered in the back of Blue rocks. Specifically, the long pillar attached to the Mid Rock will add cover from the Jump Up sightline (as seen in the previous angle), and the added width of the Back Rock will help will add cover from players shooting into your rocks.
We also updated spawns on the Red side of the map to be more symmetrical to the Blue side, and their proximity to nearby rocks. Take a look how the back rock spawns, which were previously open to attack from Carbine and Jump Up, are now closer to the rock, to once again mirror Blue Rocks.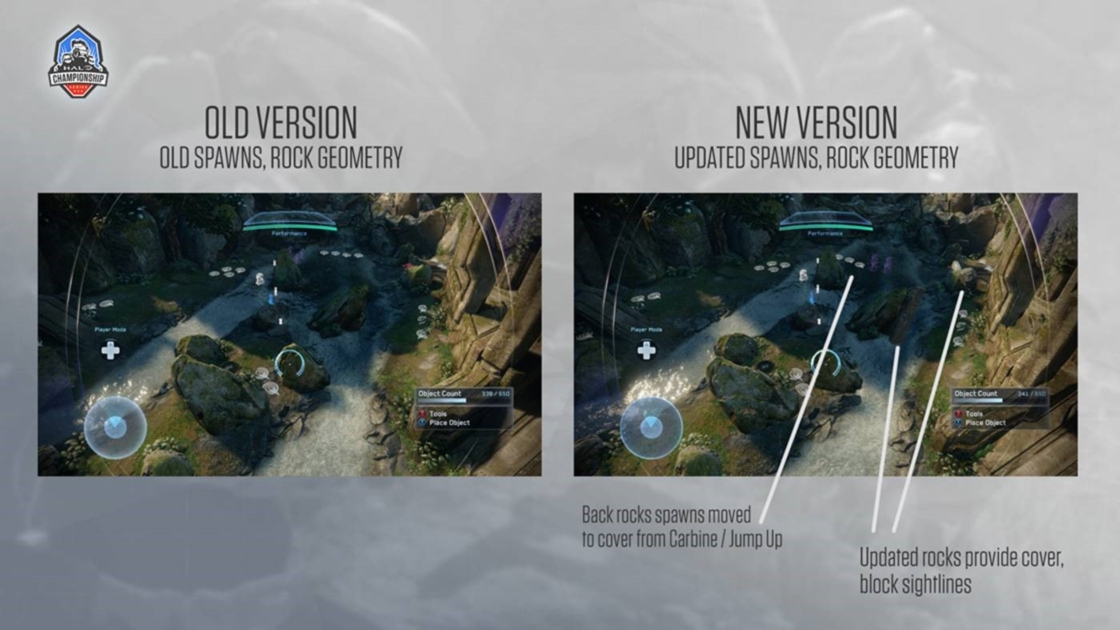 Also, we've taken measures to ensure that important sightlines and jump routes have not been blocked or impacted by these changes, such as the jump from the BR-rock to the BR area: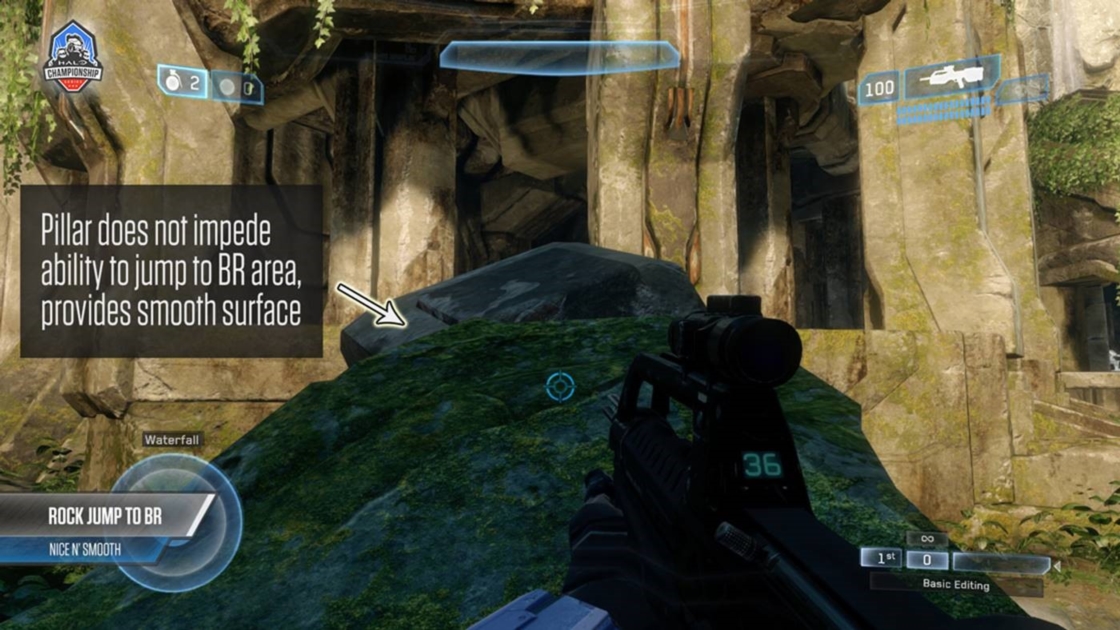 Lastly, we'd like to thank ForgeHub's Warholic for his assistance with a brand new wall for the Assault variant. Not only is it prettier, but he even built it for cheaper. What a guy.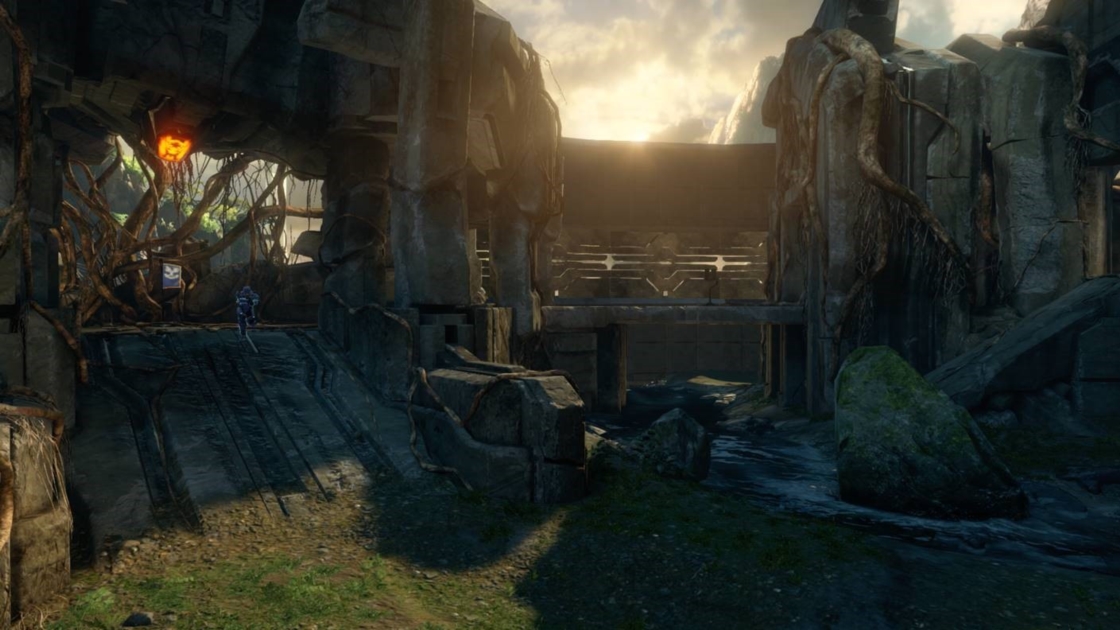 Overall, we expect these minor but important changes to level out Shrine for both Red and Blue sides for all game types.
We look forward to seeing you at this weekend's ESL cup! If you haven't yet, sign up here: http://play.eslgaming.com/halo/north-america/halomcc-one/major/halo-mcc-championship-series