With the HCS Summer 2017 Finals at DreamHack Atlanta looming large this weekend, it's easy for the Pro League side of the field to dominate the media attention. However, one of the most wonderful aspects of Halo esports are the incredible stories from all corners, and from anywhere in the standings – or the world for that matter.
To shed some light on some of these awesome storylines, this week we sat down with three particularly intriguing international competitors heading to the HCS Summer 2017 Finals. Let's see what their respective thoughts are as they prepare for battle at DreamHack Atlanta.
MONZA
HCS: Congratulations on taking first place in the Female Pro League! Tell us about when you first started competing in Halo. When did you start? Which game was it? Any unique experiences at your first LAN, or stories to tell?
Monza: Thank you! It was amazing to see all our hard work pay off. I started playing Halo with Halo 2, and only started online play with the release of Halo 4. After some time playing online, I discovered the competitive side of Halo mid-2013. I competed in and won a few small online tournaments throughout the years of Halo 4 with small prizes, but nothing too serious. In late 2014, I competed at my first real LAN event in Melbourne, a Halo 4 4v4 tournament ran by Halo Australia.
My friend at Halo Australia gave me the details and it didn't take much to convince me to compete (laughs). I got a team together, we didn't practice much but it was a team nonetheless! My older brother was pretty interested in the Halo scene too, so my brother and I made the 10-hour drive from Sydney to Melbourne to take me to my first event. I ended up placing 2nd, and it's certainly something I will always remember and be proud of. The whole event was a surreal and eye-opening experience.
HCS: How would you compare the Australian Halo scene to the European and North American scenes? How are the playstyles different? Which regions are better than the other, and why?
Monza: Obviously, NA is the supreme region. The Australian Halo scene is a lot smaller in comparison to NA & EU. Although, ANZ are a very connected community and we really do strive to improve and learn from NA players and their playstyles. The ANZ Halo scene overall puts in as much effort as they can to improve, there are just a few barriers in my opinion that stop us from our full potential.
ANZ's playstyle is slow in comparison to NA. NA has the opportunity to play each other evenly and continue to improve their skills against the best, whilst ANZ doesn't get to play NA without being at a connection disadvantage. As a result, most of ANZ play 8s all night on fair connection. I believe our playstyle is slower because we can't play other regions without being at a disadvantage, so we result to playing each other and therefore repeat the same playstyle. Whilst watching NA pro streams and going into theatre is one thing, playing ANZ 8s makes it easy to fall back into old habits and playstyles, and it's easy to forget the fast-paced playstyles/skills we learn from NA players.
There is a big skill gap between North America and the other regions. I think some of ANZ's teams are on par with EU teams, and I'd love to see more rivalry matches between our two regions. European Halo and ANZ Halo are more similar than people think. As an example, you can really see how wide the skill gap is between other regions in comparison to NA from ANZ and EU's results at Worlds 2017 where both regions didn't perform as well as NA. Overall, I think an effective way to see ANZ improve would be if we had more opportunities to compete overseas, so we could bring back the skills we learned from NA back to ANZ.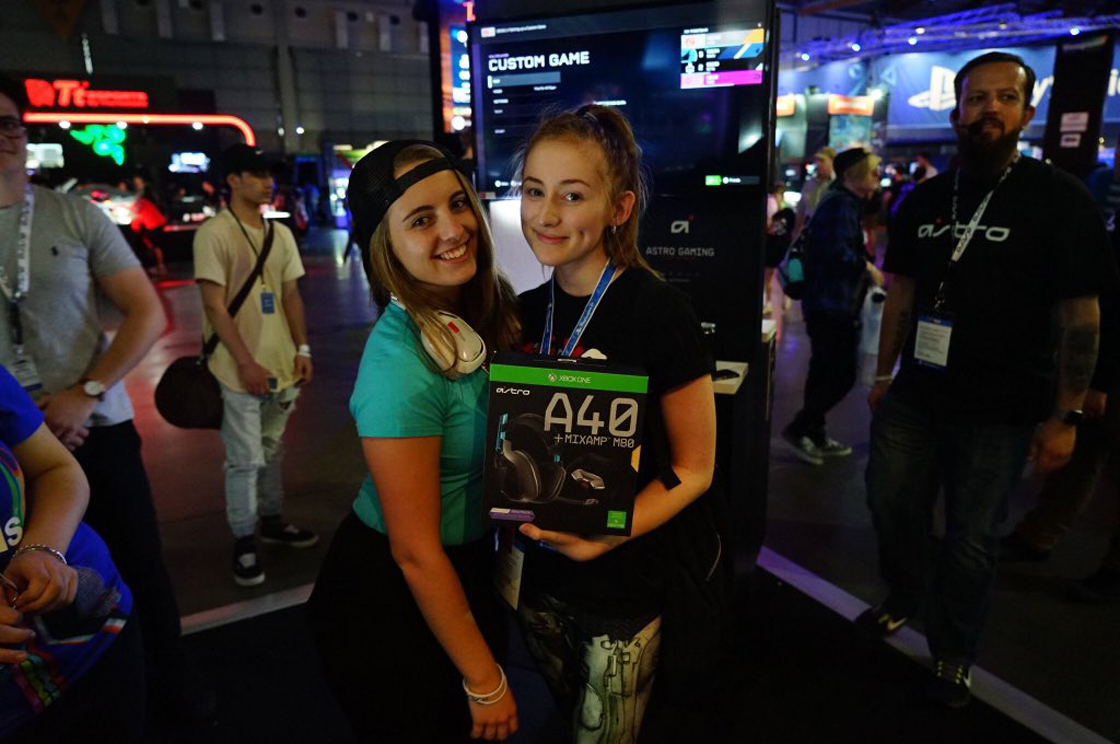 Zoe (left) and Monza (right) at the EB Games Expo
HCS: We're really excited that you're coming to the states to compete for the first time in Atlanta. What are your expectations? Are you nervous to compete in the US? Is there anyone in particular that you're excited to meet/watch play?
Monza: I'm extremely excited to be coming to America to compete! I never thought I'd get the opportunity. I'm sure the event will be nothing short of amazing. I'm counting the days!
As for nerves, I'm not nervous about competing, I'm just hyped and excited to be playing against everyone I normally play in matchmaking (on a fair connection finally!). I really want to use this to prove myself and just have fun. I'm looking forward to meeting all my American friends I've made over the years, as well as a few of my EU friends that are going to Atlanta as well, and of course it's going to be awesome meeting all the pros in person for the first time. Extremely excited to watch OpTic play on LAN.
HCS: Any predictions for how you'll do?
Monza: You can expect my team to put up a challenge. As for predictions, I'd be happy with any placing I get, just competing in a North American HCS event is a win and a massive achievement for me.
HCS: Any shout-outs you'd like to make?
Monza: To EVERYONE that helped with getting me to Atlanta, I wouldn't be here without you! Thank you so much. To all my friends and the ANZ community. Also, shout-out to Buddy.
DANY KNIGHT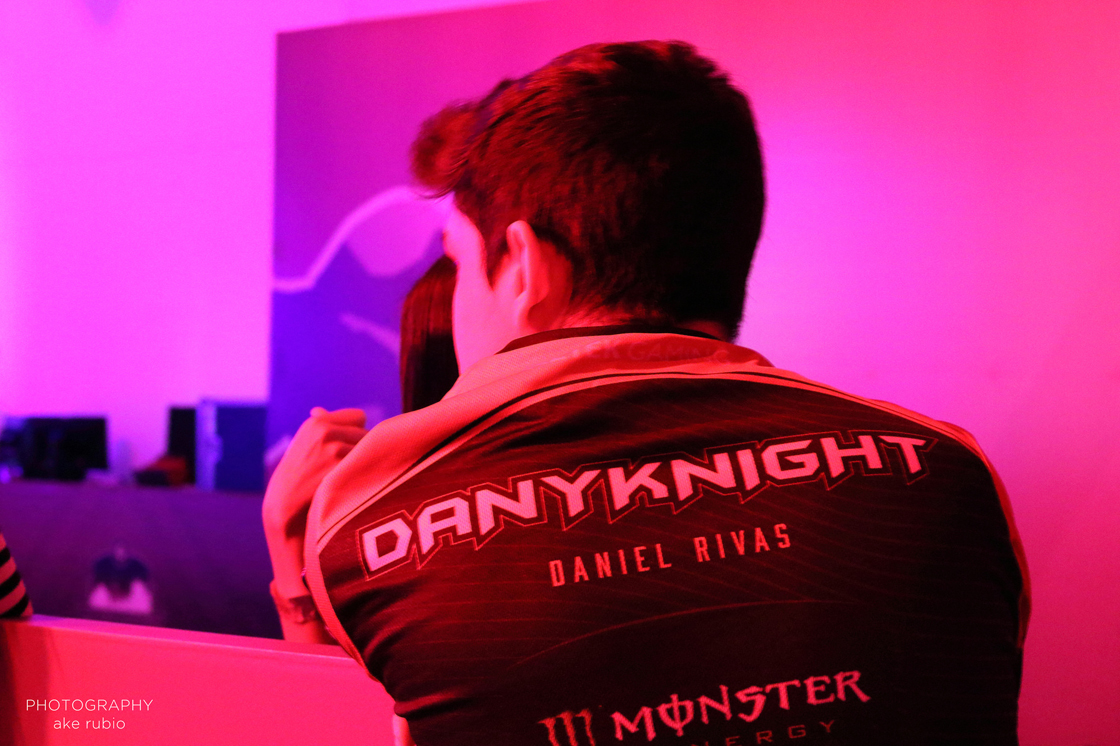 Dany Knight at the Halo World Championship Mexico City Qualifier
HCS: Is this your first time competing in the United States?
Dany Knight: It is my second time competing in the US, my first time was the 2016 Halo World Championship in Hollywood. I don't think I was prepared for that level of competition, specially because I wasn't really a part of the team that went to the finals - one of the players that won Latin American regionals couldn't get his visa on time, and I got invited to fill in. We only had 2 weeks of practice before the event, and I think that really affected us. I played really good the last series, where we almost got games out of Team Liquid. I look forward to bootcamping with my team over at the p5 studios LAN house with a lot of pro players and top amateur teams. It'll be a really fun two weeks playing tons of high-level halo.
HCS: Compared to Europe, Australia, and North America – where would you rank the Latin American teams? What are the differences between Latin American players and players in other regions?
Dany Knight: In my opinion LATAM (Latin American) teams play as good as the top Oceanic and European teams. These international regions had no support or tournaments for many years, and our regions are just starting to catch up to the North American teams. I have noticed that every region plays Halo differently - LATAM players focus too much on skill, the communication tends to be the worst amongst all regions, and very few players here study the game, and most just "play to play," but LATAM players are improving as the region has better support for players and more tournaments.
HCS: What are you hoping to learn about your own gameplay for Atlanta?
Dany Knight:I expect to learn everything I can, and will be asking for advice and studying the game with everyone that is attending the LAN. One of the most important things to do is simply experience these types of events. Teams from all over the world are coming, and this is where the big bucks are earned.
HCS: How you think you'll perform in Atlanta?
Dany Knight: I'm not really sure, I know I'm going to play as best as I can, I know some people will sleep on us, and that is where I'm taking my opportunity to really show them how great I am.
HCS: Any shout-outs?
Dany Knight: Big shoutout to all the great people that support me and my dream – especially to my father who was there for me when no one else was. All my best friends Eduardo, René, Kevin, Raul, Dante, Bullet, Roger, Marcelo, arnoldo, Dualitat, my Halo mentor ryanoob, xtreme.
BENNO
HCS: Hey Benno! Thanks for joining us. We hear you'll be competing with a hybrid AUS/USA roster in Atlanta – can you tell us who you're teaming with and a little about them each?
Benno: Thanks for having me! That's correct, for Atlanta, I'm teaming with Voltage, Swift Kill and Daddy. Swift Kill (Alex) was actually at my very first NA Pre-MLG Columbus 2010 LAN for Halo 3. Alex placed 3rd at Halo WC 2016 and is a huge asset to this team. It's such a huge help to have him go over films and give us a completely new point of view on how the game should be played. Daddy (Dillon) is another player who we've talked to about teaming for quite some time now. We've been good friends with Dillon since Halo: Reach and he's proven himself at multiple LANs throughout H2A. As for Voltage (Matt), we've been teaming for way too long. We first got together in Halo 3, and have been teaming ever since.
HCS: You've been to the US to compete quite a few times now – how would you describe playing in a US event vs one back home in Australia?
Benno: Playing at a US event is something that you truly cannot describe, but have to witness yourself. The level of intensity is on another level. Obviously, NA is the pinnacle of competitive Halo and the level of competition is very high. Every time we make the journey over to America, we're reminded just how good some of these teams are and how much more effort is required to win games. I would love to have a few months of practice in NA to up skill the team to a point where we're competing with the top 4 teams.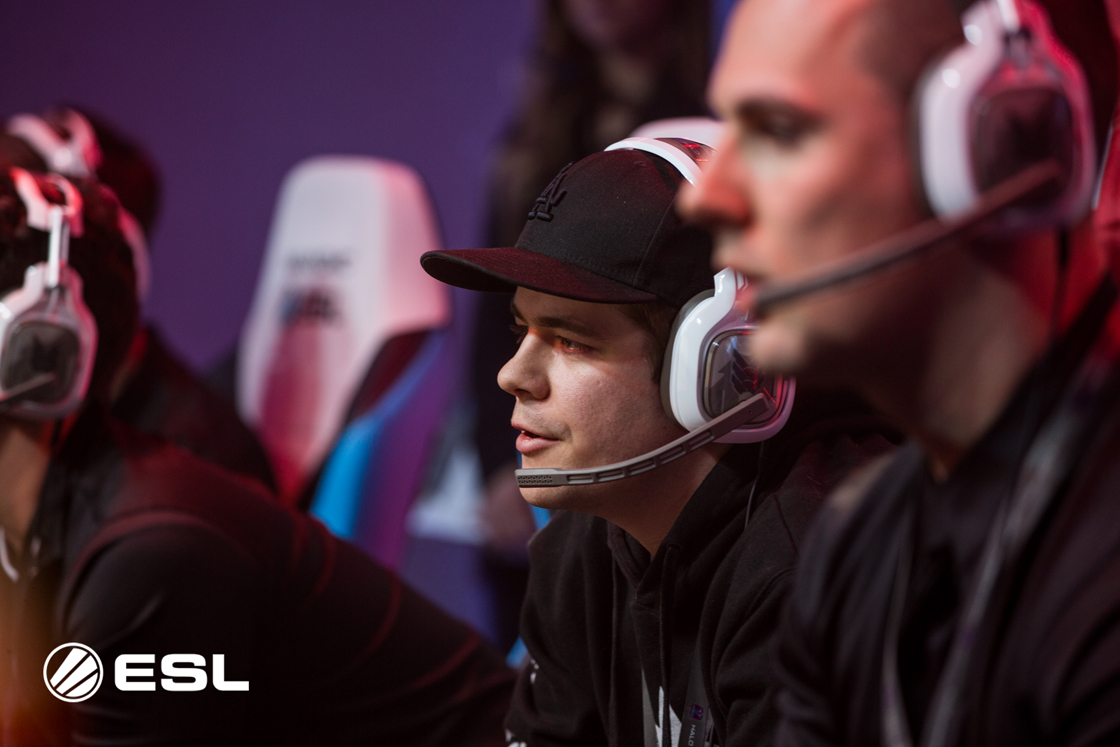 Benno with Team Immunity at the Halo World Championship
HCS: Along with Adz, you help run the Oceanic Halo League, where one of your goals is to strengthen the scene to perform and excel on the international stage. What learnings are you hoping to take with you back to Australia?
Benno: After Halo WC 2017, I decided to continue playing and to pass my knowledge onto the rest of the community. I've tried to make much more of an effort in streaming gameplay and casting in order to up skill the entire ANZ community. The biggest key to improving in Halo is being able to take positives out of the negatives. What I mean by that is being able to form constructive criticism after being absolutely dominated in a game, in order to make sure it doesn't happen again. A lot of our practice going into Halo WC '16 and Halo WC '17 was not dropping games in practice, which didn't teach us everything we needed to know. We found when we had control against NA teams, we could hold our own because we were used to it, but as we began to be put on the back foot more and more, we were a completely different team. This is what motivates me to continue to up skill the community where I can, in order to provide our team the best chance internationally, and to give other ANZ teams looking to compete internationally, the best chance possible.
HCS: What are your expectations for how your team will perform in Atlanta?
Benno: I would love a Top 8 finish. Our highest international placing in an open event was 9-12th at Dallas 2012. I have some very experienced players beside me for Atlanta, and would even love to push that top 6 barrier. It's obviously a huge task as the pro teams are all amazing, however you have to aim high to place well. Confidence is key.
HCS: Any shout-outs?
Benno: Definitely! First and foremost, a huge shout-out to Team Immunity for allowing me to live my dream of flying around the world to play Halo for 6 years and counting. These guys have always gone above and beyond for us and I truly appreciate it. They are my second family.
Shout-out to the HCS team for being so resilient and sticking by us, to a sometimes, ungrateful community. I think people are so passionate about Halo that they just want to see it succeed, so thank you for continuing to support Halo esports.
A huge shout-out to Tashi. He's been a light at the end of the tunnel to us in the ANZ community. Sometimes it's very easy for us to feel left out on a global scene, but he and the HCS team continues to support us in any way they can.
Thank you to Alex and Dillon for sticking by us and giving us a chance. I really do appreciate the opportunity. Lastly, thank you to my girlfriend, Zoe, for allowing me to continue following my dream.
--
Watch Monza, Dany Knight, and Benno compete at the HCS Summer 2017 Finals at Dreamhack Atlanta this weekend, July 21-23 on mixer.com/Halo and twitch.tv/Halo! For more details, stay tuned to Halo.gg and @HCS on Twitter.