Good evening! Welcome back to another edition of the Halo Community Update. We've got a quick blog this week, as teams across the studio are preparing for a very busy June – including the Warzone Firefight release as well as gaming industry events, expositions, and exciting endeavors. Today, we'll talk Pro League goodness as well as some new happenings. Shall we?
In less than a week, we'll be heading out to the annual games festival known as E3, where we hope to see and hang out with many of you. Drop me a line on Twitter if you'll be in town. We're hoping for some quality time with friends both old and new, a week of sunshine, and that you like what you see from the show.
Not too long after, we'll indeed be setting our sights on the Rooster Teeth Expo, which many refer to as RTX, especially if in a hurry. RTX is undoubtedly the largest and finest gathering of Halo fans, and we couldn't be more thrilled to be joining you again this year. We'll have a few things to show you, some playable experiences, and lots of time to hang out. We're looking forward to seeing our RT friends, Grifballers, a man named Ducain23, the 405th, and all of the Halo fans and players from near and far. It's going to be a big 'ol party. If you'll be down in Austin, let me know that, too!
Earlier this week, Hog Wild REQs were released into the REQ pool, and we're hearing that there have been a few more Hogs on the battlefield. This is expected behavior, and we hope you're enjoying the new toys. Additionally, we've adjusted some REQ levels since the release. Here's Unyshek with the details:
When the Hog Wild REQ Drop released, the REQ Level for the Hybrid Scope was set a little higher than our other scopes. Since then, we've decreased them to match the other scope variants. Here are the changes:
The Assault Rifle has stayed at REQ Level 1
The Battle Rifle Hybrid Scope has been lowered from REQ Level 4 to REQ Level 3
The SMG Hybrid Scope has been lowered from REQ Level 6 to REQ Level 4
The DMR Hybrid Scope has been lowered from REQ Level 8 to REQ Level 6
The new Mythic Shotty Snipers social playlist is also live for the week. Hop in, rack up some kills, and let us know what you think for future adjustments to the mode. Additionally, keep an eye out for Warzone Turbo returning to the lineup in the near future.
As you're reading this, Day 2 matches of the HCS Pro League may very well be underway. Let's start by taking a look at Day 1 results (and opening a second tab to Twitch.tv/Halo)!
HCS Pro League: Day 1

The first match day of the Halo Championship Pro League has come and gone, and set the tone for the rest of the season. It was an exciting day 1, and a pleasure to tune into the first set of weekly matches with all of you. Teams at 343 and ESL have been collecting your feedback on day 1, and looking forward to delivering an exciting and evolving broadcast each week.
Across both regions, all matches ended with a score of either 3-0 or 3-1, and our first game 5 didn't come until series 1 of Day 2. In Europe, the biggest story of the day was Online Warriors defeating XMen 3-0, and in North America, Team EnVyUs had the only 3-0 over Allegiance. Here are the standings as of this afternoon: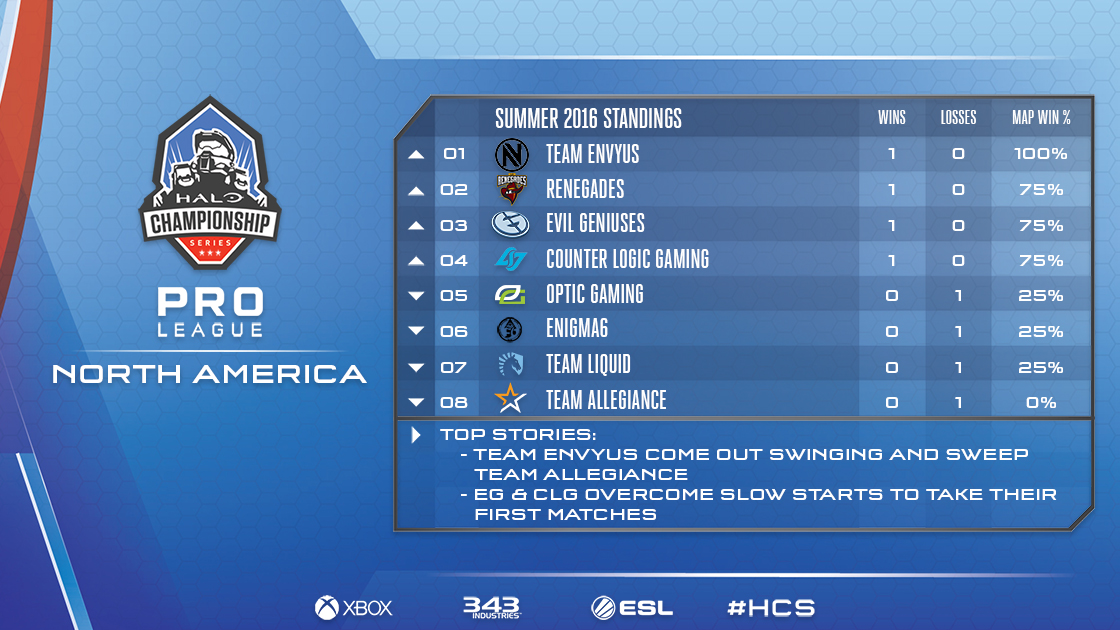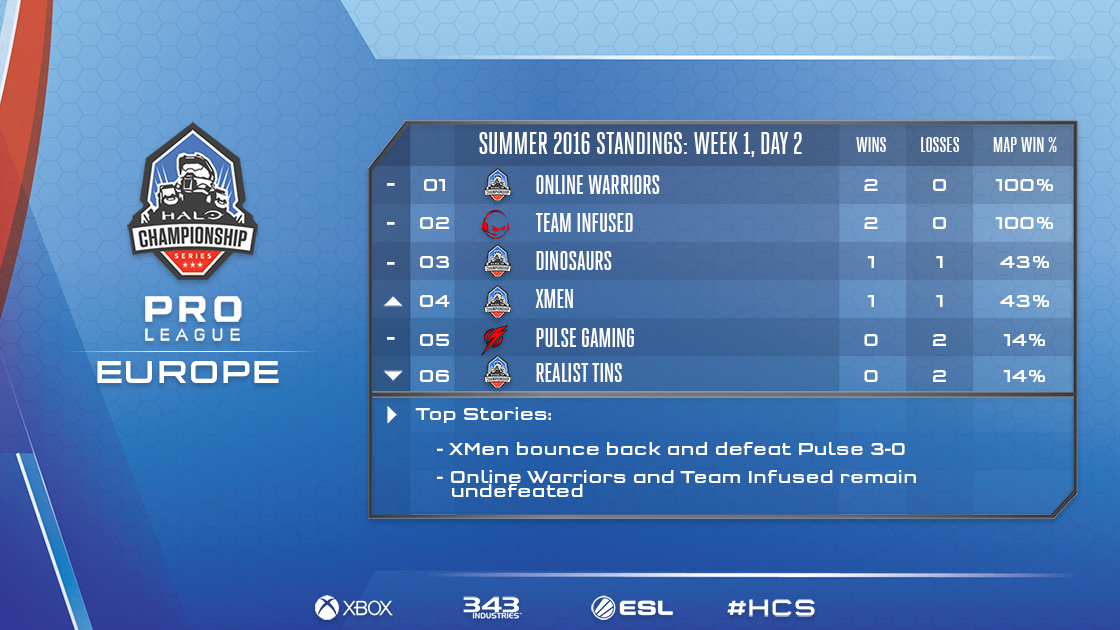 Speaking of Pro League, there are a few things on the way – let's talk a bit about those.
The HCS Listen-In
The HCS Listen-In is a brand new Halo esports podcast that will debut next week. Want to catch up on stories so far, or get ready for the upcoming matches at the end of the week? The show will cover key matchups, player history, opinions, and more, from experts and personalities from 343 including Strongside, Tashi, and Dersky, as well as special guests including Pro League players, casters, and more from the Halo esports scene. The first episode will air on Wednesday, June 8, and we'd love to hear your questions for the show. To ask a question for next week, just tweet @HCS with the hashtag #HCSListenIn, and yours may just be answered on the show.
We hope you'll join us!
Pro League Team Skins - Series 1
Many of you have been asking about Pro League team skins, and today we're excited to announce that Series 1 is officially on the way. Development work began on these skins well before the conclusion of the Halo World Championship, and for Series 1, we partnered with three teams who had been competing in previous seasons of the Halo Championship Series, and had their eyes on Pro League qualification. Right around the time of the Warzone Firefight release at the end of this month, Counter Logic Gaming, Evil Geniuses, and OpTic Gaming will have their own weapon skin packs available. A large goal of this program is to not only celebrate these teams and players, but also support them through these packs, and also allow fans to support their favorite teams directly. In this spirit, a split of the proceeds from each pack will go directly to the teams. The packs will include a custom Magnum skin, Assault Rifle skin, and emblem. We'll be revealing all of the packs in the near future, but to hold you over, here's a peak at the skins from the reigning World Champions.
Just like all in-game assets, the skins go through a concept phase from our art team who takes the team's logos and branding guidelines to create the initial look. After this is complete, we discuss with internal teams and the team organization to make sure everyone digs the look, and we move forward with the final design. It takes a bit of time, but the result is a set of high-quality team skins that we hope players and fans love.
Here's a render of the CLG Assault Rifle (click the image for a bigger one):


And a look at the final, in-game AR, as shown here on Coliseum in the latest test build of the Warzone Firefight release: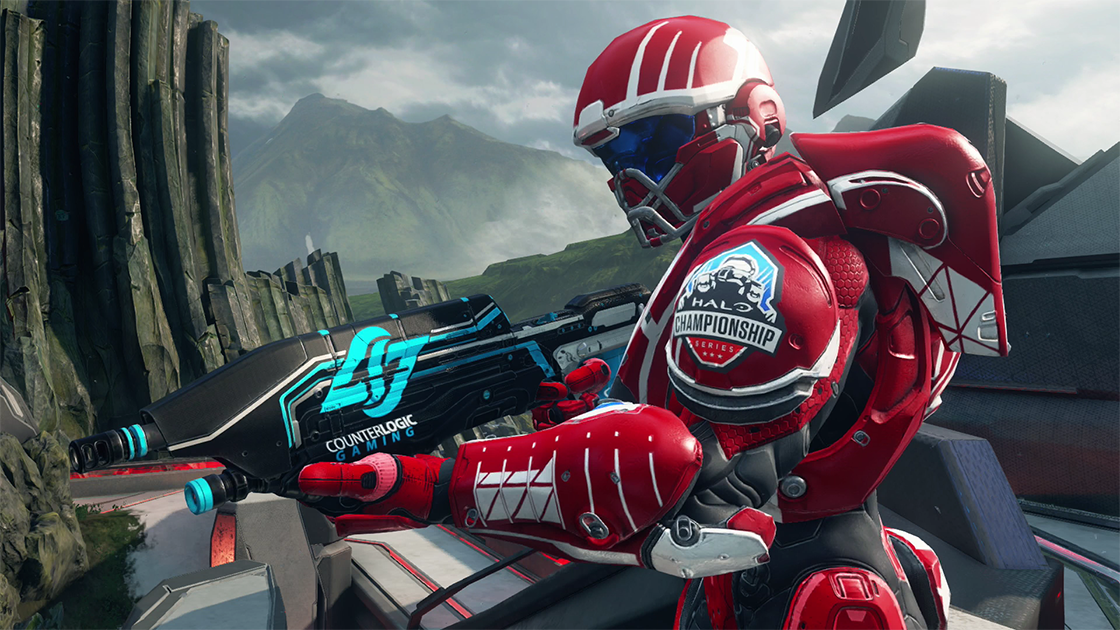 More skins are on the way, and we're looking forward to partnering with more of your favorite teams for future releases. Stay tuned for more!
Warzone Firefight Release
As we mentioned last week, the Warzone Firefight release is scheduled to drop at the end of this month, and a wide variety of teams are hard at work to get their final work and polish completed. These include the Warzone team, who are finishing up the PvE mode, the Warzone Boss Refresh we first mentioned in the last issue, and more. Here's a look at just some of the new foes you'll encounter: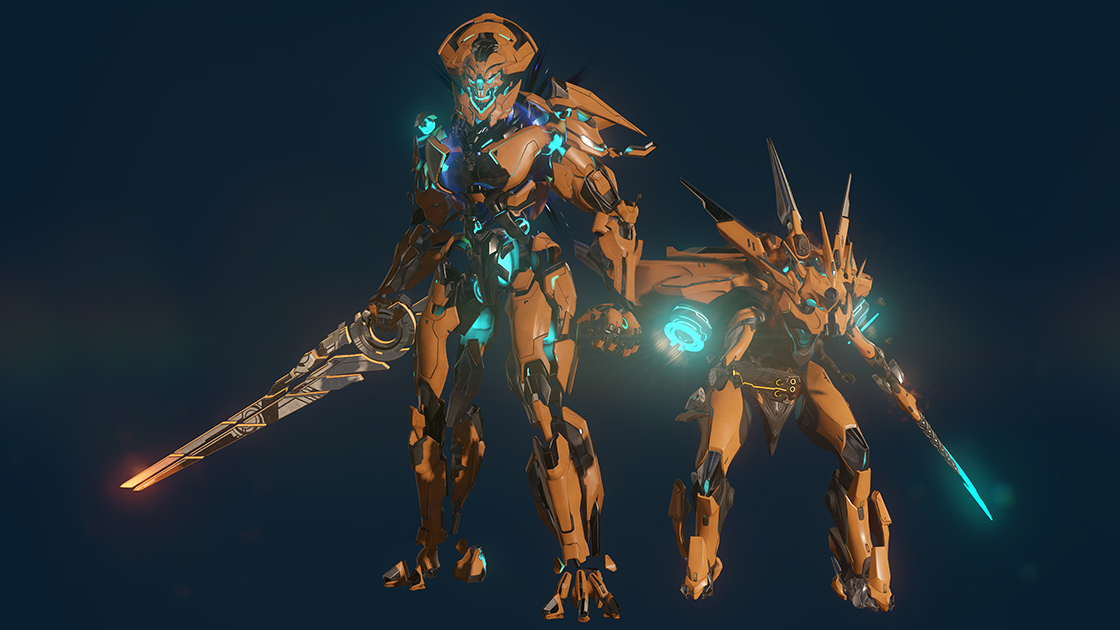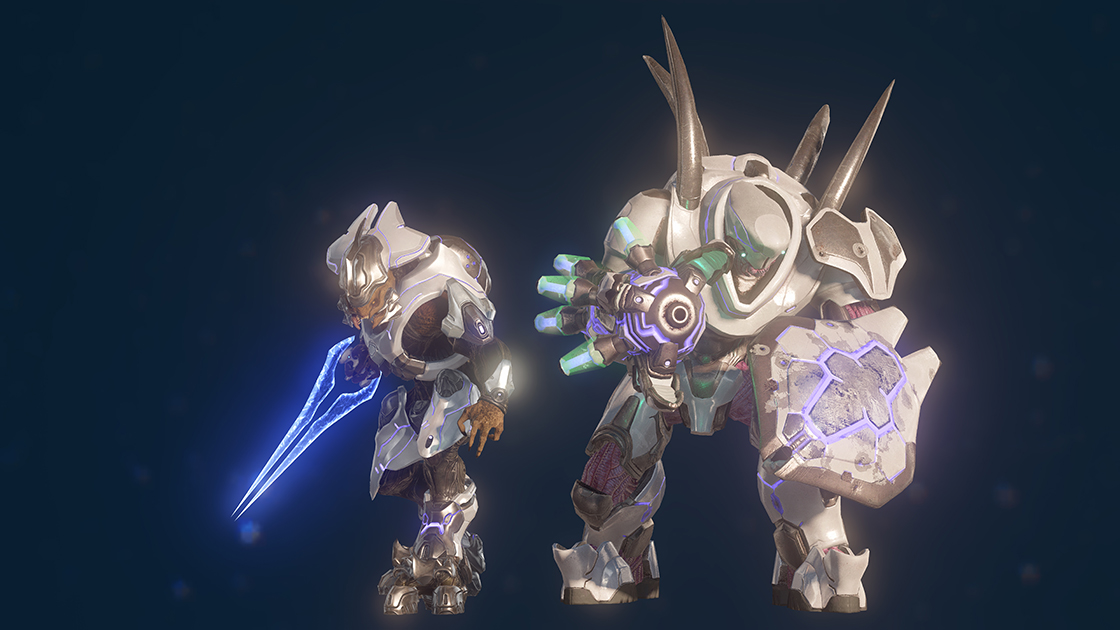 [RANDOM LORE INTERRUPT: The WZ bosses above sport a glistening and fearsome white Ultra-class armor, recalling roles and renown of the former Covenant empire. – Grim]
The Multiplayer Level Design team also has new places for you to play. The Sandbox team has new tools of destruction for you to master. And, there are of course a few surprises that we haven't yet detailed. Speaking of, the Forge team always has many surprises – not only in this upcoming release, but also in this blog. Here's what Tom French sent me for this week's blog: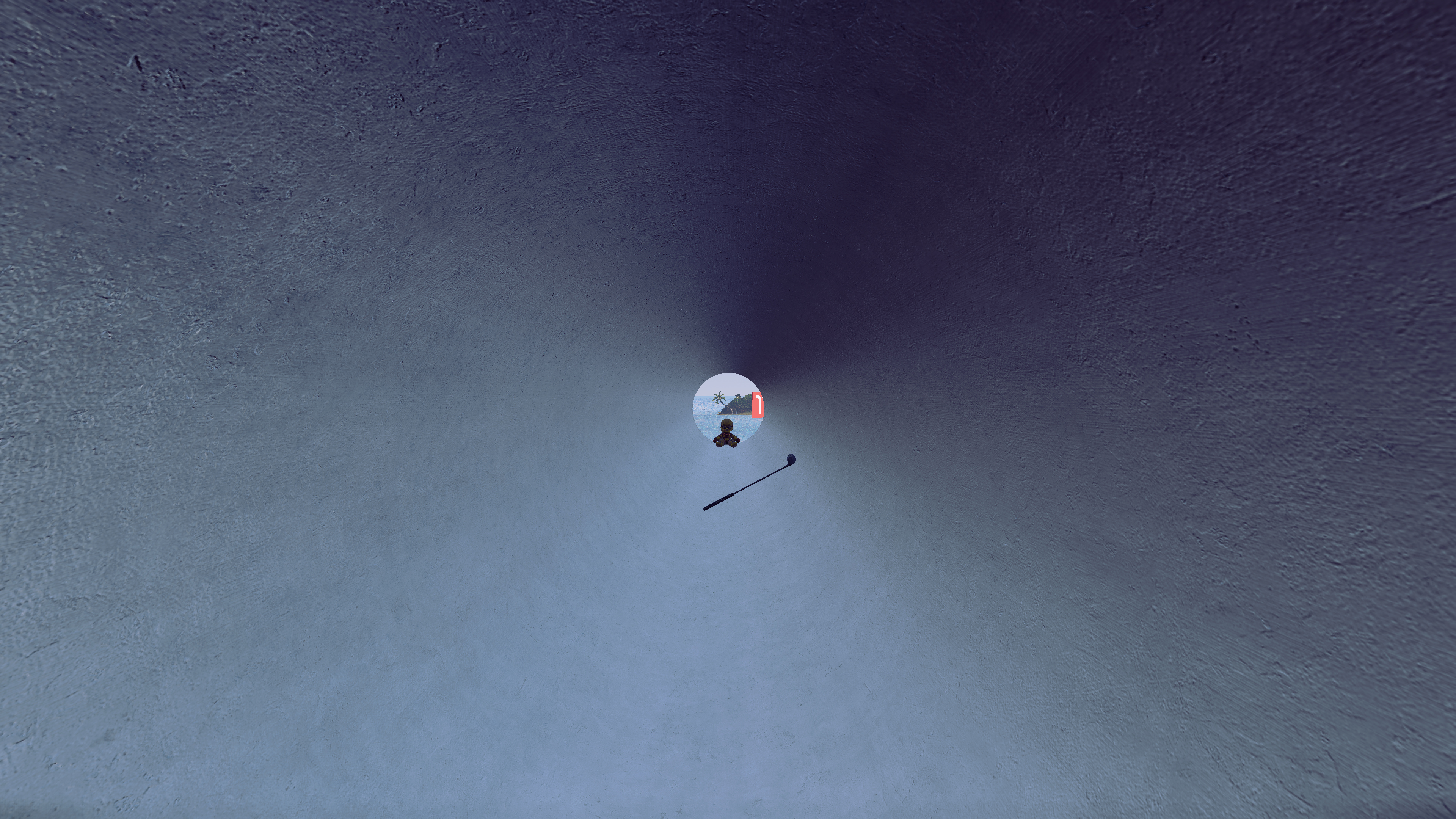 Even without context, this picture should say about 10,000 words to the community.
- Tom French
And, before we wrap on this section, the art found at the top of this blog is a brand new peice of concept art I found lying around. No idea what it might be for.
While Canon Fodder might be taking a break this week, Grim certainly isn't. Amidst his preparations for a particularly exciting June – and guilt over skipping a week of lore-love – I grabbed the penitent punmaster to flesh out some cool community Halo happenings. Let's check in!
GRIM
Thanks Bravo, this week we've got a number of interesting things brewing underneath the surface on all sorts of fronts. Let's take a look at a few of the sweet deets.
Nav Newness
As you have likely noticed – I mean, you're looking at it right now – our humble home at Halo Waypoint recently got a fresh new facelift across the site, all geared towards improving your stay. Led by the mighty KP and his stalwart squad of killer codesmiths, the Waypoint web team have instituted some awesome new tweaks and features for Halo fans to enjoy. Here are a few…
Navigation Update – We have redesigned the HaloWaypoint.com site header to make all of our content and features more discoverable and overall just easier to find.
Notifications – Good news! Fans logged into Waypoint will now receive notifications for the following events:

Forum Activity – Now you'll know much faster when you receive Replies and Likes for forum posts that you follow, as well as forum rank increases.
Spartan Companies – Receive notifications for Company Join Requests, as well as changes in company leadership or active/inactive states.
Messaging – The Waypoint UI has gone through a through polish under the hood to be better-optimized for all browsers.
We're honored to build ever-evolving platforms for the community to call home, and we hope you enjoy these latest experience improvements.
CRATE GOOGLY MOOGLY

Earlier this week, we announced that 343 Industries and Loot Crate were joining forces to create a pretty awesome experience for Halo collectors and fans. To get the skinny, I lured our Director of Halo Consumer Products, John Friend into the 4th floor kitchen with veiled promises of cake. Once cornered, I fired off a few quick questions.
GRIM: So tell us about this Loot Crate thing. Sounds exciting, what's the deal?
JOHN: We couldn't be more excited to be partnering with Loot Crate! They have a talented team of geeks and gamers alike that have crafted a truly awesome blend of creativity, culture, and community – all things that Halo fans have all grown accustomed to in our universe.
What can fans expect to find in these hot drops? I assume it's not just random stuff from our desks, right? WHAT'S IN THE BOX?!
Halo Legendary Crate will include exclusive figures, apparel, collectibles, in-game items, and other UNSC-approved loot from the biggest and best moments across the Halo universe. We are working with teams all across the studio to put together something special every time. I can say without hesitation that every Halo fan, whether you fell in love 15 years ago or are just discovering our universe, will enjoy these.
Okay, we've read the press releases and official announcements. But just between us, is there anything more you can say about the project? Cryptic tidbits? Vague details? Red herrings?
While I don't want to say too much just yet, know that the amount of Halo awesomeness we are putting in each crate is off the charts. We have a ton more in store for the fans, this is just the beginning. We will let you know more later this month, but let's just say that Frank O'Connor will be proud of what we're including…
There's no way we're fitting a space mop in that box, John.
That's not what I mea-
Well anyway, thanks for joining us today to shed a little more light!
For more information, make sure you hit up lootcrate.com/halo.
Hackathon Heroes
Back in April, we kicked off a sweet hackathon contest to celebrate some of the incredible and creative ways our community continues to leverage our public API for Halo 5. When the sands flowed past the pinch turning May into June, the window for submissions came to a close. Now, the real fun begins, as folks around the studio begin playing around with your earnest endeavors to try and select a few winners. Needless to say, I do not envy those tasked with these tough choices. Seeing as I'm uninvolved in the judging process, I thought it would be fun to highlight a few of my own personal favorites in effort to showcase some of the amazing work our fans have poured into these projects. Let's check a couple of them out!
HALO REWIND: ARENA – Project site | Information Thread
Halo 5 Stats for Microsoft Band – Project site | Information Thread
HaloVantage – Project site | Information Thread
HaloTheater – Project site | Information Thread
The ridiculous talent within the community knows no bounds. And with that, I'll pass this week's update back over to Bravo while I go and contemplate what I'm doing with my life.
<3
Grim
Community Spotlight

This week's spotlight is a map titled Toilet, and the game mode is Clogged, but it is far from crappy. I'll save the puns for Sean from Forge Labs. Take it away!
Grab the map here!
Grab the mode here!
Play of the Week
This week's play goes to Royal 2, who put on a show in last night's Pro League matches:
That'll do for this week's update. We'll be back again soon with plenty more that's on the way this summer.
Until then,
Bravo