Well, it's been quite a week that's for sure. In the past seven days alone, we've had a brand new competitive Halo champion crowned, a new Leader and two new campaign missions added for Halo Wars 2, a new grassroots Halo tournament program from our friends at the Microsoft Store, and some light San Diego Comic Con happenings. Phew! With all that in mind, let's take an exhaustion-laden look at some of the week's news and events in a touch more detail.
A SONG OF SPLYCE AND FIRE

This past weekend, yours truly joined a multi-disciplinary contingent from 343 in heading down to Atlanta for the similarly monikered DreamHack event, which was hosting our HCS Summer 2017 Finals. One of the coolest things about DreamHack is the fact that it's not just Halo – in fact our beloved franchise was one of several awesome games represented at the event. It was a perfect opportunity to not only share comradery with fellow game players and fans in general, but to also potentially introduce brand new audiences to the joys and wonders of competitive Halo.
Our setup was pretty fantastic all weekend, with something always going on, from epic 4v4 play, to FFA tournament action, to fun-filled free-play, where new friends were made, new rivalries born, and new fireteams forged. Even late into the night, like 2am each night… trust me, there was always some sort of activity going on, and some sort of crowd forming around a match.
But what about the main event itself? Well, the HCS Summer 2017 Finals proved to be an unforgettable event for everyone in attendance. After countless incredible series, the 3-day tournament culminated in a Grand Finals match for the ages between the typically undisputed masters of modern Halo at OpTic Gaming, and the brilliant young upstarts at Splyce. In the end, Splyce would take an unbelievable win in a Game 6 Coliseum CTF, the crowd roaring at every big play, every flag cap, and every doorstep denial. Sitting just meters away from it all, the constant crowd noise and gasping reminded me immediately of the epic 1v1 overtime match between Ace and Pistola at the 2013 Halo 4 Global Championships at Benroya Hall in Seattle. It was such a privilege to watch these two teams slug it out and represent Halo in such a brilliant fashion. Splyce are undeniably deserving champions – and think about this, a few months ago, they weren't even in Pro League. So huge congratulations to Shotzzy, bubu dubu, Shooter, Renegade, and Coach Phil over at Splyce. What a team, what a tournament, what a tale to be told.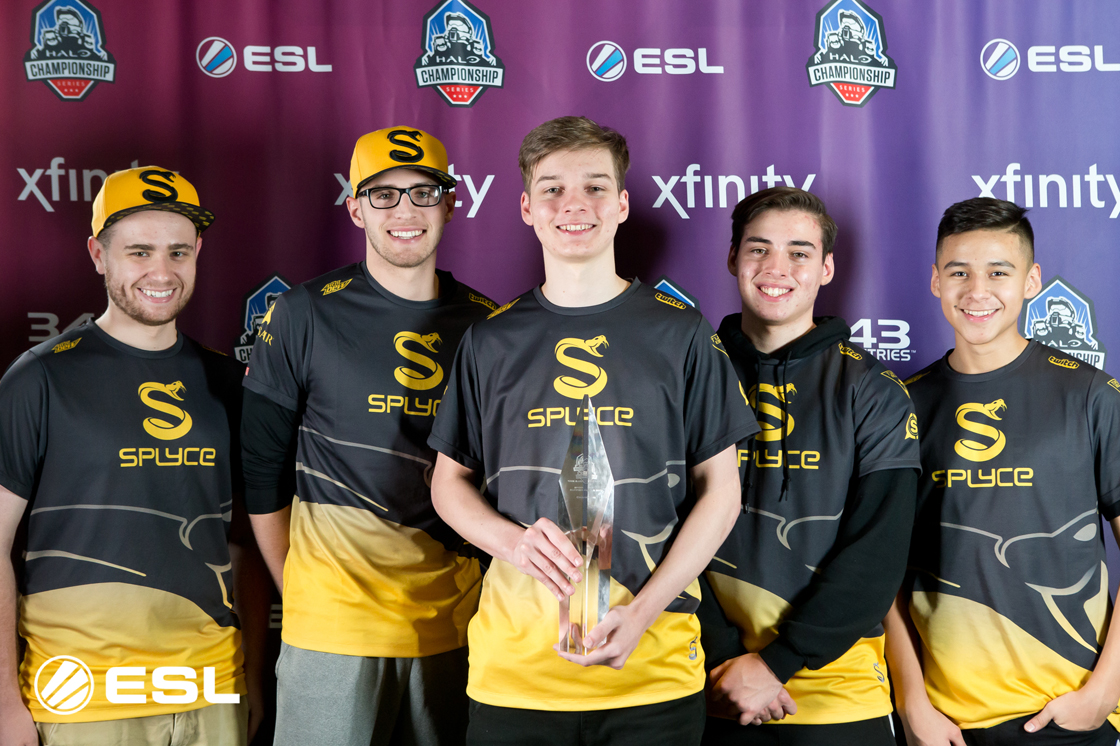 And speaking of being new to the HCS Pro League, let's talk for just a minute about Oxygen Supremacy. The talented new squad made a splash at HCS Daytona back in May, and then finished runner-up in the Last Chance Qualifier, narrowly missing out on snagging the then-final Pro League spot to, you guessed it, Splyce. However, all that seemed to do was fuel Oxygen Supremacy's squad – Ryanoob, Dastroyed, Contra, Nemesis, and (coach) Mashlan – who tore through the open bracket in Atlanta this weekend and took down the vaunted Str8 Rippin squad in two different series during relegation to steal their place in the HCS Pro League. There's no doubt Oxygen will be inspired by what Splyce just did in their maiden Pro League outing, and we're all looking forward to what this new blood will bring to the competition when the action kicks back off later this year.
All in all, DreamHack was an amazing event. As someone known for being heavily steeped in the "universe and lore" flavor of our franchise, I personally can't recommend enough trying to get out to one of these open events someday, even if just as a spectator. I promise you it will give you a brand-new appreciation for what kind of energy and community Halo can create in folks. Hope to see you at one soon. And before we move on, be sure to check out our full event recap for further details on results and such right HERE.
HELL(JUMPERS) FROZEN OVER

One particularly cool thing I personally like seeing while watching the HCS streams are moments where content from other areas of the franchise beyond esports, such as Halo Wars 2, are shown. It's awesome to showcase how diverse the offerings are that Halo can deliver, and introduce some of those elements to varied audiences – something I'd imagine most passionate Halo fans would agree on! And speaking of Halo Wars 2 (dat segue tho), this week released the penultimate Season Pass salvo of content for the awesome RTS experience. Players on both Xbox One and Windows 10 PC can now take part in two brand-new story missions with Operation: SPEARBREAKER, or unleash some cryogenic craziness with Halo Wars 2's newest playable Leader, our old OG-Halo Wars AI friend Serina.
Operation: SPEARBREAKER and Serina are out now for both Xbox One and Windows 10 PC. Both experiences are available as part of the Halo Wars 2 Season Pass, or available for individual purchase at $5.99 USD each. You can also purchase a special bundled version that includes both pieces of DLC for $9.99 USD.
For all the vital info on the new release, check out these handy help-outs:
LAUNCH BLOG – Get all the information on units, abilities, gameplay additions, and more right here.
PATCH NOTES – For all the details on the latest bug fixes and balance adjustments, this thread is where you wanna be.
CANON FODDER: STAY FROSTY – Issue 99 of our fan-favorite fiction feature gives a full preview of the background lore on what to expect in Operation: SPEARBREAKER, as well as Serina's new playable units.
MORE IN-STORE
If you missed the announcement during DreamHack Atlanta, our friends at the Microsoft Store are going to be hosting a really awesome grassroots Halo 5 tournament program that will let folks come to their local Microsoft Store, compete, make new friends, meet fellow Halo fans, and have the chance to walk away with some pretty cool loot in the process – including a chance at a new Xbox One X when it launches. Over 50 different MS Store locations will be hosting events, so be sure to check out the official announcement to see which one might be closest to you!
Each location will have three separate dates, with each date featuring a different format (FFA, Doubles, 4v4), giving players a chance to show their stuff in a variety of ways. Events like these are about as "old-school" Halo as you can get, so make sure you try and check one out!
EURO TRIP

By the way, earlier today we announced some brand-new details on our next open event in Halo esports: HCS London. As part of the EU Halo Championship Series, HCS London will showcase the top Halo talent in Europe, including both Pro and Open teams, and will take place Sept 15-17 inside Gfinity's gorgeous and expanded new arena in London. The $25,000 prize pool open LAN event will be capped at 32 total teams and will also feature a $5,000 Free-For-All competition for the lone wolves.
The top three teams from HCS London will earn a trip to the United States on October 20-22 to compete from the championship bracket at the Fall 2017 Finals by ESL at DreamHack Denver. For all the details on HCS London, check out the links below.
We can't wait to see Europe's best Halo on display live and in-person later this year – we hope you'll join us!
BIG BOATS
Earlier today, Spartan Games showed off a couple of brand new additions to the Halo: Fleet Battles tabletop game lineup: the Sangheili Blockade Runner and UNSC Phoenix-class colonial support vessel. You can check out all the details in their blog here, but take a look below for some exclusive info and fictional context.
PHOENIX-CLASS COLONIAL SUPPORT VESSEL (MILITARY REFIT)
Designed and built in the golden years of human colonization, the Phoenix-class was – for several decades – the largest interstellar vehicle ever crafted. Capable of carrying hundreds of personnel in active status, and thousands more in cryo-sleep, a single Phoenix was capable of standing up a self-sufficient colony within six months. On the richest and most verdant worlds they remained in orbit or served as a dedicated transport of personnel and resources to the Sol system, while others moved on to chart new territories after their outpost was built.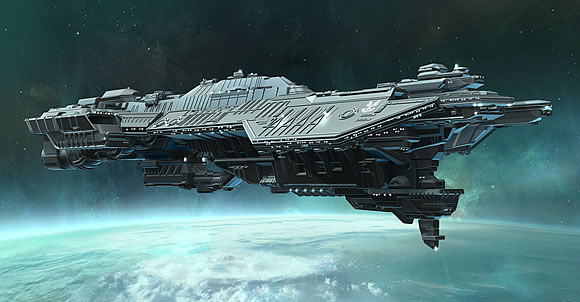 Spartan Games brings the Phoenix-class to Halo: Fleet Battles in its martial incarnation – support ships refitted to suppress Insurrection and independence movements on the very colonies they established. The fires of the Covenant War did not spare these ships either, and they were called to the front lines of war as the UNSC used every asset at its disposal to slow down the relentless Covenant advance. On the tabletop the Phoenix-class vessels support your fleet by replenishing Boarding Craft and supplying ammunition to keep the MAC guns firing.
HEKAR TAA-PATTERN BLOCKADE RUNNERS (VESTIGE)
Relics of wars long forgotten, the Blockade Runners were pulled from hidden resting places by Jul 'Mdama and Thel 'Vadam to bolster their forces. Supported by more modern designs, such as the ADP-class escort, a Blockade Runner can generate enough firepower to threaten even the largest and most powerful warships in service with the Covenant, Swords of Sanghelios, Banished, or UNSC.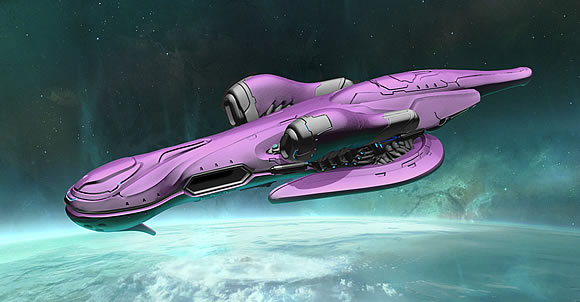 The Blockade Runner's weapons are antiquated, but not ineffective. Its unrefined and indelicate energy projectors would offend San 'Shyuum officials, but are more than capable of breaking shields and shattering armor even in the current Age. With only minor modifications its ancient stealth generators are also of use in Halo: Fleet Battles engagements, though they conceal the ship's location through brute-force jamming and expenditure of small drones rather than sensor distortion grids installed on Covenant designs.
COMMUNITY-CREATED CARAPACES
Since Halo: Fleet Battles and Halo: Ground Command models come unpainted, it's inspired a host of incredibly talented community members to adorn their craft with gorgeous liveries and visual treatments. We're actually planning a larger highlight of this content soon, but as a preview, check out what community member Doug Ummel did with his own personal Covenant Phantom and UNSC Pelican dropships. No, that's not a Halo Wars 2 screenshot, those are hand-painted and absolutely brilliant!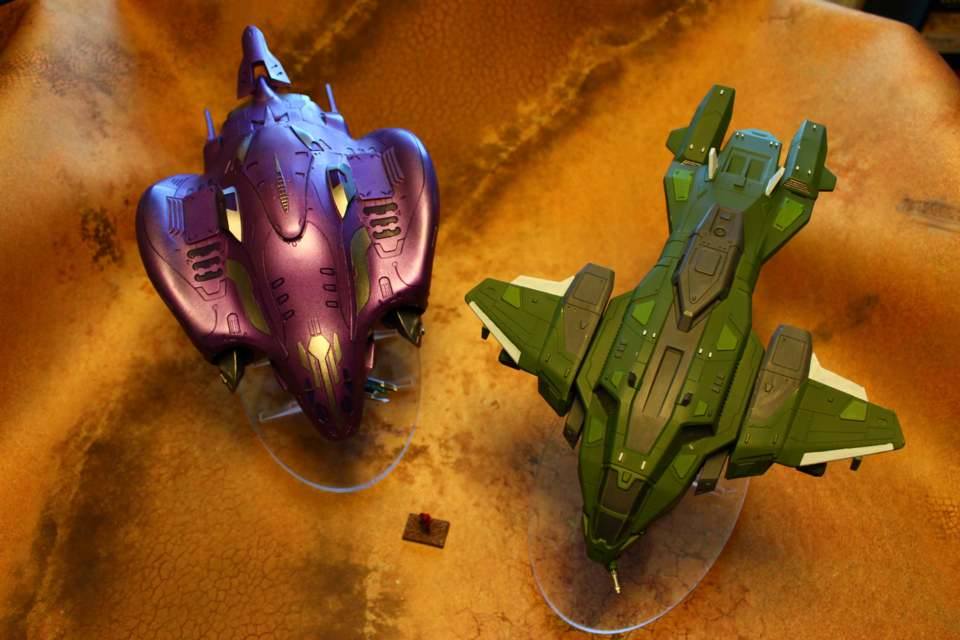 RADAR BLIPS

Let's see what sweet beats have sprinted across our motion-tracker recently...
NornSworn – Mythic Shotty Snipers is back! This latest rotational playlist replaces Covenant Slayer today and will be available for two weeks.
Easing the Grind – Double XP is being applied to featured playlists again this weekend! Giving you an extra boost on your Road to 152 this time around will be SWAT, default Warzone, and the aforementioned Mythic Shotty Snipers.
Can't Skin'em All – Our next official Community Playdate is slated for Tuesday, Aug 1, from 10-11AM PT. Before the inevitable bellyaching on time-choice commences, keep in mind that we try to mix up times and days of the week to give folks in different regions or on different schedules a chance to find us. So, make sure you jump into the Mythic Shotty Snipers playlist from 10-11 AM PT on Tuesday morning, and if you happen to match our full 343 squad (and don't quit out) during that time, you'll bag yourself a coveted 343 Ice Unicorn skin. It looks pretty slick, and I've been told that folks like showing off rare duds, so jump in and good luck!
So Long, Sweet Skirmish – As we've mentioned in the past, the Halo 5 sustain team is continuously monitoring game data and player feedback to adjust and react where needed to ensure the matchmaking experience is as good as possible for the majority of online players. As player trends and preferences ebb and flow, so too does the health and viability of particular playlists. Sometimes this results in changes to matchmaking criteria and parameters (as 343's Josh Menke has spoken about at length over the past few months) and other times a playlist just fundamentally struggles to maintain a healthy, consistent population and hit the quality bar we strive to maintain. It's never fun to take away something that players (even if it's a relatively small group) have become accustomed to and it's not something the team takes lightly, but sometimes it's unavoidable. With that in mind, next Thursday, 8/3, the Team Skirmish playlist will be removed from Halo 5 matchmaking due to a consistently low player population and the negative impact it has on other playlists like Team Arena and HCS. There's a lot of overlap between all three of these playlists and it's become clear that the player experience in all three will continue to suffer without this change. That being said, the sustain team will continue to evaluate and look for opportunities to integrate some of the maps and modes that were unique to Team Skirmish into other playlists. In the meantime, enjoy one last week of Team Skirmish as well as the return of Mythic Shotty Snipers!
Shock Factor – The Sticker Shock weapon skin pack is now available in Halo 5! Originally obtainable only in the Halo Legendary Crate, these sweet skins give awesome new visual treatments to your AR, BR, DMR, SMG, and Magnum. You can grab them in the Halo 5 REQ Store for 80k RP, or for real moniez ($9.99 USD) if that's your preference.
Maybe Not the Best-smelling Cologne – As a reminder, Gamescom is coming up Aug 22-26 in Germany, and we'll have a small 343 contingent on site with both Halo Wars 2 and Halo 5 content playable on the show floor. If you're going to be in attendance, make sure you stop by and say hi!
Speaking of Hot-drops – From our friends on the Consumer Products team and Mega Construx...
COMMUNITY SPOTLIGHT
We've got some crazy additions to show off for this week's Community Spotlight, from ridiculous Forge maps and minigames, to sweet custom BOOMco paint-jobs and some gorgeous screenshots.
Unsorted Gaming highlights this incredible Classic Duck Hunt minigame by spartan blood 1. Download the map and gametype to try it for yourself!
Unsorted Gaming also highlighted this insanely cool Forge map by HERRMITTMANN called Ragnahalla 2, complete with scripted crashing Pelican! Grab the map here.
AtomicJorge recientemente recibió este Rifle de Asalto MA5 de BOOMco, decorado con el skin del Unicornio de Fuego de 343, que irónicamente, se puede conseguir al ser destacado en un "Community Update". Bastante Meta. | Atomic Jorge recently recieved this gorgeous custom-painted BOOMco MA5, emblazoned with the 343 Fire Unicorn skin, which ironically, you would get in the game for being featured in a Community Update. Pretty meta. (video content in Spanish/en Español; Angel te manda felicitaciones!)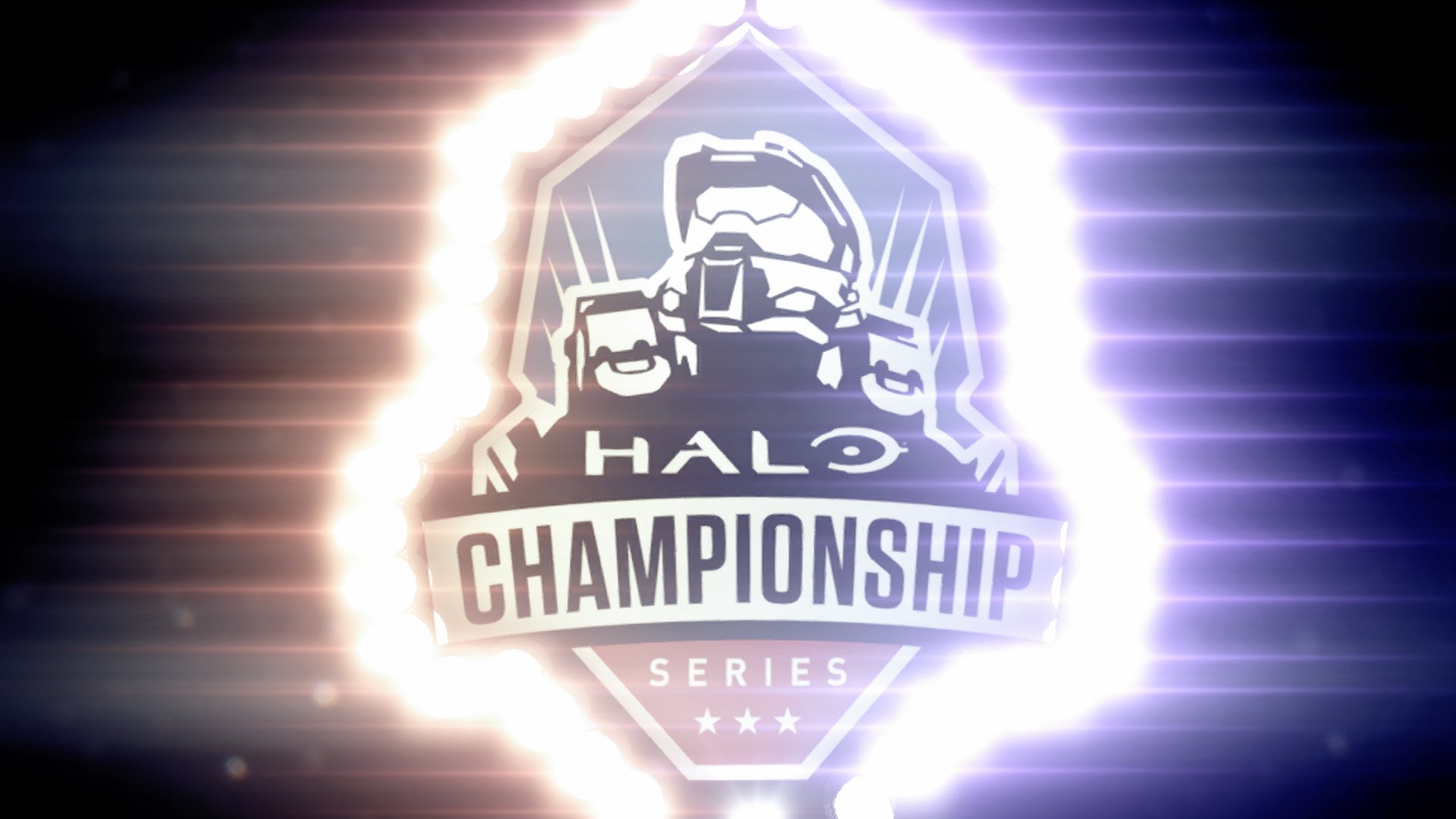 @Plazma_Kill
@I_am_Foreigner
@A_Forerunner_AI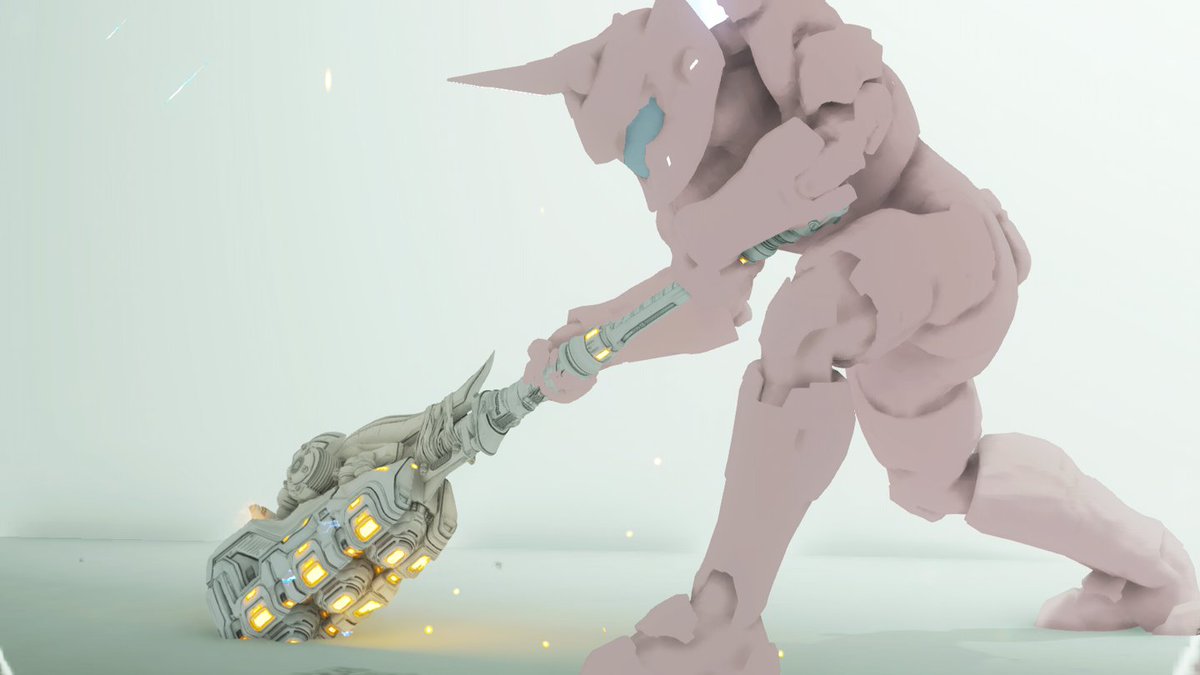 @Vexinglotus941
@Primordial117
PLAY OF THE WEEK

While there were a ridiculous wealth of incredible and impactful plays that took place in the Grand Finals at DreamHack Atlanta, it was this play by Shooter in Game 6 that may have been the tipping point in their run to the title.
During an attempt to stop OpTic Gaming from capturing the first flag, the members of Splyce make the move to overload the Rocket Launcher side of the map. Unfortunately for the young guns, OpTic successfully captures the flag and trades kills to create a 3 on 3 situation. Knowing they are all pushed up, Splyce chooses to continue their push and go for the counter cap. To open this play, Shooter hides behind OpTic's flag stand and then moves to the very back of the base – removing any cover that Lethul once had – and wins control of Red base. Once Lethul is down, Shooter's teammate bubu dubu takes out Frosty, and allows Shooter to easily grab the flag. He then runs a perfect flag – complete with a last-moment exchange with a teammate – allowing Splyce to tie the game at 1-1.
In many ways, the Play of the Week goes to the entire Splyce roster; it showcased that the young team is ready and able to go toe-to-toe with the 2x Halo World Champions OpTic Gaming, and on their best game mode to boot. It gave Splyce a tying flag capture, and turned the momentum back in their favor – momentum that they would ride all the way to an HCS Summer 2017 Finals championship.
And that does it for this week's whimsical wordplay. Once more, thanks to everyone who came out to support Halo at DreamHack Atlanta – whether you're a seasoned tourney traveler or it was your first event, it was awesome to meet so many of you and witness so much passion for the game all in one place. Here's hoping you all get to attend one someday! In the meantime, enjoy some Halo Wars 2 DLC, try to catch us in a Community Playdate, or maybe dive down the rabbit hole of Halo extended universe content. It's a big sandbox, let's make some castles together.
Until next time… Live well, play Halo, and bubu take my dubu.