Greetings, friends. Welcome to your mid-month check-in. Today, we'll dive into what's new, hear from a few devs on what they're up to, and get a closer look at some of the goodness coming with the January update, which is on track to drop right around the end of the month. Let's get into it.
As I slowly figure out where each team is located in the new studio, I often stumble upon a variety of Halo 5 work underway for updates in both the near future as well as the a-little-bit-further-out future. The UI and Forge teams are hard at work on File Browser (and lots more stuff I can't talk about just yet). The finest of trash talk flows from the new first floor playtest lab where the multiplayer team is experimenting with a broad range of on-the-way game modes. Pro Team can be seen running around and testing the finishing touches on yet-to-be-announced maps, and I'm happy to say I've also seen many of your finest Forge creations receiving their test passes as the Multiplayer Team prepares to get these and future community-created masterpieces into different matchmaking playlists.
In the Warzone neck of the woods (not too far away from the Arena guys and gals, about 10 steps), designers are discussing various Warzone tweaks and improvements, including changes to weapon "despawn" time (or garbage collection, as we call it), which we'll talk more about in just a bit. Earlier this week, the team also made changes to reduce the amount of Warzone idle boots required before players are banned, and are now issuing longer bans for any players who idle. In parallel, we're continuing to monitor data and idle exploits for future updates to make sure your Warzone teammates are runnin' and gunnin' just as hard as you are.
In short, teams across the studio are working to not only perfect existing experiences, but also build new stuff for you (and us, in full disclosure) to play with, and as a far-too-passionate Halo fan, it's all quite exciting. Lots of cool stuff is on the way. Speaking of, let's talk about this weekend's newest Action Sack candidate.
Weekend Rocket Party
There's a party this weekend, and everyone's invited. Weekend Rocket Party is this weekend's featured playlist, and it's one of many Action Sack-y game types the multiplayer team has been having fun with. It's a bit different than traditional Rockets, so here's a quick breakdown of the mode:
Rules of the Rocket Party
First and foremost, direct hits are instant kills. Remember this.
Players have unlimited ammo, no need to reload (bottomless clips), increased jump height, damage resistance, and faster Thruster recharge.
These settings make this game type full of explosions, chaos, unorthodox jump routes, and a whole lot of panicking and thrusting - not necessarily in that order - which I won't make any jokes about. Lastly, the playlist will be featured, and as a reminder, we've doubled the XP you receive from featured playlists based on feedback earlier this month.
We'll see you at the party. Once you've been cured of whatever hangovers may (will) result, be sure to drop us a line and give us your feedback on the game type as the Multiplayer Team builds more goodness in the form of brand new game types, playlist, and full game modes.
Infinity's Armory

The Infinity's Armory update is receiving its final testing as well, and as mentioned above, remains on track for delivery this month. It brings with it new battlegrounds, new weapons (and skins), new armors (and skins), various game updates and tweaks, and more. We'll reveal some of these now. As a note, if you've got a sharp eye and a thing for early morning esports, you may have caught a few of these weapon skins in today's Halo World Championship London qualifiers.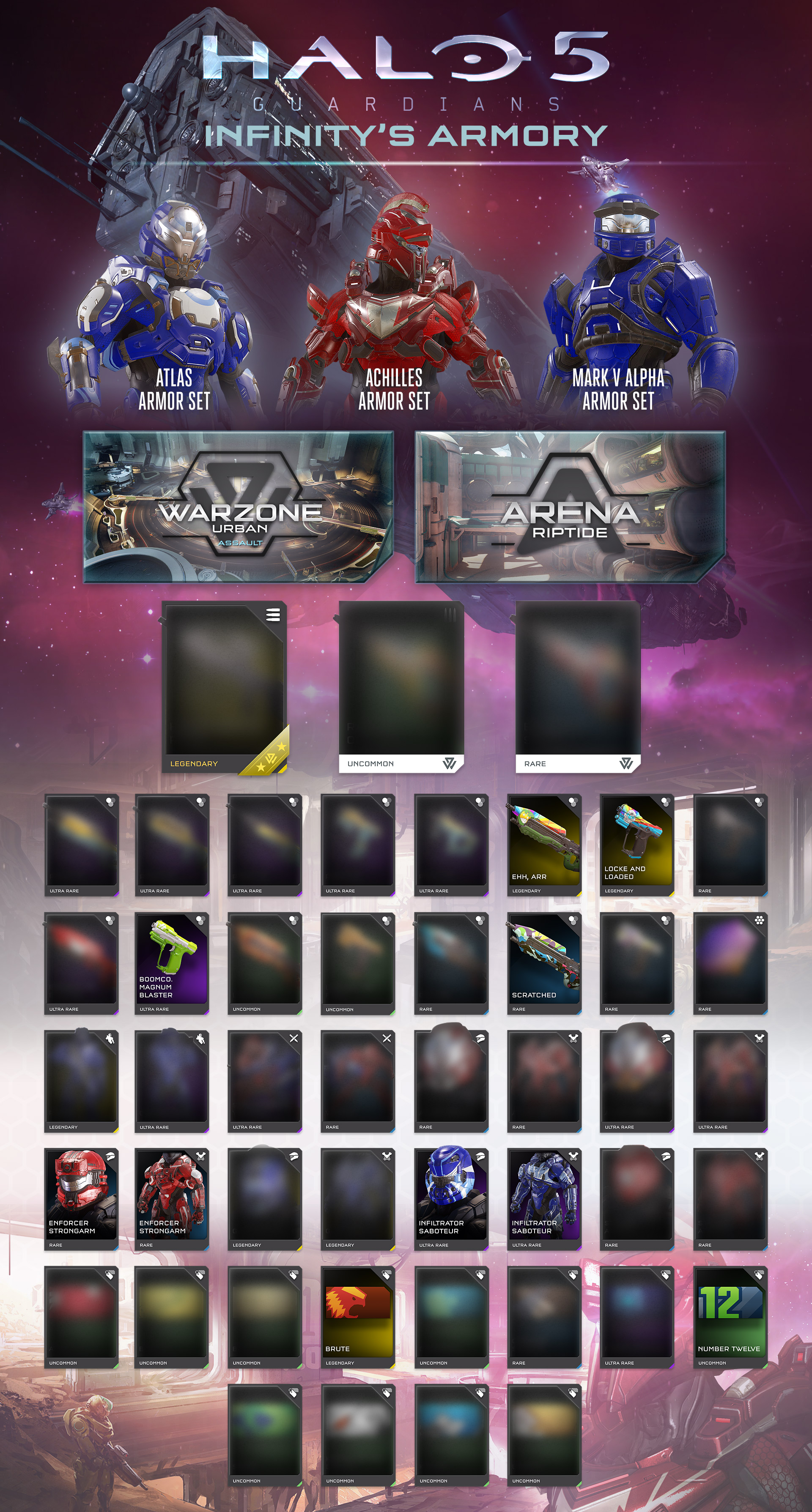 For the fiction background on these goodies, be sure to check out this week's Canon Fodder.

Riptide & Urban

The January update brings with it two new maps to play on. Riptide is a brand new take on Fathom, and Urban is a Warzone Assault variation taking place on Noctus. As you'll see below, art and design teams have been reviewing your feedback on remix maps, and there's a strong focus on making these maps feel, look, and play like entirely new spaces. Today, we'll get another look at Riptide, and then hear a bit about Urban.
Riptide
To hold you over until next week's live stream, here's a brand new look at the upcoming Arena map.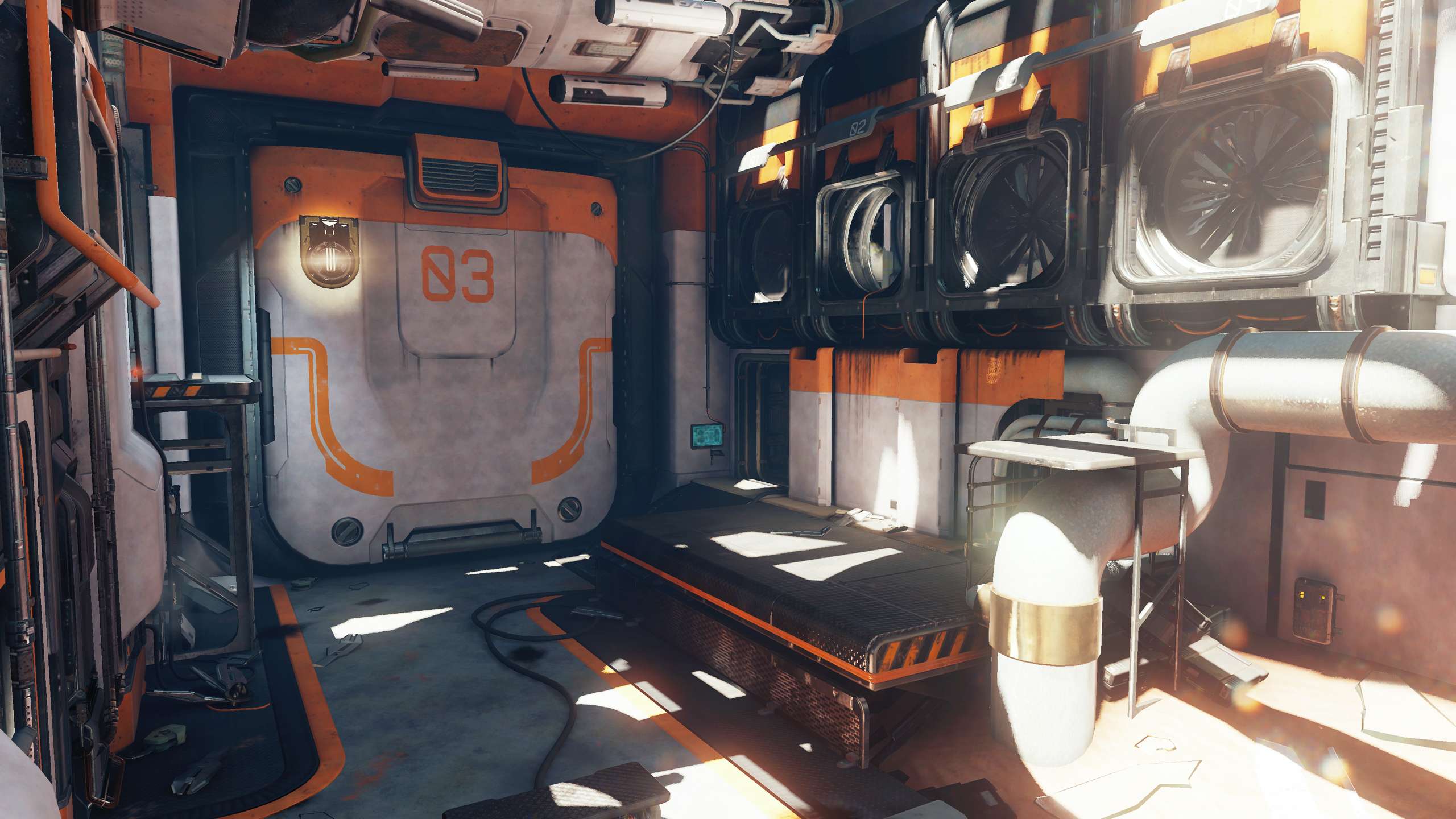 Urban

Adrian Bedoya, MP Level Designer
I'm a big fan of Warzone Assault, and I loved getting to work on both Battle of Noctus and now Urban. For this map we really wanted to push the gameplay and visual changes between Noctus. The biggest change was done to the design of the central area of the map, making it much more terrain and vehicle focused than Noctus. The added lines of sight from different areas along the street and home base area also add a new and fresh element of finding new areas for players to fight around.
Tim Diaz, Multiplayer Environment Artist
For Urban, we had a tough time trying to figure out what we could do to make this area really feel like it was a connected part of Noctus as well as change it enough where it would feel like a different map. One of the things I talked over with our lighting artist, Kevin Daziel, was the intense lighting we had for Battle of Noctus. We decided we should go just as extreme, so we made this level a night level. It may not seem like much on paper but going with that decision has many perils. For darker maps, it's easier for certain colors to blend into the darkness; and for multiplayer, that throws off balance and fairness which can lead to a not so fun experience. You have the ability to accidently shadow key points and paths as well as many other things. We went through many variations of night lighting and custom character lighting to get the right look and feel. Another issue we came to was trying to push the Noctus play space further. One of the main battle points of Noctus was the monument in the middle, which we ripped out to create more of an open urban terrain playground so we could still keep long rangebattles. And with the new pit in the center, it became a combat area to test how well you can handle your ground vehicles. While we lost some of the verticality, we gained more vehicle and cover combat all under the new monolithic building towering over the center base. Working with design, we came up with newer spots, jumps, and added more cover areas so players can have more ground fighting without the fear of falling over the edge.
Be sure to tune into next week's live stream (twitch.tv/Halo, 3PM PDT on Friday 1/22) to catch Riptide and Urban – and more from Infinity's Armory – in action.
Collector's Items


As we mentioned above, the Warzone team is constantly looking at player data and feedback to determine how they can make Warzone even better. My dear friend David Ellis grabbed me this week with some news on a change they've been working on, and we agreed "hey, we should tell people about this." Without delay, here he is now.
David Ellis, Designer
Since releasing Halo 5 last year (seems crazy, right?) our studio has continued to support the game with a myriad of new content, tweaks and fixes, both great and small. I've been asked to talk about one of the "smaller" items and explain the how and why of the change.
In pretty much all Halo titles there's a feature called garbage collection. Basically, we have a list of objects we scan periodically to see if they're not in use and delete them out of the player's view. This is one method of ensuring we stay as close to 60fps at all times. If the system is working correctly, you should barely notice it's even there. Though anyone who's ever died in a match and trekked back to the location of their demise to discover their preferred instrument of destruction has disappeared will attest, sometimes you notice.
With 24 players, dozens of the enemy and friendly AI and a multitude of vehicles and weaponry available to the player, Warzone is one of the most ambitious and, from a performance perspective, insane features Halo has ever seen. At launch, the garbage collection setting for weapons in Warzone was set to 5 seconds. A frequent bit of feedback from within our studio walls and without is a desire to have your dropped weapons stick around a little bit longer. After extensive testing in the studio we're happy to announce that starting with "Infinity's Armory," we've increased the weapon despawn timer across all of Warzone from 5 to 20 seconds without impacting framerate. Now you'll have more time to track down that weapon you dropped after getting bullseyed by a steely-eyed sniper, and perhaps, you'll get the opportunity to experiment with other tools of destruction delivered by the vanquished bodies of your enemies.
Forge Findings

This week, some of you also caught a look at a yet-to-be-announced Forge feature. Upon this discovery, I ran over to Tom French and said "Tom! They know!" This was his response.
Tom French, UGC Design Lead
Congratulations! You did it. You found our bees! If you didn't see, earlier this week a glitch in the game exposed a screen about "Object Groups" in Halo 5 Forge. Rather than skirting around it and pretending "there's nothing to see here," we are here to tell you they are real and they will be coming in a future update.
The idea for Forge Prefabs (our name for them) came early in our blue sky process and stuck immediately. They perfectly aligned with our desires to help cartographers build better, build faster, and build more. Additionally, it seemed to be a seamless extension of other core features we were looking at; any object/any map, multi-select, and grouping. The idea of building an amazing structure, saving it out, and placing it on different maps or sharing it with the rest of the world would be an EXTREMELY powerful tool in the hands of the Forge community; a potential game changer really. I even see it opening up the possibility of a new kind of Forger, one who isn't focused on all the details of building a full level, but instead focuses on building pieces that others can then grab and kitbash into their own worlds.
So there you have it. You've peered behind the curtain and seen a glimpse into the future. We've still got plenty of work to do to make sure all the hooks are in place, so I can't say when we'll drop Prefabs into the mix yet. For now, just start dreaming of all the different types of remarkable structures and fun toys you can build and share. Based on all the crazy things we've already seen you guys make since we launched Forge, we're definitely excited to see what you will do with the Prefabs!
The Achilles Armor Set


Above, you saw a glimpse of the heroic Achilles armor, which I already know will be Unyshek's new armor of choice. Below, you'll get a rundown of how you can grab this sweet set.
With the release of the Infinity's Armory update, there will be two Spartan Company Mastery Commendations. The first is getting to level 3 in all of the Kill Commendations. This awards you with the Achilles Armor. The second Mastery Commendation is awarded for getting all Kill Commendations to level 5. This awards all members of the Company the Achilles Helmet.
To get an idea of what the Spartan Company Commendations look like, you can check out the 343 Pro Team's progress here.
Note that you have to be a member of the Company at the moment when the award is given to earn the goodies. So if you want it, you'll need to join a Company that does not yet have the armor or helmet. No bandwagoning here. Stick with your crew.
Stay tuned as teams across the studio work on more Spartan Company goodness – there's more on the way.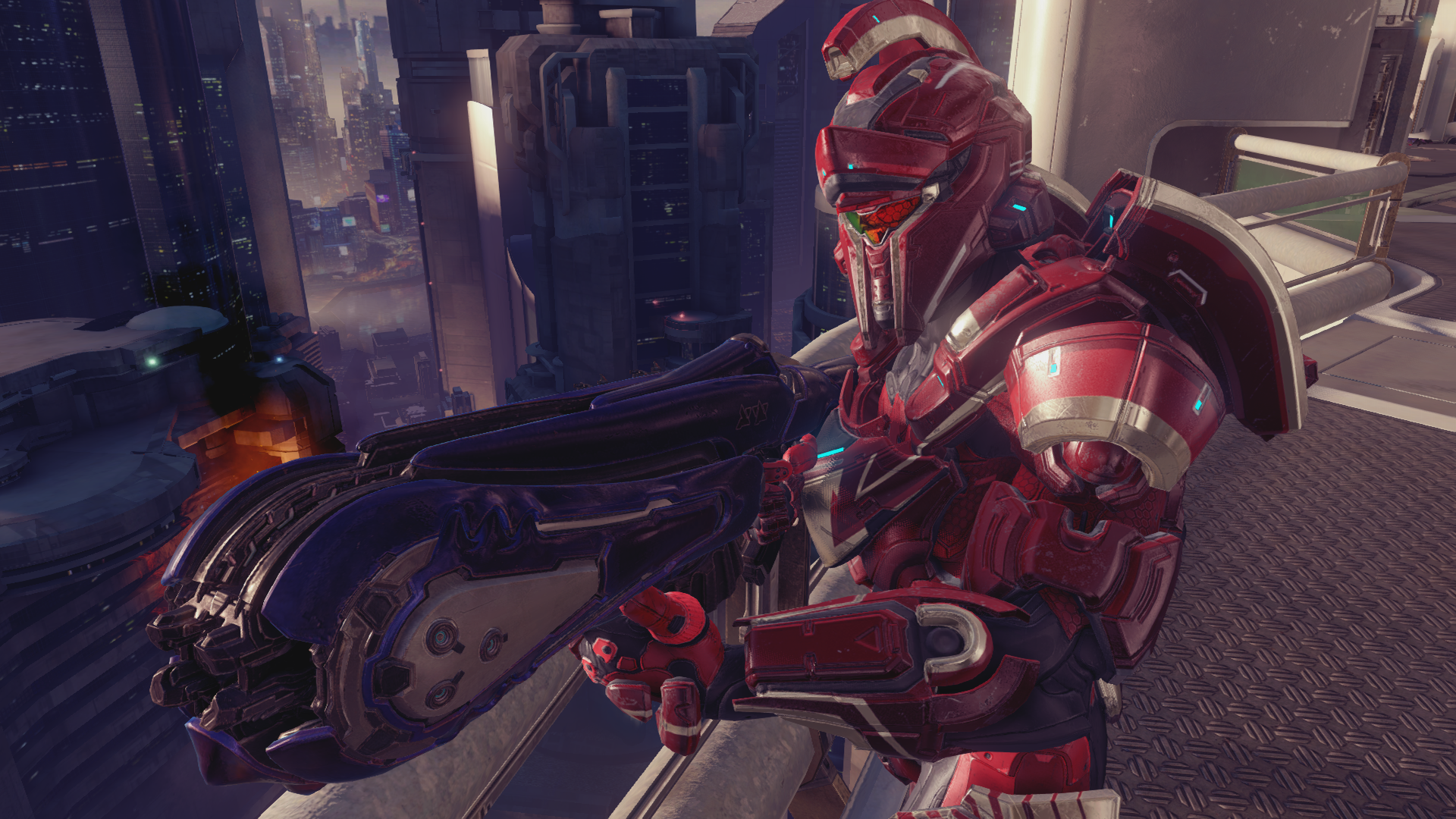 Esports Update
This weekend, the top teams from the UK are in London competing in the Halo World Championship Tour. Day 1 has come to a close with a series of sweeps, but don't miss the action this weekend as teams battle for a spot in the HWC Regional Finals. The broadcast will kick off again at 1:45 AM PDT Saturday on Twitch.tv/Halo.
If you're like me, you grew up watching (in awe) action sports heroes perfect their craft each year at the X Games. The annual events have pushed the boundaries of each sport and competition, and over time, we've seen the impossible become possible when it comes to new tricks, heights, combos, and more.
This said, we couldn't be more excited about Halo 5 being played at this year's Winter X Games (in just two weeks!). The tournament will be a medaled event, meaning the top team will head home with X Games Gold. Eight of the top teams in the world will be in attendance at this invitational event, and for the first time ever, segments of the tournament will be integrated into the X Games Aspen broadcast on ESPN. We can't wait, and we'll see you in Aspen.
Community Spotlight

This week, we're highlighting some sweet, sweet throwback creations from previous Halo titles. We also know that many of you have expressed excitement over a Community Throwback playlist, but to hold you over, we've selected a few incredible creations below for you to check out. Special thanks to HugoCornellier for keeping his thread so well updated with the finest remakes around.
To download these files, just follow or friend the below gamertags, select their name on Active Roster, and select Map Variants under File Browser.
Chill Out (Halo: CE)
by JoeDannyMan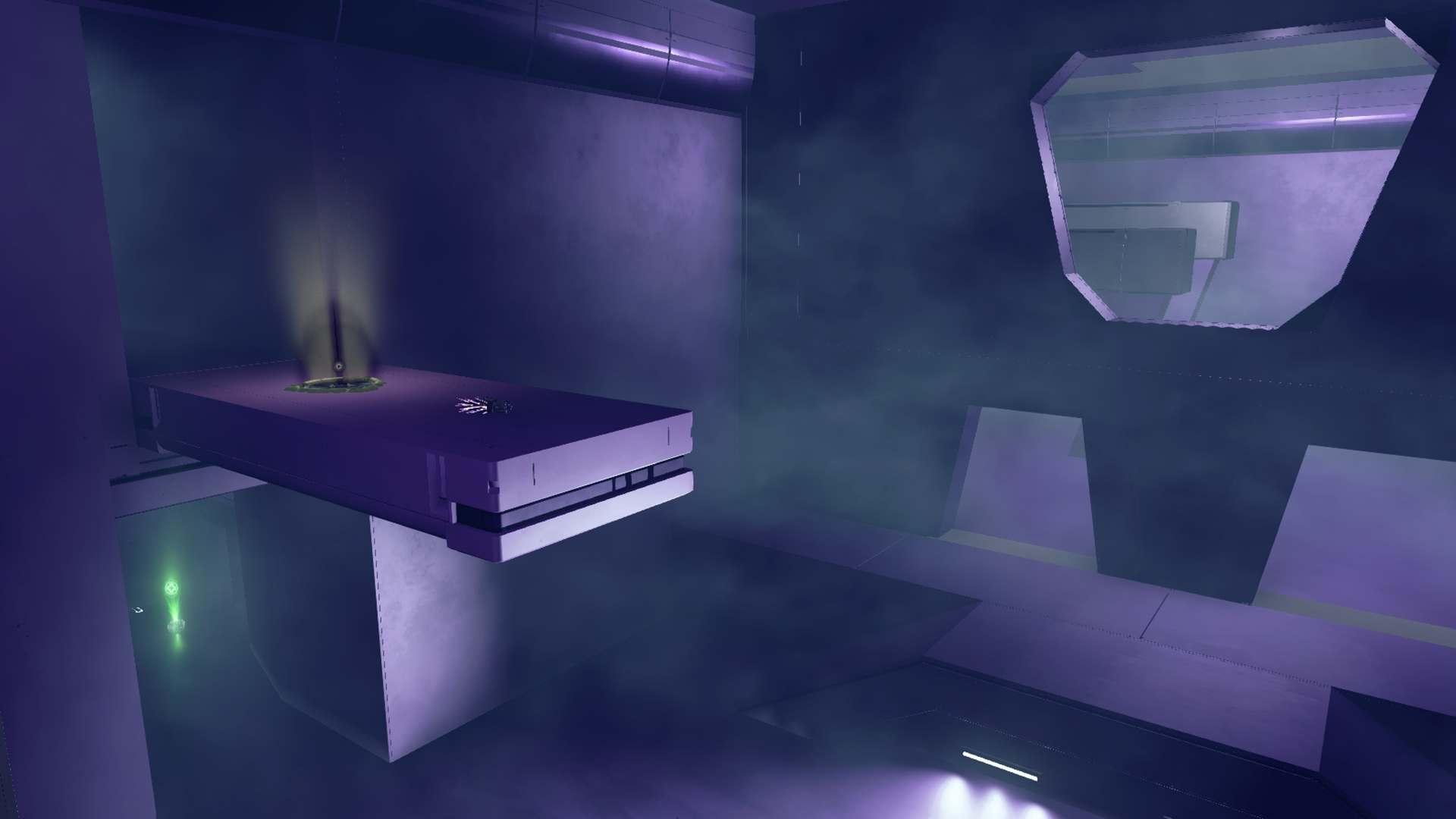 Deadline (Terminal, Halo 2)
by LookMumNoScope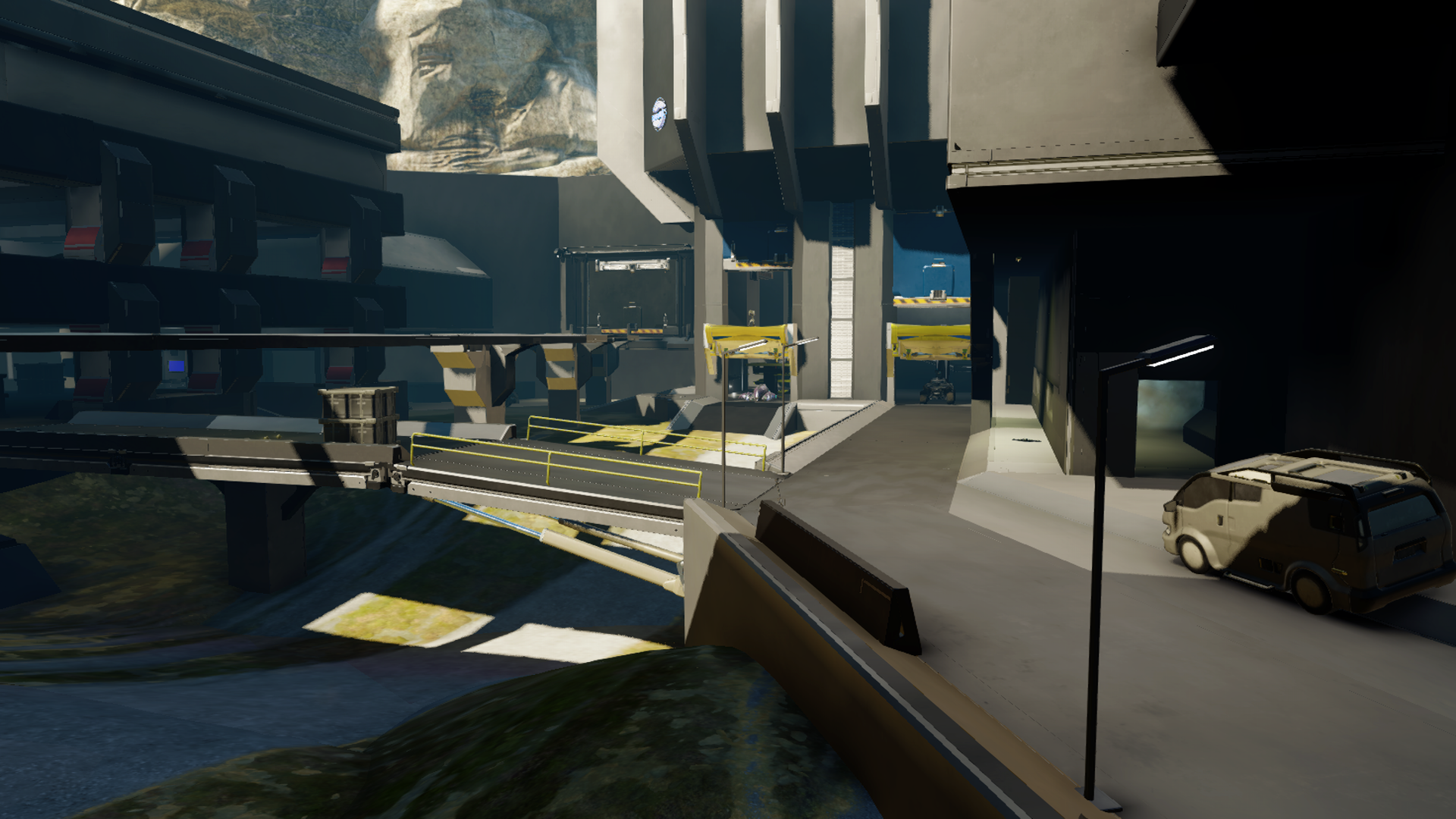 Sandtrap (Halo 3)
by WyvernZu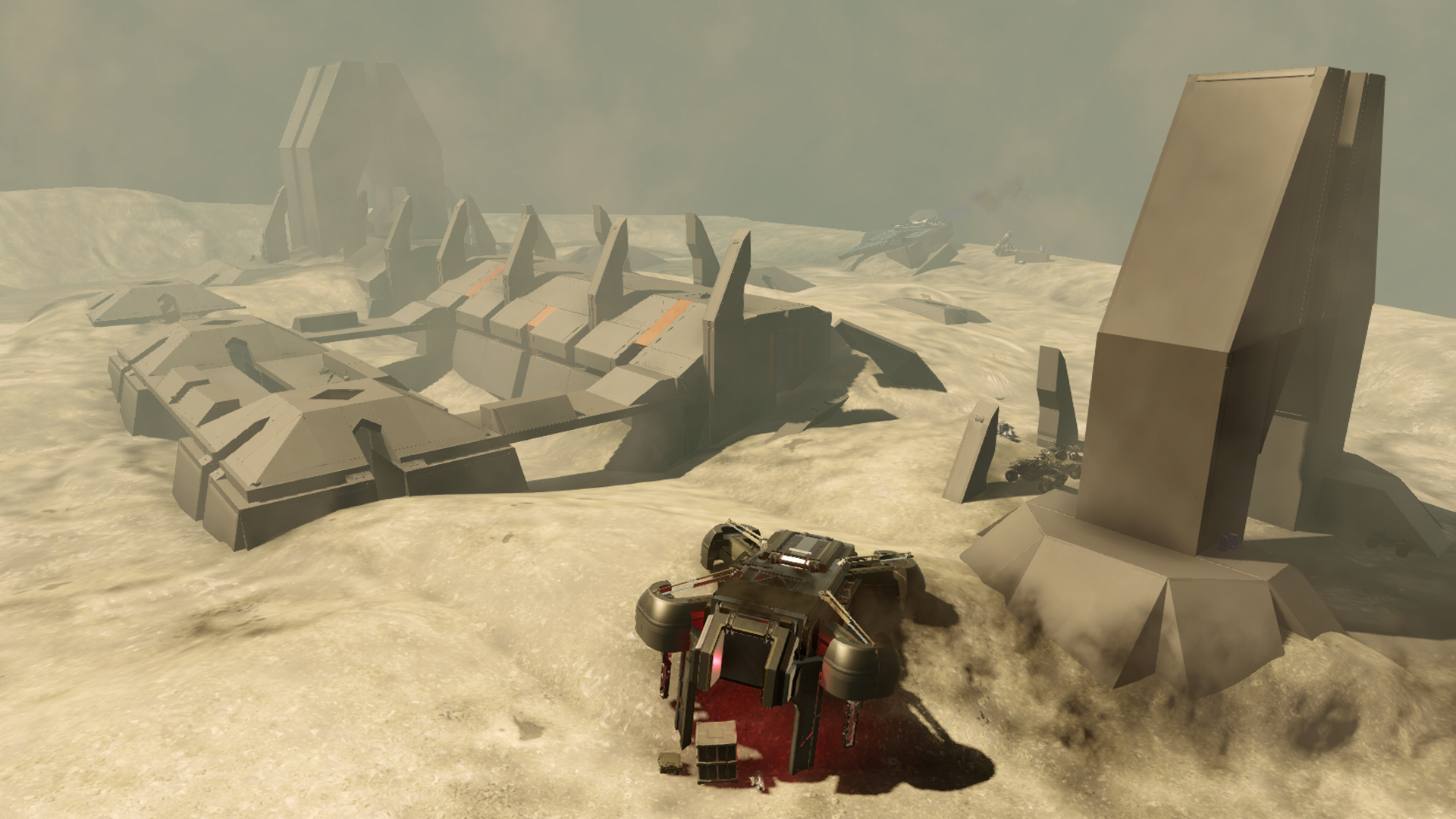 The Pit (Halo 3)
by ilsilentii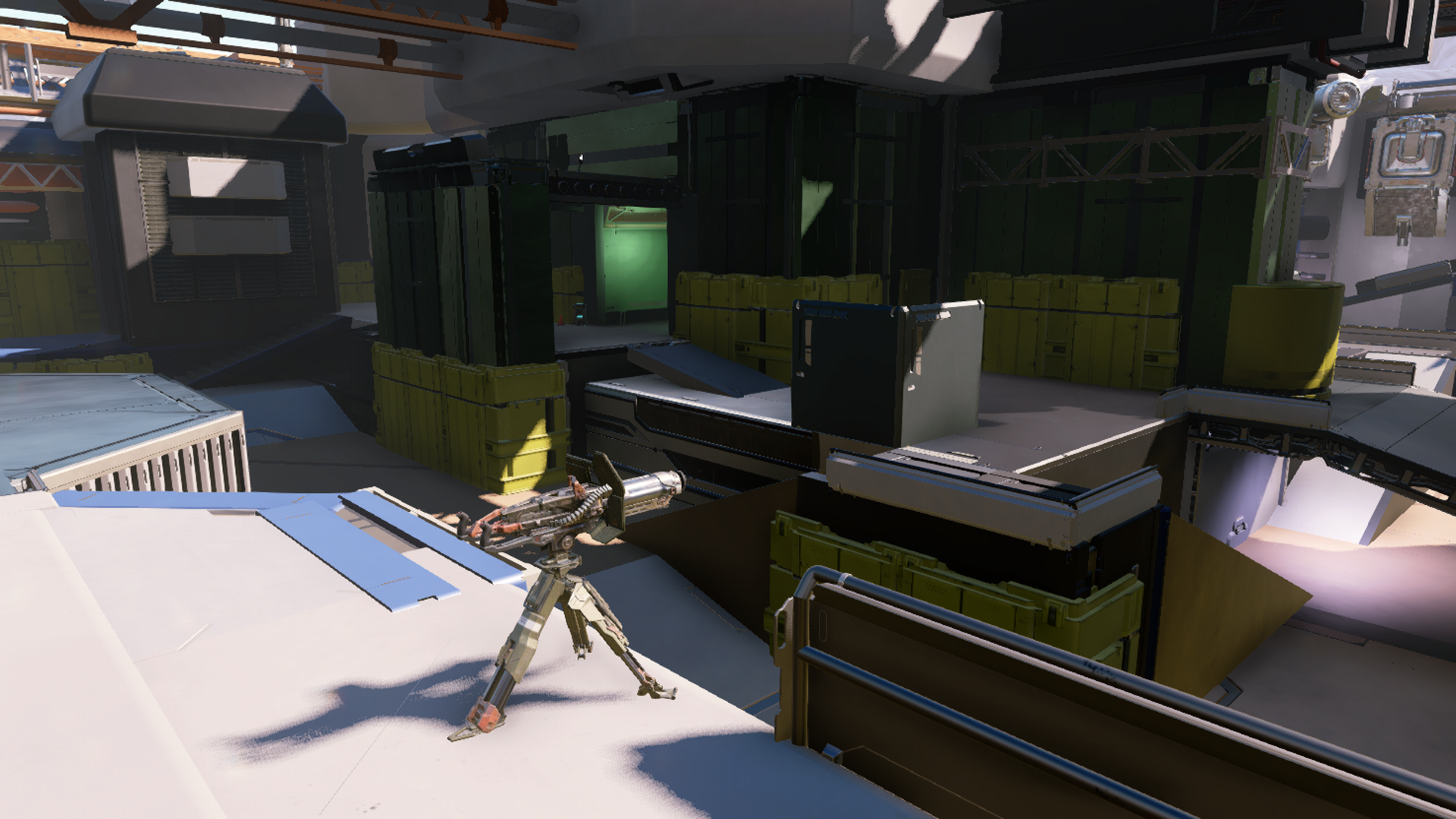 Play of the Week

This week, Unyshek spotted some fine boarding etiquette, and his find is your play of the week. A perfectly timed (and quite risky) exit nets pikezh638 from r/Halo quite a prize, and some sweet bragging rights, and worldwide fame.
Here's the first person look: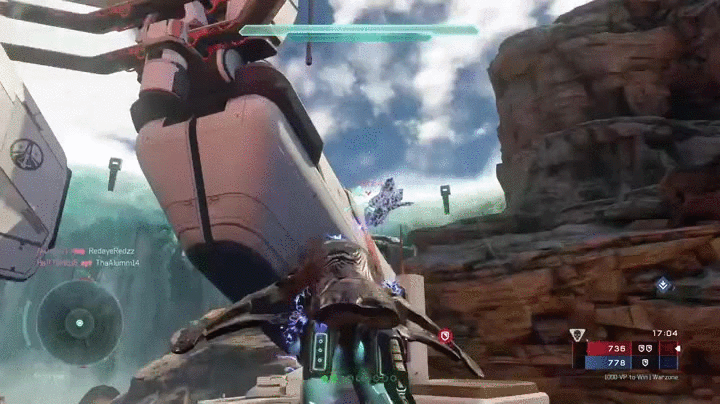 And if you're like me and you need to have this slowed down, here it is, 'cause OP delivered.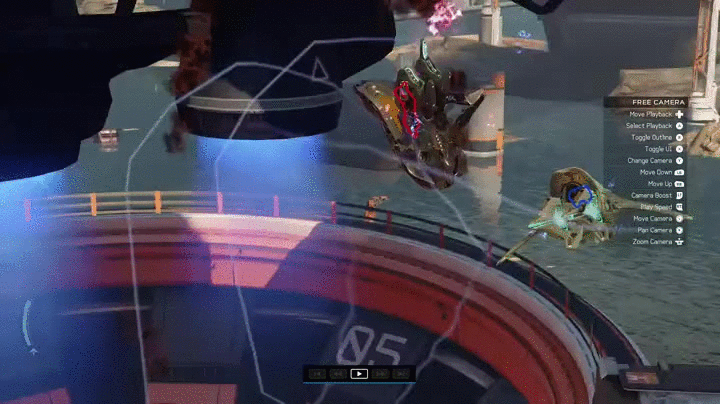 Lastly, the opponents view can be seen here.
And, before we go, here's a fantastic clip we found from FormativeSeven1 – a miraculous finish to a round of Mongoose Sumo.
That'll do for this week. Next week, we'll reveal (almost) all of the goodness coming in the Infinity's Armory Update, and check out the new stuff at 3 PM Friday, 1/22 at Twitch.tv/Halo.
Talk soon,
Bravo