After taking a short sabbatical in order to partake in HCS Orange County last week, the Community Update is reloaded and ready to bestow a fresh-backed batch of Grim + Bravo banter upon your eager eyes (and ears). We've got a lot to cover, and not even the relentless environmental assault our area is enduring brought on by the vestigial vengeance of Typhoon Songda will stop us; just another day at the beach, you could say.
RUMORS OF WARS

If you're like the rest of us, so many of Halo's memorable moments are made ever more magnificent by the iconic melodies that meander alongside us as we galivant across the galaxy – and perhaps even just outside of it. Speaking of which, last week our friends at Nerdist put together a pretty awesome look at the development of Halo Wars 2's musical score, including the release of two brand new pieces from the upcoming RTS' OST, as well as the official announce regarding the minds behind the musical magic. If you haven't gotten a chance to check it out for yourself, definitely do yourself a favor and clicky da linky.
And speaking of Halo Wars 2, it's a particularly exciting time around 343 right now, as we've got community friends and media partners on-site in the studio as we speak to partake in some pretty cool new HW2 goodness that we're all eager to wax poetic about soon. Very soon, in fact – we're not saying you should expect some sort of media blitz about it all on Oct 19, but… yes we are. Stay tuned.
BIP. BAP. BUCK.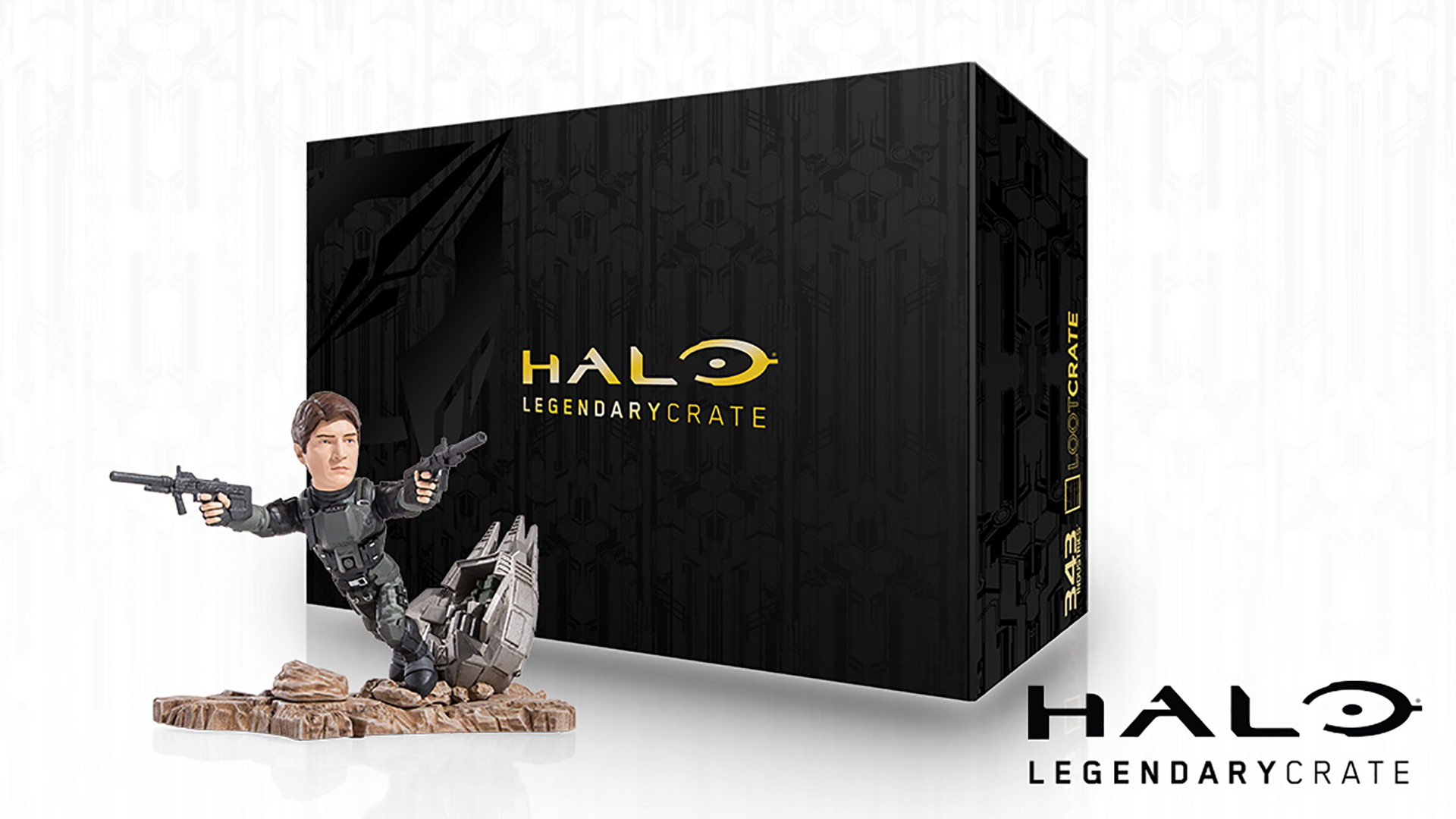 Your passionate penman might not ever have a (remote) future finding success in the Halo Championship Series, but every once in a while, I do put the Pro in Procrastination. If you find yourself feeling equally guilty of such a trespass from time to time, then this reminder might be just the thing you need.
Recently, we revealed the newest Halo Icons figure slated for inclusion in the next edition of the Halo Legendary Crate – with a little help from a particularly handsome and heroic Helljumper. Whether you're needing an epic fireteam member for your Friday Knight Fights, or you need someone who knows the Keyes to your Castle, this epic and exclusive ODST-era Edward Buck figure is not to be missed – and miss it you shall if you don't order your own Halo Legendary Crate by tomorrow, Oct. 15. Click here if you don't want to be left out!
BETCHA CAN STICK IT

You know what everyone loves? Stickers. Don't act like it's not true. You get an A on your term paper, that's pretty cool – you get a sticker on that sucker? THAT'S next level academic achievement. Next stop: the fridge. Since stickers make basically everything better, we've collected some fun ones together for you to Halo-fy your comm chatter across your iOS devices. Download our opening sticker salvo now for free on the App Store, and add some Mjolnir to your messaging.
HCS Orange County

As mentioned, the team headed down to Santa Ana, CA for HCS Orange County last weekend. The first HCS open live event did not disappoint, with each day showcasing new champions emerging from ever-more-epic settings. The Halo 5 FFA Powered by ASTRO Gaming saw bubu dubu reign supreme, while OpTic Gaming finished off the final day by taking the crown in the Championship Bracket in a 4-0 sweep of current HCS Pro League leaders Team EnVyUs. Get the full recap and results right here, and keep it locked to Halo.gg and ProLeague.com/Halo for all the latest Halo esports goodness.
JUST HOLD X
If you haven't noticed, our friends at Rooster Teeth have been pretty darn busy lately. Just yesterday, they unveiled a very special episode of their popular series, Immersion. The new episode focuses on a time-honored Halo tradition – flipping Warthogs. Of course, there's no way the creators of Red vs Blue would do anything in a remotely…conventional way. We'd say more, but it's probably just best if you check it out yourself…
Oh, and speaking of RvB, the season finale of Season 14 airs Sunday, Oct 16 at noon ET at RoosterTeeth.com for FIRST Members. The episode – "Red vs. Blue vs. Rooster Teeth" – is an epic and hilarious hybrid of live-action and animation that stars all five of Rooster Teeth's founders, and, for the first time in nearly four years, was written and directed by Matt Hullum himself. Trust us, it's something you won't want to miss. In fact, why don't you check out a tiny taste right now.
PERSONAL PUMAS
When last we met, we were still basking in the glow of a freshly-launched Forza Horizon 3 – which really means that we were spending an inordinate amount of time hooning Hogs around the Australian Outback alongside various Vipers, Vulcans, Venenos, and Vanduras.
During the development of the M12S Warthog CST for the open-world auto experience, one of the things we were most looking forward to was seeing all of the incredible photos and custom liveries that players would create. In our last Community Update, we put the call out to see some of your best, and boy did you all deliver some gems. Here are just a few of our favorites: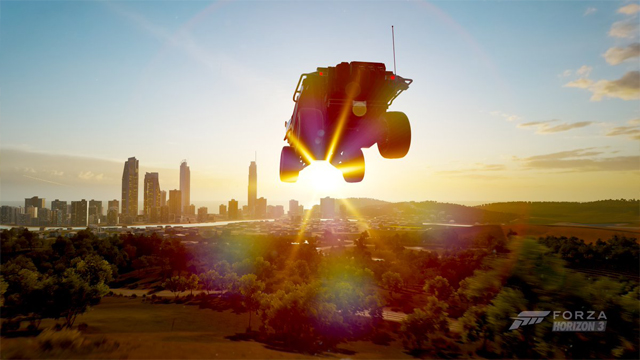 @thyReaperMC – Forward unto Dawn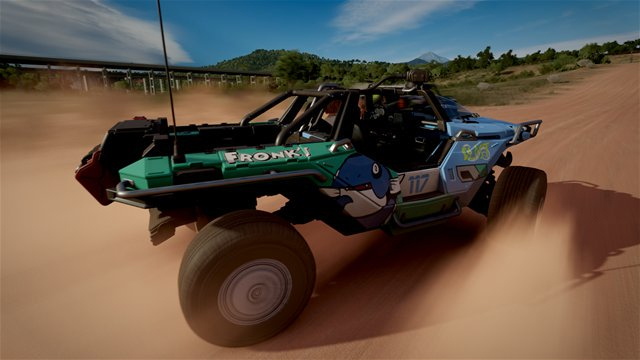 @TimothySnowman – What the Fronk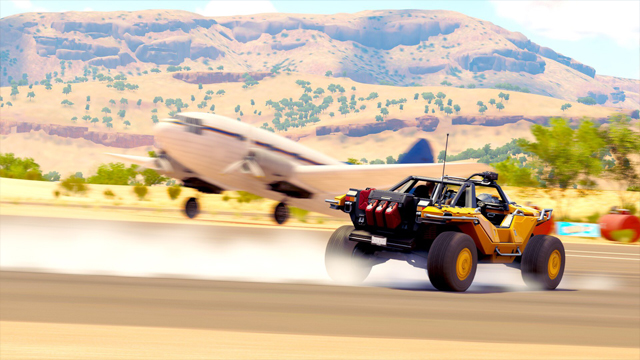 @ForgeAndReclaim – Not-so-mellow Yellow
To see more, search for the hashtag #PersonalPuma on Twitter, and keep your creations coming! You never know when we might pop in to pick a few more that catch our attention from time to time…