The HCS Grassroots program is quickly approaching its one-year anniversary and we've been blown away by the response and support from the Halo community. Since launching last November, we have learned a lot about the onboarding process as well as how we can best continue to serve HCS Grassroots partners and fans all while growing and evolving the program on the road to Halo Infinite. Today, we have 12 partnered content creators and we will continue to add more over time. They create and release their content on various platforms – which presents some challenges around our abilities to shine a spot light on all of these different pieces of content, both live and VOD. We are constantly thinking of better ways to promote all of this amazing community content.
With those goals in mind, we're excited to introduce live.halo.gg – an experimental extension of Halo esports' home on Waypoint leveraging the Maestro service that will serve to showcase HCS Grassroots and official HCS content regardless of what platform they're available on. If you're looking for the latest and greatest core multiplayer and competitive content the community has to offer – whether it's happening live right now or freshly-posted VOD – look no further. As the HCS Grassroots program continues to add more content partners and tournament organizers – live.halo.gg's offering will be updated and curated to provide you with more and more entertainment in one location.
Here's what you can expect when you head to live.halo.gg.
Featured Content
On the featured page, we'll be curating the content we think you should be watching right now. If there's a partnered tournament that's live, you can expect we'll feature it all weekend long. When the show is over or there's not a tournament taking place, we'll be featuring a rotation of HCS Grassroots content creators or showcasing curated on-demand playlists.
Looking to explore and watch other content creators that are live? You can do that too!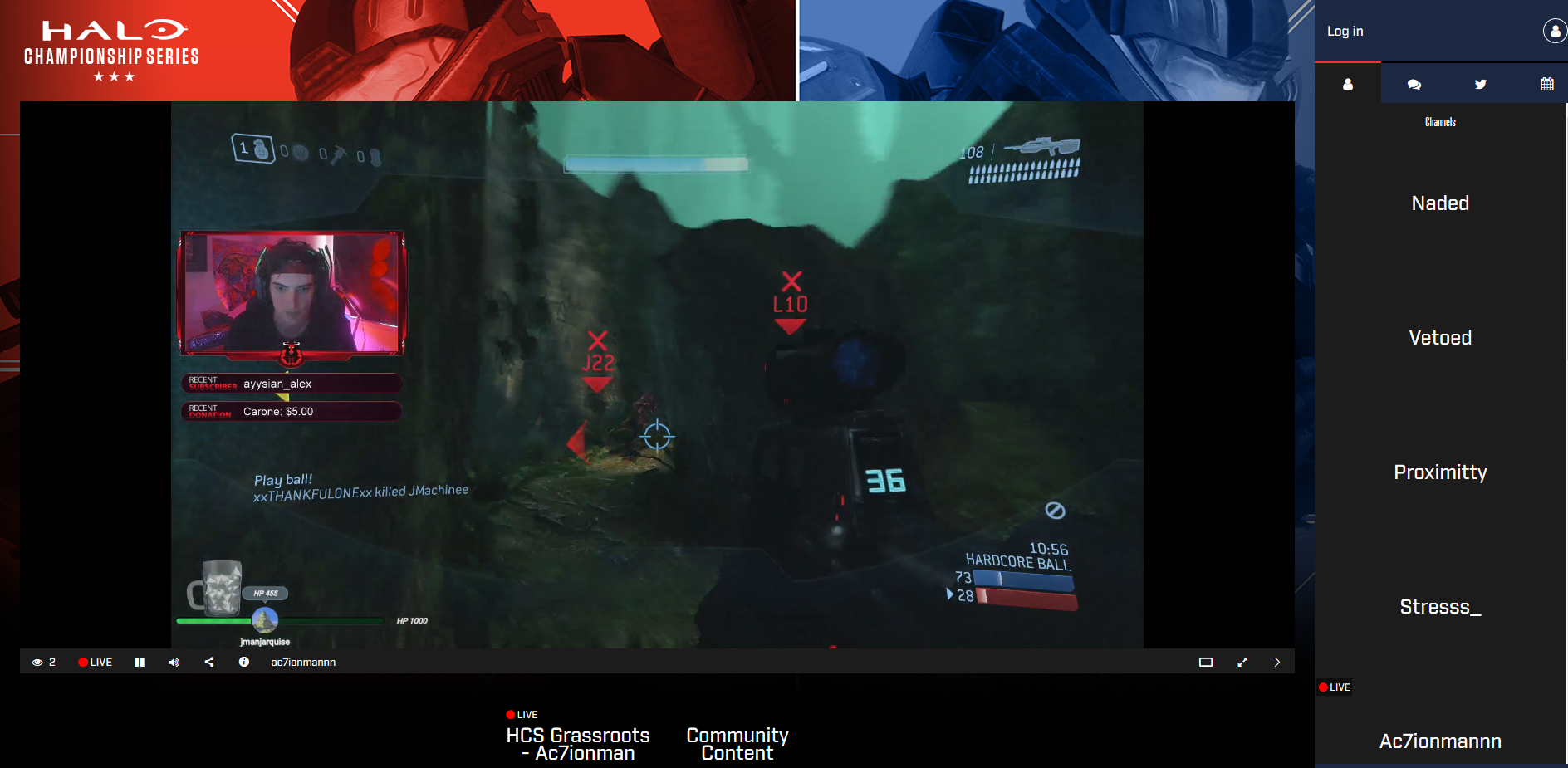 Community Content
Live streaming isn't the only way HCS Grassroots content creators set out to entertain – and we've curated the latest YouTube videos for Halo multiplayer lovers on the Community Content page. See UberNick's latest thoughts on Halo Infinite, catch Eli X's top stream highlights, watch Proximitty train for the Halo Classic 2v2 tournament, and more!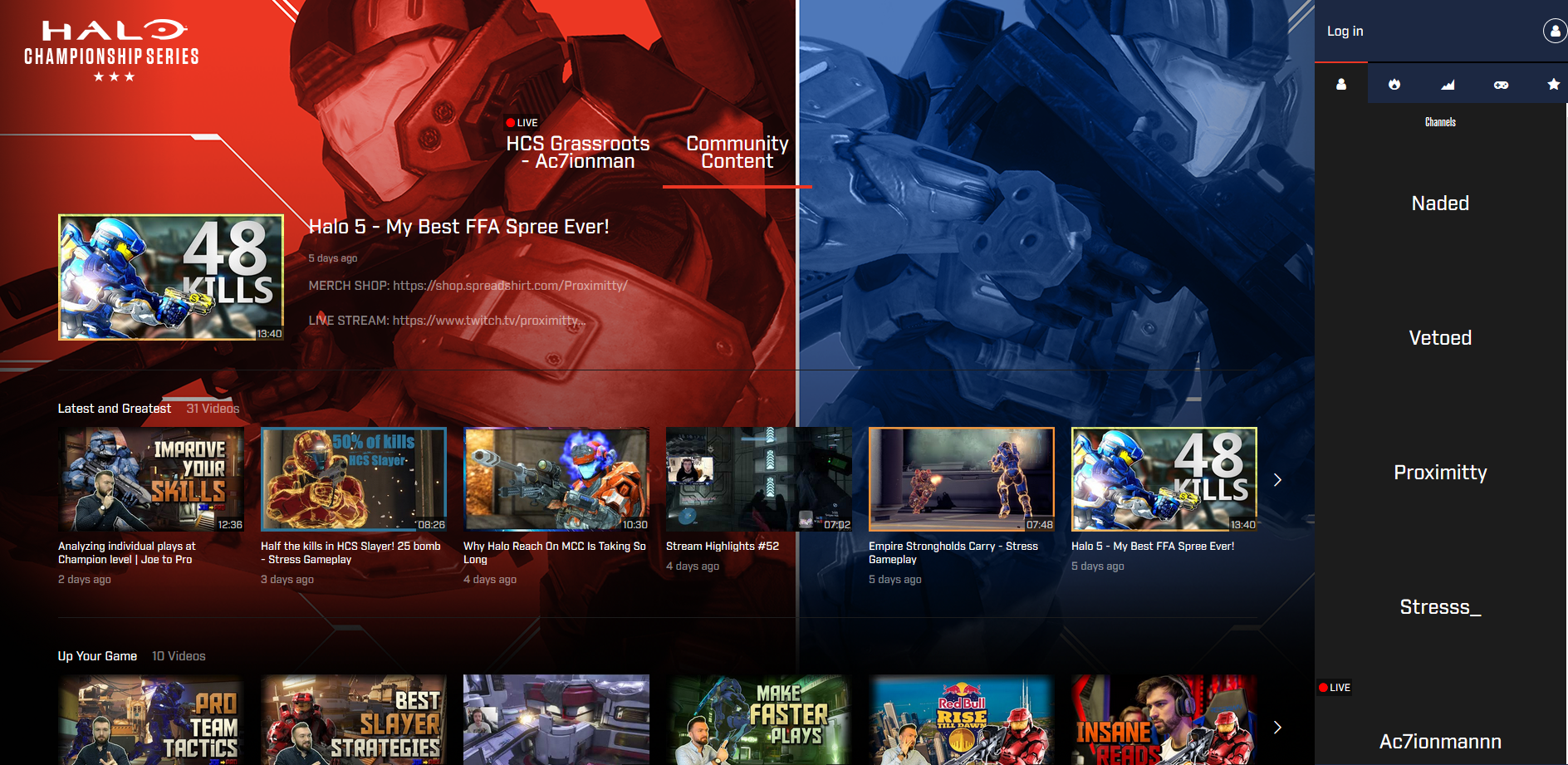 As the trial period continues, we'll be offering challenges within live.halo.gg that will enable you to unlock the HCS Grassroots content within Halo 5 and MCC, and potentially more goodies down the road.
As mentioned above, live.halo.gg is an experiment looking to bring Halo fans the best content out there and also continue to support HCS Grassroots content creators. So you might be thinking, "how will you know if this experiment is successful?" For this live.halo.gg trial period to be considered a success, we expect to see an increase in viewership for HCS Grassroots content creators and TO partners, for both their live and VOD content featured, as well as strong discoverability and cross-pollination of viewers and engagement across the content featured on the site. Finally, the fans using live.halo.gg should be having a great experience and the feedback we get from viewers will also be important.
Speaking of feedback – we want to hear what you think of live.halo.gg! After giving it a spin for a while, you can tweet your feedback at us (@HCS). Tell us what you like, what you dislike, and what things you think would make the experience even better!
Once again, thank for the continued support of the HCS Grassroots program and its partners as we grow and evolve on the path towards Halo Infinite. For all the latest on the Halo Championship Series, keep it locked to Halo.gg, live.halo.gg, and follow @HCS on Twitter.