Greetings! We have ourselves a short week here in the studio due to the holiday weekend, and as I type this, many 343'ers are heading home to their families in preparation of the related gatherings and feasts. For our US fans, we hope you're getting ready for a relaxing weekend at home with friends and family too. For fans all over the world, we're entirely alright with you skipping work or school for the next two days and jumping into Halo 5 for some holiday weekend goodness, or taking advantage of some Black Friday Halo deals. Let's talk about all of that and more today!
Last week, we pulled together our first live community update, brought to you over the airwaves of Twitch and YouTube. If you missed the update, you can catch it here. Topics included an overview of Battle of Shadow and Light content, Halo World Championship news (plus upcoming HCS skins), chats with the Multiplayer and Forge Teams, and a sneak peek of the December drop, which we'll drop right here: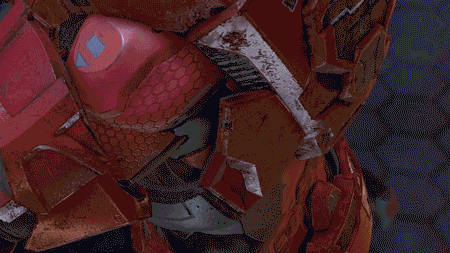 Also, just yesterday, we released a quick hotfix that resolved issues with Campaign game saves and Theater bookmarks – our last update sent a few of these out of whack, and everything should be back to normal now.
Each day, teams across the studio are working on not only improving existing experiences – based on your feedback on UI, stats and CSR tuning, customization, BTB spawns and JIP, spectator tools, Warzone Assault trickery, and plenty more – but also new experiences as well, including new maps, weapons, REQs, and beyond. Over the next few weeks, we'll be talking more about what's to come in the December update, which will be here in well under a month. We'll be covering Forge, new maps, the start of seasons and other playlist changes, and lots more. Speaking of, we've got a few things going on in Halo 5 this weekend. Let's talk about 'em!
HALO 5 HOLIDAY WEEKEND

This week, you voted on which playlist you want to see in matchmaking, and Rumble Rockets won the poll, with 54% of the total votes. Being that we've got a long weekend ahead, the playlist will be available a day early, starting tomorrow (Thursday) morning Pacific time, and available for your enjoyment through the late night hours on Sunday evening. Jump in for some explosive goodness with unlimited ammo. Oh, and if you haven't yet tried out auto-stabilize, this weekend playlist might be a good time to do so.
Also, for players who log into Halo 5 from Thursday through Sunday, we've also got a little Thanksgiving surprise waiting for you. After you've stuffed yourself, be sure to jump into the game to grab it.
BLACK FRIDAY HALO DEALS

It wouldn't be Thanksgiving weekend without some good ol' fashioned Black Friday deals, minus the morning traffic and violent doorbusters. This year, we've teamed up with a bunch of partners on some sweet, sweet deals, so I grabbed some info from our products team. Whether you're grabbing a pair of ASTRO Gaming A50s or a replica Locke helmet for your grandmother, check out the deals below.
HaloWaypointStore.com
Holiday Deals ( Nov. 27–Dec. 31)
No promo code required. Deals will be added automatically during checkout.
25% off all tees and outerwear (does not stack with existing sale pricing)
Free stocking stuffer with all orders (while supplies last)
Free US shipping on orders over $75
Free international shipping on orders over $100
MUSTERBRAND
Buy a Flight Deck Officer Jacket and receive a UNSC Top Loader Bag for free. Use code John-117 at checkout (valid Nov. 27–Dec. 4).
http://aka.ms/MusterbrandBlackFriday
ASTRO GAMING
Halo 5: Guardians A40+M80 and Halo A50 for 20% off from Black Friday through Cyber Monday.
http://www.astrogaming.com/special-editions-halo5
http://www.astrogaming.com/a50-headset/3AS50-MSW9G-377.html
Triforce
Free domestic shipping on Halo 1:1 Scale Helmet Replica pre-orders. Use promo code: SHIP
Valid Nov. 26, 2015 12a.m. EST – Nov. 30, 2015 11:59p.m. EST.
http://www.projecttriforce.com/index.php?p=product&id=68
http://www.projecttriforce.com/index.php?p=product&id=67
GAMESTOP
Halo UNSC Pelican Replica GameStop Exclusive Variant $39.99
Halo 5: Guardians McFarlane Action Figures $9.99 (Reg. $14.99)
Halo 5: Guardians Strategy Guide $14.99 (Reg. $24.99)
http://www.gamestop.com/blackfriday
MEGA BLOKS
Target:
Phaeton Gunship: $34.99 (Reg $44.99)
Scorpion's Sting: $49.99 (Reg $54.99)
Toys "R" Us:
Buy One Get One 40% off all Halo items ( Nov. 1–21)
40% off Mega Bloks Halo Figure packs: Nov. 26–28
Cyber week: 40% off all MEGA Halo items (Nov. 29–Dec. 5)
3D Spartan Printing

Just this Monday, we joined forces with Sandboxr to bring your Spartan to life. To 3D Print your Spartan, log in to your Xbox Live account, and then choose an armor set, helmet, and base. You'll also be able to select your primary, secondary, and visor colors, pose, text, and size.
To get more details or create your 3D print, head here: http://aka.ms/3dprint
ALL THE ARTS

The 343 Art Team created an overwhelming amount of artwork throughout the development of Halo 5: Guardians. Between Concept, Environment, Lighting, and Cinematics, and even more, all of the groups worked with teams across the studio to create the worlds of Halo 5: Guardians, and that work continues today on new maps, REQs, and experiences across the game.
Just today, the art team released a collection of imagery from development to final shots, commonly referred to as an "Art Dump." To get a look at the amazing work, as well as get some commentary from 343's Neill Harrison, head here.
PLAY OF THE WEEK

This week's play comes from the old adage "don't chase." Sometimes, though, you may find yourself chasing down a kill you so desperately want, even after your opponent has escaped with a crafty clamber route. Or, you may find yourself on the receiving end of a chase, with a pesky opponent chasing you down, no matter how many corners you turn, ledges you clamber, or times your shields have started to recharge. This was the case for miniman34, who uses a variety of maneuvers to not only evade his chaser, but also end the match with style. Check out this week's clip below.
And that will do for this week's update. Wherever you might be this weekend, we hope it's a good one with plenty of food, friends, family, and fantastic games of Halo.
The next time we talk, it'll be December, and the next Halo 5 update will nearly be upon us. I do believe we'll have lots to talk about, as always.
Until then,
Bravo