Greetings and salutations, good friends and fireteam members. It's a gorgeous summer day here in the Seattle area, and as much as I need to absorb its warm solar embrace, we've got quite a bit to cover in this week's Halo Community Update. So let's get our homework done so Grim can go outside and play, shall we?
ICONS OF WAR

As most of you are well aware, at E3 we revealed some awesome stuff coming to Halo Wars 2 later this year, including two more playable Leaders slated to arrive this month as part of the Season Pass content collection. Those Leaders are Jerome-092, leader of Red Team, and the late, great (at being a droopy-jawed jerk) Covenant Arbiter Ripa 'Moramee. The epic combination of a stalwart Spartan-II supersoldier and a redemption-seeking Arbiter has always been a brilliantly key component in the Halo series, specifically in the shooty-centric games. Thanks to this upcoming "Icons of War" Leader pack, we'll have an RTS version of the i c o n i c pairing for players to lead their troops into battle with.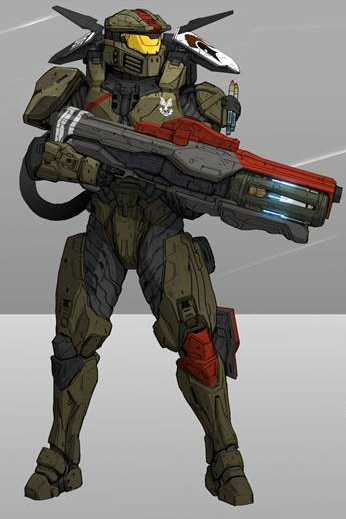 Last week, we promised a closer look at some of the commandable goodies arriving with Jerome and Ripa, so let's give you a Fodder-flavored preview of what to expect when the update arrives in the near future.
JEROME-092
With the authority granted to him as the ranking Navy and UEG official in a designated administrative region, Captain Cutter has conferred Jerome-092 the acting rank of Commander.
The rank itself is a formality, but one insisted on by Isabel to better align the ship's ad-hoc command structure with the letter of UNSC regulations.
Commander Jerome has proven himself to be an inspirational and highly capable leader, though some aspects of his Spartan conditioning conflict with his strategic instincts. Among these is a preference for direct action.
On the battlefield, Commander Jerome can Inspire nearby troops and take the fight to the enemy with a custom Hydra missile launcher, shrugging off attacks with his energy shield. Commander Jerome cannot Hijack vehicles, but he can deploy his personal Command Mantis onto the battlefield with Mech Drop.
NEW UNITS
COMMAND MANTIS
The Command Mantis is a hero vehicle deployed by Commander Jerome. It is an upgraded variant of the Mantis all-environment bipedal walker armed with twin high energy lasers and fitted with an advanced energy shield. Nicknamed Theseus by Jerome-092, his personalized Command Mantis is a mobile command post and linebreaker unit that complements both his augmented physiology and leadership style. It incorporates one of the Spirit of Fire's command-and-control nexus relays, enhancing Jerome's situational awareness of the battlefield and serving as a backup for the UNSC battlenet should the ship be crippled or destroyed.
MASTODON
M650 Mastodons were once widely used by the UNSC Army and colonial defense forces. Their large troop compartments enable them to carry heavy infantry (such as Spartans in powered assault armor) and their armor protects against most heavy weapons, but their size made them difficult to deploy and they lack the mobility of smaller (but far less protected) Warthog troop carriers. With troops in short supply on the Ark--and reinforcement unlikely--Jerome has investigated starting production of these vehicles to minimize infantry casualties.
OMEGA TEAM
Omega Team is a fast reaction team of Spartan super-soldiers deployed to colony worlds threatened by the Covenant. Using the fastest transports available, Omega Team rushes to reinforce local defenses and buy time for a UNSC response or – more often – an emergency evacuation and enforcement of classified last-stand protocols. In this latter role Omega Team is responsible for denial of critical resources, data, and personnel to the enemy by any means necessary, including deployment of weapons of mass destruction to prevent capture and utilization.
Red Team worked closely with Omega Team several times, including the defense of Arcadia's capital city when it was attacked in 2531, but were separated when the Spirit of Fire departed the system to chase retreating Covenant forces. Commander Jerome has discerned they survived the war, based on UNSC records recovered from the Henry Lamb facility, but he can only speculate as to their current activities.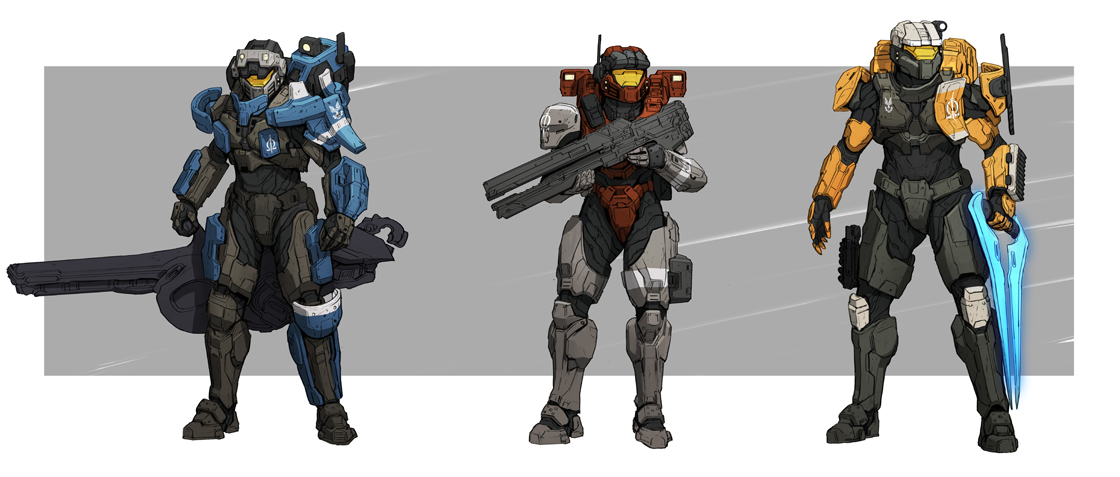 Legendary soldiers in their own right, three members of Omega Team are available for use in Halo Wars 2 under Commander Jerome. Robert-025 is armed with a fast-firing Plasma Cannon, Leon-011 is fitted for close-quarters combat with a custom Energy Sword, and August-099 is a crack shot with her Railgun. As Spartans, each member of Omega Team has energyshields and the ability to Hijack enemy vehicles.
Here you can see Omega Team in some awesome looking concept art depicting them in a more individually definitive matter. In our official launch blog, we'll also showcase their in-game RTS model card art. Discerning lore-lovers should feel free to consider both iterations fair game for expanding their imaginations.
ARBITER RIPA 'MORAMEE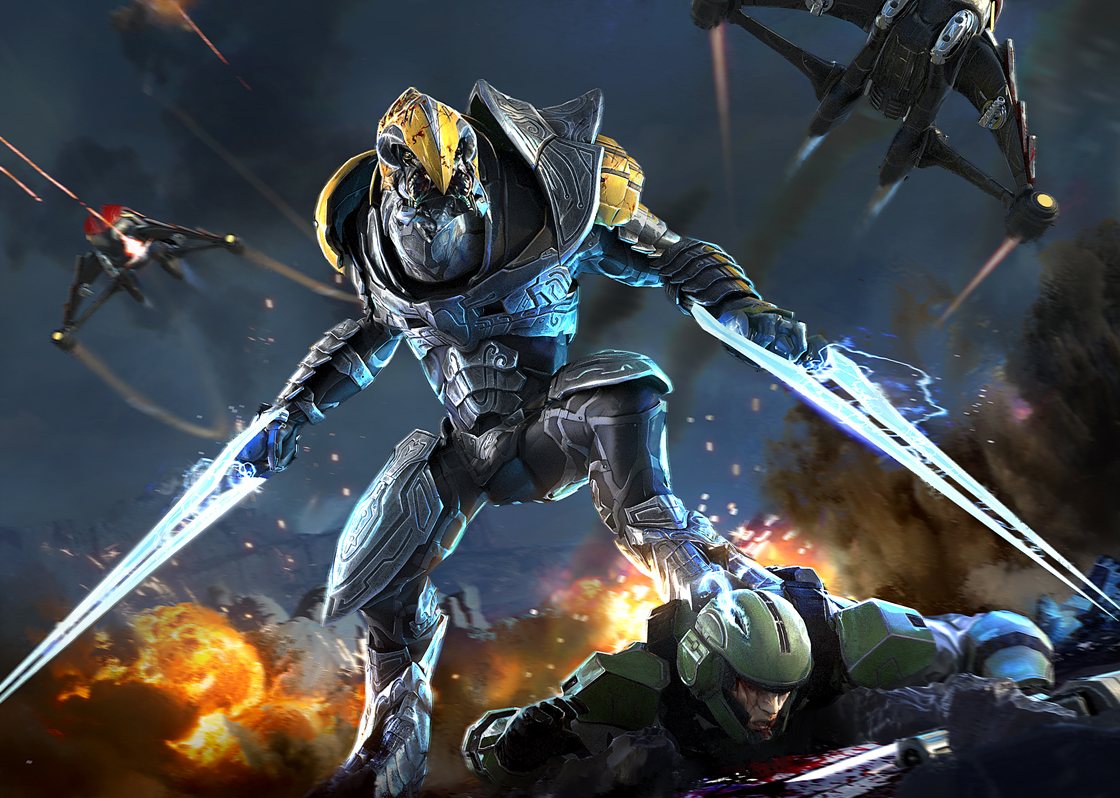 Driven to control and dominate, with a nearly insatiable bloodlust and ambition, Ripa 'Moramee was considered a radical choice as Arbiter. Ripa came to relish the nearly unchecked power and authority he wielded as an Arbiter, and his fearsome reputation was known by all—including a young Covenant warrior known as Atriox. Unbound by traditional notions of honor and loyalty, it is possible that Atriox could have convinced Ripa to join his cause, had Ripa survived events on Shield 0459. As a Banished warhost leader Ripa would inspire fear and awe in those in his dominion, reflected in the Conduit of Rage passive ability.
NEW UNITS
ENFORCERS
The Enforcers are fast-moving, battle-hardened Sangheili armed with plasma rifles, plasma casters, and plasma grenades which can be deployed by the Arbiter in place of Jump Pack Brutes. They excel in hit-and-run attacks where they can rush in to attack with their plasma weapons and then disengage to allow their energy shields to regenerate.
Disgraced Sangheili have few options to recover their honor, even in death. Had Ripa joined with Atriox and thrown off the Prophets' shackles he would have had powerful tools to exploit Sangheili warriors seeking redemption. Though Ripa could not lead through loyalty or charisma as a general, as the Arbiter he could bind Sangheili with iron-clad oaths that traded unquestioning service as his vassals for a return to the rolls of honor.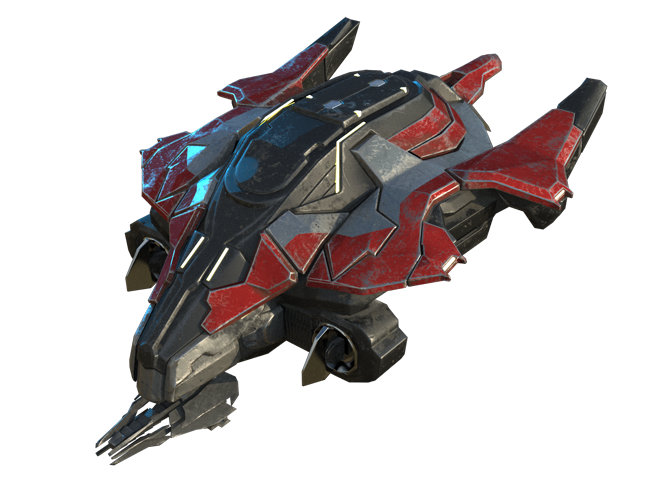 PHANTOM
The Phantom is a fast, heavily armed aerial transport available to the Arbiter. The Enduring Conviction carried a number of Phantom dropships to augment its existing stocks of Spirit troop carriers and Lich deployment platforms when it deployed to the Ark. The Banished Phantoms that would have been used by the Arbiter are heavily modified to serve as gunships and firing platforms, and are capable of long-range subluminal travel.
The Icons of War pack is slated for release later this month, so keep a close eye out for definitive launch info! Both Jerome-092 and Arbiter Ripa 'Moramee are available as part of the Halo Wars 2 Season Pass, or available for individual purchase at $5.99 USD each. You can also purchase a special 2-pack version that includes both Leaders for $9.99 USD.
FIREFIGHTERS
Now that you've gotten a little taste of what's to come when Jerome and Ripa hit this month, let's take a look at them in action with some Terminus Firefight gameplay straight off the E3 2017 show floor. Keep in mind that this is a build specifically designed for the E3 high-attendance environment, so the experience is a very purposefully truncated one, lasting only five rounds and with a custom enemy wave structure. When it launches this fall with the Halo Wars 2: Awakening the Nightmare expansion, the Terminus Firefight mode will have unlimited waves, 3-player co-op, and a much more enriched difficulty and progression.
JEROME-092
ARBITER RIPA 'MORAMEE
CHANGING THE GAME
Also on the horizon for Halo Wars 2 is a collection of updates and bug fixes, all designed to improve player experience in a wide range of areas. While we're still nailing down the final details for the impending patch notes, we grabbed (gently) Clay Jenson from the Halo Wars 2 team to give us a quick overview on what players can expect to be addressed. Here's a sneak peek!
Hero units enhanced to make them quicker to field, tougher, and more powerful when upgraded.
Player gamertag and rank hidden in pre-match screens.
Banished shield stacking bonuses reduced.
Garrison bonuses reduced for hero units.
Tuning pass for Tier 2 Vehicles to increase their punch and cost-effectiveness.
Scout units adjusted to bring them more in line with each other.
Supply Pad upgrade time reset.
Saved game bug fixed and game progress restored for affected players.
Maximum Camera scroll and fast scroll speeds increased.
Alternative unit sub-selection control added (RT+Y)
Thanks Clay! And now, a hallowed and harrowing tale from our beloved traveling evangelist ske7ch, who journey to the city of angels to spread good tidings of great toys.