Season's Greetings Spartans,
"farns" here, Lead Producer on the 343 Publishing Team, taking the helm this month to share the latest MCC development update.
It's been an amazing month for Halo: The Master Chief Collection with the release of Reach on both Xbox and PC! The team has been working diligently to support the launch while also moving forward on future features and development on the remaining titles. Before we close the year out and the team takes some much needed rest time, I wanted to give you an update on what we've been up to.
Tis the Season
To kick things off, in celebration of the Halodays Season, we're happy to announce the return of the "Ugly Sweater" nameplate in MCC. To claim your very own commemorative nameplate, complete one of the following criteria between now and January 6, 2020.
Matchmaking: Complete (without quitting) 10 matches on snowy multiplayer and/or Firefight maps
Campaign: Beat the Par Score on any two snowy Campaign missions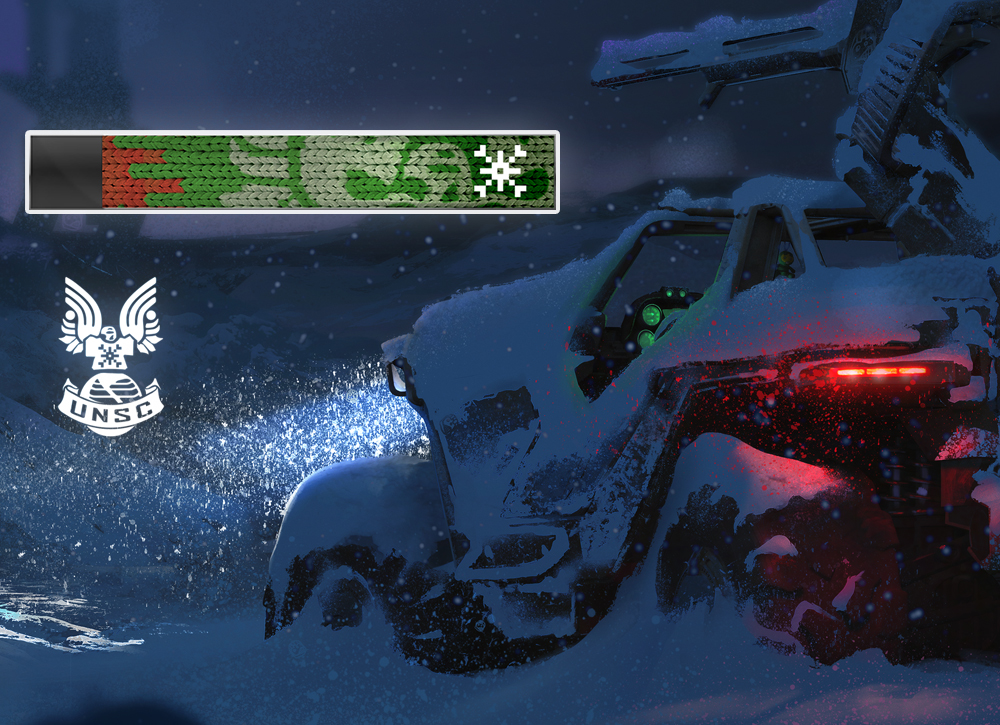 Behold, the "Ugly Sweater Nameplate!" Shout out former 343 Publishing Team Art Director Jeremy Cook for the awesome snowy Warthog imagery!
Note that the Ugly Sweater nameplate will not be granted automatically – we'll hand these out to eligible players following the Jan 6th cut off (at the latest).
In addition, MCC players will also enjoy double XP for medals and double the XP cap for medal categories from now until January 6th!
XP earned for time played is unchanged, so be sure to support your team and defeat your opponents in style for maximum XP gains. In other words, going AFK won't benefit you and will just hurt the experience for others and likely get you banned. Speaking of….
Stop: Banhammer Time
Many of you have been asking our team to make an official statement on some of the negative behaviors happening in Reach of late so allow us to share our perspective.
First, as a reminder, please refer to the Halo Support site for our rules regarding in-game behavior and enforcement actions: "WHY DID I GET BANNED."
Ultimately, we are committed to ensuring that players have a positive, fair, and safe experience playing MCC online. While many of the behaviors we've seen may seem innocuous, the reality is that when a player participates in something like "AFK farming" in Grifball, they're creating a negative experience for all the other players in the session. Over time, this creates real issues and hurts MCC by driving away frustrated players.
AFK & Macros
This has been and will remain a bannable offense. For now, we have only issued temporary bans based on the egregiousness of the offense. We will continue to monitor this behavior and take enforcement action as needed.
Coordinated XP Boosting
This is a bannable offense and falls under category of unsociable and unsportsmanlike behavior. Many, if not all, of the reports we have received on these involved various forms of bullying, hate speech, intimidation, and betraying against players who joined a match and did not want to participate in the XP bossting activity. This is not behavior that we will allow or tolerate in any way and we encourage players to continue to report instances of this happening so we can investigate. Also remember to mute other players and on Xbox, you can 'block' and 'report' players who violate the Xbox online code of conduct.
Firefight Suicides
Intentionally suiciding in Firefight in an effort to exploit XP gains is another bannable offense and falls under the category of unsociable and unsportsmanlike conduct. Reports of this behavior will be investigated, and punishments will be issued if found true.
If you ever feel you are falsely banned, please submit a support ticket and we will investigate people on a case by case basis. We have been doing this for the people who've submitted tickets after the recent round of bans.
December 18th Game Update
Earlier this week we shipped a small patch for MCC on Xbox One and PC which addresses a few specific items the team has been working on. Here's what was included in the Dec. 18 patch:
Improvements to narration across the front-end interface for Xbox.
One of our top priorities is ensuring that Halo: Reach is accessible to as many players as possible. Today's patch includes a few updates to further improve accessibility for the title.

Addressed a mechanic for mouse + keyboard players which improves precision of aiming when taking damage.
As part of our ongoing work to assess player feedback across controller and M+KB inputs, the team discovered a legacy mechanic from the original game that was contributing to negative sentiment regarding the feel and responsiveness of playing on M+KB. We have adjusted this mechanic and are interested in what the community thinks of this change. The team will continue to monitor player feedback around controller/M+KB input.

Additional small fixes:
Fixed an issue which prevented the sound effect for unlocking a season tier from playing.
A stat error has been fixed that was causing multiplayer kills in Halo: Reach to increase the deaths in your service record.
A new Halo: Reach themed splash screen has been added to celebrate the inclusion of Reach, our sixth title into Halo: The Master Chief Collection.
Resolved an issue that could cause players to be kicked from a matchmade game when an intermittent loss of Xbox Live connectivity occurred.
Fixed an exploit where season items which were manually made available while Easy anti-cheat (EAC) was disabled and were able to equip them after launching on an EAC enabled exe.
In addition to these fixes, we also released an update to Matchmaking that includes a number of improvements and changes based on player feeback. You can read the full playlist update notes HERE.
This patch has been in development since just prior to launch and is not intended to address many of the issue's players have been reporting since launch.
Most of the current 'known issues' and top areas of feedback from players are longer-lead work items that the team is continuing to investigate and work will continue in the beginning of the new year. Read on for the latest status on top community reported issues the team is tracking.
Top Reported Community Issues
Here's the latest status of the current top community-reported issues the team is tracking.
Audio Issues
This is a known-issue we had at launch and work on this is in progress. Our goal is to get this out ASAP.
Stuttering
This has been a hard one to lock down and we are still investigating. In the reports we've seen this can vary based on hardware specs, 3rd party software and potential networking issues on the players end. While we don't have a fix ETA currently, we are actively investigating this. In the meantime, please try disabling any 3rd party applications that are running in the background and see if it offers any improvement. If you're experiencing this issue and haven't yet filed a support ticket, please do so - the more information we get, the more effectively we can get to the root of what's going on.
Menu Performance
This is another one that has been tricky to track down - we still need more players to submit support tickets as we work towards a solution to this problem.
Screen Tearing/V-Sync
We've already made some bugs fixes in this area that will be in one of our upcoming patches. We will continue to address issues as they pop up.
Co-Op Latency
We are investigating if there has been any regressed performance in online co-op from the original legacy Xbox 360 behavior. At this time, we have not been able to identify any issues around this feature and the functionality is on par with the rest of MCC.
EAC Error messages
We are continuing work on improving our anti-cheat solution and how we can better support 3rd party applications within that ecosystem. Improvements here will come online as we roll out future patches.
Key Bindings
Work is in progress to support rebinding both text chat and push to talk.
Mouse Input
We have seen a small percentage of players reporting this as an issue, please continue to submit support tickets if you are experiencing input delay problems. This is an area of the game that we will continue to monitor and improve upon where we can.
The patch we released this week does address an issue that should improve the input performance and experience for M+KB players. We're eager to hear the community's feedback, please let us know how this change feels for you.
View Model
We are currently working on allowing players to make changes along the X & Y axis. An initial implementation is in test and design review with our team.
Crouch While Moving
We are currently testing a solution for this and will release it once we have sorted out any bugs and design issues. For now, this mechanic remains consistent with the original Xbox 360 implementation but we know it's more of an issue now with M+KB.
Idle Stops matchmaking
We are currently investigating ways we can update our idle system. No ETA yet but we will share more information once we decide the direction we want to go in.
Aim Assist / Controller vs. M+KB
We are continuing to investigate ways we can improve this for players on PC while still retaining the necessary functionality for controller players. We know there's been a lot of feedback around this across the community and we are definitely listening and digging into this on our end. Investigations and discussions are underway internally but we do not have a timeline we can commit to or more information to share quite yet.
The patch we released this week does address an issue that should improve the input performance and experience for M+KB players. We're eager to hear the community's feedback, please let us know how this change feels for you.
Additional Features
The team has also been working on many additional features for MCC:
Challenges
Message of the Day on PC
Server Ping list on PC
Push to talk: Adding an option for open mic and support for controllers
UI/UX Improvements around navigation, Roster, customization and many more areas of the game
Stability Improvements and bug fixing
Under the hood prior to and during launch, we have also been working to improve our servers for the influx of new PC players. This is an area that we will continue to monitor and support as needed.
Here's a look at a few work-in-progress screens from our internal builds showing some of the progress the team has been making: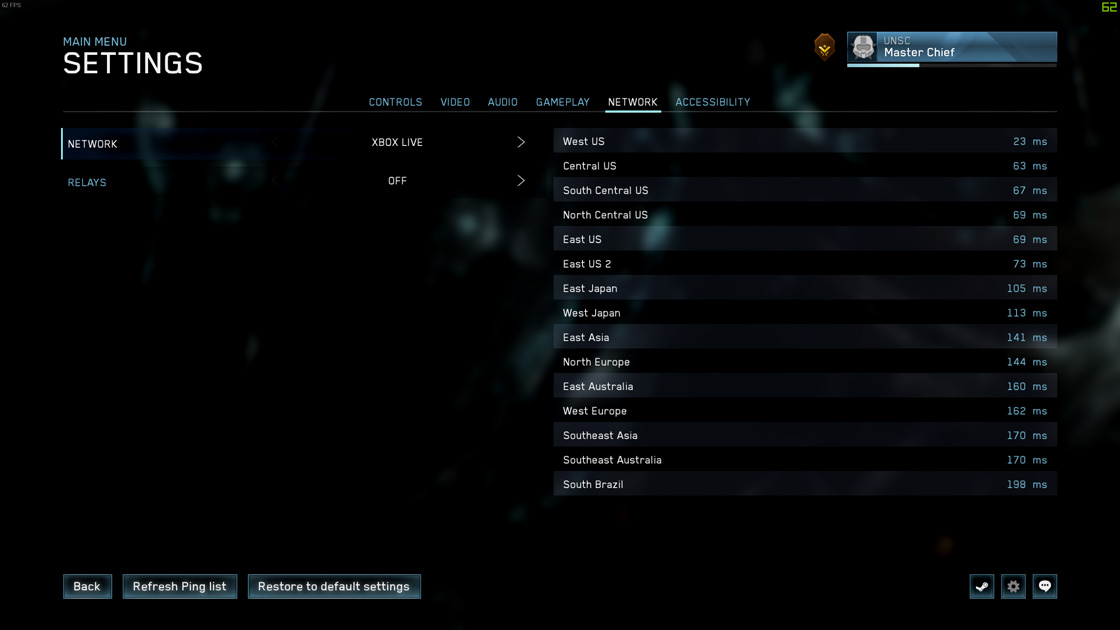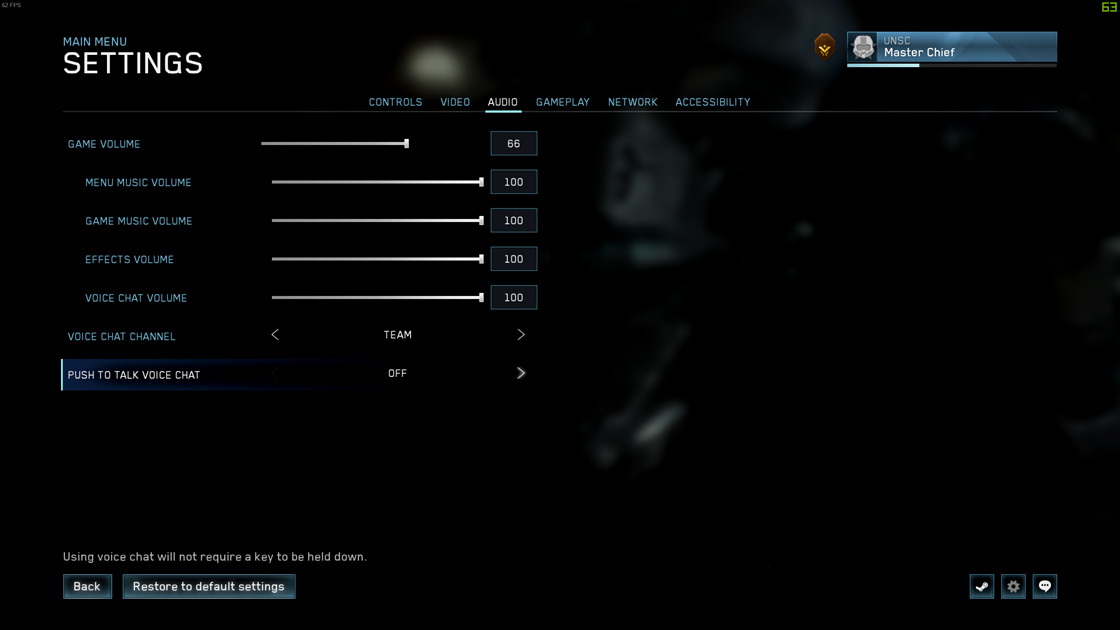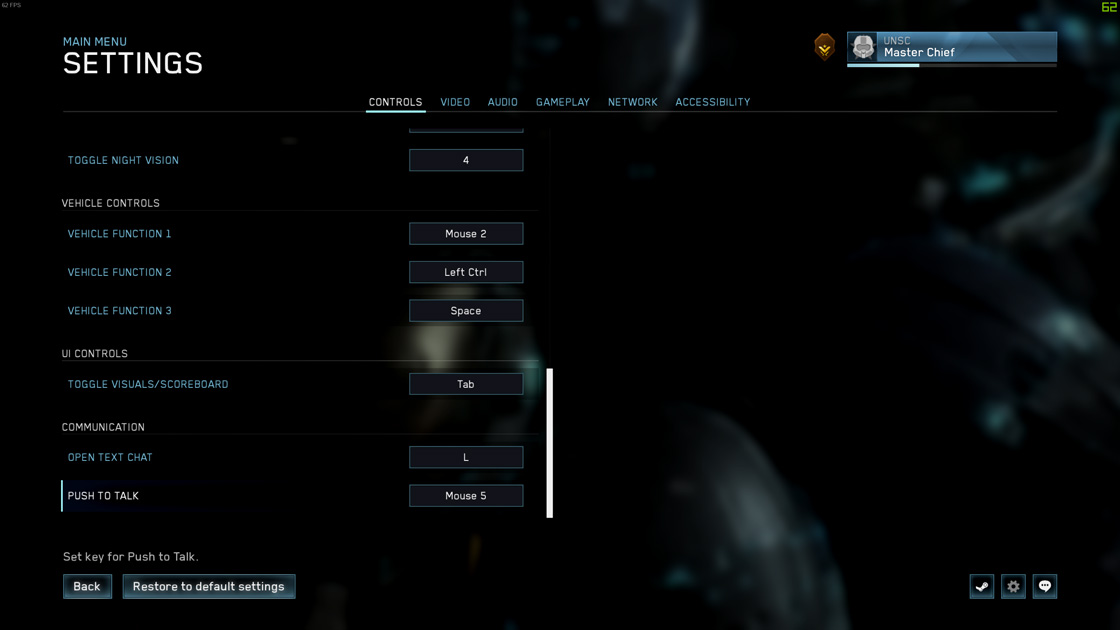 There are other areas of MCC the team is discussing around how we can improve the experience for players. As we make progress and ultimately decide what from this list will be possible to bring into MCC, we will let the community know. And, as we've done in the past, we'll look to bring new features and updates first to flighting for feedback and iteration where possible before bringing it to the game.
Features we're actively working on:
Progression System Improvements
Text Chat Improvements
Double Key binds
Features currently in active design iteration:
Additional Mod Support
Zoom Improvements
Additional Video Settings/Options
The following features and community requests are on the list but required more design and discussion, and are not currently in active development:
Regional server selection
Cross-Play between Xbox & PC
Steam account linking
VFR Improvements
Idle System Improvements
Customization Improvements
In Game FPS Cap/Adjustments
Better ways to report players
Bringing PC features to Console (Like FOV Sliders)
Road Ahead
As we close the year out and start to look at what's ahead of us in 2020, I wanted to give you an update on progress we're making on the other games heading to MCC on PC.
Right now, we have a good-sized army of developers working through different development streams to support our efforts across ongoing Reach updates and quality of life improvements in addition to Halo: CE Anniversary, Halo 2: Anniversary, Halo 3, and Forge & Theater support (Reach first). Halo: ODST (Campaign) and Halo 4 are a little further out but rest assured they're also coming to MCC on PC in 2020.
Reach Forge & Theater Support on PC
Good progress is being made here on implementing M&K support and bringing these features to PC.
Support for mouse and keyboard controls for all functions of Forge and Theater
Support for in-game HUDs of Forge and Theater to support mouse clicks, selection, and keyboard shortcut keys
Support for Forge and Theater settings in pause menu and front end
Halo: Combat Evolved Anniversary
We are currently in a pre-alpha phase and have been making good progress against many of the same features you see in Halo: Reach today. To list a few that are in progress and/or being tested:
M&K Support
FOV Support
Aspect Ratio Support
Customization: We are already integrating a 3d model with live color adjustments for H:CEA and are investigating what more can be done
HUD Upres
VFR Support
Input Latency Reduction
PC Optimizations
If work continues on its current trajectory, we are looking good to start flights in January. (you are signed up wtih the Halo Insider program, right?)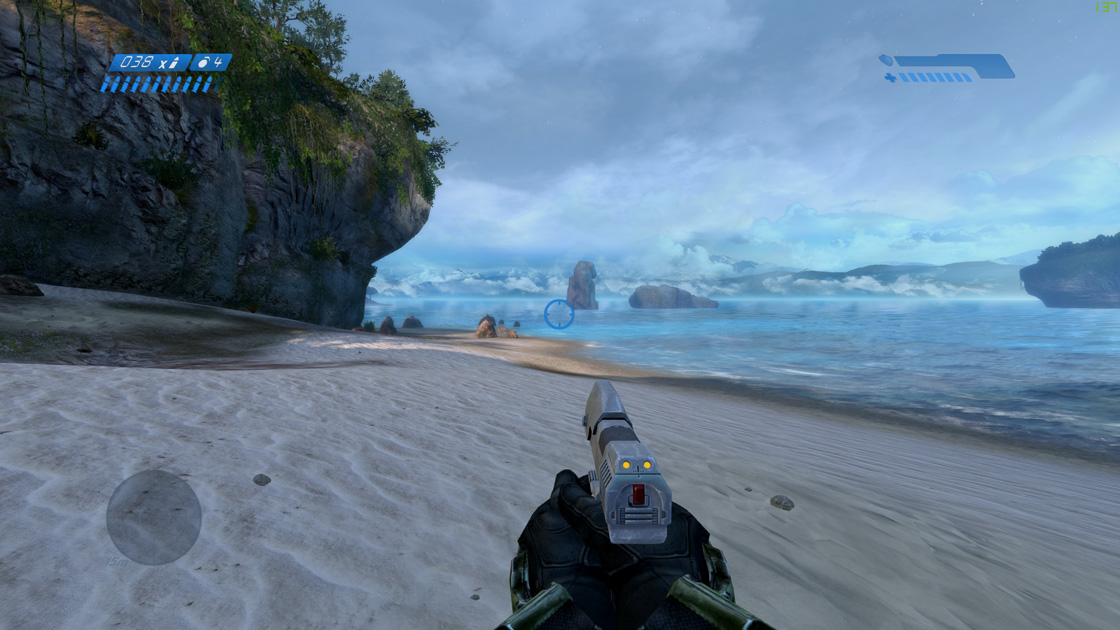 Halo 2: Anniversary
H2A is trailing behind H:CEA but not far, the team is making great progress on core features:
M&K Support
FOV Support in progress
Aspect Ratio Support in progress
VFR Support in progress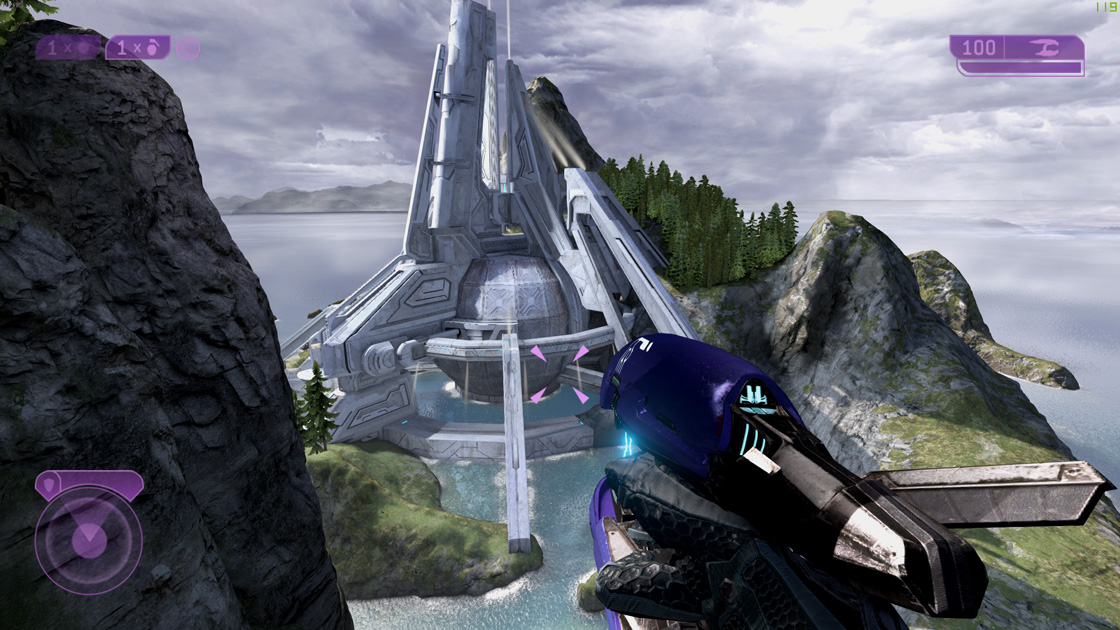 And as a final teaser - Should I press the button?
THANK YOU
There are likely some things not mentioned in here that are important to people - please let our community team know and we'll do our best to touch on them in one of our upcoming blogs.
As a final note, I wanted to say thank you to all of you for your continued passion and support as we continue this journey together. 2019 has been a wild and fun ride for Halo: The Master Chief Collection and I'm sure 2020 has a lot more of that in store for us.
As a special bonus, please enjoy this awesome Halo: Reach wallpaper courtesy of our friend, Jeremy Cook, the previous Publishing Team Art Director!
Download a full-size version here: HD | 4K
Thanks, we'll see you online!
-farns