Hello friends and welcome to the first MCC Update Blog of 2019! The team is back in action after an awesome update-filled 2018 and some holiday downtime we're excited to share kick off the new year with a brand new MCC patch. Back in November, we introduced the Match Composer for Social Matchmaking along with new aiming customization, ban rules, and a slew of fixes – all driven by player feedback. Today's update brings you into Halo's Winter Celebration and adds a new "modern aiming" option, a few more skulls to Halo: CE, and numerous bug fixes. Let's dive into the details!
Winter Takeover
Back in October, the team brought back Infection where over 50,000 players participated in a matchmaking event to earn the new Flood Nameplate.Then in November, we introduced an updated Flood-themed splash screen and main menu refresh that tied back to the October Flood event. Moving forward, we will have periodic event-based menu takeovers with different in-game challenges or goals for the community to achieve.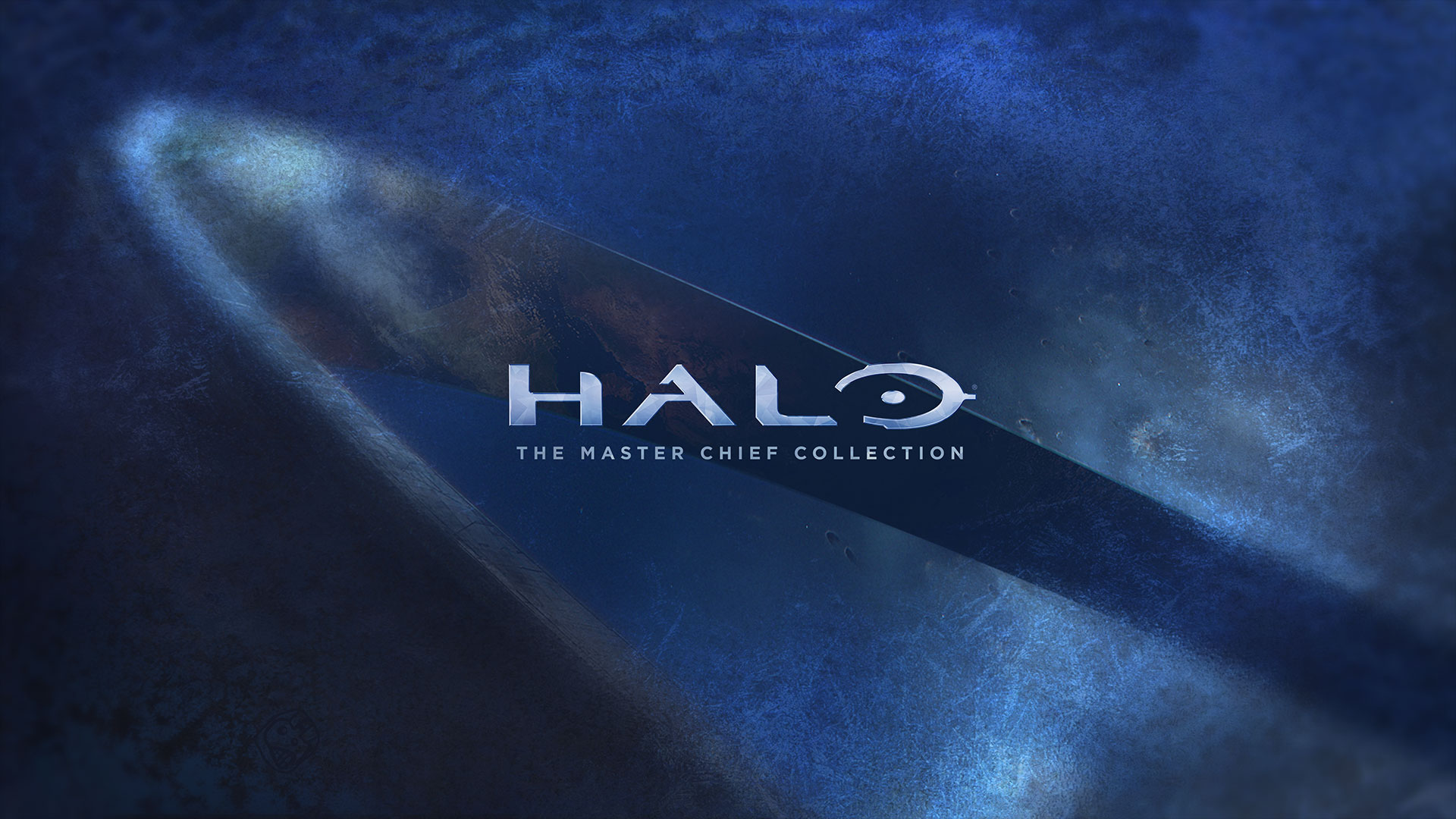 In our November update, we asked that between November 19-30, players help us deal with the Infection that took over MCC by playing the Flooded Campaign Playlist. Many players heard this call to action and with your help, the flood have been successfully driven back.
Flooded by the Numbers
Total number of players who played the 'Flooded' playlist between 11/19 and 11/30: 18,042
Total time played: Over 4 years and 4 months of game time
Friendworthy: 2,520 played with a friend
Player Mission Completions:
'343 Guilty Spark' (Mission 1): 16,997 players
'The Library' (Mission 2): 14,041 players
'Quarantine Zone' (Mission 3): 12,057 players
'Gravemind' (Mission 4): 10,783 players
'High Charity' (Mission 5): 10,320 players
'Flood Gate' (Mission 6): 10,006 players
'Cortana' (Mission 7): 9,669 players
Multiple play throughs:
'343 Guilty Spark' (Mission 1): 654 players played multiple times
'The Library' (Mission 2): 420 players played multiple times
'Quarantine Zone' (Mission 3): 314 played multiple times
'Gravemind' (Mission 4): 233 players played multiple times
'High Charity' (Mission 5): 213 players played multiple times
'Flood Gate' (Mission 6): 199 players played multiple times
'Cortana' (Mission 7): 183 players played multiple times
Now that the flood has been handled, we can enjoy the snowy winter wonderland that has taken over our menus. The team is working on some additional special events and game takeovers for the future.
Back in December, we asked players to come play at least 12 matchmade games in the MCC Insider build prior to the holidays during the scheduled playtest times. Those who participated and played 12 complete games will receive their new Ugly Sweater Nameplate unlocks this week.
For everyone else, don't fret - you can earn the Ugly Sweater Namplate! Anyone who played at least 12 complete matches during December will be granted the nameplate later this month. And, everyone who plays at least 12 complete matches in January, will receive the nameplate in early February. So, get out there and have some fun!
New Feature: "Modern Aiming"
This feature is designed to help address feedback from some players that aim acceleration in MCC doesn't "feel right." The "modern aiming" option helps to smooth out the aim acceleration zones on your controller by using values that are more like H2A and H4 than the older legacy titles. The big difference you will notice is that the movement of your cursor is much smoother with these settings turned on and the aim acceleration zones in the diagonals are much harder to activate.
This new setting feels so good that it is turned on by default in the older titles. You can change this back to legacy via the Controller Settings menus.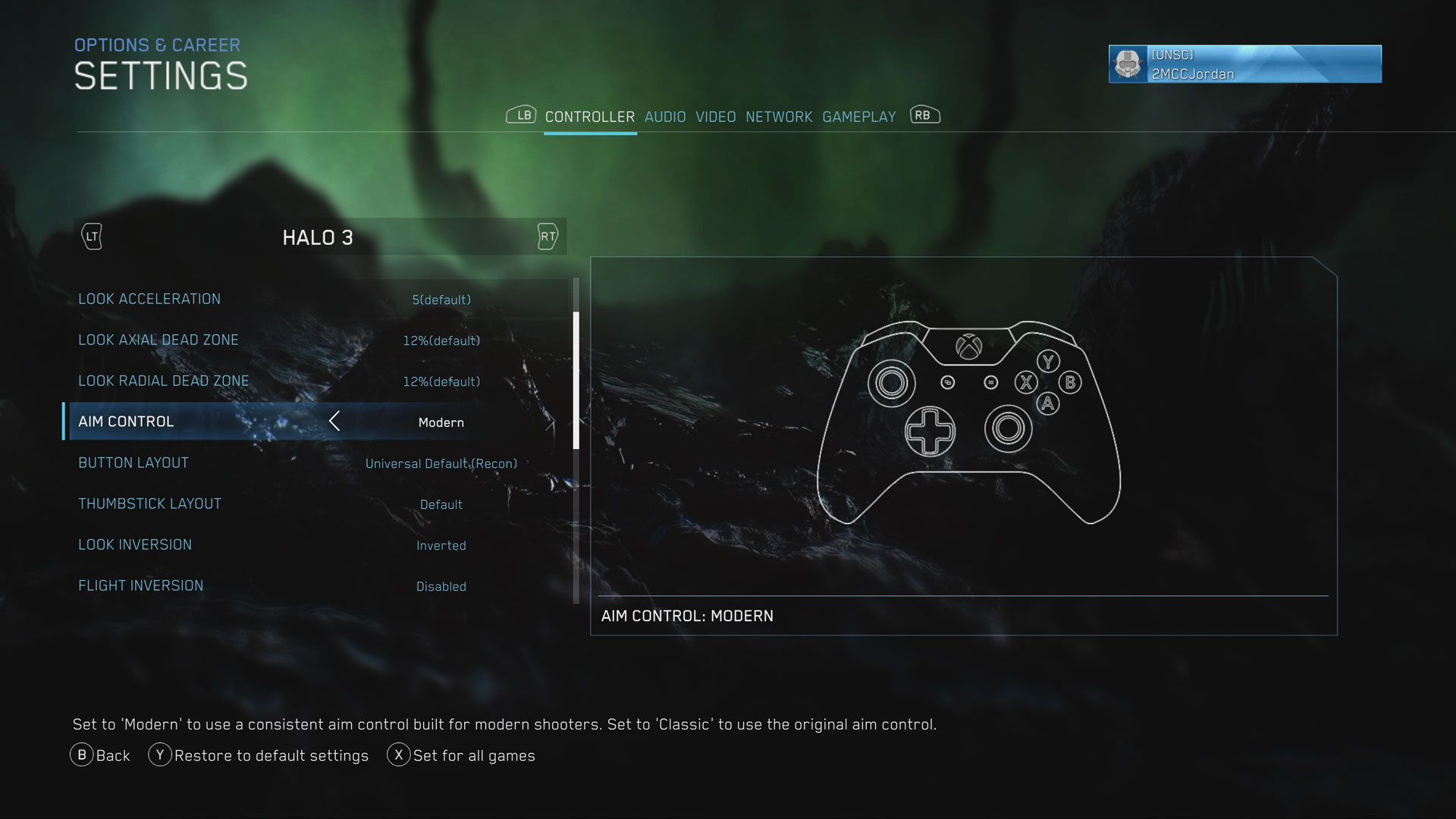 New Skulls For Halo: CE
Ramp up the challenge and further customize your Halo: CE Campaign experience with the addition of eight more skulls!
Anger – Enemies and allies fire their weapons faster and more frequently.
Bandana – Fixed a bug with this skull so now energy-based weapons have infinite ammo as well.
Catch – Enemies throw and drop more grenades.
Ghost – A.I. characters will not flinch from attacks, melee or otherwise.
Sputnik – the Mass of objects is decreased, making them more easily displaced
That's Just Wrong – Strengthens the hearing of both allies and enemies. They will now notice the slightest sound of reloading or drawing a weapon, footsteps, etc. A.I. also have increased accuracy.
Thunderstorm – Field Promotions to the ranks of all A.I. characters so they are more difficult to fight, smarter, and more dangerous.
Tough Luck – Enemies always go berserk, always dive out of the way, and never flee.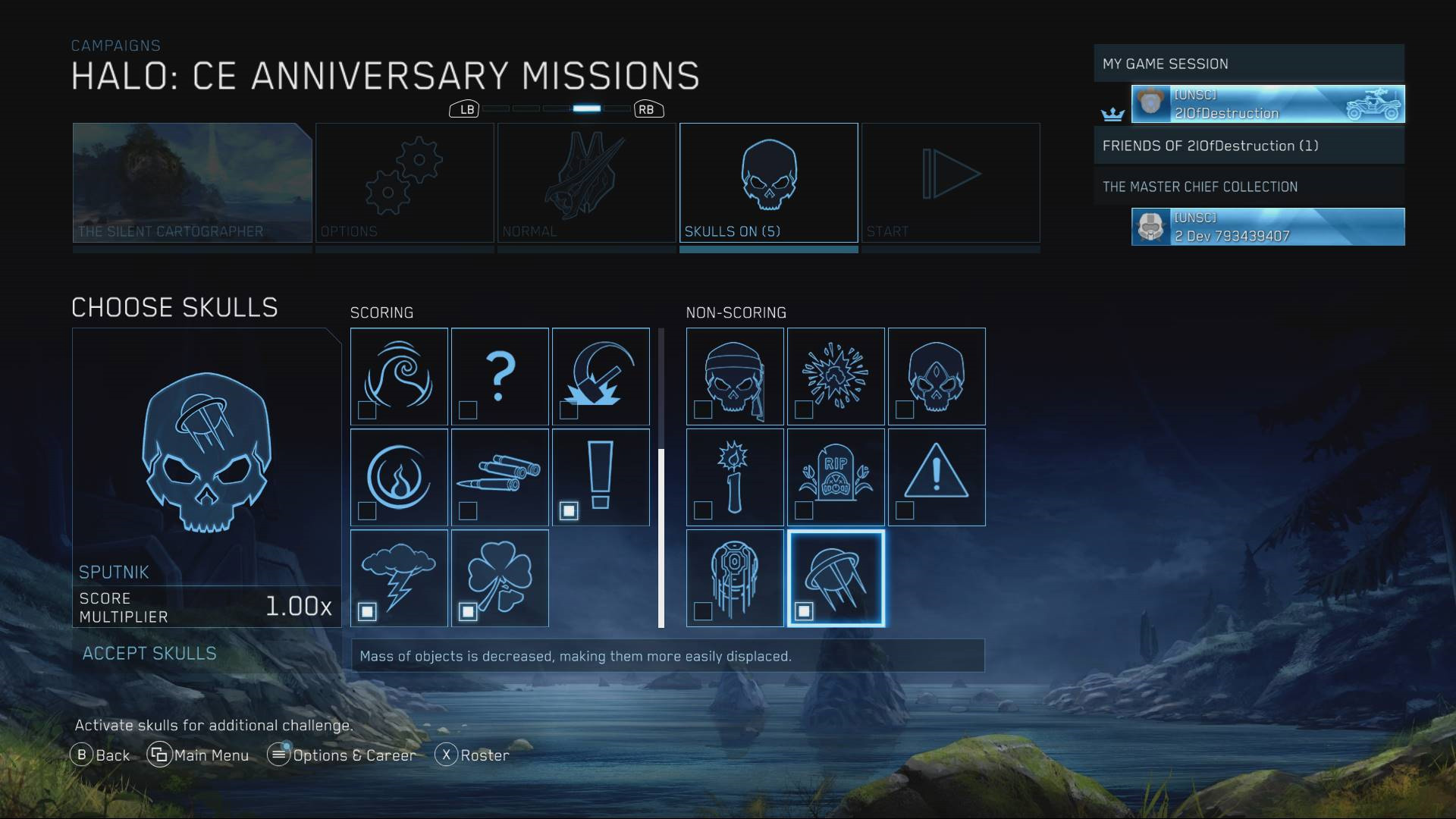 Playlist Updates
Along with today's update, we are also making some changes inside of Social Matchmaking. We would like to welcome our latest rotational playlist to the lineup: "Super Duper Fiesta!" This preset includes a mix of Fiesta variants across H2C, H3, H4, and H2A. This will be replacing the "Team Action Sack" option for the time being (don't fret Action Sack fans, it's a temporary refresh). To play Super Duper Fiesta, go to "Social Games" and you'll find it in the "GAME PRESET" option - note that it's using the Action Sack icon but the description displays "SUPER DUPER FIESTA!"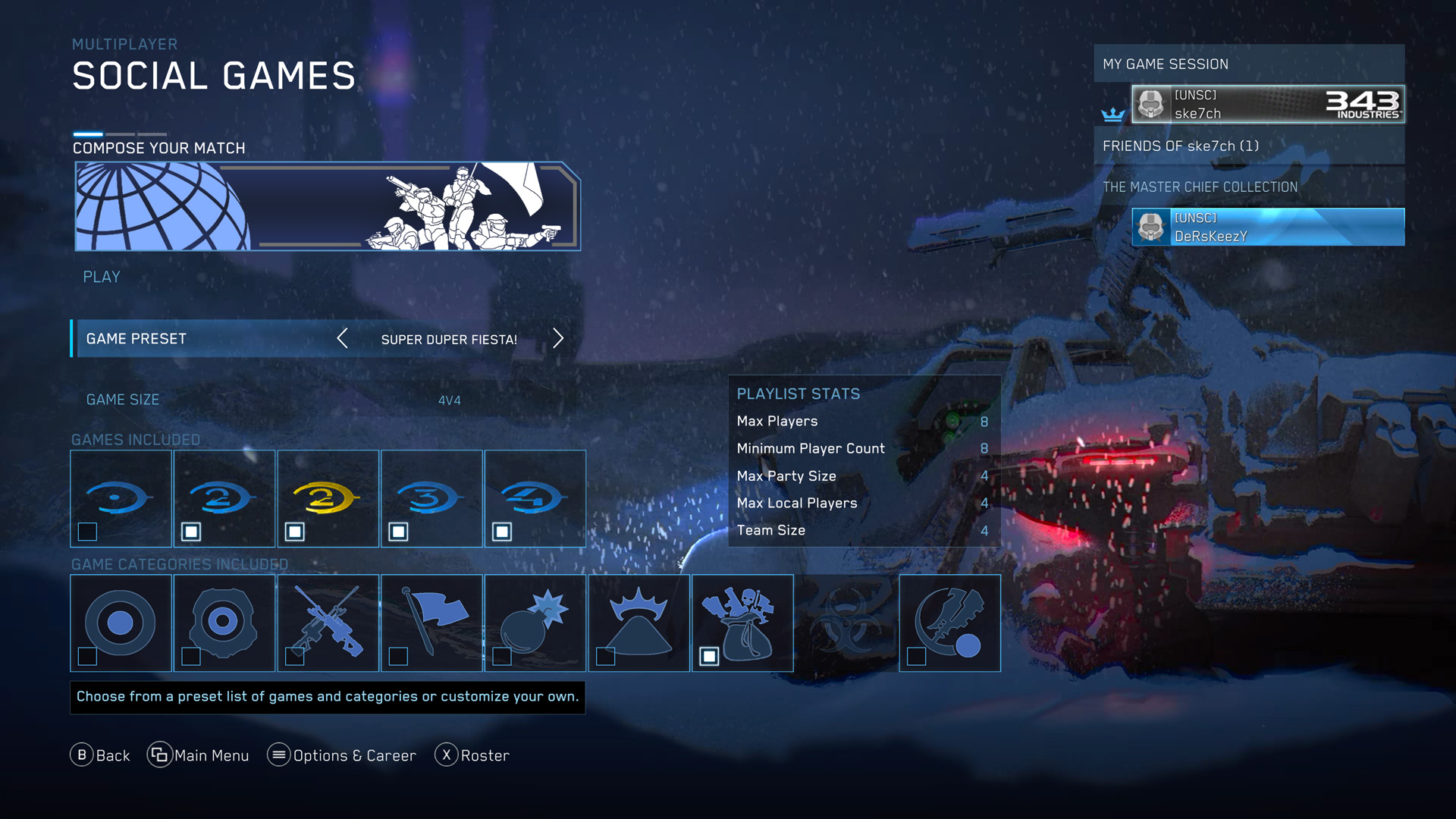 We are also moving some of the game types that were in Action Sack to new homes. Full details below.

Match Composer Settings Changes:
Removed Action Sack and replaced with Super Duper Fiesta!
[4v4] Added a Super Duper Fiesta! Game preset.
[4v4] [H2, H2A, H3, H4] Added Super Duper Fiesta! Entries.
[8v8] [H3, H4] Moved BTB Heavies entries from Action Sack to Slayer at low weighting
[8v8] [H4] Moved Dominion entries from Action Sack to King of the Hill.
With today's update, Jan. 16, there's only one notable change to the Matchmaking playlists - H3 Hardcore Team Doubles is being removed for now since the tournaments that relied on it are now complete and engagement has slowed.
MCC has also received several adjustments to Matchmaking Playlists over the past few weeks (all based on player feedback!). For details on all of the most recent playlist changes, please check out these posts on the official MCC Support Trello Board:
Bug Fixes
Here are the key bug fixes included in the January update:
Global
Cleansed the Flood infection from the main menu
Added error handling to prevent users from joining each other from different versions of the game
Fixed an issue where players could not enter gameplay using custom map or game variants in offline LAN
Fixed an issue where menu music volume slider changes were not respected while in a squad
Fixed some navigation inconsistencies in the main menu
Fixed an issue where the descriptions for some campaign killstreak medals were inaccurate in the medal chest
Halo: CE
Fixed an issue that resulted in inconsistent hit detection against players with poor connections
Fixed an issue where the Bandana skull did not grant infinite ammo to energy weapons in Campaign
Halo 2
Fixed an issue where the Bandana skull did not grant infinite ammo to energy weapons in Campaign
Halo 3
Fixed an issue where the Shade Turret was not appropriately displayed as the tool of destruction in the post-game carnage report
ODST
Improved messaging around which playlists support co-op play
Forge & Films
Fixed an issue where incorrect file sizes were being displayed for films
Fixed an issue where the character limit for map variant names was displayed inaccurately in Halo 3
Fixed an issue where players were forced to re-enter a map variant name after inputting an invalid description
Known Issues
Below are a handful of known issues that the team is aware of with the January update. Each of these issues is on the radar so no need to sound the alarm when providing feedback. These issues were initially messaged back in early December, so hopefully players have had adequate notice and time to plan accordingly.
Campaign Checkpoint Loss - Halo: Combat Evolved & Halo 3
Due to work being done in the campaigns for both Halo: Combat Evolved and Halo 3, the mid-mission checkpoints for both HCE and H3 will be invalidated upon the installation of the January update. Please complete them prior to installing the patch or you will lose the checkpoint progress.
Spartan Ops mission completion badges missing
The team has found a bug in this update that causes Spartan Ops mission completion badges to not appear if they were earned in a previous version of the game (prior to the current updated build) or after the title is relaunched after they have been earned. The stats are being tracked appropriately and badges are awarded, but it's just that they aren't visibly appearing at this time. We are looking into a fix for this but wanted to inform players as this bug will be is in the January update.
Career Stats
In this build certain career stats may appear temporarily blank or not populate without first navigating to another stats page.
Campaign Playlist Progression Achievements
We have been investigating Achievement related queries players have been discussing in the MCC support forums for a while and have found an issue that is present with this update. Currently the ODST, Halo 4, and Halo 2 Campaign Playlists will not grant Achievements correctly when the playlist is started in a previous build, a player takes a new update, and then completes the Campaign Playlist on the updated build. We are investigating solutions for this currently.
As a reminder, bookmark the MCC Support Page on Trello for the latest known issues and overall MCC development status.
The ScoopTM
Once again, our main man in the MCC engineering trenches Sean "Scoops" Cooper is here with some interesting insights and technical talk: