It's Friday! You know the drill. Climb aboard and fasten your safety belts as I take the wheel for a second lap with the Halo Community Update! This week is mostly a drive down memory lane with a heaping helping of nostalgia as we reflect on Halo 2 and look ahead to the upcoming 15th anniversary of the entire Halo franchise next Tuesday, Nov. 15.
Before we wax nostalgic here's a quick round-up of various items of note from what's been an exciting third week for me at 343 Industries.
The community team has been abuzz getting ready for next week's huge Halo 15th anniversary celebration on Tuesday, Nov. 15. This has been a really exciting project for me as a new member of the team as it has brought together various groups from across the studio who are all bringing their respective skills and passion to the table to develop plans and some incredible content to help celebrate this huge milestone next week. It's also made me feel very, very old. I'll share a lot more about everything going on a little further below.
On Wednesday Joe Staten came by to join Frank O'Connor, Grim, Corrinne and myself for a fun video shoot through 343's awesome Halo Museum. Hijinks and many jokes ensued as is usually the case when we all get back together. Our super talented video team will work their magic and hopefully make us funnier and more interesting than we actually were as part of a segment to be included in the livestream this coming Tuesday. I've meandered through the museum a few times now and it never gets old. I wish everyone could come see it in person but hopefully this video will help serve as the next best thing.
One of my favorite parts of working in a game studio is the opportunity to participate in playtests. It's awesome to see hard work coming to life on screen; to see incremental improvements and refinements and to maybe even offer feedback that helps make the final product better.
This week was my first chance to sit down and get up close and personal with Halo Wars 2 and the new "Blitz Firefight" mode. What ensued was a fun, frantic experience managing a really varied deck of iconic units while trying to fend off an ever-increasing-difficulty AI force. I was happy to have made it to round 23, which I'm admittedly not sure is "good" or not, but by then it was ramped up to full Legendary difficulty and stuff got real intense, real fast. Things that stood out to me in my first session were the attention to detail, powerful and distinctive units, and the pressure of making quick decisions on the right card at the right time based on the amount of energy I had to work with. Do I stay and micro-manage the battle for a control point as the enemy swarms or do I break off, let my army fend for itself, and quickly go for additional energy resources to enable more powerful units before the enemy steals it from under me? Now that I kind of have the basic gist of it I'm looking forward to diving in deeper and building decks and experimenting with different units and strategies (and of course, going head to head against colleagues!).
It's still highly classified but yesterday I saw a cool new Halo consumer product item that will be of particular interest to fans of competitive Halo and building things. I'm sure @HaloGear will be sharing details soon.
This week I made the rounds again in regularly recurring meetings focused on the Halo online experience and matchmaking playlists. It's been really interesting to sit in these rooms and get to know people all across the studio who share overlapping roles and responsibilities that all touch the online game. Everyone brings a little different perspective though all have strong convictions and a healthy amount of passion. Yesterday I was a few minutes late and walked in to see the first item on the screen as "Frankie wants everything SWAT and wants permanent Overshields for himself." Thankfully I quickly gathered that Frank's "ideas" aren't always taken seriously. Plans are being made for some big holiday playlist updates as well as the release of the next big Halo 5 content update. I know you're eager for those juicy details and we look forward to being able to share more soon.
Speaking of multiplayer, today was the official team selection for the upcoming studio-wide Halo 5 MP tournament. It's basically like the "Sorting Hat" at Hogwarts except instead of a magical hat we used Microsoft coffee cups and of course we're all Muggles. Our Playtest Coordinator James Bachici is driving what looks to be a huge event that has over 100 members of the team being split into three different skill groupings (and to keep it all legit, he's datamining everyone's gamertags to validate our skill self-assessments). Thankfully I ended up in the "ODST" bracket which is better than "Marine" but far below "Spartan." In keeping with my earlier analogy, I guess it's the equivalent of being chosen for "Hufflepuff!" while the pros go to "Griffyndor!" The competition looks to be pretty fierce but the real goal is to bring the team together, make some new friends and have fun. That said I'm certainly ready to win and Strongside has offered his expertise to help us compete. Cameras weren't allowed inside so I quickly made this painting from memory: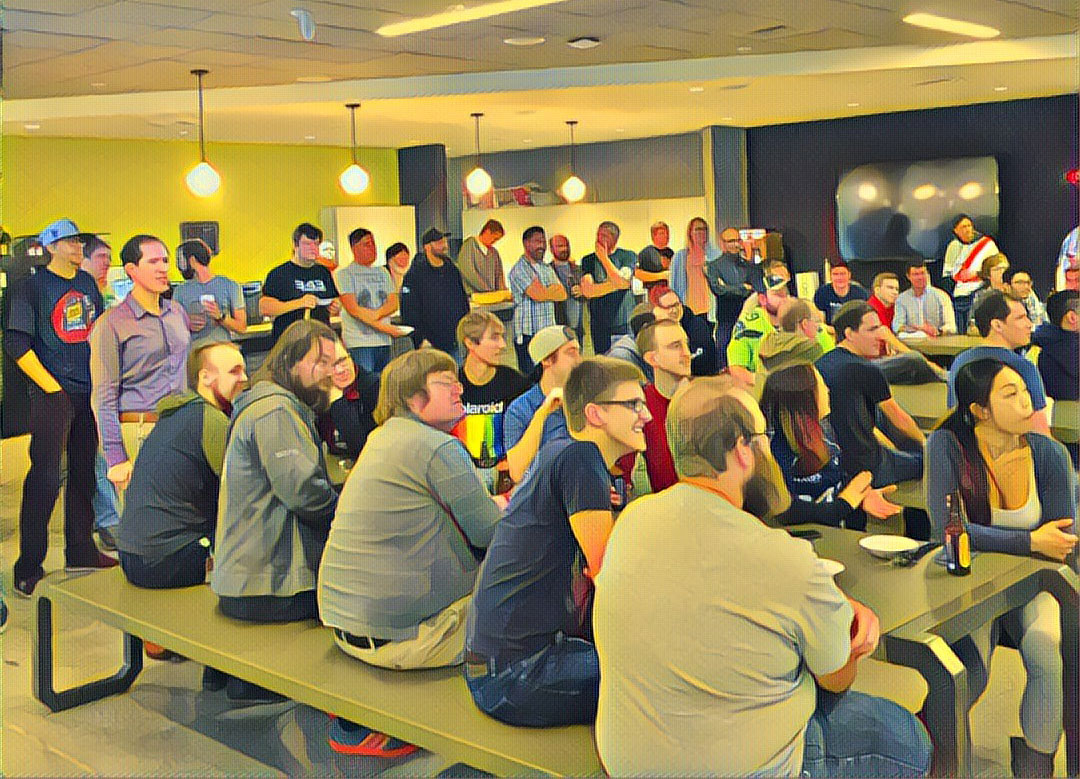 "343 Halo 5 Tournament Contestants Eagerly Await Team Assignments" - Oil on Canvas - By Brian Jarrard
Besides the anniversary of Halo 2 (which I dive into deeper below), the "topic of the week" for me was Halo esports. As I get ready to join the team in the Nevada desert for HCS Las Vegas on Nov. 18-20, I'm getting ever-more familiarized with the league and trying to better understand the current competitive Halo scene. I'm particularly interested in how 'casual' Halo fans perceive Halo esports and what types of things you'd like to see/hear from me on the ground in Vegas. I've already gotten a lot of great feedback and suggestions and welcome your thoughts if you'd like to share them here.

Many of you will be happy to know that the team released a small Halo 5 maintenance update yesterday with the goal of helping our engineers better investigate a few of the recurring issues players have been reporting. Senior Engineering Lead Sean Walsh offers some additional details here.

Frank and Dan Ayoub are joining Phil Spencer and other members of the Xbox Team at a big Fan Fest in Mexico City today! In fact, it's underway right now and you can watch the keynote live stream over at Xbox's Twitch Page.

Happy Birthday Halo 2
Wednesday Nov. 9 marked the 12-year anniversary of the release of Halo 2! For many of us Halo 2 was a pivotal moment in establishing our hardcore love of Halo that persists to this day. It was the game that ushered in 'true' Halo multiplayer and kicked off Xbox Live, taking our Halo: CE LAN parties from local garages to the world wide web. Of course, it also introduced a host of new gameplay mechanics, and greatly expanded and deepened the Halo universe fiction and lore.
Halo 2 was, and continues to be, very special to me because it was the first videogame I ever worked on. I was hired at Bungie about two years before its release so I hit the ground running when things were going a million miles per hour and the franchise was on the cusp of really exploding into a global phenomenon. It's been really fun reflecting back on great memories during development and so many great experiences and lasting relationships that were forged across the community. I'll spare you a few thousand words of nostalgia in this update but I did share a few memories over at r/Halo and Bravo had a great story as well. Many of you also took to Twitter and Waypoint to share your fondest memories, here are a few of my favorites:
From r/Halo:
Gashnor: I remember Halo 2 coming out, I was a Sophomore in High School then, SO excited for it to come out. Got it November 11th, a few days late, picked up my Limited Edition, played all night and beat it by 4 AM. I was ashamed of it (household wasn't fond on games, got picked on a lot from it by siblings), so I deleted my save, and go to around Delta Halo before going to bed so I could say I did something. It was sad, but it was my experience and I still love it. So much fun running through it.
Kcdawg13: One of my fondest memories was booting up Halo 2 and hearing the menu music, and then beating it on Legendary in one night with my big brother. It was so much fun. My first multiplayer match was BTT on Waterworks, and I remember working together with my team to beat the opposing squad. It had a sense of unity, something Halo's community has been drifting further and further away from. Suffice to say, Halo 2 was quite the game. And to this day, I believe Waterworks is still the best Halo multiplayer map of all time.
Skintay12: I remember the store my dad went to buy it broke the street date, so I got to play before any of my friends, and after watching the E3 demo hundreds of times I was in heaven.
Hundreds of hours spent messing around with friends, as Halo 2 was my favorite specifically for its hilariously glitchy nature! Overloading the hardware to cause flippable phantoms, then flinging myself all around outskirts, exploring outside of levels, super bouncing all around the universe, the crazy challenges over at HIH that friends and I would attempt (never successfully, but we were young and loved the challenge), and the LAN parties at my local arcade. Honestly, I don't think I'll ever experience anything like it in my life again, but Halo 2 and the incredible times I've had with it are easily the reasons I'm still with the series, aside from my recent love for achievement grinding.
From Twitter:
@natisaninjaa The whole campaign was amazing, still my favourite game to date, however I loved that it brought in Arbiter as a playable tangent.
@imSalsy Halo 2 was the first game that I ever experienced with an online component, and the first that I made lifelong friends on.
@chrisclare84 I love how expansive the campaign felt - covering so many places and doing so in interesting ways!
From Waypoint:
Stckrboy: I think throughout all of Halo 2, that one Johnson line is always going to stay with me above everything: "For a brick, he flew pretty good." Gets me every time haha
Jack 0o1: Halo 2 definitely broke the mold for FPS. So many new features, great storyline, playing the Arbiter's side, amazing innovation, the list goes on. Ahh, the good 'ole days...
Speaking of "good 'ole days", if you really want to go deep down the nostalgia rabbit hole, I highly suggest checking out this amazing archive of Frankie's original Halo 2 weekly updates [HBO fo lyfe! – Grim]! I spent a big chunk of my evening on Wednesday re-reading all of these and fondly remembering all the shenanigans and work we did 12 years ago. You'll also see the birth of Mister Chief, Frank's magical iconic creation that somehow defied the odds and became a huge thing in its own right even to this day. Fun fact: Mister Chief had a lightsaber because "guns are hard to draw."
This one really brought back memories…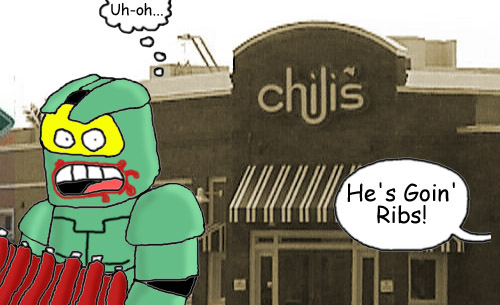 I mean, you just can't find a Chili's anymore, can you? I really miss those baby back baby back baby back… But seriously, one of the first Halo 2 MP maps we played on internally during development was Burial Mounds. If you'll recall, the large metal 'ribs' buried in the sand were an iconic piece of the map's environment. During our heated matches of objective games "he's going ribs!" was shouted to indicate that someone was running through that part of the map, usually with the flag.
Here at 343 we had a little throwback Halo 2 game yesterday with Bravo vs. Tashi 1v1 on Lockout. Bravo took the first match 10-3 and while there are conflicting reports it sounds like Bravo handily won the second game on Midship and then a third and final match back on Lockout. He's still got it, folks! (Bravo editor note: Conflicting reports? Who are these people? Bring them to me.)
If you're looking for even more paths to traverse memory lane, check this out – one of my favorite little pieces of content we made back in the day, the 5.1 surround sound test that was part of the Halo 2 Collector's Edition:
And lastly, for the mother of all flashbacks you can always re-watch the full "Behind the Scenes Making of Halo 2" thanks to the magic of YouTube.
Halo 15th Anniversary
While it's been great reflecting on twelve years of Halo 2 the real momentous milestone will be on Tuesday, Nov. 15 when we celebrate FIFTEEN YEARS of Halo! As I mentioned earlier, the studio is working on a number of cool things to help celebrate this huge milestone which also happens to coincide with the 15th anniversary of Xbox itself. Mark your calendars now and please plan to join us throughout the day as we collectively celebrate and offer a huge thanks to our community for supporting Halo for 15 years!
If you're not hyped yet, check out this sweet teaser video hot off the presses at today's Xbox Mexico City Fan Fest to kick start your 15th anniversary feels:
Here's a quick rundown of what we've got planned for Nov. 15:
Special Anniversary Episode of the Halo Livestream!
Tune in to Twitch.tv/Halo at approximately 3:43 p.m. PST for our special tribute to Halo. During the jam-packed show we'll have a special walkthrough of the Halo Museum, talk Halo Wars 2 with Dan Ayoub & Max Szlagor, hear about some of the team and community's fondest Halo memories, play Halo 5 with fans, talk HCS with Tashi & Strongside, take a look at the upcoming Halo Loot crate with James, answer your tweets and whatever else we end up doing when we inevitably stray from script. This'll be my very first time in the co-host seat and I'm super excited to read all of your totally positive and inspiring Twitch live-chat comments!
Halo 5 "Anniversary Throwback" Playlist
Battle on some of your favorite Halo: Combat Evolved maps re-imagined in Halo 5 thanks to Forge and a number of super talented community builders! I've seen Uny working on these maps and they look fantastic. I also know there's excitement building externally and I want to manage your expectations by clarifying that this is Halo 5 gameplay on sweet Forge re-creations of classic maps with the Halo: CE pistol as the starting weapon.
Free Stuff!
What kind of birthday party would it be without goodie bags for attendees!? I don't want to spoil the surprise but I think you'll dig it.
Play with 343
Throughout the day members of the 343 team will be online playing in Halo 5's Anniversary Throwback playlist with anyone and everyone who cares to join us. Next week I'll publish the gamertags you'll want to watch out for (and you'll recognize us by the official 343 emblems we're rockin'.) We'd also love for you to join our official "Halo Club" on Xbox Live! Get more information about Clubs and the Xbox One holiday update HERE.
Memories
We'd love to hear from you on social all day as you share your fondest Halo memories using #15yearsofHalo. We'll also be sharing reflections from members of the 343 team and community in a special Tuesday edition of the weekly update on Halo Waypoint.
As always be sure to stay tuned to Twitter as we'll be tweeting fast and furiously all throughout the day. If you need a helpful reminder, sign up for our event on Facebook to make sure you don't miss out.
I hope you'll join us next Tuesday - it's shaping up to be a great day!
Now over to Uny for a look at this week's POTW and Spotlight!

Azpekt297, who's known for capturing incredible Halo screenshots, created a video showcasing some epic flythroughs of intense boss battles in Warzone Firefight. Here's just one of the many shots taken in this video: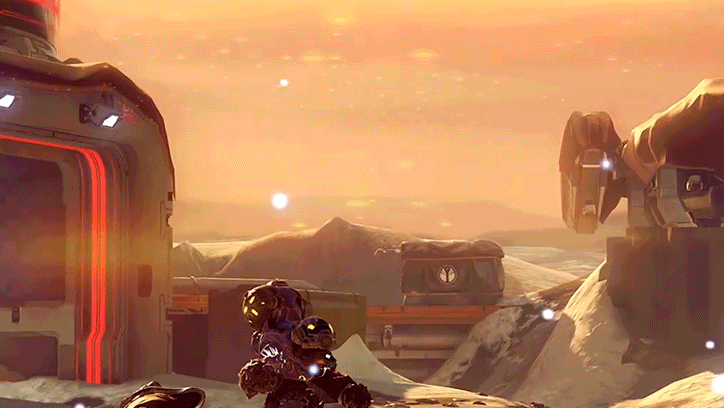 I highly suggest watching the full video here!
And now, the Play of the Week!

IRONMAN nF's team kept attacking the enemy armory, but they could never take control of the it due to the sheer number of opponents defending it. However, after giving it some thought, he realized that he had The Answer.
Thanks, Uny! And with that this update comes to an end, as does my third full week here at 343. As they say, time has flown as I've been having fun. I hope you have as well.
But wait, is there a new playlist coming this week!? How very astute of you! Since we're ramping up for next Tuesday's throwback playlist, the team is leaving Social Snipers up until Nov. 15. Enjoy a few extra days of no-scopes this weekend.
And as a small related footnote, next week in lieu of a Friday update we'll be focusing all of our energies into Tuesday's festivities and a beefy anniversary blog update. See you then!
In closing, I'll leave you with Uny's deep thought of the week:
"Is cereal soup?"