Greetings and Salutations, fine friends. It's been a pretty crazy week around these parts, with lots of exciting bits and bobs bubbling beneath the studio's surface. In keeping with these vacillating energies, Bravo and I are swapping our respective sides of the update this week. Thought we'd mix things up a little. Speaking of mixing things up, today's blog buffet kicks off with details on the fresh adjustments to a Halo 5 playlist you may have previously perused. Intrigued? Let's dive in.
BREAKOUT REFRESH
Just a bit ago, players who jumped into Arena matchmaking in Halo 5 might have seen a new ranked Breakout experience appear in the playlist lineup. We're excited about the changes you'll find in this unique corner of the Halo 5 Arena experience, the most noticeable of which include new starting weapons, classic full-shields gameplay, and the redesigning of all five of the original launch maps – plus a new community-made map added to the rotation: Knell.
To help explain the new changes in detail, I found a way to trick Quinn DelHoyo and Alex Bean from our Multiplayer Team into spilling all the beans in a blog-friendly fashion. Let's see what they had to say!
CONCEPT EVOLVED
QUINN: Breakout was a big bet for us during development for Halo 5. It offered a high-lethality health model, different maps, different starting weapons, and single life elimination. There's a lot that we liked about what the original Breakout vision offered, but we felt that the combat engagements always sat in a gray area between the ultra-lethality of no-shields SWAT and the classic gameplay of full-shields Halo. We're still very committed to the original spirit of Breakout, and for the update we wanted to maintain the high stakes of single life elimination but make it feel more at home with Halo players by enabling full shields, as well as motion tracker to more closely match Arena settings. Now you'll have more time to react when getting shot or survive a blast from a Frag Grenade. The encounters will have that unique "dance" that only Halo combat offers.
WEAPONS
QUINN: With the change to full shields we needed to revisit the starting weapons. The Magnum gets a slight buff with the extended magazine which goes from 12 shots to 18. This should allow players to engage multiple targets more proficiently without having to reload in between each engagement. The Shotgun's role in all of this is to augment the playmaking ability of a single player. Every Spartan must be respected and we've found that 1v2's and 1v3's are very viable when that lone player has a Shotgun in their back pocket.
GRENADES
QUINN: Another subtle change to the starting weapons is the max Frag Grenade capacity count is being increased from two to four total. The reasoning behind this is to give players another way to gain the advantage over their opponents; savvy players will go out of their way to locate grenade caches on certain maps to stock up on a handful of grenades to use at their disposal. Note, players will still spawn with one Frag Grenade – that aspect remains unchanged.
OBJECTIVE
QUINN: Certainly one of the biggest changes to the mode is how the flag objective works. Previously teams would have to grab then push the flag to the opposing team's side in order to win the round. Now, teams will have to grab the flag and then return it to their own side of the map in order to win the round. This now forces teams to be mindful of the flag and push out for position early. We've found that opening rushes are more exciting and offer more viable strategies. Does a team put all their focus on grabbing then protecting their flag carrier? Or do they setup and bait the flag? Which power weapon do they rush for? It's been fun to see all of these possibilities – and more – play out in our internal playtests.
MAPS
ALEX: Due to the nature of the original health model and starting weapons of the original Breakout experience, the previous maps were designed very differently than the rest of the Arena maps, and favored a paintball course-like design. When approaching the map layouts for the mode's refresh, our goal was to really focus on the strengths of having the classic full shields Halo model, the intense gameplay offered by Breakout, and the starting weapons of the Magnum and Shotgun. It was our goal to give each map a design that facilitated a different kind of gameplay, while bringing increased verticality and a more classic Halo map feel to each one.
Crossfire 2.0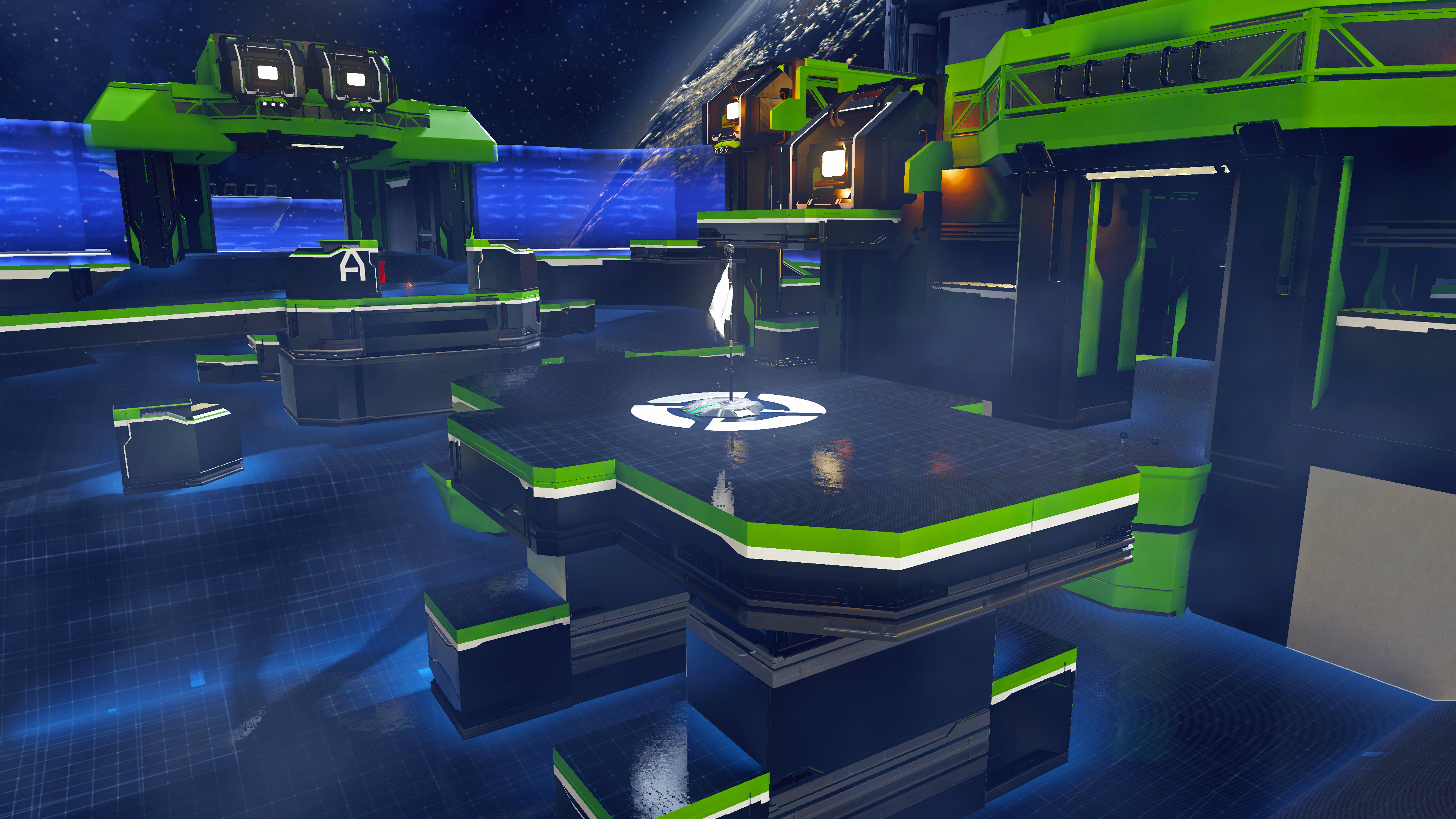 Gambol 2.0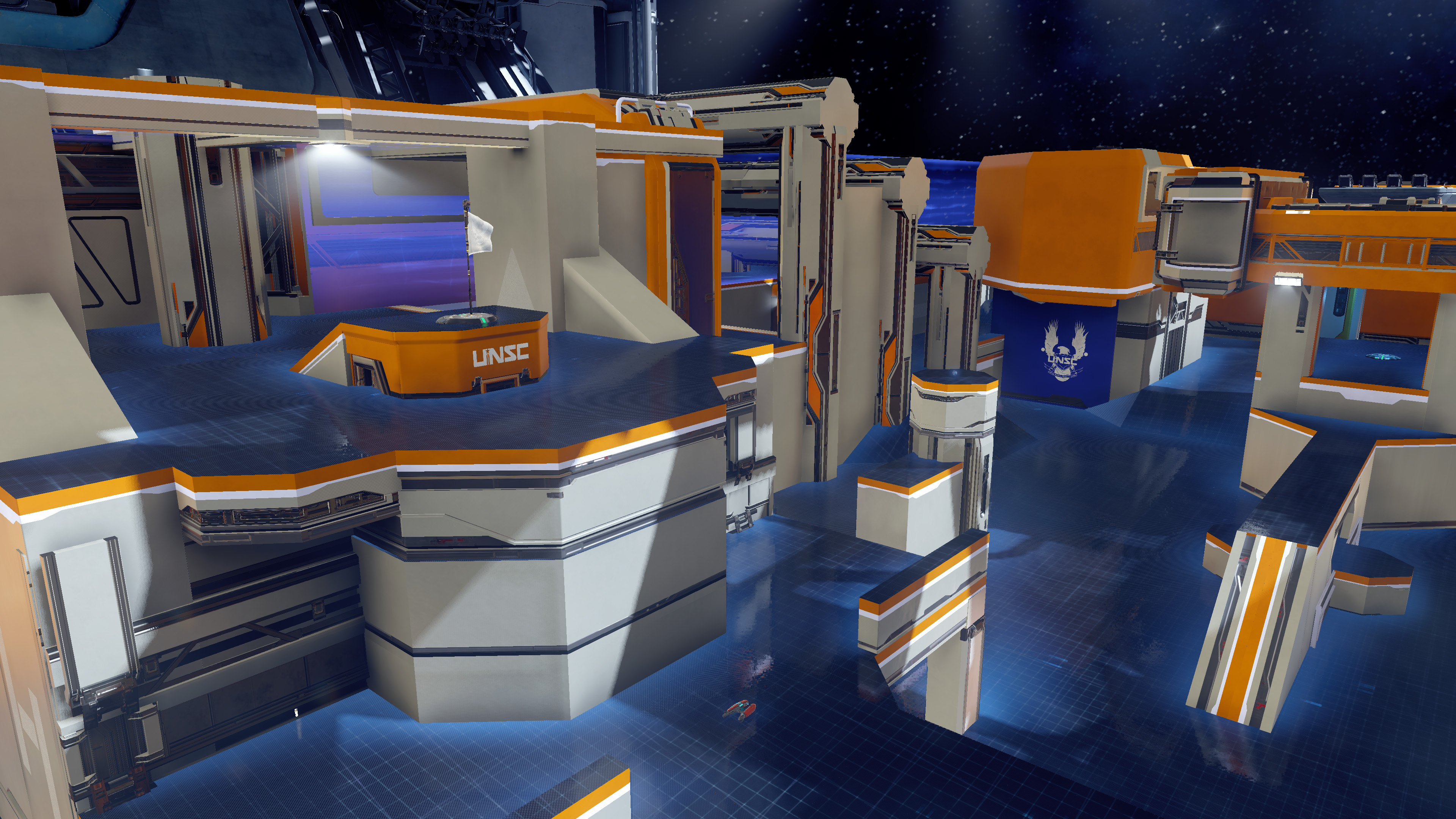 Trench 2.0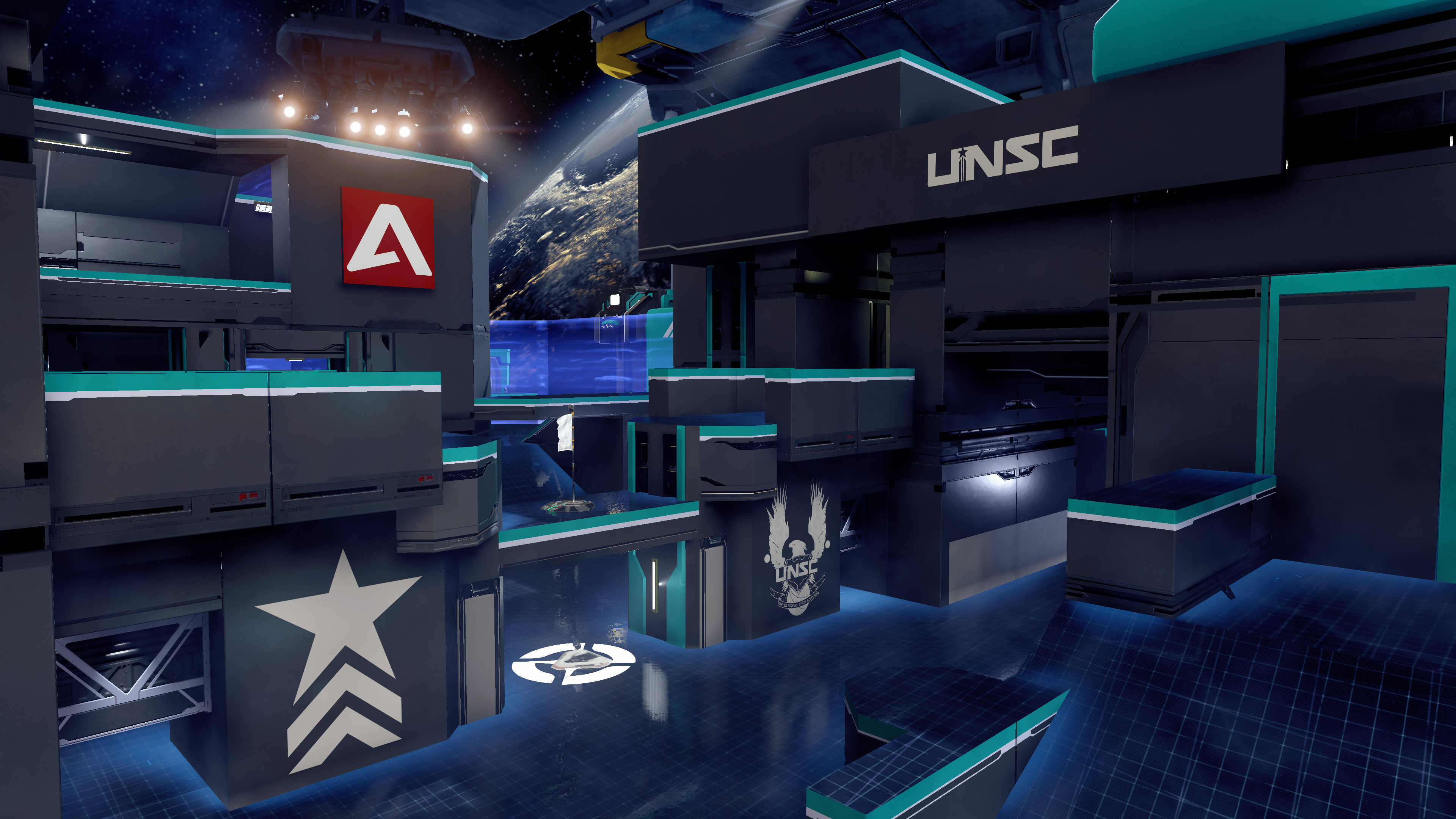 Trident 2.0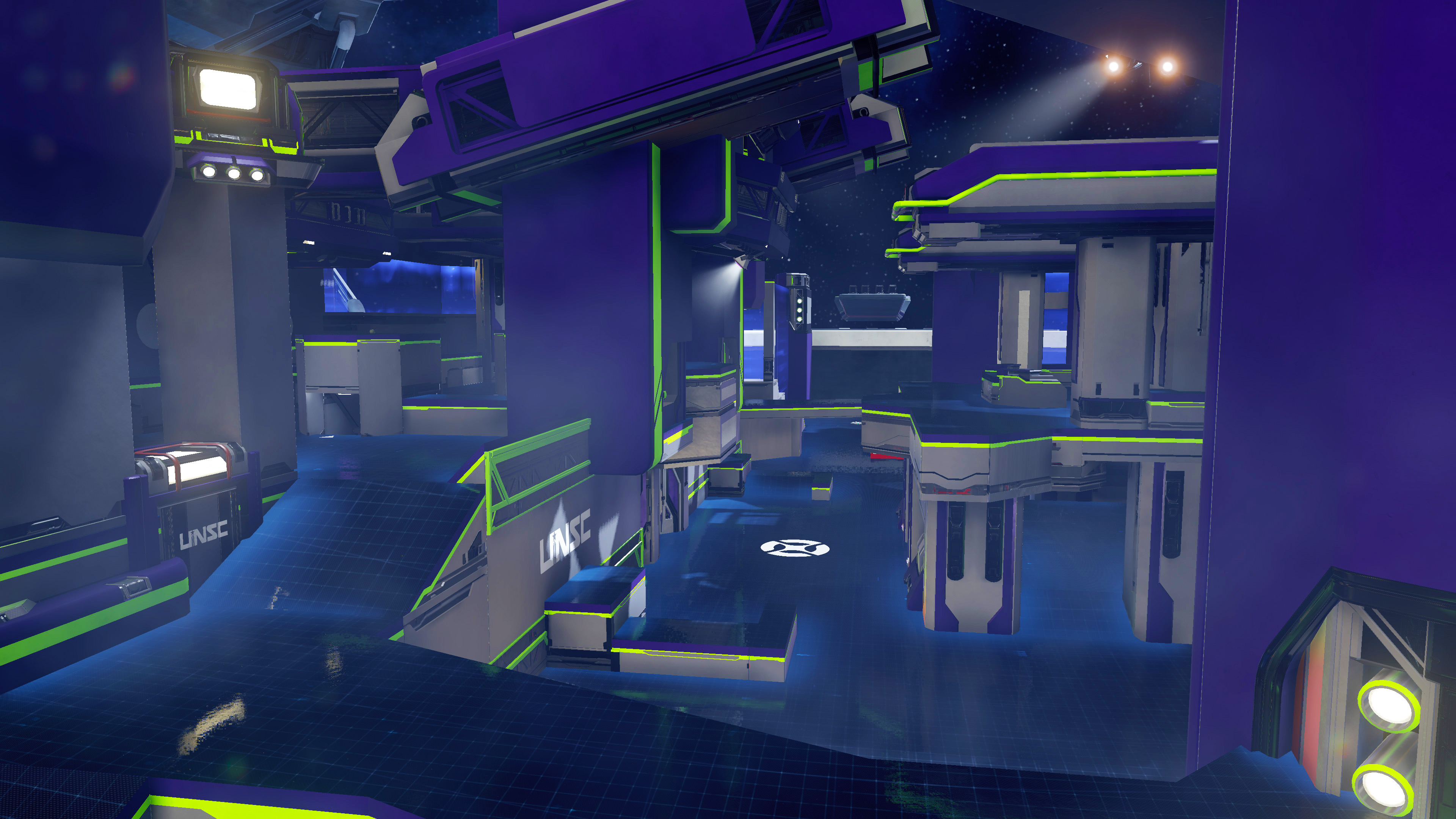 Altitude 2.0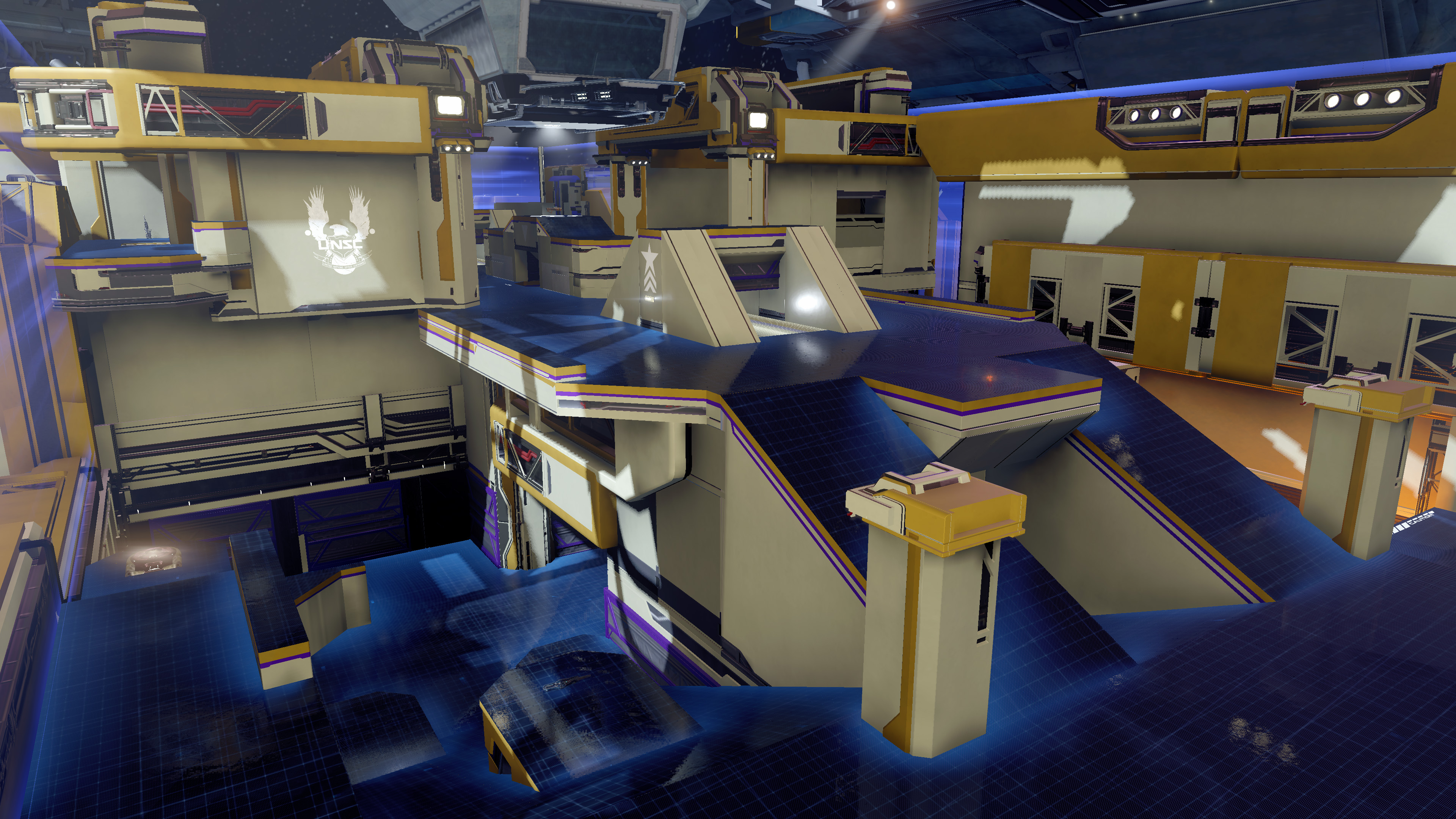 Knell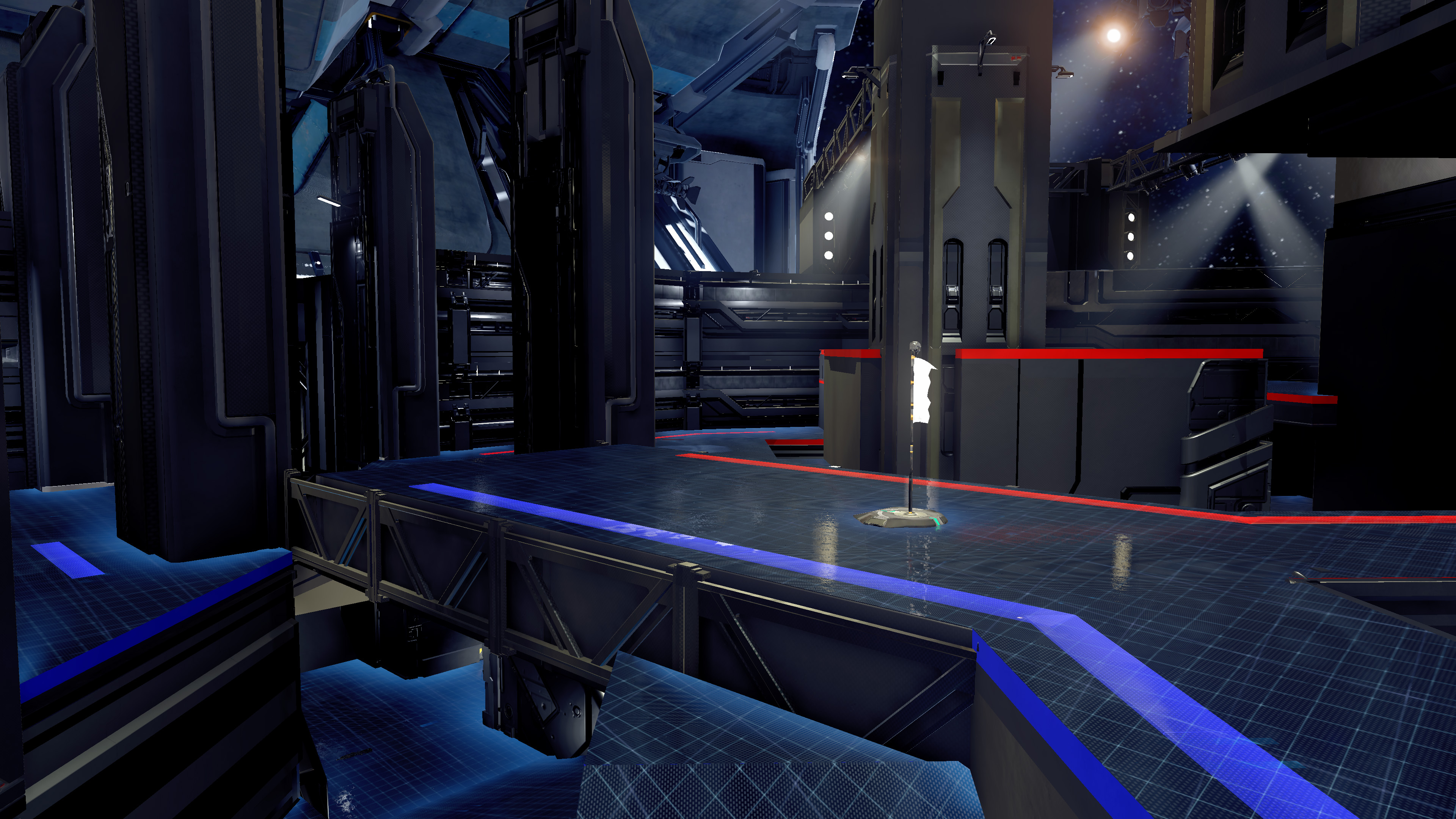 So what excites our MP team the most about players getting their Mjolnir-clad hands on the new Breakout experience? I'll let them speak for themselves:
QUINN: I'm personally very excited to play a Breakout that feels closer to the Halo gameplay that I love. I'm excited to clutch a 1v2 with my teammates going crazy over their microphones – or fail miserably and laugh with my teammates at my performance just in time for the next round to being and go right back into the thick of it.
ALEX: First, I'm looking forward to seeing more of those white-knuckle comebacks and clutch moments that Breakout excels at. I'm also very interested to see how people play with the weapons on the maps, as they play much differently in this mode. An Assault Rifle may be easily cast aside in Slayer by some, but when placed on the map here it can be a power house due to its ability to keep players outside the shotgun range of their opponents. Lastly, I'm excited to see how players take to the mobility of the maps. We tried to offer a lot of funs ways to traverse the maps, and for those like me who enjoy Halo 5's fun sliding spots (like in Fathom), we think you'll be pleasantly surprised with some of the new routes available to players who enjoy mixing up their mobility approaches.
Once you have some time to play a few games, hop into the Breakout Refresh Feedback Thread to provide your thoughts!
HCS
Keeping with the theme of white-knuckle Arena action, the HCS Pro League once again delivered the goods, with some crazy comebacks and unbelievable upsets taking center stage. In North America, EnVyUs secured sole possession of first place with a defeat of OpTic Gaming – OpTic's second defeat this season. Meanwhile, Evil Geniuses lost both of their matches while LOL won both of theirs. On the other side of the pond, the European HCS Pro League opened up their Fall 2016 Season with Pulse Gaming, Team Vibe, and FAB Esports all starting their year with sweeping victories.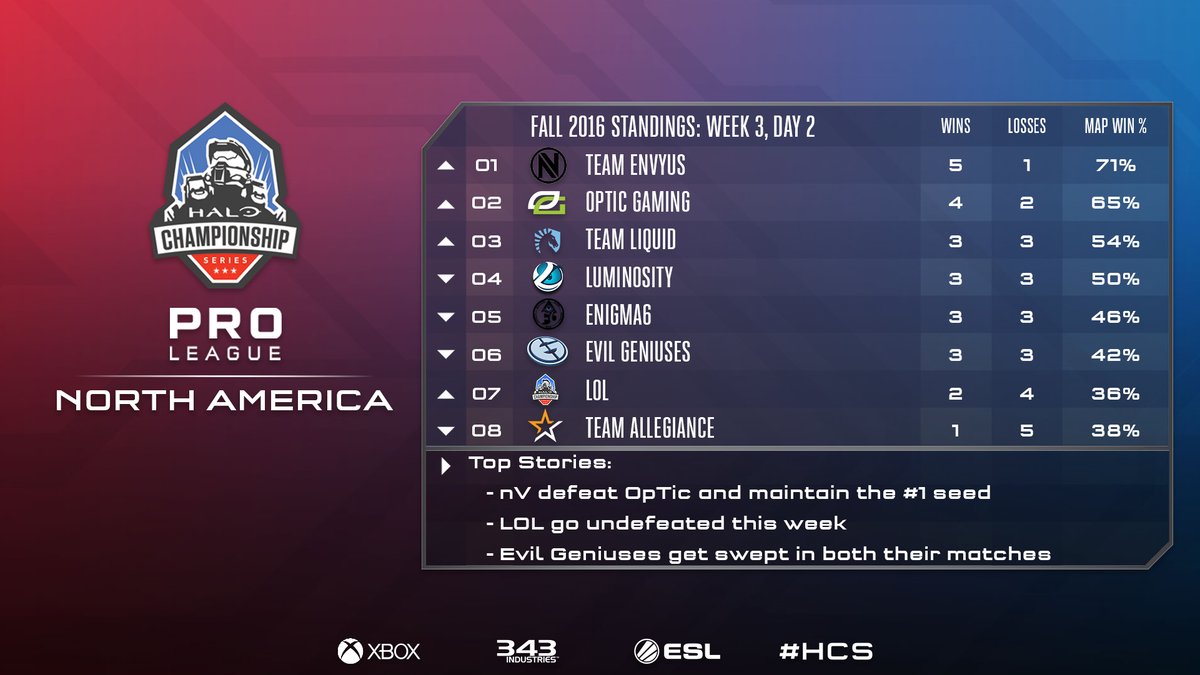 Next up on the HCS schedule of course, is next week's live open event: HCS Orange County. We hope to see you there!
@HALOGEAR
This week in Swag City, we've got an announcement that will help anyone who might be feeling a little Blue. Plus, dress-up!
MATTEL
Since we first announced the new Mattel line of Halo toys earlier this year, Master Chief has been helping put the "action" in action figure. But as the Beatles (and the late, great Joe Cocker) always said, it's always nicer to get by with a little help from your friends. With that in mind, we're excited to announce that you can finally add to your collection the full and proper Blue Team lineup of John-117, Kelly-087, Fred-104, and Linda-058 – all outfitted in in their GEN2 Mjolnir seen in Halo 5: Guardians.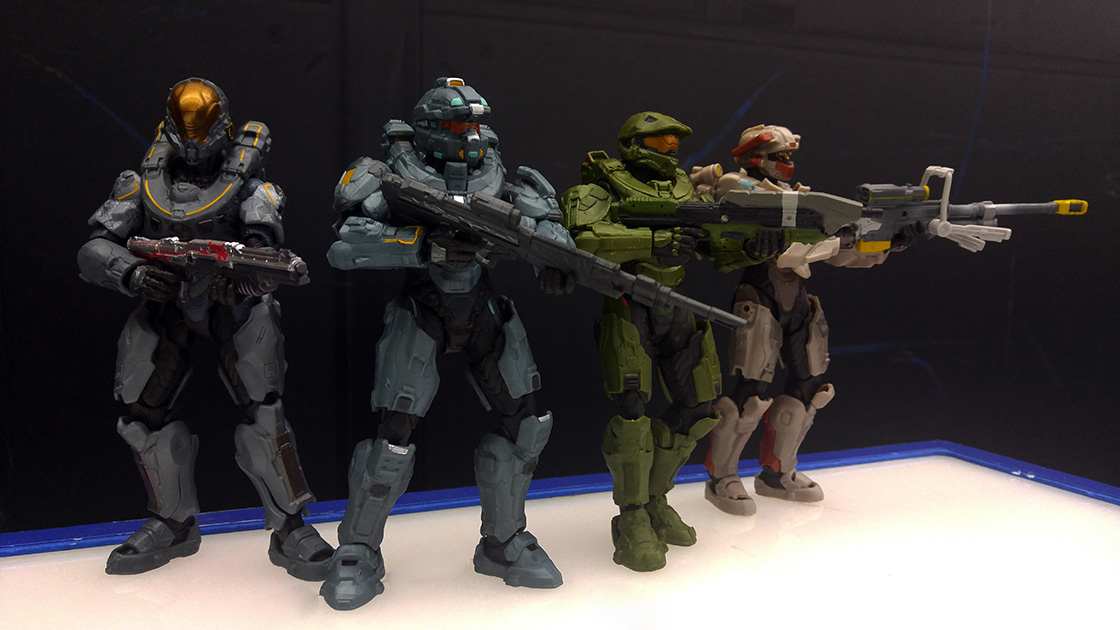 While Chief, Locke, Spartan HELIOSKRILL, and the Sangheili Zealot (all from Series 1) will all remain on store shelves into Spring 2017, Spartan Air Assault and Linda-058 will be swapped out for Fred-104 and Kelly-087 – so fans wanting to complete their Blue Team lineup will definitely want to make sure and snag their Linda figure soon! As an added bonus, Fred and Kelly will include special pieces that let you turn your Crawler (completed by collecting all the Series 1 figures) into a Crawler Snipe variant.
COSTUMES EVOL- Eh, you get the joke...
Speaking of cool gear, since Halloween is just around the corner, we rounded up some awesome options to go full Halo-ween come Trick-or-Treat time. Check 'em out!
Spartan Locke Costume (Adult) (Kids)
Halo Master Chief Prestige Costume (shown below)
Kids Muscle Master Chief Costume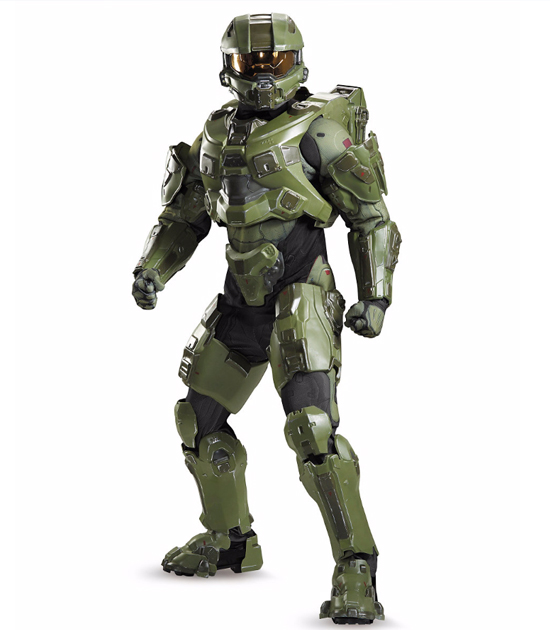 FORZA FACOCERO!
Earlier this week, our friends at Playground Games and Turn 10 Studios officially launched Forza Horizon 3, and along with it, the opportunity for Halo players across the world to take their own personal Warthog – with a fully customizable livery – out into the open-world Australian Outback for some truly glorious times. There is nothing quite like rolling with a squad of Puma-piloting friends over bountiful hills, or across the shore underneath the shadow of the Twelve Apostles – all with some sweet halo tunes blasting through your M12S' radio.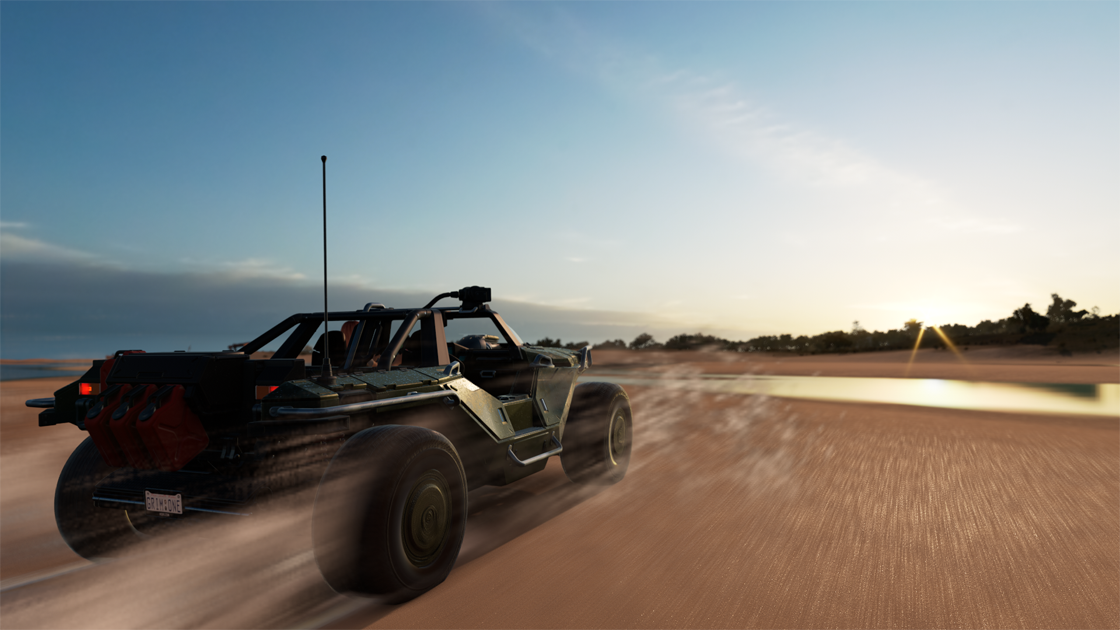 To celebrate the success of Forza Horizon 3's launch, we'd love to see your best Warthog screenshots, video clips, and livery designs! Make sure to tweet them to @Halo with the hashtag #PersonalPuma, and we'll pick out some of our favorites to display in the next Community Update. There might even be some swag to go along with the bragging rights. Maybe.
KI, KONTINUED
Also in the first-party friends fraternity are the fine folks on the Killer Instinct team, who recently released their new Shadow Lords mode. On the Halo front, this means that two new unlockable skins are now available for the Arbiter character – both reflecting the new "Mimic" enemy aesthetic from the aforementioned new mode. We think they came out pretty cool – definitely has a "pestilence" feel to it, no?

Oh, and speaking of KI, show your support for the Halo universe and go vote for the Aribter's "Arena of Judgement" stage in KI Central's latest community poll (you'll find the poll on the lower-right of the site). Today (9/30) is the last day to vote, so get in there and show 'em who's boss!
And now, let's pass it over to Bravo and Uny for some sweet news from Middle Earth, our Play or the Week, and more.
Until next time… Live well, play Halo, and long live the queen.
<3
Bravo's Builder Banter
Thanks Grim. Each day, I've been making my rounds from floor to floor here at the studio, mainly in an effort to get a proper warm up for intense table tennis matches against a rotation of opponents who include Grim, StrongSide, Tashi, and the rare-but-always-smiling Neighbor. During this circumnavigation of the Halo HQ, I also stumble upon various Halo 5 items that are in the works, and some pretty awesome tidbits are on the way. I am told I can't dig into details just yet, but I will say that there were, as you might expect, some particularly interesting things in the works in the sandbox and Forge departments, just to name a few. As a quick note, the services team also just pushed out a fix for "Highest All Time CSR" display, which was acting up a bit. Everything should now display correctly, including that one time I actually placed into Onyx.
Just about the entire Halo Wars 2 team (including those who normally hang here at 343) are in the UK this week, collaborating with talented Creative Assembly collective. They're putting the finishing touches on some new reveals which should be coming your way in not too long of a time. Plenty more on that front in the near future.
Lastly, the services team is continuing to investigate reports of inconsistent server behavior, and to aid in the investigation, our support team has created a dedicated thread where you can report issues pertaining to latency, disconnects, and related weirdness. As always, clips and videos (along with other information listed in the thread) are extremely helpful.
Covenant Slayers
Over the past week, you precisely peppered your Carbine triggers (and maybe chased down some commendations) in Covenant Slayer. Today, we're highlighting some of the top performers amongst our ranks:
Best Win %: EL FLAKO FLEES won 100% of his matches, with 54 played total
Best Average Kills Per Match: snoop j, 23.72
Best Average Assists Per Match: ohyeah1985, 7.90
Best KDA: carverGOD, 4.44
Community Spotlight: Prefabs
I've been keeping an eye on incredible prefabs (Forge Object Groups that you can build, share, and drop straight into your maps), and we've got a few favorites to share in this week's issue – including some new ones from the guys over at Creative Force. We'll start off with a few of our favorites from earlier this month:
FrostPhoenix0's tower naturally reminds us of the beautiful little Covenant Sniper Tower we used to hide in on Relic. And the fact that we never really felt safe up there, especially when the UNSC Sniper was in play somewhere by that huge chunk of driftwood…dammit.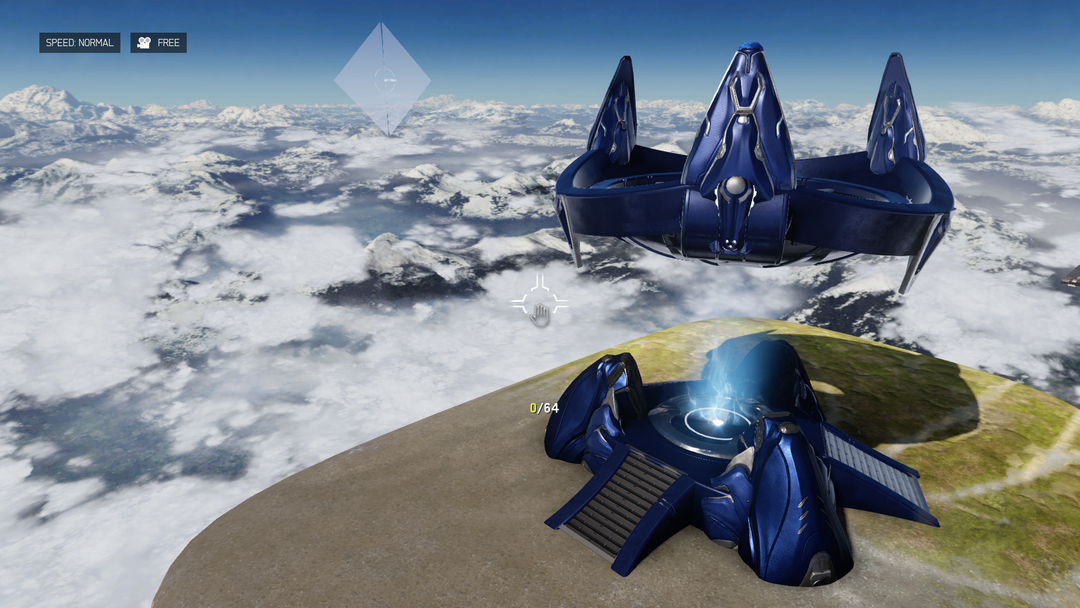 Yukikage0501 is getting ready for Gears 4 with their own badass Lancer, complete with a skull decal that looks just like the GoW skull if you squint just a bit.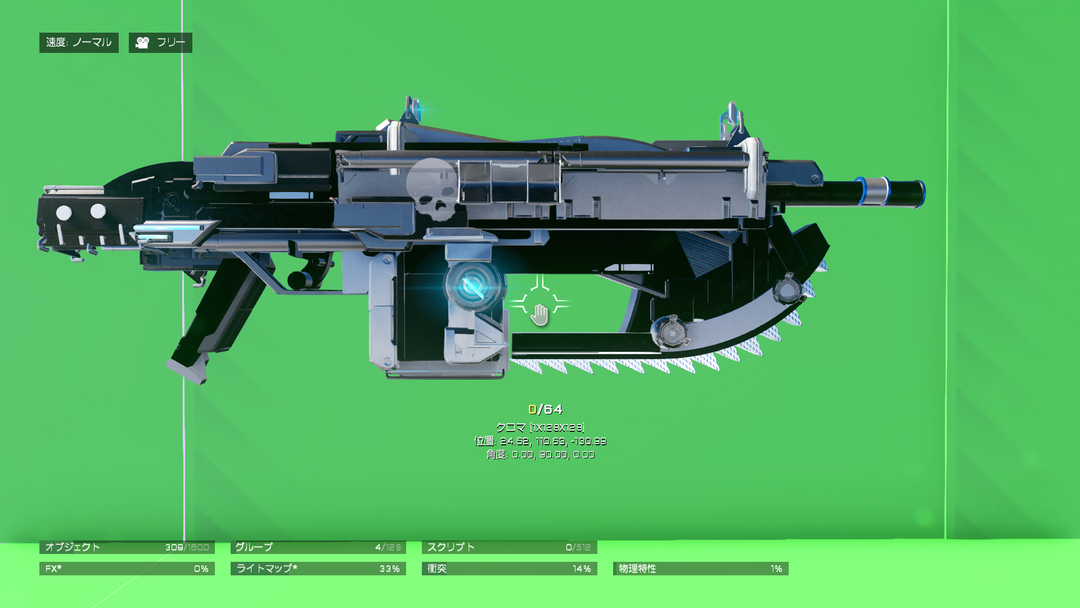 MythicalTwinkie (amazing gamertag, by the way) has created a fantastic looking hallway that is befitting of the most epic of sci-fi scenarios.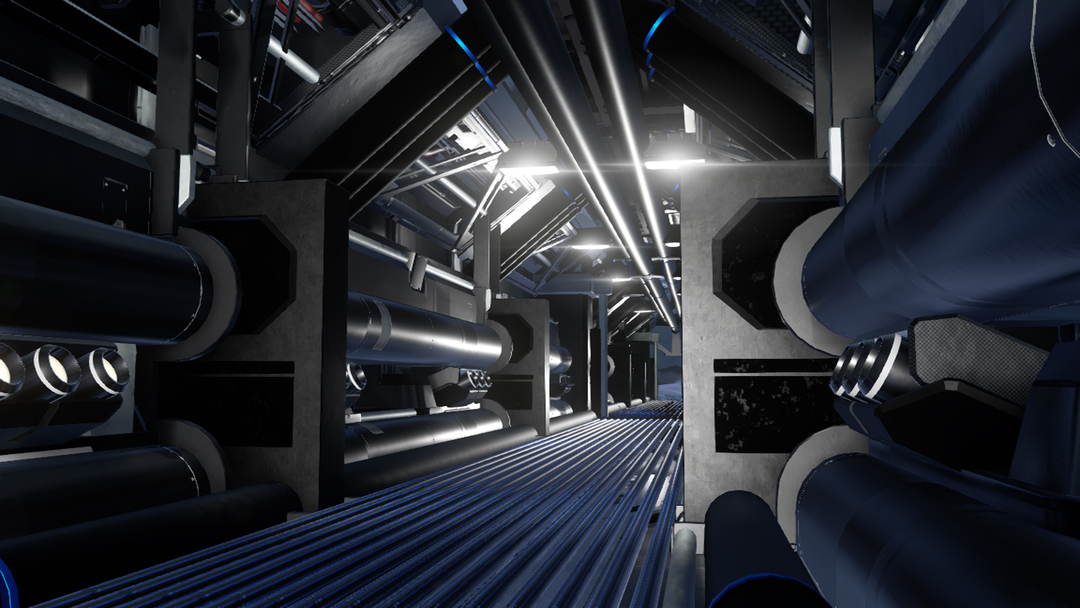 And, lastly, Bisbo. Here are a few words from Bubba, the Creator:
Mother Nature created this marvelous creature to provide hope to the unhopeful as it resides in blossoming grace.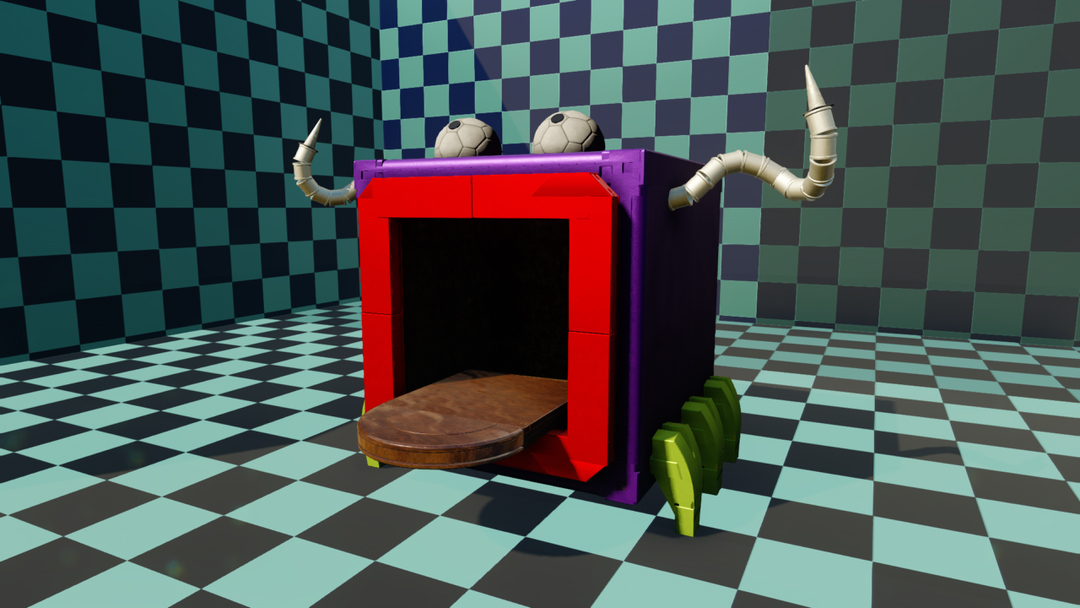 This week, Unyshek also sat down with the guys from Forge-focused powerhouse Creative Force to highlight some of the prefabs they've created: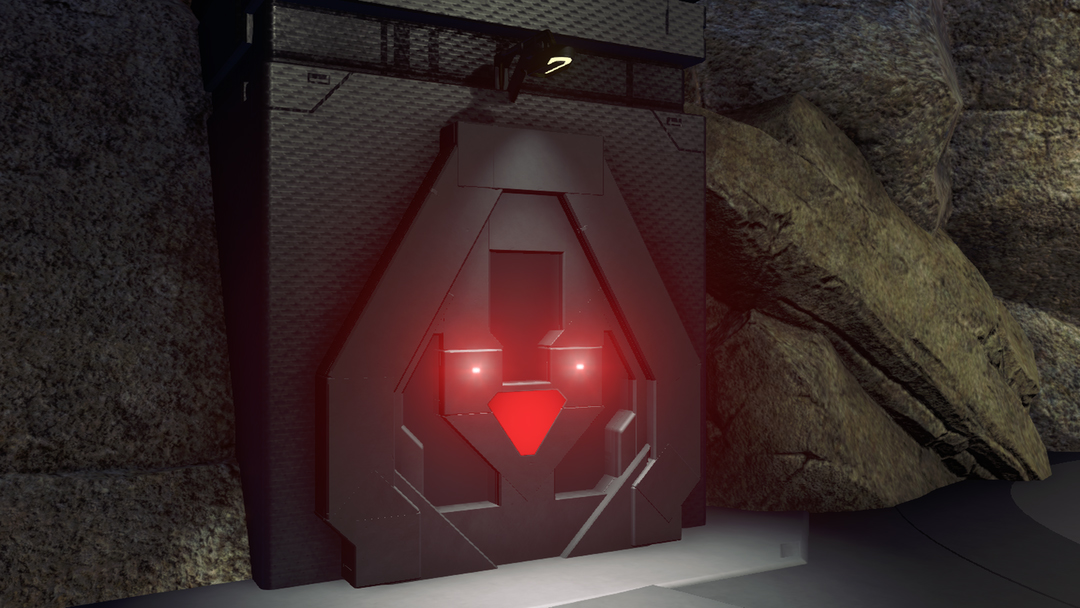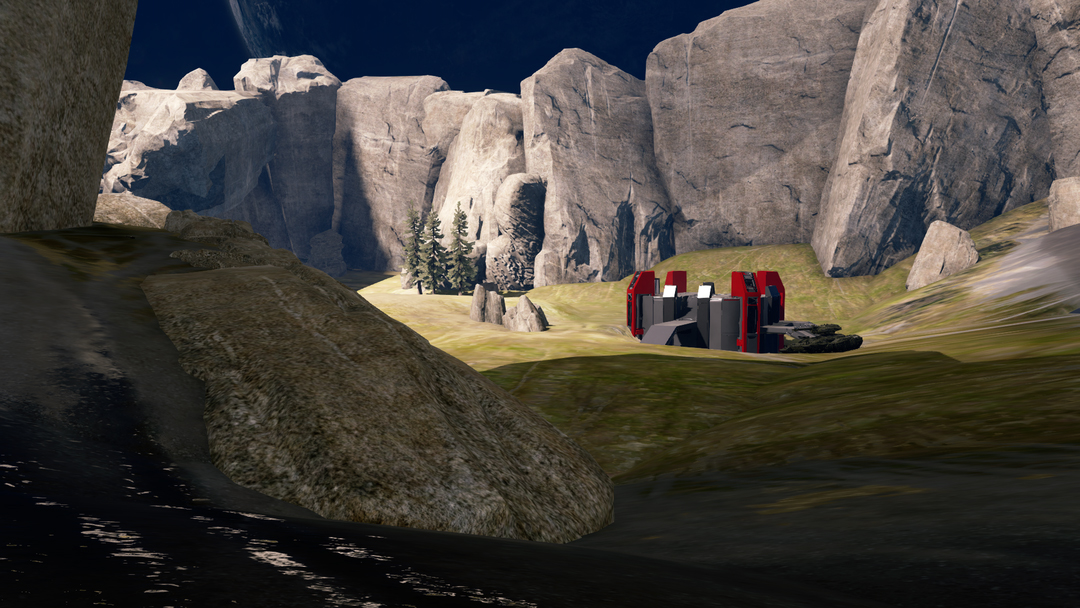 (it really flies!)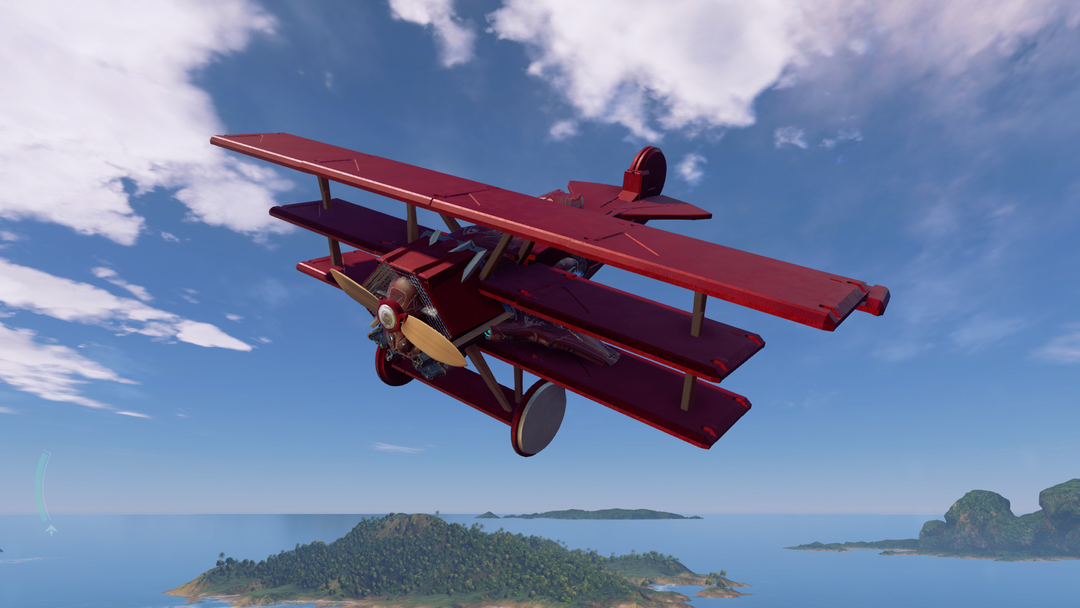 Sentinel by Spine Crush3r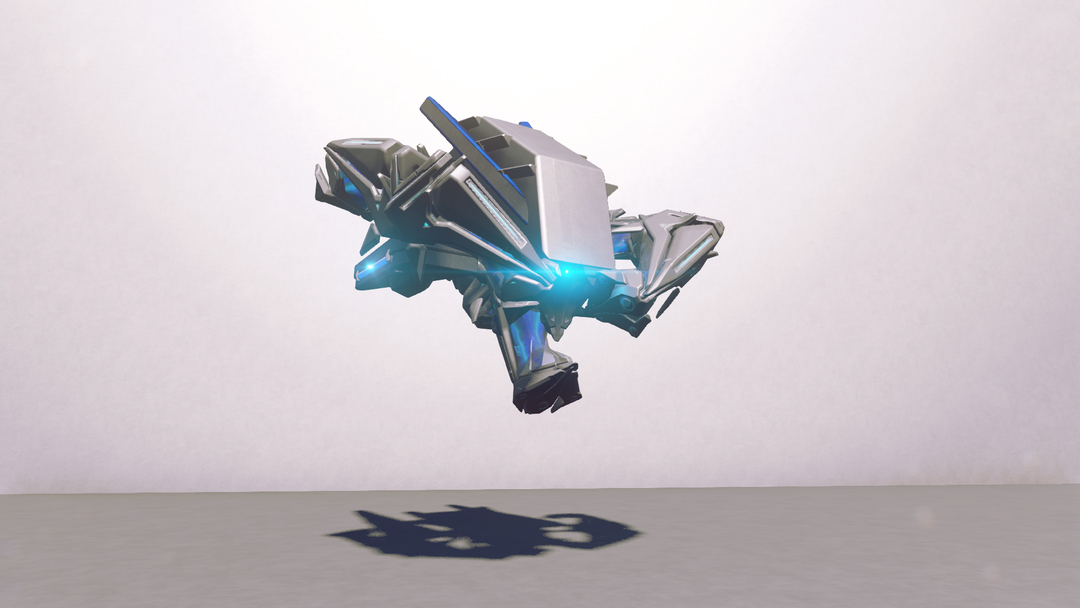 Play of the Week

This Play of the Week comes from two incredible players. The score of this Team Doubles match is 22-24, and there are 25 seconds left in the match when the clip starts.
FourVFour
The first episode of FOURvFOUR: The Competitive Halo Documentary is here, and we are sure that we'll be tuning into each episode in the series, which chronicles the tales of the New Zealand's competitive community. Episode 1 details the Halo: CE days – you can watch right here, and catch new episodes every Thursday at 7:00PM NZT.
And that, my friends, will do for this week. The Community Update will break next week for HCS Orange County, and will return on 10/14. Until then,
Bravo & Grim