After a grueling gauntlet of regular season match play, the sun is now setting on the Fall 2016 Season of the North America HCS Pro League Fall Season, where the top Halo players and teams across the nation have competed in two matches each week over seven weeks. Now, the top four teams in the standings prepare to battle it out in the NA HCS Pro League Fall 2016 Finals to claim the North American crown.
The NA HCS Pro League Fall 2016 Finals are set to take place this weekend, Dec. 10-11 at the ESL Studios in Burbank, California. The top Halo teams in North America – Team EnVyUs, OpTic Gaming, Team Liquid, and Str8 Rippin will all be vying for the lion's share of the $150,000 prize pool. In addition, the top two teams from the HCS Open Circuit will take on the two lowest-seeded HCS Pro League teams for a spot in the big leagues in the Summer 2017 Season. In addition, we're excited to finally unveil details about Halo World Championship and Halo esports in 2017 during the Falls Finals broadast this weekend. From top to bottom, the NA HCS Pro League Fall 2016 Finals are rife with gripping storylines and tantalizing matchups, and the road to the Finals has been hard-fought for every squad left standing.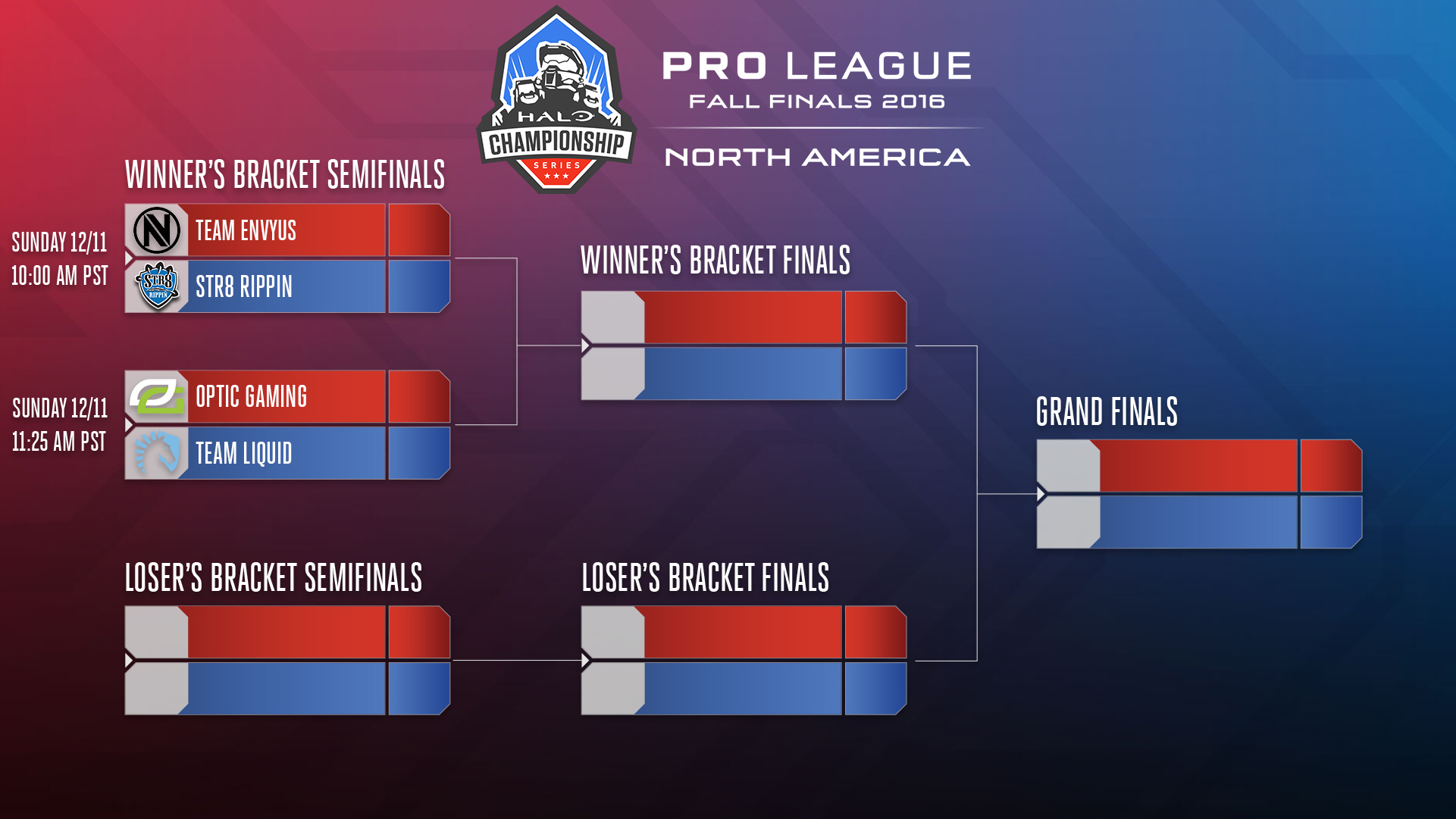 SEED #1 – TEAM ENVYUS
Before the Fall 2016 Season of HCS Pro League began, nearly every team made a significant roster change in attempt to take down the titans of the Summer 2016 Season, OpTic Gaming. When the Fall 2016 Season began, everything pointed to Team EnVyUs taking point as OpTic's biggest threat, but when the kicked off, nV found themselves starting off on the wrong foot. In their first match of the season for Team Liquid made quick work of nV, defeating them in a dominant 3-0 sweep match.
The sound defeat quickly got fans questioning whether nV's revamped lineup would be able to gel in time, despite such raw talent across the board. Additional doubt was cast on the potentially waning skill level of Snip3down, with fans questioning whether or not his playstyle would continue to work for Halo 5. As the Fall 2016 Season progressed, however, Snipedown, Pistola, Huke, and Mikwen would soundly put those rumors to rest on their way to a first-place finish. Their run included a season sweep of defending champs OpTic Gaming, closing out the season with a 13-1 run to lock up the first seed going into the Fall 2016 Finals.
SEED #2 – OPTIC GAMING
Despite their aforementioned roadblocks against Team EnVyUs, second-seeded OpTic Gaming – powered by defending World Champion squad Snakebite, Royal 2, Frosty, and Lethul – are still the fan favorite to win Fall 2016 Finals. These four players are typically viewed as the best players in Halo 5 and have proven time and again to be a stronger and more dominant team at live events – in fact, OpTic Gaming hasn't lost a live event since they won the 2016 Halo World Championships.
Royal 2 and Snakebite have been a dynamic duo since 2011, forming the backbone of several strong teams over the years. Once they acquired Frosty and Lethul, there has been seemingly no stopping the remarkable plays and incredible teamwork. Frosty in particular has surprised longtime fans, viewers, casters with his niche for finding all the ins and outs of Halo 5, but when you look at a team like OpTic Gaming, you can count on every single player to do whatever takes to win.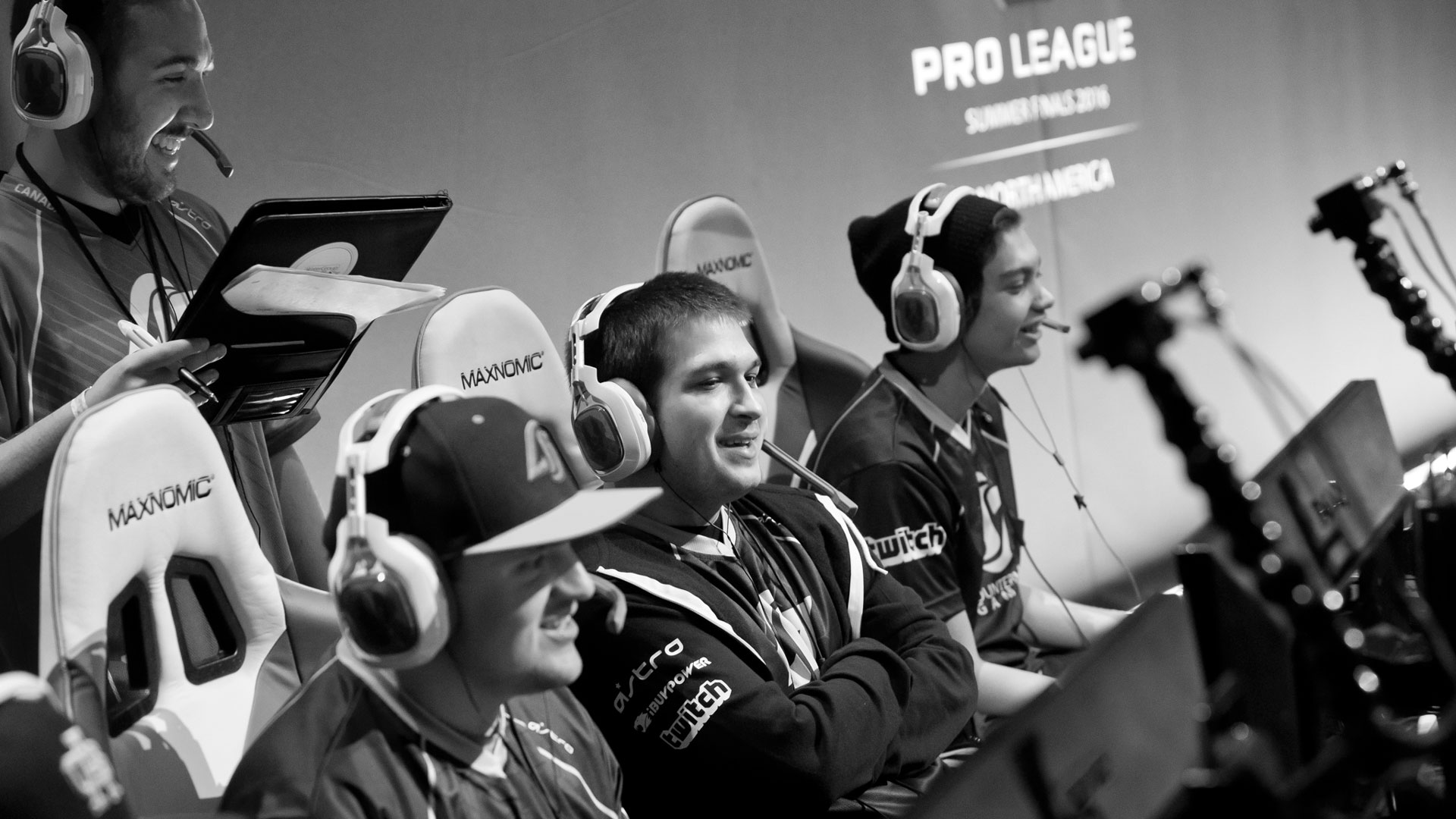 SEED #3 – TEAM LIQUID
The third seed in the Fall 2016 Finals belongs to Team Liquid, made up of Spartan, Commonly, Penguin, and Rayne, who are are relative new comers to the competitive Halo scene have only one event win between all the players, though Commonly has big-game experience from his time at Evil Geniuses when they took home the Gold Medal from X-Games Aspen 2016. With countless hours of hard work put in over the season this younger squad is out to prove themselves. Last season Liquid fell to relegation where they were in sudden danger of losing their spot in the HCS Pro League at the end of the Summer 2016 Season.
The change in the leaves however has brought a change in play – and fortune – for the squad, particularly with Spartan, who has devoted himself to becoming a more consistent and less emotional player. During the Fall 2016 Season, Team Liquid has put up great battles against both OpTic Gaming and Team EnVyUs throughout regular season play, and deserve to be considered a dark horse to win it all.
SEED #4 – STR8 RIPPIN
Last but not least is a name dripping with competitive Halo history, Str8 Rippin. Though their squad began the Fall 2016 Season with an 0-4 mark, Str8 Rippin endured a raging rollercoaster of a competitive campaign to fight their way back into contention. In the final two weeks of the season Str8 didn't lose any of their four matches, but still needed some serious help from other teams in the standings. Needing Luminosity to lose their remaining three matches of the season, Str8 players and fans watched on the edge of their seats each week rooting for Luminosity's opponents. Luminosity lost to Team Liquid in Week 6 and then Evil Geniuses in Week 7, setting up one final hurdle to clear in the final match of Luminosity's season against OpTic Gaming. It looked to be the end of the road for Luminosity and Str8 assumed they should be in the clear, considering the perceived mismatch, but Luminosity gave them all a reason to sweat a little more as they dominated Game 1 and defeated OpTic Gaming 100-44 on Eden Strongholds, on one of OpTic's stronger gametypes no less. But just as Str8 fans had started to worry, OpTic turned the series right back around, winning the next three games to take the match 3-1 and secure Str8 Rippin's spot in the Fall 2016.
Going into the NA HCS Pro League Fall 2016 Finals, will any of these team be able to stop the speeding train OpTic Gaming or will they continue to cruise by through their competition on their way to yet another consecutive crown?
RELEGATION BRACKET
Along with the top four teams playing in the Fall 2016 Finals this weekend, Saturday will play host to the always-intense relegation bracket. HCS Pro League Relegation sees the two lowest seeded teams from the NA HCS Pro League Fall 2016 Season, Team Allegiance and Enigma6, attempt to defend their spot in the HCS Pro League for the Summer 2017 Season against the top two amateur teams in the HCS Open Circuit: 3sUP and The Money Matches Team. Out of these four teams only two of them will guarantee themselves a place in the HCS Pro League in 2017. They'll be playing in a double elimination bracket in a best-of-seven game series each match up.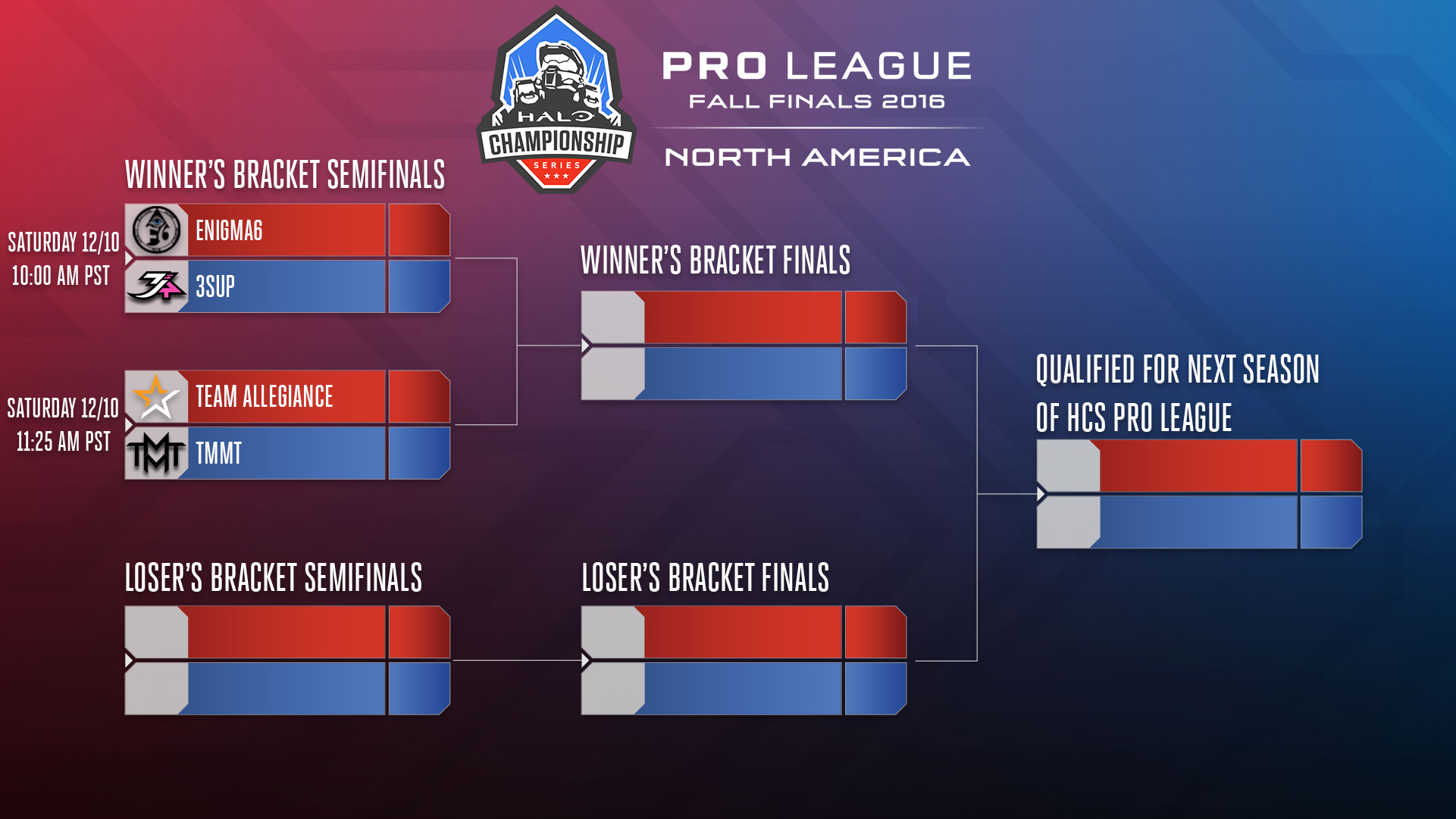 TEAM ALLEGIANCE
At the most recent live event, HCS Las Vegas, Team Allegiance came in looking like an entirely different squad. Only losing to Team Liquid and Team EnVyUs, Team Allegiance placed third, above other Pro teams Str8 Rippin, Evil Geniuses, and Enigma6. The question is of course, can Team Allegiance keep up that same level of play constantly though?
ENIGMA6
Enigma6 has certainly lived up to their namesake, mysteriously falling out of the ranks of top teams despite previously placing second in the NA HCS Pro League Summer 2016 Finals. During regular season play in the HCS Pro League Fall 2016 Season, Enigma6 only won four matches out of a total of fourteen. At HCS Las Vegas they placed a startling 7th/8th place. These extremely individually-skilled players will need to pull it together this weekend and show us something we haven't seen from their team in quite some time.
3SUP
Leading the charge from the amateur side is 3sUp, who are back again knocking at the HCS Pro League door. Falling short in last season's Summer relegation didn't stand in the way of these talented players – if anything, it made the fire grow even brighter within the team. Lead by Rammy and Prototype, this squad is absolutely looking like a team that can make it into the next season of Pro League. We saw 3sUP defeat Enigma6 at HCS Las Vegas and almost defeat Team Allegiance, narrowly losing the match 2-3. They have the confidence and the experience to go all the way, but will they fall just short again this year?
THE MONEY MATCHES TEAM
This young squad came out of nowhere, and turned some heads at HCS Las Vegas by defeating heavily favored teams, Bittersweet, Most Wanted, Panda Gaming, and Dynasty. These young players have an outrageous amount of individual skill and their teamwork is impressively good for only having recently jumped into to scene. Needless to say, it's going to be exciting to watch these new up-and-comers put some well experienced players to the test.

EVENT DETAILS
VENUE: ESL Studios, Burbank, California
TIME: December 10 - 11, 2016 (Doors open at 9:30 a.m. PT on Saturday and Sunday, Matches begin at 10 a.m. PT)
Saturday, December 10 – Relegation Bracket
RELEGATION TEAMS
Enigma6: Cratos, Bubu dubu, Shooter, Suspector - Coach: Showtime
Team Allegiance: Contra, PreDevoNatoR, Str8 Sick, Falcated - Coach: Phil
TMMT: Boamx, saiyan, tripppey, Tire iron - Coach: Cloud
3sUP: MoNsTcR, Rammy, Renegade, P Tizype - Coach: Proverb
Sunday, December 11 – Fall 2016 Finals
FINALS TEAMS
Team EnVyUs: Miken, iGotUrPistola, Snip3down, Huke - Coach: Elumnite
OpTic Gaming: Frosty, Royal 2, Snakebite, Lethul - Coach: Royal 1
Team Liquid: Spartan, Rayne, Commonly, Penguin - Coach: Symbolic
Str8 Rippin: Eco, aPG, Ace, Heinz - Coach: Hoaxer
WHERE TO WATCH
Catch all the action on Dec. 10-11 from the NA HCS Pro League Fall 2016 Finals at Twitch.tv/Halo. Stream begins at 9:45 a.m. PT each day, with matches beginning at 10 a.m. PT.
CASTER TALENT
Kyle Elam - @Elamite
Tom Taylor - @Tsquared
Richard Simms - @TheSimms
David Walsh - @Walshy
Michael Cavanaugh - @mcstrongside
As always, for all updates on the Halo Championship Series and Halo esports, follow @HCS and @ESLHalo on Twitter, and keep it locked to Halo.gg and ProLeague.com/Halo.