After an incredible Summer 2016 Season full of ups and downs, rivalries and upsets, killing sprees and killer comebacks, the stage was quite literally set for the HCS Pro League NA Summer Finals. Hosted at the Novo Theatre in Los Angeles, CA, the only thing hotter than the temperature outside was the competitive Halo play inside, as drama at both ends of the field proved to provide fans with an unforgettable weekend of esports action.
The Relegation Bracket saw Team Liquid and OpTic Gaming get pushed to the limit as they fought to reclaim their places in the HCS Pro League for the Fall 2016 Season against the best teams from the HCS Open Circuit. These matches saw some of the most incredible and memorable Halo play ever witnessed, including an epic CTF standoff for the ages in the Relegation Finals between OpTic Gaming and Denial Esports. Led by crowd-favorite up-and-comer Rammy, Denial matched OpTic flag for flag… for three straight deadlocked matches. In the end, OpTic would prove just too much for the talented challengers, but Rammy and his teammates gained an incredible respect from every competitor during their valiant final stand, and in the process would give the teams competing in the Summer Finals themselves a tough act to follow.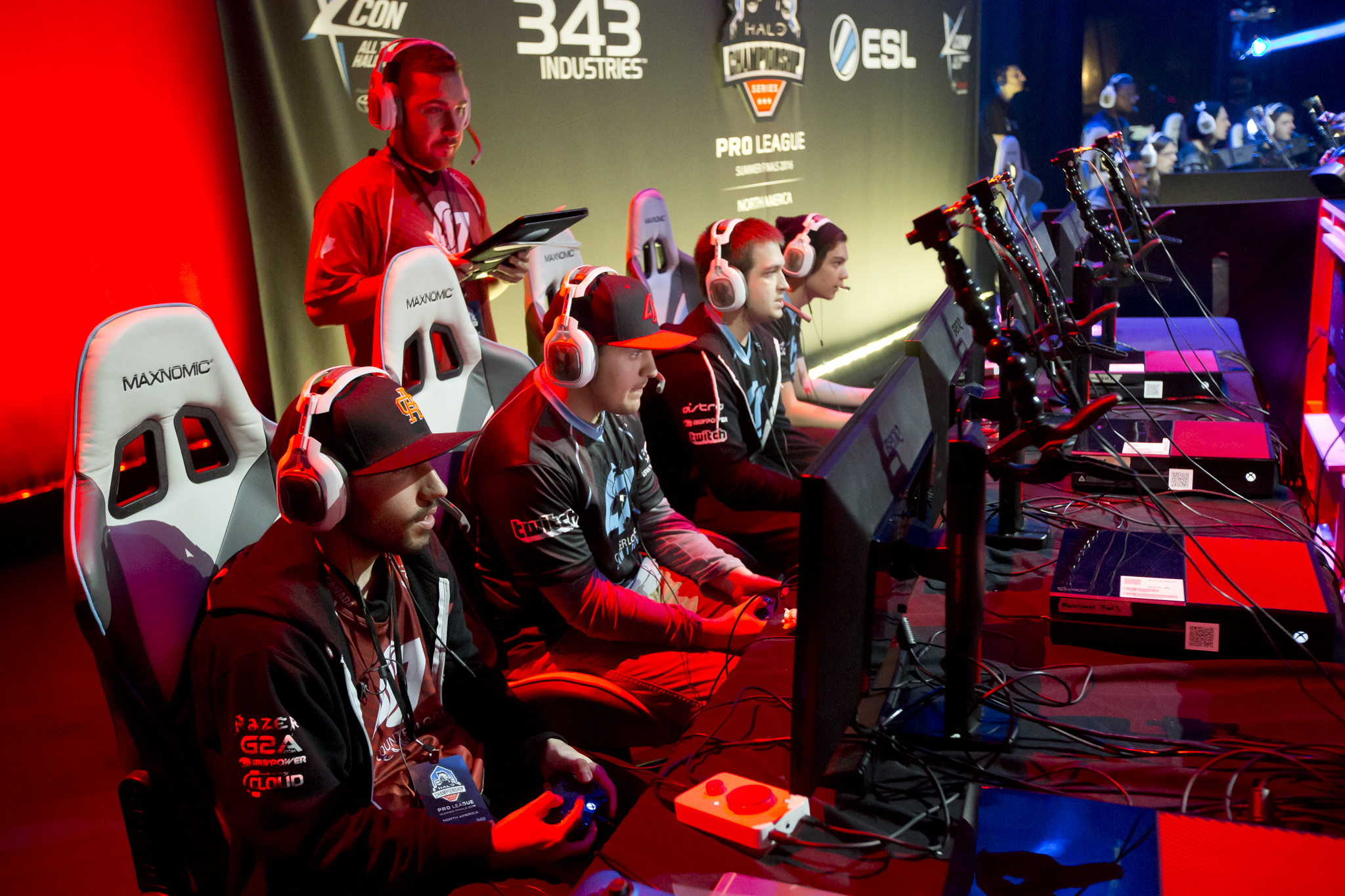 Photo credit: Carlton Beener
WINNERS BRACKET
Day 1 of the NA Summer Finals 2016 opened up Winners Bracket play for the top four, and began in a way that almost no one would have predicted. Opening up the final-four action, Cloud9 stunned the live studio audience at the Novo Theatre, and the world watching online, by taking the opening CTF match on Fathom over Counter Logic Gaming to go up 1-0. But they weren't done yet – as C9 dropped both jaws and opponents en route to a Slay victory on The Rig, and an improbable 2-0 series lead. Unfortunately for C9, their luck would run out near the end of Game 3, as they were unable to capitalize on key opportunities to take a commanding series lead, instead allowing CLG to pull the set to 2-1. CLG would go on to win both Game 4 and Game 5 to take a lead they would never relinquish, overpowering C9 to take the opening stint 4-2.
In the day's other Finals matchup, Team EnVyUs put on an impressive and inspired performance against the higher-seeded Enigma6, taking the series 4-2 and earning a date with CLG in the Winners Bracket Final on Sunday.
If there was any thought of CLG getting off to an equally slow start on Day 2 against Team EnVyUs, those sentiments quickly evaporated, as CLG put on an absolute clinic on way to a statement-making 4-0 sweep of nV to waltz into the Grand Finals and send nV into the Losers Bracket to fight for their tournament lives.
LOSERS BRACKET
Opening up the Losers Bracket on Day 2 was Cloud9 and Enigma6, the series beginning with a dominant Strongholds win on The Rig for Cloud9 to go up 1-0. Game 2 started out just as well for Cloud9, leading by as many as 14 kills on Plaza Slayer, but BubuDubu led an incredible comeback by Enigma6 in the latter stages of the game, stealing both the momentum and the victory 50-48 to even the series at 1-1. E6 seemed to carry that energy into Game 3, a CTF match on Fathom, opening up the scoring to go up early. After weathering a quick counter-cap that evened the score, E6 turned things up even further on the way to a strong 3-1 victory to take a 2-1 series lead.
Game 4 however would see a solid answer by C9, using a smothering Strongholds outing to draw the series to 2-2. In Game 5, we saw another big Slayer lead evaporate – this time it was E6 jumping out to a double-digit lead on Regret. Cloud9 battled back strong, drawing even on several occasions late, but simple couldn't gain control of the power ups when they needed to in order to flip the comeback script on E6, losing 50-46 and heading into Game 6 facing elimination. Game 6 saw C9 draw first blood on Coliseum CTF, but as in Game 2, they failed to hold the lead, allowing a late capture by E6 in the closing seconds to send the standoff into overtime. In the extra session, E6 gained an early capture, but C9 returned to favor to tie things up and send the match to a replay. Opening up the second frame was E6 with two dominant caps, but C9 battled back from the brink to even the score at 2 – end the end however, it wouldn't be enough, and E6 put the nail in the coffin for C9's season to move on to the Losers Bracket Finals against nV.
Perhaps taking advantage of their extended break, nV opened up the series with a strong 3-2 win over E6 to go up 1-0, but E6 would ride a solid performance on Plaza Slayer to hold on for a 49-47 series-evening victory. Game 3 would swing back to nV as they took victory in Strongholds on The Rig, but back again to E6 following a CTF replay victory on Stasis. In a pivotal Game 5 on Coliseum, E6 overcame an early deficit to take the Slayer win – and their first series lead at 3-2. While that lead would evaporate quickly as nV was able to force a Game 7 following a fantastic Game 6 Strongholds win, E6 had the last word with a dominant 50-37 Slayer victory on The Rig to send E6 to the Grand Finals.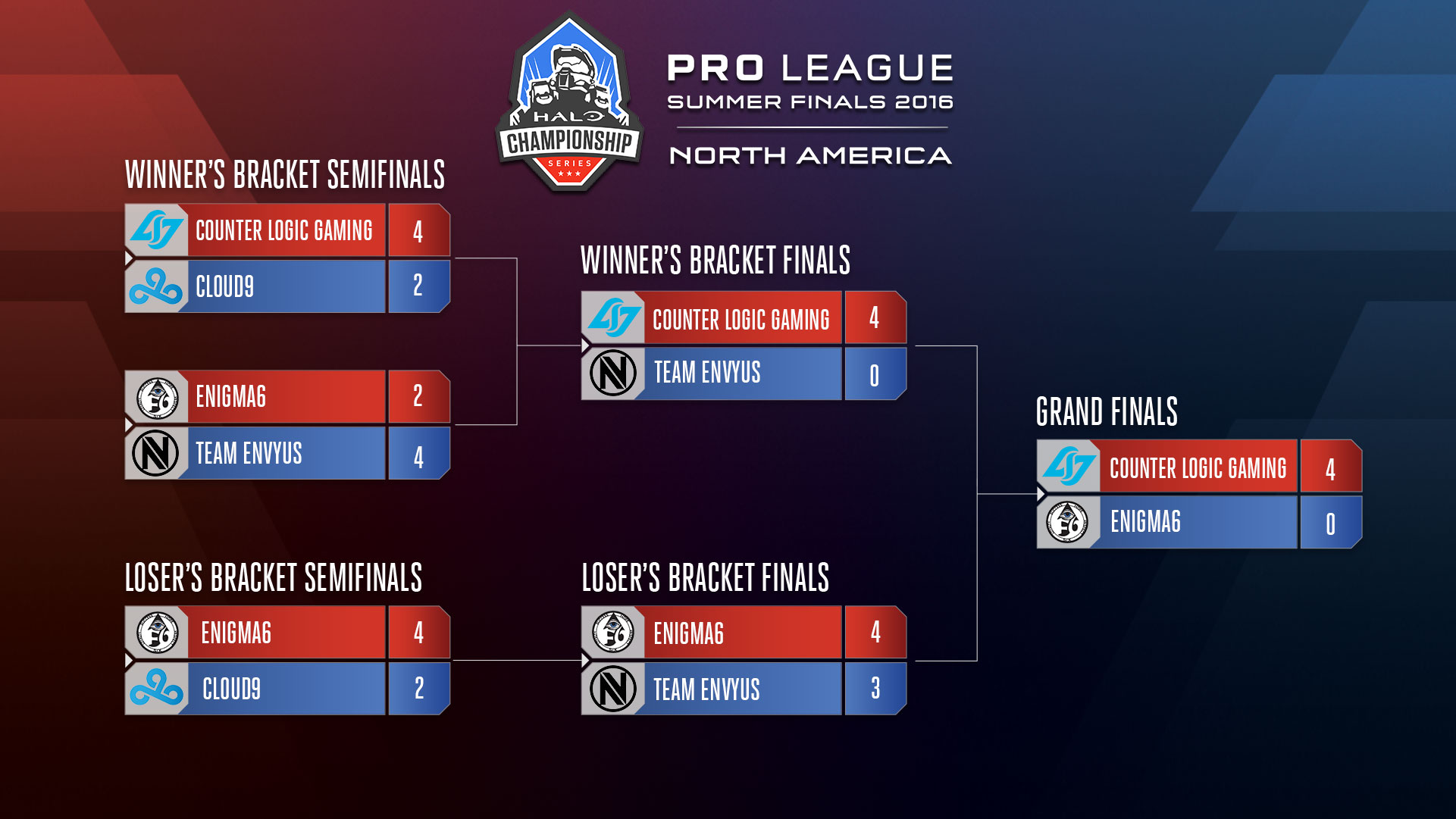 GRAND FINALS
If the regular season was anything to go by, then it seemed almost inevitable that things would come down to CLG and E6 – the latter handing CLG their only loss of the Summer 2016 Season. In the early goings of Game 1: CTF on Coliseum, it looked like E6 was ready to keep their momentum going as they grabbed the first flag capture to open up the scoring. Any assumptions of rust on CLG's part though quickly evaporated, as the defending champs rattled off two quick caps of their own before coming out on top of a protracted standoff to take the opening game 3-1.
In Game 2, CLG rode an incredible power weapon display by Frosty to a dominating 50-35 win to take a 2-0 series lead, and despite an impressive slaying performance by E6 on The Rig, CLG would take the Game 3 Strongholds win, and along with it a commanding 3-0 series lead.
In the end for CLG, the journey was different, but the destination was the same as they took Game 4 on Fathom to close out a dominating series sweep and retain their crown as the kings of competitive Halo. Next up, the Fall 2016 Season, where every single HCS Pro League team will be entering with one goal in mind: Take down CLG.
For all updates on the Halo Championship Series, follow @HCS and @ESLHalo on Twitter, and keep it locked to Halo.gg.