Happy Thursday and welcome to another installment of the Halo Community Update! This week all eyes are on the first event of the 2018 Halo World Championship - the Orlando Open. While Grim and the rest of the team have been dispatched to the sunshine state, yours truly is here at the helm to bring you the latest happenings from across the world of Halo. Today we're talking HaloWC, Halo 5 weapon tuning, meeting a new 343 teammate, checking out tons of awesome community created content, and more. Let's go!
Halo World Championship 2018

After months of planning and weeks of online qualifying we're finally set to kick off the first in a series of global events that culminates in the 2018 Halo World Championship Finals in March. Beginning tomorrow, Feb. 16, top teams from around the world will battle for a share of $50,000 and valuable seeding points to take back to their respective regional finals. To say that players, fans and our team is excited about the Orlando Open would be a huge understatement - not only does the Orlando Open feature a record number of registered teams, but it also marks the long awaited return of MLG to the competitive Halo scene.
For more details about the event, please head over to the HaloWC Orlando Open Event Page. For a preview of some of the top stories to watch going into Orlando, check out this event preview blog. Read on for when and where you can catch this weekend's action!
EVENT & BROADCAST SCHEDULE (ALL TIMES ET)
Friday, February 16 – 2:30PM – 10:30PM
Saturday, February 17 – 12:00PM – 12:30AM
Sunday, February 18 – 11:00AM – 7:00PM
The Orlando Open will be presented on TWO separate streams all weekend to long to ensure you don't miss a single bit of action.
MAIN STREAM
mixer.com/Halo | twitch.tv/Halo | mlg.tv/Halo | live.twitter.com/Halo
This broadcast will focus on the action taking place on the Main Stage, but will also feature live check-ins to two other featured stations, red-zone style, providing viewers at home with more robust coverage than ever before of the best action in the most important matches happening at that moment. The Main Stream will also feature a world-class lineup of broadcast talent, showcasing some of the finest casters and analysts in the sport.
GAMEPLAY STREAM
The Gameplay Stream (Bravo Stream) will focus on a dedicated featured station, providing viewers with an additional avenue to take in top-level tournament action all weekend long. Matches showcased on the Gameplay Stream will be broadcast with a streamlined presentation, focusing completely on the action in-game.
Spectate
The Orlando Open is being held at the Orange County Convention Center - 9800 International Drive, Orlando, FL, 32819. Specator passes can be purchased HERE.
Next Stop: London!
Following Orlando, the Halo World Championship tour rolls on to London, England on Feb. 23-25 for the European Regional Finals. Check out the HaloWC London Finals event page for full details.
HaloWC Regional Skin Update
(added feb. 16, 1:20PM PT)
This week we were putting the finishing touches on plans to release a small collection of decorative national flag skins for the UK, Australia, Canada, Mexico and the United States, but in light of the seriousness of the current climate, and input and feedback from some of our regional partners, we have decided to delay the release indefinitely.
Lots of folks worked hard to make the decorative decals, and we know that players were anticipating them in the spirit of fun and competition in which they were originally intended, however, we feel that releasing these items now would be inappropriate.
The rest of our HaloWC tournament activity will continue as planned, and we'd like to take this moment to say simply, "be good to each other." 
Halo 5 Weapon Tuning

In the last Community Update we shared some new details regarding ongoing Halo 5 weapon tuning work following the latest round of community feedback. Today we're going to dive into the specific changes you can expect with the next game update (currently targeted for later this month). Below is a recap of the initial goals the 343 sandbox team is working towards and a summary of each adjustment.
Battle Rifle
Goal: Address feedback from players who experience discomfort when using some BR variants. The recoil that was introduced to the BR is a bit too much when using scope attachments.
Tuning changes: Reduced recoil on the Longshot, Sentinel, and COG scope attachments.
Takeaway: These changes will help ensure that these attachments are competitively viable while reducing the physical discomfort issues players have been reporting since the last update.
Carbine
Goal: Address player feedback that the weapon still feels a bit too inconsistent, particularly at longer ranges.
Tuning changes: Greatly decreased spread in hip fire, slightly decreased red reticle range in hip fire, greatly decreased spread while zoomed, slight increase to red reticle range in zoom.
Takeaway: Decreasing the spread will reduce player frustration around a feeling of inconsistency while the reduction of RRR keeps the Carbine within its desired effective range. This update should provide more depth to the weapon, increasing consistency while also keeping viable range intact.
DMR
Goal: Address feedback that the DMR isn't adequately filling its intended role following the last round of tuning changes. The role of the DMR is intended to shine in long-range combat while being less effective at mid-range and then even less so at close-range.
Tuning changes: Increase red reticle range in hip fire, increase 'stickiness' of weapon at closer ranges, slight increase to base damage (still 5 shots to kill a fully shielded opponent)
Takeaway: The RRR increase will further distance the DMR from the Magnum in range effectiveness and bring it closer to compete against Sniper/Beam Rifles. The change in 'stickiness' will make the DMR a little more viable in closer ranges by making it feel a little tighter while the damage increase will better clean up opponents who have taken damage already.
Storm Rifle
Goal: Address feedback that the Storm Rifle has now shifted more out of balance in relation to the rest of the sandbox.
Tuning changes: Decreased effectiveness of aim assist, increased length of time the weapon is overheated, increase the amount of battery consumed with each shot
Takeaway: The Storm Rifle's ability to burst large amounts of damage onto multiple opponents is being weakened due to chewing through the battery faster. Additionally, the increase to overheat time will require a longer period of time before it's able to be fired again. The aim assist changes will require more accuracy on the part of the player and all of these changes will make players have to manage the weaopn more in order to maximize its potential.
Brute Plasma Rifle
Goal: Address current feedback that it's a bit too effective at stripping shields and overlaps a bit too much in with the Storm Rifle in its intended role.
Tuning changes: Decreased base damage, slight decrease of spread in hip fire
Takeaway: The Brute Plasma Rifle's strength is its mid-range ability to strip opponent's shields. The damage reduction and spread decrease should make close quarters combat eel more fair when fighting against the Brute Plasma Rifle as the wielder has to land more shots to defeat you.
** Please note that all of the above changes are where things currently stand internally as of today, but are subject to change between now and final release.
Radar Blips

Shotty Snipers fans rejoice! This playlist has returned to Halo 5 as the latest rotational and is ready for all the sniping and shotgunning your heart desires.
Free Play Days for All! FYI that Xbox Live online play will be free to everyone (no Gold account required) from Feb. 15 through Feb. 18. You can read more details over at Xbox Wire.
HaloWC FFA Playlist - Last week the FFA playlist in Halo 5 was replaced with the "HaloWC FFA" playlist. This updated version now perfectly mirrors the official settings being used during the Halo World Championship FFA competitions. Josh "ZaedynFel" Menke has some additional info over in the HCS forum.
Rise of Atriox - Last week the 5th and final issue in Dark Horse's Rise of Atriox series was released!
Halo Wars 2 Balance Update - Last week the team released a significant balance update for Halo Wars 2 that was a collaborative effort reflecting a wealth of player feedback. You can read the full details HERE.
Team Spotlight

This week we're shining the spotlight on 343's relatively new Multiplayer Sustain Designer Randy Croson!
Hey Randy! Welcome to the 343 Team Spotlight and a belated welcome to 343! To kick things off, can you tell us what it is you do here at 343?
Randy: Thank you Mr. ske7ch! Just at the beginning of January I've taken over the role of Multiplayer Sustain Designer for Halo 5.
I remember meeting you at Halo World Championships 2017 because you were the winner of the Ghost in the Shell Forge contest. Back then you were super interested in trying to find an opportunity with 343 and now here we are! Did you ever picture yourself working on the Halo team? What was it that drove you to join 343?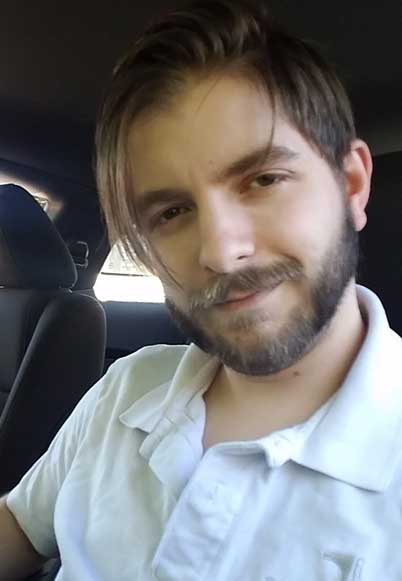 That's right! Going to the Halo World Championships in 2017 is something I'll never forget. Like many others, I'd always hoped to join the team at 343 but I'd never imagined it would be so soon after, if at all! A lot of things drove me to join 343 because there are many facets of Halo that I've always loved. The look and feel of Halo games, the gameplay mechanics, the good times I've had with friends... the list goes on. Ever since I got my hands on Halo 2 way back when, it has been a huge part of my life.
How's it been going since you've joined 343? What's a typical day entail for you?
It has been awesome! My day consists of several things, with varied priority. Fixing issues and exploits on maps in Matchmaking for example. (I'm the guy that's going to ruin your favorite griefing spot. Fight me.) I rotate playlists when scheduled, such as adding and removing Mythic Warzone Firefight on the weekends and adding Shotty Snipers earlier today. Preparing new playlists and updating existing playlists is also part of my role. Additionally, I also help the Sustain Team keep on the lookout for new and exciting content we could one day add to Matchmaking.
Has 343 life been everything you imagined it to be? What's it been like working on the multiplayer team?
I certainly think so! Everyone at the studio is polite and passionate about Halo, as one would hope! Coordinating what the team is working on and brainstorming fun new ideas is a joy.
So far, what do you enjoy the most about this role? What has been the biggest challenge(s) thus far? Any wacky stories or specific standout moments you'd like to share?
My favorite part of this role right now is when I get to use Forge to fix exploits and glitches. It feels great to improve upon a game that's already been so good to me. Feels even better to know I'm helping improve the experience for players, even if it's one small step at a time. My biggest challenge has been learning all of the tools necessary to update and create playlists. Not all things are necessarily the flip of a switch. And when flipping the switch is finally the last step... you gotta make sure that your changes don't break the live game for the entirety of the matchmaking population. (ske7ch's note: NO PRESSURE RANDY - HALO FANS ARE SUPER PATIENT AND UNDERSTANDING! :D)
Does working here now, arm in arm with the team behind the franchise, change how you think about Halo?
In a lot of ways it does. It's not just a game to me anymore. Have you ever seen "How the Grinch Stole Christmas?" You know how the Whos in Whoville live and breathe Christmas? The studio here is like that, but for Halo. There's a lot of love and passion for the series here; you can almost feel it when you walk into the studio. It's intangible and hard to describe, but it's incredible.
Besides winning Forge contests, what were you up to prior to joining 343?
For many years I was a member of a ROM hacking community, although I won't mention which. I've also spent a lot of my time recently experimenting in Unreal, Unity, and Maya. I still aspire to learn many things about game design. I'd love to one day gain enough experience to work on a future Halo campaign.
Ok, favorite all time Halo game? Do you prefer campaign or multiplayer? What about favorite all-time multiplayer map?
*Deep Breath!* Halo 3. I prefer multiplayer because I prefer shaming my friends. My favorite map is The Pit. So many good plays, such an excellent variety of weapons! Good times.
It's always awesome to hire people directly out of the fan community. What advice do you have for others who want to follow in your footsteps and work on Halo some day?
My advice? Find your place in the community of your interest. Show your work to others and take criticism to improve. Don't let the toxic members get you down. Learn from your peers. Work with your peers. Give criticism to your peers while being polite. Do these things, and it's my professional opinion that you're going to kick ass.
Any other final thoughts, shout outs or parting words you'd like to share?
A shout out for sure! I hope your don't mind lists, ske7ch. I know I didn't get to shout out to all of my community friends during my Halo World Championship interview, so I'll do it here.
To those who know me as Randy 355. My friends from Creative Force!
Ray Benefield
Nitroo
Black Picture (343's own Cliff Schuldt!)
Sn1p3r C (My roommate and Breakout fanatic, Connor Kennelly)
MythicFritz (FrythicMitz)
darkprince909
Whos Blaze
CaptainPunch374
Spine Crush3r (I'm Geno!)
xMalevolution
The Slammerss
And so, so many other Forgers... Without the support of these people, I would not be at 343 today.
Thank you, and remember: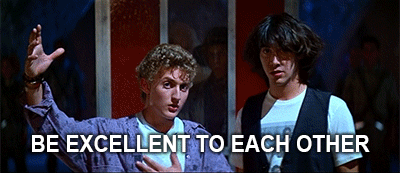 Community Spotlight

It's been a while since I've been at the helm of a Community Update so it feels like I need to make up for lost time and double down on awesome community content and make it rain 343 Unicorn skins! This week the spotlight is pointed at all manner of kickass things from our incredible community. Remember, if you've got a cool creation be sure to let us know - we're always on the hunt across Twitter, the Halo subreddit and Halo Waypoint.
Valentine's Day Commission
This amazing piece just popped up in my feed last week but was created a few years back by Garrett "TD Spiral" Post, as a commission for TheLegendary177 & MrsLegendary117. Garrett is certainly no stranger to awesome Halo art, and fans might also recognize his work from a recent Halo Wars 2 piece created for the San Diego Comic Con.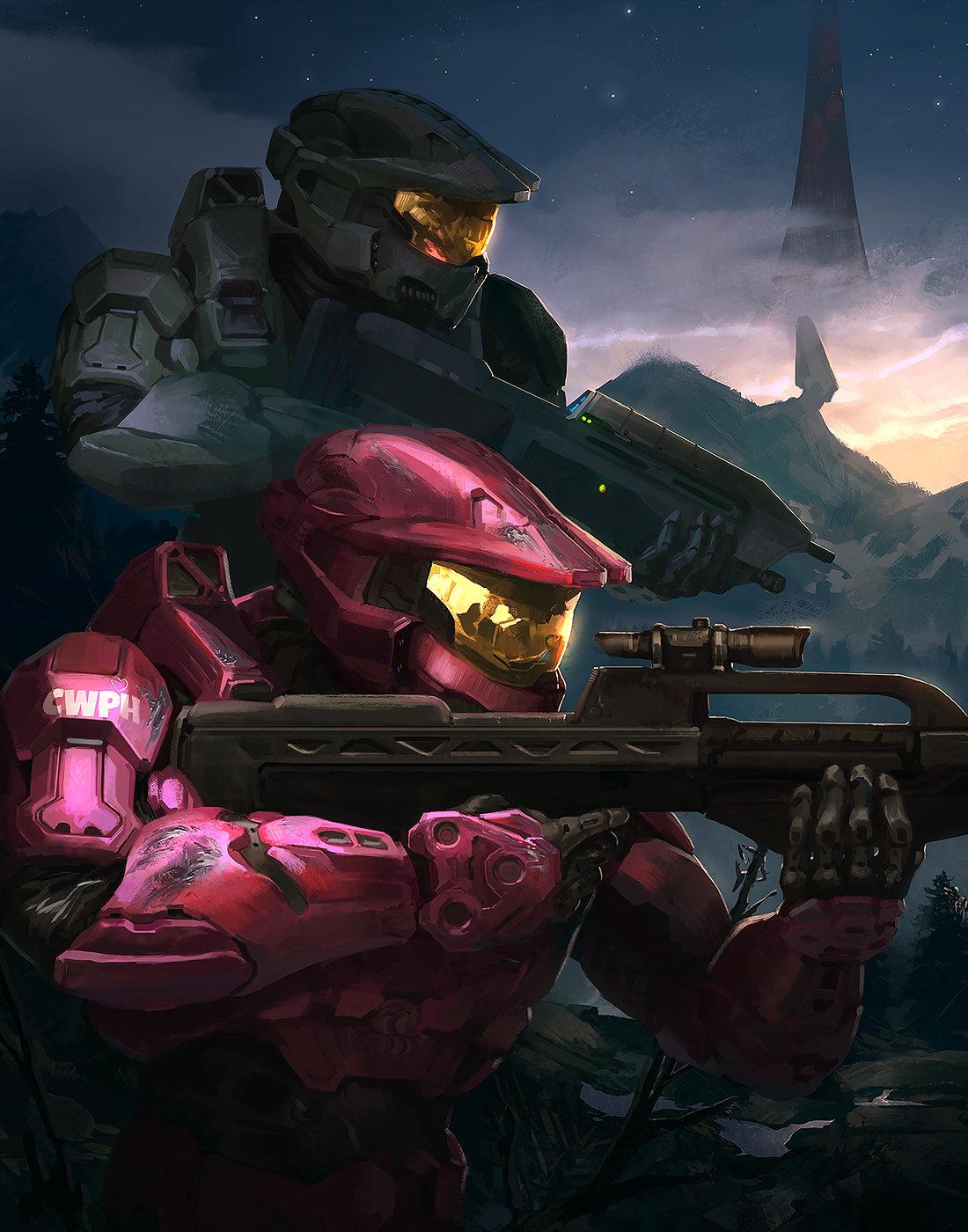 A Walk in the Woods under the cover of night
This sweet, evocative image showed up on the Halo subreddit and was created by HaruspexOfHell and EzzellVFX.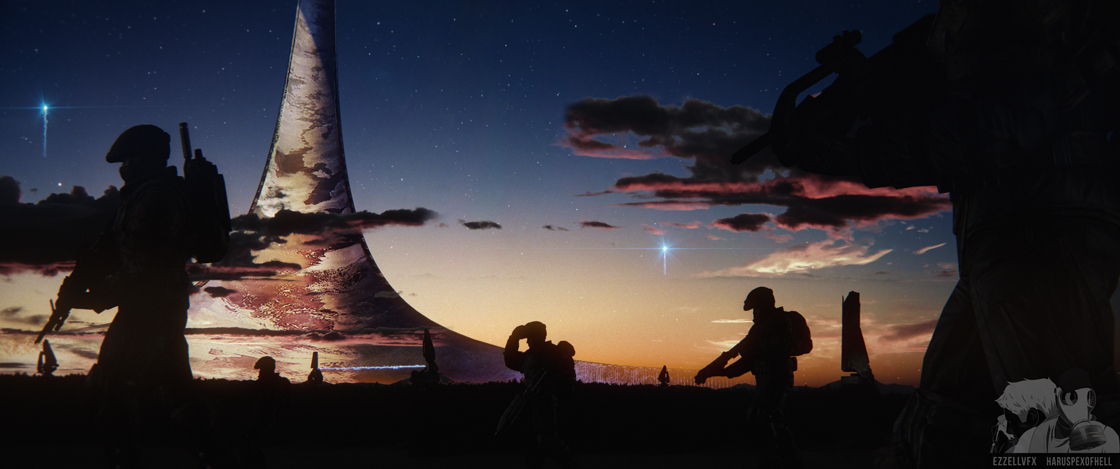 Trophy Time
Brownsauce shared a project he's been working on that's a cool Halo "trophy" that includes an etched Halo logo and Sniper Rifle on green acrylic.
Wood Burn
I'll admit I didn't know what "pyrography" was before seeing this - it's a fancy term for decorating wood or leather by burning designs into the surface with a heated metallic point. The_Seamoose shared this Halo inspired work that was created by an unnamed friend.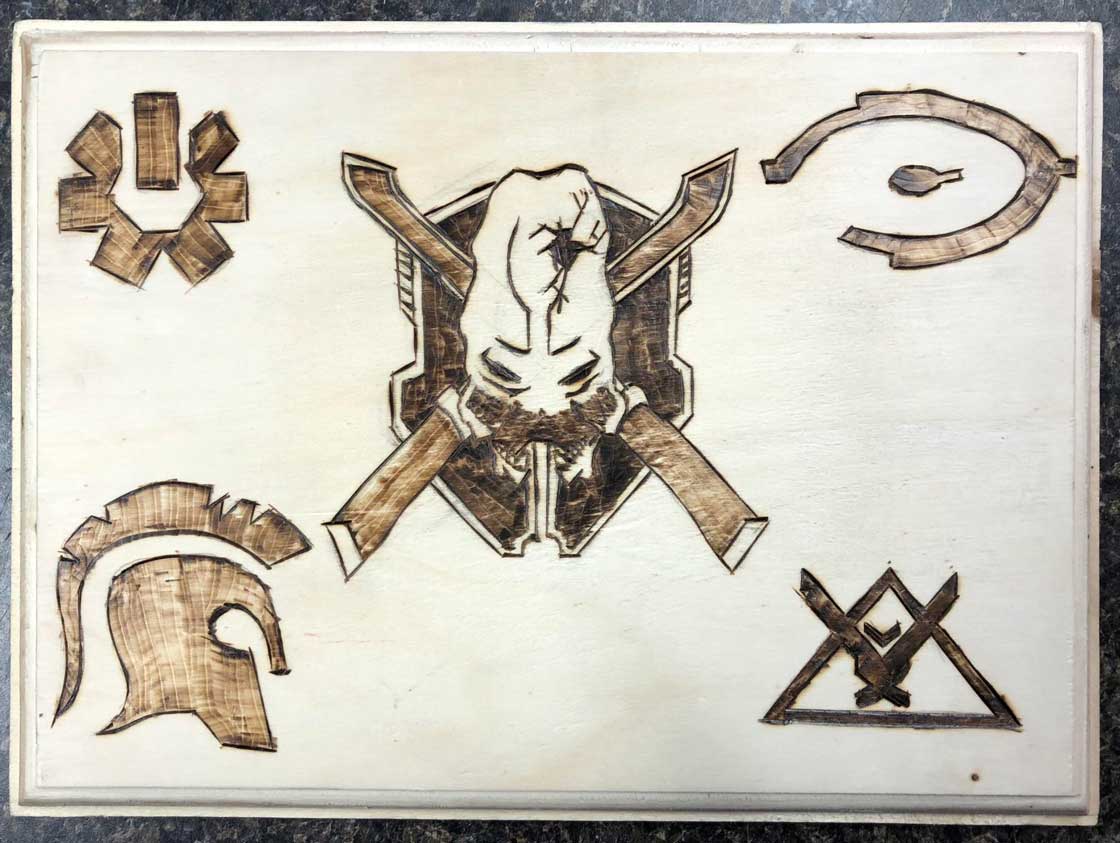 Rise of Atriox Review
Now for something a little different - haruspis has put together a very thorough and insightful review of the latest issue of the "Rise of Atriox" series (which released last week). I won't spoil anything but take it from haruspis himself, "this final issue truly conslidates Rise of Atriox as the best Halo comic series since 2009/10's Helljumped and Blood Line."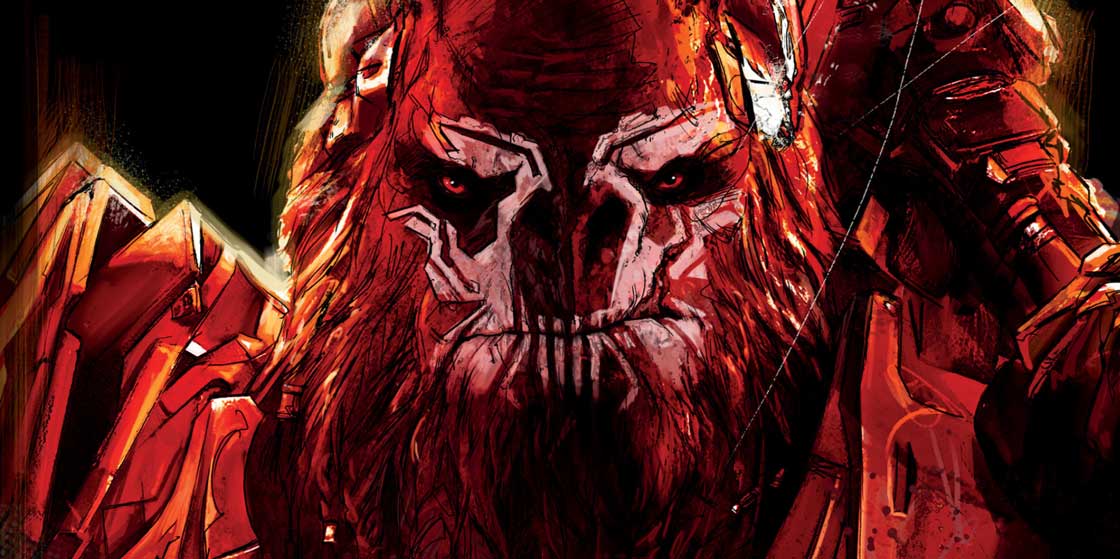 Read the full review HERE and you can also find reviews for issues 1-4 as well.
GUNDAM!?
If you are a Forge fan and haven't been following the amazing creations of xb1webrider you really need to! The lateset post on this feed blew me away - a Halo 5 Forge "S Gundam Booster Unit Type Plan 303E Deep Striker."
When Pigs Fly
And then there's this gem from TOKETAKE:
Things to do in Halo 5: UNSORTED GUY's Battlegrounds
Check out Achievement Hunter going for a chicken dinner in Halo 5 on this PUBG-style map/mode created by @UnsortedGaming
Halo is For Everyone
Thanks to Ezra Romanov for bringing this gem to my attention! This video is the product of the "Fist of the Unicorns", formally known as the Original Triple X Clan (xXx) which dates all the way back to 1998 and some old school Unreal. This collaboration was made by Ezra Romanov, Adam Benjamin, Pencil_Juice, indemaPIMP and none other than Jeff Steitzer himself.
Good luck getting this theme song out of your head. :D
Time Lapse
Check out this awesome compliation of Halo 5 time lapses captured by Noob Reaction.
Yeah!
This isn't technically a Community Creation but since Tashi shared it on Twitter again just last week I feel like it's totally fair game and a must-see for anyone who hasn't had the pleasure yet:
Club 152
This isn't something we normally include in the Community Spotlight but hey, that's the beauty of making up the rules as you go. First, let me just give massive thanks and kudos to everyone out there who has already battled and worked their way to the esteemed rank of 152 in Halo 5. It's no small undertaking. I can't go back in time and give a shout out to everyone that's already in "Club 152" but I can give some props to new Spartans to reach this summit.
This week I'd like to extend a hearty congratulations and thanks to "Rabedeath" on hitting 152. And shout out to @Middle_Ninjaz for doing his bro a solid and spreading the word on Twitter. Well done, Spartan!
Have you or one of your friends just hit 152? If so, let me know via Twitter! (And yes Uny, we all know you recently hit 152. Grats, again)
#HaloHotShots
You all have really been raising the bar on the #HaloHotShots front as my Twitter feed is filled with all manner of badass, gorgeous and mindblowing images captured from Halo games. We'll always strive to maintain a high quality bar and spotlight what we think are the best of the best (of course based entirely on our subjective personal tastes) but there were so many great images in my feed since the last Community Update that I feel obligated to double down in today's blog.
Please note that yes, as many have pointed out, we do tend to feature some of the same few screenshot artists quite regularly. Can you blame us, they do amazing work! I assure you this does not impact anyone else's chances of getting featured - there's no hard limit we're looking to fill.
Keep 'em coming and remember to tag #HaloHotShots so we can find them easily on Twitter!
And that, my friends, is a wrap! Thanks for tuning in and we hope you'll join us on stream or in-person at the HaloWC Orlando Open beginning tomorrow. Enjoy your weekend and enjoy your Halo. Until next time...
-ske7ch