Man, it's been nice outside here lately. Beautiful weather, colorful leaves, impending holidays... Of course, it's also been pretty lonely, as normal in-studio Community cohorts ske7ch, Unyshek, and our underrated producer Nina have all been out of the country. It actually reminds me of a similar predicament I found myself in way back in July 2016, when I took over writing the Community Update while the rest of the squad was away in the UK on competitive concerns. I coped with the pangs of solitude by writing various portions of the Update from different team members' desks – then Bravo, Tashi, and Uny – and giving location descriptions along the way as to bring loyal readers along with me for the journey. I thought given the circumstances, perhaps we could do the same now. So, here we go.
HALO: RENEGADES
Recently, we unveiled the cover and – perhaps even more tantalizingly – the description of Kelly Gay's upcoming novel Halo: Renegades. Some of you may have heard me exclaim it before, whether on social media or other prose platforms, but I really can't wait for folks to get a hold of this book. I have enjoyed going through it so much that I feel almost guilty that we can't just give it to you right this very instant. Alas, Halo fiction fans will have to bide their time between now and February 19 of next year in order to get their mitts on this awesome addition to the extended universe. Let's take a look at the description:
Find. Claim. Profit. In a post-Covenant War galaxy littered with scrap, it's the salvager's motto—and Rion Forge certainly made her mark on the trade. All she wanted was to grow her business and continue the search for her long-lost father, but her recent discovery of a Forerunner debris field at the edge of human-occupied space has now put her squarely in the crosshairs of the Office of Naval Intelligence and the violent remains of the Covenant. Each faction has a desire to lay claim to the spoils of ancient technology, whatever the cost, sending Rion and the crew of the Ace of Spades on a perilous venture—one that unexpectedly leads them straight into danger far greater than anything they've ever encountered…
Kelly Gay gets Halo fiction and is incredibly adept weaving in elements that rival even some of the savviest canonically conscious community consumer. It's been an absolute pleasure to have her weave this particular tale, and February can't get here fast enough.
If you're interested, you can preorder your copy right here. If you aren't, it's okay, you won't hurt my feelings.
(you'll definitely hurt my feelings)
Also, to help get you primed, the ever-awesome Halo Canon YouTube channel has got you covered:
[Desk Update #One – Unyshek's desk is largely dominated by a row of still-in-box Halo Icons figures, all precisely aligned in a linear fashion. I've loaded up his Xbox One to see if playing on his account, and from his chair, bestows upon me the power of the ancient wargod I know lives within him. It does not. I am still bad at this game, and now his stats contain a connected blemish to prove it. This last part was a joke. In his bottom drawer next to an un-mailed love letter to Richard Simms lies Uny's pristine pair of Office Sambas, so named because he literally changes out of one pair of identical Sambas when he arrives for work, into a clean pair that looks just like them. This was not a joke.]
HOW PRO CAN YOU GO?

Next month, Halo's best teams and players will descend upon the Georgia World Congress Center for the HCS 2018 Finals at DreamHack Atlanta. This time though, there's more on the line than just the season crown. As revealed last week, the HCS 2018 Finals will be the Halo Championship Series' swan song for Halo 5: Guardians, wrapping up an incredible three-year run for one of the most indelible eras in the franchise's storied competitive history. In the aforementioned blog, Tashi outlined details on current era's commencement, and broke ground on tantalizing talks for the future. We know there's more you want to hear, and we can't wait to share more the moment we're able to do so.
Speaking from a completely personal perspective, I'm incredibly thankful for the work that folks on the esports team have put in to not just continuing on Halo's legacy of memorable moments in competitive play, but also forging forward in new ways. The best growth comes when you aren't afraid to fail, aren't afraid to be bold, to ruffle feathers, to make new marks. The competitive community – like many other supporter subsets in Halo – is a spirited bunch, and it can be easy to go zero-to-Hawthorne Heights when faced with the unknown. Yes, there will be new adventures. New competitive heroes. New dynasties. New metas. New moments. But at the same time, Halo wouldn't be where it is today without its firm foundation and competitive legacy. The HCS has always been built on a balance of exciting and intentional experimentation paired with being nimble enough to respond to community feedback, player input, and evolving observation, and that theme is only going to continue in the future. It's gonna be an incredible, scary, amazing, and ultimately rewarding ride – one that we can't wait to take with the communities willing to come along for it.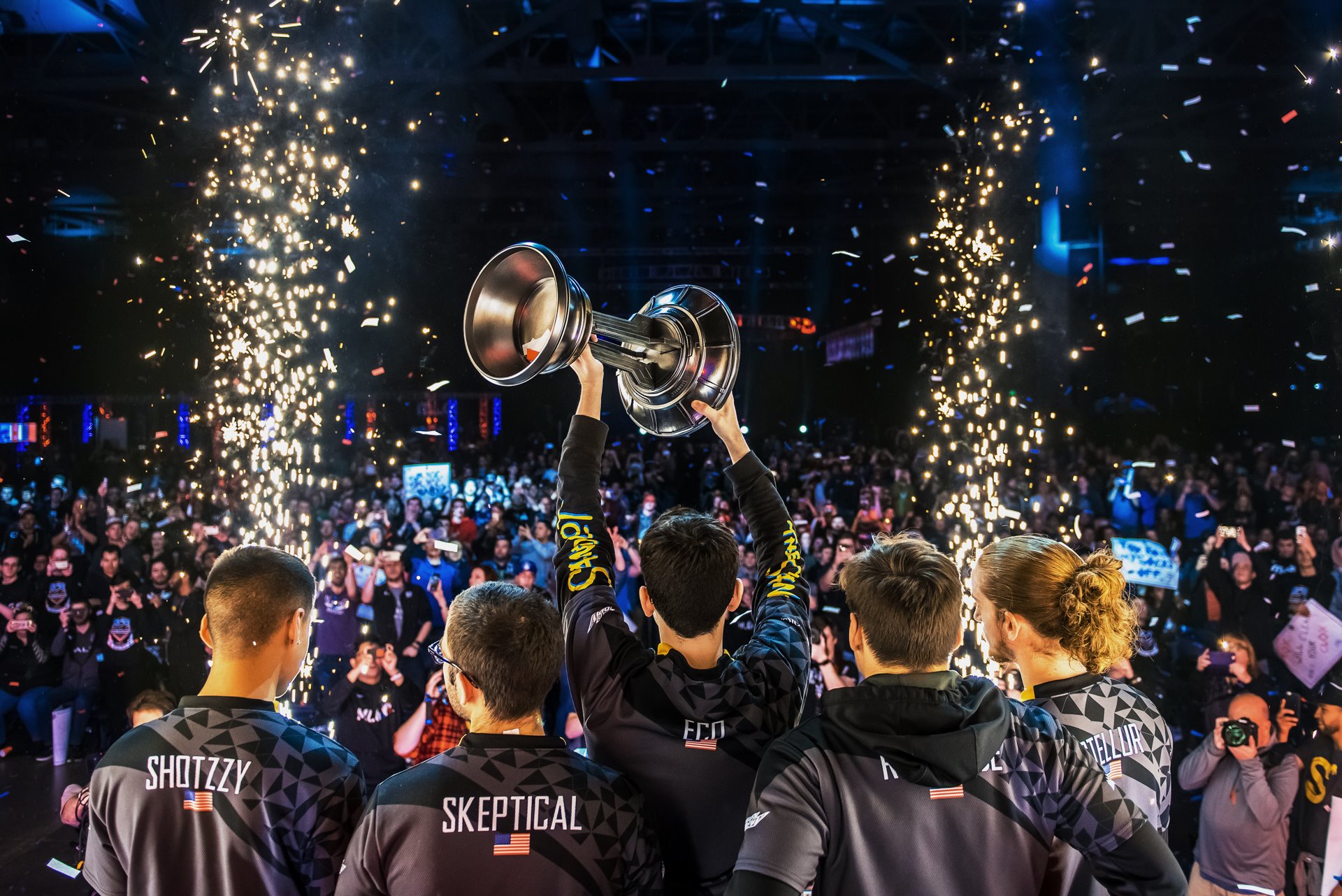 Halo 5 in particular offered me the opportunity to work alongside legends I used to watch online – folks like GH057ayame, StrongSide, Dersky, Neighbor, Bravo, Walshy, and more. It allowed me to spin new stories for the likes of returning heroes like Snip3down, Pistola, Mikwen, and Snakebite – and help grow the fledgling legacies of names like Shotzzy, Renegade, Eco, and Stellur. It's a period of time I'll always be thankful for, and am confident feel will be looked upon with an ever-increasing fondness as the years begin to pass. Champions were crowned. Friendships were forged. The title will always remain a worthy pillar in the franchise's esports legacy.
Alright, enough waxing poetic about the HCS. If you do make it out to Atlanta for the event, make sure you stop and say hello! We'd love to hear about some of your favorite memories and moments from Halo 5's run. You can follow all the latest details and frequently-asked questions for the upcoming event at halo.gg/HCSFinals2018. And of course, as always, for all the latest news and notes on the Halo Championship Series, keep your web browsers locked to Halo.gg and follow @HCS on Twitter. Plus, check out the awesome community-curated Halo Data Hive for updated player stats and match results.
[Desk Update #2 – Nina's desk is an ode to minimalist perfection – astutely manicured in the way that only an expert Level 20 Producer could hope to achieve. I've actually come to realize that even her desk is better at planning than I am. It also loves using Microsoft Teams, which I do not understand.]
STREAM CATCHERS

The 343 Social Stream is our weekly delivery of good times, unfortunate gameplay, and memorable moments – and these latest two episodes certainly only serve to prove that out.
Last week we got a chance to hang out with OE Producer Paige Johnson, who talked about going from dairy farm to dev hero, production adventures in Halo, and what exactly OE stands for.
In one of my favorite episodes yet, yesterday we had Turn 10 Community Manager Brian Ekberg on the show to race Warthogs in both Halo 5 and Forza Horizon 4, talk about what it's like working on a very different genre, and creating cool crossovers.
As always, the 343 Social Stream takes place each Wednesday from 1:30 – 3pm PT on mixer.com/Halo, so come join in and chat with us! You'll definitely want to tune in next week, as Uny and myself will be reprising our costumed roles to celebrate Haloween with some Infection-laden fun. Trust me, you won't want to miss it.
In addition to this week's standard shenanigans, yours truly also hopped over to the MS mothership to join the Microsoft Studios Live stream on Mixer. In keeping with their holiday theme, we played Flood-focused Halo campaign levels, talked Halo, and in general just had a blast. Check it out!
[Desk Update #III – I am now at the desk shared by Dr. Jessie "Jessabirdy" Thomas and Tyler "Postums" Davis. As they aren't always in the office this particular work space is rather spartan. Little s, not big S. The only obvious desk adornments are two promotional flyers, one for an upcoming PUBG tournament and another for some sort of popular technology conference. I've spent the past 36 minutes trying to figure who is attending what.]
PLAYLIST POWER-UP

Today we began another new featured playlist rotation in Halo 5, slotting another fan favorite back into the fray with Grifball. Not only that, but Big Team Super Fiesta has proved so popular that it's going to continue sticking around for a bit longer!
In addition to the aforementioned adventures, Warzone Turbo returns this weekend! Get out there and unleash the full power of your fully operational arsenal with instant energy upgrades to req – sorry, wreak havoc on your unsuspecting opponents. Actually, they'll probably be expecting it the whole time, but still, go get 'em!
Also, to help aid you in bolstering your Turbo-time fun, the Greatest Hits Vehicle Pack is back available again for a limited time in the in-game REQ Store. The pack unlocks two certifications and a dozen single-use REQs from the most popular vehicles of Ultra Rare or better rarity. Check it out!
BUON COMPLEANNO, HALO 5!

Halo 5 turns three years old this weekend. Three years. It's kinda crazy. I remember the day very clearly, working on stuff for the Halo 5 Live launch event and then hopping on a plane to fly to LA to be on a panel with voice actors from the game during the Century City MS Store's release party. It's been a wild ride from day one and, like any good roller coaster, has had plenty of ups and downs, twists and turns – but what a ride it's been.
Here are some of my personal favorite things about Halo 5: Guardians. Your mileage may vary.
Sanghelios. In the credits for the game, devs proclaimed their excitement to meet us on the Elite homeworld, and boy did they deliver. The Sanghelios arc proved to be many fans' favorite part of the Halo campaign – including yours truly. The environments were gorgeous, and the Arbiter was a bonafide badass as always. It's still the part I most prefer to jump back in and play.
Blue Team. Look, let's be honest here – I wanted more Blue Team. I know many of you did too. Three missions wasn't nearly enough. That being said, just getting any chance at all to see the squad that started it all step off of the novel pages and onto my game screen was a welcome experience.
Fireteam Osiris. I love this team. As the kids would say, don't @ me. From the fantastic voice performances by Ike Amadi, Laura Bailey, Cynthia McWilliams, and that one guy from Castle, to the unique and diverse origins each character brought to the table, Locke, Vale, Tanaka, and Buck each proved themselves worthy additions to a storied story legacy.
The Arbiter's slick new kaidon armor. Yes, I prefer the classic mandibles, too, however, his armor is so awesome.
The Wasp. I love it.
Warzone Firefight. I've loved each iteration of Halo's horde mode – from the terrifying urgency of ODST to the bonkers-level experience customization of Reach. Halo 5's spin gave us a brand new take on the cooperative classic, with a big maps, a bigger arsenal, and varied objectives to boot. So much fun.
Super-freaking-Fiesta. To me – and some of you are gonna cringe (and I don't care) – but Super Fiesta is in many ways the way to experience the distilled essence of Halo 5's multiplayer. The bombastic sandbox soirée provides nigh limitless fun for all manner of playstyles and player experience levels. It's the best thing.
HCS. Look, everyone knows I'm a "lore kid." But while this casual does love killing him some Covenant, a borderline unhealthy passion for sports in general also fuels a love for things like the Halo Championship Series. Halo 5 gave us incredible competitions and arguably two new dynasties as it carved out its own chapter in Halo's esports legacy.
Forge. There are some people that don't think that Halo 5's Forge mode is one of the greatest customer-facing user-generated-content tools ever made. Those are people whose opinions you probably shouldn't trust.
PEOPLE. From the incredible folks here in the studio to all you wonderful community crazies, it's been the human element that makes the Halo 5 era one to look back on with fondness.
We'd love to hear from you as well – if you've got particular awesome memories of your Halo 5 experience, make sure you share them with us and fellow fans on social media and community corners.
Also, in celebration for Halo 5's birthday, we're giving everyone who logs in to the game at some point during the weekend (today through Sunday) a free Greatest Hits Customization REQ Pack. Plus, every playlist in the game will be 2x XP this weekend, so get in there and get ranked up!
And now, an MCC Insider commercial break from our good pal Postums.