The Halo Championship Series Summer 2017 Season is about to kick off, and today we're excited to reveal more details for HCS Daytona placement cups, as well the full roadmap for the NA HCS Open Circuit!
HCS DAYTONA PLACEMENT CUPS

HCS Daytona by UMG is still a few weeks away (you can grab your passes here) and today we're dropping the details for the placement cups that will seed the Open Bracket. Operated by Millennial Esports, these placement cups will give teams two opportunities to earn points to seed them for HCS Daytona, with the first tournament taking place this weekend.
Placement Cup #1:
Placement Cup #2:
Date: May 6 – 7
Watch: Sunday, May 7 @ 1PM PT on Beam.Pro/Halo & Twitch.tv/Halo @ 1PM PT. Casted by Walshy and Tsquared
Format: Double elimination open tournament. Best of 5 until Best of 7 Grand Finals.
Game Settings: Final HCS Summer 2017 settings (v3) – stay tuned for any final adjustments from v2 to v3.
Stakes: Winner receives overall 8th seed at HCS Daytona and plays in Pro Groups on Friday, May 12
To register and learn more, head to MillennialEsports.gg
NA HCS OPEN CIRCUIT

Today we're also excited to reveal the full roadmap for the Summer 2017 Season of the HCS Open Circuit. For 2017, we've made some changes to both scheduling and format in effort to further increase stability in the scene, enabling Open Circuit teams to reach new heights while also providing greater prize payouts per tournament. Additionally, we anticipate more excitement around each online cup with players both new and old looking to make a splash at the Summer 2017 Finals at DreamHack Atlanta.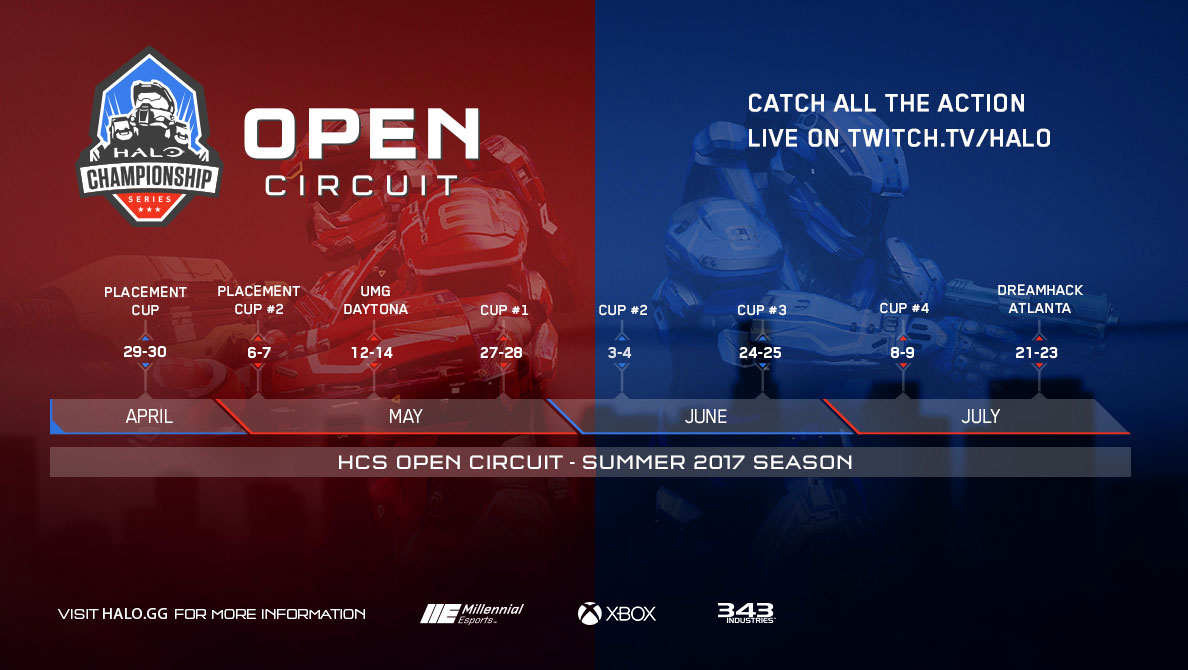 Each online tournament will be broadcasted live on beam.pro/Halo and twitch.tv/Halo live from the Millennial Esports studio in Las Vegas. Bringing you the action will again be none other than Walshy and Tsquared – legends who were once bitter rivals but are now forced to sit in close proximity while attempting to cleverly interject subtle smack talk to each other during the commentary. As always teams will be competing to accrue all the points they can throughout the season to secure the best seed in the Finals at DreamHack Atlanta.
For more details head to MillennialEsports.gg and follow them on Twitter.
NA HCS PRO LEAGUE
We're currently locking down final details with ESL for the NA HCS Pro League LCQ (last chance qualifer) and complete information including date, format, and more is on the way. With just one spot remaining, we can't wait to see which team makes it through!
And as always, stay tuned to Halo.gg and follow @HCS on Twitter for all the latest!