On Monday night, we joined together in a celebration that only Halo fans can understand. Whether you had Halo 5: Guardians pre-installed at home or went to a nearby store to pick up your copy on release night, you could likely feel a particular excitement in the air, and we hope that excitement resulted in an all-night (or day, depending on where you might call home) session of campaign, multiplayer, or a perfectly balanced mix of the two.
Halo 5: Guardians is now in your hands, so this week, we're talking about you. Your accomplishments, your feedback, and your findings.
Since Monday, teams at the studio have been monitoring your activity 24/7. We've been keeping a constant eye on what you're playing, which REQs you're earning, and your feedback from experiences across the game. We're now taking close looks at things like spawning in both Warzone and Arena, custom game options, feedback on Fireteam display, controls, improving map and game type variety across playlists (including adding additional maps to select playlists), the REQ System, and much, much more. Teams across the studio have made on-the-fly improvements to Onyx and Champion rank display, REQ System maintenance, banning, and beyond. Your feedback on Waypoint, Twitter, reddit, and elsewhere has kept us quite busy, and that's how we like it. As we review this feedback, we'll be providing timely info regarding tweaks we're looking at making as well as new things that are in the works.
Speaking of tweaks, earlier this week, there was a GIF making its rounds that many of you likely stumbled upon. It was filled with a specific UNSC all-terrain-vehicle. For more on this and the changes that followed, I now hand things over to Investment Lead Chris Blohm.
Chris Blohm, Investment Lead
Mongooses all the way down
On the morning of the 28th, the day after Halo 5: Guardians launched, I got to work and my inbox is full of the same link. They are all of a post from /u/TheMisterBdog on reddit featuring this: http://gfycat.com/AccurateScratchyBarasinga
My first thought was "there is no way this is possible." I send off a quick email saying as much but then, to be sure, I open our telemetry tools as well as the tools that 343 uses to control the rarity of REQ cards in our packs. It's not only possible, but our rarity numbers for all the Mongooses are higher than they probably should be. Meanwhile I receive a dozen more links to the infamous pack opening that I now see even when I close my eyes. In a system so wide and as random as Halo 5's REQ pack system, things can happen even though we have a dedicated group of folks looking into every aspect. So, a group of us circled, and decided it was clear that we should do what we can to get fix out as soon as possible. As much as we love every piece of hardware in the arsenal, no one should get that many geese. That last sentence might be the biggest understatement I have ever written.
We immediately set to work, and yesterday (Thursday) morning, deployed a fix live to production.
The result? The Mongoose should be less common, in all of its flavors, in both Bronze and Silver packs. It will still be a common REQ but there will be less of them, particularly in Silver packs. Additionally, we should never see the bit of nonsense illustrated by /u/TheMisterBdog. This whole situation illustrates a design goal for us -- we are listening and watching and will do what we can to correct and enhance the experience of Halo 5.
So in celebration (or to needle us) Lead Concept Artist Darren Bacon and Concept Artist Justin Oakford collaborated on the following:

With the REQ system live and massive amounts of data being generated, as well as YouTube videos and forum comments, more than ever we are dedicated to our original design intent:
Fair Arena starts
Watch, listen, and react
Supply great content for both Arena and Warzone players
Everything in the system (aside from a few select items, such as 343 or special event skins) can be earned by playing though we will enable real money transactions
We support free maps to the players and augment tournament prize pools
Regular updates of REQ content
On that last bullet we have a ton of great content coming. We can't tell you everything now but trust me we have new Warzone weapons and vehicles as well as visual customization of all types. Wait. If I can't tell you what's coming who can? Without comment, here's a sneak peek at one of my favorite armor suits that is on the way: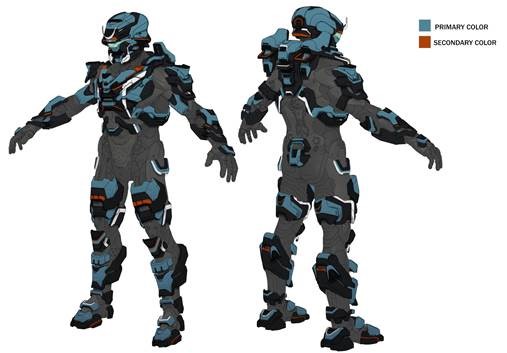 REQ Rarity

You might be wondering – just how rare are certain REQs? Here's a quick snapshot of some pretty rare REQs that most of us have yet to see, us at 343 included. As of today,
Only 118 players have unlocked the Technician Override armor set.
Just 115 players have unlocked Buck's Helljumper Legendary Helmet.
Only 10 players have completed all Loadout weapon commendations and unlocked the corresponding emblem.
Just 22 Oathsworn (Kelly's Shotgun) REQs have seen the Warzone battlefield.
Only 18 Nornfang (Linda's Sniper Rifle) REQs have seen the Warzone battlefield.
Just 8 Prophet's Bane REQs have seen the Warzone battlefield.
As Chris said, we're keeping a close eye on REQ earning, usage, and selling, and will keep you up to date with the latest on any changes as well as noteworthy data.
Community Spotlight: Notable Accomplishments

When you jumped into Halo 5, there were a lot of things waiting for you to explore. Our resident data analytics team was particularly excited about this, so they stayed up each day and night, watching from their war room (imagine a NASA mission control scene here) as players from across the world became the first to do certain things, or the player to do the most of a certain thing, through a variety of graphs and charts that look like…a bunch of fake graphs and charts from NASA. Except they're real.
In celebration of your efforts during the first week of Halo 5, we've put together a list of some of the top community achievers for this week's Community Spotlight, which just so happens to be the biggest one yet. The below players have made their mark on Halo history, and today, we applaud and celebrate their launch week efforts, while also doing our best to avoid them in matchmaking.
First Achievers
Once the game was available to all players worldwide, we kept a close eye on multiplayer medal data to see which players would be the first to earn some specific medals. Read on for the first achievers list, all of which were earned within the first few hours of worldwide launch.
MarkingLizard95 and Qpwnzz were the first players to earn the First Strike medal, earning it in the exact same minute. Thanks for helping us kick things off.
Crackedoutkilla was the first to rack up a Killionaire – the highest spree medal we've got, and earning 10 kills within 4.5 seconds of one another. Leave some for the rest of us, pal.
Tetsjin grabbed the first Triple Double, awarded for getting double digit Kills, Assist, and Headshots in a single game. Fury Fours, you missed Tetsjin by 1 minute.
Chrostyy earned the first Snipeltaneous, killing two enemies with one Sniper round.
Thunder 86 secured the first Unfriggenbelievable a few hours into launch, killing 40 players straight without dying. They were banned shortly after to make the experience more enjoyable for everyone else. Just kidding. Or are we?
Boast about the most
There's also something to be said about the players who have been crowned the kings and queens of their categories. They've dominated the battlefield for the past few days, racking up medal after medal. You may have played against them, but you likely didn't realize that you were simply just another tally in their medal count. Below, you'll find players who have earned the most of their respective medal and other categories.
Medals
Busy Man123 has the record for the most Combat Evolved medals – awarded for blasting a Power Weapon off of a weapon pad, and catching it - at 63. This busy man knows his roots. We like that.
iSpiteful has the most Breakout Extinction medals, eliminating 24 entire teams so far.
macho killer66 has killed 8 opponents with the impact of a grenade, and leads the world in Fastball medals.
Epsilon Jimbo, gamescom Invitational champion, leads the world in Ground Pound medals, at 179. That's a lot of poundin'.
Texotik is in the lead for surviving the most rounds of Breakout, earning 10 Immortal medals. Somebody take 'em down. At least just once. Please.
LosT x ShotZz has mastered the art of the Legendary Boss Takedown, with 34.
Mr Elemont has reminded us of the importance designated driver, earning 773 Wheelman medals. I don't even…
Kirigaya K4zuto has captured 193 bases in Warzone and leads the world in Base Capture medals.

More Stats
xxGOTHIC TNTxx is in the lead for Arena Assassinations with 244.
Voslaarum456 leads Warzone Assassinations with 165.
Greedy GIutton loves grenades sounds like an enunciation exercise. They've got 482 Arena Grenade Kills, the most in the world.
Ice White Gamer leads Warzone Grenade Kills with 243.
DoodleBob Naire has 949 Arena Power Weapon Kills.
XIX CAESAR XIX has the most Warzone Power Weapon Kills, with 647.
TheNudeLion has the most Arena Power Weapon Grabs, at 429.
The most efficient Power Weapon Use goes to edds0117, who is averaging 7.1 kills/grab, for players grabbing > 50 weapons.
AmbTV has a whopping 6,571 Arena Kills.
Somehow, SnakeBiteFPS and The 2gre are tied for the most assists in Arena, with 1,870.
LethvL has played 171 Arena Custom Games, and historical data tells us that he will probably win the Halo World Championship.
Campaign
mike 6687 has the most Campaign Kills, with 7,253.
testy17 is in the lead for most Campaign Ground Pound Kills, with 385.
N7Destroyer095 has the most Campaign Spartan Charge Kills, with 455.
Lil Big Maddog leads the world in the most Campaign Assassinations, with 346.
Cawmedirangd31 has 823 Campaign Grenade Kills.
SpazyGentleman has the most Campaign Assists, with 586.
Top Players by Playlist
Team Arena
Breakout
FREE-FOR-ALL

Slayer
SWAT
Please join me in applauding not only these Spartans mentioned above, but also each and every one of you who have joined us in the first week of play. We're just getting started, and I'm looking forward to digging into noteworthy stats and performers whenever appropriate. Note: it is always appropriate.
The Sandworm

This holiday weekend feels like the appropriate time to talk about a new monster, especially considering the fact that you found this one on The Rig earlier this week. You're quick.
To get the lowdown on this beast, I talked to level designer Adrian Bedoya.
Adrian Bedoya, Multiplayer Level Designer
Many - if not all - of the Easter Eggs that the community is now finding were masterminded by one of our incredible artists, Shon Mitchell. He was our go to on anything dynamic in our levels, so he always liked to go above and beyond and try to sneak things into the levels.
Shon knew that in my off time from level design, I liked to sculpt creatures in zbrush, and he wanted to do an awesome Dune-inspired Easter Egg for the multiplayer map The Rig. This being one of my favorite levels that I worked on, I couldn't resist the chance to get a creature into the game. All he needed was for me to sculpt it, and he would handle (like a boss no less) the rest; a simple rig, animation, and implementation into the level. So I spent a few nights after work sculpting it, doing a simple texture and then creating the game-ready asset for Shon.
It's not often I get to combine my love of creatures and level design in my day to day work here at 343, so I'm super excited to have been able to get this guy in on The Rig, and I hope the community loves the Sandworm as much as I loved making it. Thank you Shon!
Here's a quick work-in-progress look at the creation of the Sandworm:
The sculpt in zbrush: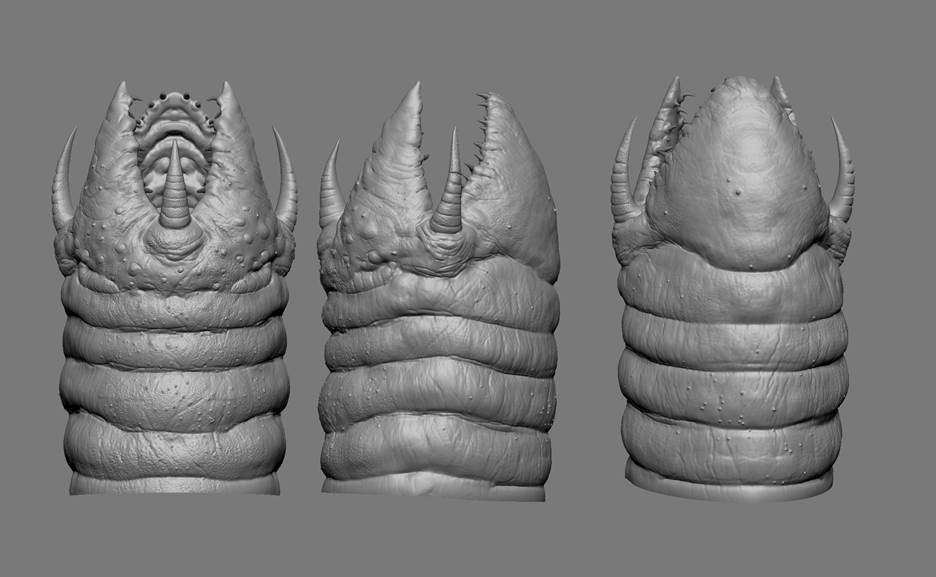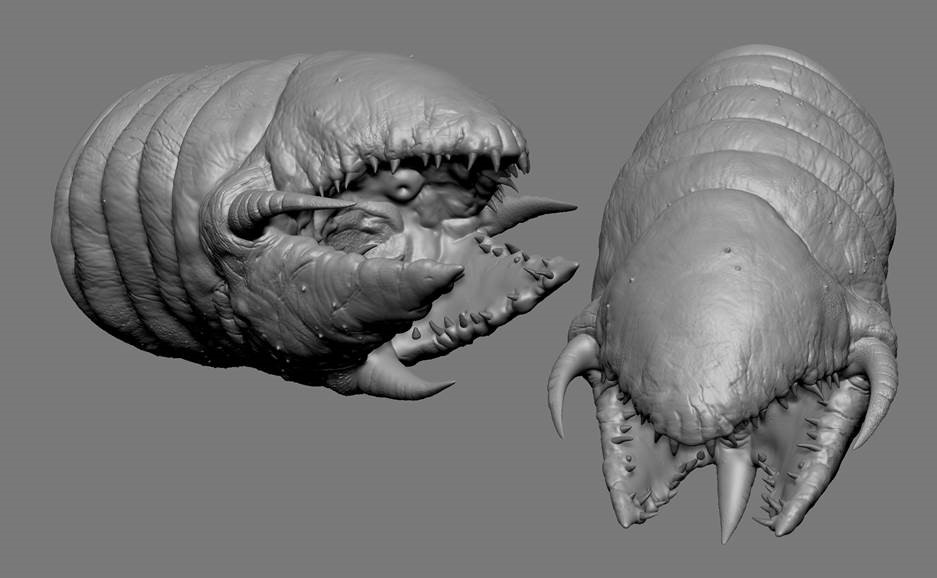 Polypaint for the texture: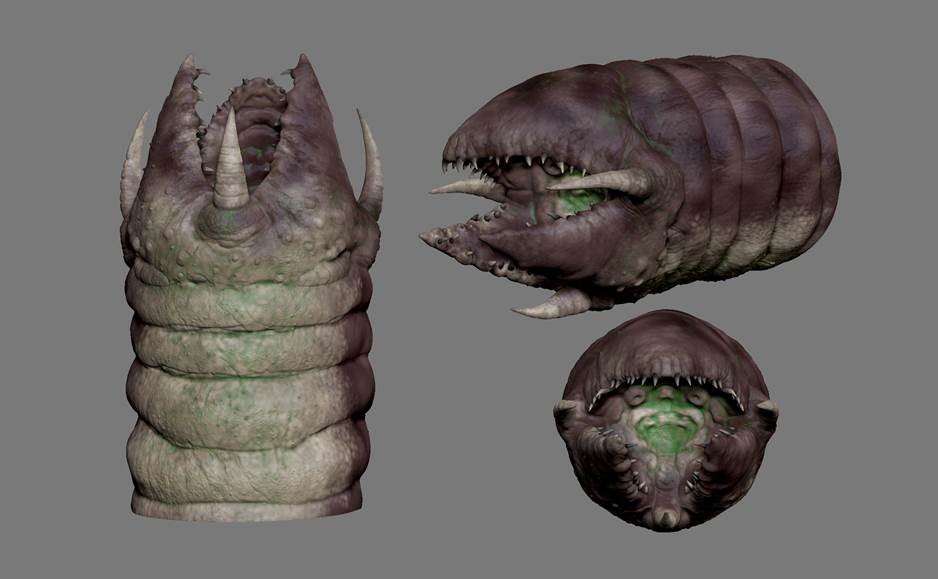 Pumpkin Stencils
We've been quite busy with the launch of Halo 5 – but not too busy to sneak in two brand new pumpkin stencils just in time for Haloween. That typo is not a typo at all – and is always intentional.
To celebrate Halo 5's first weekend joining forces with Haloween weekend, we've got two stencils for you, featuring the rather carveable Blue Team and Fireteam Osiris logos. Or, if you're up to the challenge, create a stencil of your own, and send us the results on Twitter. We're looking forward to seeing your stuff.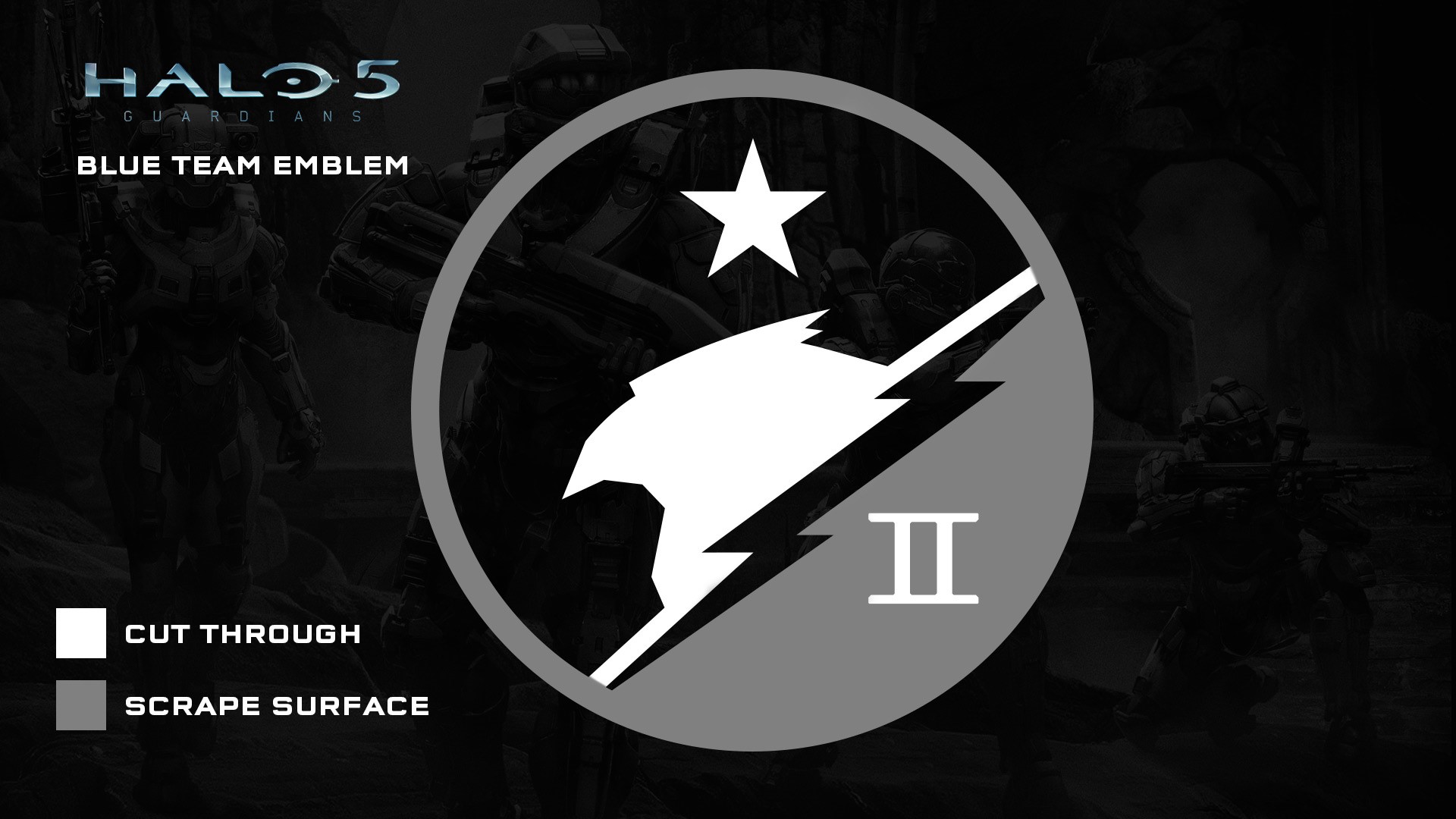 Community Playdate: warzone

This coming Monday, we'll be jumping into the Warzone playlist to play some matches, and we'd like you to join us. Joining me will be Josh Holmes, MP Designer Quinn DelHoyo, and Pro Team member Mike "StrongSide" Cavanaugh, and a few other 343'ers.
We'll be online from 6-8 PM PT, and should you run into us, you should try to win. Those who best us in a Warzone match will be rewarded with some REQ rewards that will make your efforts well worth it. To play, simply search in the Warzone playlist from 6-8 PM PT. We're looking forward to this and future community playdates, where we'll be jumping online to play with and against you in Arena, Warzone, customs. We'll see you Monday night.
That'll do for this week. It's been an incredible first week, and we can't thank you enough for playing with us. We'll be talking again soon, and we're keeping an eye on everything you say and do. That sounds far creepier than intended. We'll see you in matchmaking this weekend!
Bravo