Evil Geniuses dominated the Season 1 Finals of the Halo Championship Series. If you talk to any of the players on the team, they'll often attribute much of their success to their coach, Ryan Towey. A veteran in Halo eSports, Ryan Towey has been coached some of the best teams in Halo to the top of the scene and he's looking to continue his reign in Season 2 of the HCS. We interviewed Towey about coaching Evil Geniuses, how to get involved and improve as a coach, and what makes him one of the best.
HCS: Can you describe what a Halo coach does? What are some of the responsibilities a coach has?
Ryan Towey: The best way to describe what a coach in competitive Halo "does" at its core is to maximize teamwork and movement of all four players in as efficient a method as possible to achieve the objective for each game type. Power weapon and power-up control is crucial to succeeding in each game type in Halo, and this is what coaches are given the most credit for. However, in my opinion, that is far from their most significant responsibility on the team. Depending on the game type, the timing of weapons can greatly increase the outcome by coordinating your team's attacks, in regards to which players should be in what positions on the map, what the optimal time to pick up those weapons is, or to put pressure on the opponent. This is what gives your team a significant advantage over the competition. When it comes to the best teams in the world and very evenly skilled players, having a coach that can push the meta-game for a team and maximize efficiency with greater coordination and teamwork can absolutely make the difference between winning and losing.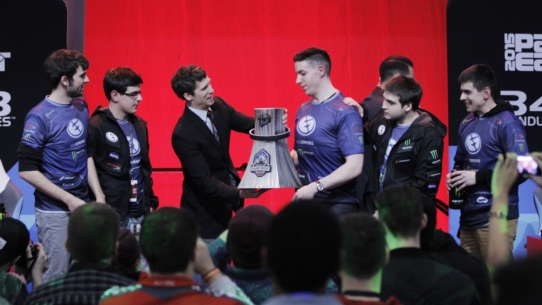 HCS: What's the best way to get started with coaching?
Towey: The best way to get started in coaching is to play! Everyone involved in our community from the fans to the commentators to the professionals to the developers love this game and the aspect of competition. Coaches are no different. It is also very important to build a relationship with your teammates as a coach and play with them whenever possible. Predicting player movements and having high-level in-game awareness of your team and your opponent while coaching only comes from practicing the game itself. I started traveling to tournaments in 2006 and started coaching at the 2008 National Championship on Team Classic with Cameron "Victory X" Thorlakson. In 2009, I took the year off from competing with Jason and Justin Brown (Lunchbox and Roy) instead opting to stay with them at each event while focusing on managing Gaming Lessons, as well as The LAN Network website while in school. Starting from our first tournament win at the 2010 season opener until now, I have since been on a team with Lunchbox and Roy for every event the two of them have competed in. While the road to this point in my career is unique, if you're interested in coaching I would highly recommend studying film of the top teams playing, watching pro player streams, utilizing resources online such as discussion forums and recruiting threads to build relationships with players to see what might be available to you, and playing online with potential teammates as often as possible.
HCS: What are some benefits a team with a coach has?
Towey: A team with a coach has several valuable benefits in a competition, including increasing teamwork and map control through better positioning, instructing players that are in the best positions to make certain plays which maximizes overall efficiency, and significantly increasing power weapon and power-up control. In my opinion, having top coaches on professional teams greatly increases the ceiling for which competitive Halo can be played.
HCS: How do you look at the game as a coach compared to how a player looks at it? At tournaments, you're looking at all four screens at the same time. How do you piece together what's happening in the game into strategies that your team can use?
Towey: I actually look at the game very similarly to how a player looks at it during a tournament. I have the same in-game awareness of my teammates and our opponent that I would if I was playing. The difference is that instead of having to additionally focus on my own shot and movement I am free to take a step back to coordinate all four players movement and positioning as a whole to most effectively work together. Take a look at this Neutral Bomb Assault on Shrine clip with my notes below from our series vs. Cloud 9 at the HCS Season 1 Finals to help explain.
http://www.twitch.tv/halo/b/633830146 (1:18:35 - 1:20:20)
From the outset, we see Snipedown retreating to our Sniper Rifle hut after being shot down from Cloud9's Carbine Bridge. He checks our Snipe Rifle location to see if it had respawned at 18:58 remaining in the game. However, I knew it would respawn in about thirty seconds, and told him to push Ring Three, giving him the best angles to help Lunchbox & Roy and put shots down on the Cloud9 players, trapping them in their base. Because we had control of Ring, Lethul was able to get control of the Rocket Launcher as it respawned as well. At 18:30 remaining in the game, you see both Roy and Lunchbox were picked off moving the Bomb forward. However, with control of the map and Rocker Launcher in-hand, I was able to have Roy pick up our Sniper Rifle as it respawned in our Sniper Rifle hut, and have Lunchbox push immediately to Ring to put suppressing fire on the respawning Cloud9 players. Knowing their Sniper Rifle respawn time, I had Snipedown push to their Sniper Rifle hut alongside Lethul with Rocket Launcher to focus on getting their Sniper Rifle and keeping Bomb in their base with map control. By 18:20 remaining, Cloud9 was able to play the Bomb off the map to reset it, but after putting so much pressure on their spawns, Snipedown was able to have a new Sniper Rifle on their Street, Lethul had Rocket Launcher in their Sniper Rifle hut pushing towards their flag, Lunchbox (off of his respawn) was able to immediately move up the Bomb that had just reset, and Roy had our new Sniper Rifle on their Carbine side.
It's not very often that all three power weapons on the map respawn within 30 seconds of each other, and knowing all of the times as well as correctly pushing for them allowed us to gain complete control of the game. Ironically we did not arm the bomb, a Cloud9 player was able to kill Lunchbox and drop Lethul's shields with a grenade where he was then picked off at the last second. With Roy and Snipedown both sniping far away from the base and our team with a 2-0 lead in the game we continued to stay in position and apply pressure on them instead of trying to force a Bomb arm and risking giving up map control. Even though the rebroadcast only shows one point of view, hopefully you can now gain a better understanding of what it's like directing traffic between all four players' screens at once and how I view the game during a tournament.
HCS: What separates a good coach from a great coach?
Towey: Attention to detail. Coaching is very similar to playing and just how you would play differently revolving around your teammates play styles. A coach should coach differently depending on who his or her teammates are, what their strengths and weaknesses are, and how they play the game. By looking at all four screens and scanning each players position a coach should quickly and accurately be able to make split-second decisions to tell certain players where to go or what to do. In certain game types,having a coach remind the team what is being covered so they are not flanked from behind, as well as being mindful of how much ammo or grenades each player has remaining in a standoff situation is something that is rarely covered in regular communication, but can vitally affect the outcome of the game. Check out the Lockdown Team Slayer clip with my notes below from the same series as before vs. Cloud9 at the HCS Season 1 Finals to help explain.
http://www.twitch.tv/halo/b/633830146 (54:55 - 57:55)
Roy has the sniper with limited ammo left while Lunchbox has the Energy Sword, and we have map control in a standoff. At 9:06 remaining, we see Roy drop the Sniper Rifle so our team can get the exact respawn time. Fast forward to 8:27 remaining, and we see Roy throw a Plasma Grenade at Sniper Rifle spawn to have it fall down and explode at the exact second the new Sniper Rifle respawns, without Cloud 9 knowing it was ever dropped in the first place. We were able to position Snipedown in the entrance to Library to go top center and pick it up, come back to Battle Rifle Tower, and regain map and weapon control. Snipedown ended up dying in Library and Cloud9 attempted to push over through Open Ramp and Top Blue to Top Middle, however with both power weapons and three players still alive, we were able to hold off their push and regain full map control once Snipedown respawned. This created an ideal setup for us, with both power weapons and Snipedown sniping in a standoff, creating a lead that we then held for the rest of the game. This is a very good example of the type of contribution that a top coach can make to a team that goes largely unnoticed by the majority of people watching. The coach is mostly given credit only after a match for a percentage of power weapon control by the team – however in reality, a significant portion of what a good coach really does has intangible value not shown through any measurable statistics.
HCS: What do your players look to you for in a match?
Towey: Our team looks to me to reinforce the most important aspects of our strategies during the game to make sure we stay focused on what our goals are, on that specific game type, from start to finish. That can range from simply obtaining camouflage on Warlord and grabbing it back-to-back as each new one respawns, or coordinating what to do to either break a set up or how to regain control mid-game (if we are being spawn killed by the other team). It's important to not communicate too much and crowd the natural communication and chemistry of all four players on the team, but including and reinforcing what is most important on top of power weapon and power up timing is expected.
HCS: How do you improve yourself as a coach?
Towey: By playing! And watching film of course. But like I said earlier, I strongly believe it is crucial for a team to practice with their coach outside of team practice online not only to increase awareness and in-game knowledge playing alongside and against higher competition, but to also be on the same page as each other, having practiced together on every game type for tournament play. Outside of playing online, I also re-watch our team practice against other teams and take notes on things I feel we could either improve on, or do differently. Being on a team with four players who not only respect my opinion but ask for it to determine how we should play in a tournament is another example of the level of chemistry we have and, especially in the case of Lunchbox, Roy, and I over the years, is a large part of why we have been so successful.
HCS: Any final comments?
Towey: I want to obviously give a huge shout out to all my teammates! Be sure to follow @mlgLunchbox, @theRoyborg, @EDWSnip3down, and @Lxthul on Twitter for updates from our team. I also want to thank the entire Evil Geniuses organization for supporting us with everything they do, being part of such a well-known and historically successful organization across multiple platforms and competitive titles is humbling and motivational for us to say the least. A huge thank you to our sponsors as well:Monster Gaming, Cinch Gaming, BenQ, and AVerMedia. For more updates and content on our team make sure to follow me on social media and check out my stream!
Twitter: www.twitter.com/RyanTowey
Facebook: www.facebook.com/RyanTowey
Instagram: www.instagram.com/RyanTowey
Youtube: www.youtube.com/TheRyanTowey
Twitch: www.twitch.tv/Towey
HCS: Thanks for taking the time to chat Ryan, best of luck to you and Evil Geniuses this weekend at Iron Games HCS Atlanta and the rest of Season 2!