Welcome back, gentlecreatures – hope this regular dip into recent Halo news and notes finds you well! Over the past week or so, it's been fun to see various parts of the studio buzzing about heads-down and hard at work on everything from awesome MCC updates, upcoming HCS events, new books, comics, and more. Ready? Let's go.
ALL THE FLIGHT MOVES

As many of you are aware, a new flight for the Master Chief Collection began rolling out to more users today, further letting the community help shape the evolution and reconstitution of this beloved compilation. This current flight is slated to run through Saturday so if you're currently involved, make sure and jump in!
The team has been hard at work laying some lovingly-crafted foundations to give fans both old and new a destination to experience that "classic" Halo feeling, and we're excited to see it continue to evolve. A great way to catch up on some of that work is to check out our ongoing MCC development blogs, the latest of which ske7ch dropped earlier this week, giving some super deep insight into the process of such an undertaking. It's worth a read just for "The SCoop" section alone, trust me.
HCS UPDATES

In case you missed the news, the Halo Championship Series 2018 season opens up July 13-15 with scintillating showdown on tap in Louisiana. A global open event featuring top teams from around the world battling it out over a $250,000 prize pool, MLG New Orleans will also feature the esports programs of both Halo and sister-franchise Gears of War coming together under one roof. Personally, I can't wait to take in a weekend filled with the sounds of Magnums and Lancers alike – in fact, the only way it could be better is to have you there to enjoy it with us! Both spectator and team passes are now available – make sure you grab yours before they're gone!
In preparation for the 2018 season, work has continued on refining settings and playspaces, including brand-new Forge maps entering the competitive fray. You can get more information on both this process and the specific maps in our recent HCS Forge Maps & Playlist Updates blog.
BORN SUPREMACY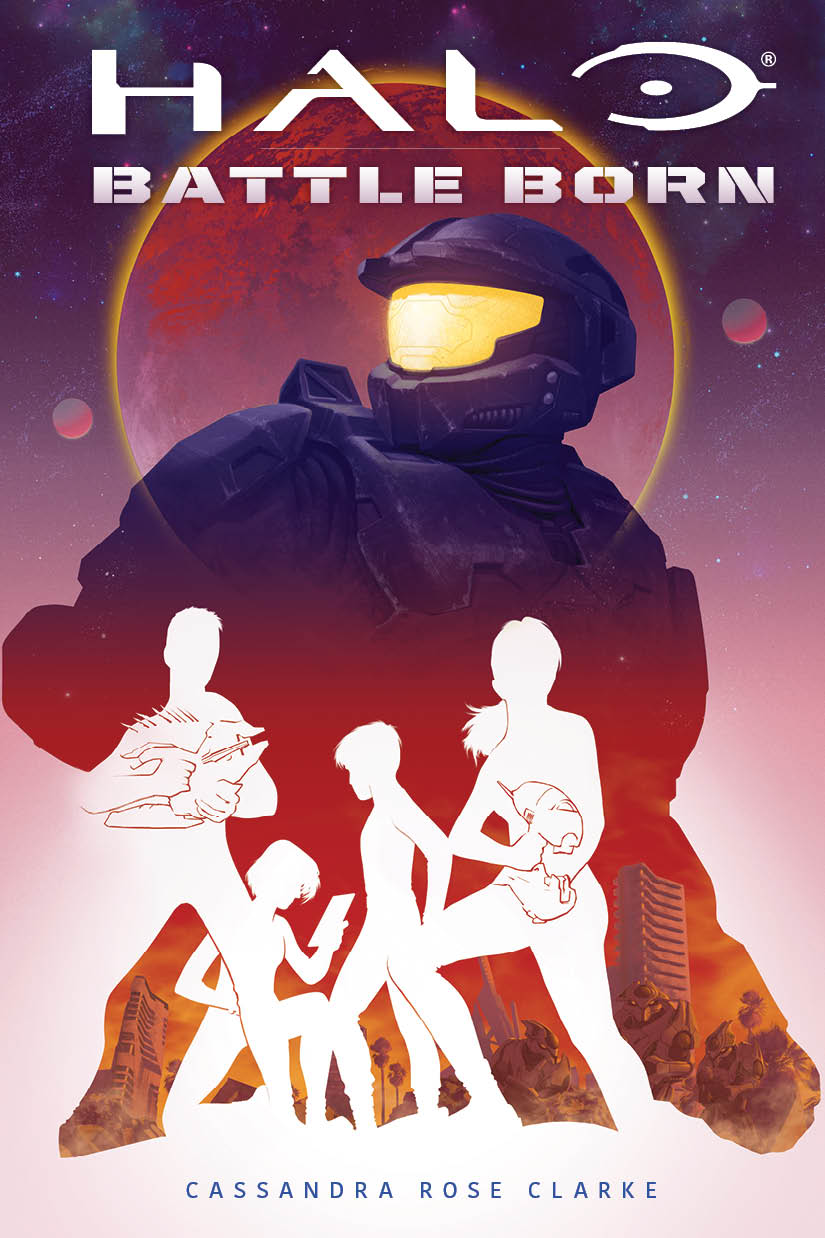 So you like lore, eh? Extended universe your thing? Enjoy seeing the Halo universe from new and intriguing perspectives? Of course you do. As many of you know, we've got Halo: Bad Blood on the horizon – a Matt Forbeck-penned follow-up to his ODST-focused novel. We've also got Halo: Silent Storm, a Master Chief novel authored by Troy Denning that explores the earlier days of the Covenant War. And there are even more on the horizon.
Today, we're excited to "officially" unveil the next fruits of our budding new relationship with the legendary folks at Scholastic. Introducing Halo: Battle Born, a new novel by Cassandra Rose Clarke, and Halo's first true young-adult novel. One of the best things about the Halo universe is how diverse its settings are and how ripe it is for varied perspectives and experiences, and Halo: Battle Born is something that definitely fits right into that description. Actually, speaking of descriptions, let's take a look at its official one, as well as the awesome cover by Antonio Javier Caparo:
Saskia, Dorian, Evie, and Victor aren't exactly friends at their small high school on the middle-of-nowhere colony world of Meridian. Each has their own problems, from absent parents to supporting their family, getting into a good college to making the next hit holo-film. But those problems were nothing next to the threat now facing their world: The alien alliance known as the Covenant is laying siege to Meridian, for reasons that aren't so easily explained.
With their village in flames, the four teens find themselves stuck above ground, locked out of the town shelter where the rest of the survivors are gathered. Together, Saskia, Dorian, Evie, and Victor are thrust into battle with nothing but a few scavenged weapons and an injured Spartan, one of the UNSC's super-soldiers. What's forged from the destruction will determine the fate of Meridian and tilt the battle for humanity's survival.
We're super stoked to introduce a new reading experience into the franchise – and in turn, also hopefully introduce a new segment of fans to this universe we all love. We'll be talking more about Halo: Battle Born more as time rolls on, so stay tuned. And if you're interested in adding it to your Halo wish list, here you go!
COMIC RELIEF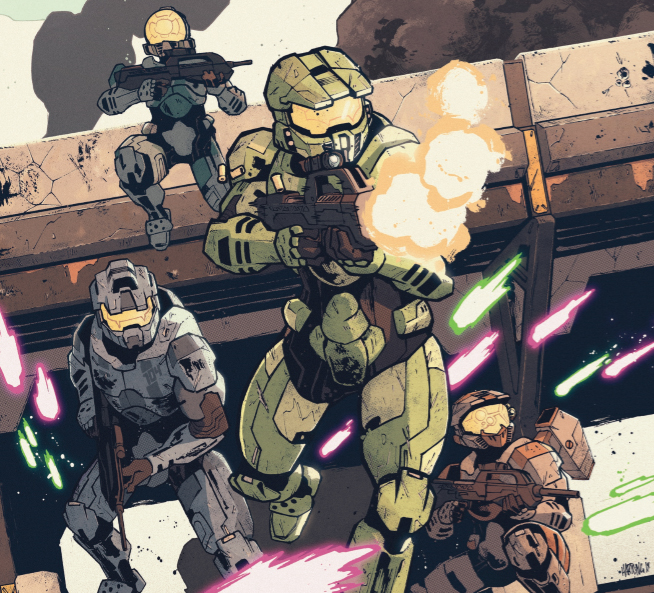 This week has seen a pretty awesome content drop if you're a fan of Halo comics. On Tuesday, the hardback trade edition of Halo: Rise of Atriox was released, collecting all five issues of the critically acclaimed series, exploring the legend of the Banished leader's rise to power from several different perspectives.
If you haven't checked it out, the hardcover edition is the perfect way to get the entire story in one shot. If you were a fan of the individual issues when they were released originally, you'll love this all-in-one bound set sitting upon your halo collector shelf. Check it out!
Continuing the comic train, yesterday saw the release of Issue #1 of Halo: Collateral Damage, a three-issue mini-series that follows the Master Chief and his stalwart squad on a mission during the very early days of the Covenant War.
It's an awesome perspective on the early days of the conflict, with a gorgeous comic-style art application to pull it all together. Make sure you check it out!
E3 KINGS
This coming week, the eyes of the greater gaming world will be firmly fixed upon southern California, where the 2018 edition of the Electronic Entertainment Expo will make its annual assault on our timelines, subscription feeds, and sanity. As a proud member of the Xbox family, we of course encourage everyone to tune in to the Xbox E3 2018 Briefing on Sunday, June 10 at 1pm PT to cheer on our platform partners as everyone strives to bring a little bit of joy to each and every game fan in attendance.
Of course, as a Halo fan the most advantageous place to catch all the action will be at mixer.com/Xbox, where doing so will grab you a pretty sweet Halo 5 treat: The Classic Helmet REQ Pack. That's right, the coveted cranium collection is back, and you can nab it for the low, low price of tuning in to the Xbox E3 2018 Briefing while logged in to your Gamertag on Mixer. Not a bad deal at all, eh? For more Mixpot info, head HERE.
To sweeten the E3 week up a little more, from Sunday-Thursday (June 10-14), log in to Halo 5: Guardians each day to receive a daily Platinum REQ Pack. Do the same in Halo Wars 2 for double free daily Blitz Packs. It's our little way to help take part in a week focused on gaming celebrations – see you online!
RATED M FOR MUST-SEE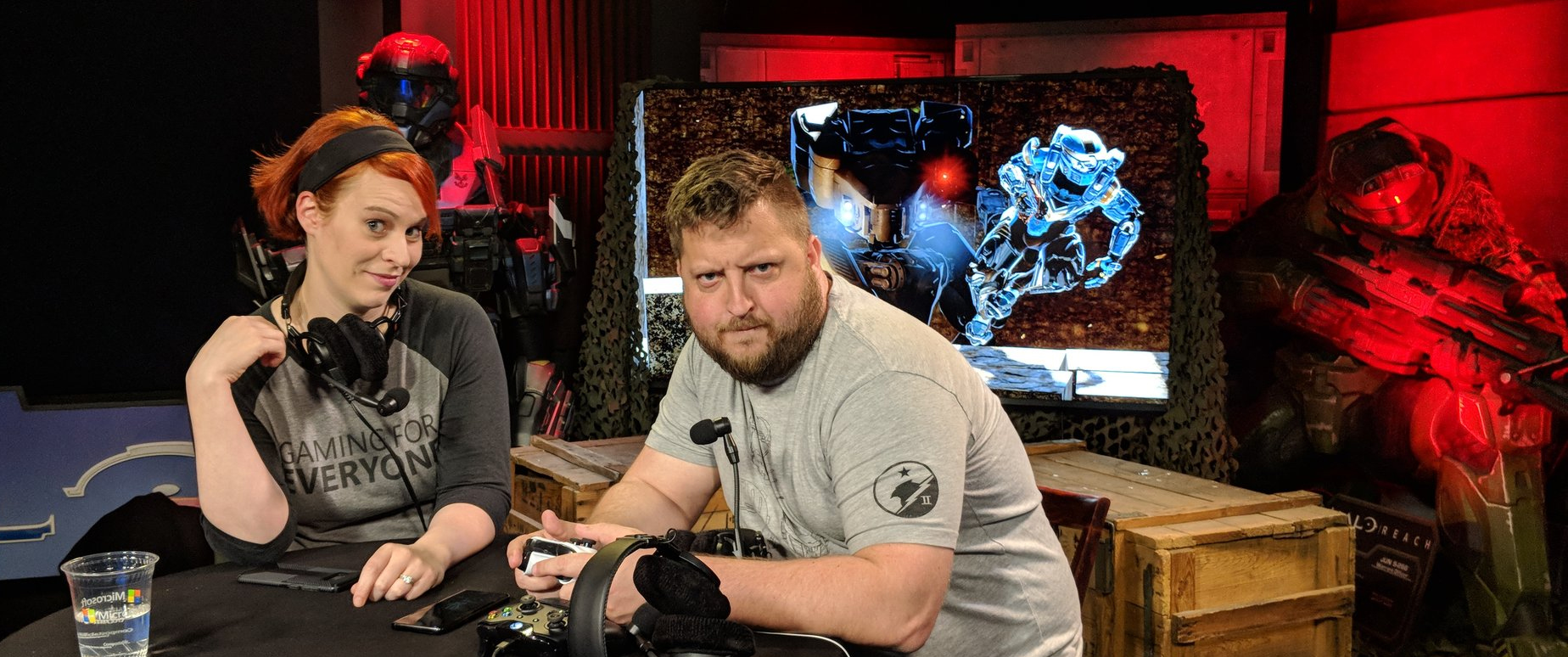 Photo by one of our behind-the-scenes broadcast wizards, Liz Ostasiewski
Our 343 Social Stream series continues to be allowed on the air, despite our zaniness, sometimes-questionable gameplay skills, and ratings-board riling discourse. Although depending on who you ask, it's also all the more reason to tune in! The past two episodes saw 343 Consumer Products czar James Monosmith, Legacy producer Adam Callens, and User Research Royalty Jessie Thomas join yours truly for insider talks, gameplay goodness, and other various shenanigans. If you missed them on the first go around, catch them on demand below:
Don't forget, the 343 Social Stream happens each Wednesday at 1:30pm PT on mixer.com/Halo!
WARTHOG WIZARDRY
We wanted to make sure and highlight an incredible project combining both epic Halo assets and inspiring kindness and compassion. Our friends at Magic Wheelchair built a legendary ride for a legendary Halo fan named Isaac, converting his primary mode of transportation into an out-of-this-world Warthog worthy of storming any Covenant stronghold. For more information on this awesome organization and the cool things they do, make sure you check out magicwheelchair.org.
In the midst of art style debates, playlist politics, extended universe angst, and sprint-squabbles, it's a great reminder to keep in perspective the things that really matter both in life, and in Halo – using them to impact others in positive and long-lasting ways.
HW2 COMMUNITY TOURNAMENT UPDATES

We are just a few more weekends away from the community-driven HWCL invitational on June 23. If you are just now hearing about this, catch up with the tournament tracker here.
This coming weekend Team Respawn and Breaking the Clutch have the last two tournaments to help determine the top seeded players for the Invitational. After these have concluded there will be 1 more tournament next weekend, for anyone who has not seeded for a shot at the last few spots in the invitational!
The current standings for these tournaments have MikeBEASTon (200) continuing his dominance so far out in front with the top seed with Almirante99 (105) pushing ahead of PatrickMac5 (80) who is now tied with Yodesla (80). For the full leaderboard and all info relating to these tournaments of where you can sign up and watch take a look here.
RADAR BLIPS

Playlist Persuasion – Today Anniversary Throwback stepped aside to let Shotty Snipers back into the spotlight in Halo 5 matchmaking. While your humble penman might run the other direction, you should still jump in and play it. Next week, Rock 'n Rail will roll back into play – keep your head on a swivel!

Hub-a-dub-dub – We are coming up on the last weekend to build and submit maps for the ForgeTacular contest being run over at ForgeHub for Halo 2: Anniversary in the Master Chief Collection. This contest has some amazing rewards from both the crew at ForgeHub and 343 industries! You can read the rules here and don't forget to submit maps for the contest here with June 10 being the last day to do so.

Let Your Voices Be Heard – Don't forget!
Giving the Covenant Back its Bomberman – Some of you already know that the Master Chief will be making a cool and cartoony guest appearance in the Xbox version of Super Bomberman R. Earlier today, our friends at Konami put out a sweet little trailer that showcases some of Chief's signature moves – and more importantly, his signature voice! That's right, the one and only Steve Downes will be voicing this rounded rendition of the Halo hero, and we think that's pretty awesome.
Art from the Hart – Speaking of cartoon Chiefs, Renown artist Butch Hartman (of The Fairly OddParents, Danny Phantom fame) recently doodled out this incredible animation-inspired interpretation of John-117 on a personal livestream. The result is spectacular!
COMMUNITY SPOTLIGHT
Before we go, a personal note – last week we bid adieu to awesome folks around these parts. Both Bravo and StrongSide were not only incredible colleagues, but were – and continue to be – even more incredible friends. I started contributing to Bravo's Community Updates back in Summer of 2014, and it's kinda weird still to be writing another one and not be able to turn around and see him sitting behind me. Here's wishing both of these amazing dudes all the luck in the world on their many new adventures, and offering a personal thanks to both of them for a seemingly infinite supply of good times, memorable moments, and legendary laughs. Plus, I'm even more excited for upcoming HCS events now, as both Bravo and StrongSide will continue to be found casting your favorite matches. Phew!
Until next time… Live well, play Halo, and Happy 83rd Birthday today to this Grim's proud Mythos-reading grandfather!
<3 Grim