It's not really springtime without a frantic round of Spring Cleaning and the studio was no exception. The area the Community Team sits in got shuffled around and we spent late last week packing up our desks and belongings. We came in Monday to brand new desks in brand new locations and took advantage of the clean start to get things set up just right. It's Thursday now and I think we're all finally settled into the new digs and things are back on track. Also it's Thursday, so that means it's Community Spotlight day, so let's get to it!
CRÈME DE LA CRÈME
One of the best parts of spring is the abundance of flowers in bloom. Tulips, daisies (my personal favorite!), lillies, and more. They're all beautiful and seeing them always makes me smile. Seeing that even Monitors are wont to stop and take time out of their hectic schedules to smell the roses fills me with so much joy. iTz Pr3DicTioNz managed to snag a candid of this Monitor doing just that!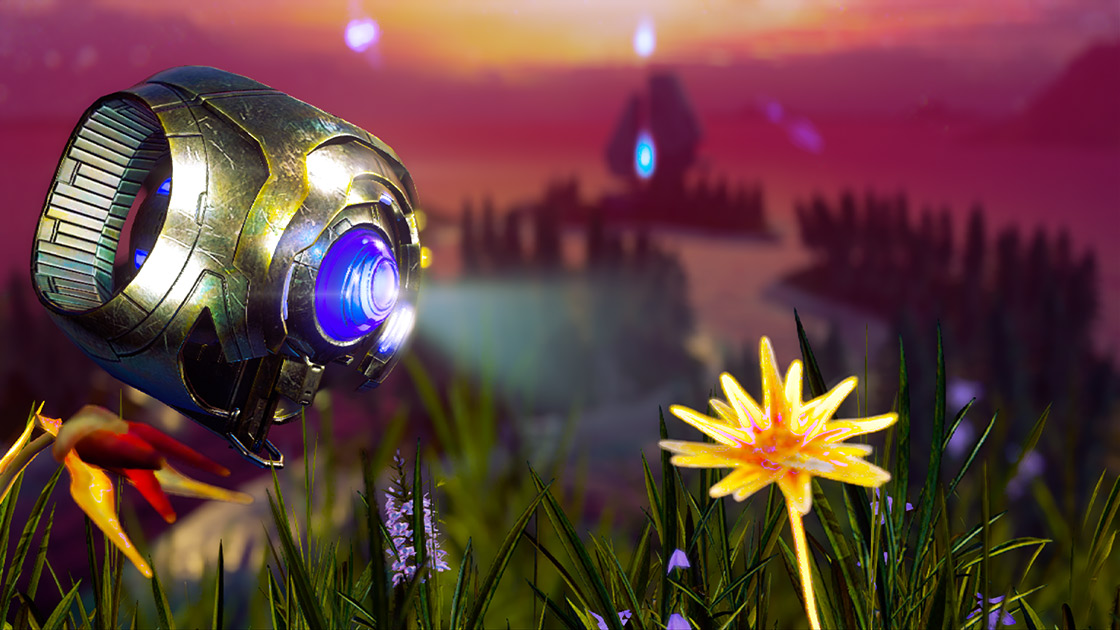 Snack Time
I'm giving you guys another Spotlight with a soundtrack for the duration! While it's not nearly as awe-inspiring as kazoos (side-note, anytime I mention the kazoo video, Uny gives me some serious side-eye, I don't think he loved it as much as I did lol), @TheReachWay's take on Old Town Road (by Lil Nas X and Billy Ray Cyrus) is absolutely fantastic. I cannot write words that adequately explain how fun I find this and how well done it is. You be your own judge - here's @TheReachWay and Ghost Town Road.
SNICKER'S DOODLEs
Now that you have Ghost Town Road on repeat in the background, let's take a look at some of this week's submissions!
We're going to kick things off with an adorable Nintendo/Halo crossover. Yes this is a thing that @rceezus did and it's absolutely adorable. Kirby Chief is adorable and I'd love to see a finished version of this!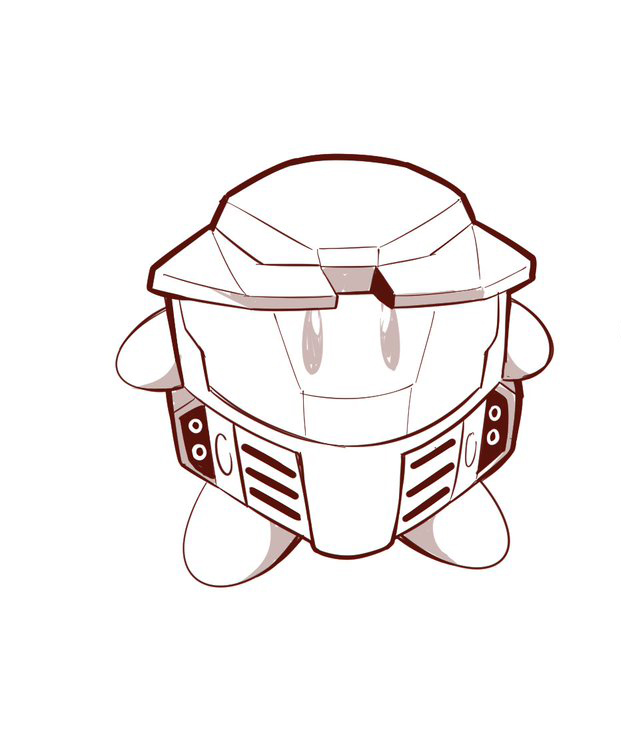 Since I just (very loosely) established that Chief is our concern right now, let's check out @OllieHoff's Mark V Chief! I love the simplicity and coloration in the shades of green.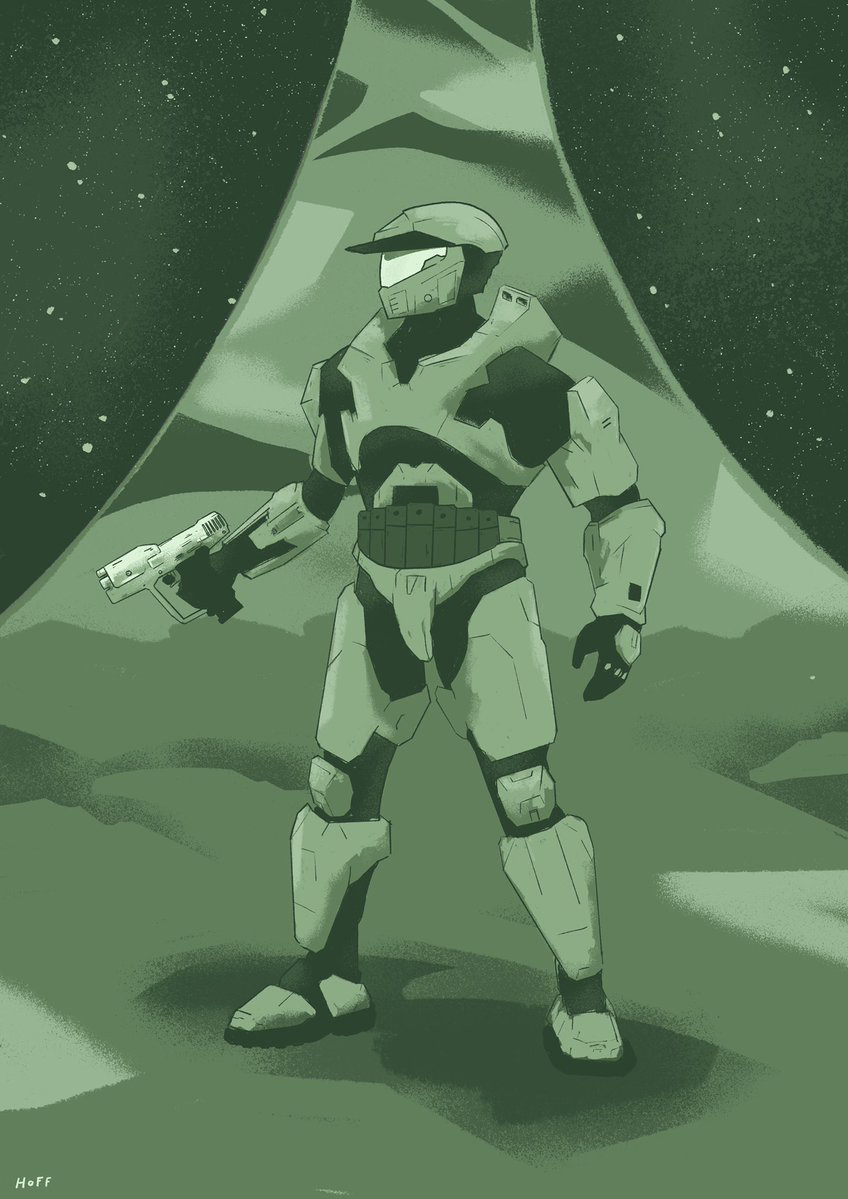 Did you know that you needed a picture of Fred-104 Banshee surfing? I sure didn't, but luckily @KJ104 somehow knew that I love trying to Banshee surf in BTB and brought this to life. This is so whimsical and fun and Fred's expression is exactly how I feel when I'm holding the enemy flag and I hop on my teammate's Banshee.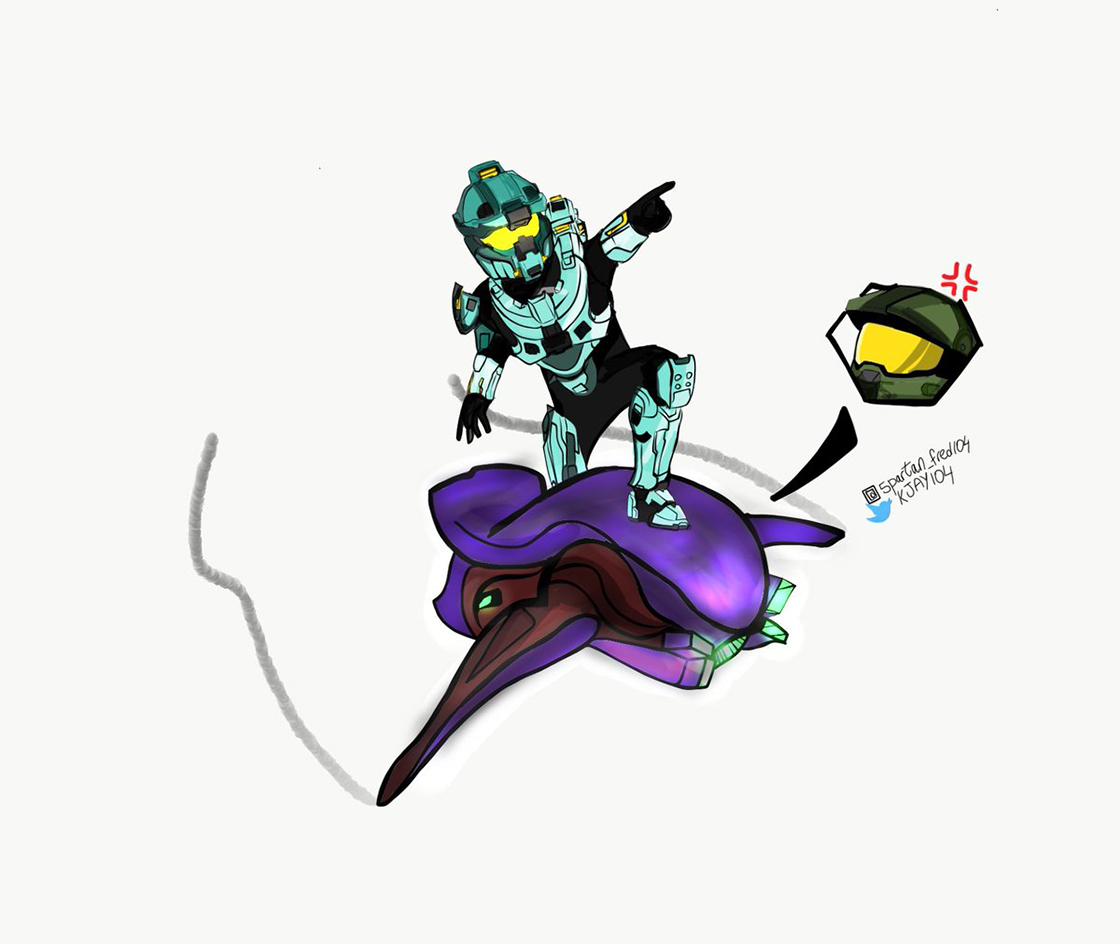 We should all be doing our part to reduce, reuse, and recycle, Earth Day (April 22nd) is the annual celebration of our Planet. According to Cmacaveli, even Elites pitch in to recycle and help the environment on Earth Day. I'm not really sure how well that jives with their whole "Glass the Earth!" philosophy but all recycling helps, so I won't ask too many questions. I just hope that there's nothing extra flammable around that barrel...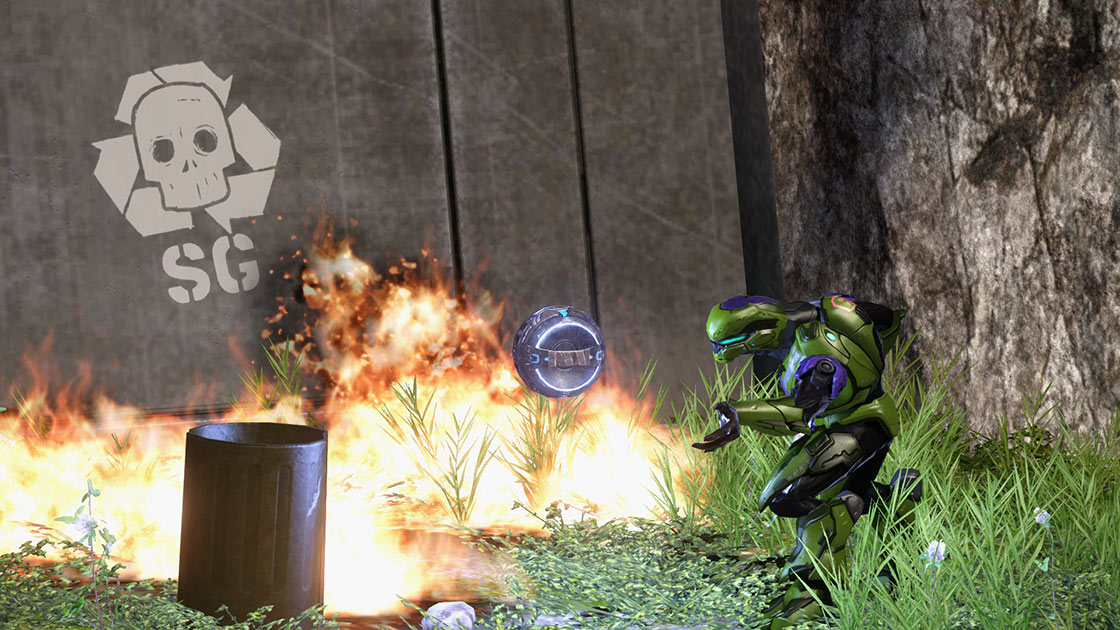 I'm told there's a really big movie this weekend and that this The Yappening poster by @MartinKrestan is remiscnent of that. No idea. But I really want to see Yapyap and his Grunts of Balaho do something awesome now. There's two versions, I couldn't decide which I liked better so you get both. It's like a 2-for-1!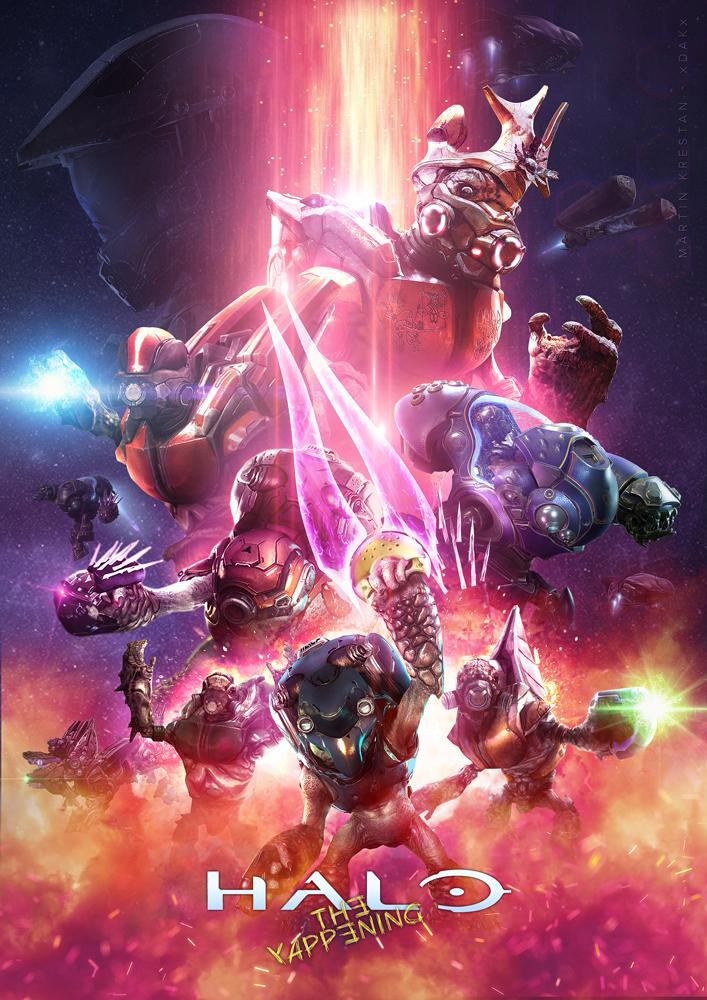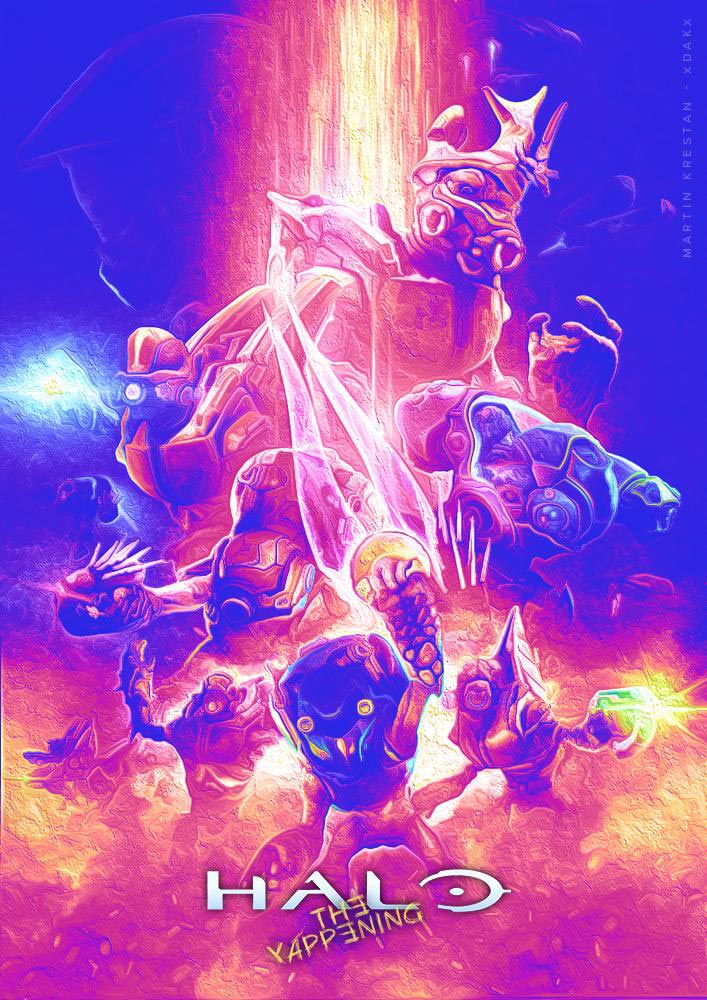 We knew people would be excited for Halo: Reach in MCC but I think we were all a little surprised by HOW excited everyone has been. To kill time before getting to fire up the game on his PC, @GruntDT made the Halo: Reach box art out of Halo: Reach medals! Look how cool this is. I have no idea how long this took but it could not have been easy.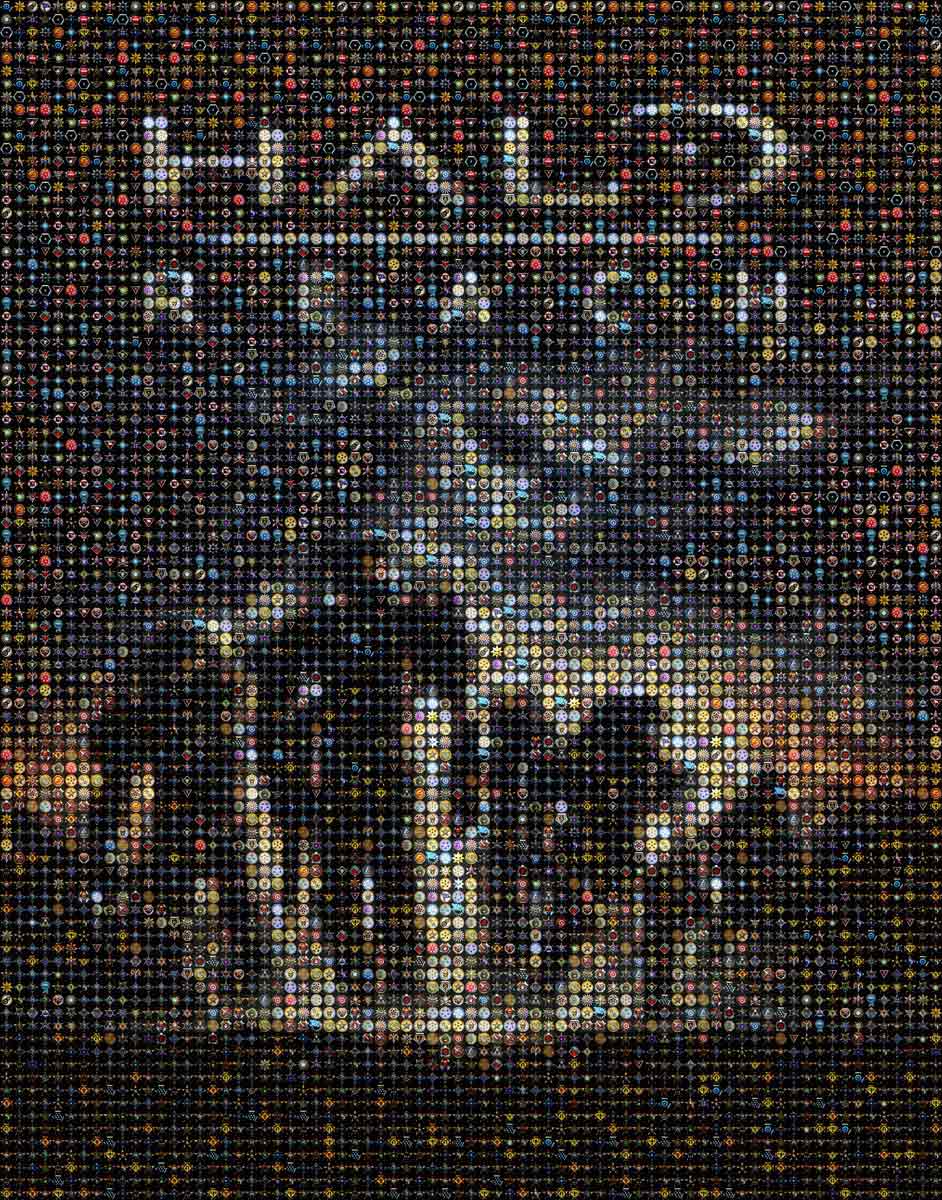 Speaking of Halo: Reach, @exclamation_mok is also really excited to see the game brought to MCC and made this super cute Carter-A259 sticker. I absolutely love this and a whole suite of stickers like this for a wide variety of the Halo characters would be AMAZING!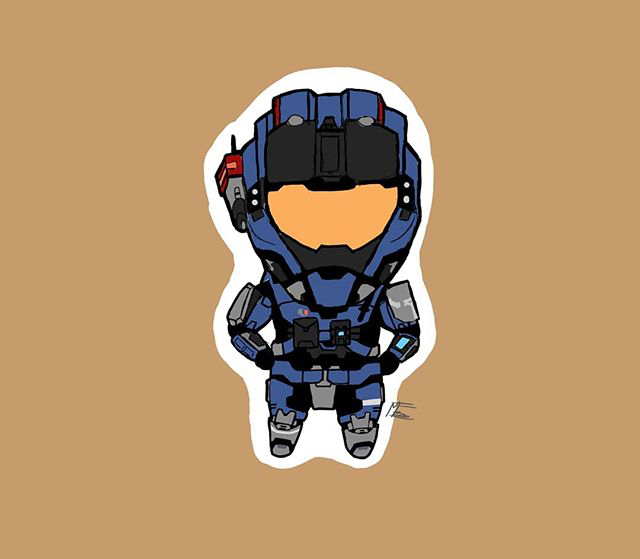 Halo: Outpost Discovery is happening this summer and @MB_AngelOfDeath is really looking forward to it. In the meantime, he hopped into Reach and recreated Spartans Hazel-A302 and Owen-B096 for us.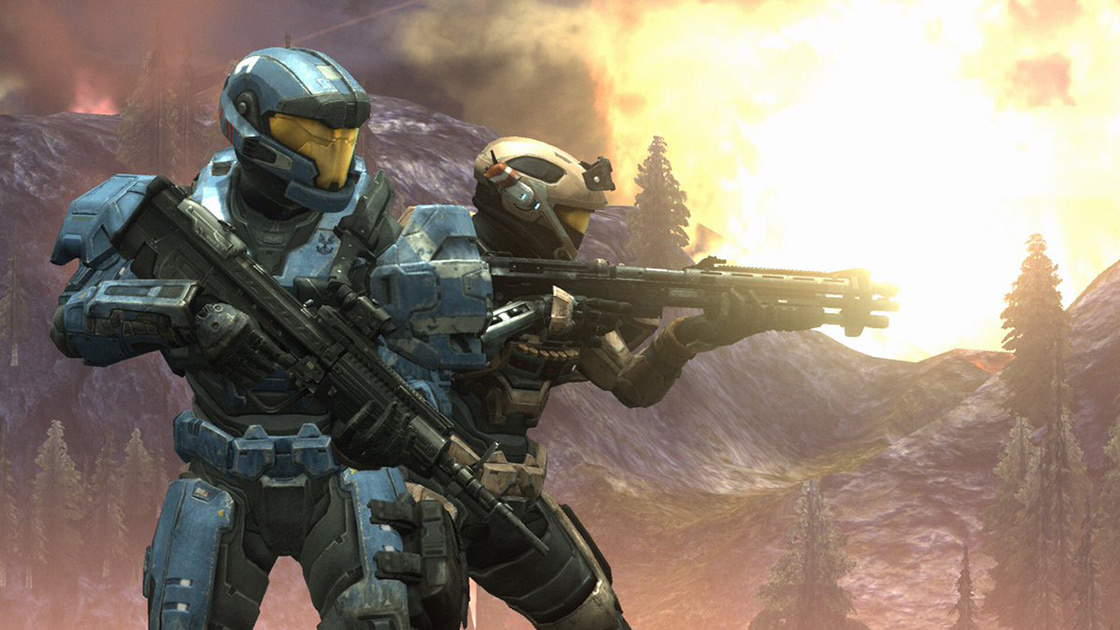 If doing these Spotlight blogs has taught me anything, it's how absolutely creative and innovative the community can be. Case in point, check out @ItsRetroooo's sweet silhouette. So simple and yet so easily recognizeable as a Spartan.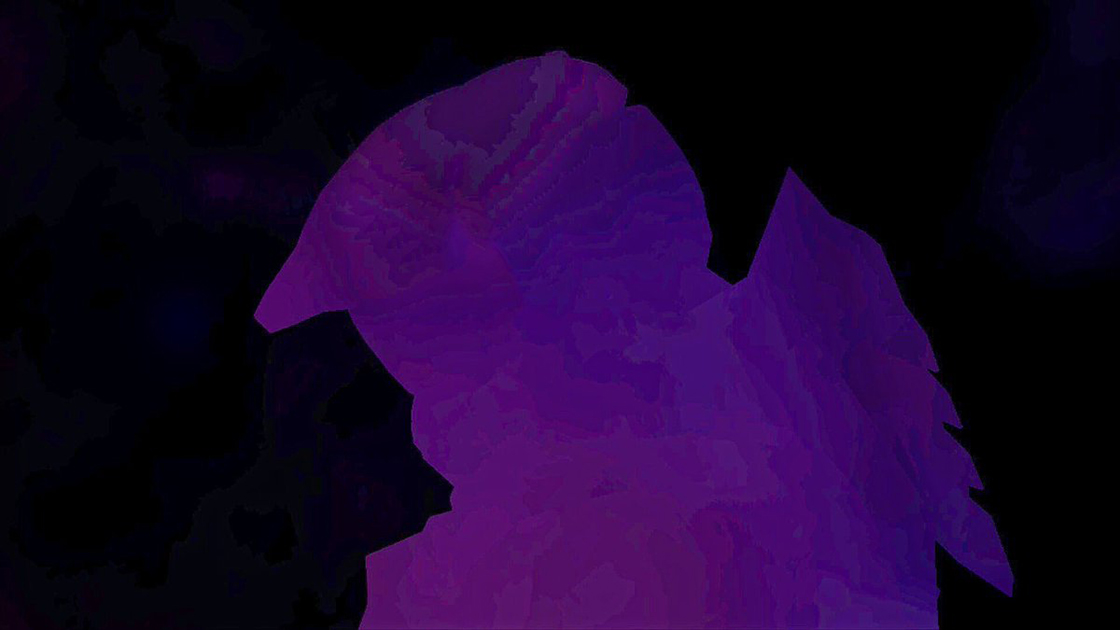 We've all seen the Halo Infinite trailer more times than we can count, I'm sure (763 and counting!), so you should be able to recognize the exact moment that @johnny recreated with minis! (Also...anyone else see the explosion as a giant Cheetoh? No? Just me?)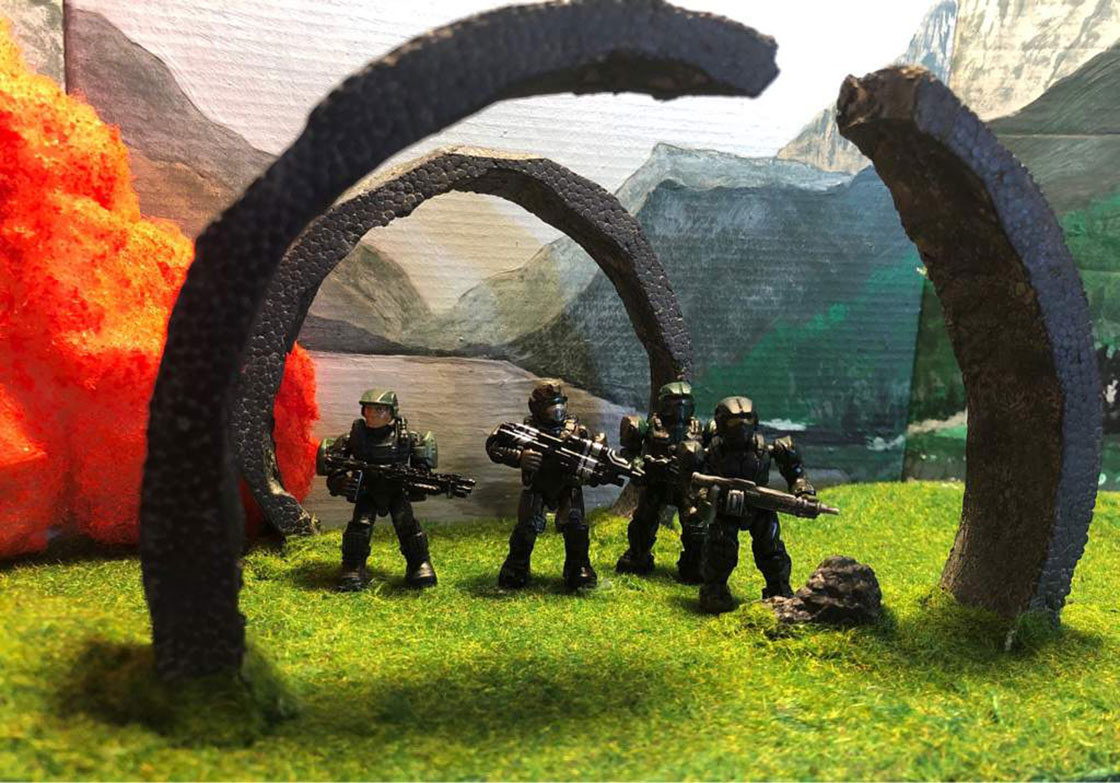 Minifigs and trailer recreations is a really popular thing I'm noticing. Don't believe me? Check out @mexcell90's toy photograph of Chief and Infinite.
Some people, like Shotgunhero29, really take their screenshots to the next level by tweaking them. Check out her Spartan, complete with bokeh. The Blue Team magnum skin goes really well with the armor colors and background. I love how this turned out.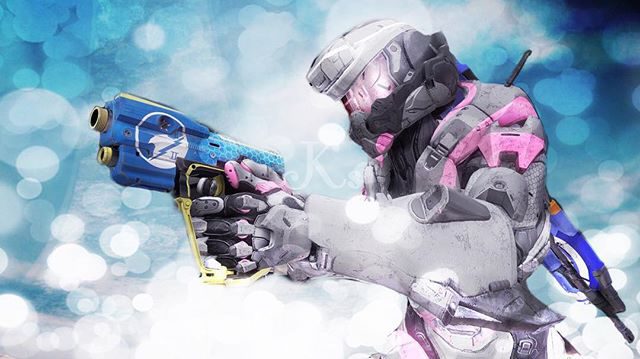 I've always been drawn to landscapes vs portraits, and turns out that's the same for game pictures. I apprecaite really good people shots but something about a great landscape shot like @NoMediaPlayer's presses all the right buttons for me. Epic and moody, it's definitely one of my favorites.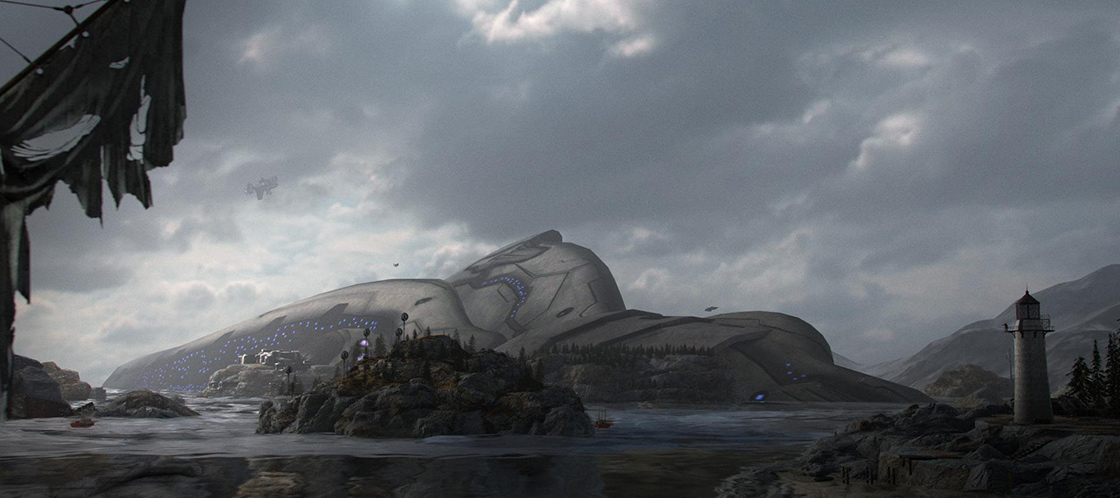 Going to round this section out with an oldie but a goodie. Why? Because I somehow missed it the first time that @realhartman posted this. If you've ever seen The Fairly OddParents or Danny Phantom, you've seen Mr Hartman's work. Apparently he live streamed himself doodling this last year (I'm so sad I missed this!) and he recently re-surfaced his finished project. I'm sure others out there would love to see it again so here you go, Butch Hartman's Master Chief!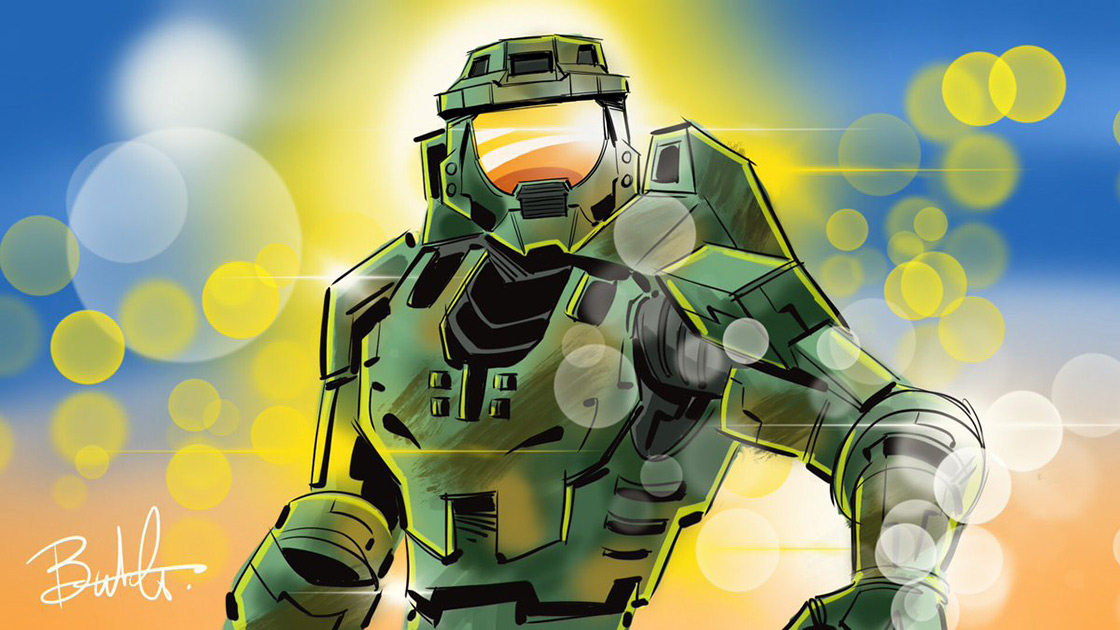 Half Baked
One of the more interesting things I've noticed over the months I've been writing these Spotlights is how there seem to be some themes or commonalities that bubble up during each period. Last week there was an abundance of Halo mashups, this week I saw a lot more black and white/hand drawn creations.
Let's kick things off with coversquash795's pencil sketch of his Hazard Extermination Armor. I feel like this was drawn during school in which case, tsk tsk, but otherwise it's good!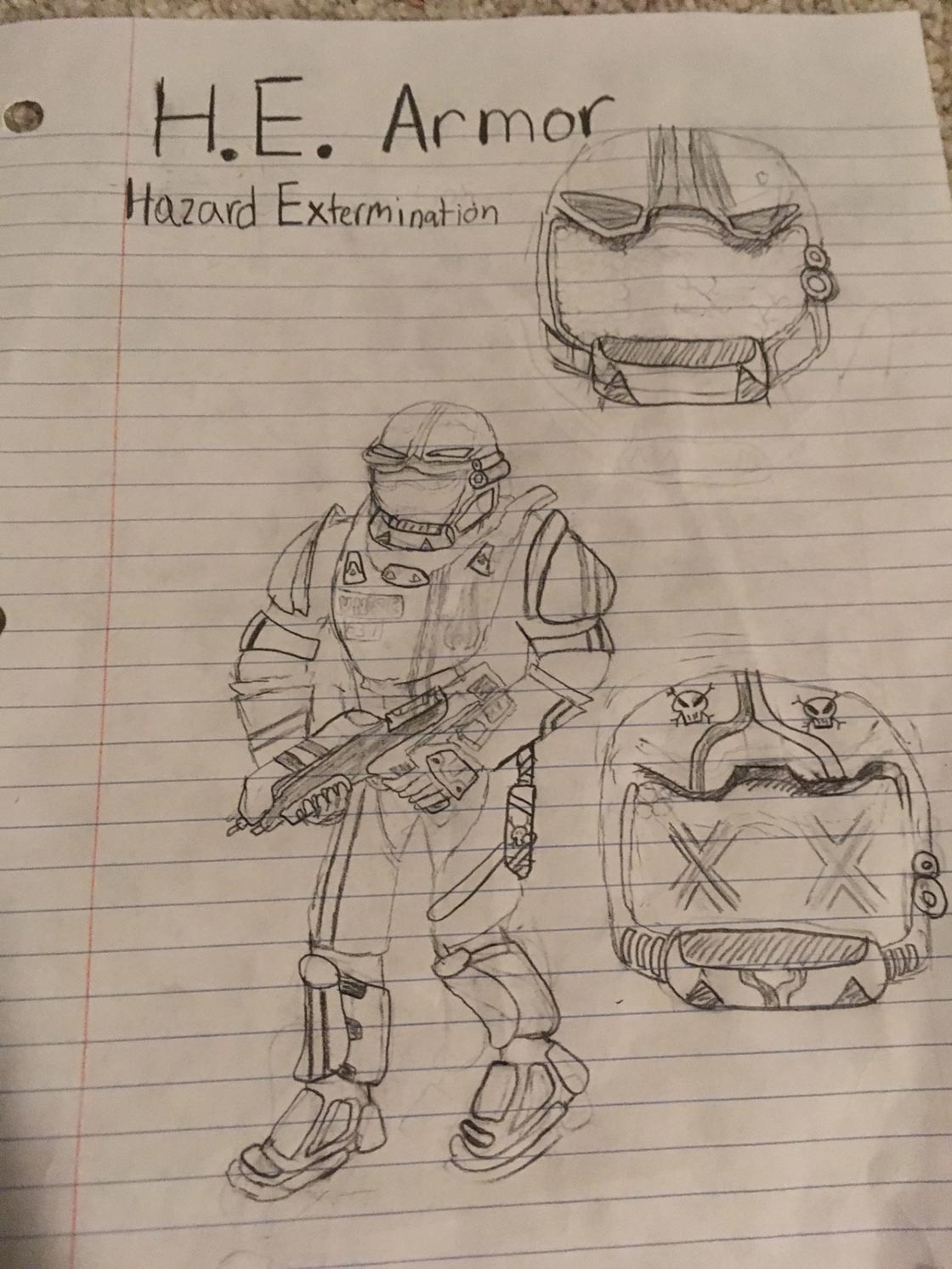 /u/TheHerpSalad's birthday present should evoke strong memories of one of the more famous Halo 2 icons - Dual SMGs Master Chief! It's one of my personal favorites so I loved seeing this one.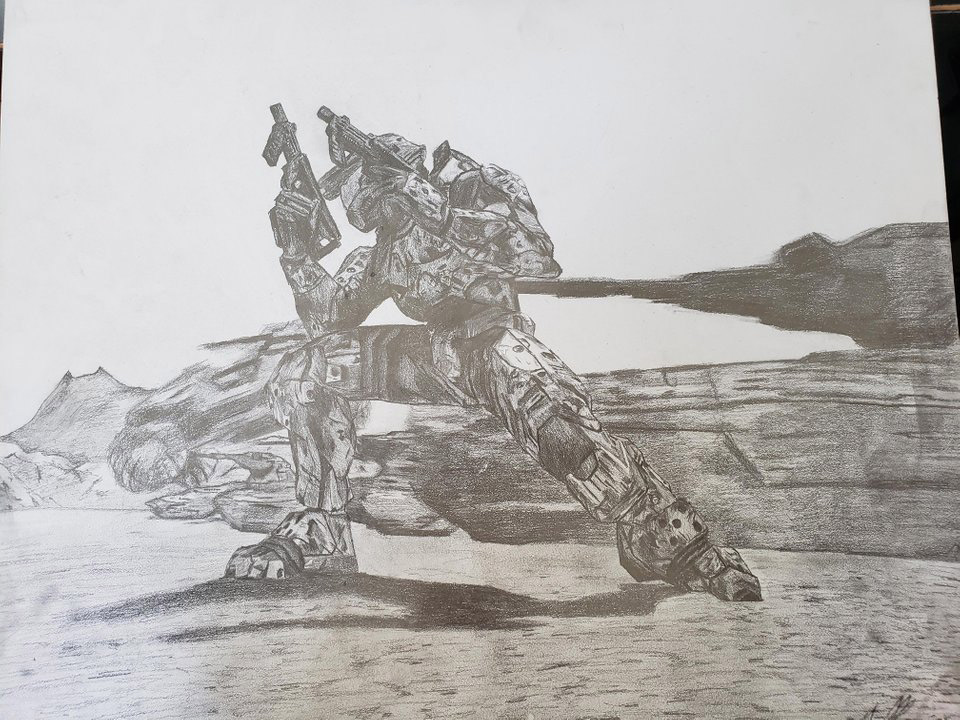 Halo 4's cover is also pretty recognizeable so when I saw @gottaburnemall's drawing, I didn't even need to read to know what it was.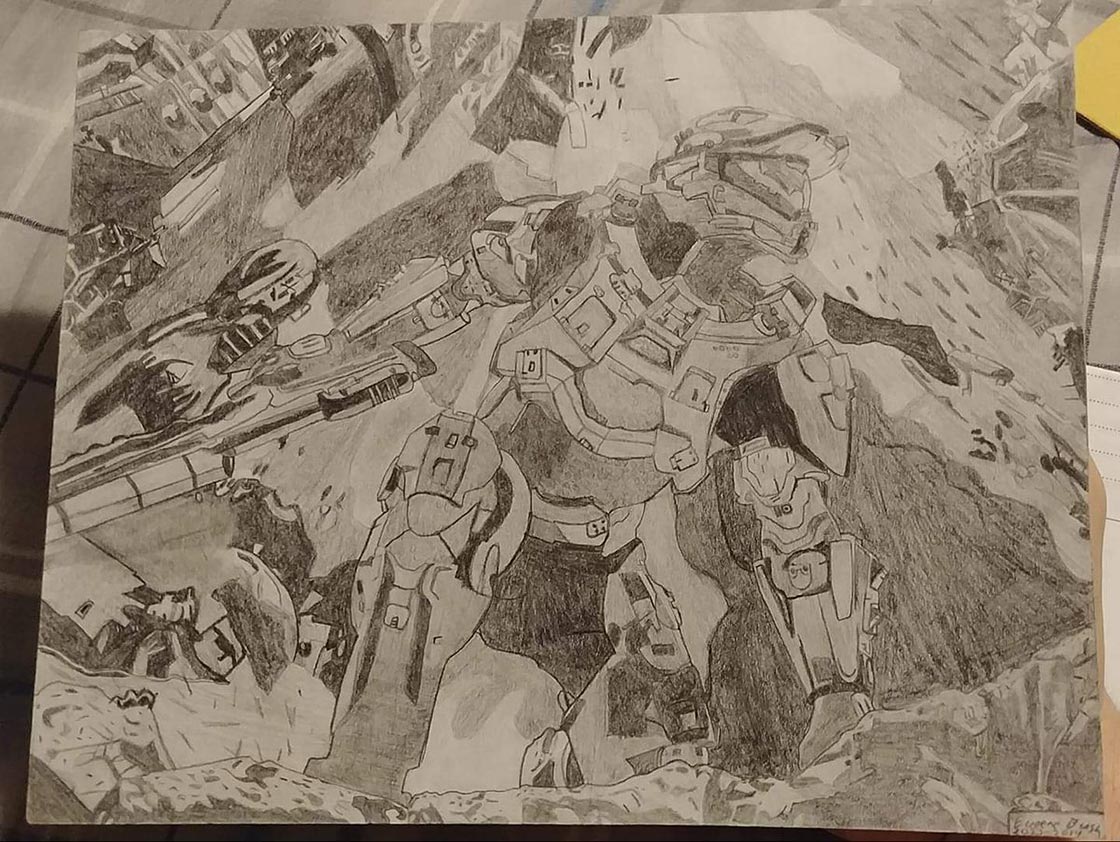 If you prefer Halo 3, you'll want to check out @HaloEnthusiast's drawing of the Halo 3 box art. I'm constantly blown away by how incredibly talented you all are. This makes me wish I had even a fraction of your skill and talent.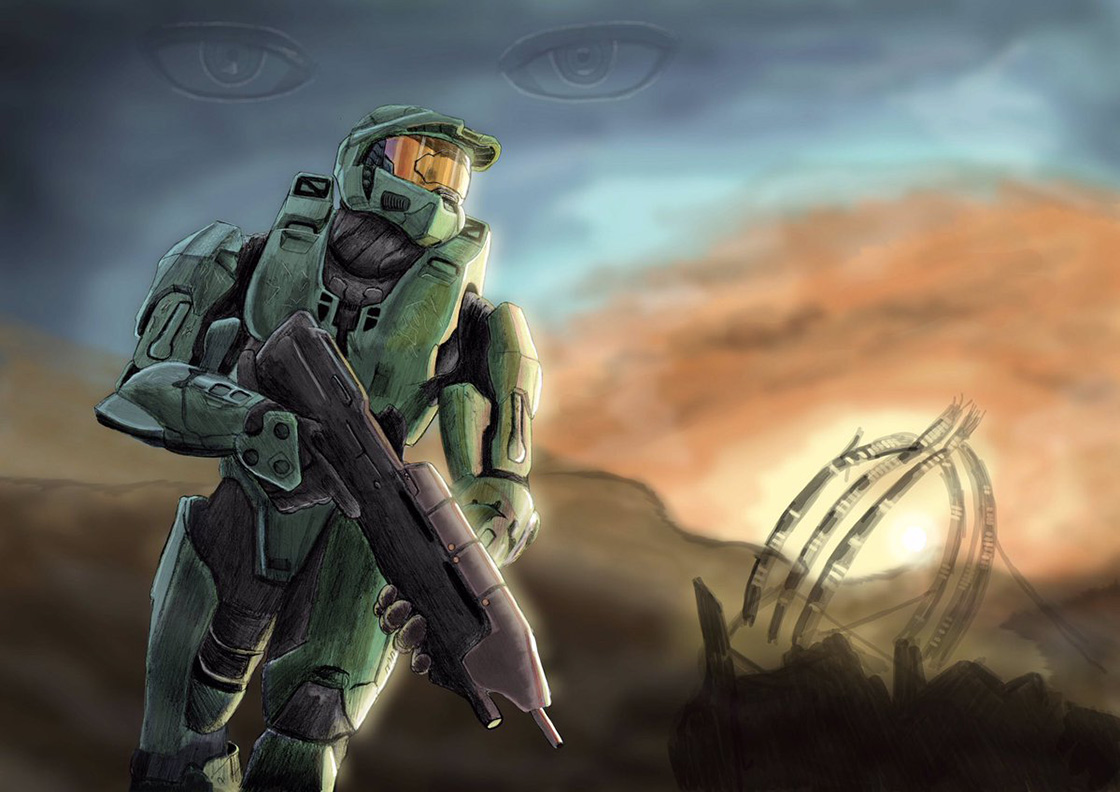 I've never seen a Jackal get head scratches until yesterday and I think everyone needs to see it. @wani641's drawings are always absolutely adorable and this is no exception..The Elite in the back pouting makes me giggle.

Store Bought
If you played Halos 2 or 3, you will definitely remember The Gravemind. Not content to let Gravemind be the bane of my existence in campaign, @Vientus_ brought Gravemind to life...in Halo 5's forge. Yes I am absolutely serious about this. This is incredible, yet creepy, but I can't not show it off to you all. I had no idea this was even possible in forge. You'd think I wouldn't be surprised at this point and yet here we are.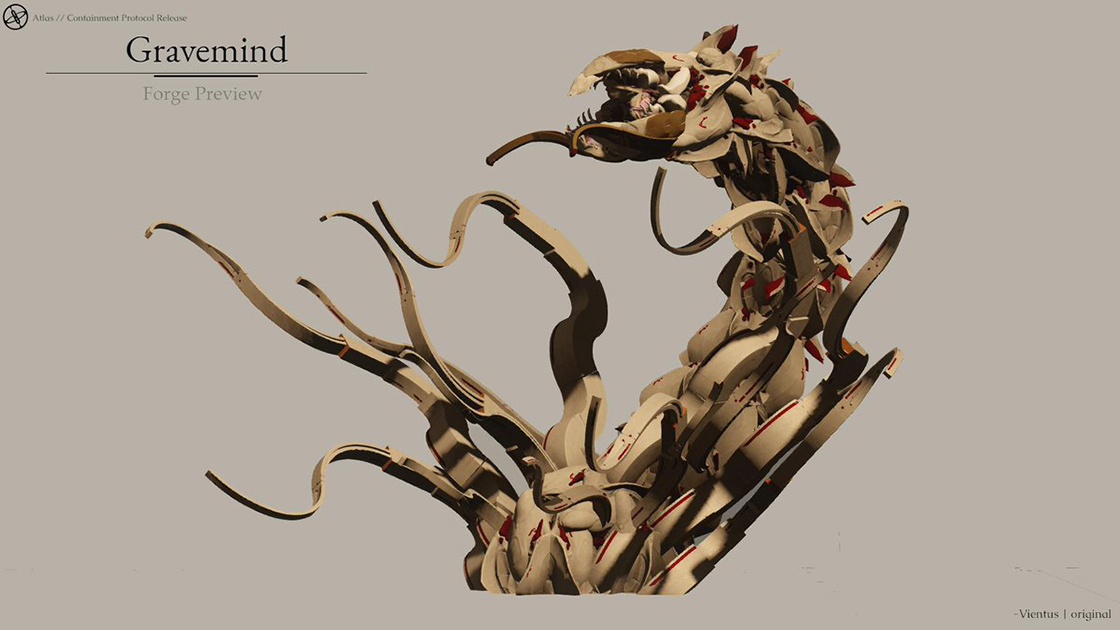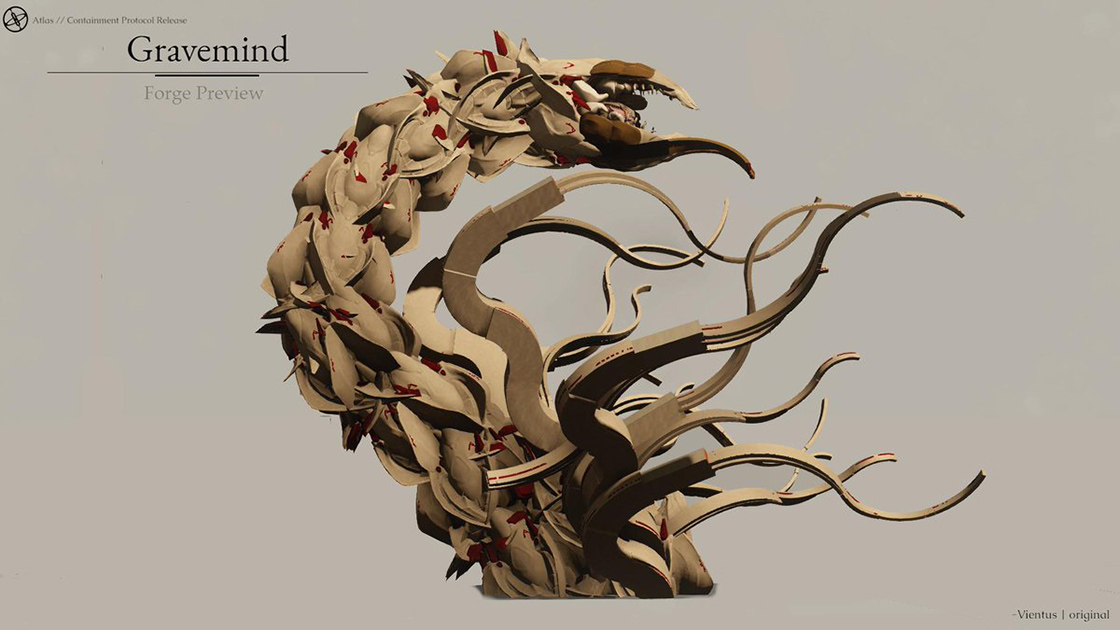 Homemade
Some of you prefer to get down, dirty, and hands on with your creations and turn out some awesome projects.
We've seen a lot of the awesome cosplay props that /u/sanghelios_customs makes. Using the Energy Sword, a Prophet's Bane, and cleverly decorating the inside rim of the clock, and you have a very Halo themed clock. This is so cool!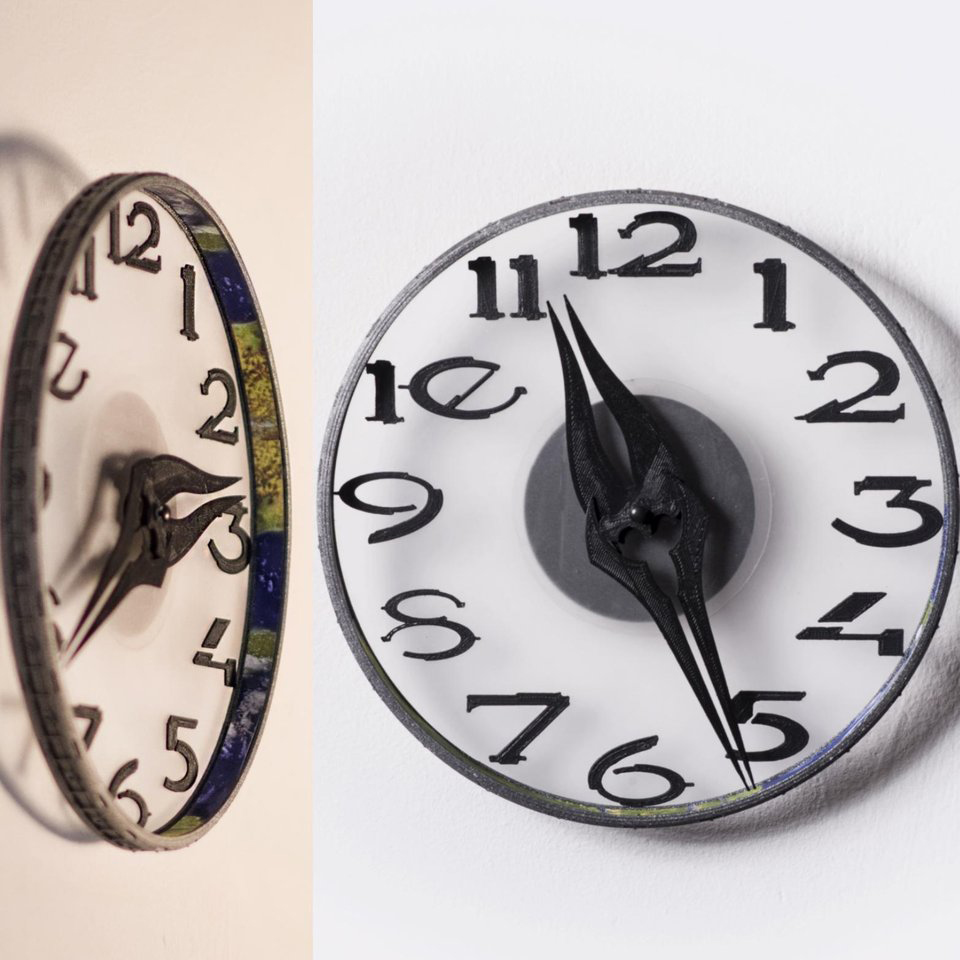 Not to be outdone, /u/adamnconnolly made a Paris-class frigate out of Balsa wood and foam board. Next step: finding somewhere to display it. You can check out the album of the process here! (+10 points for photobombing doggo.)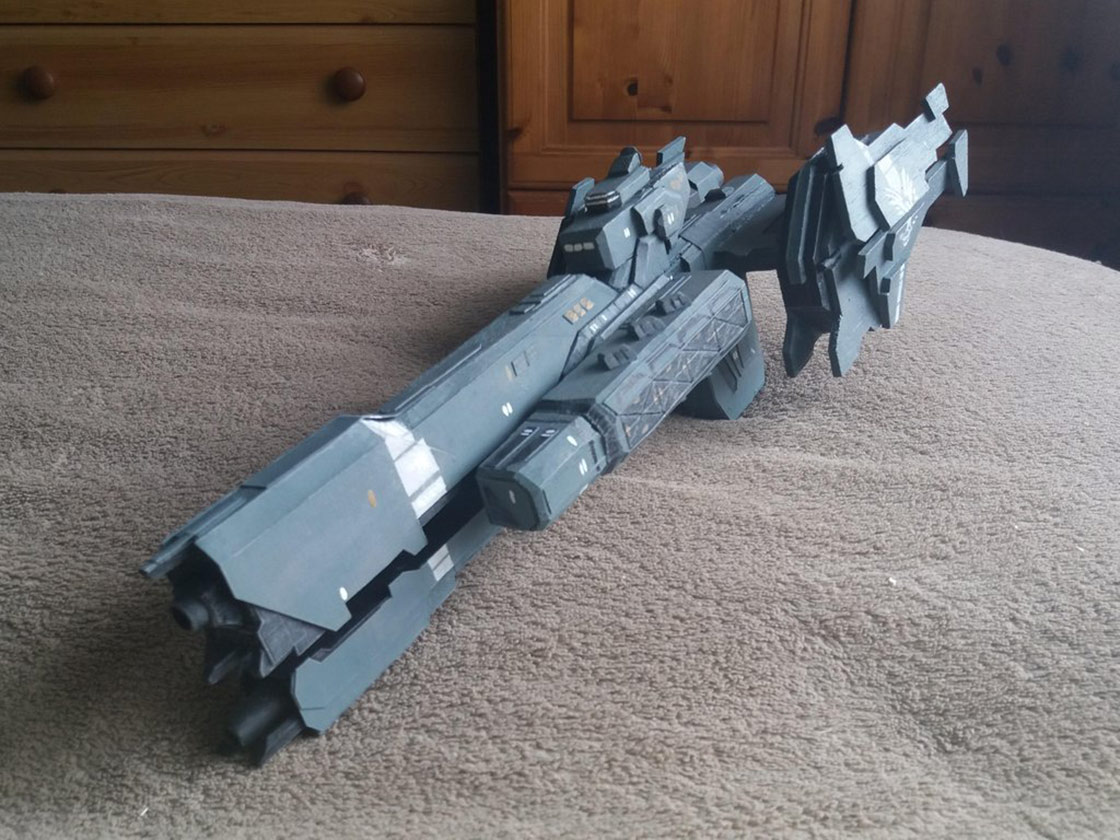 I had all sorts of witty thoughts in mind for this one ("You know the music, let's dance." or maybe a Cinco de Mayo reference) but honestly /u/Fresh_Pancake thought he'd try playing his way out and mix things up a little and you know what? I think that's as good as it gets. There's even an ODST playing alto saxophone. It's so perfect.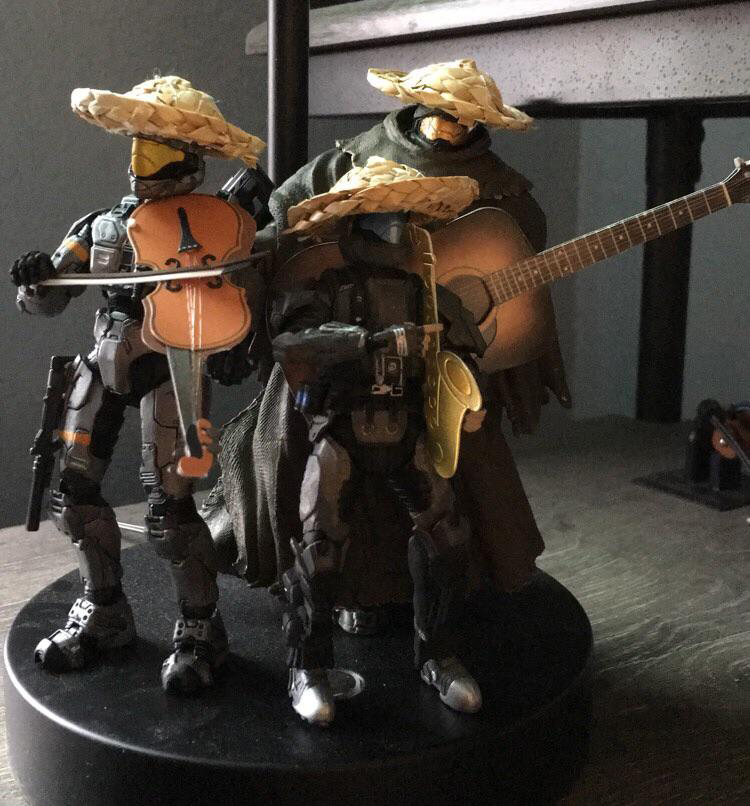 The Pacific Northwest might be gray and overcast a lot but that doesn't mean you can't bring Noble 6 to the beach like @mooreshots__ did here. The lighting turned out really great and worked so well with the armor and stance.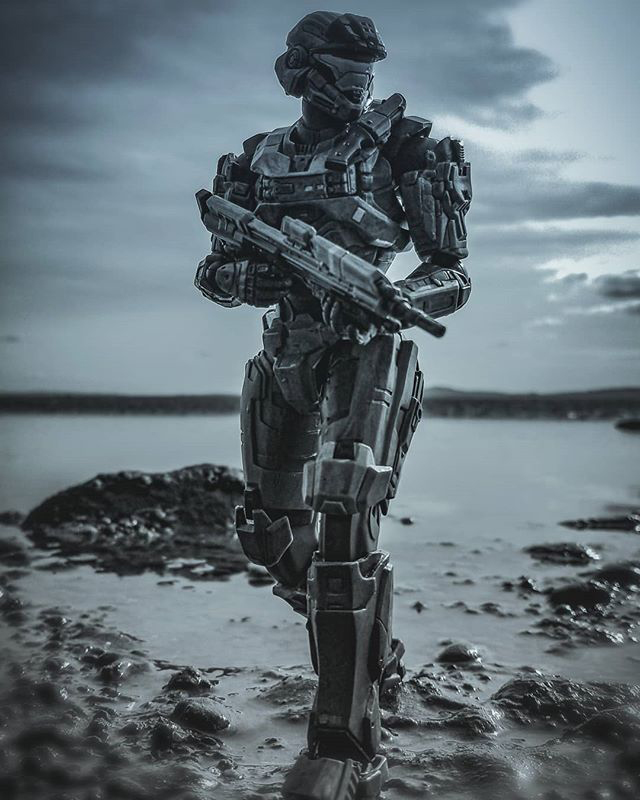 Eye Candy
Remember how I mentioned that some weeks I see a lot of one, but not of another? Last week I had all cosplay, this week this is almost all tattoos. Something about can't have my cake and eat it too, I guess!
Some people prefer small tattoos, or start small and work their way up. Looks like /u/Zaelkyria went big so he didn't have to go home. His new ink has everything you could want in a really unique and badass way. I have no idea how long this took but I'd say it was worth every minute.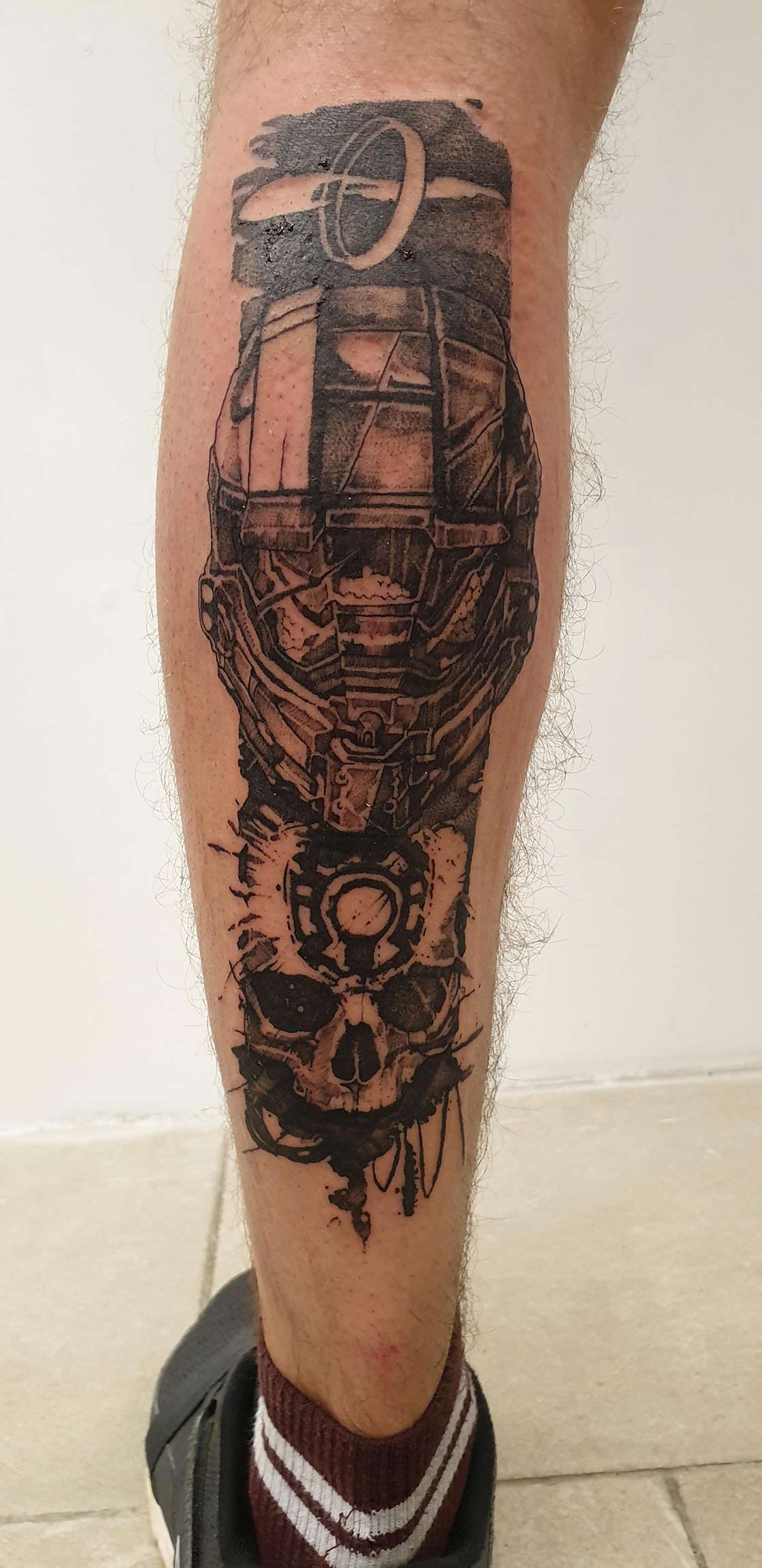 Master Chief is forever the most popular tattoo subject I've seen and I love all the various takes I've seen on it. Check out @crashlee.ink's work for his client. The more tattoos I see, the more it makes me want one, but I'm still too much of a baby.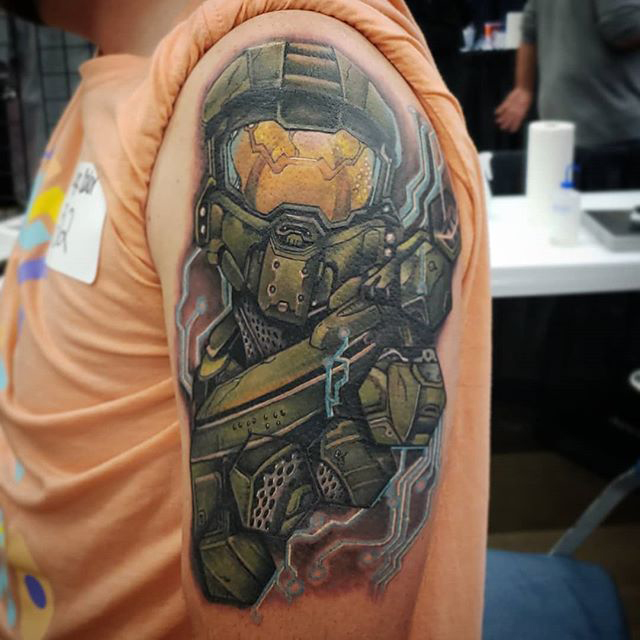 If I ever get around to getting a tattoo it probably will be a watercolor one, so when I saw @icebreaker_live's new ink, I knew I had to include it here. And yes, icebreaker, you're a nerd now. Congrats and welcome to the club. :)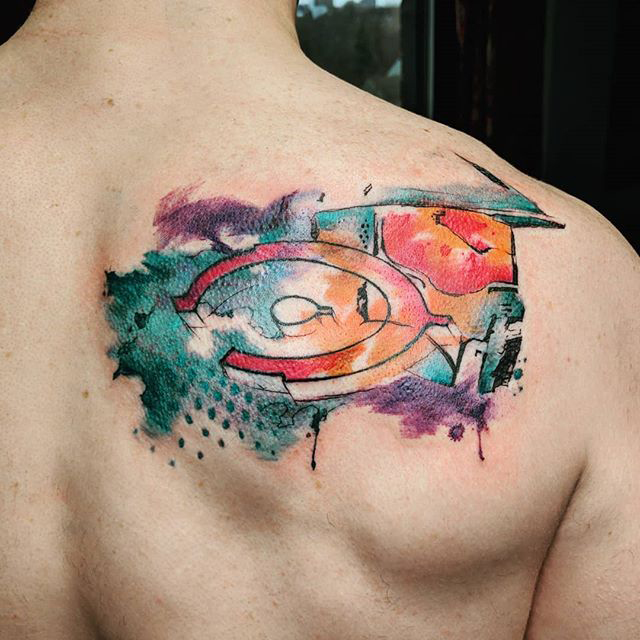 This isn't a full cosplay but I think it totally counts. Even a real life Spartan (or Airman) like WestVegas needs to have some down time to or get no-scopes. Either way, looks cute, might delete later, idk.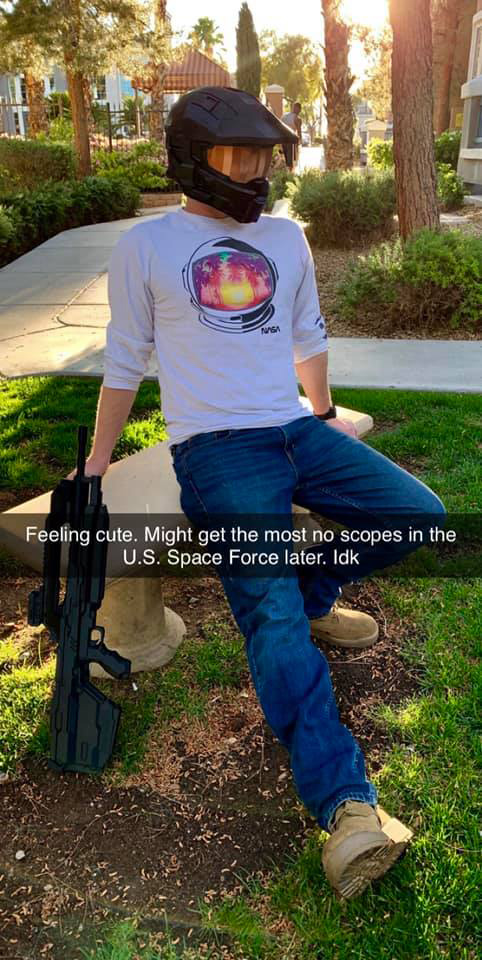 Last, but certainly not least, submission for this week's eye candy is this incredible tattoo by @the_crown_of_bones in Bordeaux, France. I won't even try to talk about how good it is because the work speaks for itself.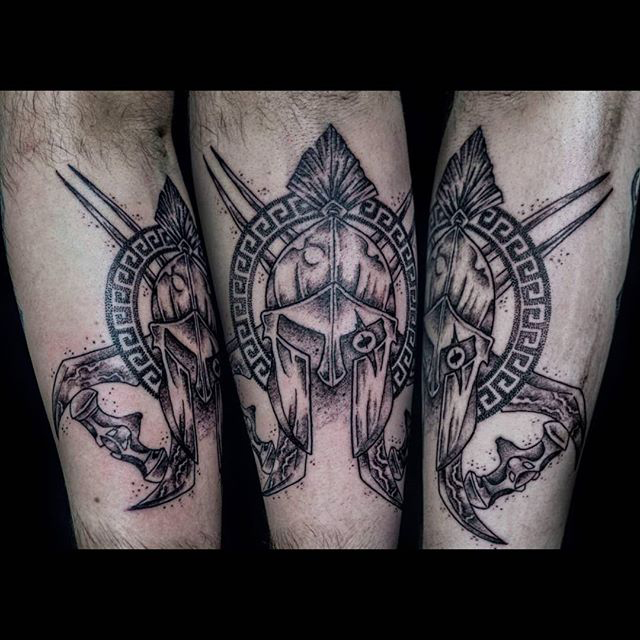 Sweet Rolls
It's finally popcorn time (butter and salt please!) and we have a loaded marquee today.
The crew over at Termacious Trickocity are back, back again. Legend has it that there's a Black Spartan in Halo: Reach's Pillar of Autumn mission. Wait...is it still a legend if it's been found? Anyways. This is really cool and you should give it a gander.
This video by @unsure absolutely blew up my notifications before I got a chance to watch it. Now that I've seen it, I get why. I love this and want more of this please and thanks!
Puckett's Top 10 Plays of the Week is back with Episode 6! Props to @PlazaPlays and @MoodyPlays_ for pulling everything together and making this series happen. Keep it up!
@DevJoe2 share his "Halo Tribute (Remake)" video with us and I thought you would all enjoy it too. It's a little bit of old, mixed with a little bit of new and I think it's quite well done.
I've noticed that people really like to "redesign" all sorts of UI to put their twist on it. Or to imagine what future UI *could* look like. @TheBupinn has shared with us his vision of the Halo Infinite main menu. Remember, this is just his version and envisioning of it, this is not an actual sneak peek or anything of the sort but it's still really awesome and I wanted to share his hard work with everyone.
Later this year, the silver screen will be gracing our presence with Star Wars Ep IX: The Rise of Skywalker. @GriffenMiraflex recreated the RoS trailer...for Halo! I don't watch many movies but I love Star Wars so I really love this and I'm looking forward to seeing the movie done like this come December. ;)
Petits Fours
As always, here's a final assorment of goodies for you to peruse and enjoy!
Doodle's Snickers
I'm just going to present this one from @DeltaHaloCRcore without comment as I think it speaks for itself.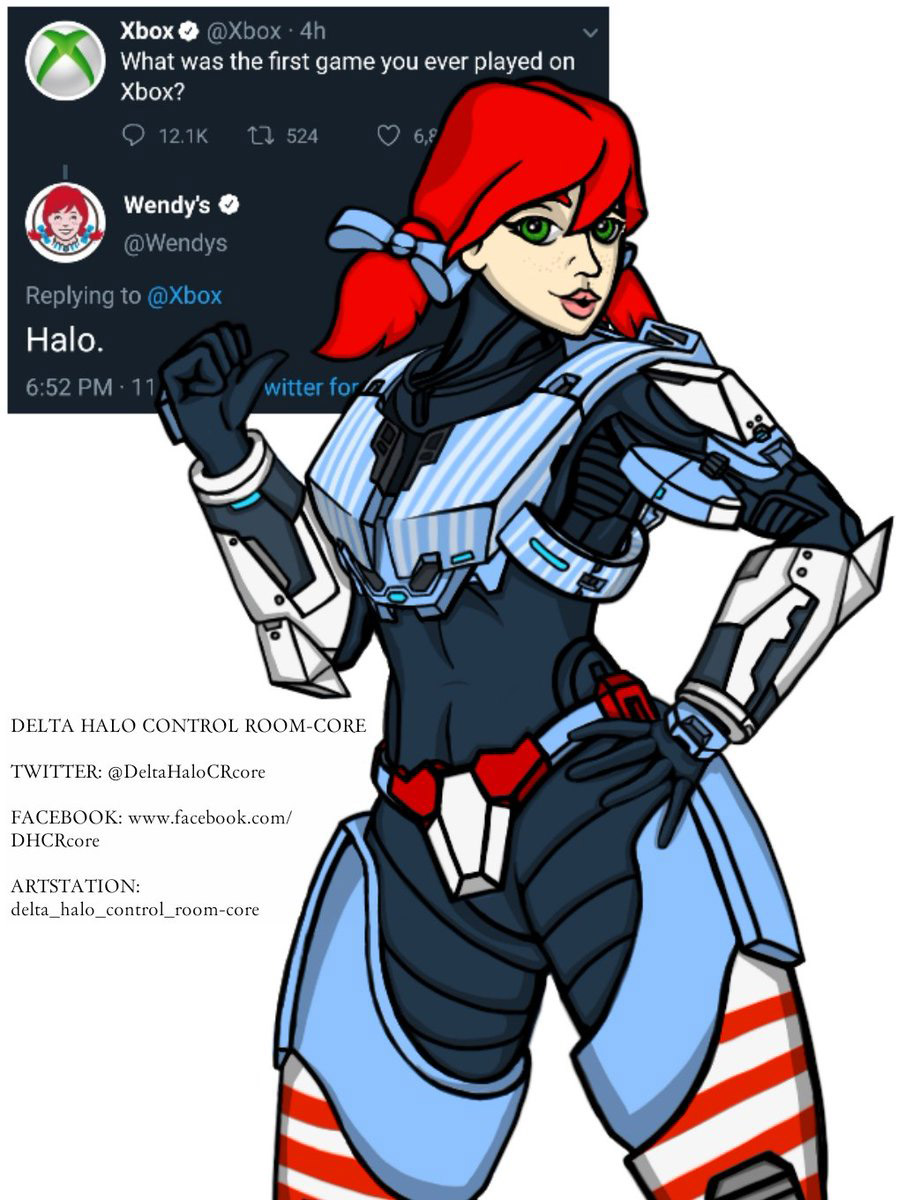 Every time I sit down to write these I always worry, "What am I going to write?" or "Am I going to have enough content?" and then I get to the end and I realize that my worries were all unfounded. There's always far more content than I realize and the words are coming easier with each Spotlight I write. That said, we have reached the end of this week's Community Spotlight so that's all that she (in this case, me!) wrote! If you are featured in here, be sure to send me your Xbox Live Gamertag so we can send you the Fire Unicorn goodies next week.
Until next time!
Ciao! xx
--Sam