It's my birthday (for real this time)! To celebrate, I'm giving you all a present in the form of one last Halo Community Spotlight for the year – how's that sound? I was thinking about these blogs the other day and realized that this blog is my 42nd one since I started at 343. That's a whole heck of a lot of artwork that I've had the opportunity to share with the greater community and the reality is, that's the best present I could have asked for so thank you! We're closing out 2020 with a bang so let's get to it!
CRÈME DE LA CRÈME
I don't know that I really need to wax poetic about @krakenkoalition's Christmas contribution (say that five times fast), do I? Look at how perfect Chief and Cortana look all Peanuts-y. This is super precious and I absolutely adore it.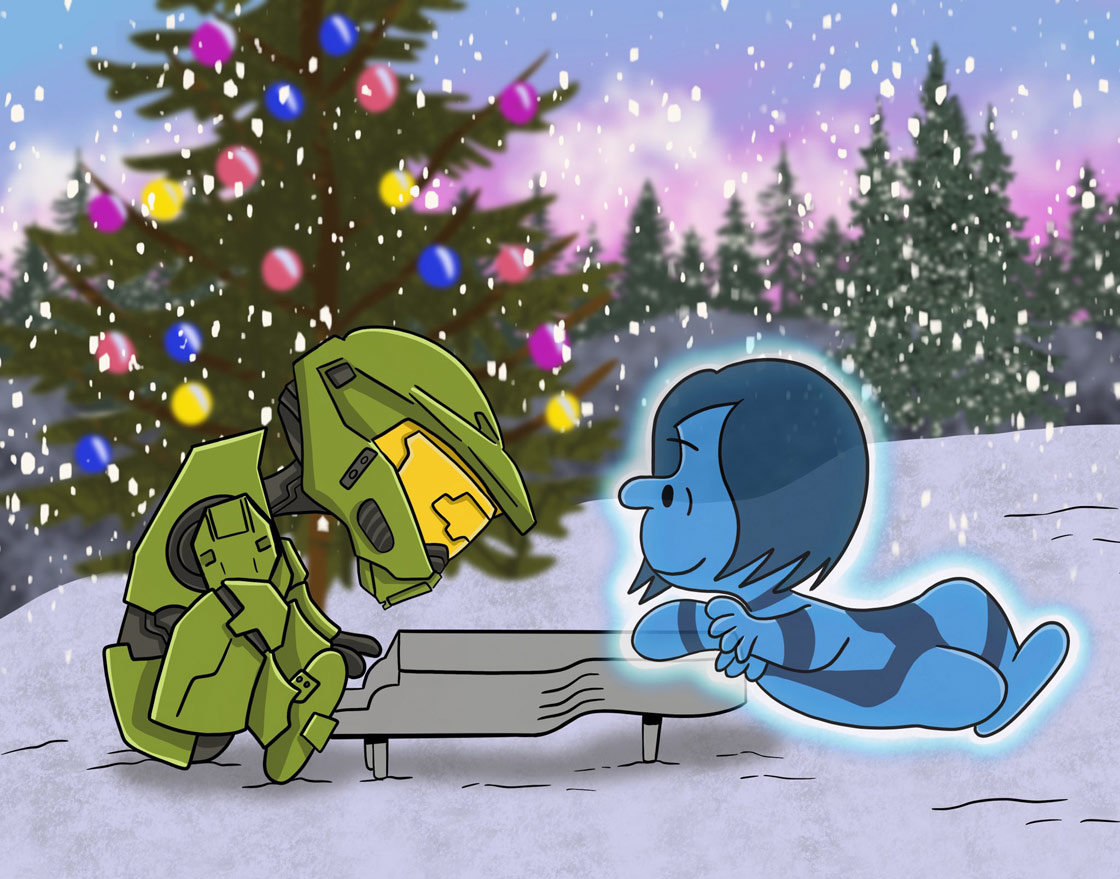 Snack Break
Well. I can honestly say this video I found was not at all what I was looking for but it's definitely what I needed, apparently. Watching this house light up along to the beat of the Halo 2 theme song is amazing. Luminous Harmony did an incredible job and if this and Chief/Cortana Peanuts doesn't get you in the Christmas mood, I don't know what will.
Snicker's Doodles
There's a lot of Christmas cheer this week and it's all brought a smile to my face. I hope you enjoy it as well!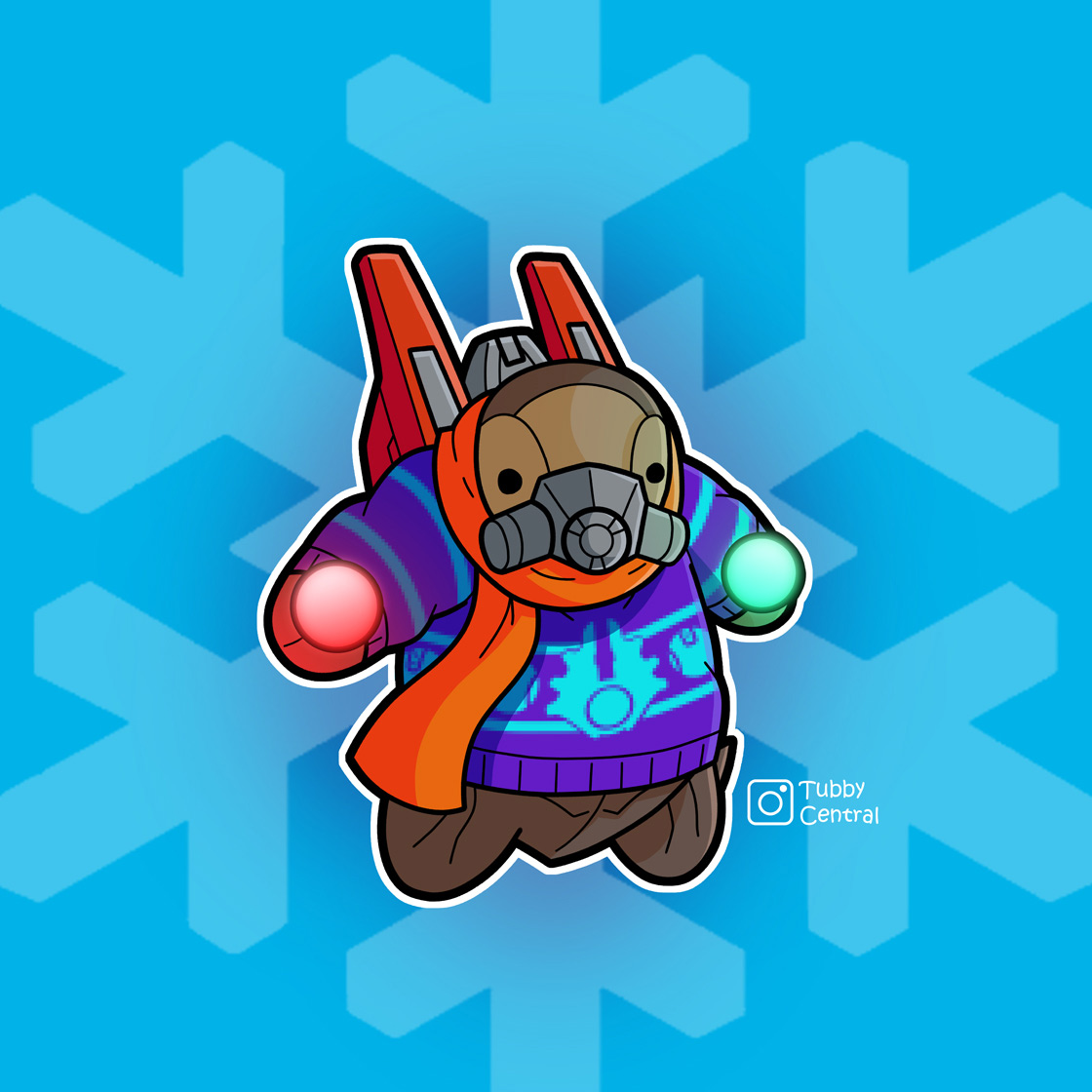 Christmas Grunt, /u/Tubby_Central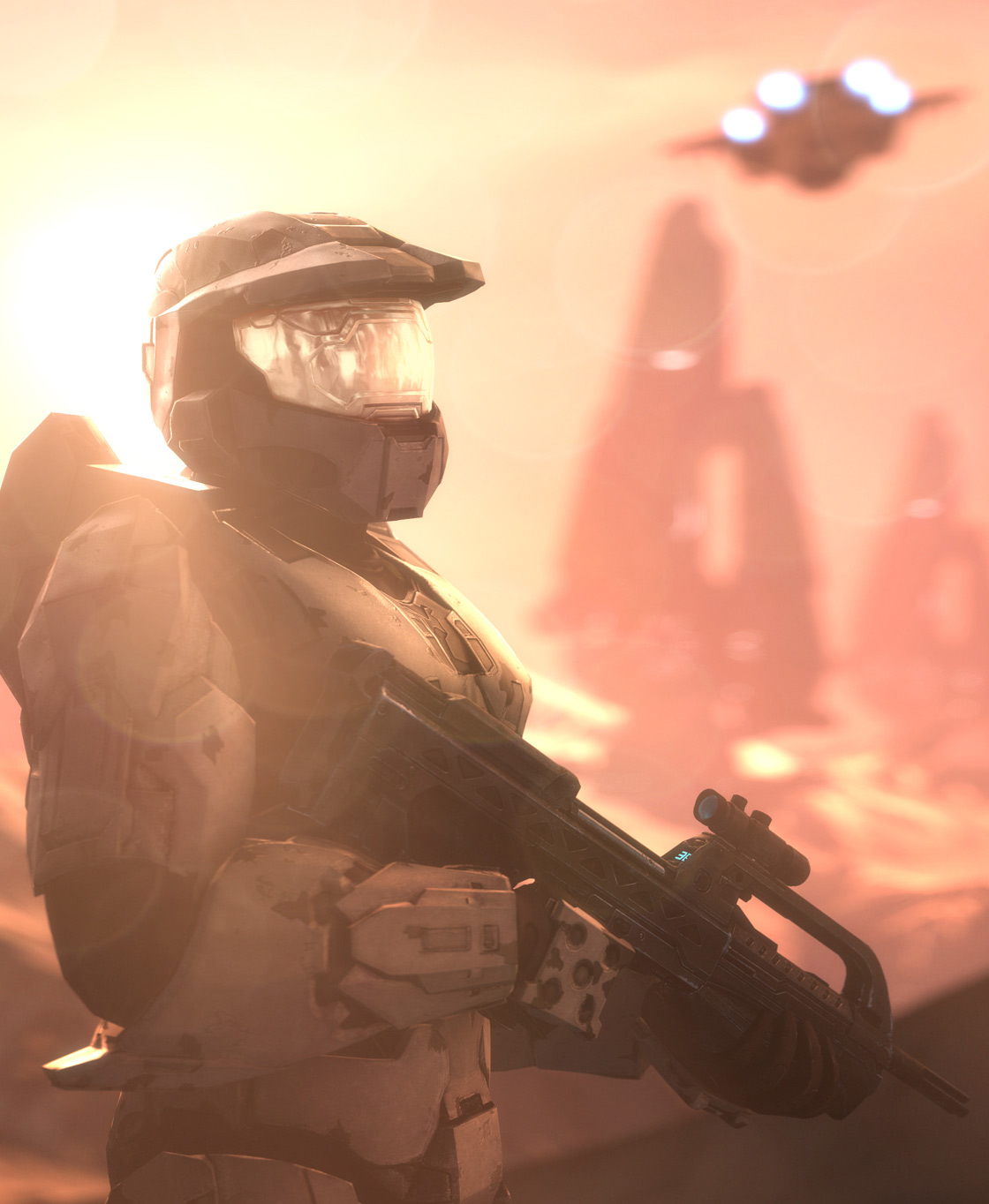 Spartan, /u/schments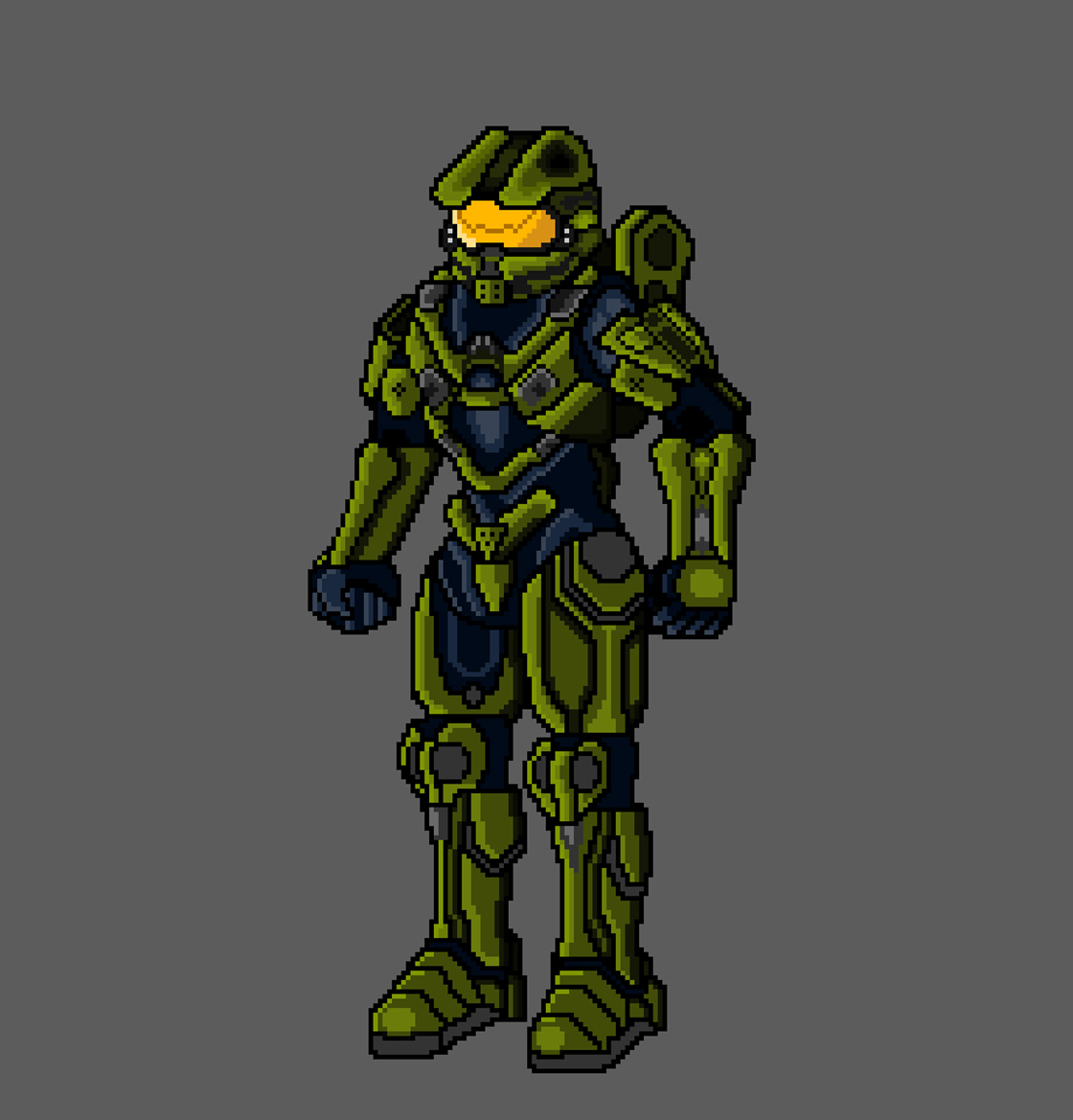 Pixel Master Chief, /u/Sir_Galahad_Deschain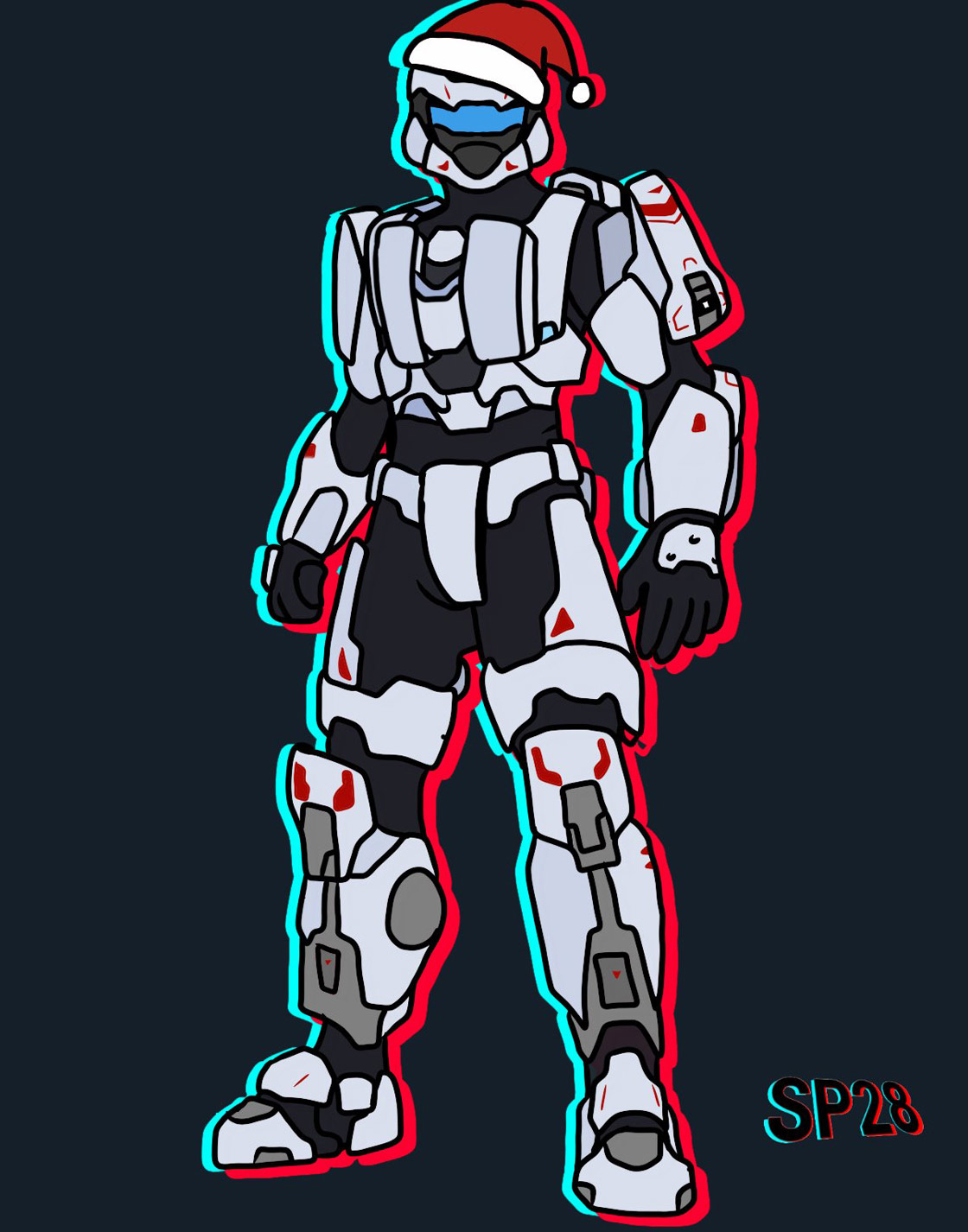 Sarah Palmer (but Christmas), @Stryker_P28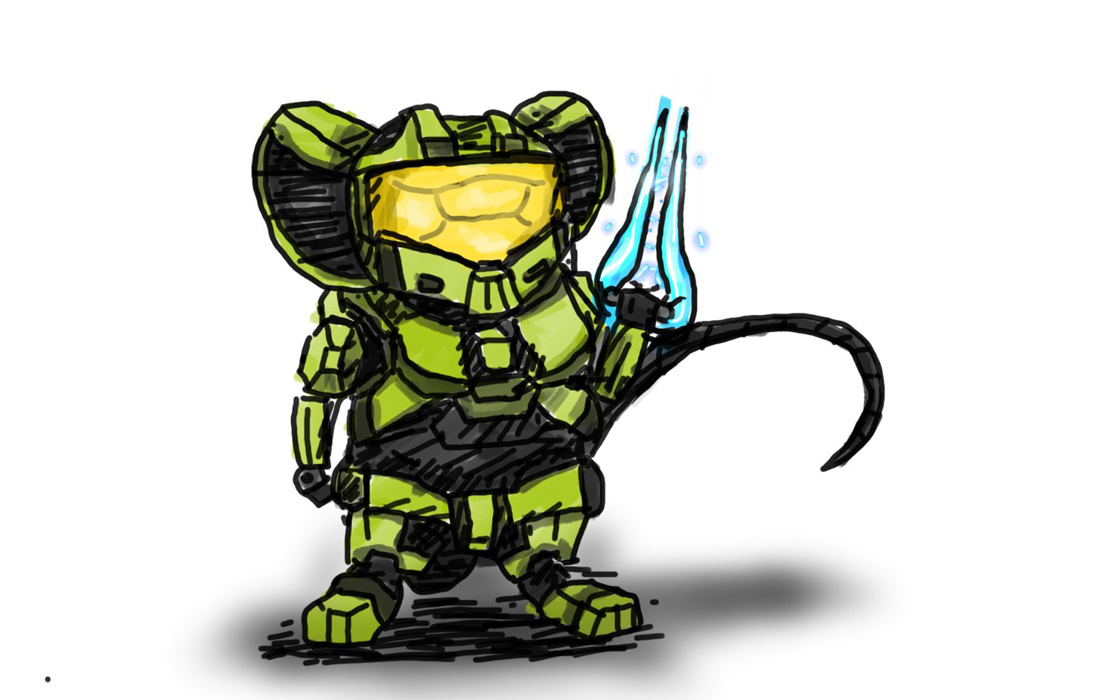 Mouster Chief, @TitustheDaniel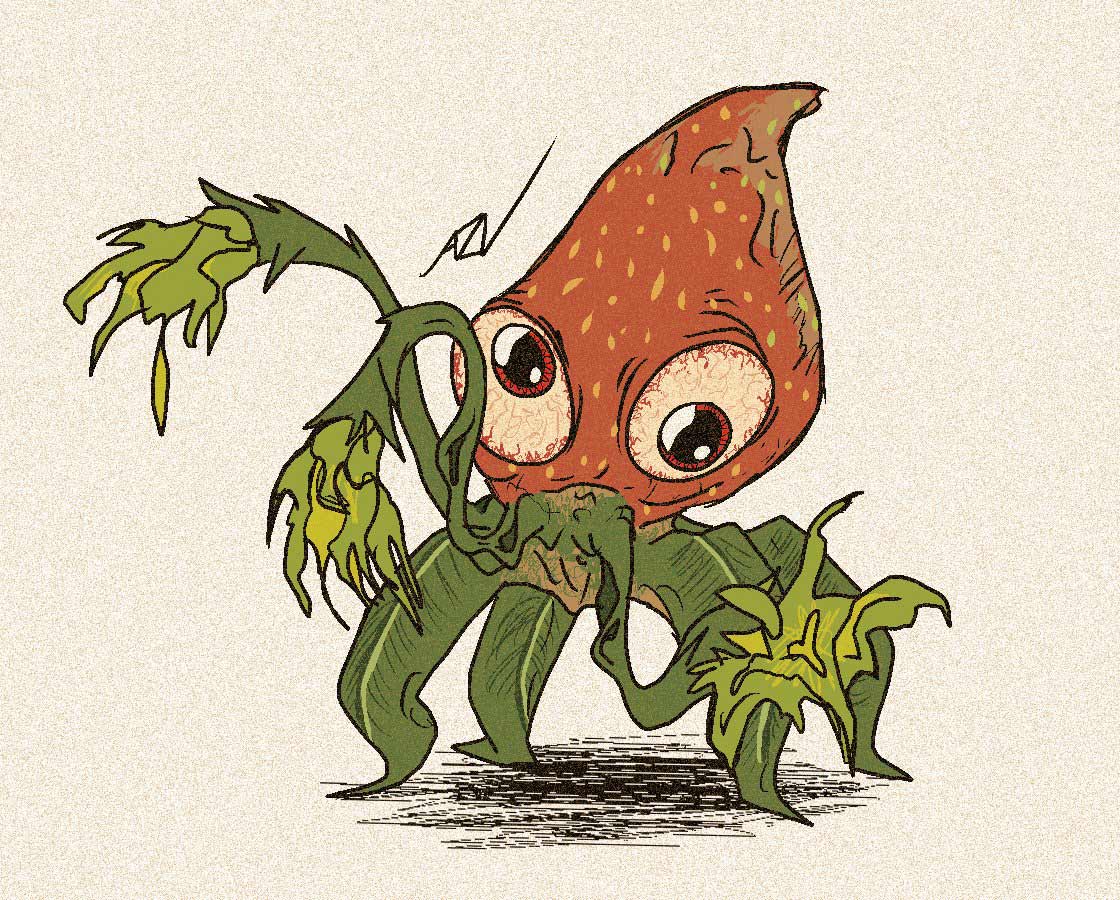 Floodsnax, @scrungusdoodles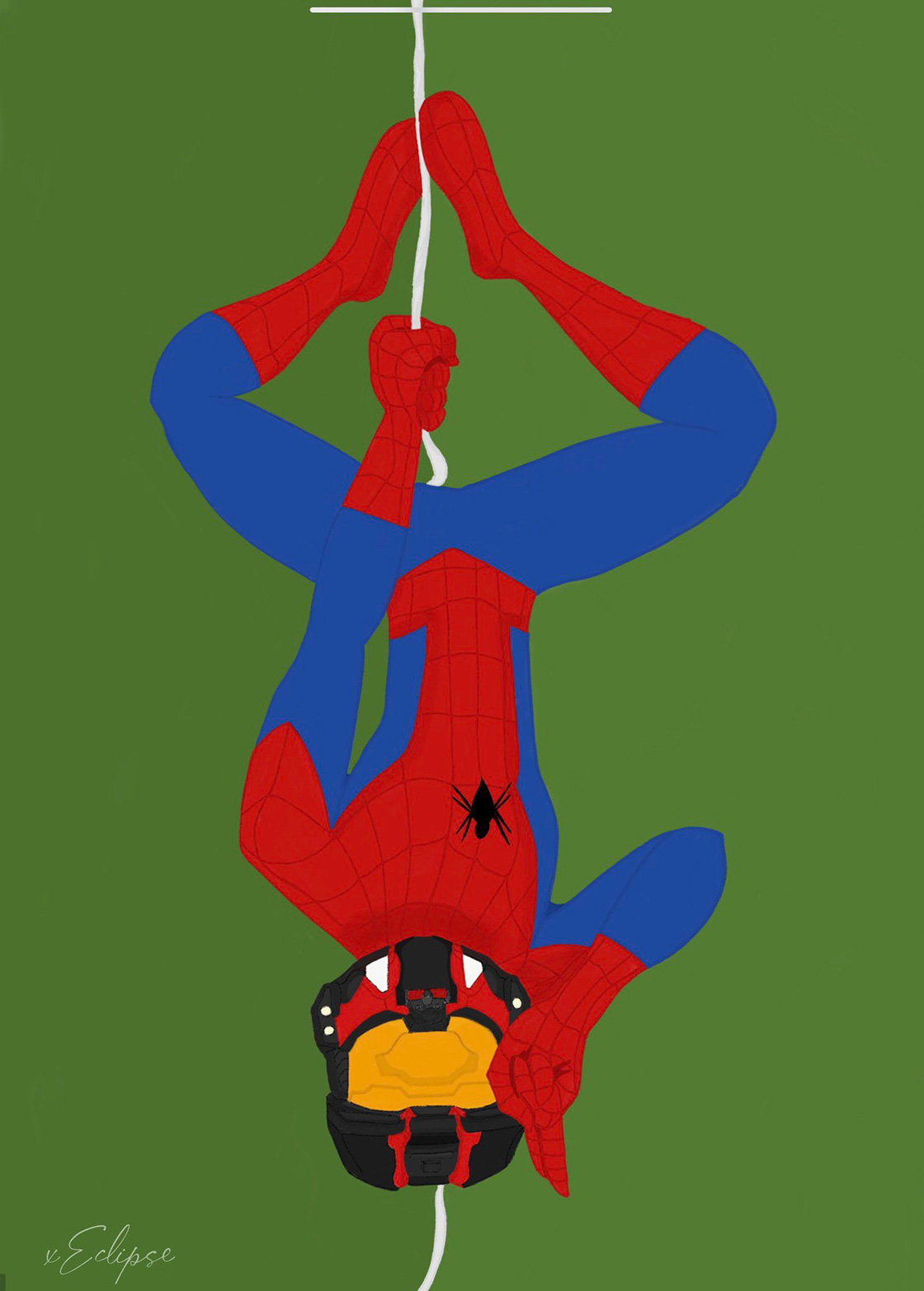 Spidey-Spartan, @xeclipse_so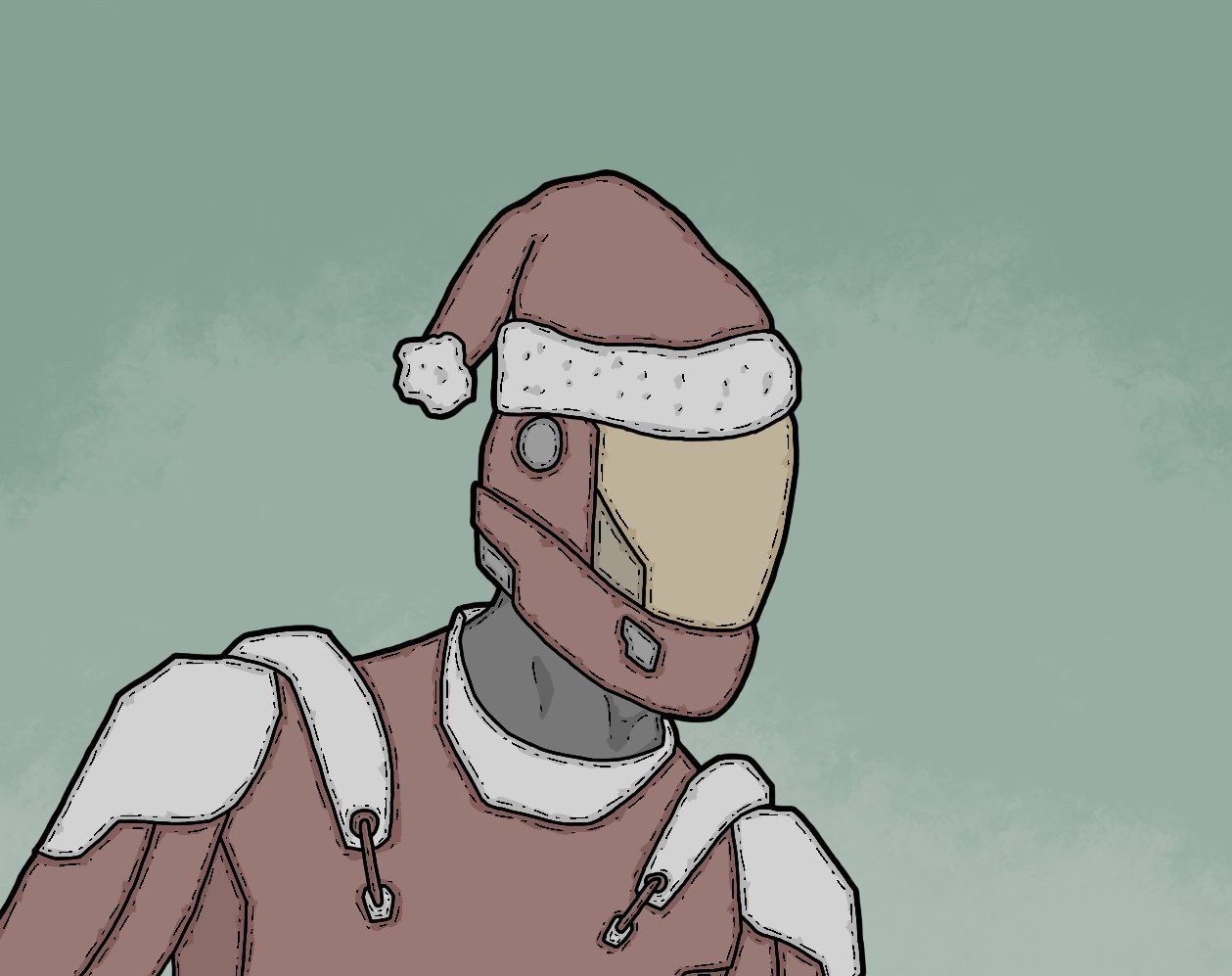 Spartan III, @GergelySzocs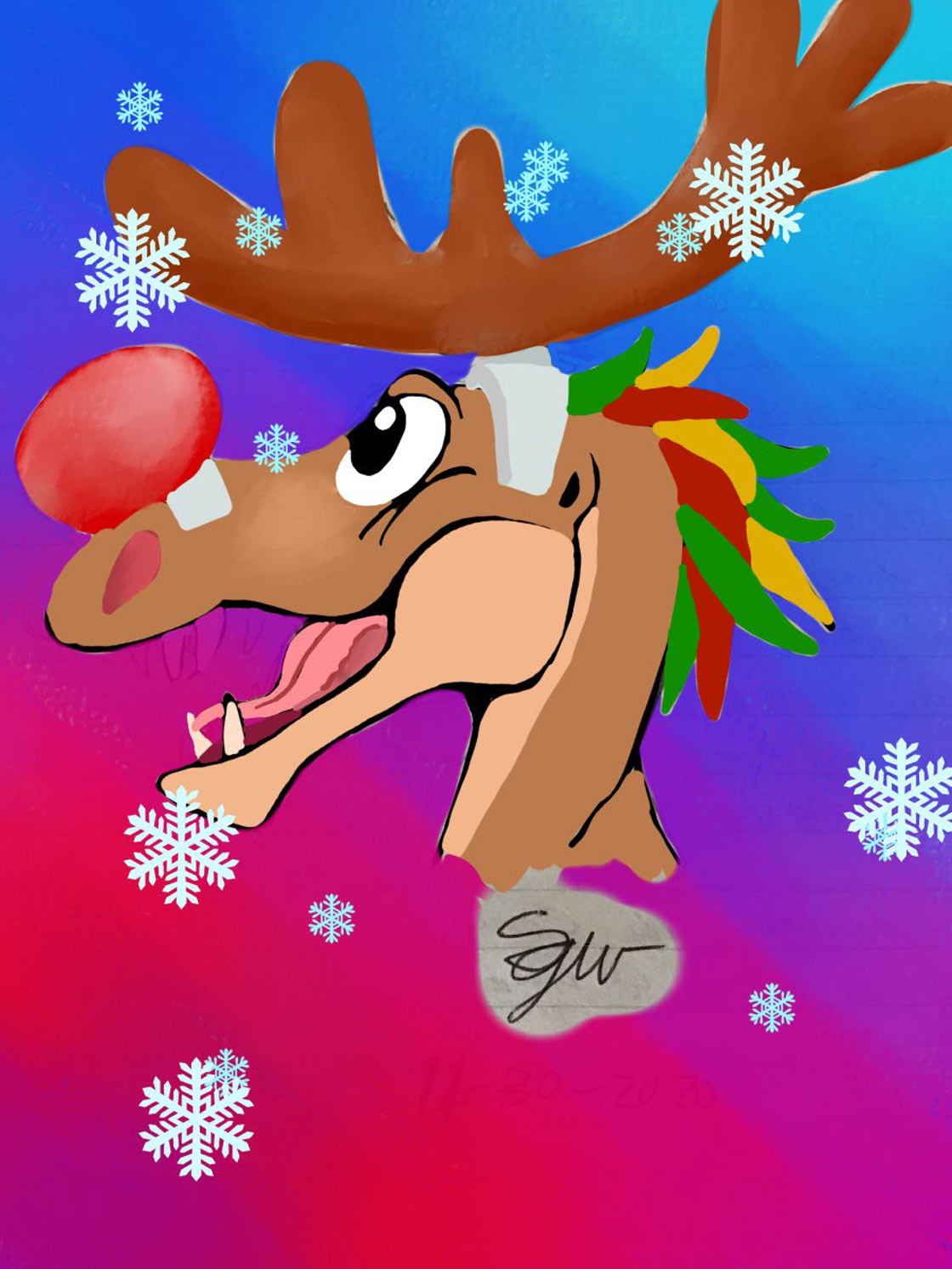 Rudolph the Red Nosed Jackal, @sarahwlsh508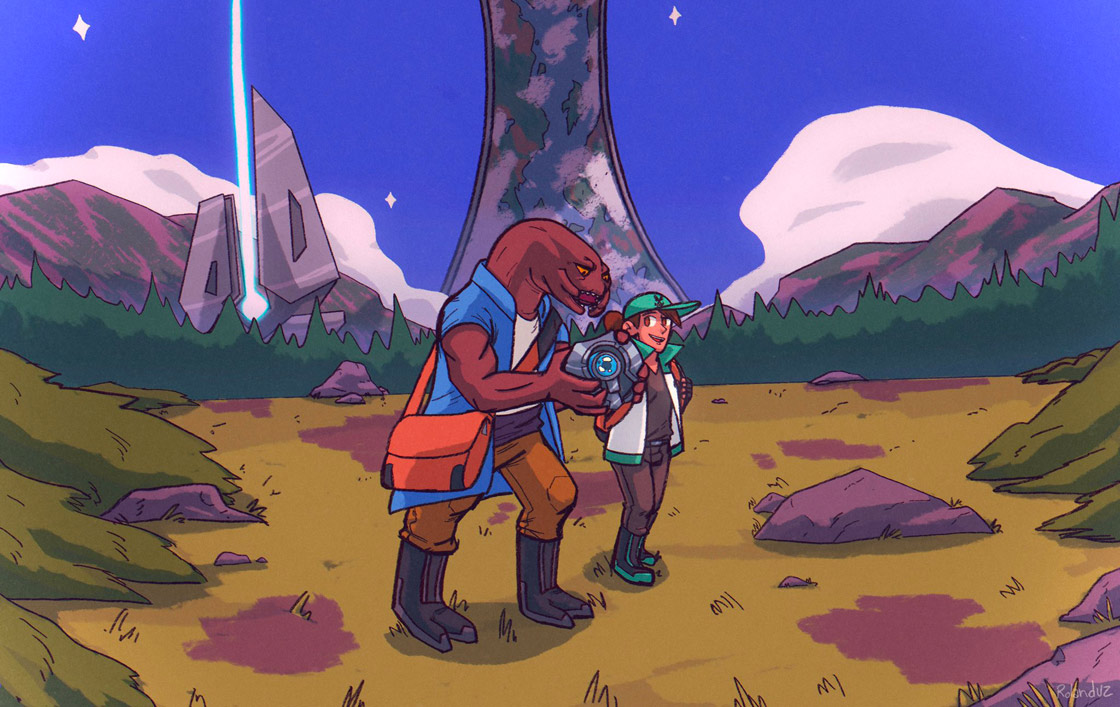 How does this turn on?, @Rolandvz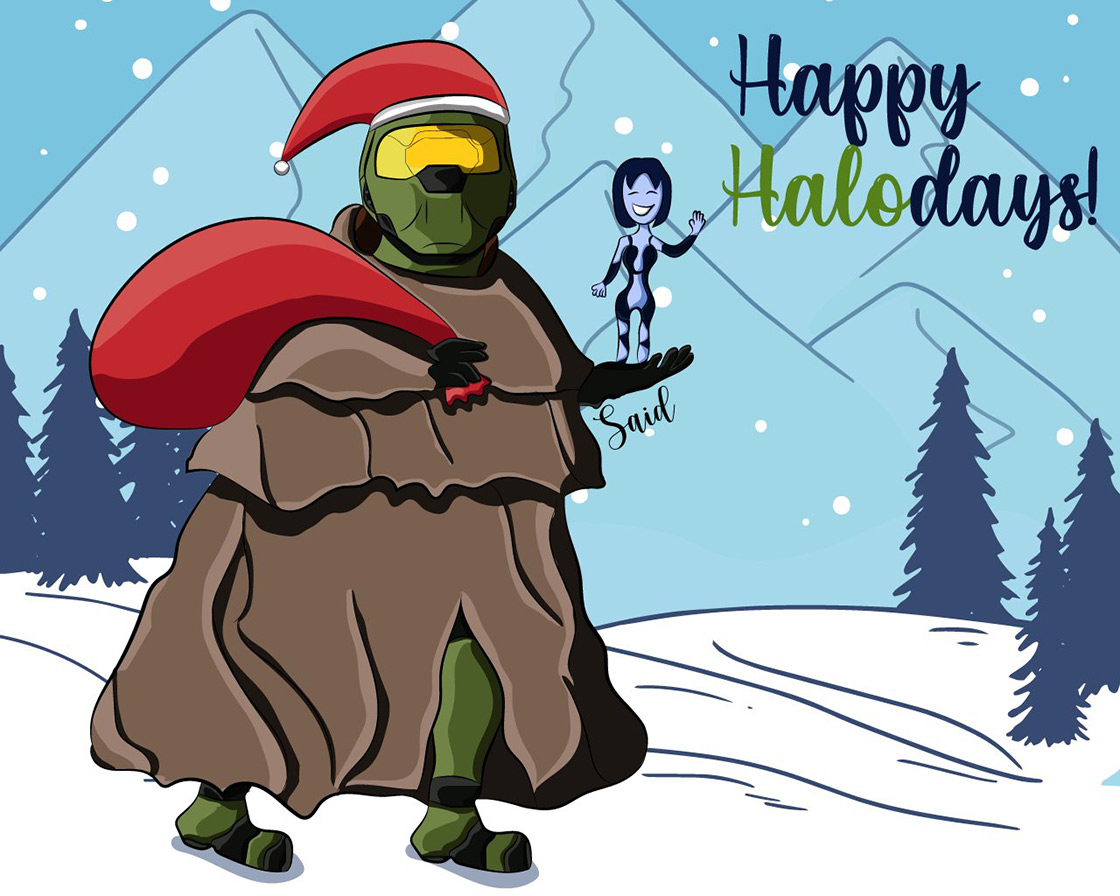 Happy Halodays, @lari_said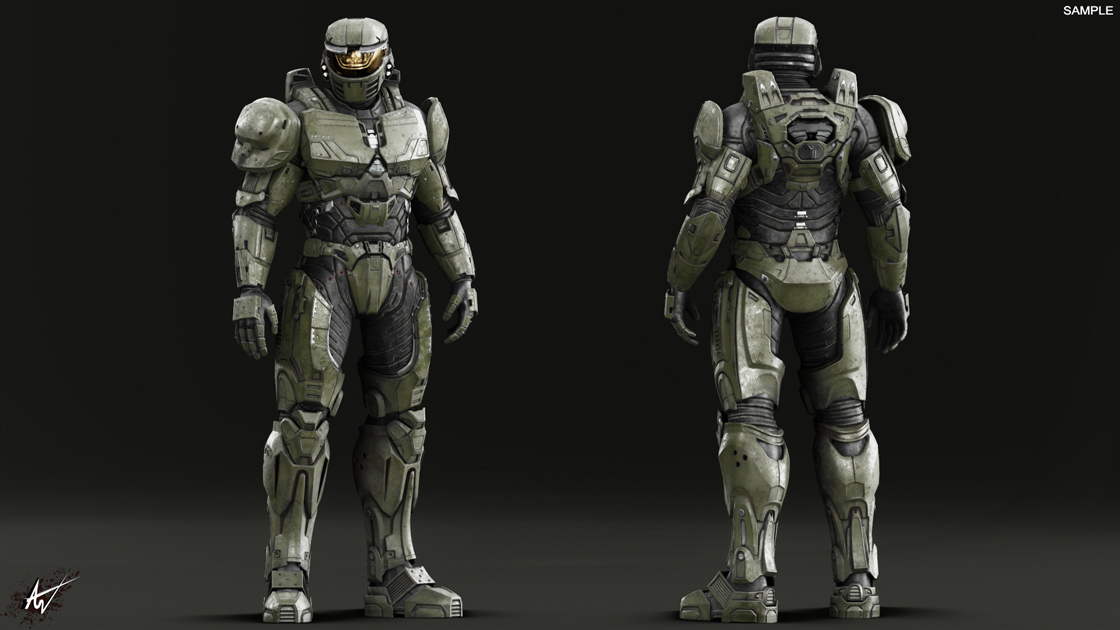 Halo Wars Spartan Mk IV, @AbiSV1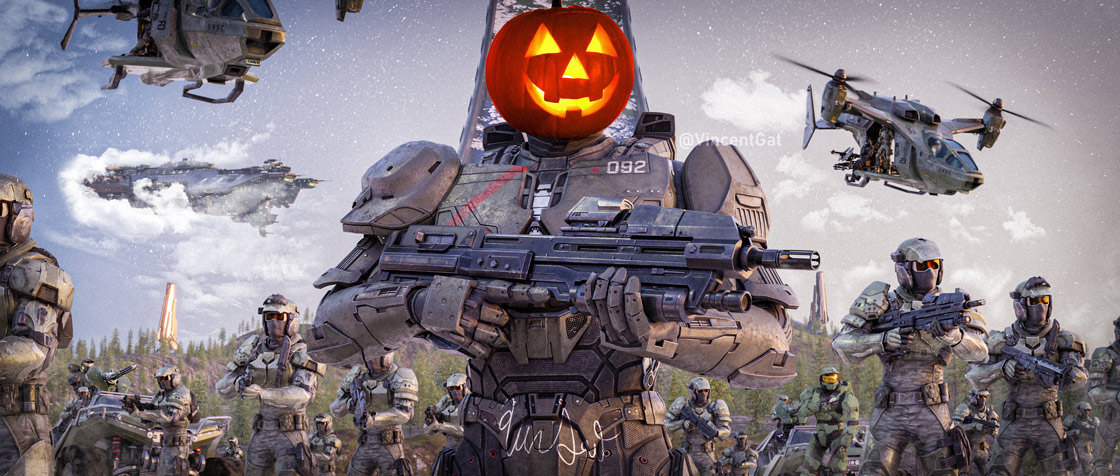 Red Team, @VincentGat
(I asked for Santa hats. Close enough.)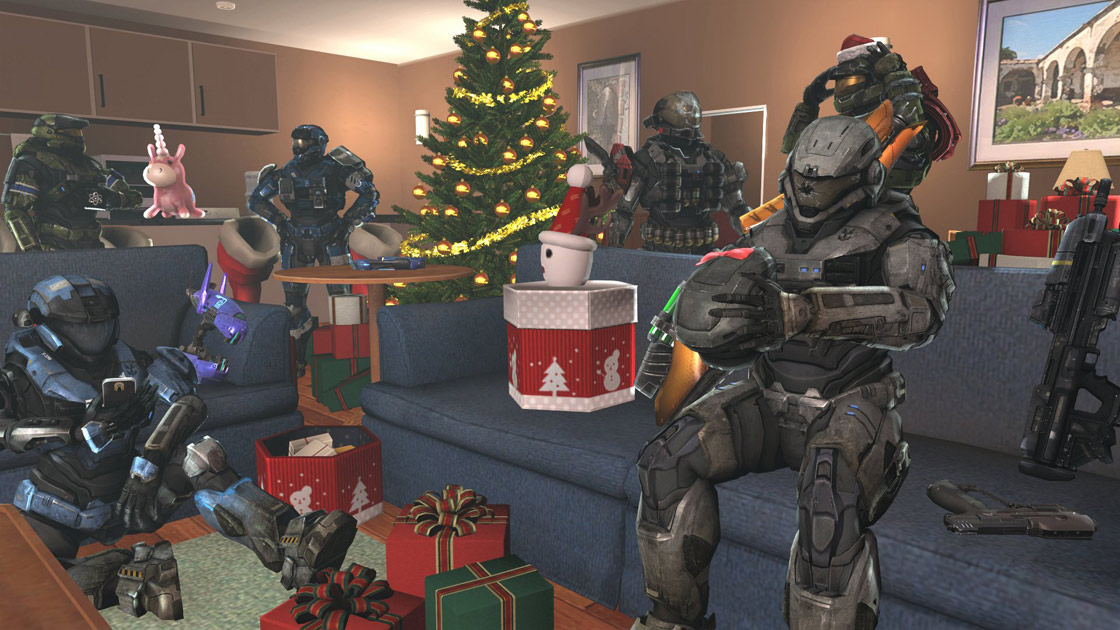 A Very Noble Christmas, @spoopymeat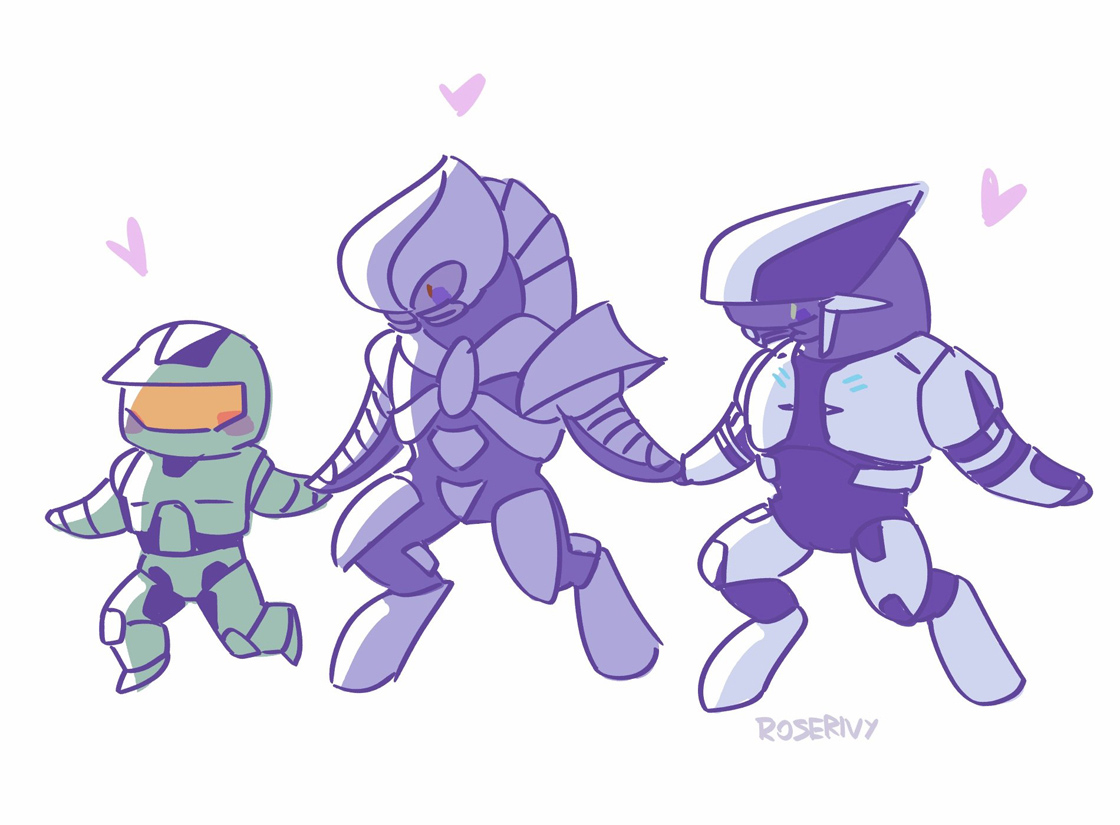 Arbiter and Friends, @R0serivy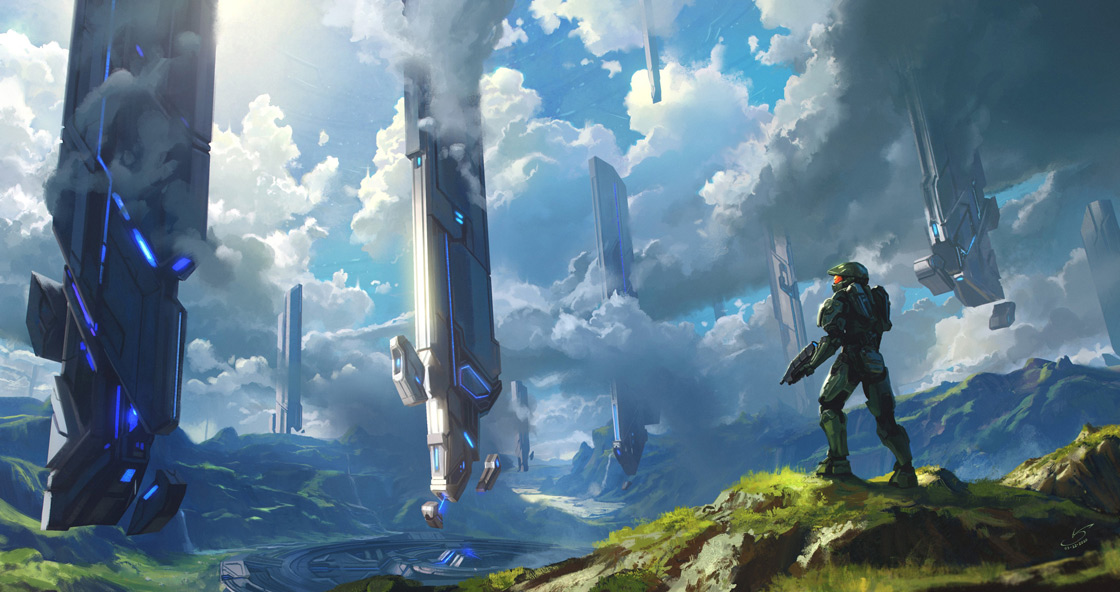 Requiem, @vsalesv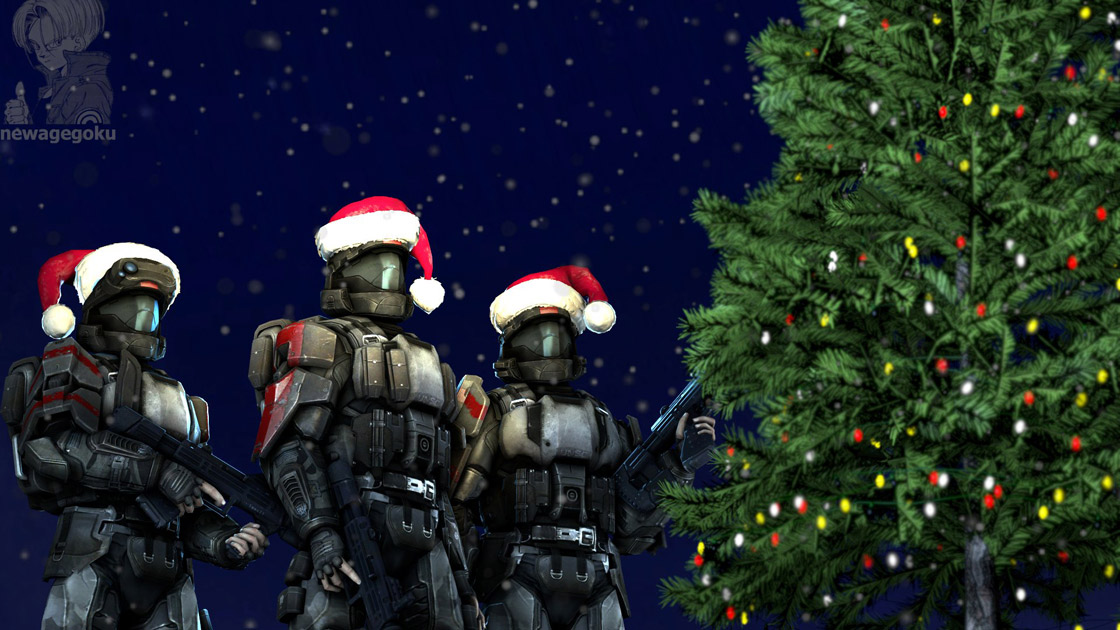 Deference for Christmas, @newagegoku1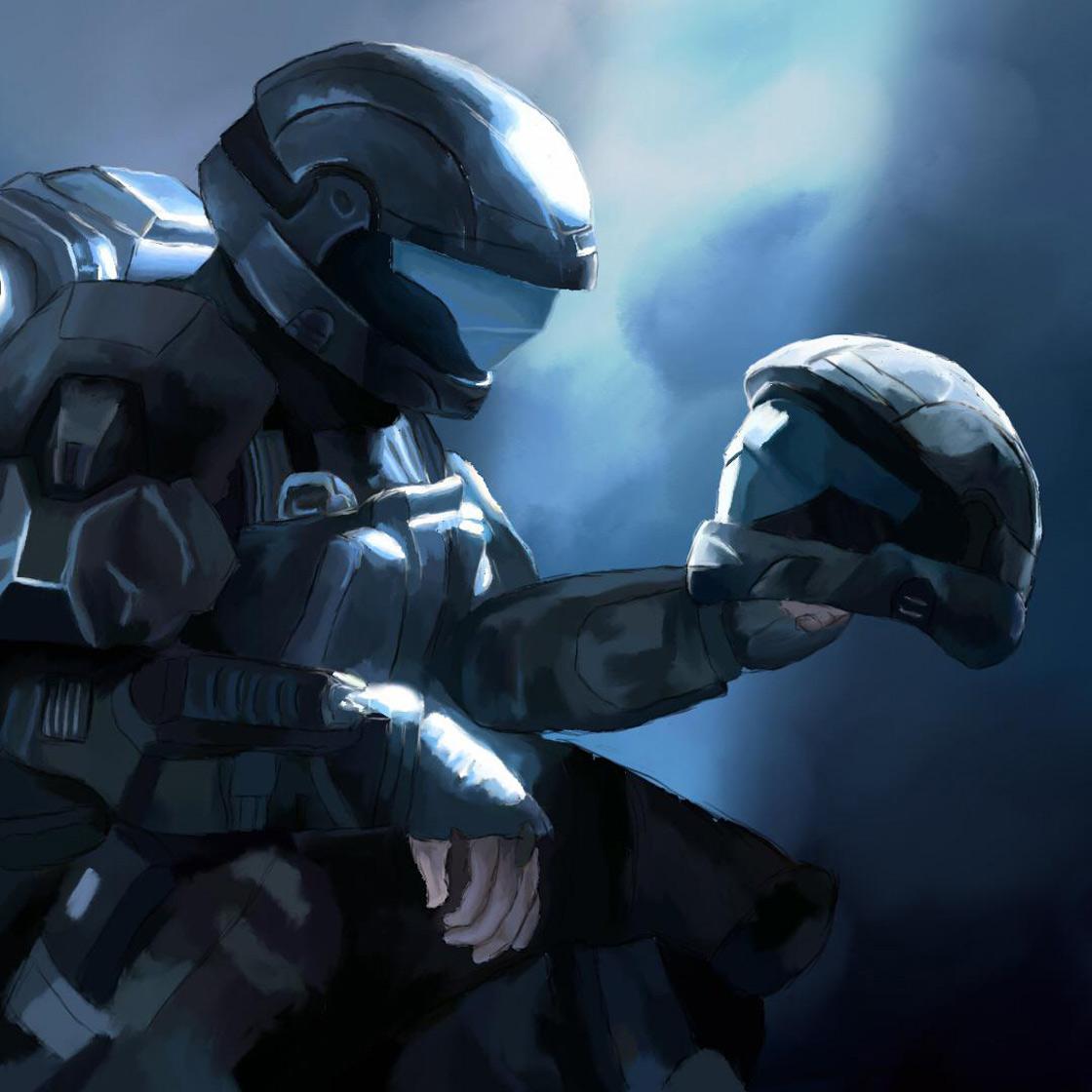 No Stone Unturned, /u/BasicallyMikeSteel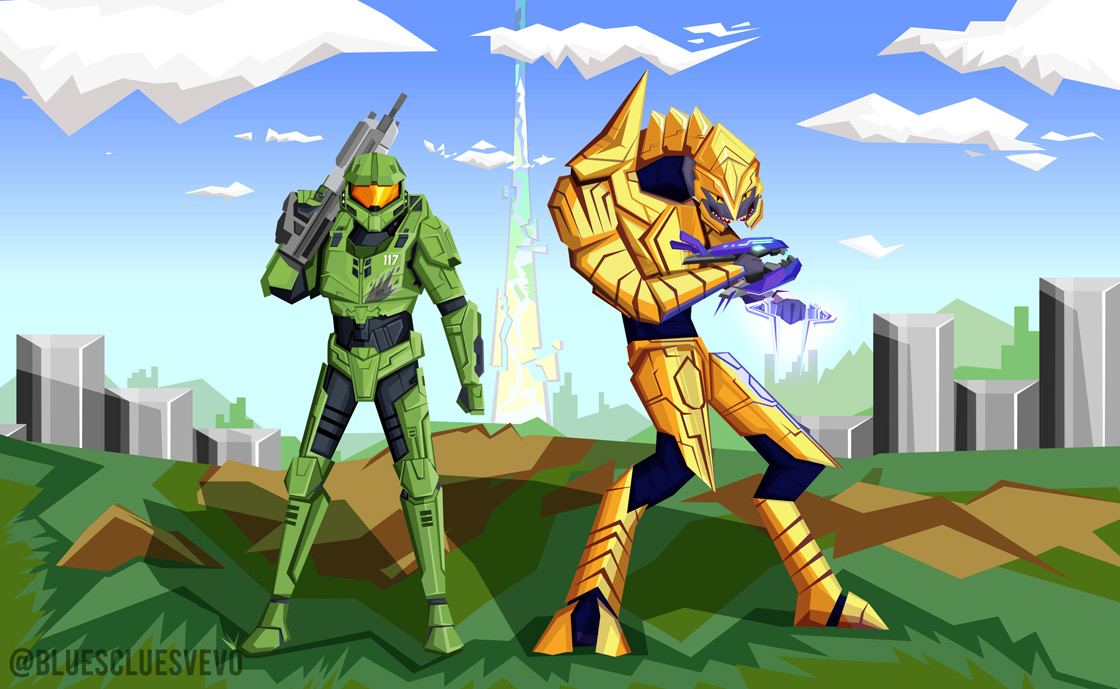 Master Chief and Arbiter, /u/BlueGhost_7

Alien, @BirdNinjaArt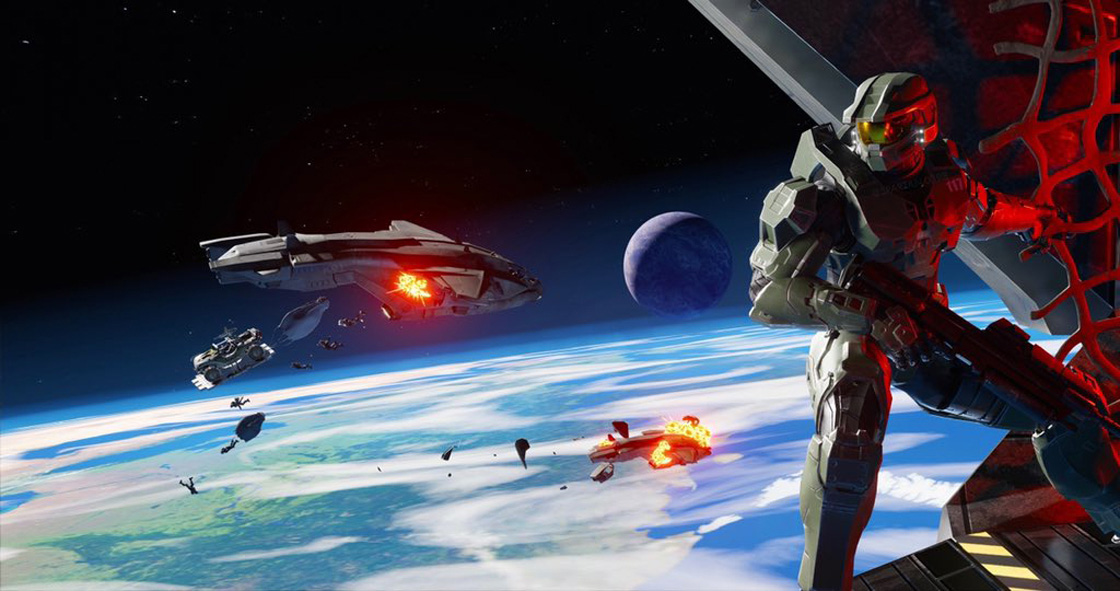 Drop, @Bahaiel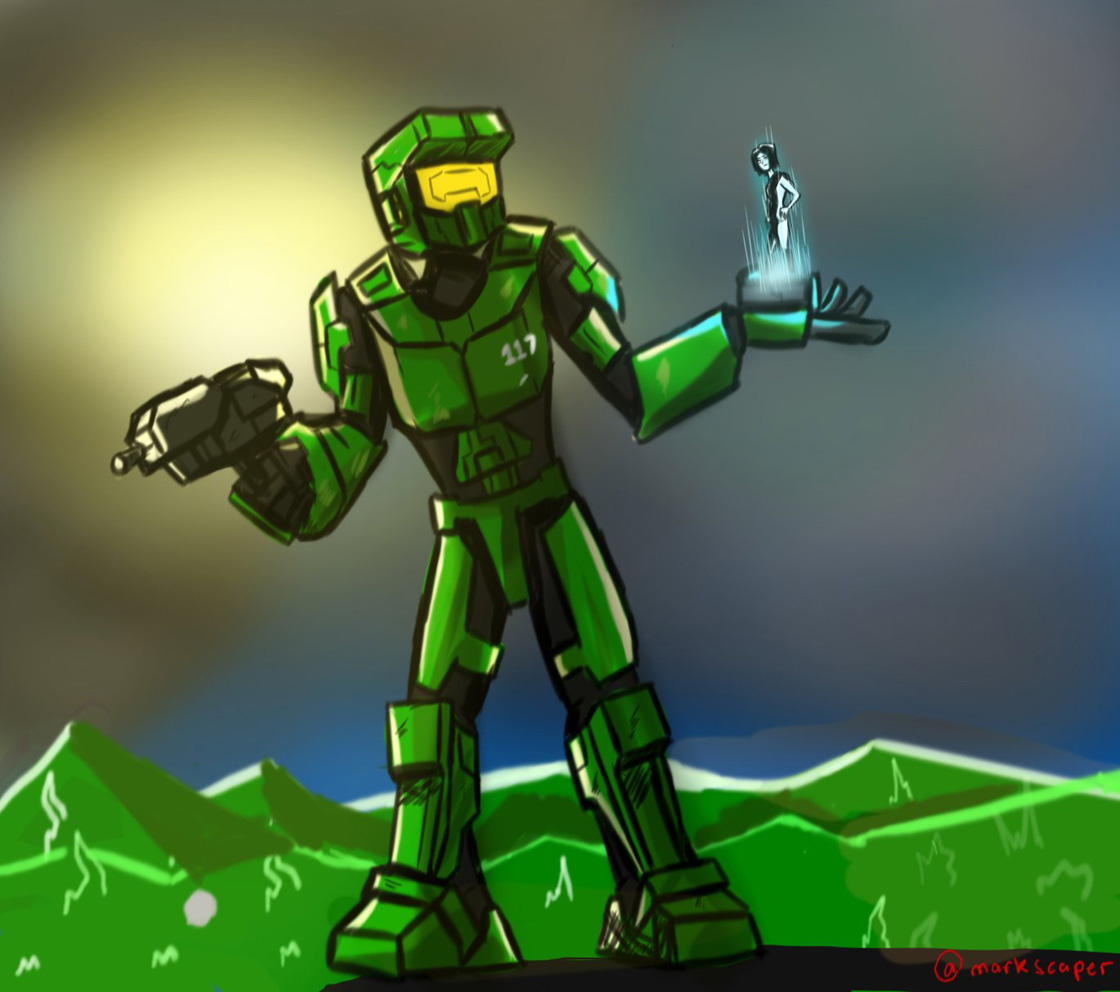 Master Chief and Cortana, @markscaper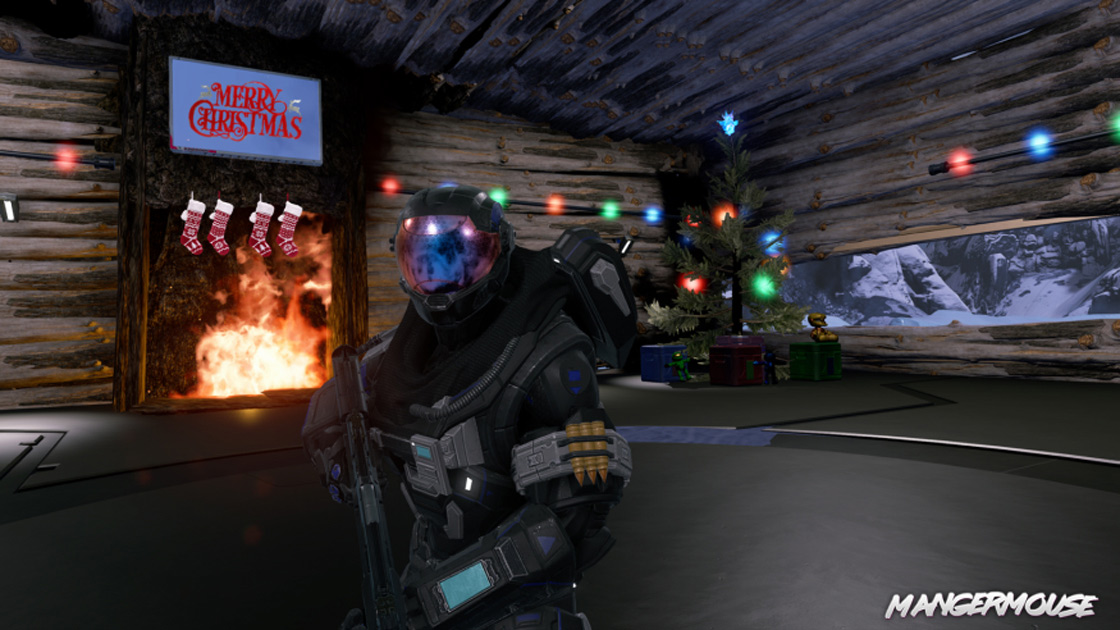 Halo Christmas Card, @Mangermouse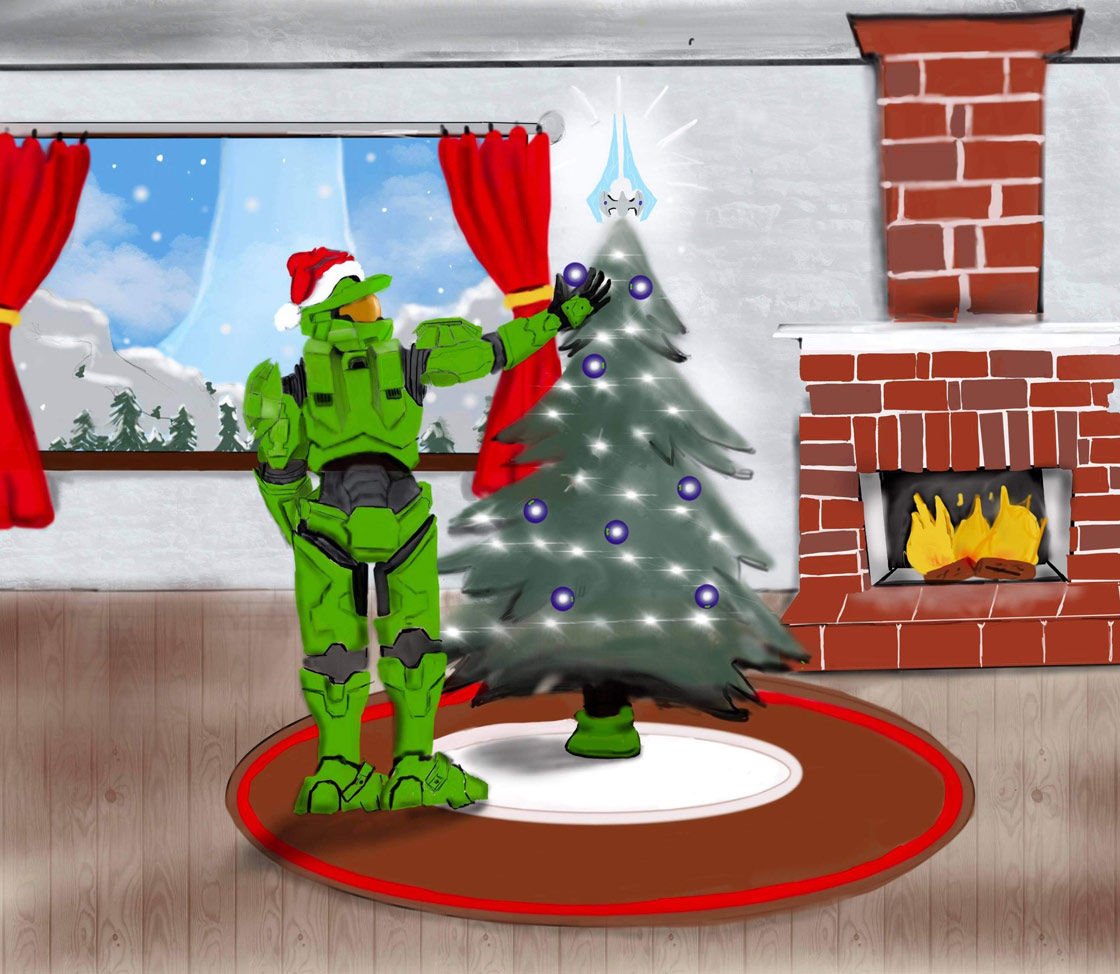 There's No Place Like Halo for the Holidays, @InaDayorTwooooo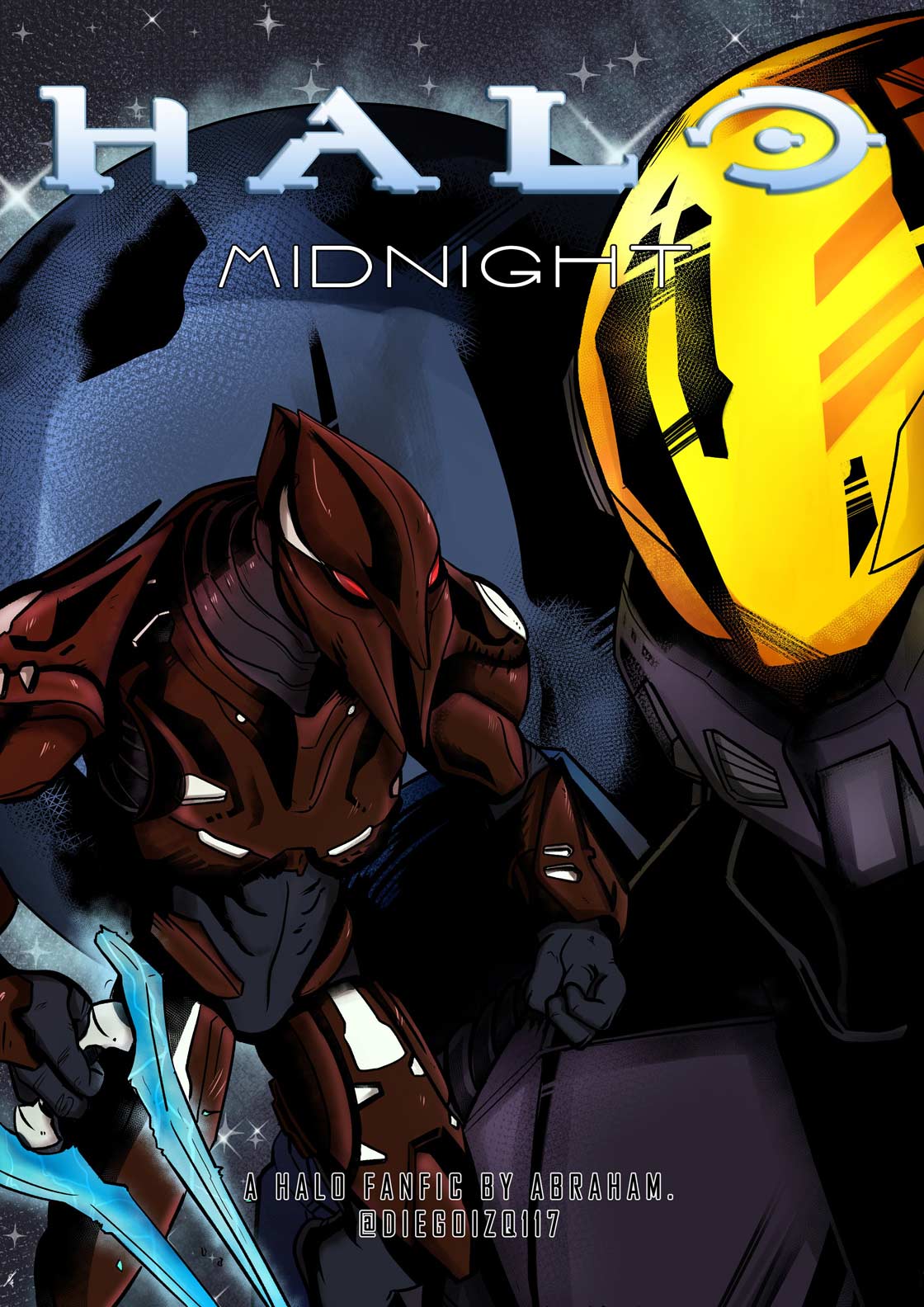 Halo Midnight, @DiegoIzq117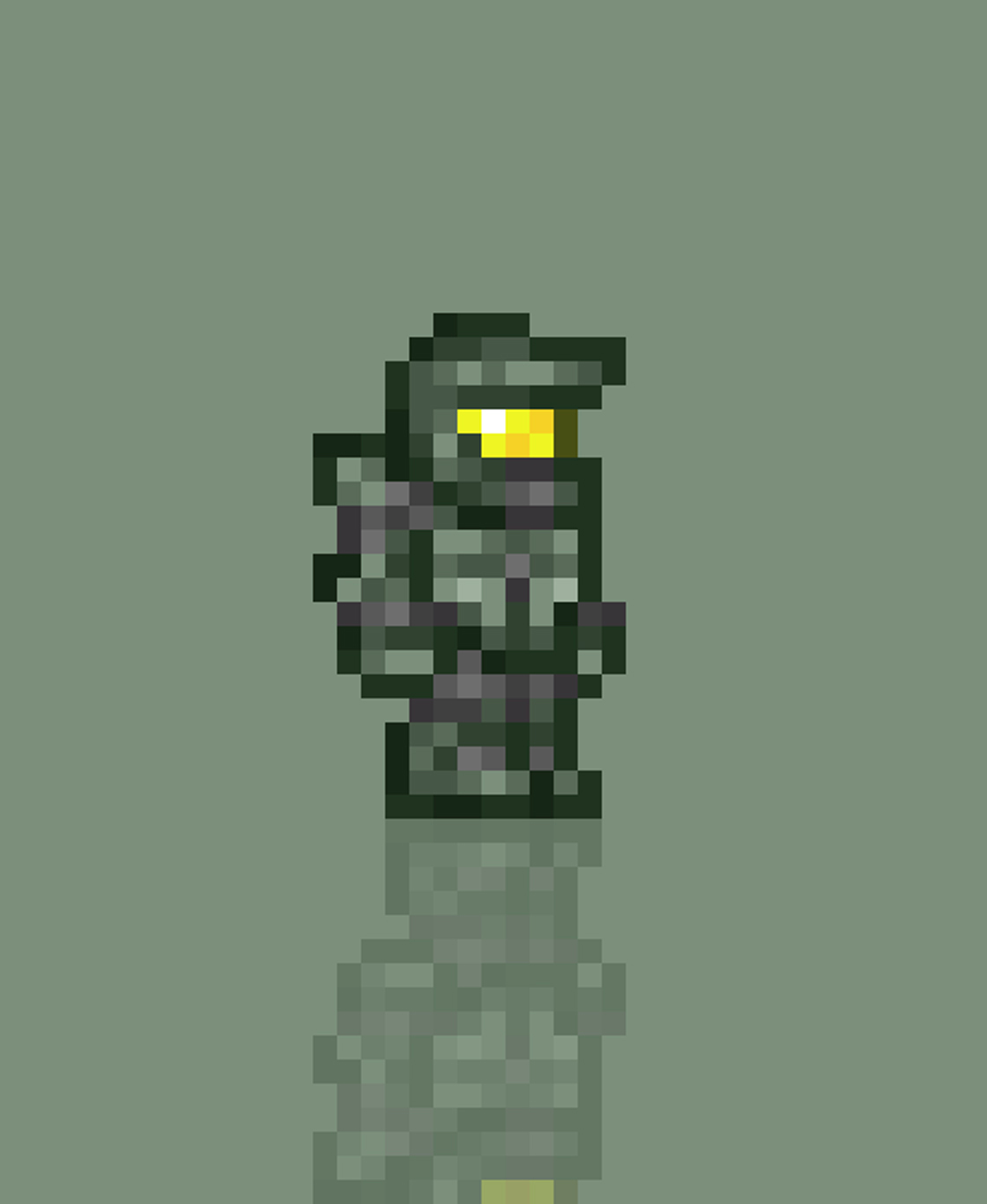 Terraria Master Chief, /u/Demigodish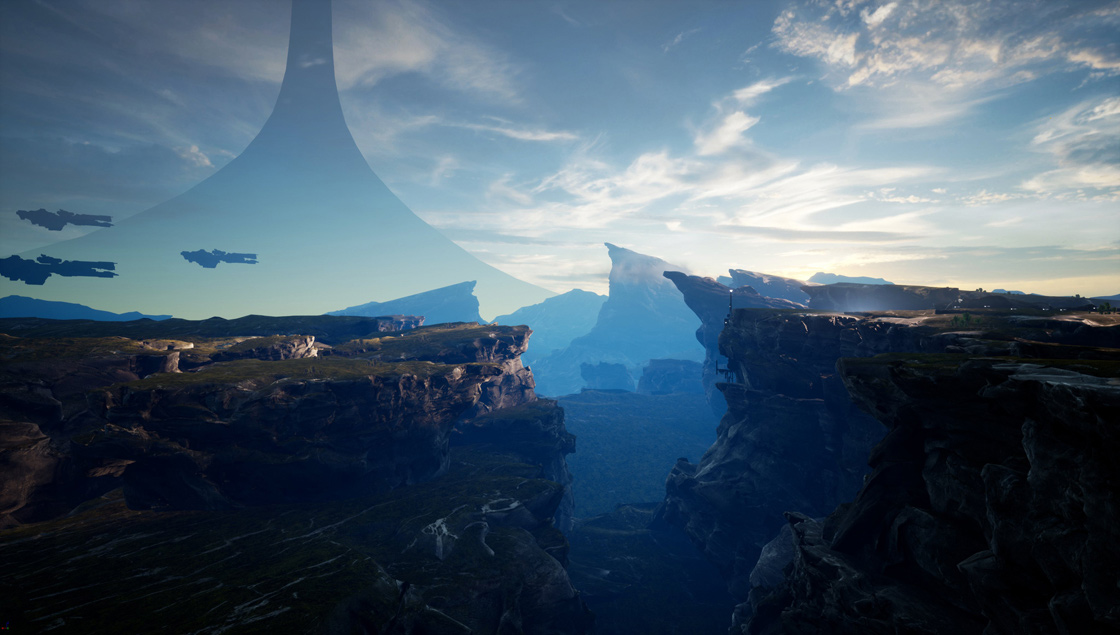 Halo, @Construct_Games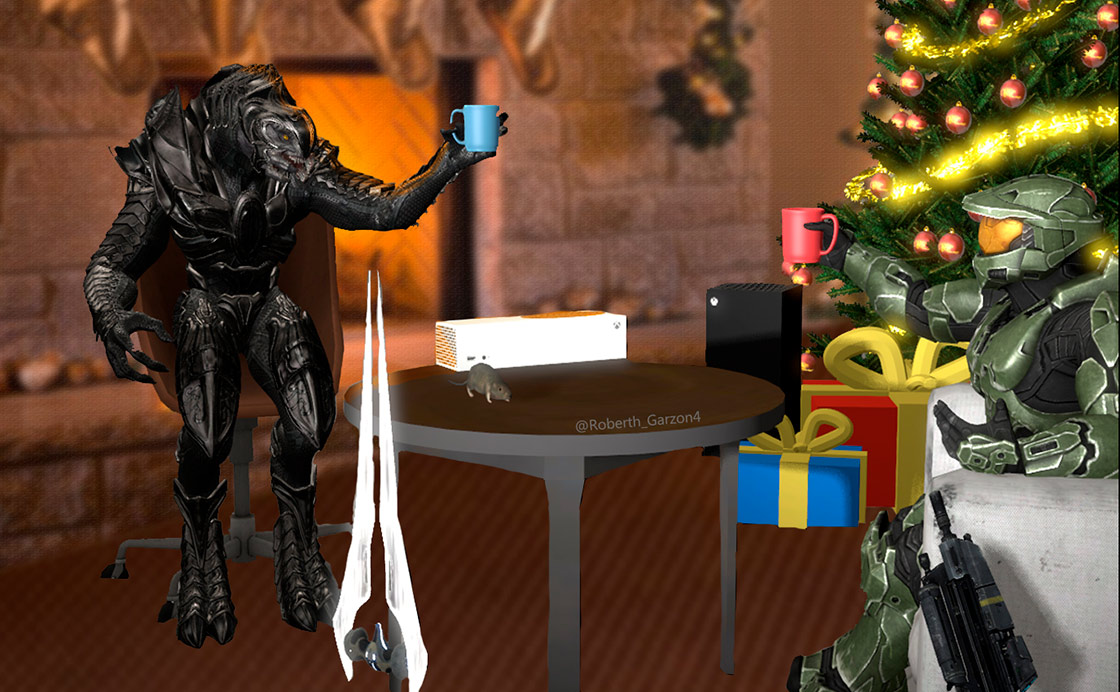 Happy Halo Days, @RoberthGarzon4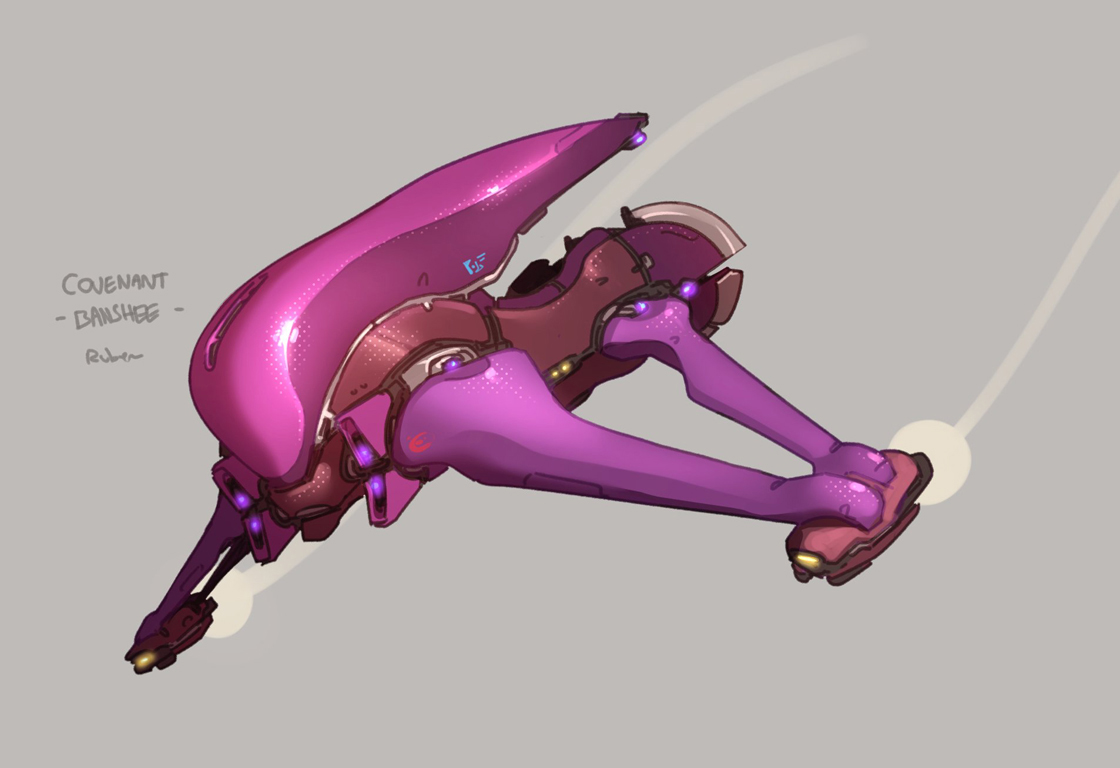 Banshee, @art_rube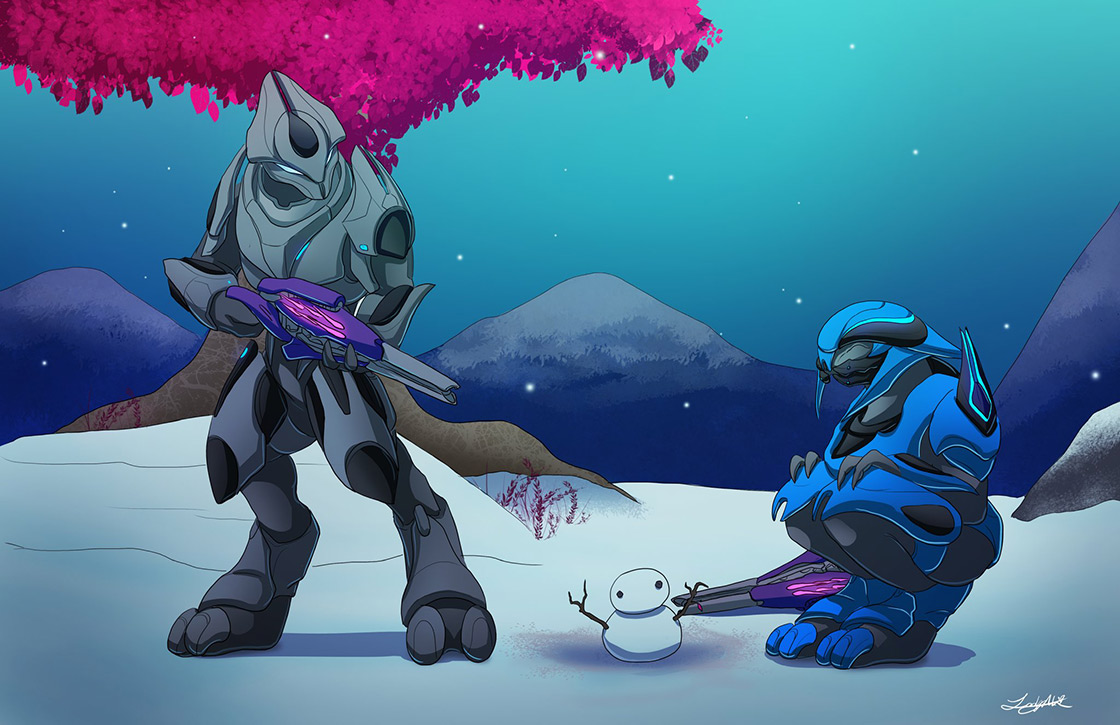 Snowman, @AhiruLady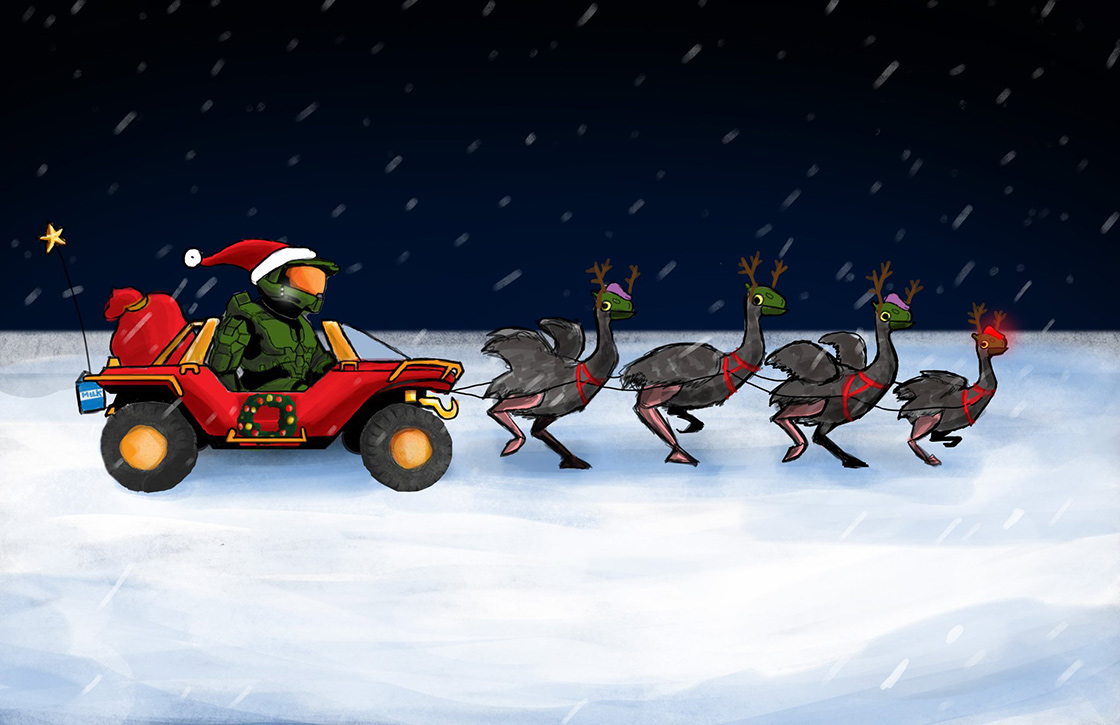 Finish the Flight, @exclamation_mok
Homemade
There's some super sketches, some stunning trees, and some pretty amazing creativity to display on the mantle this year. I want one of those plasma grenade ornaments!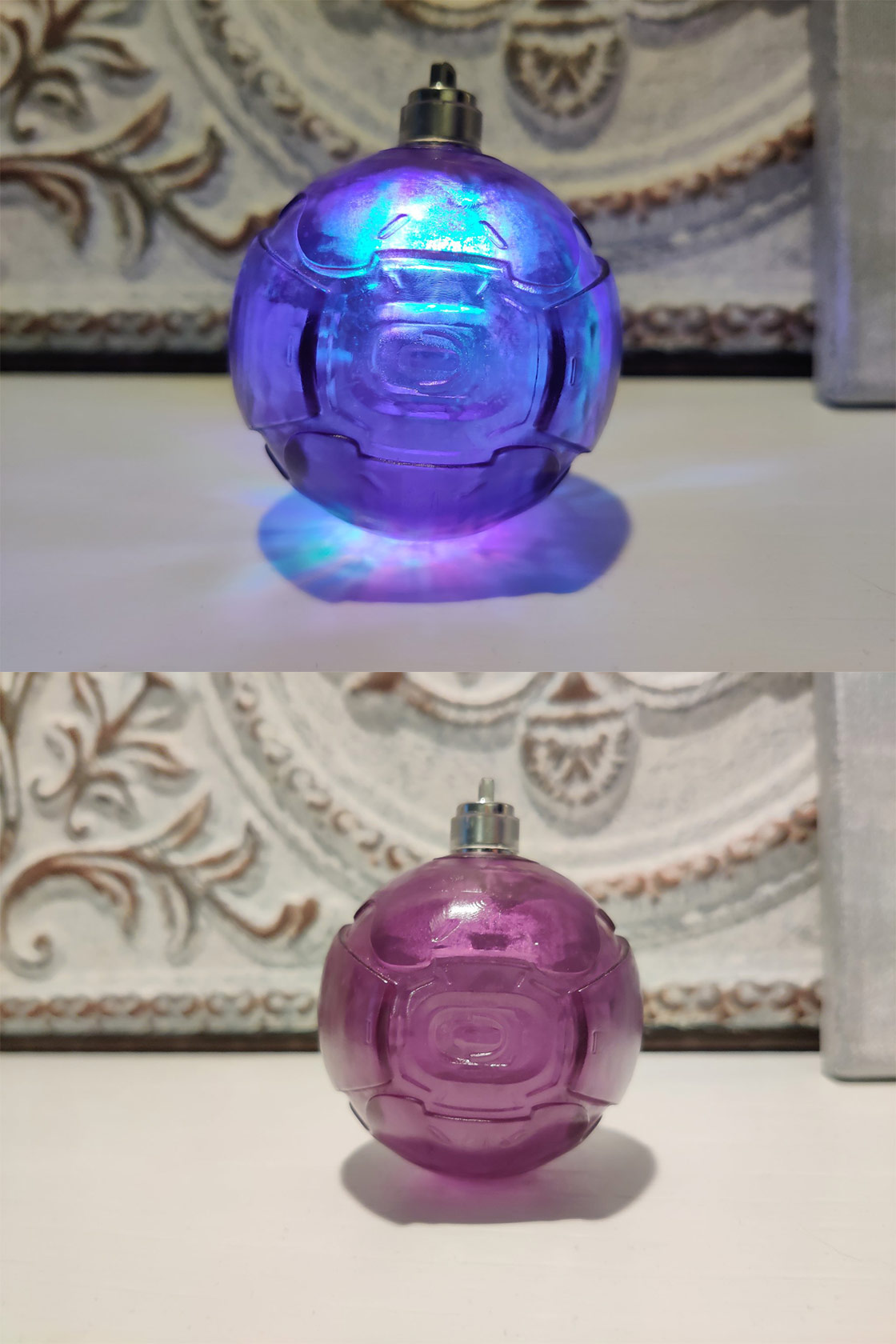 3D Printed Plasma Grenade, @Ryno_666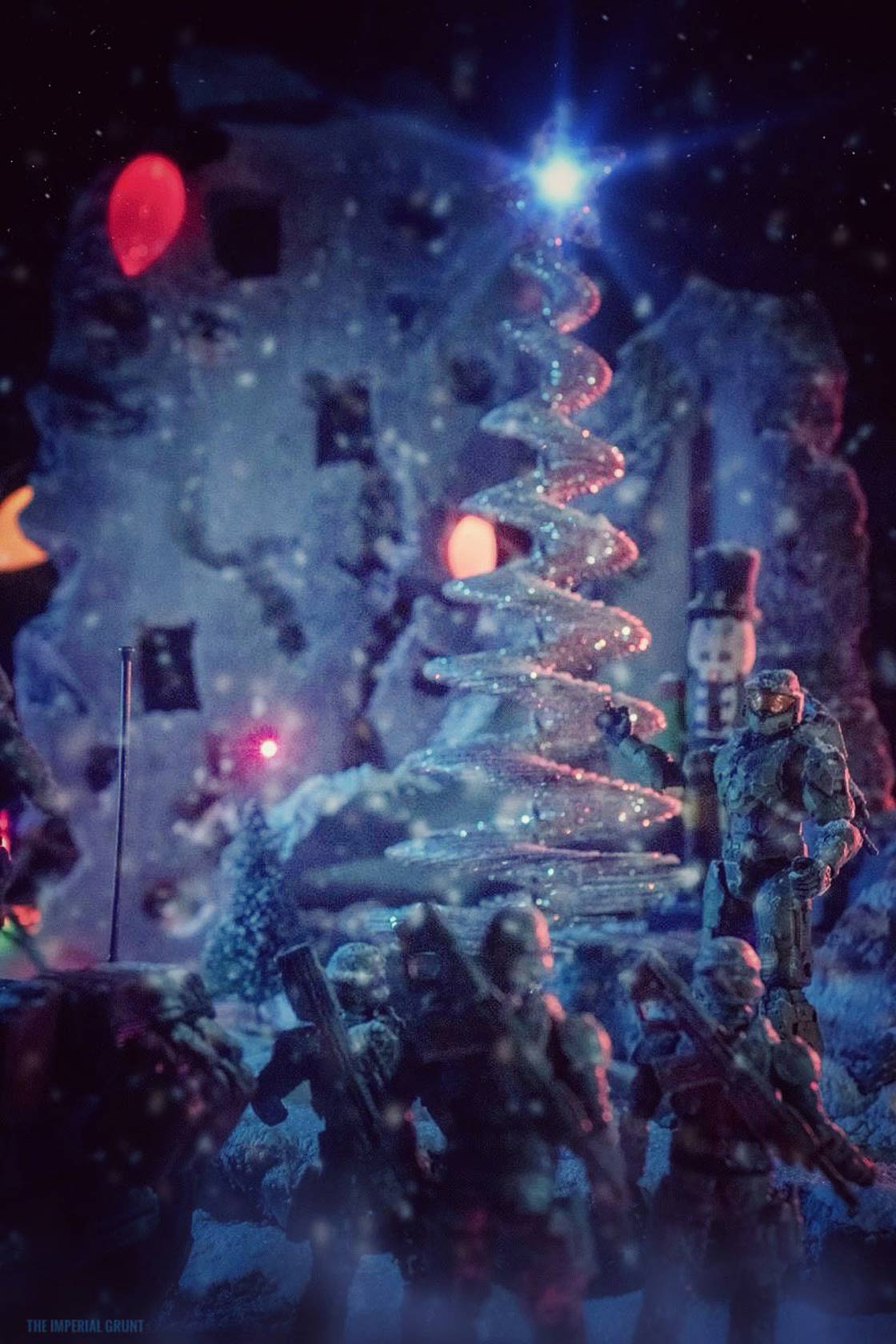 Halo Tree, @space_grunt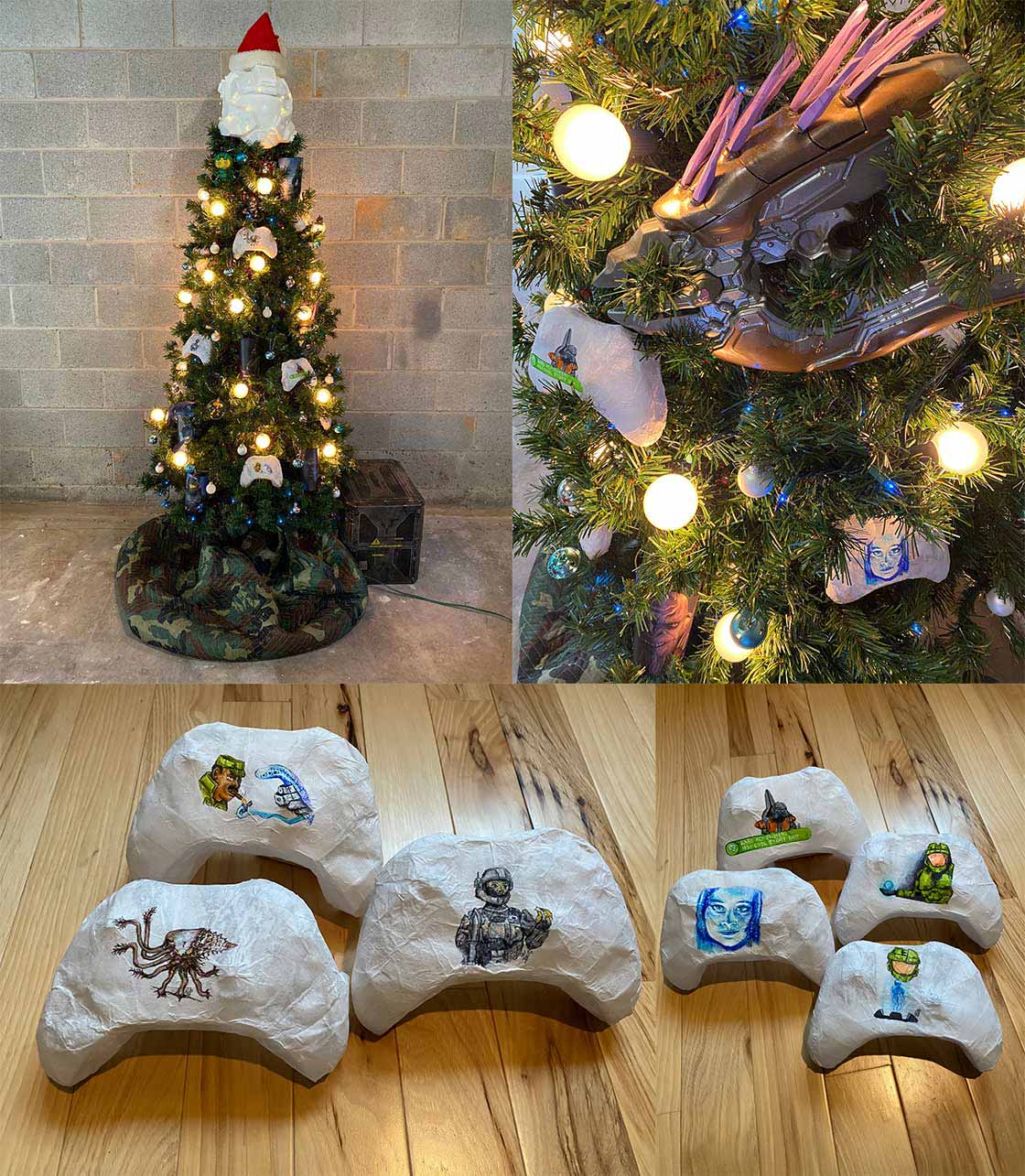 Halo Christmas Tree, @CxeeFoxx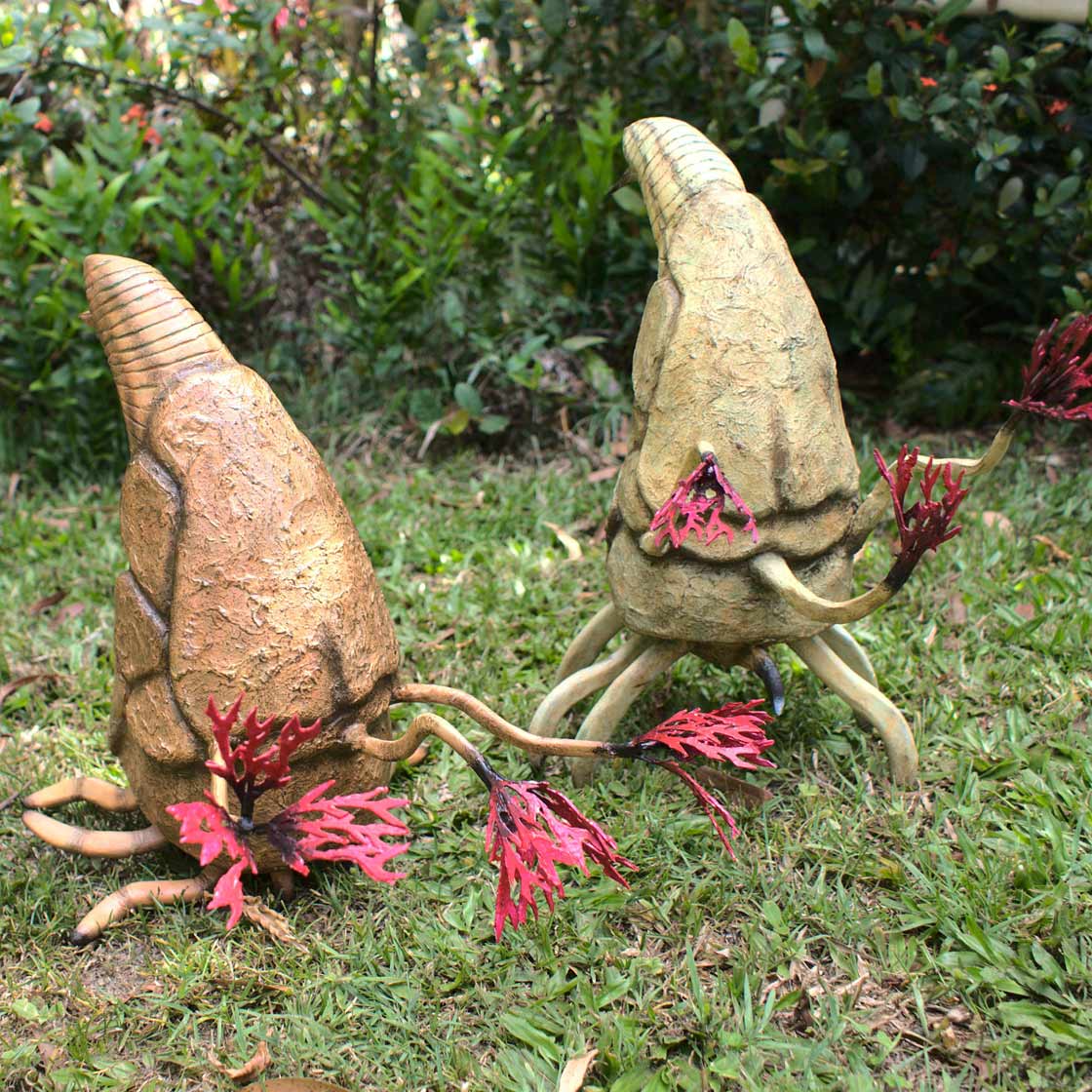 Now There's 2 of Them, /u/PlanetAlexProjects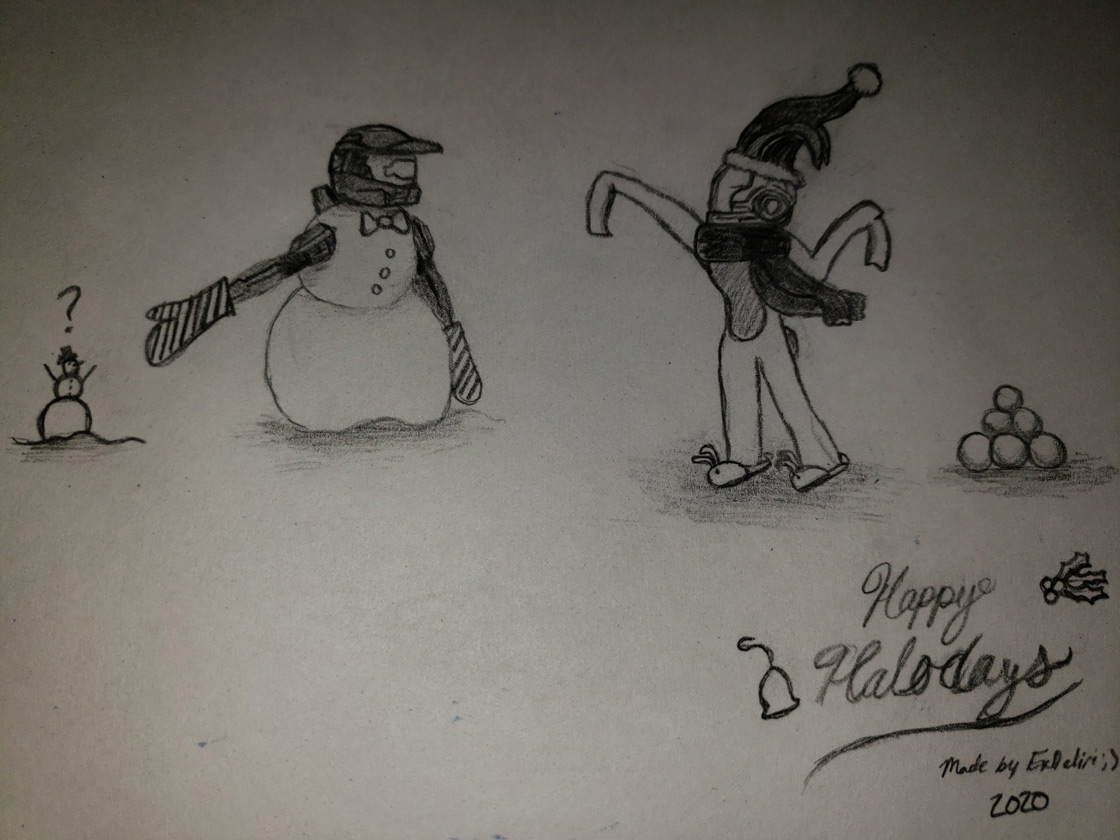 Awkward SItuation, @RippleRinzler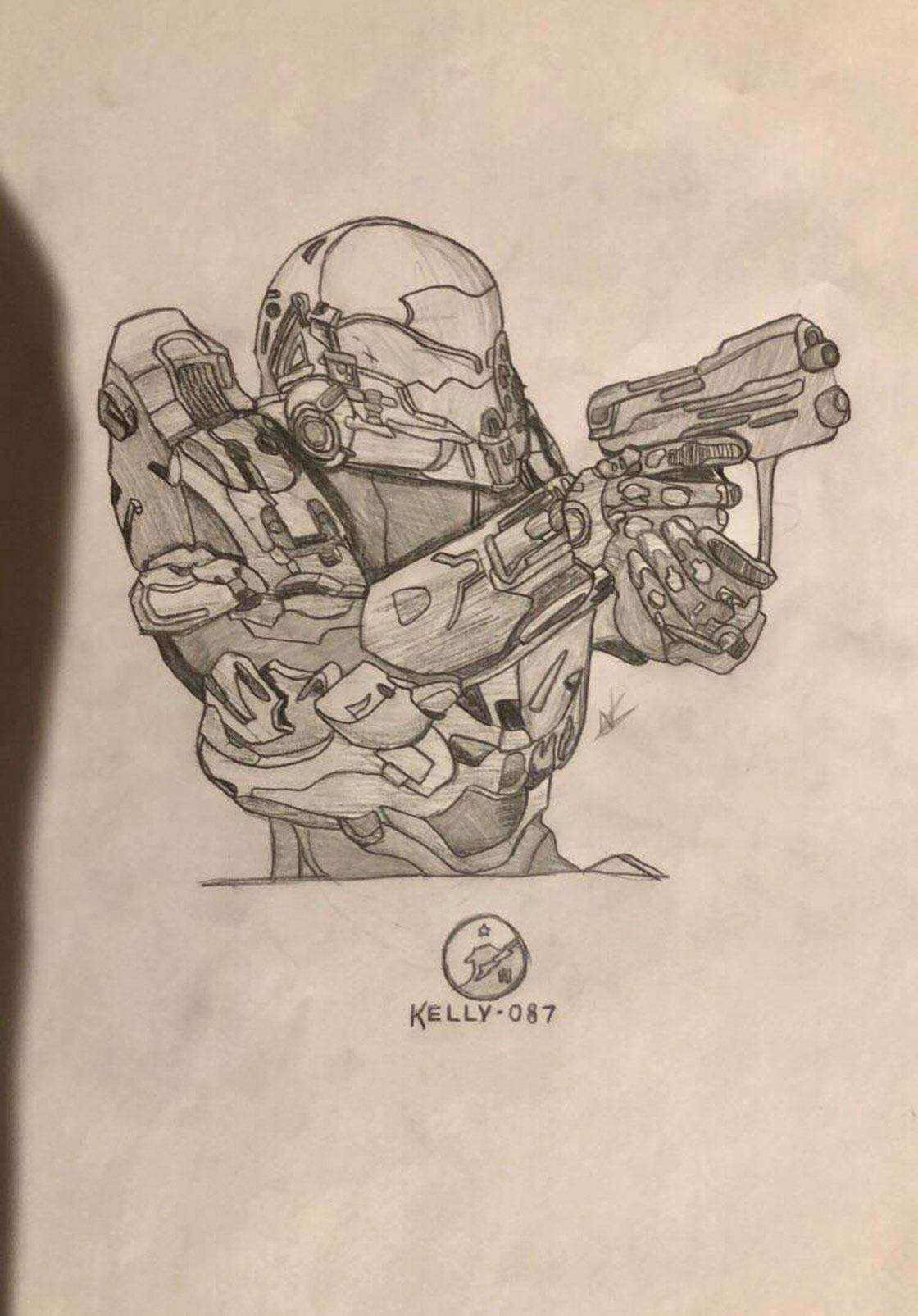 Kelly-087, /u/neonnn2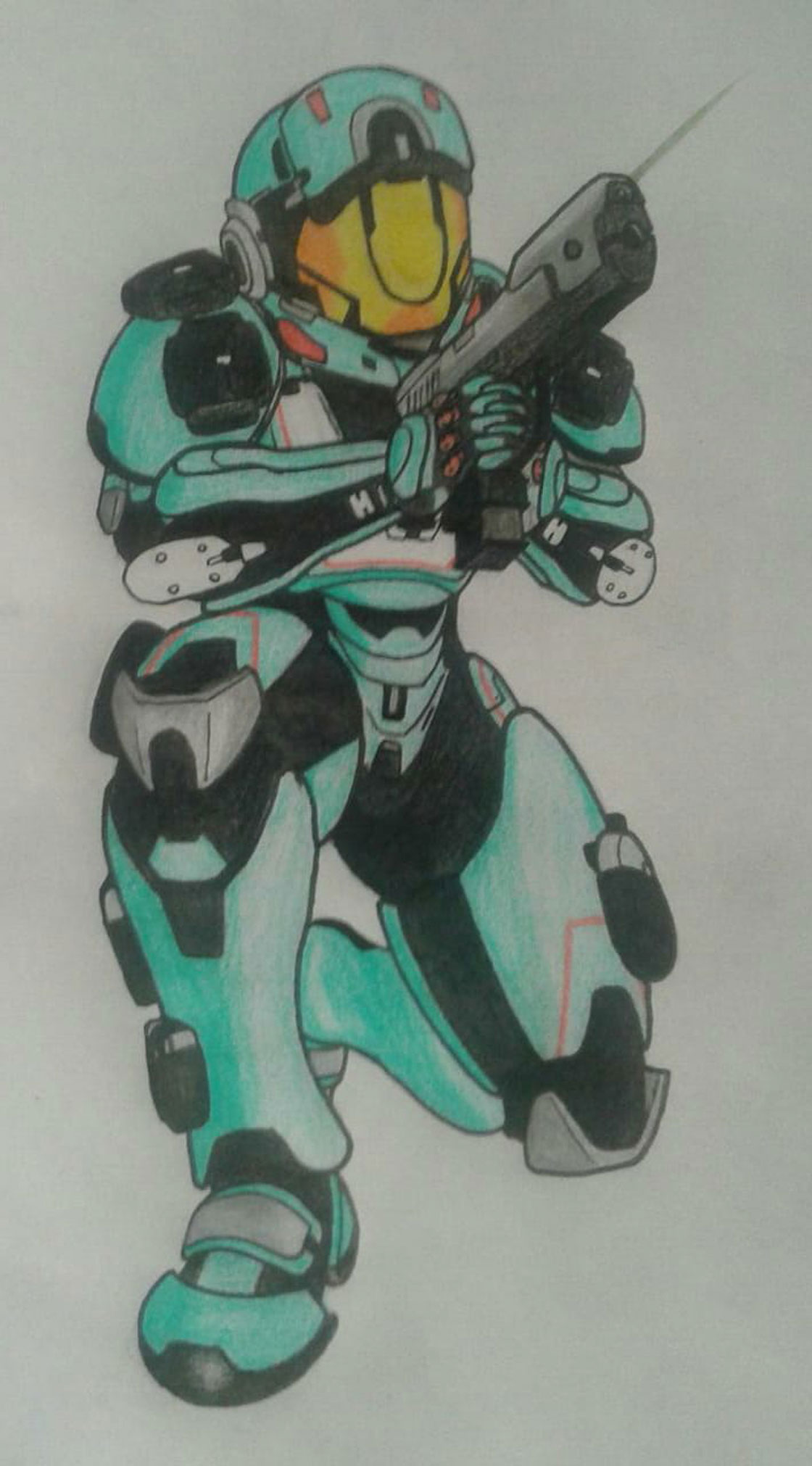 Spartan, Ready for Combat, @MoraSpartan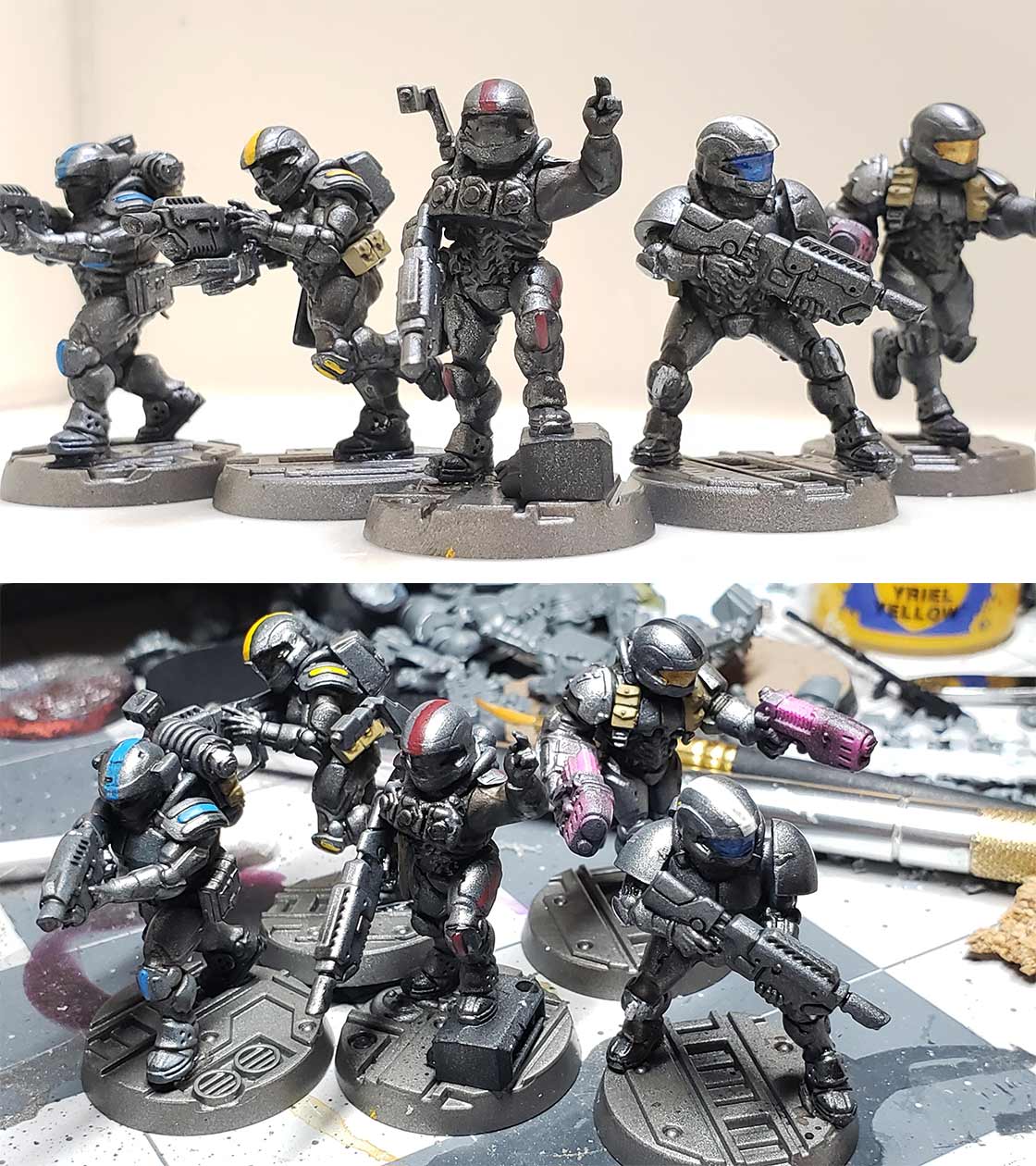 Warhammer 40K ODST Kitbash, /u/NeoSpectrumVI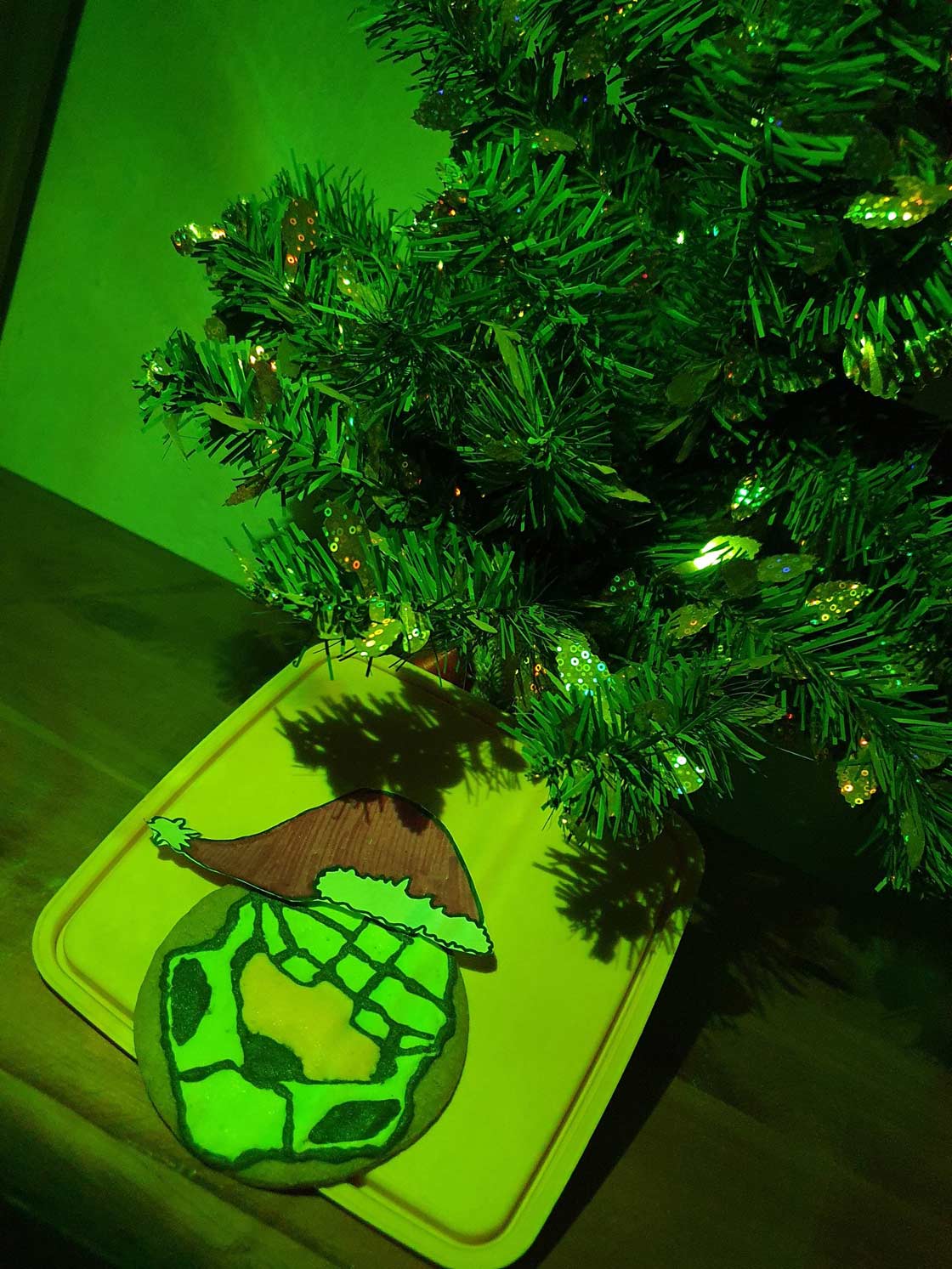 John's Christmas Cookies, @GonzaKOH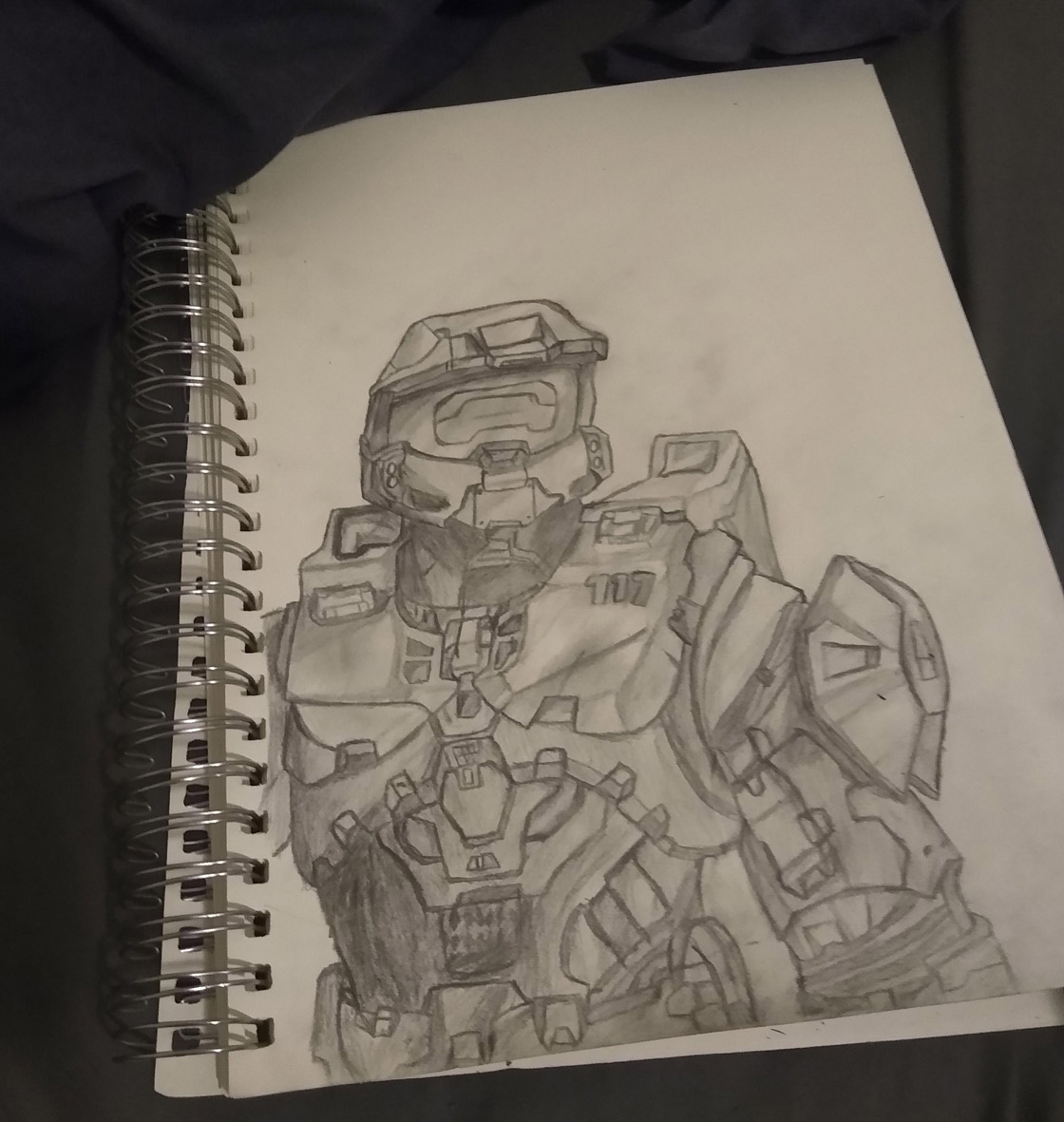 Halo Infinite, /u/Borderlandsweeb2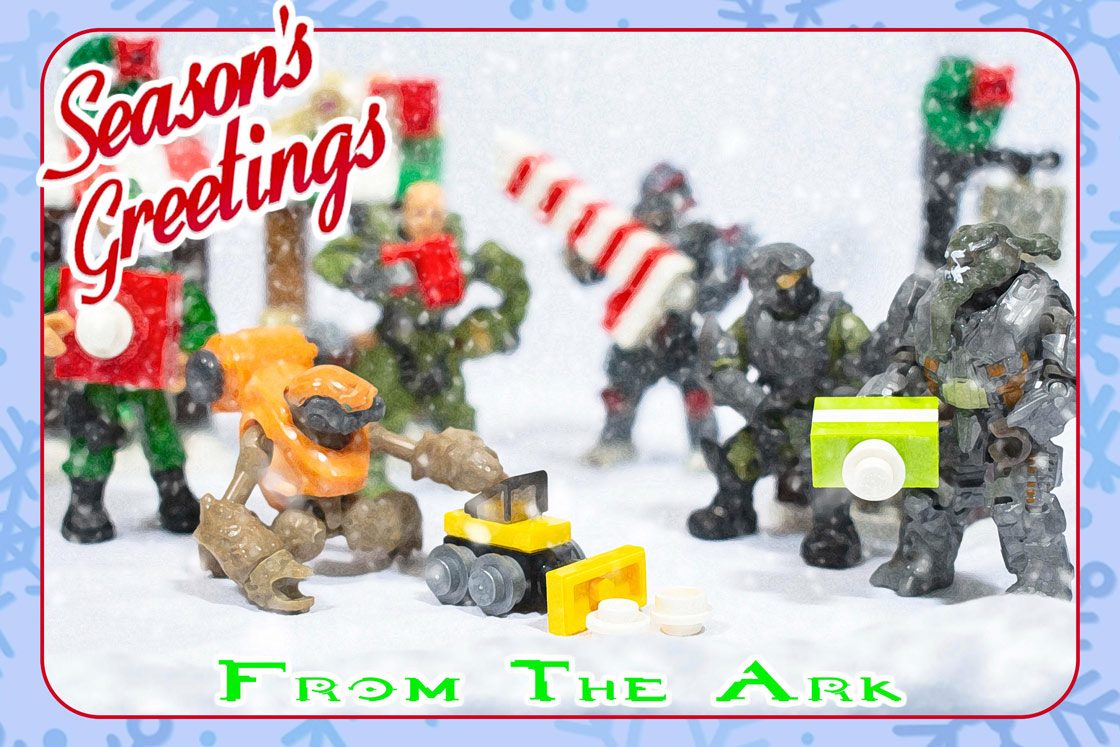 Christmas on the Ark, @Tom_Jurassic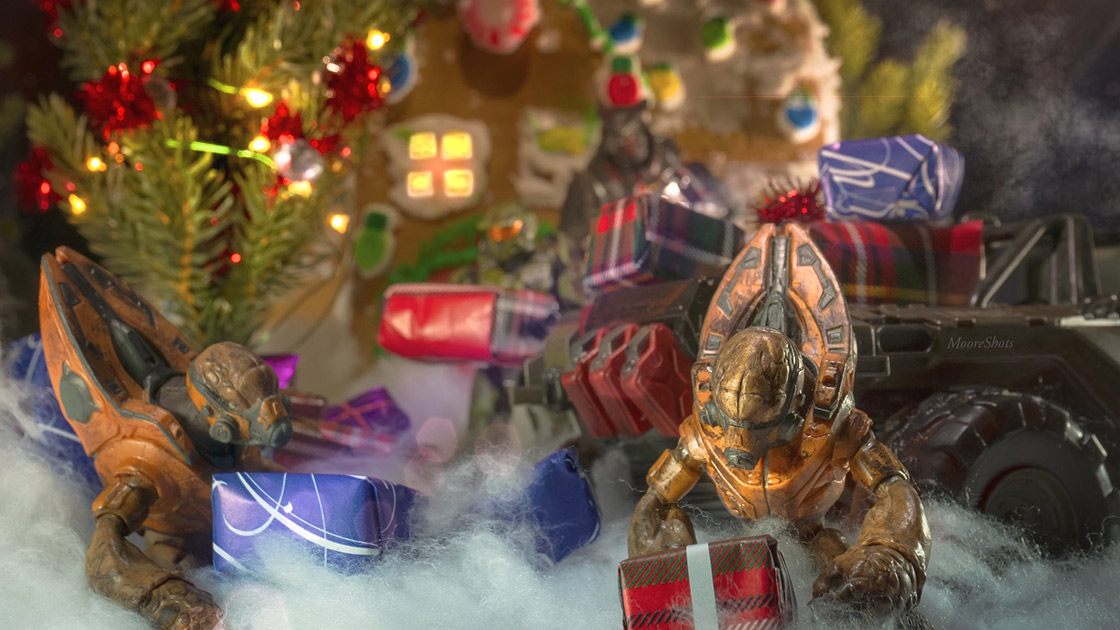 Happy Holidays, @Mooreshots1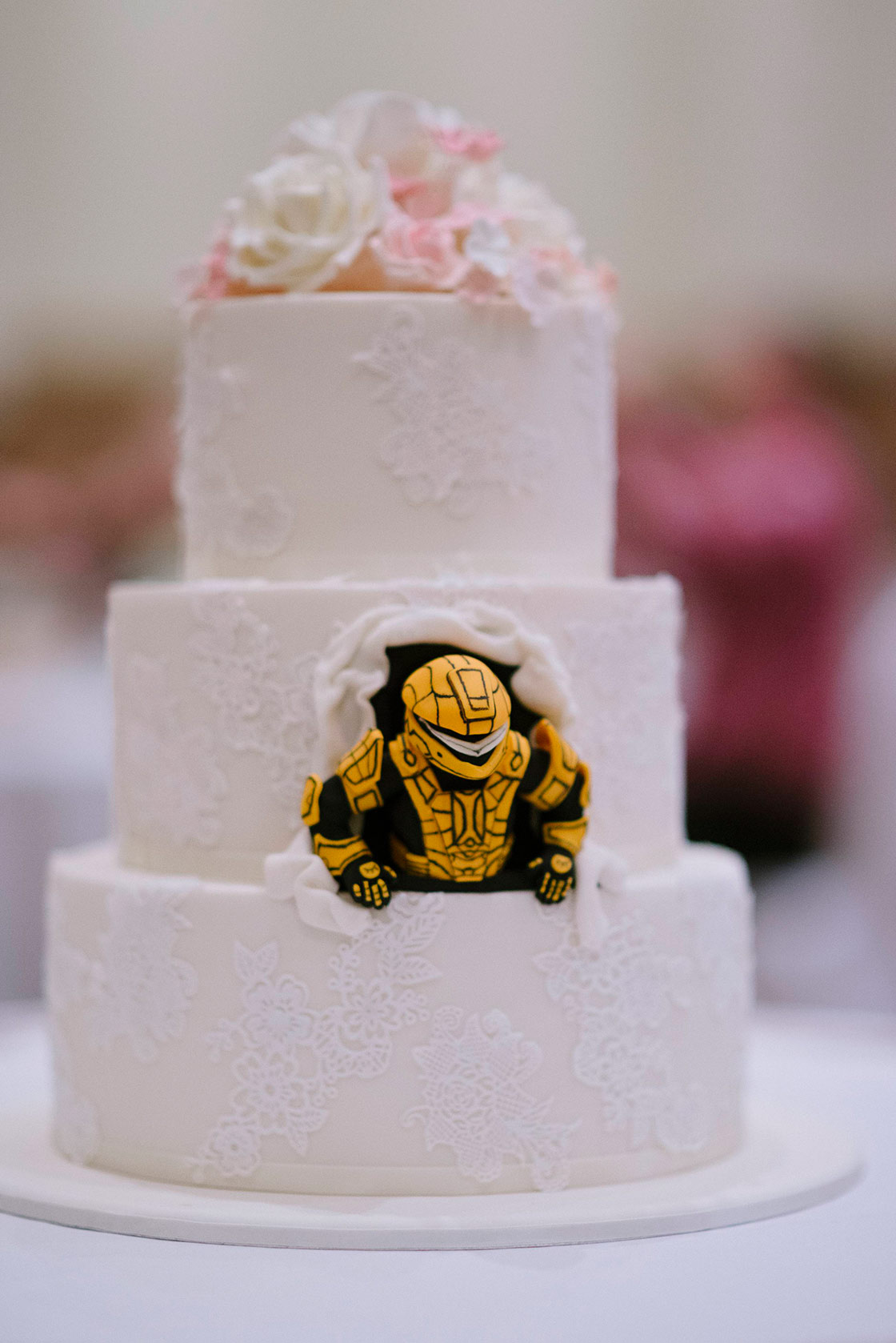 Wedding Cake for /u/The_Xmoose, made by Cakes Annietime
Eye Candy
There's some really really awesome cosplays and tattoos this week so don't skip!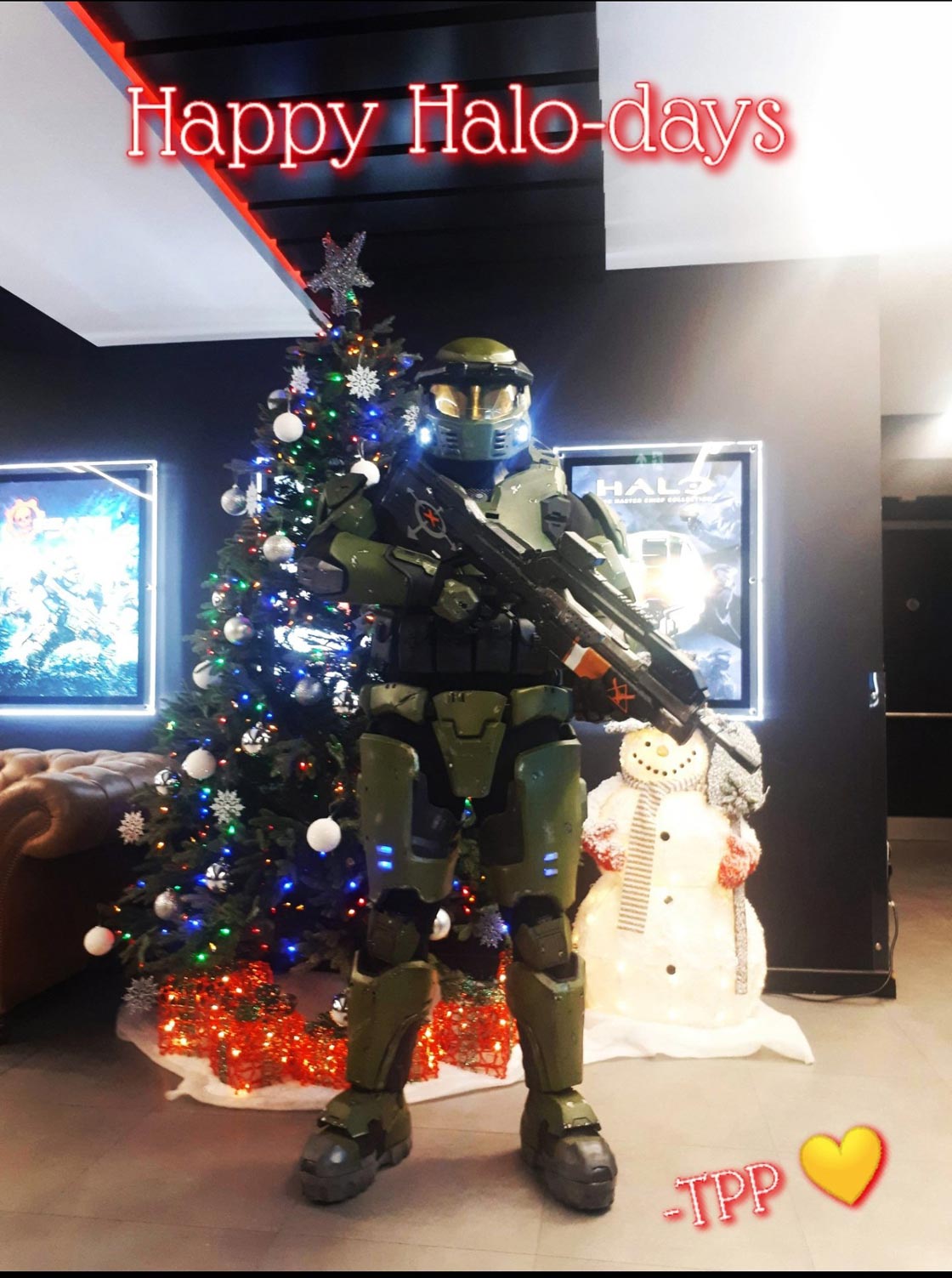 Happy Halo-Days, @OlyOlyOxen_Free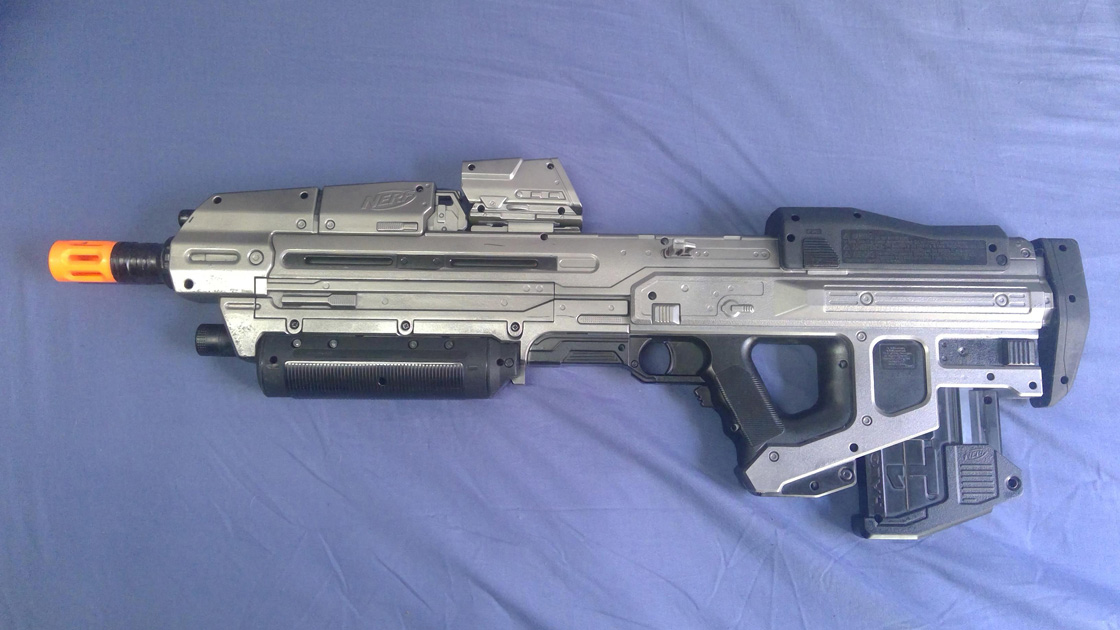 Nerf MA40 Paint Job, /u/natalie_Paints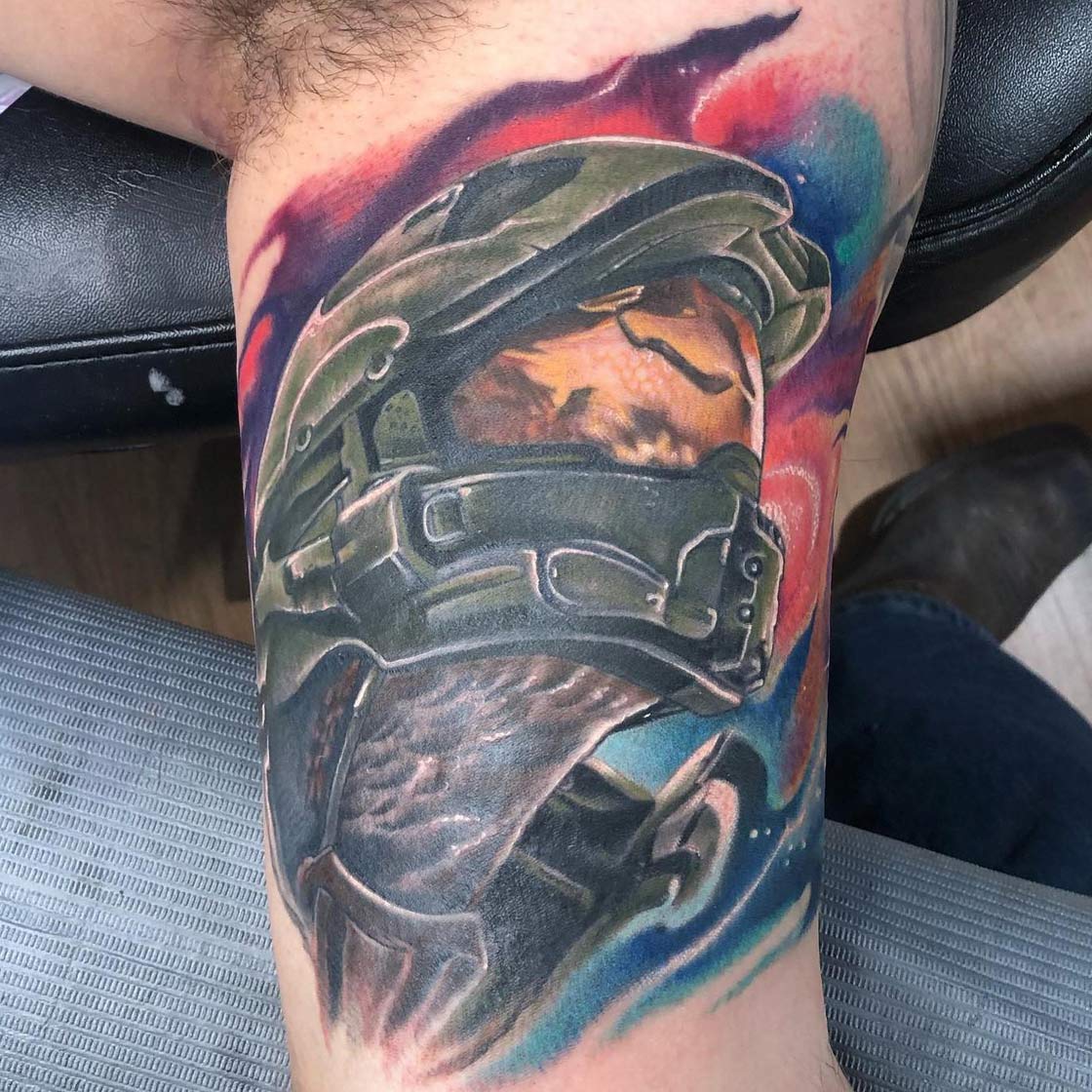 Finished the Fight, /u/joshwearsprada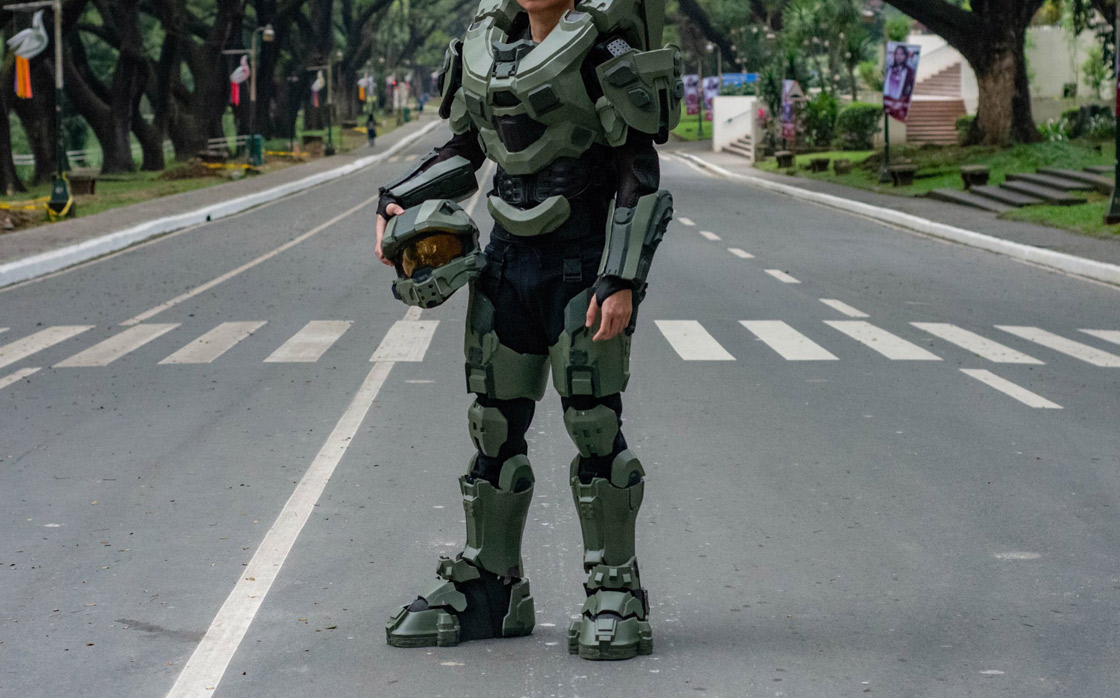 How's My Suit?, @KeanuRayves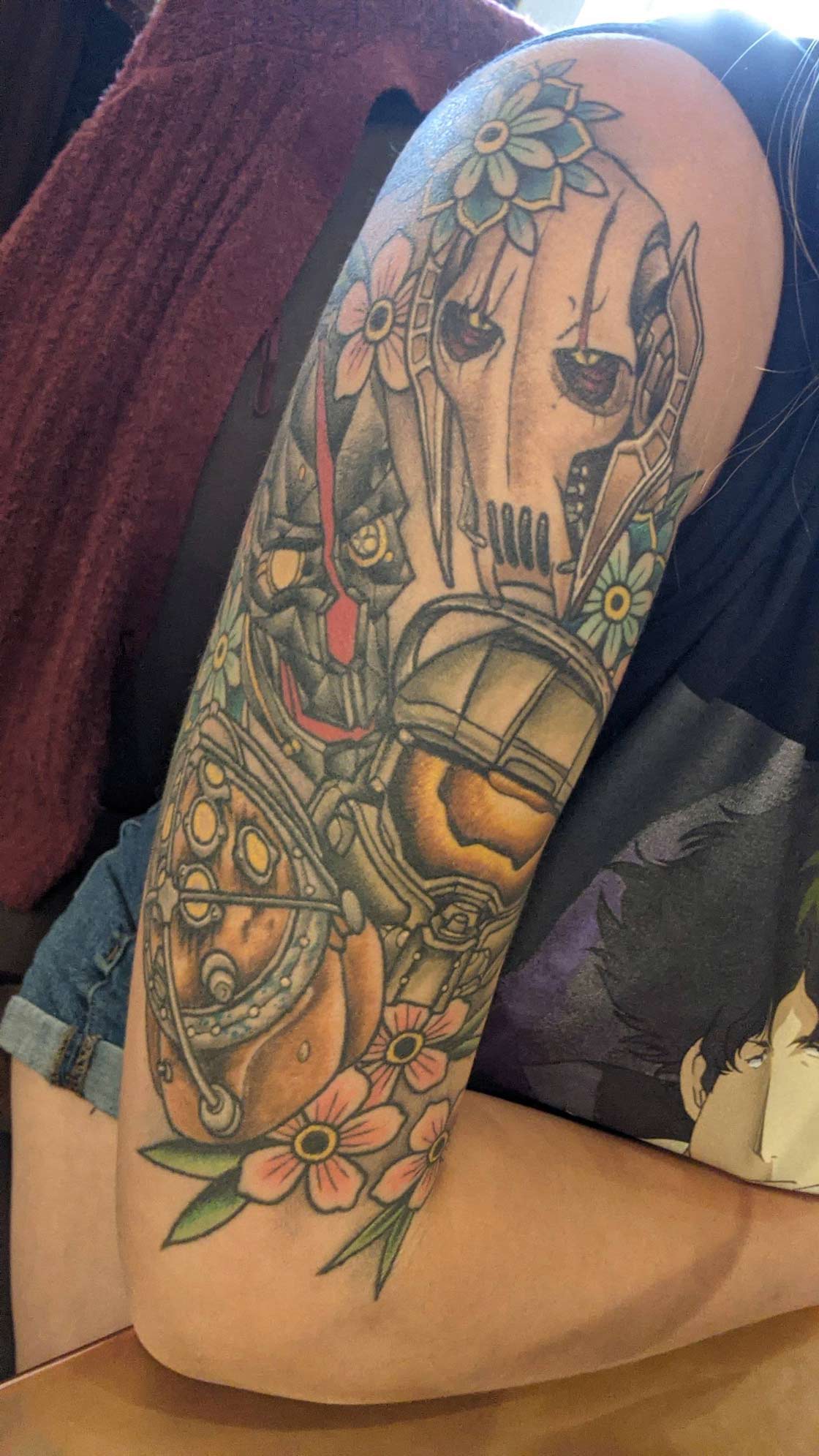 Master Chief and General Grievous, /u/DesignerDarthWaiter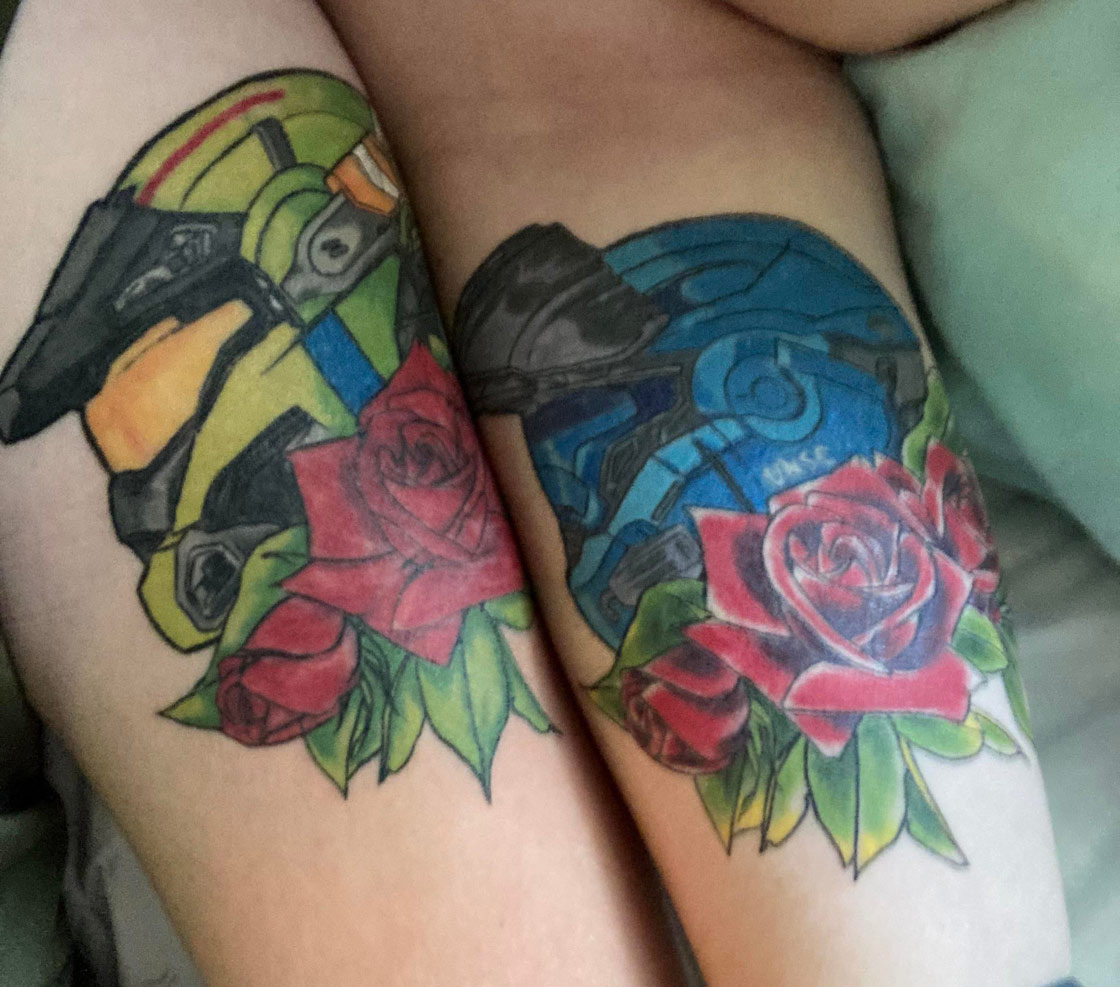 His and Hers Helmets, /u/FourLeafClovis7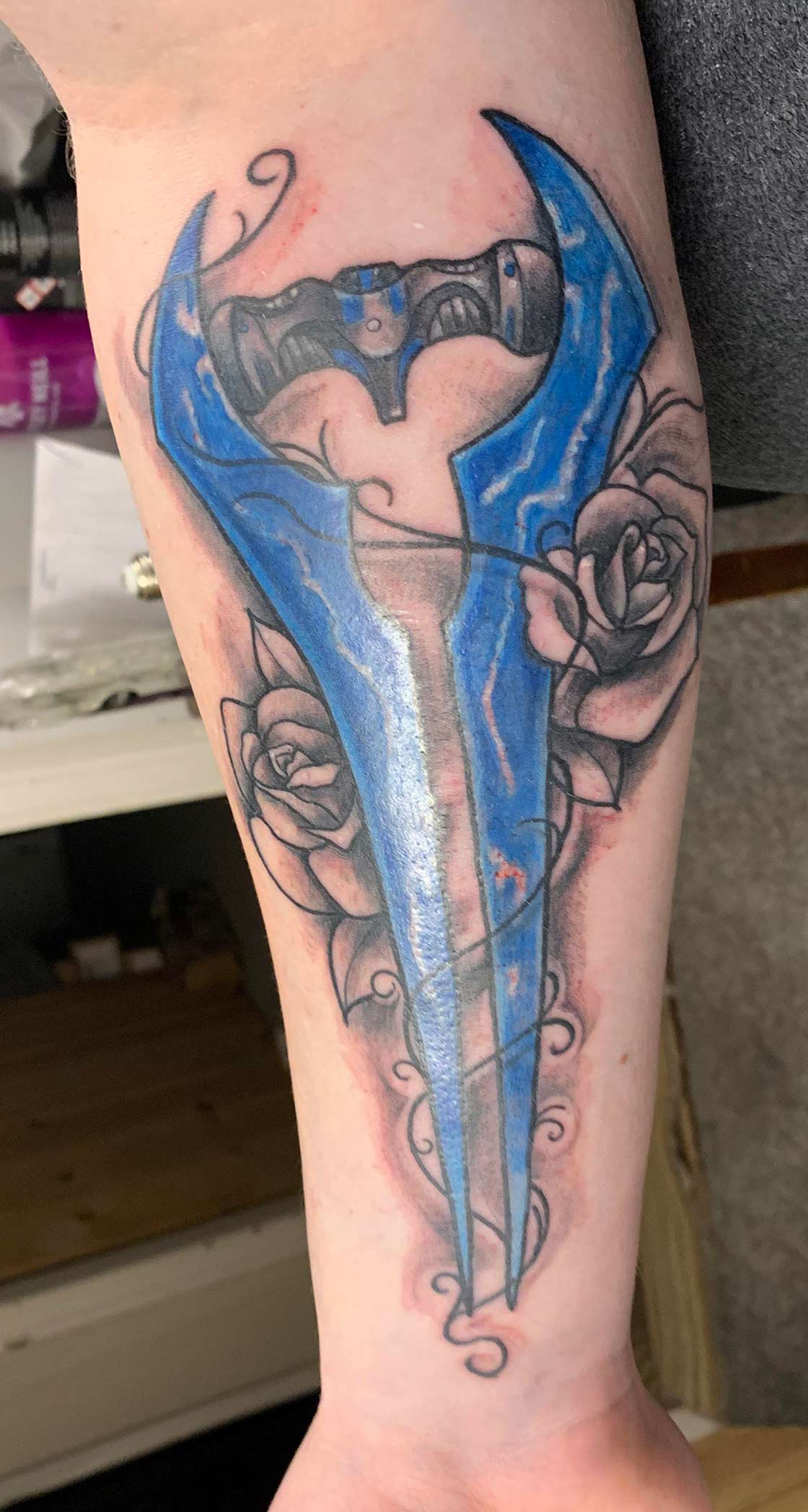 Sharp Ink, /u/Mighty_Leaf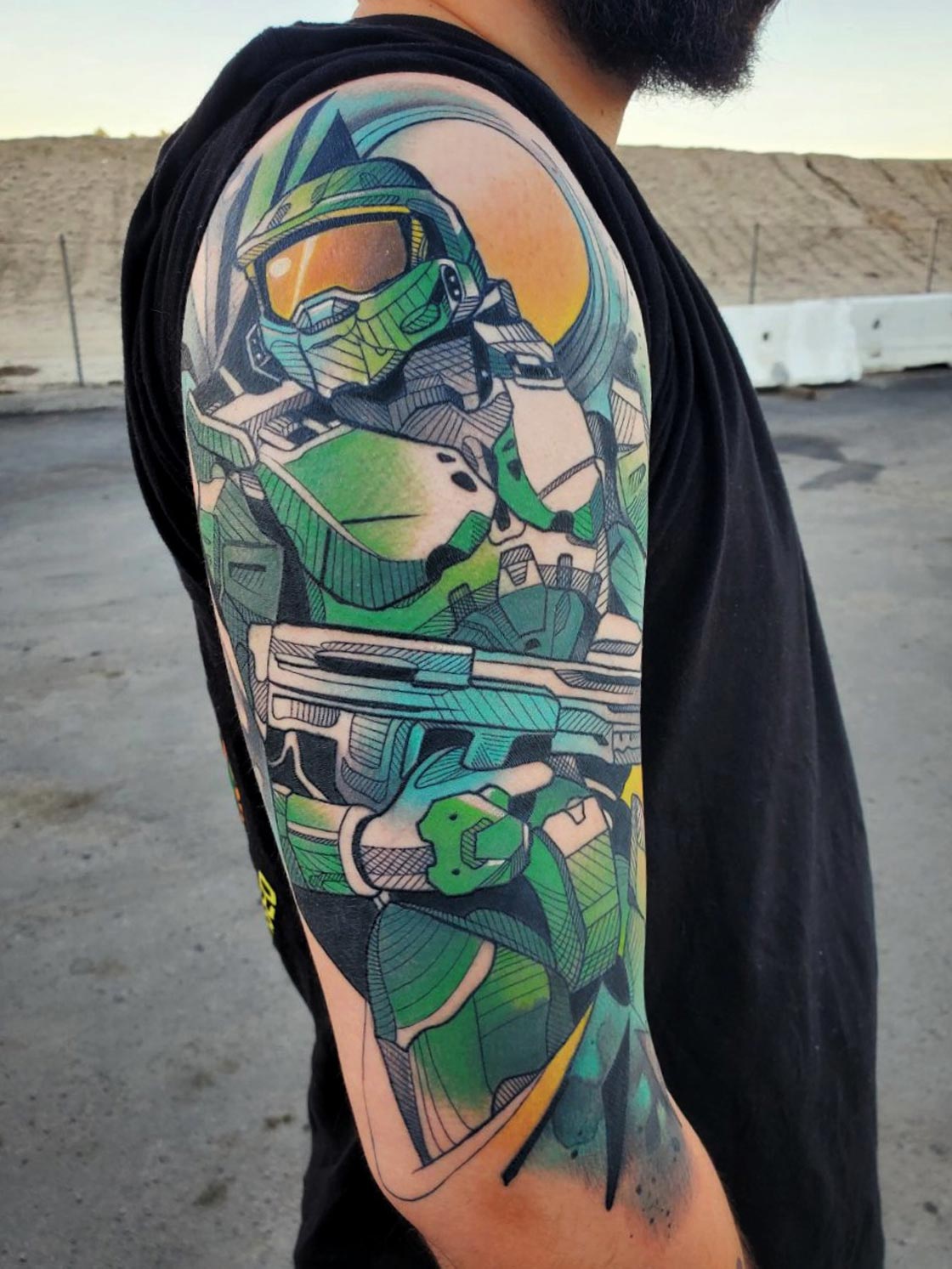 Master Chief, /u/usetheforce_gaming
Picture Perfect
Just when you think you've seen it all, some people pull out the stops and really make you appreciate why pictures are worth 1,000 words. So I'll let the snaps do the talking for me.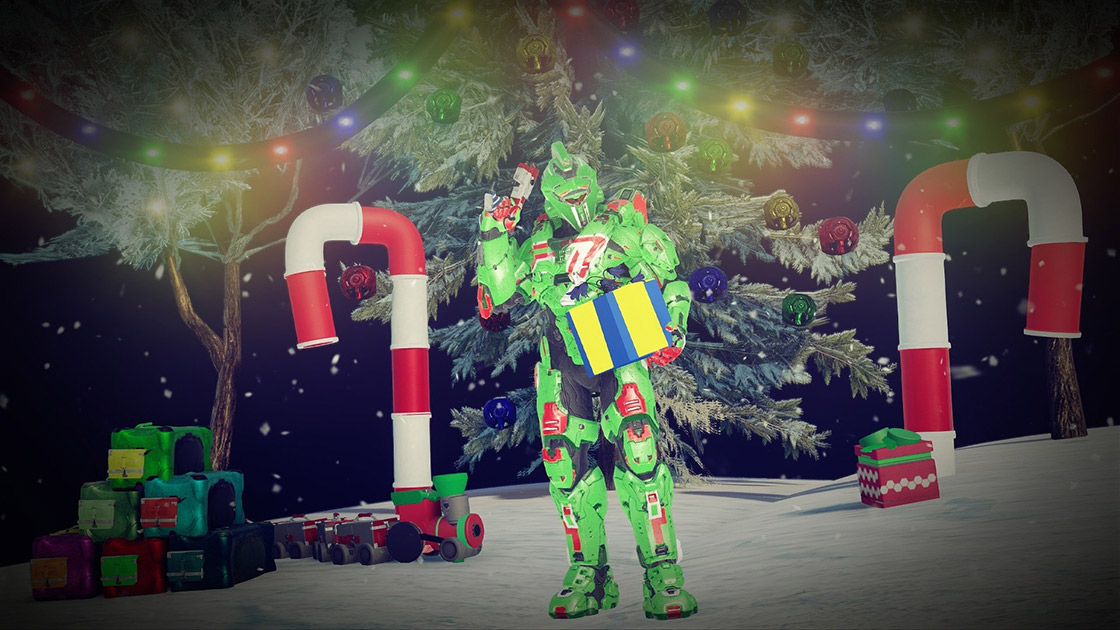 Merry Christmas, @HaloHotShot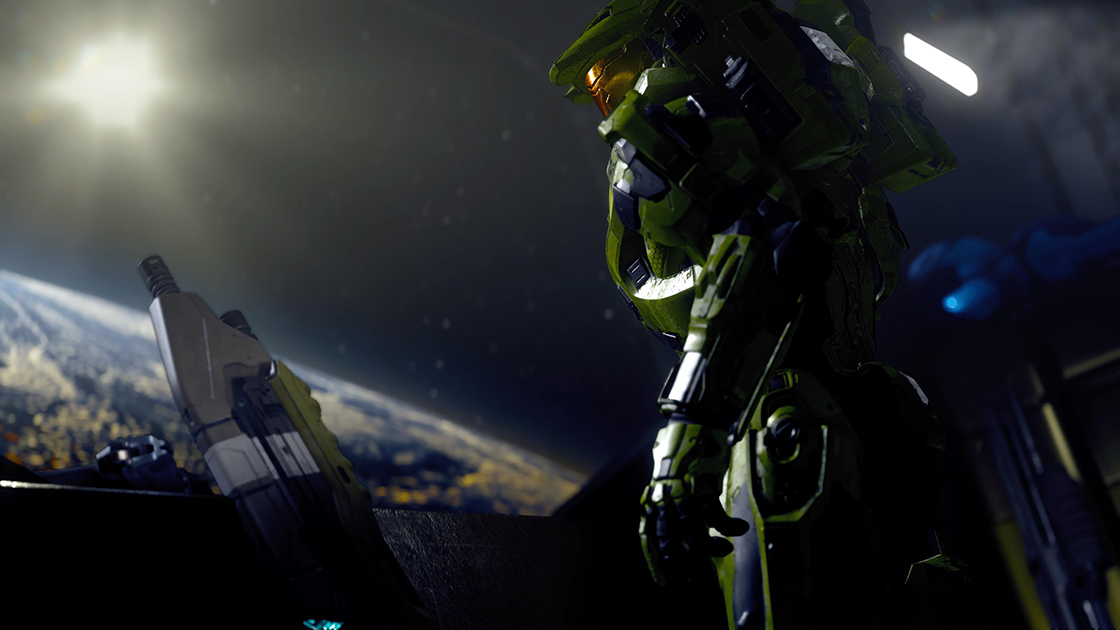 She Said That to Me Once... About Being A Machine, /u/Nuvelous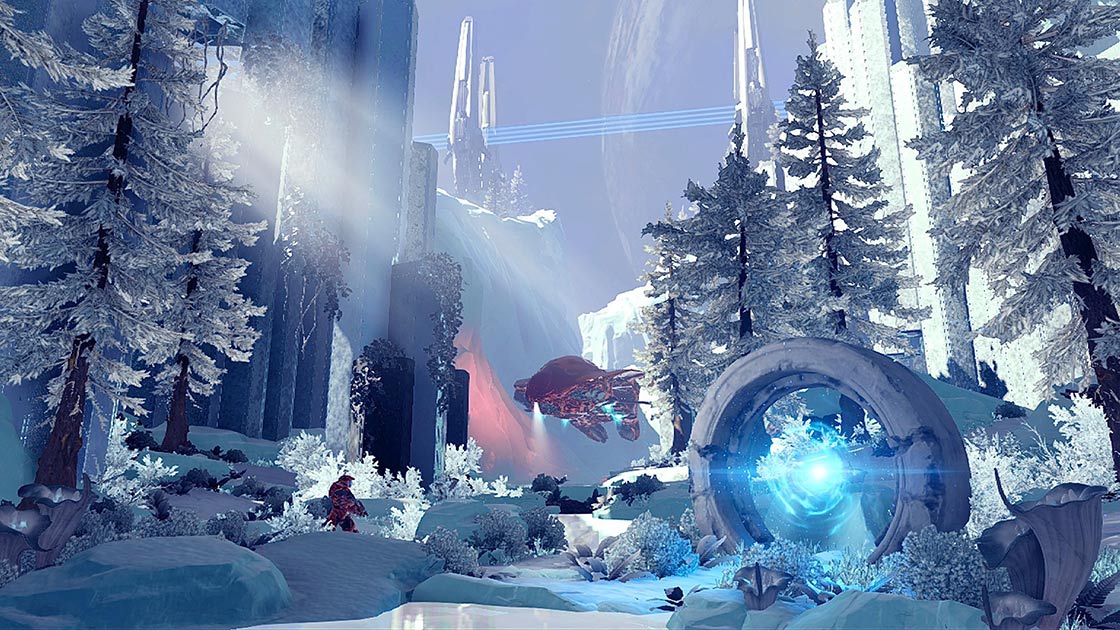 Halo Infinite Winter, @Infiniteforges
Sweet Rolls
Montages, music videos, race cars, and more. This week's video selection has it all!
We've seen @motiondomain's work before in the form of MegaConstrux but this time he wondered, "What if Halo Wars 2 had the Halo Wars soundtrack?" and, well, here we are. Halo Wars 2 cutscenes are incredible so if you haven't seen them before, now's as good a time as any to check 'em out! Run little Demons.
Not a video in the tradtional YouTube sense of the word but one of our skilled and talented screenshot artists, @Reptilian_AI, made a livery in Forza designed around the exclusive employee Unicorn Skins from Halo 5. This is too good not to share. You can click on the tweet to check out screenshots further in the thread too!
How about a sweet lil Halo 3 Dualtage? I'm glad you wanted that because @SandellPontus delivered with "Bloodlust"! Featuring both Sandell and Slippin, this is just an all around sick montage so be sure to watch the whole thing.
It wouldn't be Christmas time without some holiday music, right? If Blue Christmas is your jam, @KevinKoolxHalo has you covered... Sort of. He has the Halo Infinite Christmas Blues and he's sharing it with you. Enjoy!
Our friends over at @HaloEspana are holding a Christmas tournament on December 27th and, not content with simply advertising the tournament, they went all out and made a stinger video for it! You can get more info on the tourney here on their community's website then sit back and enjoy the trailer!
Memory Lane
As I mentioned way back in the beginning, I've been writing these for a long time now. Some were easier than others but this year in particular, the Spotlights have been a source of joy to me. With everything going on in the world, the joy and passion from the Community in creating artwork was a constant and it was always something I had to look forward to. I wanted to take time this week and, along with some of my coworkers, look back at the year's Spotlights and highlight some of our personal favorites.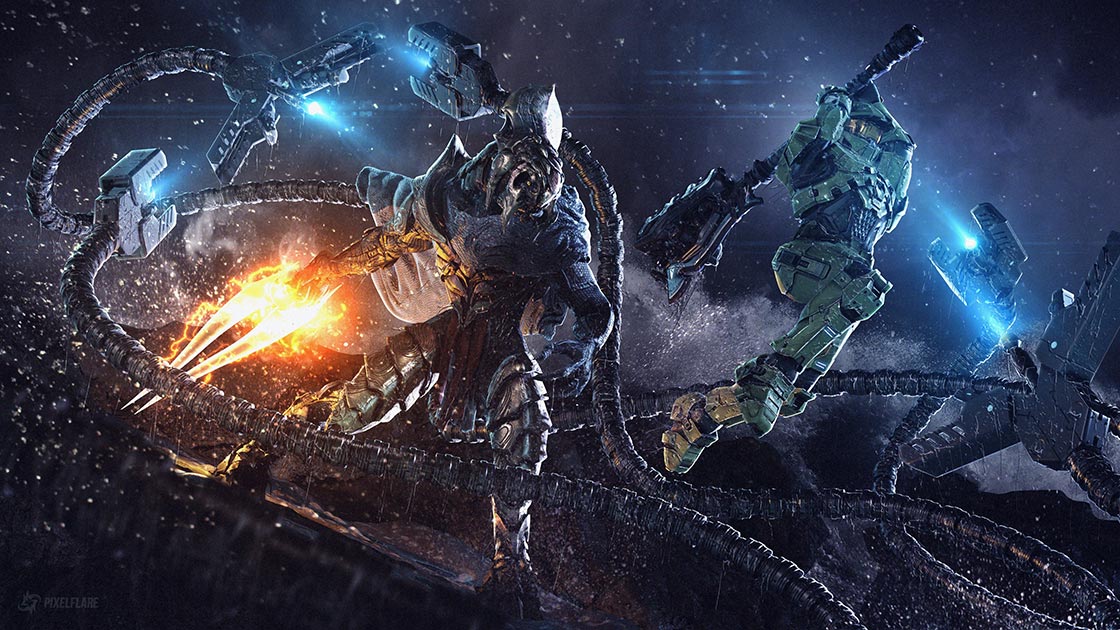 Our resident MCC liason, Tyler (you might know him better as Postums!), chose this piece by @pixelflaregfx from July 2, 2020. When I asked him why, he explained that looking at this evokes the feeling of power and of feeling like a Spartan wielding a Gravity Hammer. More specifically,
I personally am probably the worst hammer player in the game. If anything, I'm mediocre at using the sword just as well unless it's Halo 2. But this scene makes me believe I can truly make the hammer go boom. It embodies every instance where I think I'm going to wield it well before I inevitably fail. It brings me hope that I might be able to use it well.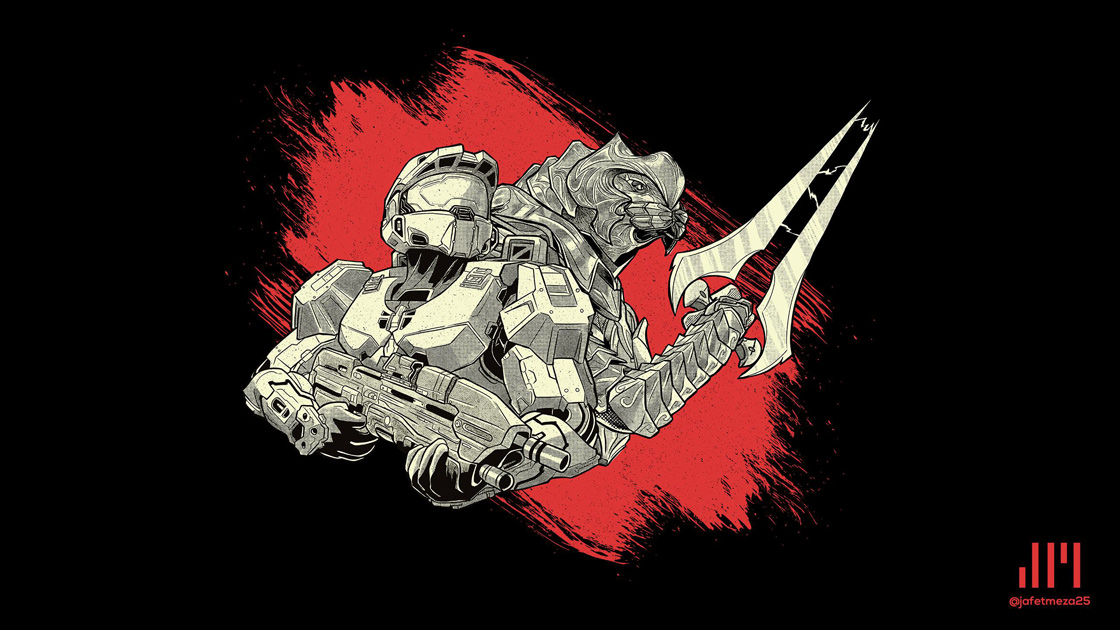 Not to be outdone, the latest addition to the Halo Community team, Andy (aka @asalisbury!) reached back to August 6, 2020 and pulled out this piece by /u/jafet_meza_composer. He may be new to our team but he obviously has good taste because Halo Infinite Chief and Arbiter make a mean looking portrait. In his own words:
I have no clue what it is about this one, but the second I saw it I couldn't decide if it would be better as a print, a tattoo, or the cover of a book. Such a wonderful piece of art by the insanely talented /u/jafet_meza_composer!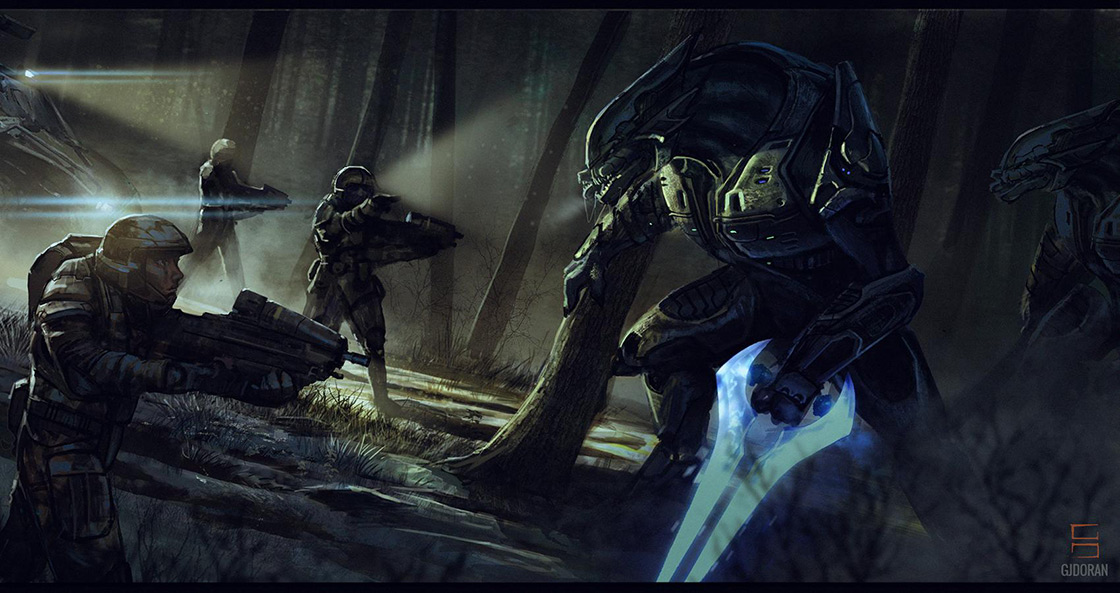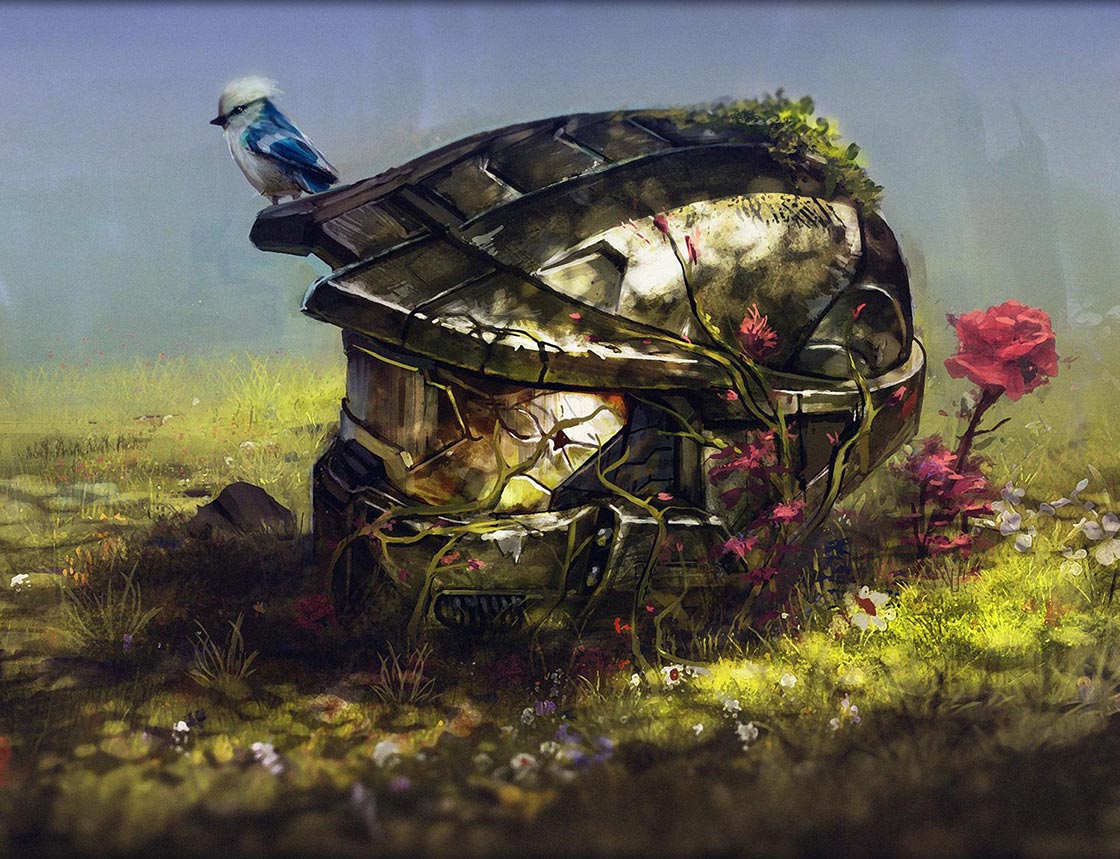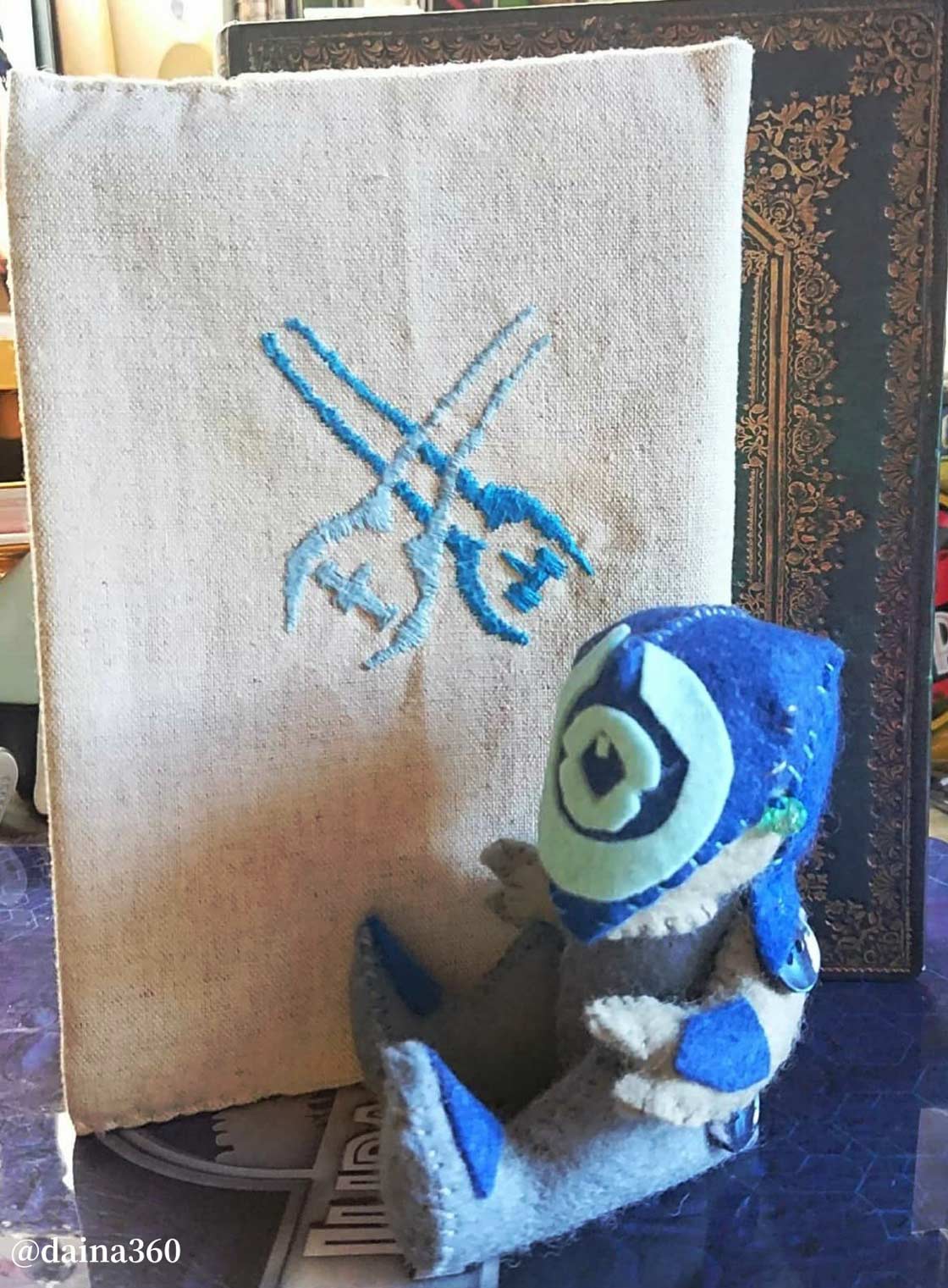 While you may know most of our team, there's a sixth member that you will likely never see publicly but she is absolutely vital and irreplaceable to our team. Our producer has read through each and every blog we have written, cheers us on, helps keep us on track, and she, too, loves the artwork you all create. She couldn't pick just one of her favorites so here are the three she chose. The first two by /u/turtlesalad711 are from February 14, 2020 and the charming stitched Elite by @daina360 is from August 6, 2020. I will let Nina explain herself. :)
As someone who supports getting these blogs ready every other week, I felt like I had a pretty good grasp on the content to know which one was my favorite. And then of course, I couldn't make up my mind. We see a lot of fantastic fan creations every month, but for me, the work by TurtleSalad711 and Daina360 really stand out, albeit for very different reasons. Turtle Salad's work is a study in storytelling and mood (and as someone who studied Art History – there's a lot to dig into if given the chance). His First Contact piece in particular is a favorite. The use of light in the midst of a dense and dark forest – particularly in how the headlamp of the soldier catches the dripping jaws of that forward Elite just gives me chills (in the best possible way). He puts you right there with the UNSC forces as they come face-to-face with what has been stalking them, and it's both terrifying as well as beautiful. Daina360's art is on the other side of that spectrum in that it's playful and lighthearted. We've seen quite a collection of fan comics from her, so this plush was a break from her normal offering, and I felt like she did a great job. The color, the way she was able to streamline the shape of the Elite, the contrasting thread choice, it all works so well. And I love that she tried something new. We knew she could draw, so seeing this experimentation was such a nice surprise.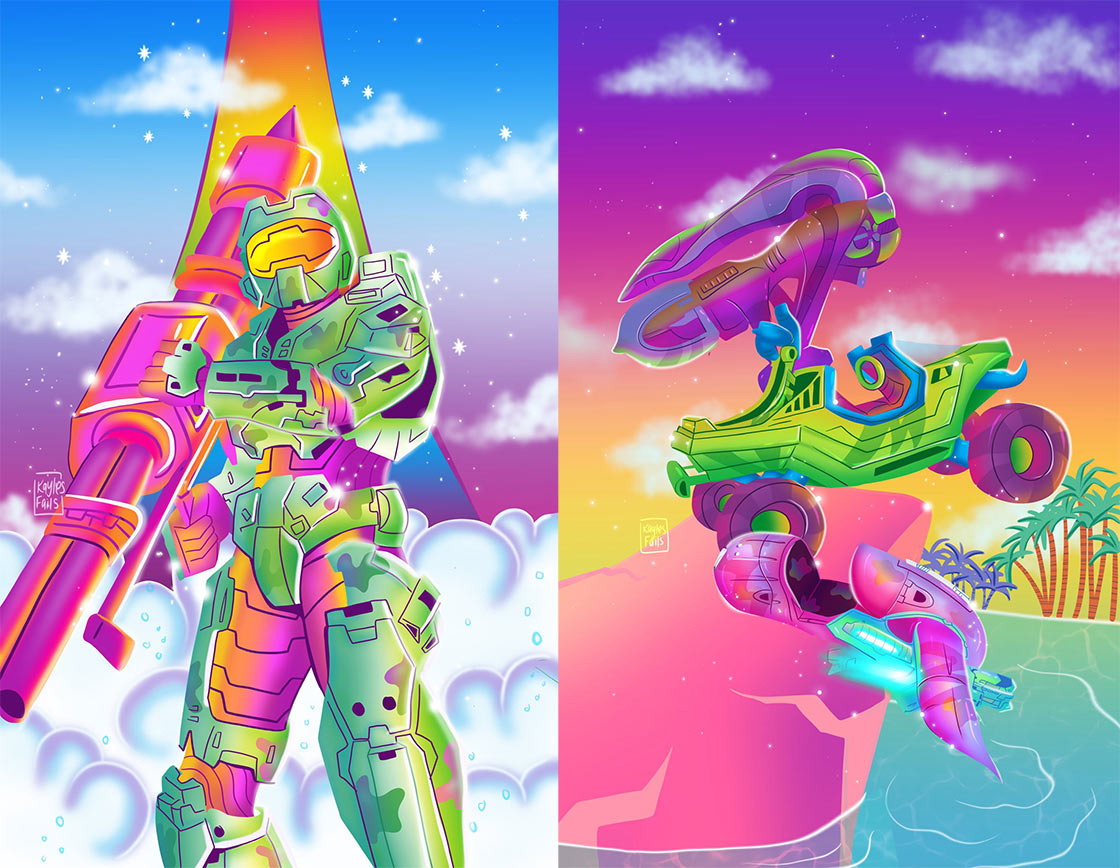 I got a ping from Katie, aka @slimkati3, aka the Marketing Manager (Partnerships and Lifestyle) for Halo Infinite, asking me if this Lisa Frank inspired piece by @KaylesFalls was this year or last year. When I told her it was this year's Feburary 14, 2020 edition, I knew I was in for a good story and she delivered. If you don't know/follow Katie, she is incredibly awesome and works hard at what she does. And her shoes and style? Always on point.
I am a jaded Halo veteran. I've seen it all. but when I saw this, I LOST IT. The colors! The nostalgia! The creativity! It is a personal mission of mine to show the world that women are gamers, and that there is room for things that girls and women like, in gaming. It is so important to me that we see ourselves and things that resonate with us in the gaming space. I was one of the many girls who had Lisa Frank EVERYTHING but also liked to play Contra and Goldeneye right along with the boys. I was a walking contradiction and anomaly to people back then, but it shouldn't be that way anymore. Now that I'm a grown-up marketing and partnership manager, this image inspired me. It is literally now actually within my power, to maybe someday actually do a collab with Lisa Frank and Halo. I got those *idea* tingles. So, not only did I love the execution, but it reassured and inspired me.
Uny had a lot of favorites, some art, some video, and ultimately landed here – on @FrostyBB's montage from July 16, 2020. You have given us all a lot to love but something about a pro player's montage, edited by the one and only @HastingsEditing, and all with tournament only clips just hits different.
As snickerdoodle said, going through all the Community Spotlights to pick out a favorite was tough because there are so many incredible community creations out there. After combing through them all, I had a handful of favorites but this one stood out from the rest. Whether its due to Frosty's incredible gameplay, which is all from HCS tournaments against the best players in the world, or it's phenomenal editing from Hastings, this is a montage I'll remember for years to come. If you haven't watched it yet, I'd highly recommend setting aside some time this holiday season to do so. Fantastic work, Frosty and Hastings!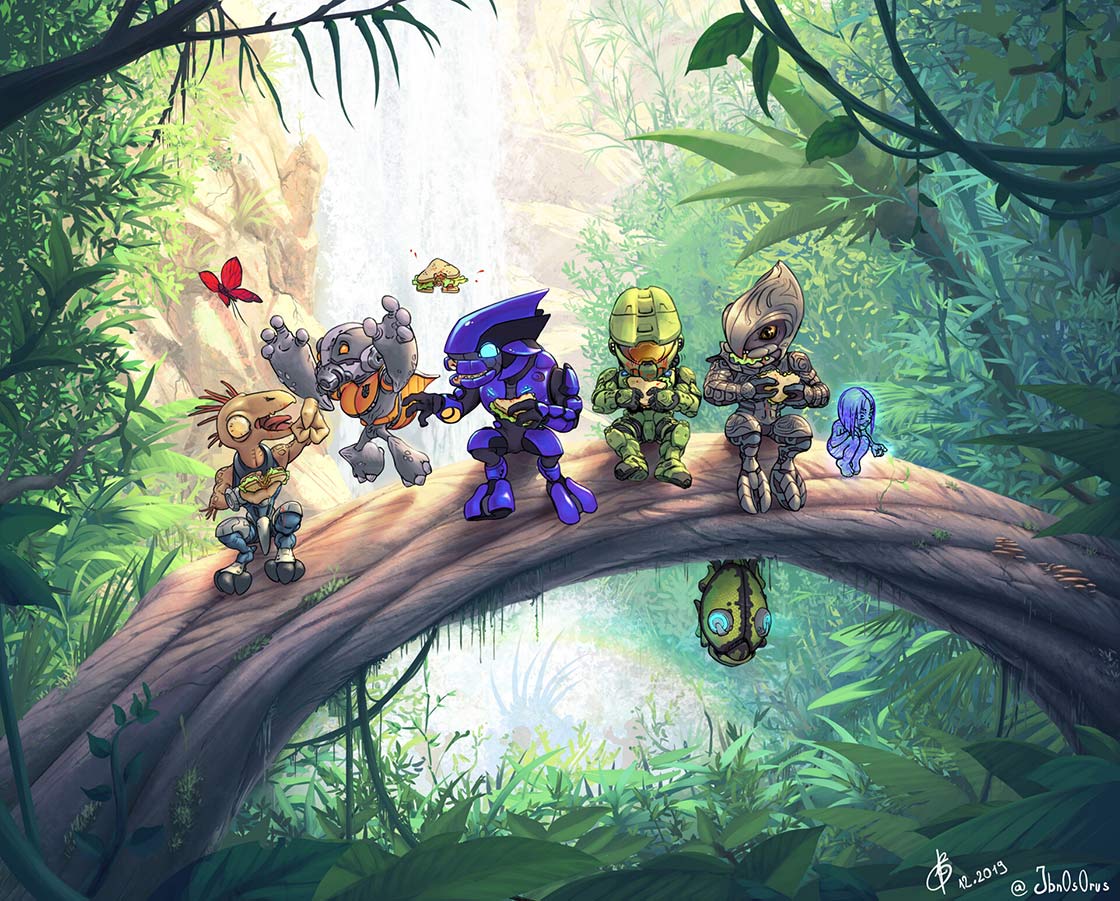 We're finally at *my* favorite. There have been a lot of favorites and truly, many are exceptional and incredible. Oddly enough, however, the one that has stuck with me all year comes from the very first Spotlight of the year – January 16, 2020. There's something about this one that makes me smile every time I see it. The overall mood is charming with everyone enjoying (or, in Chief's case, trying to enjoy) their sandwiches. The playful Grunt chasing a butterfly, the Elites looking on... And the ominous Hunters in the background. The Calvin and Hobbes inspiration worked, @Jbn0s0rus, et merci beaucoup for making my favorite image from all of the 2020 Spotlights.
Petits Fours
No birthday is complete without a goodie bag so here's the delights to go!
Doodle's Snickers
I asked @pixelflaregfx to put a Santa hat on something for me and this is what I got. The more I look at it, the more questions I have... But it's amazing.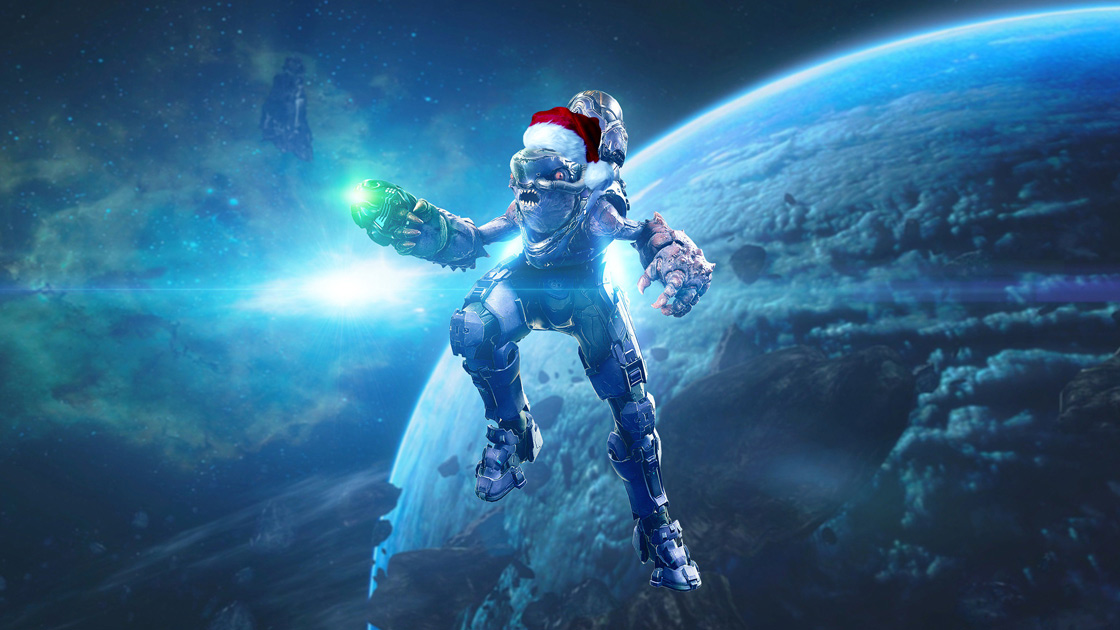 Fin
With that, I close out the final Halo Community Spotlight for 2020. If your art is somewhere in here, don't forget to fill out the latest submission form so I can grant you your Fire Unicorn rewards next week. I will be back next year and until then, I wish you all the happiest of halodays. And holidays too, enjoy those as well. Be safe, have a joyful time, eat all the cookies you want, and play lots of Halo. 💚
Ciao! xx
--Sam