Welcome back to another heaping helping of community-created Halo goodness! This is our last official Community Spotlight of 2018 and we've doubled down on some truly awesome artwork, renders, crafts, cosplay, montages, and more! The creativity and passion shown by the Halo community never ceases to amaze and inspire and it's an honor to shine the spotlight on some of your work.
Remember that we love seeing and sharing Halo community creations here on Halo Waypoint. We do our best to round up spotlight submissions from across the community and while we frequent the Halo subreddit, remember to also share your content with us on social using the hashtag #HaloSpotlight to better bring it to our attention.
Catch 'em All
While not necessarily new, these adorably awesome Pokemon-Halo mash-ups by Kaleb Raleigh recently made the rounds on social (it's new to me!) and definitely warrant some spotlight love. Head over to Deviant Art and check out the entire gallery for ultra-cute evolving Grunts, Hunters, Prophets, and more.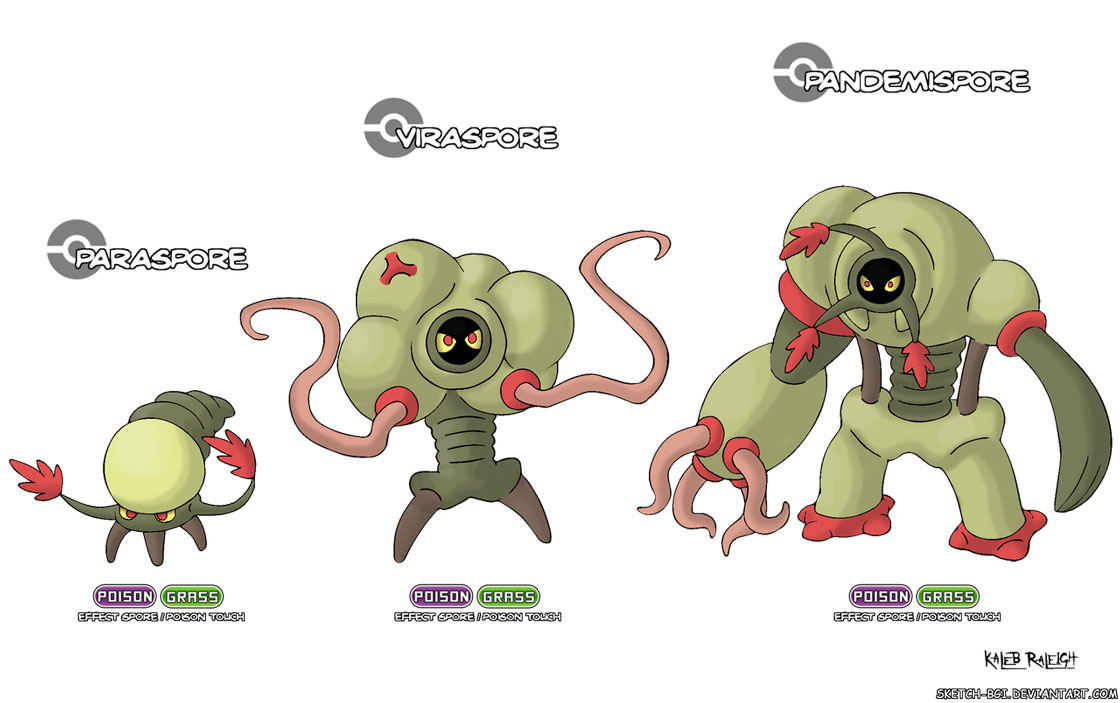 TASTE THE RAINBOW
I'm getting serious 80's / Thor Ragnarok vibes from this rainbow bright Master Chief creation by "hanzozuken" that was spotted over at the Halo subreddit (thanks to Bleeding_Choker for the share). You can check out the original, less rainbowy version over in the Deviant Art gallery HERE. And yes, if you frequent the Community Spotlight, I picked a bright Ragnarok-esque image last time, too. :)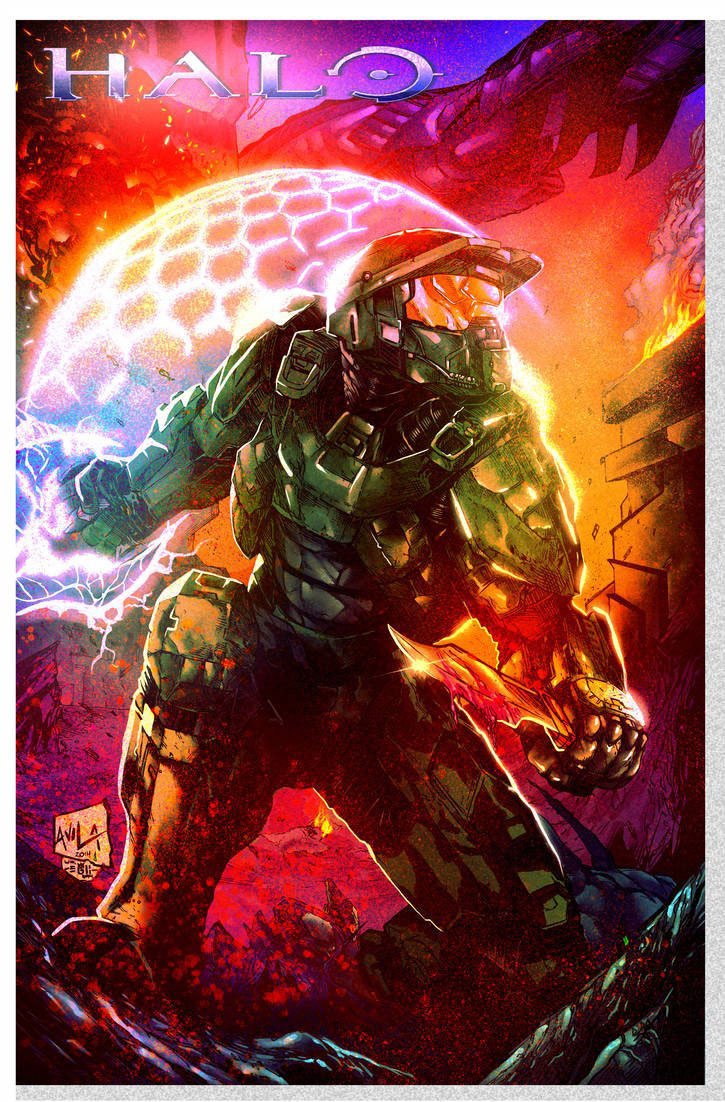 Finish the Fight
This illustration by Alex2013 that was posted to the Halo subreddit is on point as Halo 3-mania is sweeping across the community.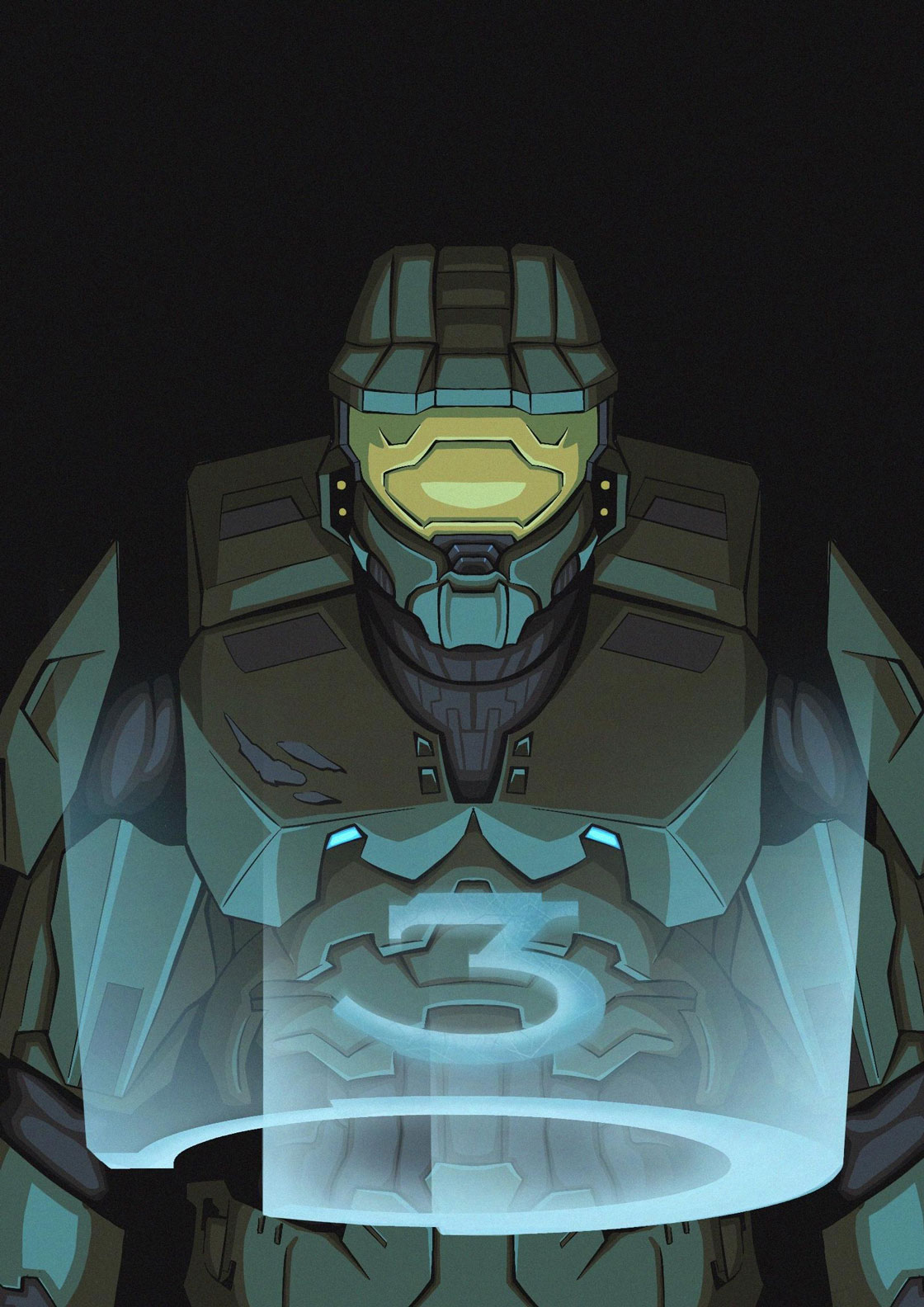 FInISH THE BITE!
SwerkyDerk does "napkin drawings for my local butcher" and shared this Halo inspired work over on Reddit. Reminds me of an old joke we had back at Bungie with a take on Sgt. Johnson's famous line, "Folks need Gyros Chief! Give 'em hope!" Now I need a sandwich!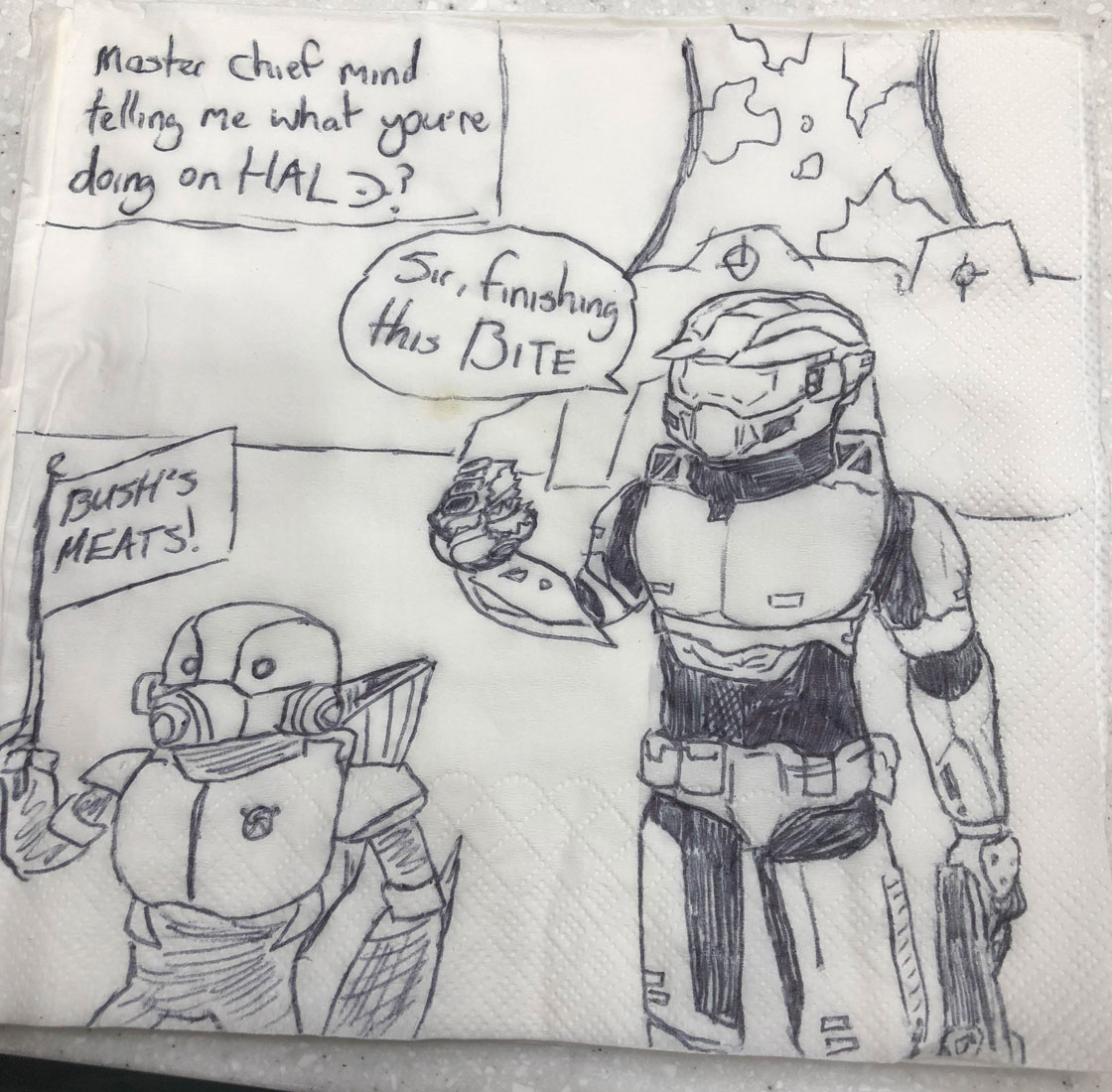 Mouse Master
At first glance this is a pretty straight forward rendition of Noble 6's helmet. But this creation by Ya_Boy_Mr_Roboto on reddit is even more impressive when you realize it was created with JUST A MOUSE. As he put it, this was "about as hard as Halo 2 on Legendary."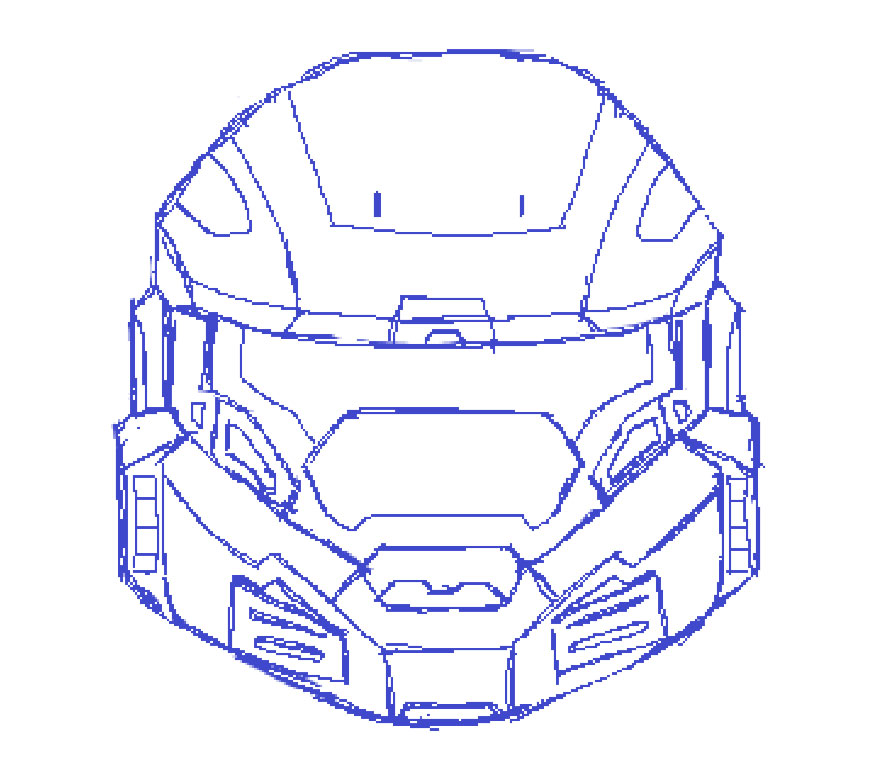 Mobile Minecraft
SilencedGamer build out this art in Minecraft's mobile version. Pretty good for pixel art on a phone if we can say so ourselves.

Iconic
Digging this cool, iconc "MJOLNIR Mark VI [GEN 1]" drawing by kekioli over at the Halo subreddit.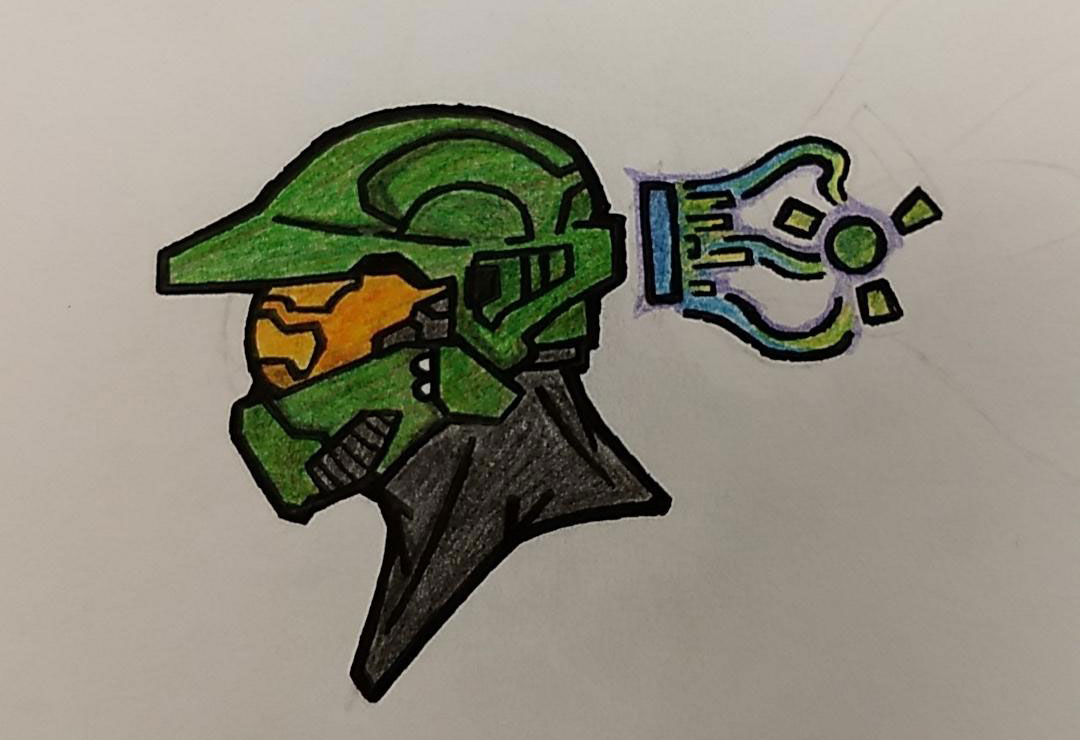 Chief's Chip
I caught this awesome piece on the Halo subreddit which was posted by user HarlequinKiss. Looks like it was actually created back in 2017 but hey, it's new to me and it's fantastic.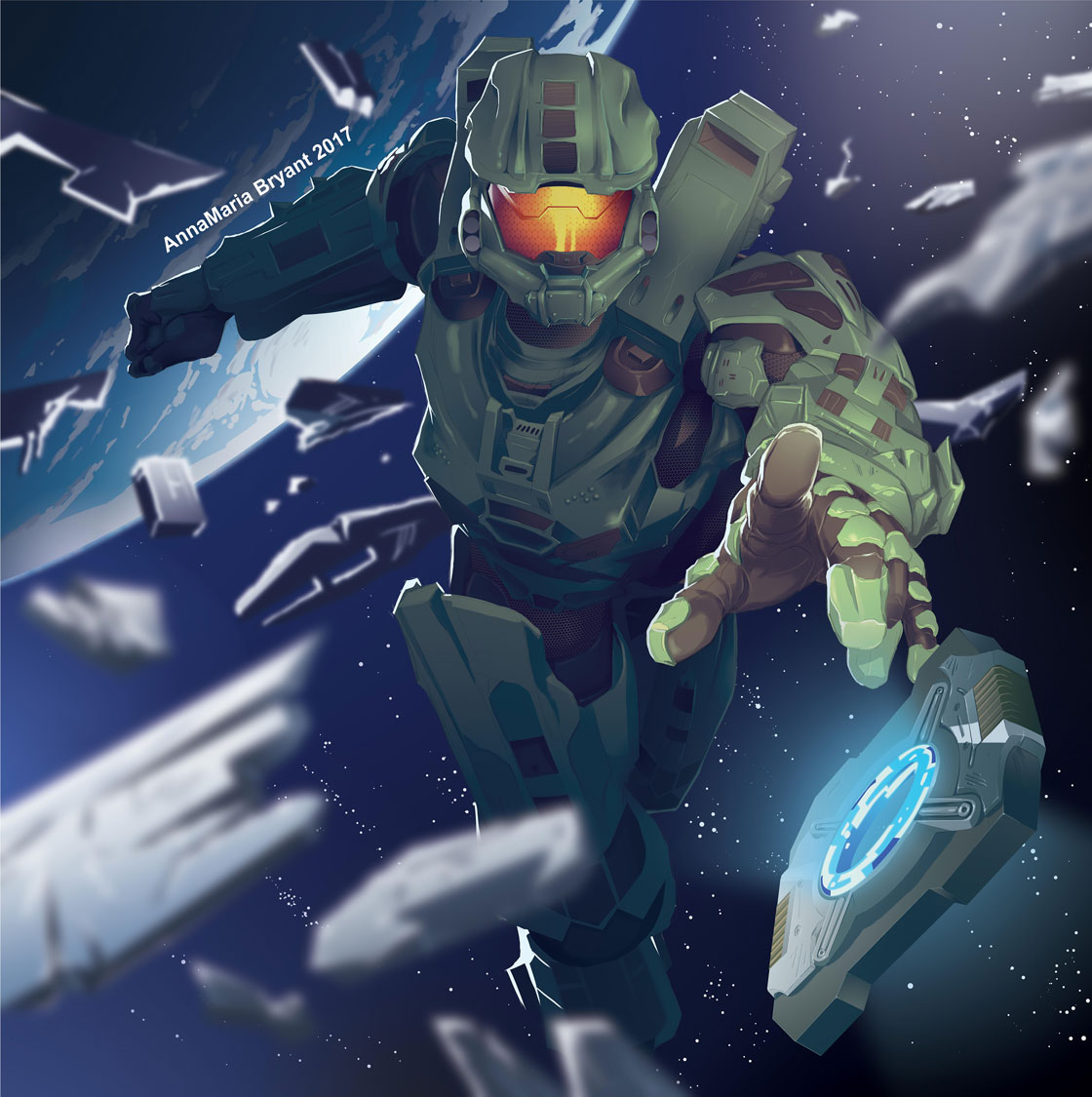 Chief & Cortana
Redditor Soterios shared this awesome painting inspired by Halo 2: Anniversary that "was made by a friend." Not sure who the artist is, but excellent work! Update: Credit for this sweet painting goes to Audrey Miller!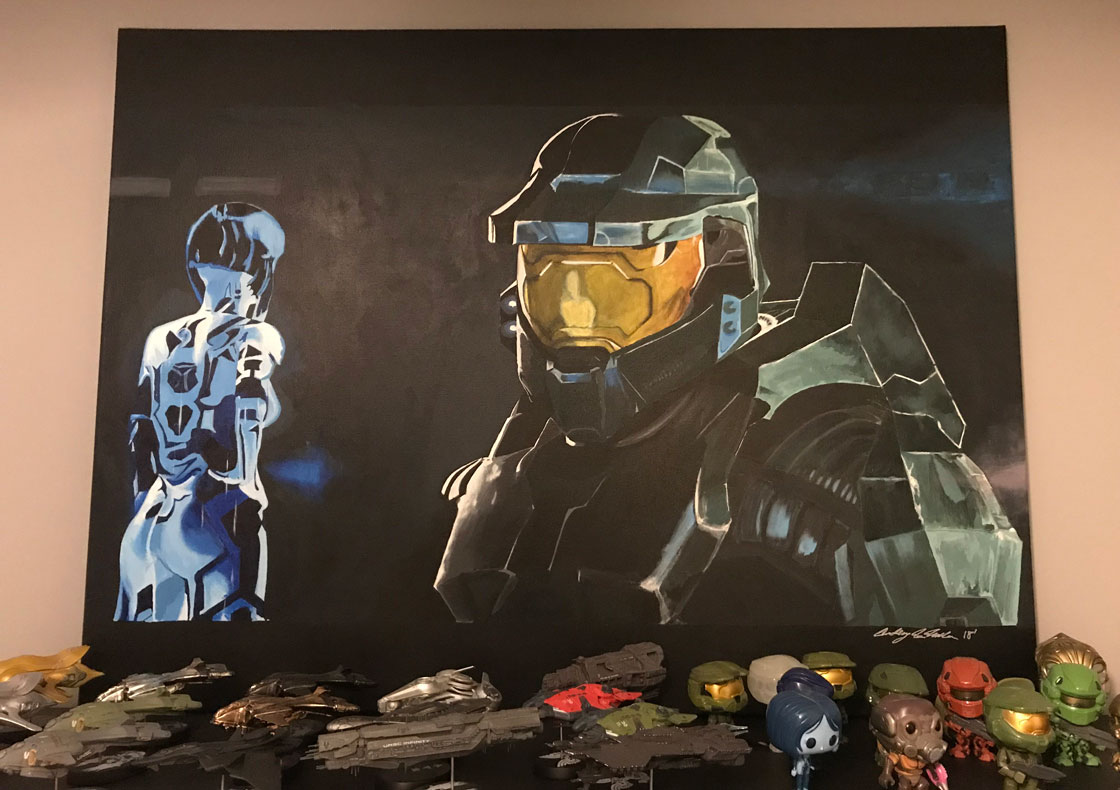 the other half
Only two days ago, Reyesbrush posted this beautiful digital art of our digital half, Cortana.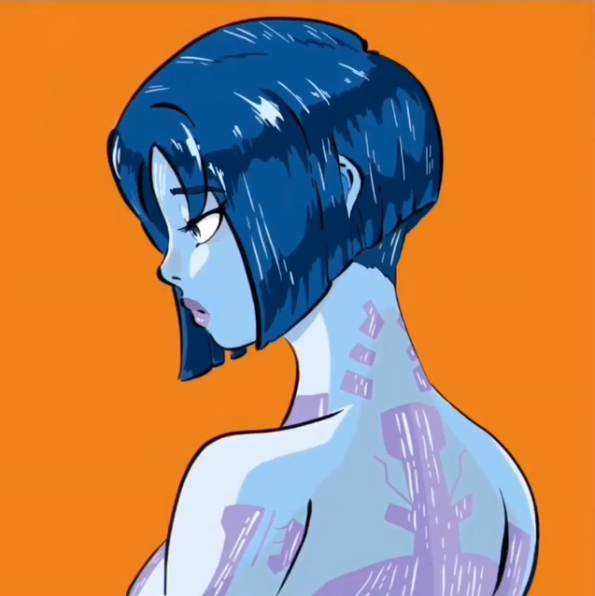 Brutal Black & White
Aozolai, usually known for his YouTube videos, took to drawing this awesome Brute Spiker variant.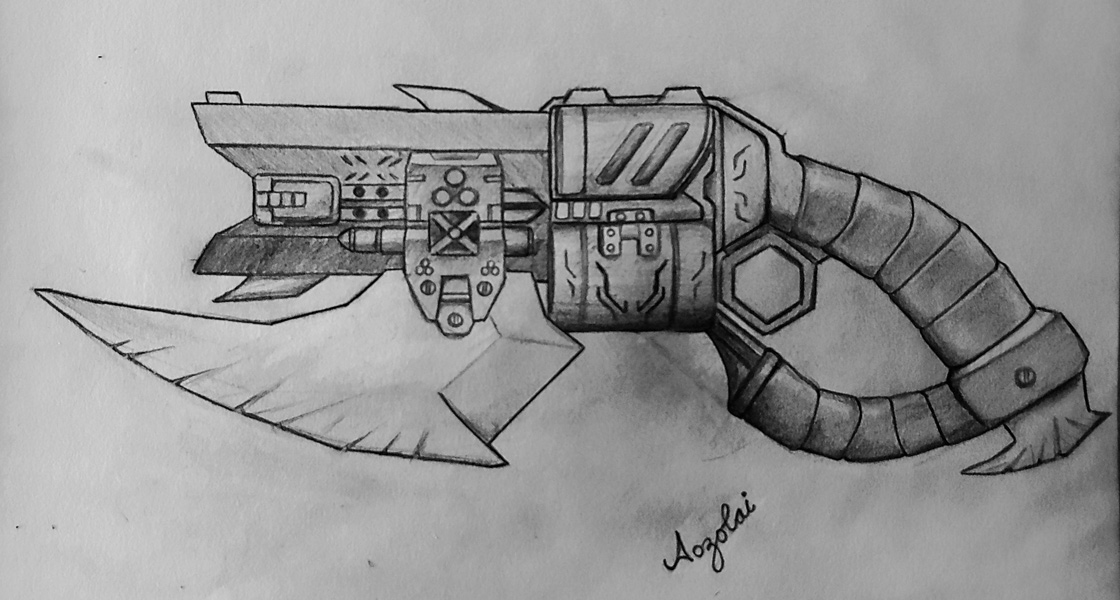 We are ODST
This "life-sized acrylic painting" was created by redditor codels27 "back in high school." It's new to me and totally worthy of the spotlight. Great job!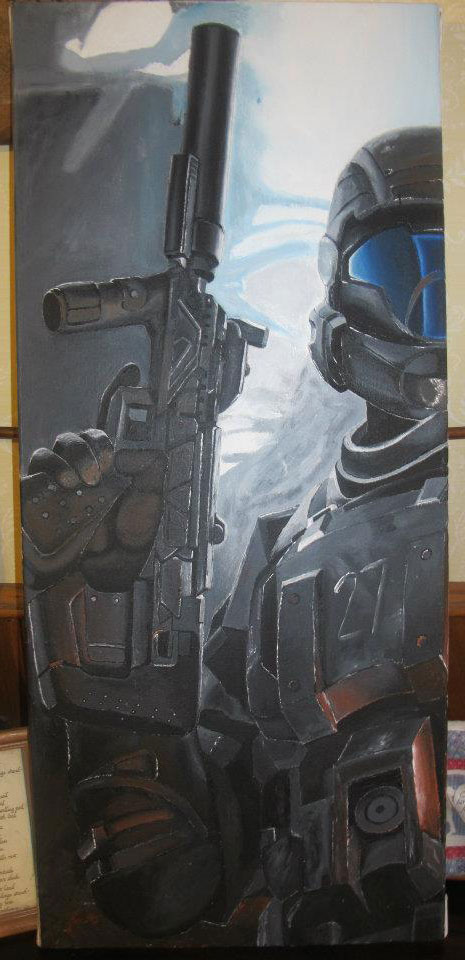 Reclaimer
Codels27 also shared this excellent black and white charcoal drawing inspired by the "Reclaimer" mission cinematic in Halo 4.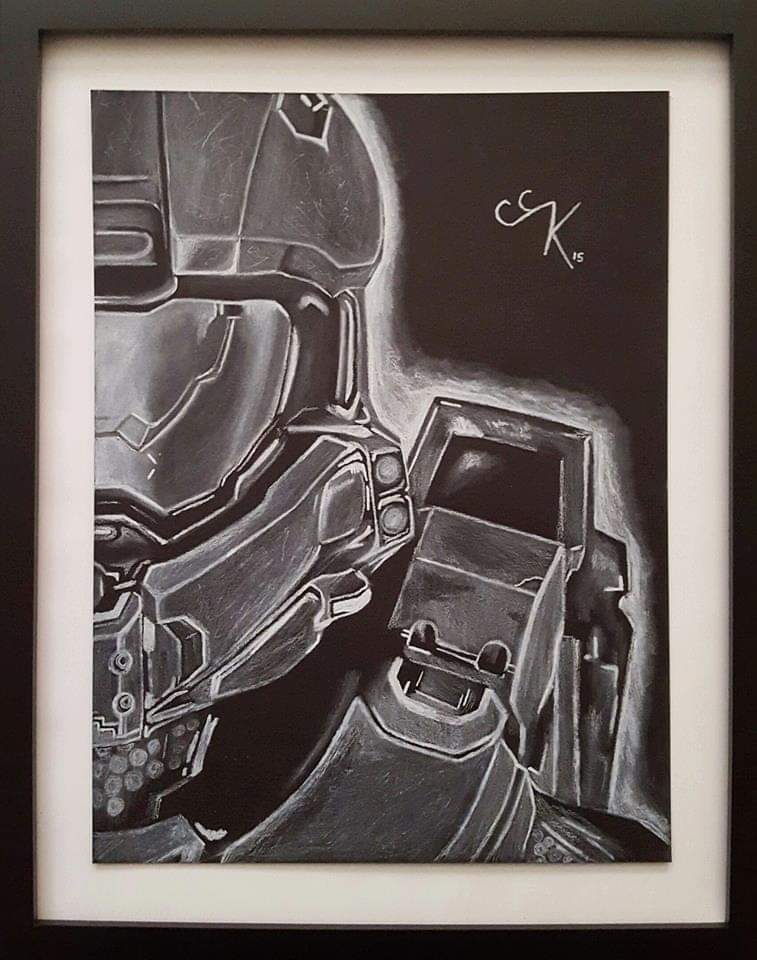 Halo 5 Spartan
Check out this superb Spartan drawing by The-Halo-Enthusiast, spotted over at reddit.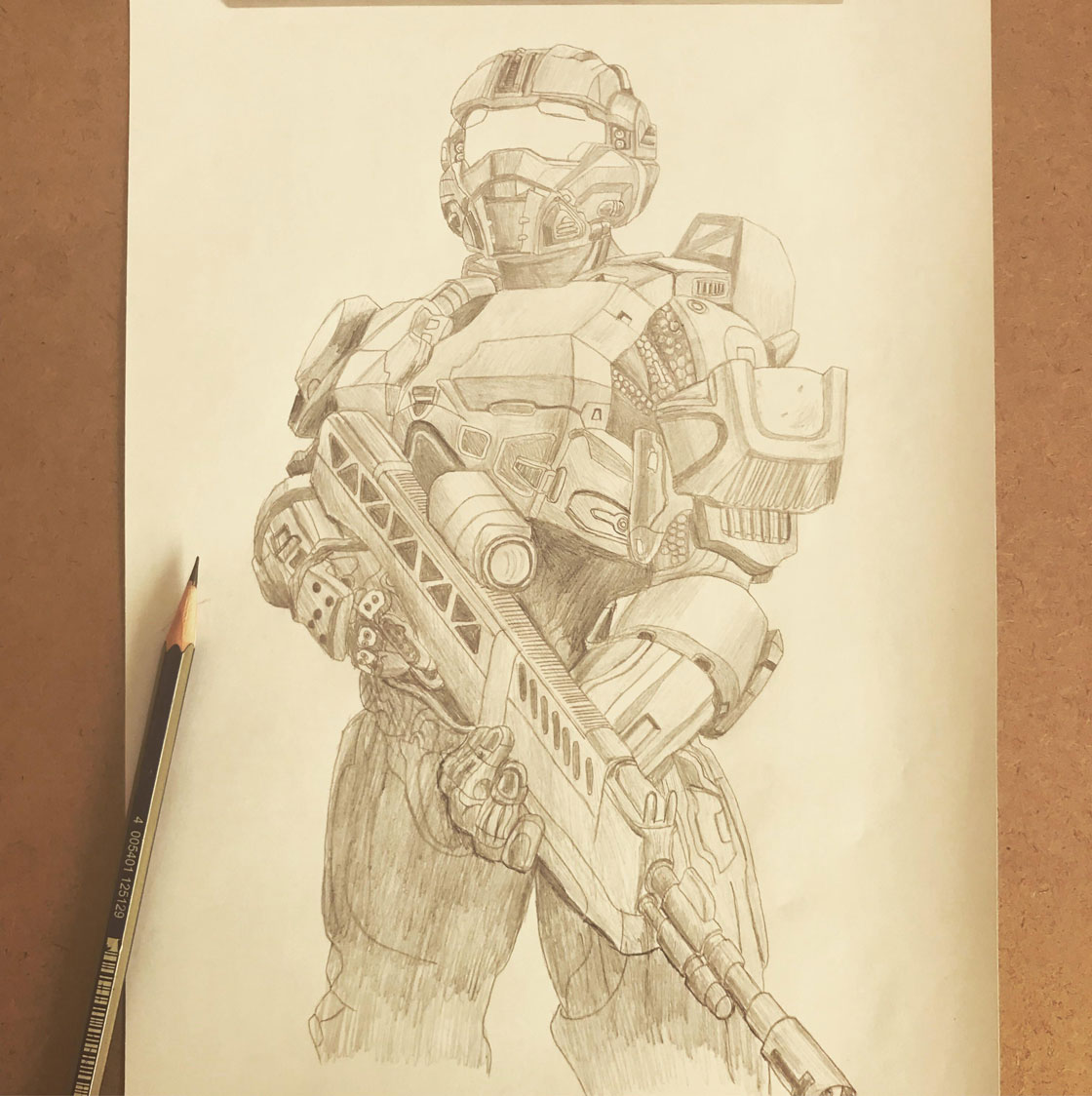 Reconnected to Reimagined
Hugh2711 met up with a childhood friend, reconnected, and talked about Halo. Not too long after, that same friend sent them this piece of Halo 2 art.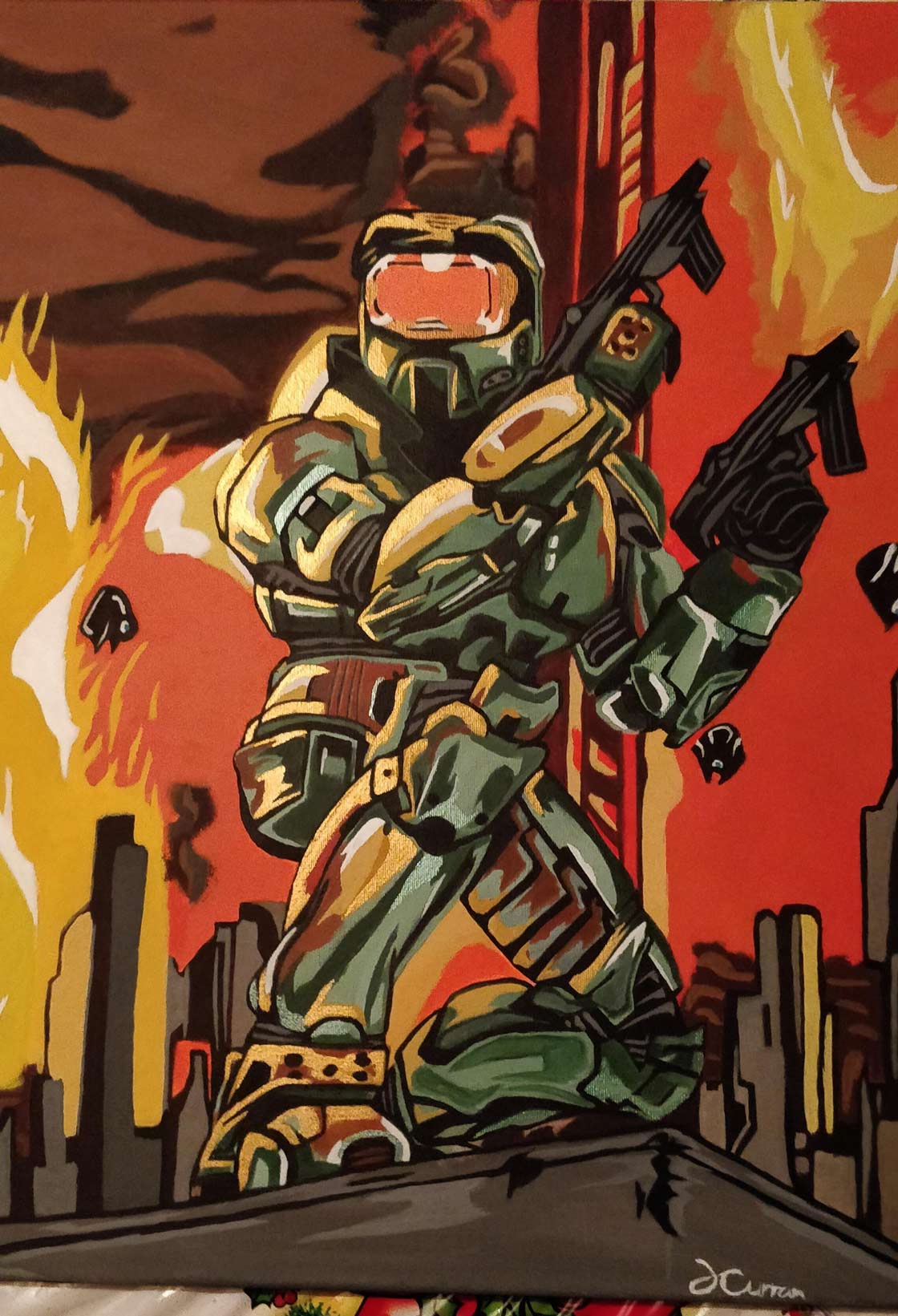 When an all-nighter pays off
FlattenedPutty says drawing this took all night, and we can believe it.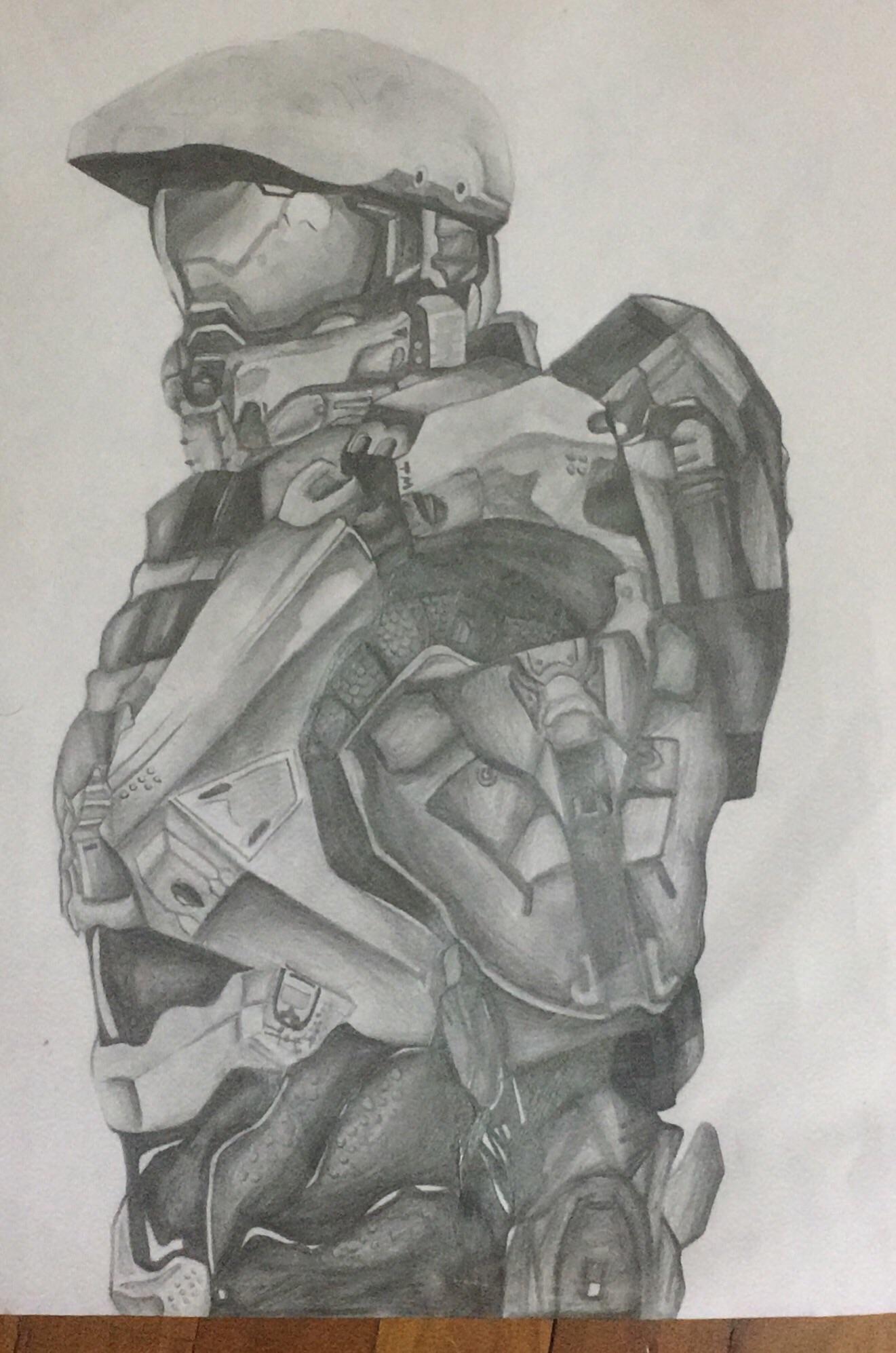 WELCOME TO ZANZIBAR
A random fan by the name of Max Hoberman shared this super accurate sketch of the "Zanzibar" multiplayer map on Twitter. It's so good and professional looking it's almost like it's an actual Halo 2 development asset... Ok, just kidding, Max was actually the multiplayer lead for Bungie back in the day and this is an original, early design for Zanzibar created by him and architect Chris Carney. Max, if you want a 343 Unicorn skin, you know where to find me. :)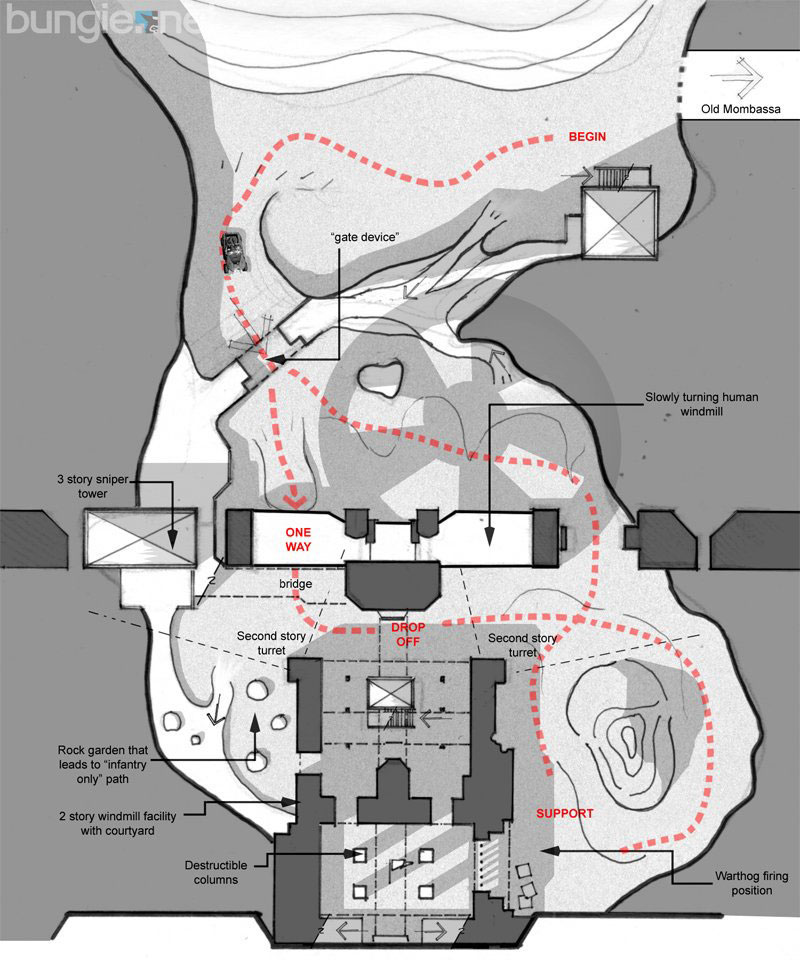 How much did you eat, Chief?
Tubby_central on instagram shared what they thought Chief and Arby probably looked like after a Thanksgiving feast.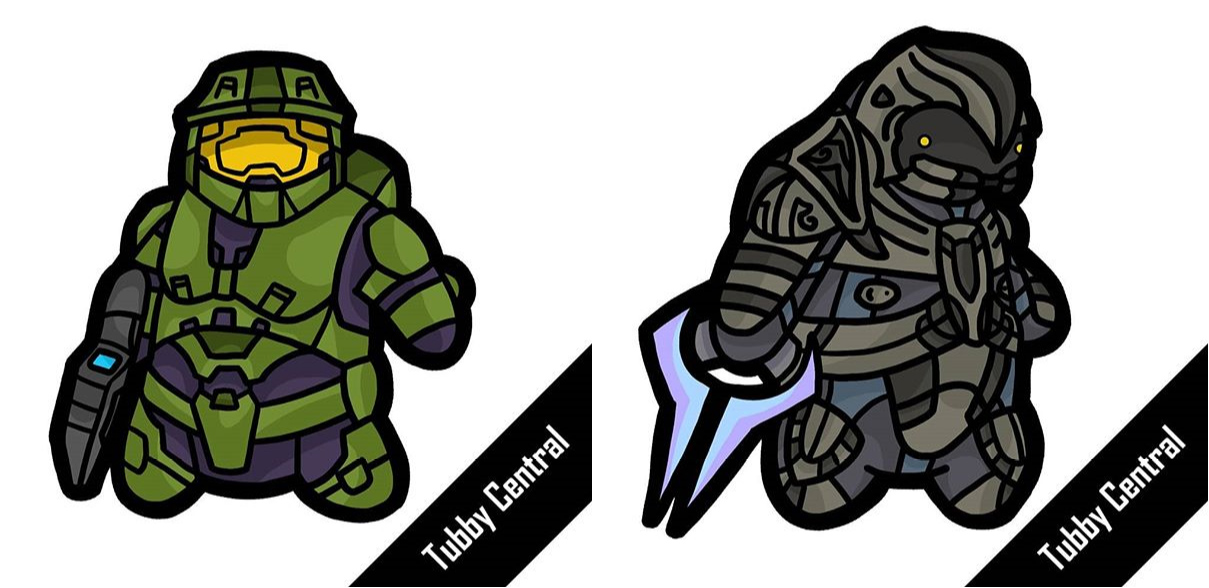 GIFs or GIFTS
This one could count as both. Blain Fox Animation made this looping animation of Chief taking down Regret, and it's quite satisfying to watch.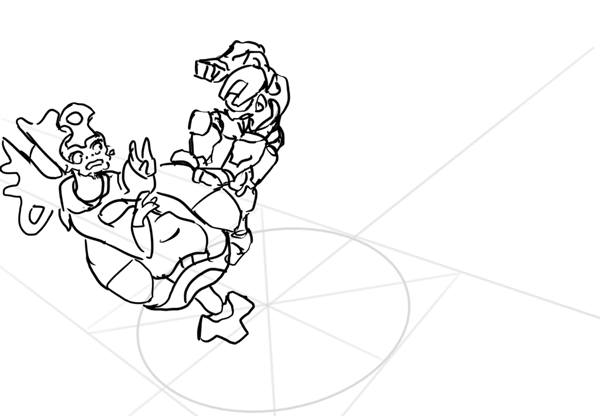 auntie dot
Our helpful friend returned to the front of /r/halo thanks to this awesome Lego creation by myst33ry.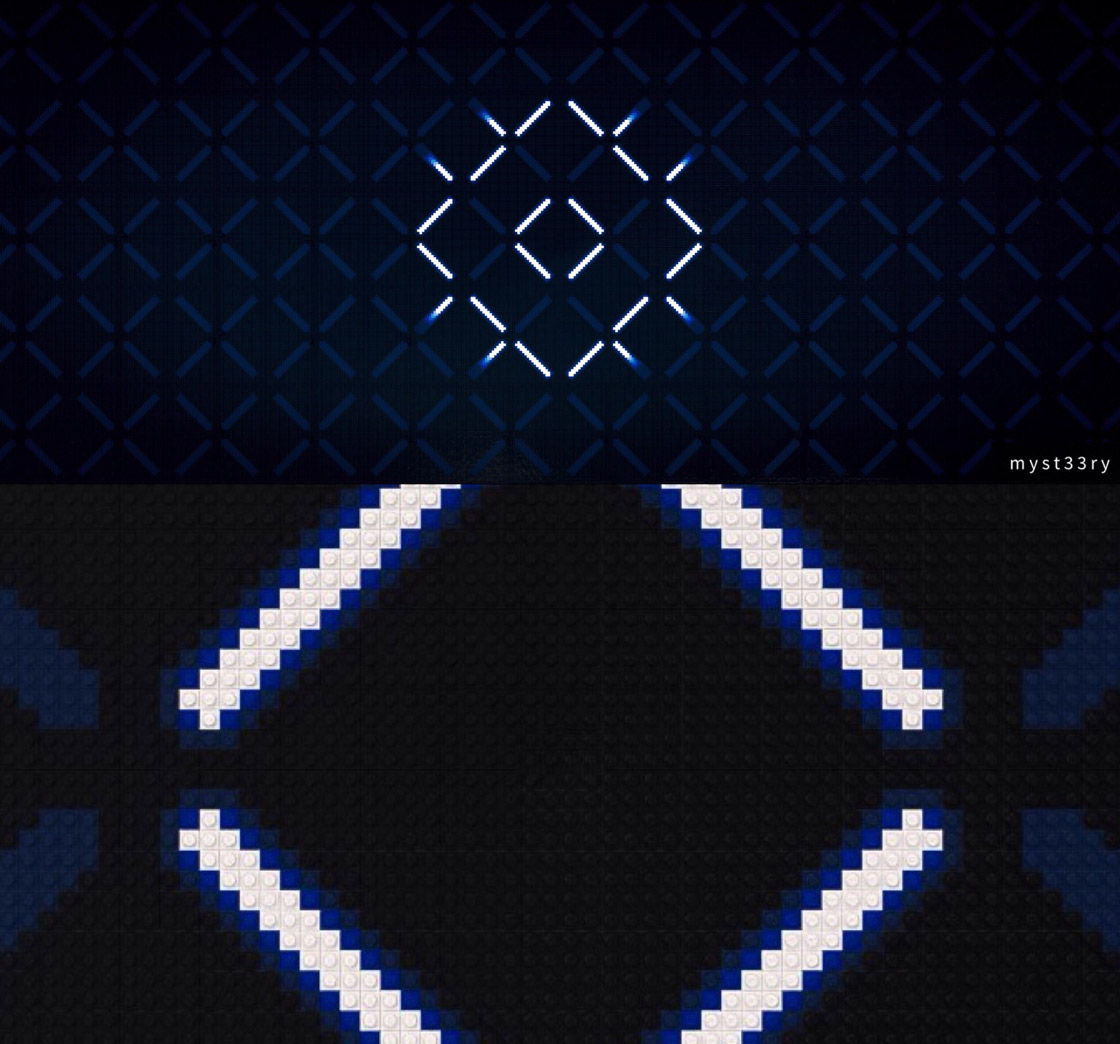 Dancing in the Spotlight
kekioli posted a sketch of Chief pulling off some smooth dance moves on reddit then colored it in after receiving tons of positive responses. Here's the result!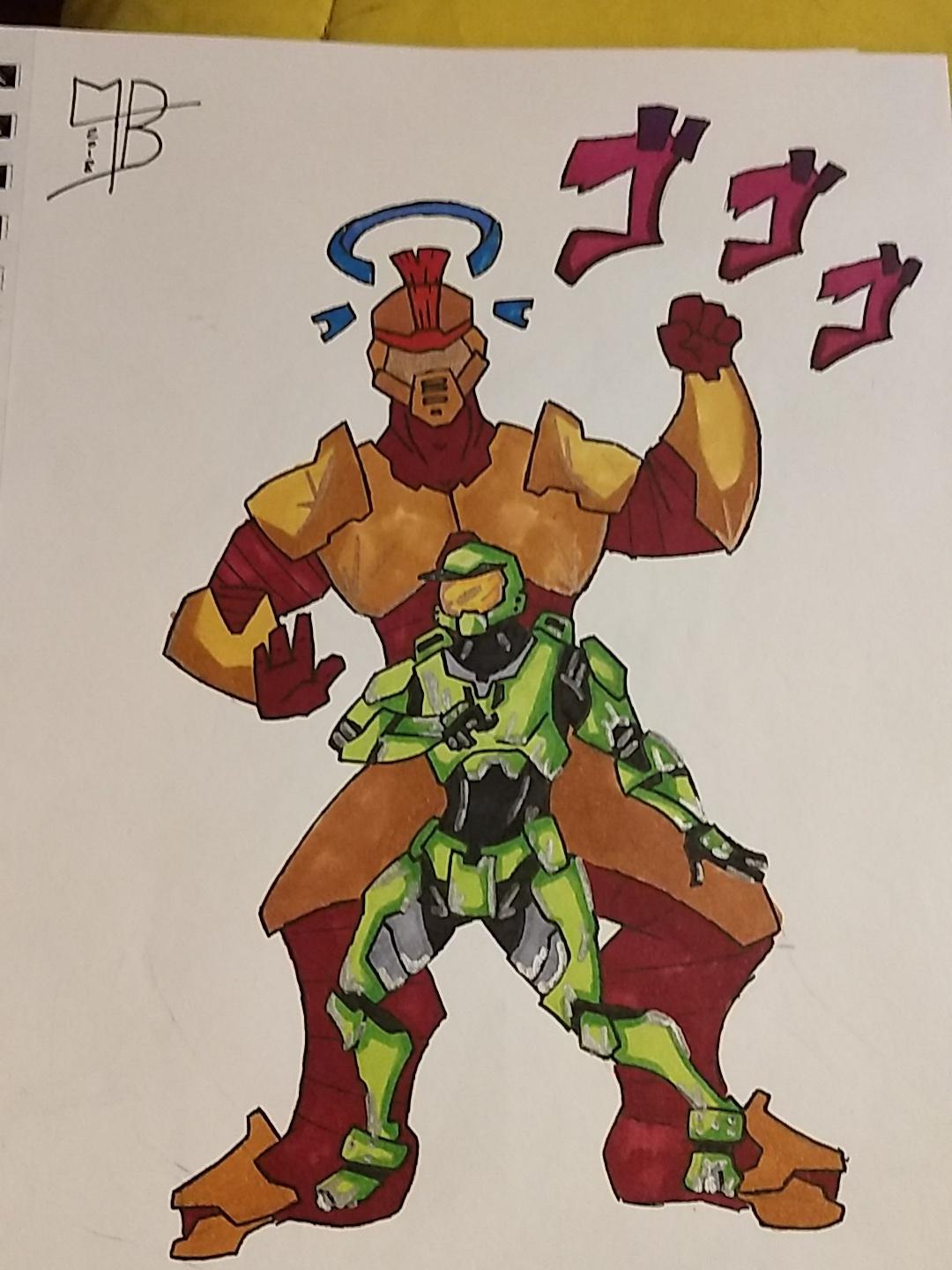 Cartoon V
This simple cartoon version of Chief rocking the Mark V Mjolnir by MericanJack almost looks like it could be one of our Legendary Crate Halo Icons figures.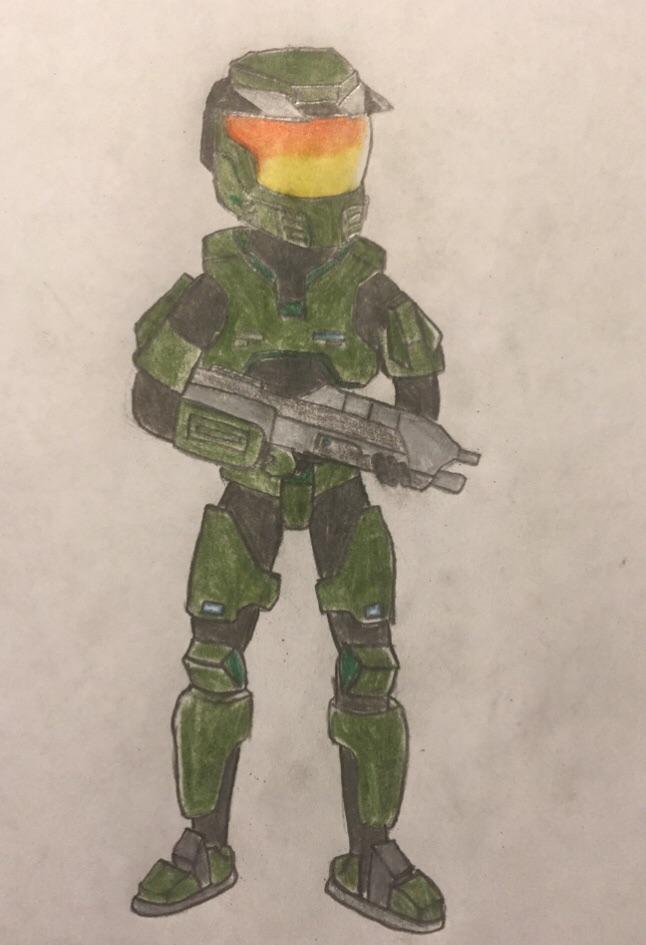 The ARK ART
Another fantastic piece of art we found on Instagram comes from, Dayikki, who claims it isn't quite finished... even though it looks spectacular.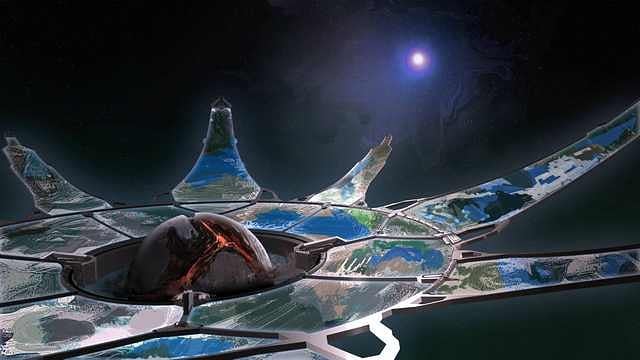 Hog Wild
Dan Nguyen (aka Hakuru15) shared this really cool 3D render of everyone's favorite all-wheel-drive vehicle. Check it out in full 3D glory over at Art Station.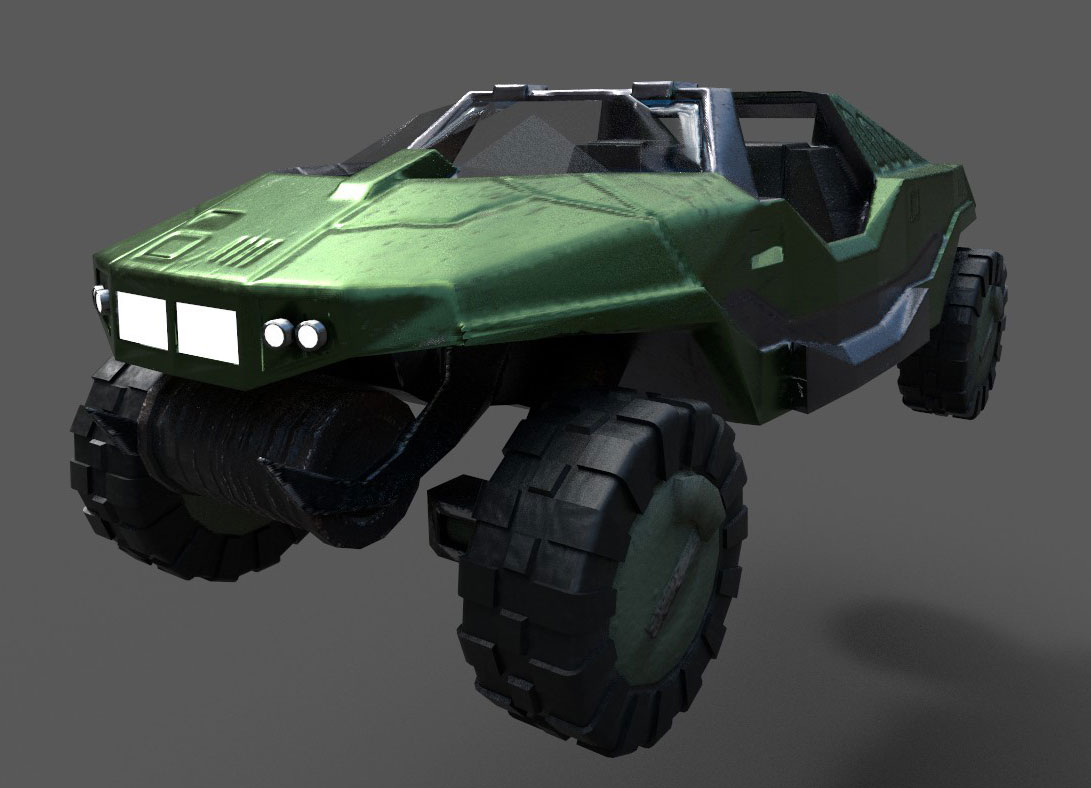 SFM
BaileyJIII has been making incredible Source Film Maker creations for some time now and these two most recent works are draw-droppingly gorgeous.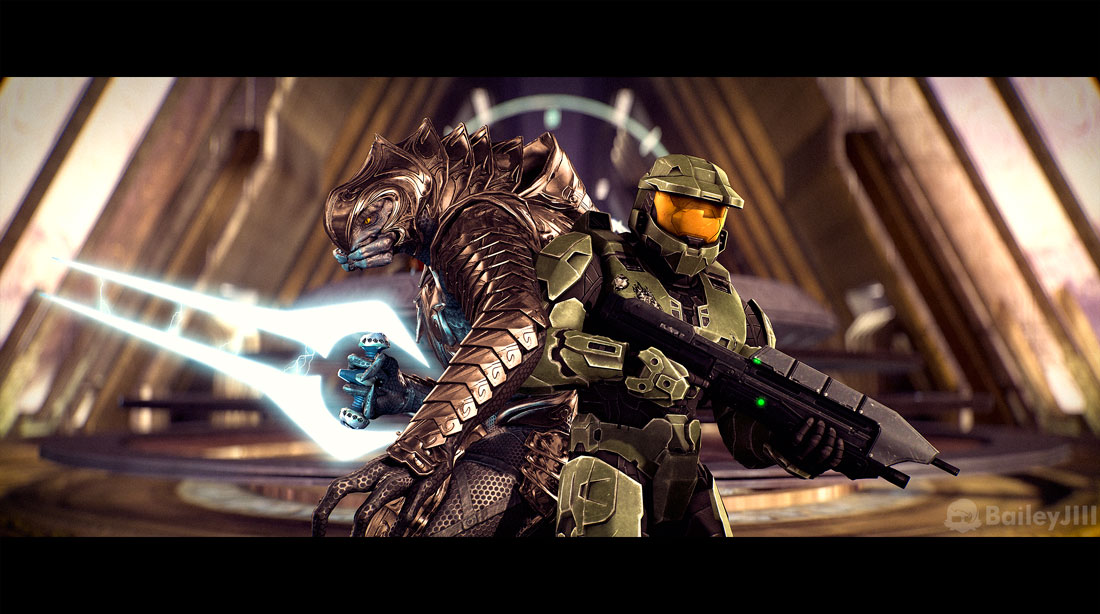 "We trade one villain for another" - Thel 'Vadam, December 2552 (as seen on reddit)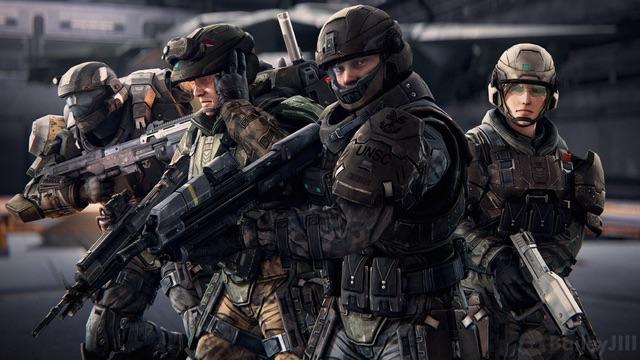 "Halo: Reach - UNSC Ground Forces" (as seen on reddit)
And as this Community Spotlight blog was getting wrapped up, BaileyJIII dropped this gem:
Monoricardo_c seems to have also been swept up in the Halo 3 hype that's circling the gaming scene these days: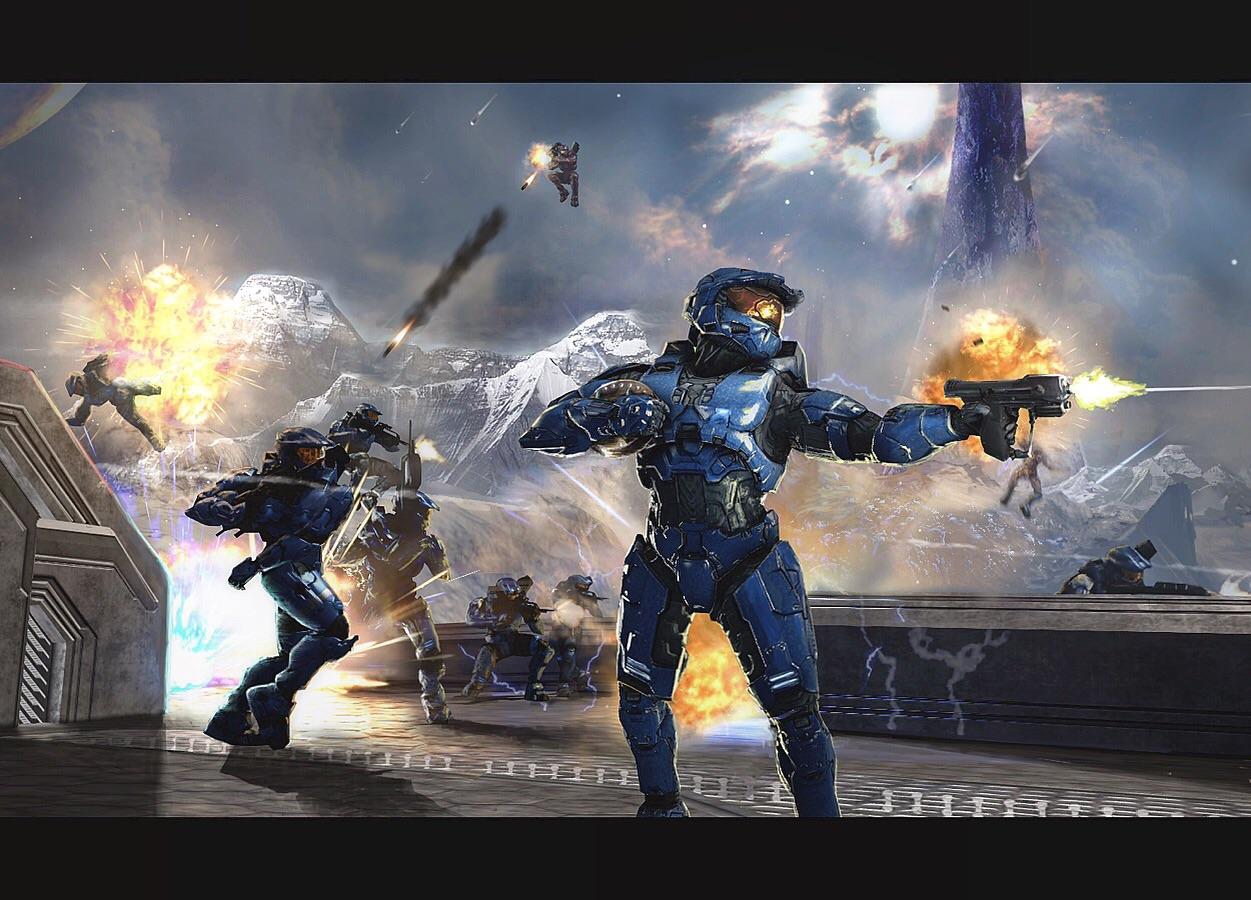 We were graced with this fun shot below of what Noble 6's social life could've been like when not in battle thanks to -Soulburnin on reddit: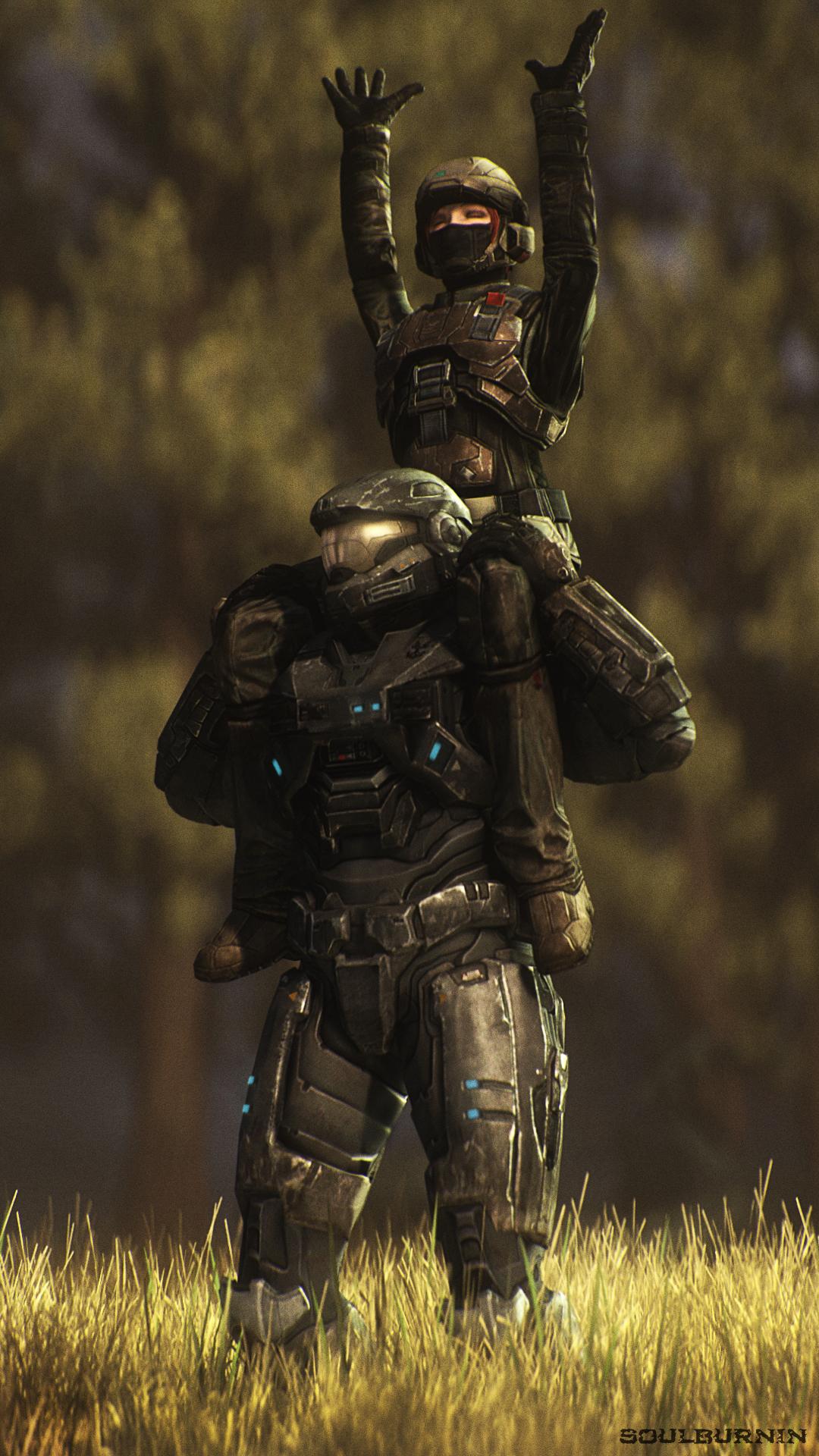 COSPLAY
We've got three super impressive Cosplay entries ranging from a larger-than-life Hunter to a unique mash-up to a nice duos pic.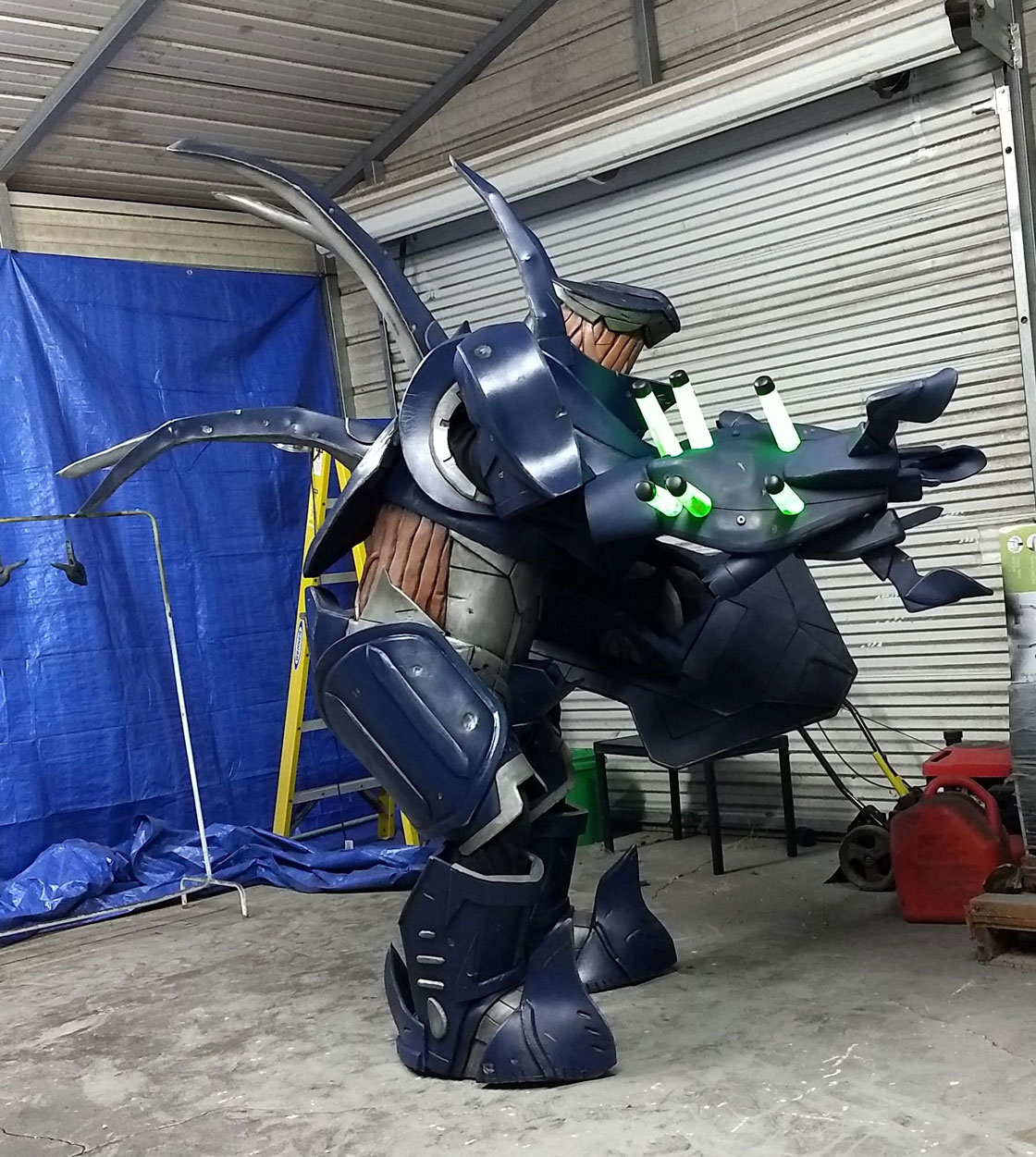 This larger-than-life Mgalekgolo was spotted over at the Halo subreddit and is the impressive work of brothib. All I can say is WOW.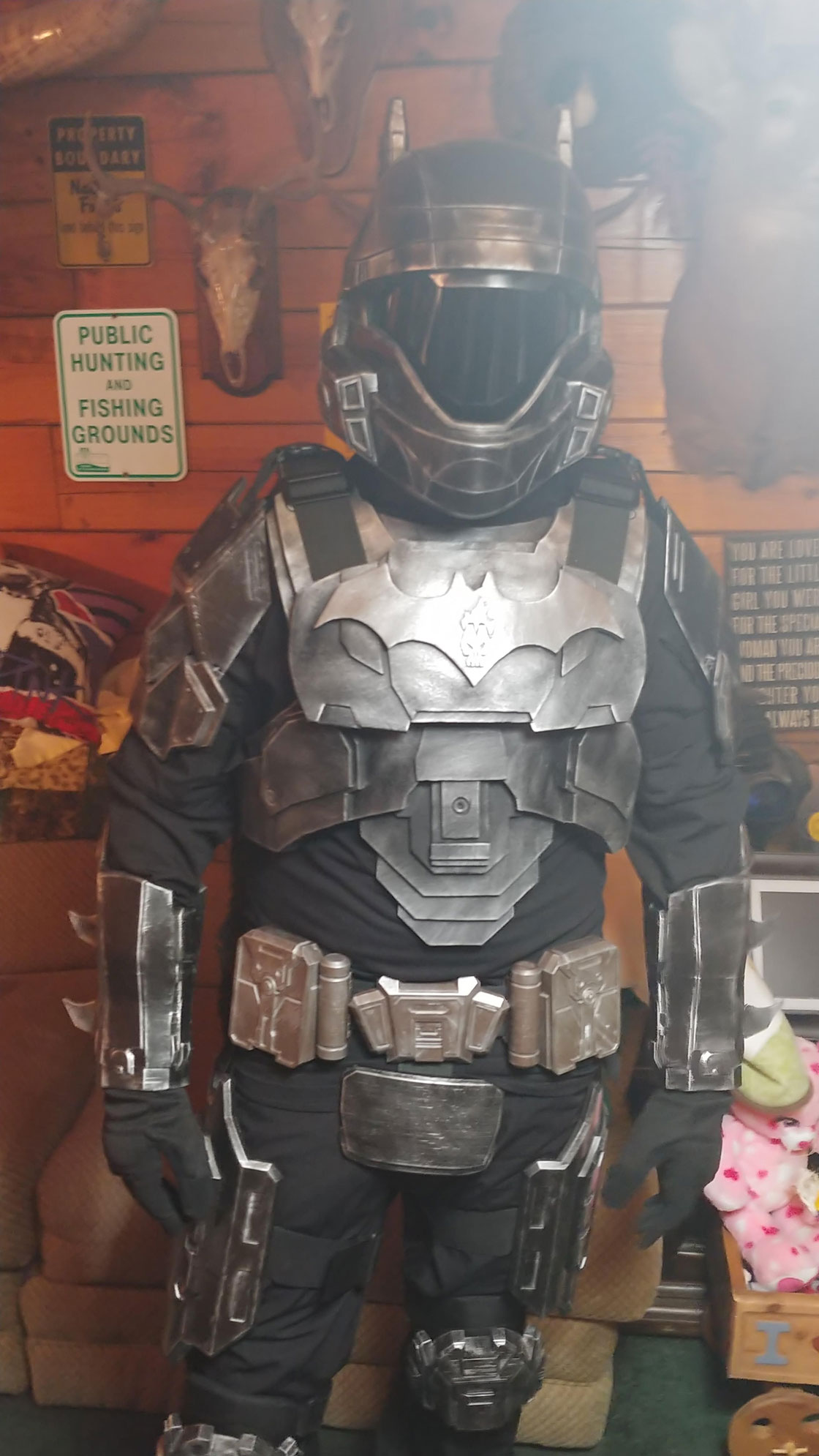 This unique creation dubbed "The Orbital Dark Knight - Protector of New Mombassa" is the work of TheApropalypse as shared in the Halo subreddit. <3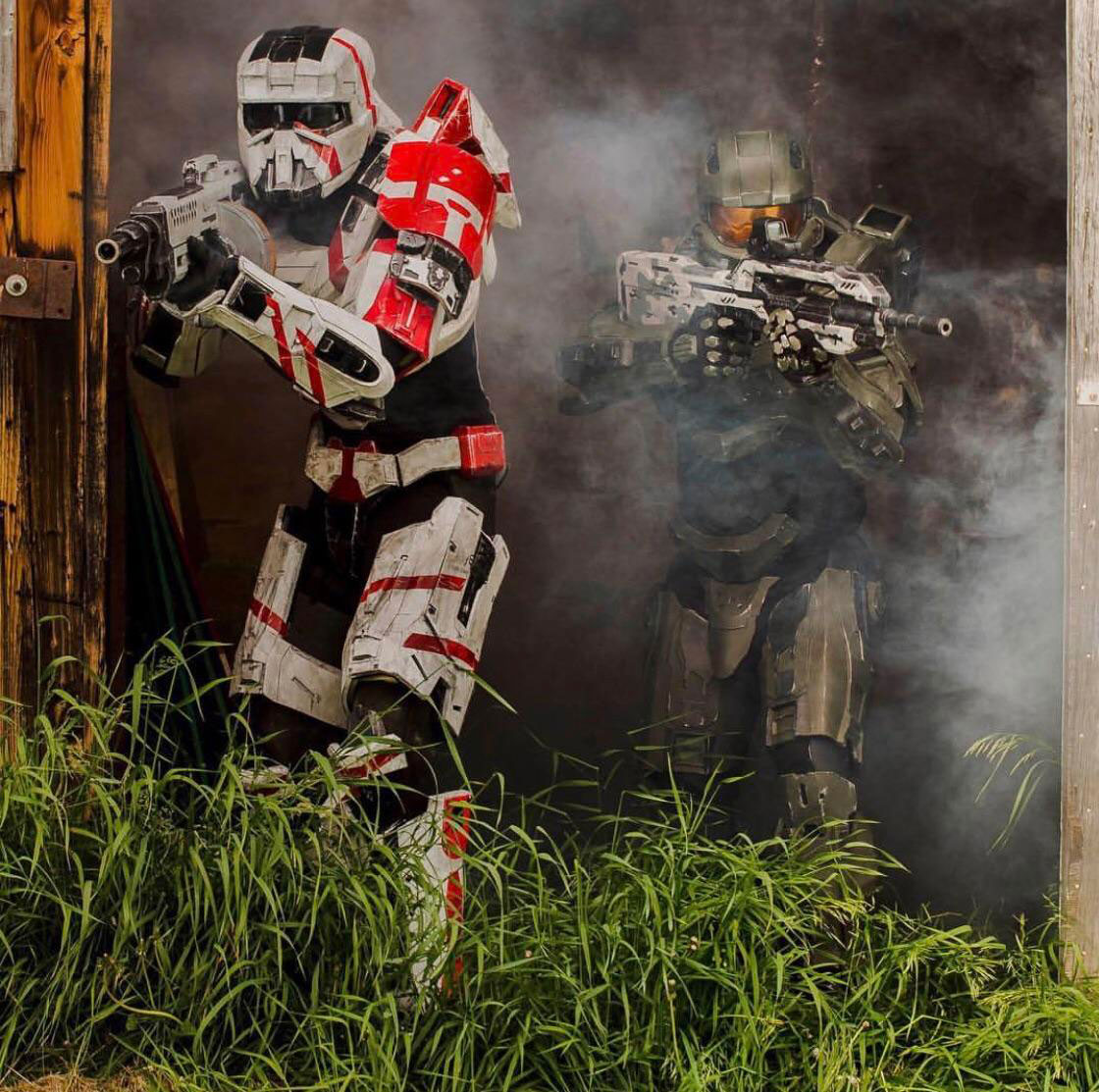 "Get on my six, Chief." No this isn't a set photo from the Halo Showtime TV series, this is badass cosplay from redditor Theycallmestretch and his buddy Mike. So. Good.
Tacitacal Hazard Gear
It's not quite a cosply, but redditor VanD3rp, shared his safety helmet and chainsaw which are both decked out and in true Halo-fan fashion.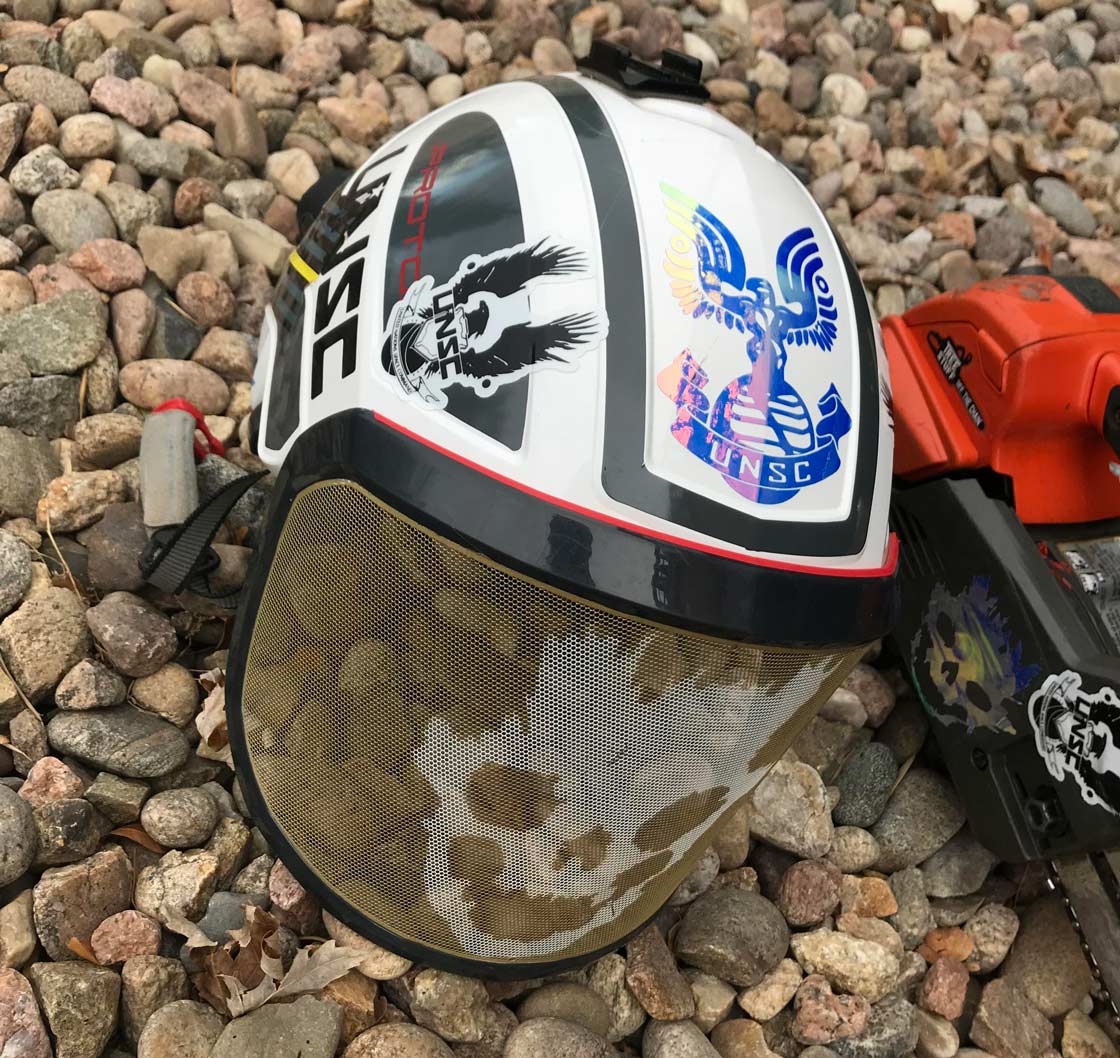 MAGICAL MONTAGES
We've got a few top notch montage creations this time around and with the recent announcement of the HCS Grassroots program, we hope to see many more in the weeks ahead!
Savages - 300th Killionaire Solo Infection Montage (featuring cyaz x sage)
It's Haloween | Proly Has Risen Halloween Special | Halo 5 Infection Montage (by THE PROLY)
termacious trickocity's - the pointless pyramid
Puckett's Top 10 Players of the Week #1 - Halo 3
He's back! Puckett teams up with PlazaPlays and GTHalo and Yahiamice for the first #PuckettsTopTen in a long, long time.
MUSIC TO MY EARS
Speaking of montages (and YouTube content in general), Halo creators that are looking for some fantastic, safe music to use need look no further - the fine folks over at Installation 01 have released soundtrack stems for the community to use!
Tis the Season
Redditor fredward321 is getting into the Halo-day spirit with this special tree spotted over at Reddit.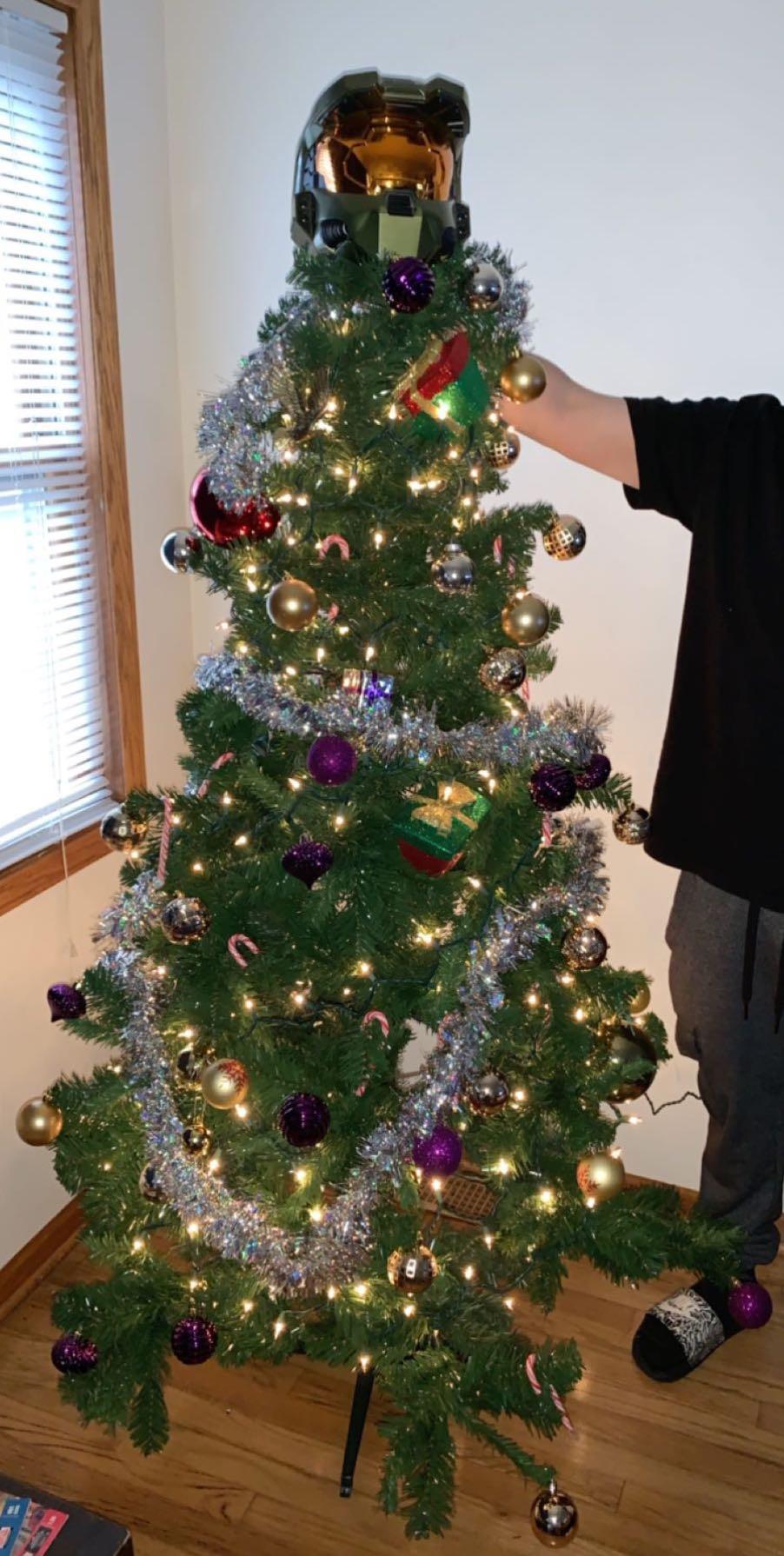 CxeeFoxx also joined in on decorating her tree and leveraged tons of Halo gear, including plenty of Legendary Crate items, to have an truly Halo tree.
Gingerbread Pit
Now for something super unexpected and original - redditor sockofillrepute built "The Pit" out of gingerbread!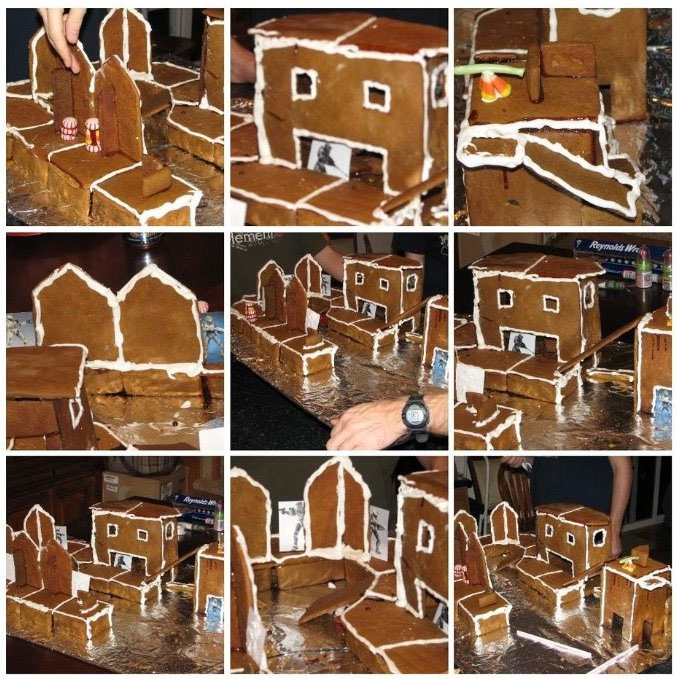 Green Door Greeter
Mitri97's door greeter thought he'd try giving all his presents away this year, switch things up a little.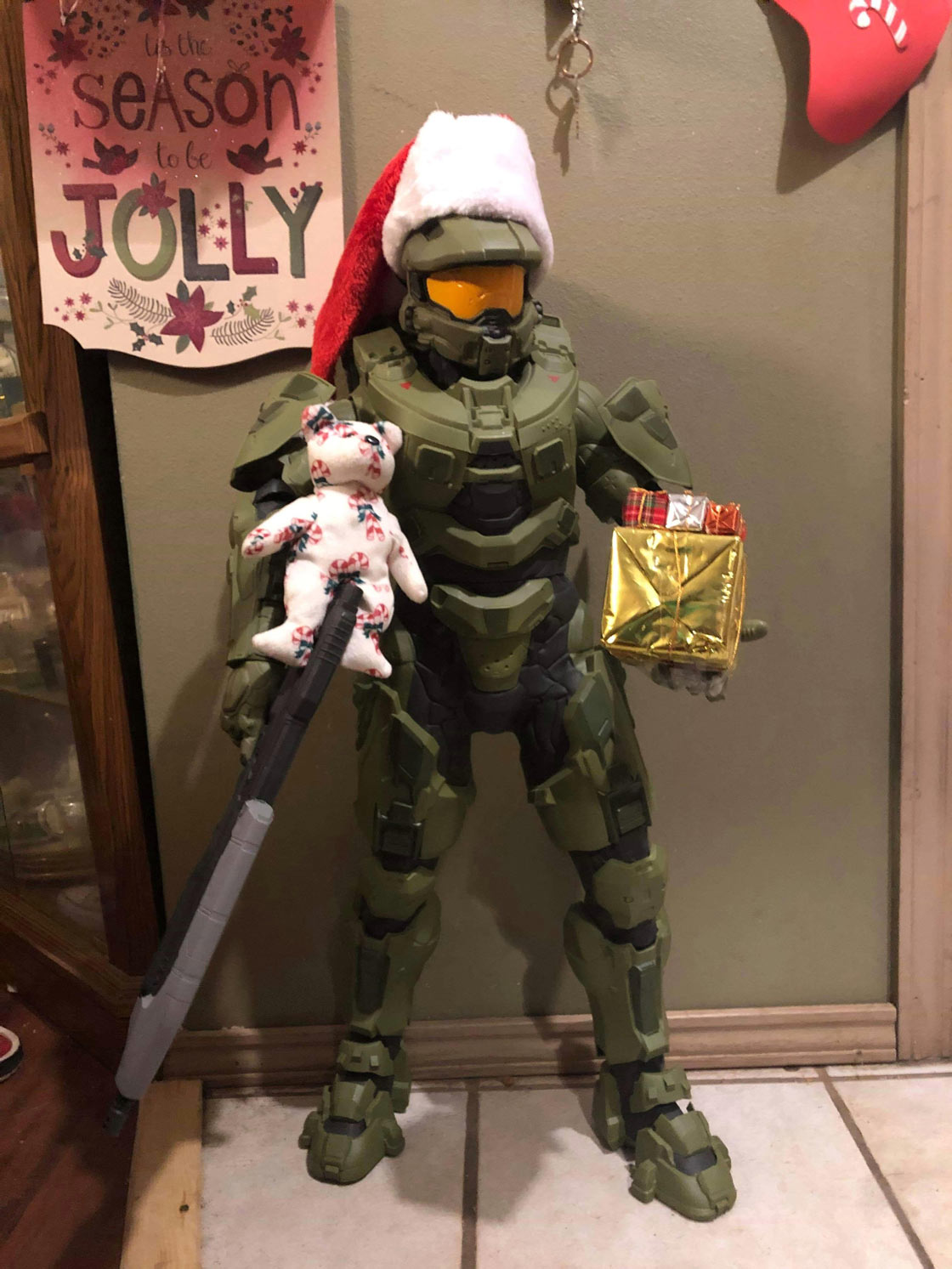 Screenshots (and more!)
Here are some of our favorite screenshots (and a few Forge creations) spotted on Twitter over the past few weeks! Have a screenshot to share? Post it on Twitter with hashtag #HaloSpotlight!
We also spotted one simple winter wonderland screenshot on reddit by Tschekju that reminded us that snow days are just around the corner.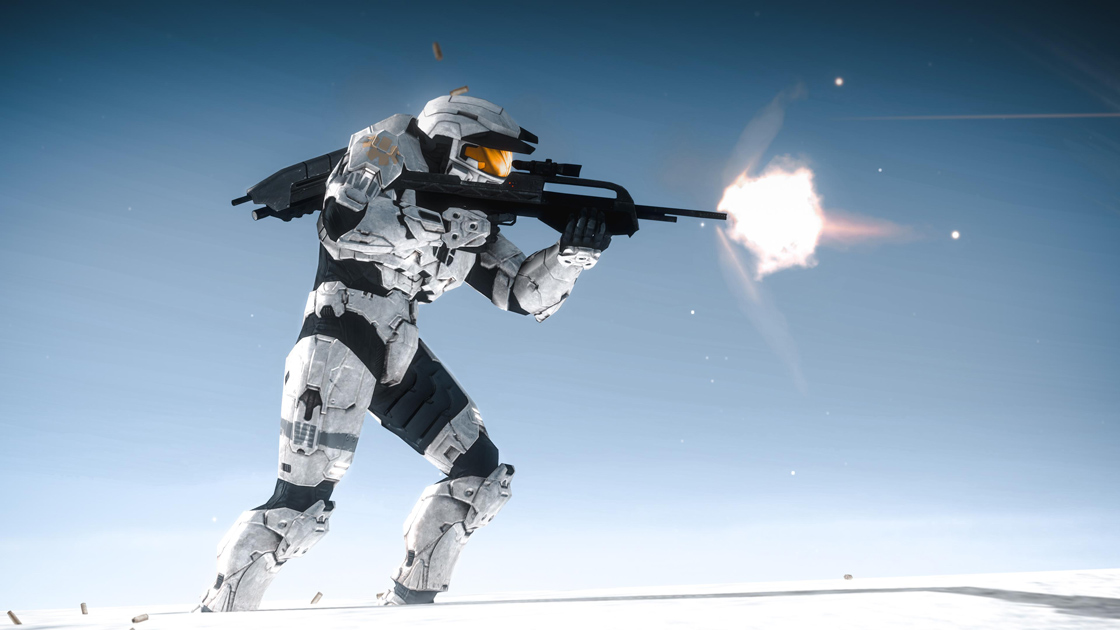 FIGURE REVIEWS
HaloFanForLife has been posting an incredible amount of reviews of Halo figures and toys over on his website over the past few weeks. If you enjoy our Mattel line, or just want to see more pictures of them, head on over to check 'em out!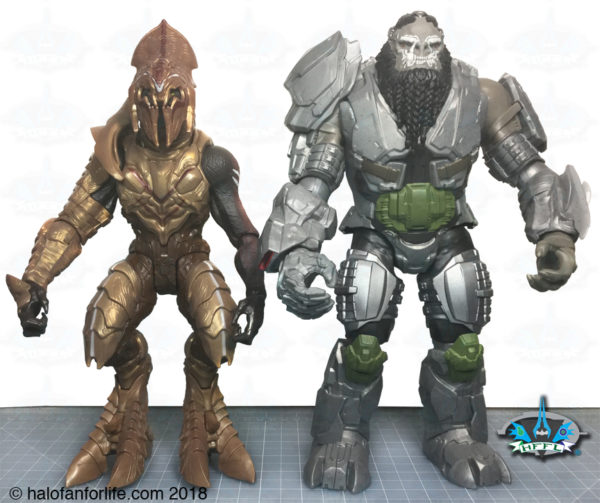 THANK YOU!
Thank you to everyone across the Halo community who shares their passion, creativity and talent with us. Your work is inspiring to the team and the community at large and is part of what makes the Halo community so special. Keep doing your thing and please be sure to tag it for us using hashtag #HaloSpotlight!
If you were featured in this Communit Spotlight, help us get you that 343 Unicorn skin by getting us your Xbox Live Gamertag! You can reach out to me on Twitter to expedite things.
We'll be on a bit of a hiatus over the holidays but look forward to dusting off the spotlight and showcasing more community creations in 2019!
For even more Spotlight goodness, check out our last few blogs here on Halo Waypoint: