Welcome back to the bi-weekly Halo Community Spotlight! I'm shaking out the writing skills and ironing out the kinks so hopefully I can prove that playground adage of "second is the best" wrong as I settle into the swing of things. Practice makes perfect, right?
Once again as I was looking for content to spotlight this week, I found myself blown away by how talented, skilled, and creative the community is. If I could feature everyone every week, I absolutely would. You guys have so much passion and excitement and I absolutely love everything that comes across my screen. Please never stop making art because then I'd have to make stuff to fill this and, well, no one wants that. I promise. Okay I'm done now.
OH WAIT! I almost forgot. One of the things I do around here is cleaning up and organizing and I noticed there was no really easy way to find the previous Halo Community Spotlight blogs. I asked around, learned how to push some buttons, had someone else do some work, and ta-da! There's now a drop down section for all your Spotlight needs. Check it out: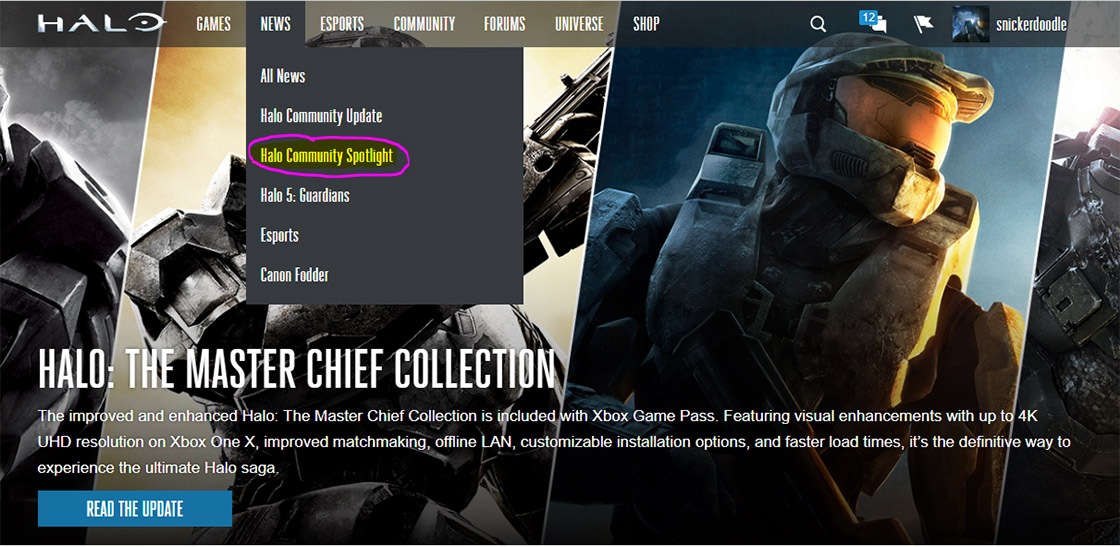 So if you're looking for an old Spotlight or just wanna browse all the awesomeness, now you can do so easily.
Okay. NOW I'm done talking and we can go look at pretty pictures, promise! 💜
CRÈME DE LA CRÈME
I could have put any number of things here but @cole_protocol unwittingly jumped to my top spot with this stunning Gray Team rendition during Operation: SUNSPEAR. Cole Protocol and Envoy are some of my favorite Halo books so I have an affinity for Gray Team. I adore everything about this.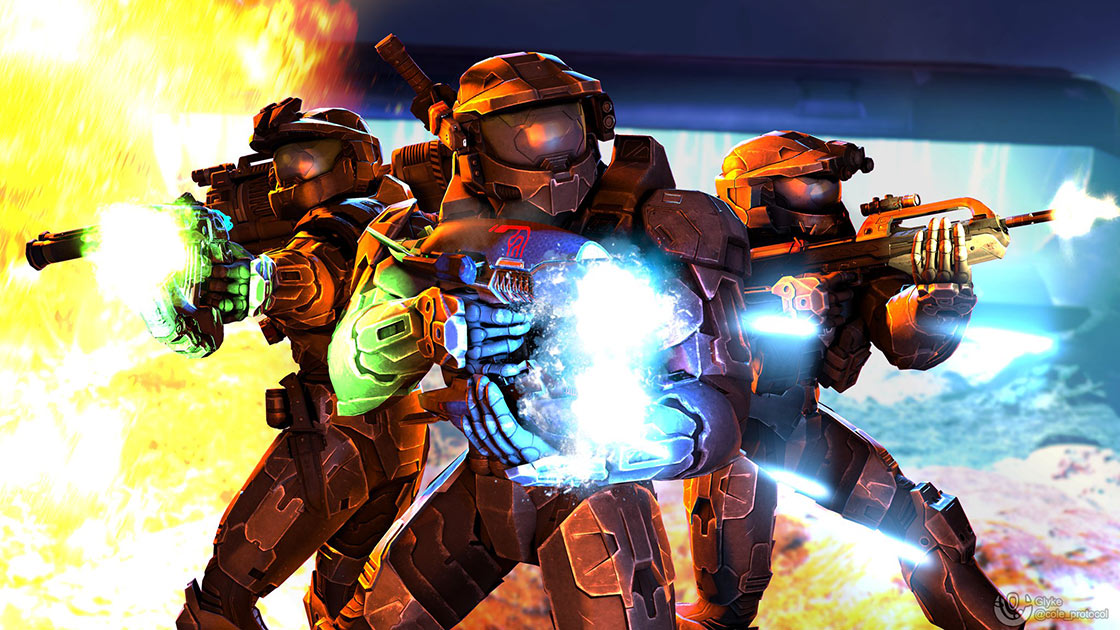 Snicker's Doodles
I'm so glad you guys are so much more talented than I am so I don't have to draw stick figures to fill this section.
/u/PryeCrecision shared this incredible mural in Miami. This is just a small section of it, you can catch the full mural on the Imgur album. I'm not the best judge of street art but I dig this and think it's awesome. Did I mention it's massive? Because it's massive.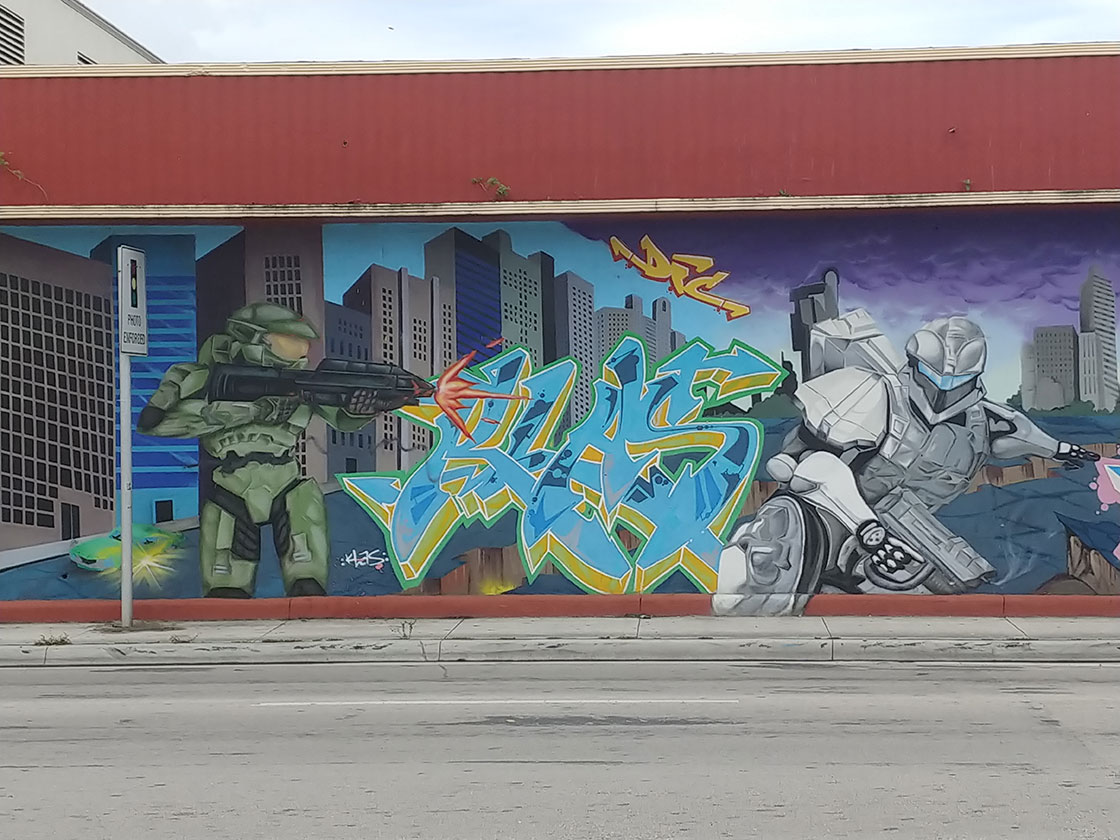 @Tom_Jurassic's Helljumper seems to have landed in an obscure location with no backup in sight...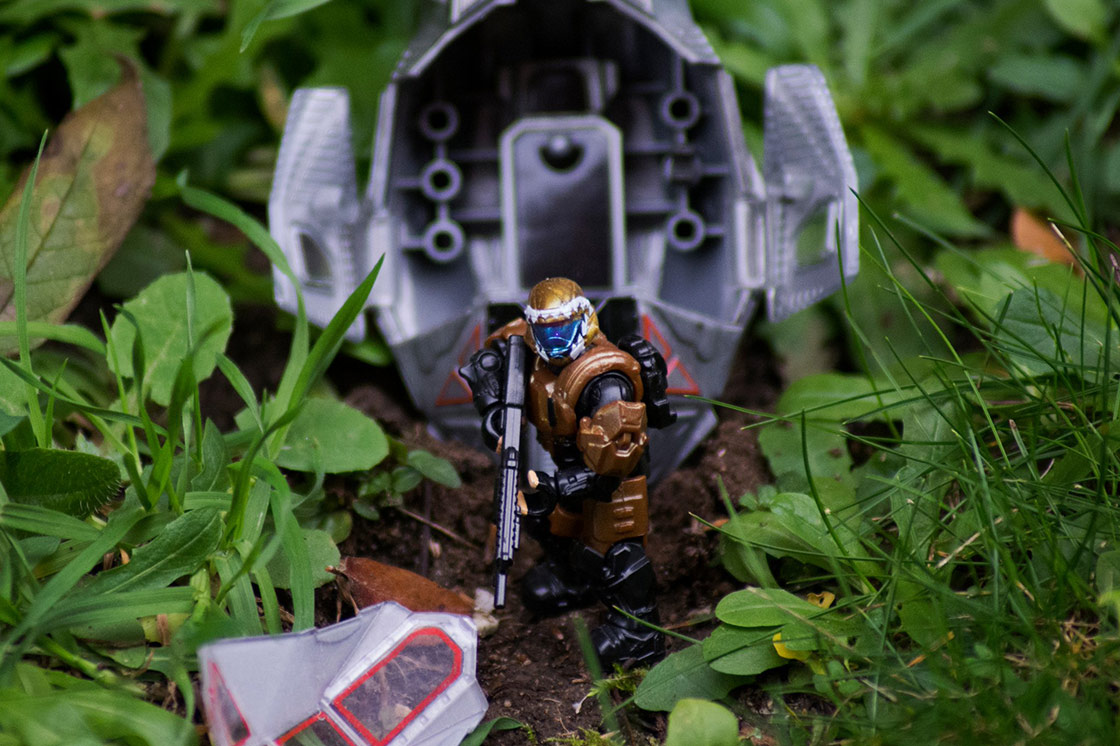 By now, we've all watched the Halo Infinite trailer approximately 23,897 times (and if not, we need to chat). @sunisayara's pixel art take on the trailer is precious and beautiful and definitely worth checking out her Instagram to see the rest of it.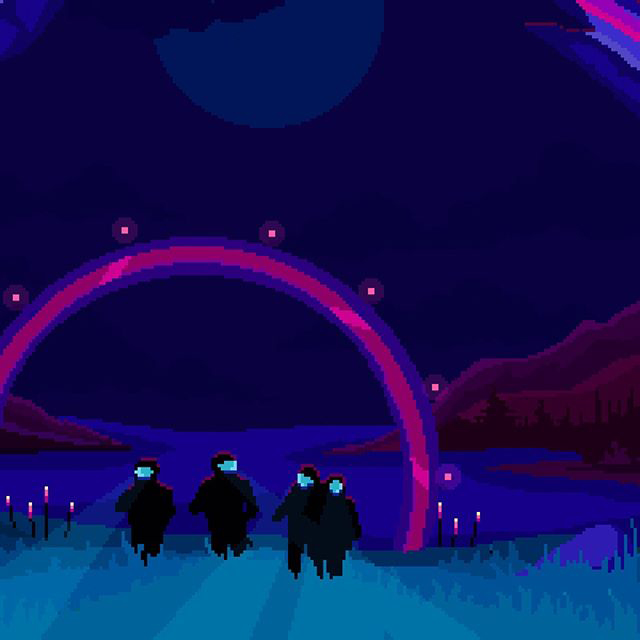 While I'm on the Instagram train, check out @hoseph_hones. He's got some kickass commissions he made on his feed but this one's my favorite. (Betcha can't guess why.)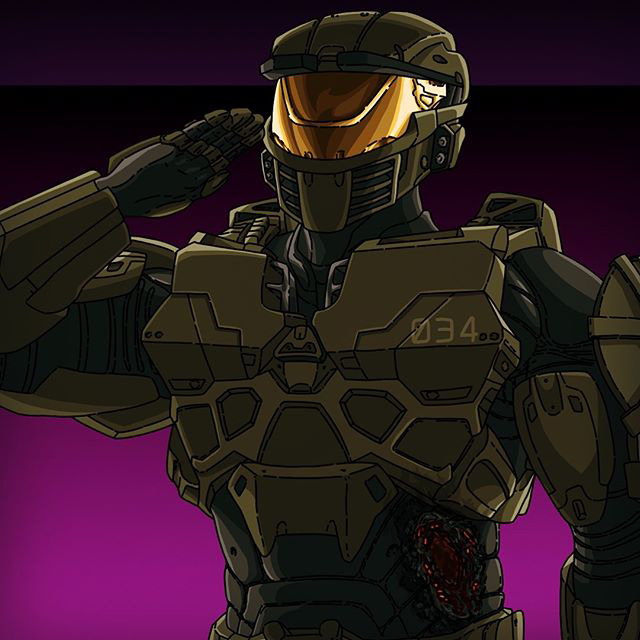 If landscapes are more your thing - you know: rivers, trees, and Halo rings, check out @dayikki's digital rendition: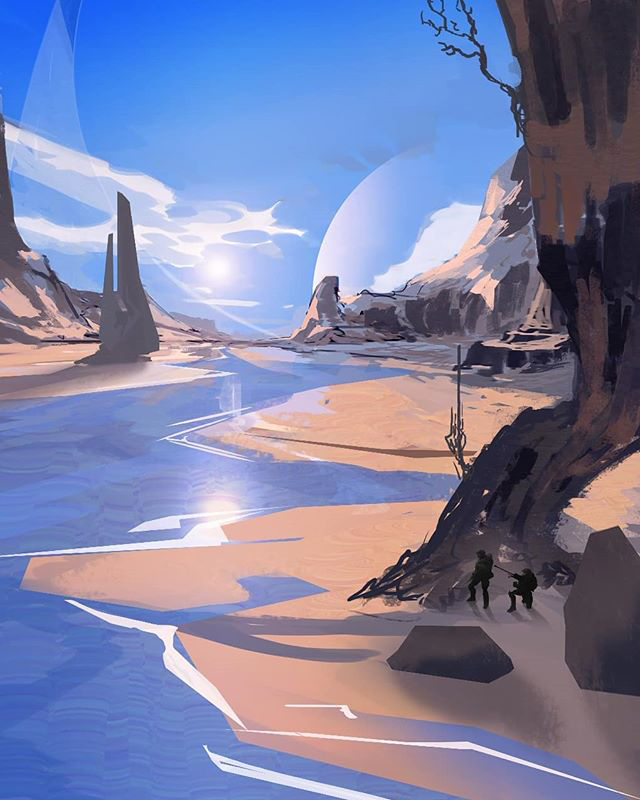 This next piece may look familiar if you've seen Eckhardt's Ladder. If not, I get the pleasure of introducing you to one of @BaileyIII's pieces. It's stunning, as always.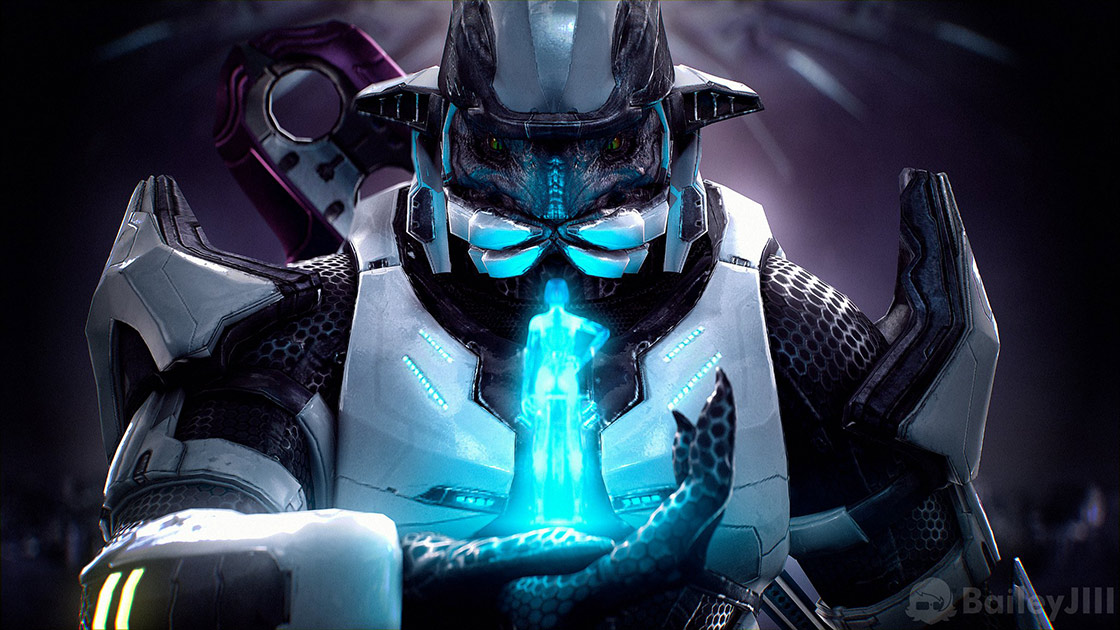 @IGrimFateI's "Supernova" screenshot is just straight up beautiful. Halo 2 has never looked better.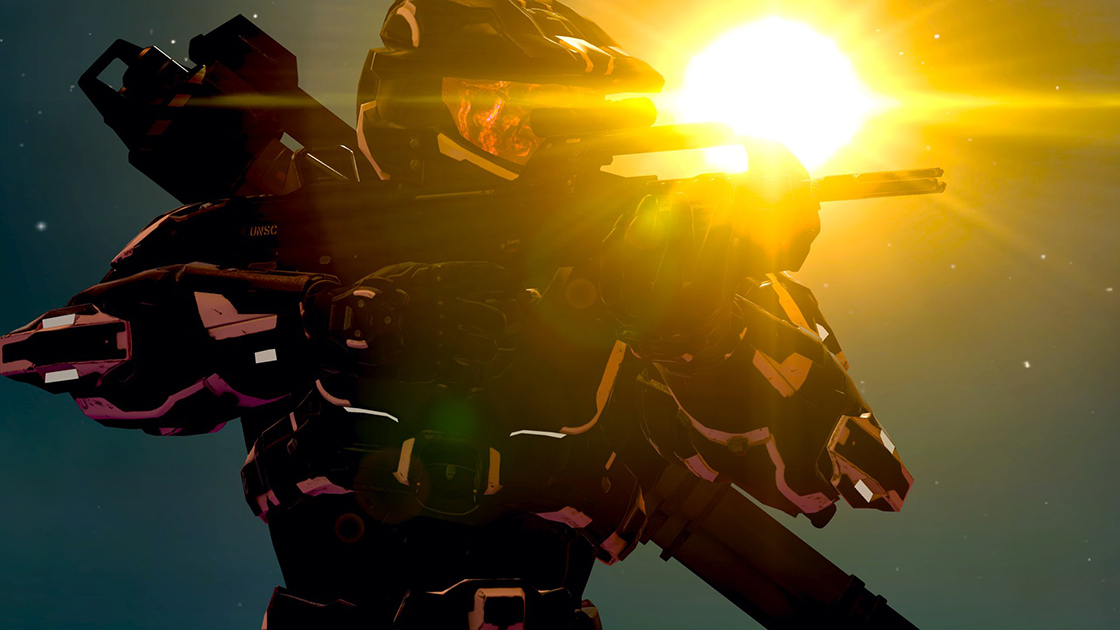 /u/Para-Less attempted to channel their Kelly in Warframe and I think it came out pretty good. What about you guys?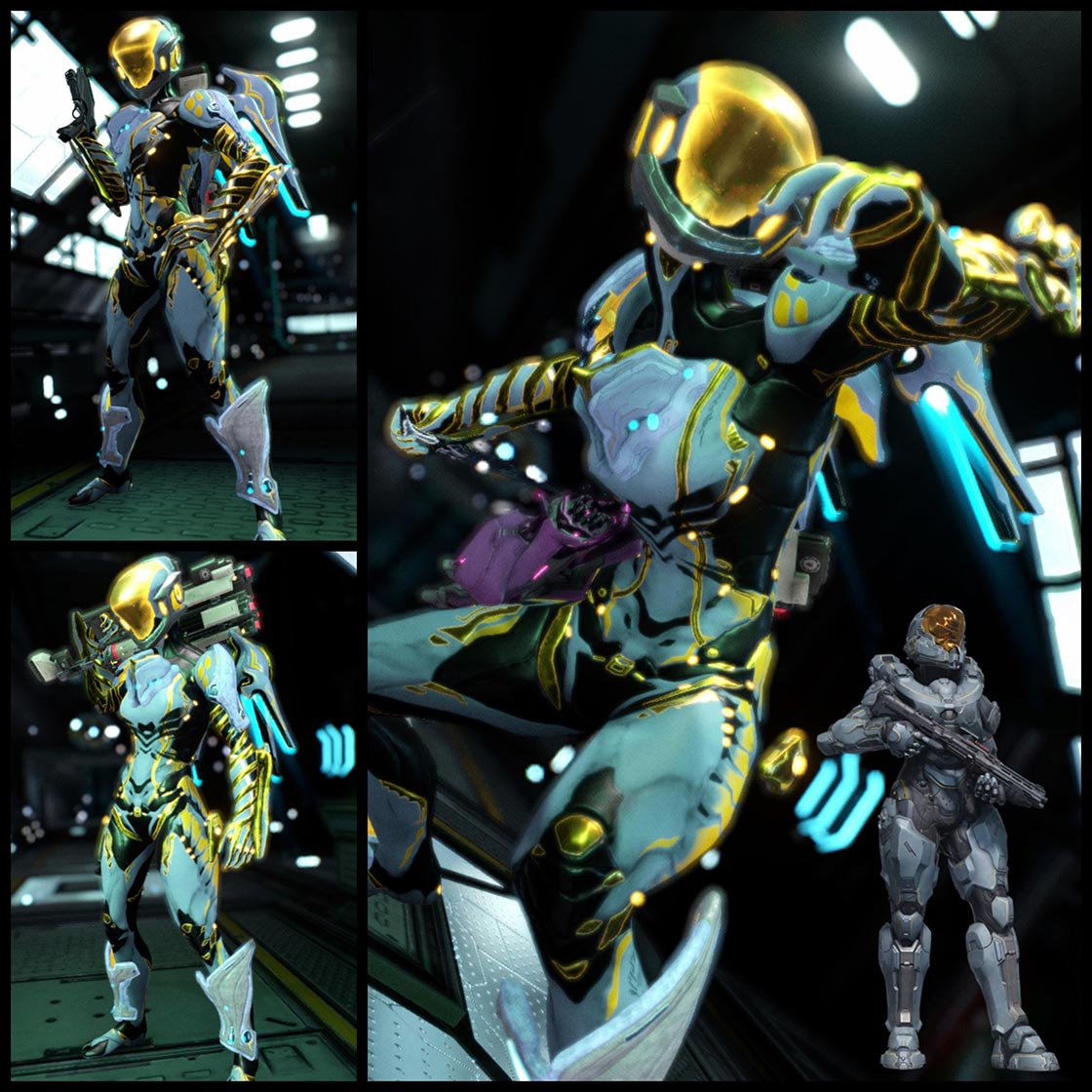 No show and tell is complete without Master Chief so @Exenius remembered to snag some pics of Jerome-092 for us.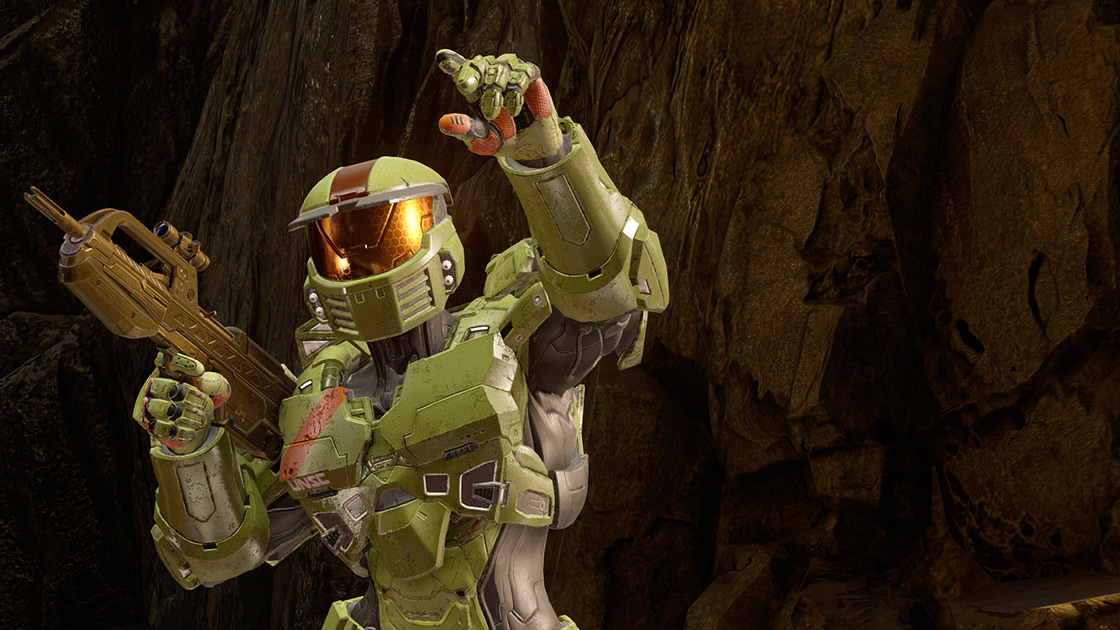 HALF BAKED
These are some of my favorite hand drawn and/or black and white offerings for this Spotlight and they are a treat indeed.
@SpartanShatter's showing off his pencil drawing of his Helioskrill armor, along with the very patient model. That sitting probably took more patience than camping in Team Slayer.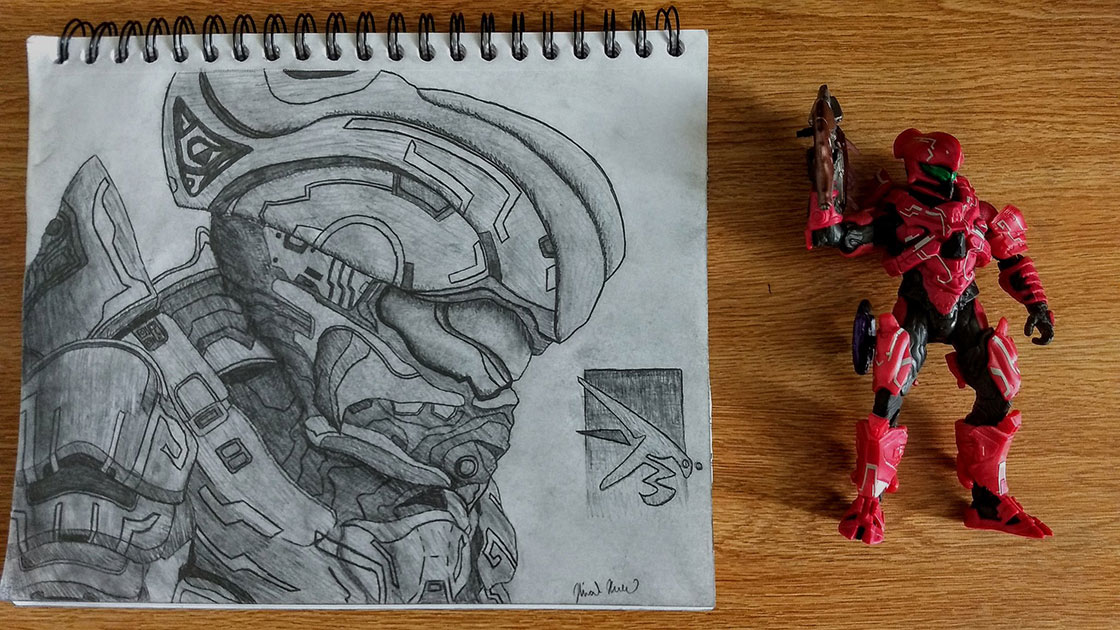 @Dajhier1's girlfriend drew him an Engineer that I relate with on a personal level some days. Allow me to introduce you to "Commonly Crashes."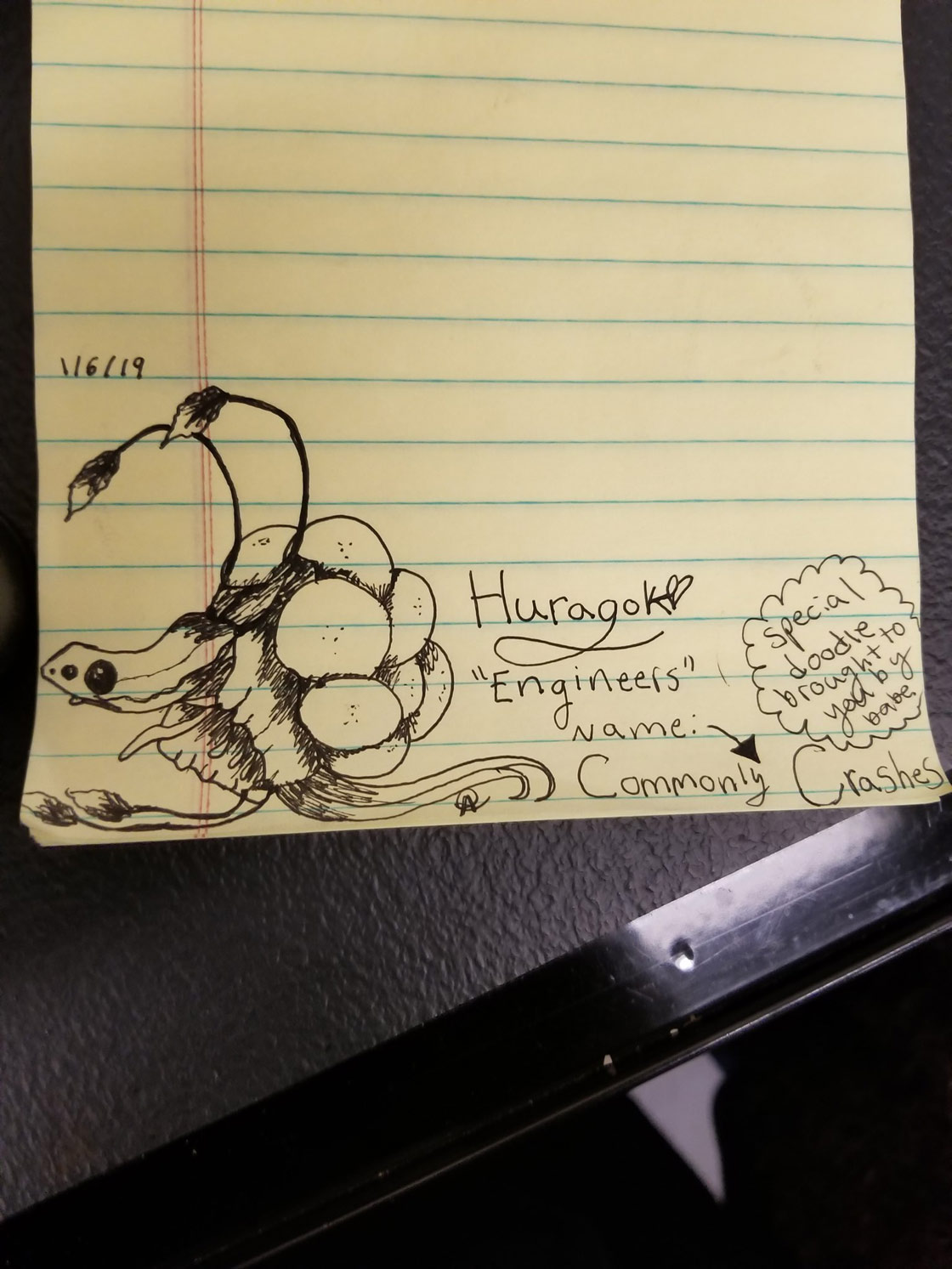 "Still trying to figure these markers out." says @Fish__Daddy on twitter. If that's your version of, "I don't know what I'm doing" then you are doing just fine, I'd say. Looks like your 'hog is road trip ready!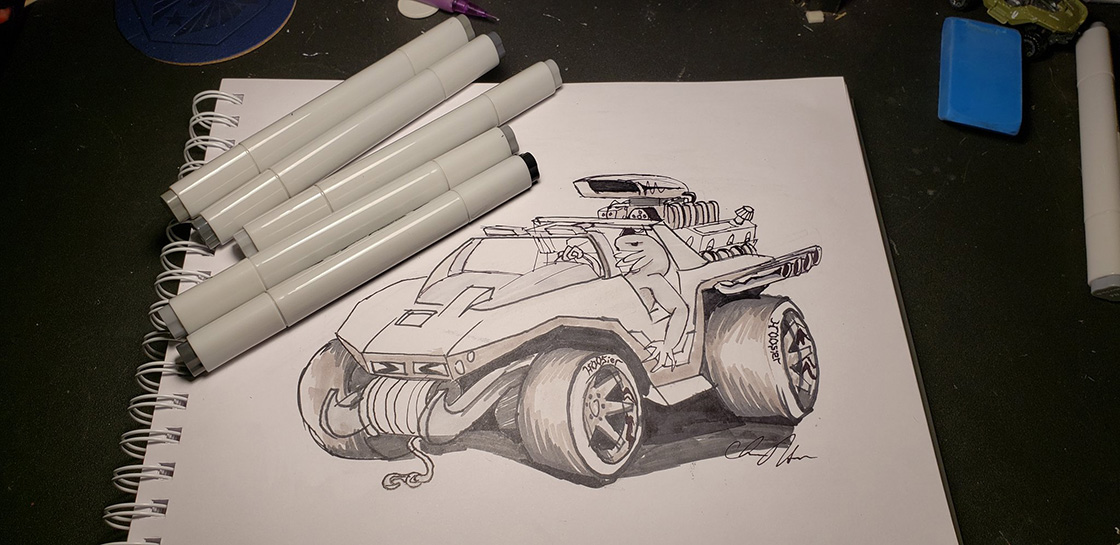 Eye Candy
Every Tuesday, you can check out @pinnaclecustomcosplay's #TeamAirAssaultTuesday. Their cosplay is top notch and they share some great moments over on Instagram.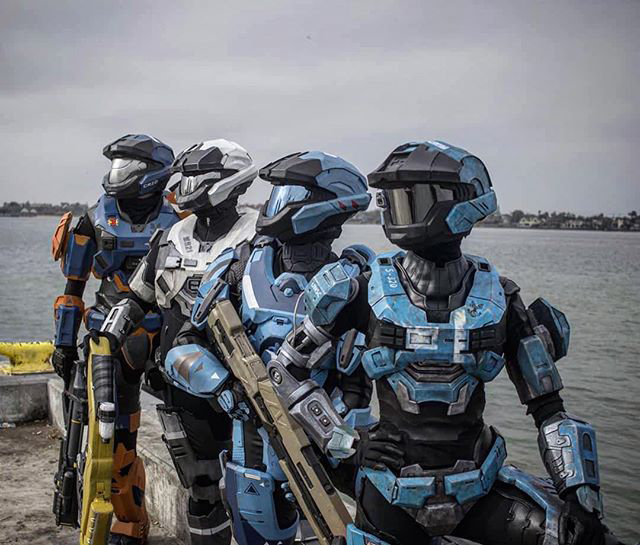 Speaking of Noble Team, @whitecomet89 pays homage to both Noble and Blue Teams with this sweet body art.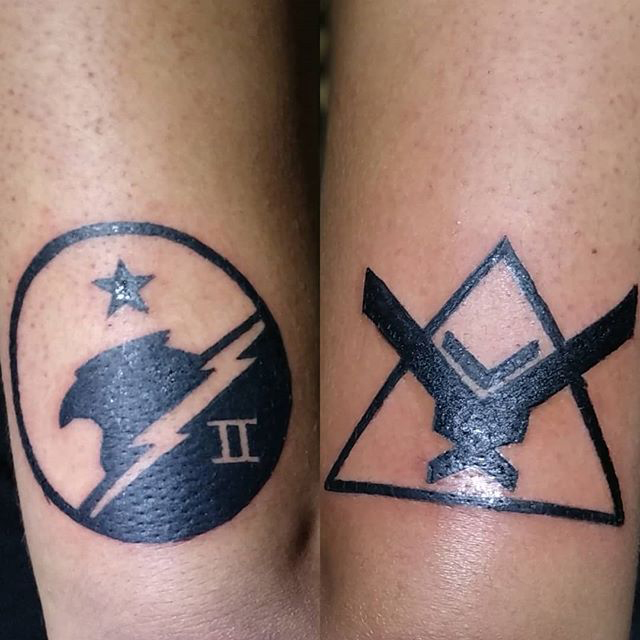 Cortana is a popular Halo character to cosplay, and understandably so. /u/Skydancerxoxo did everyone's favorite blue beauty justice on the first Master Chief Day of the year.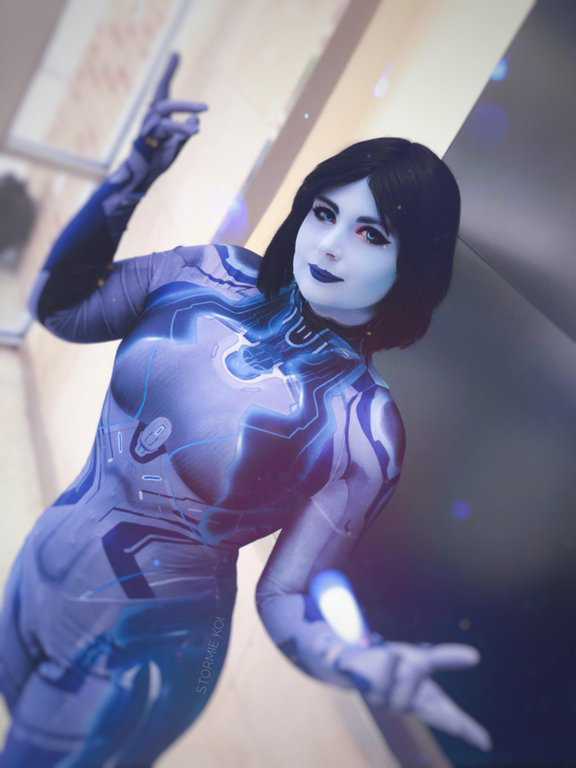 I can't commit to the same kind of coffee to have in the morning but @ZackMcDonell spent 6 hours comitting to a lifetime of Chief and it looks fantastic.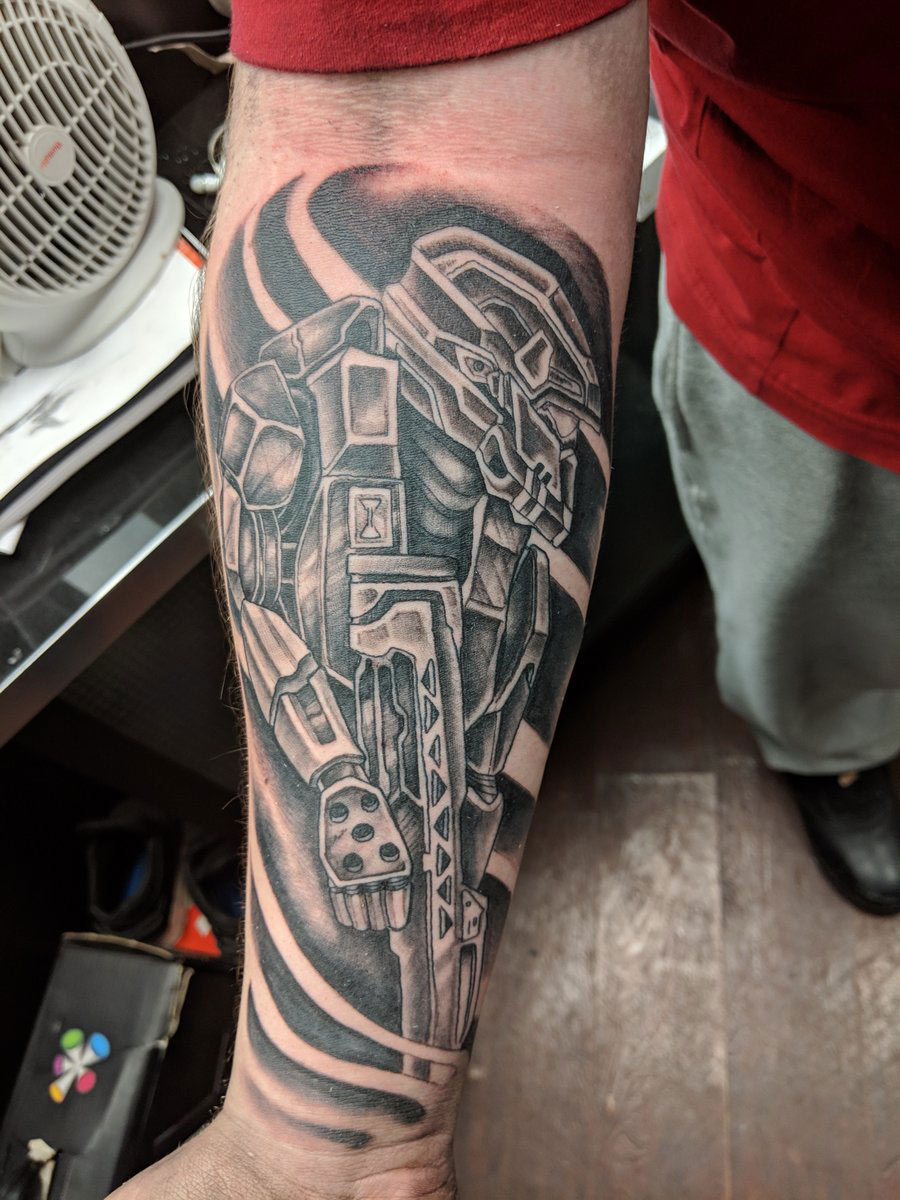 Some things in life light up your world. In this case, /u/SporkSalad created a literal way of lighting things up. These laser cut lights are brilliant and would look fantastic on anyone's desk. Check them out!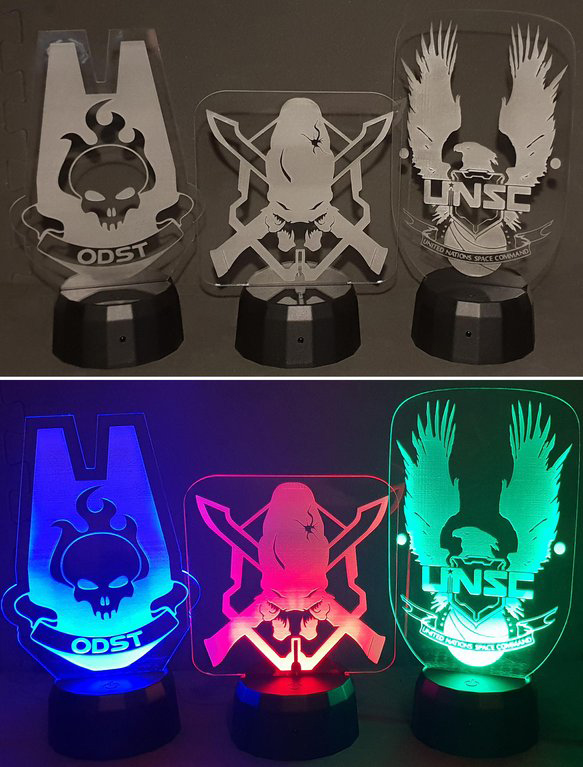 pre-packaged
If you checked out our last Halo Community Update, you'll remember that we recently had the honor of hosting Nathan and his Fireteam (aka family) for a Make-A-Wish visit. With the help of some forgers, Nathan was able to forge a great map utilizing some fabulous prefabs. You can check out some of the great pieces below!
Here's some of WARD0G7's prefabs: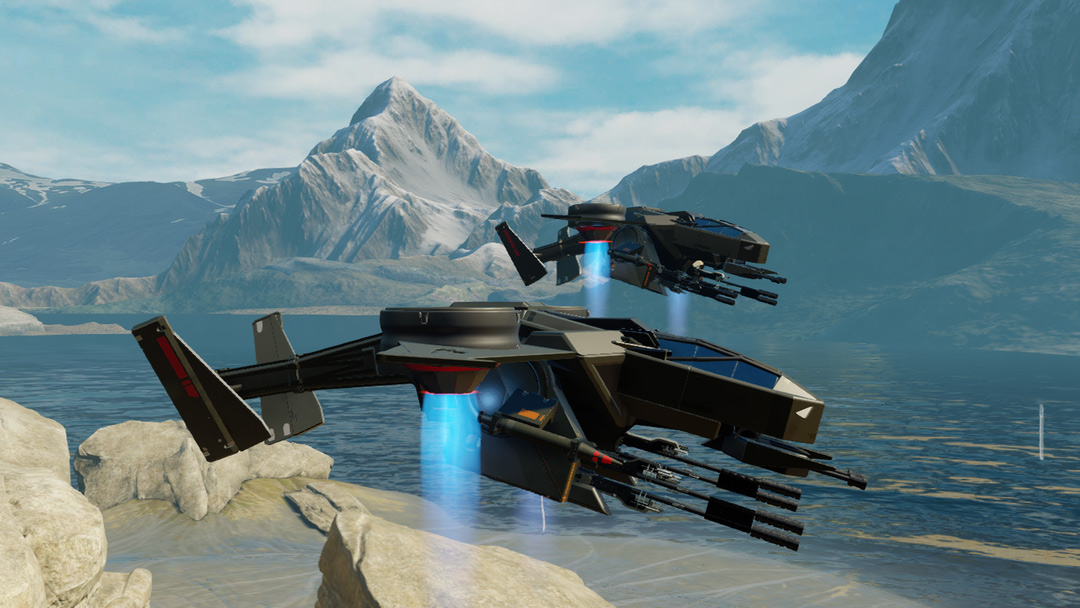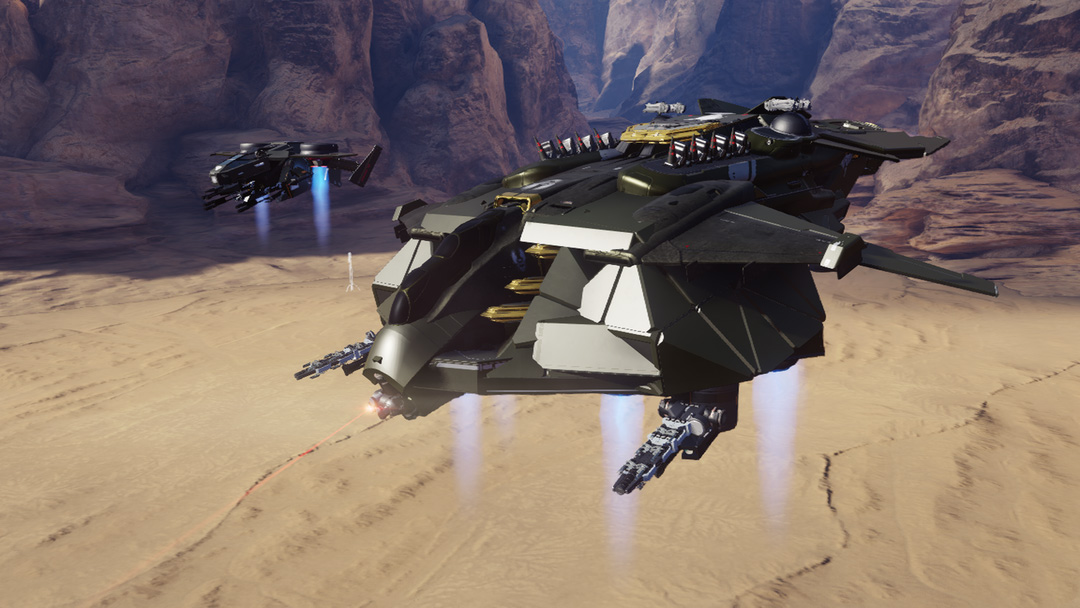 Next we got a couple of XxL0rdAresxX's prefabs: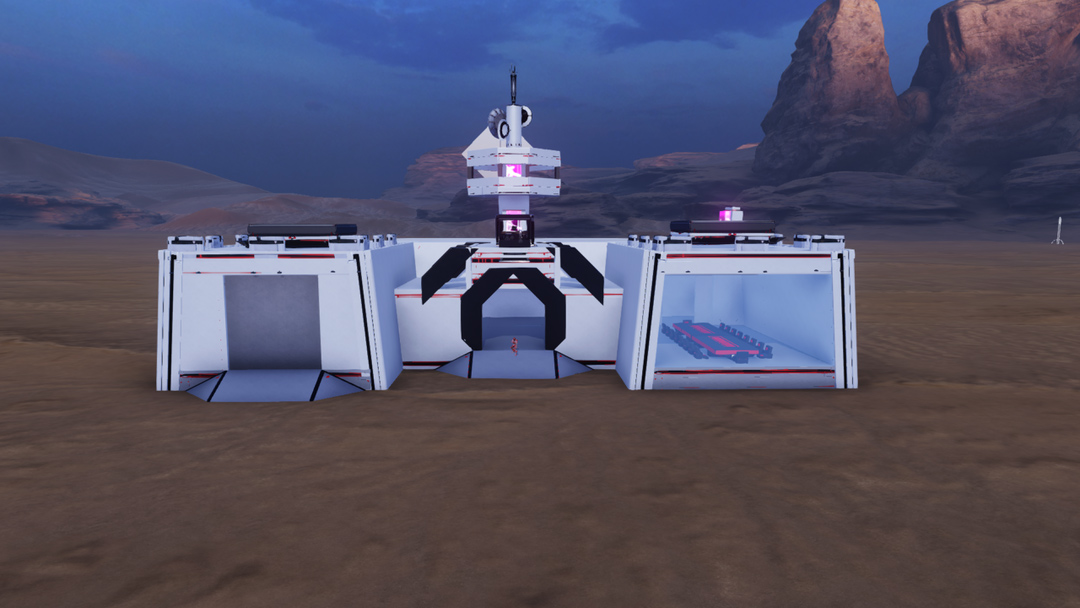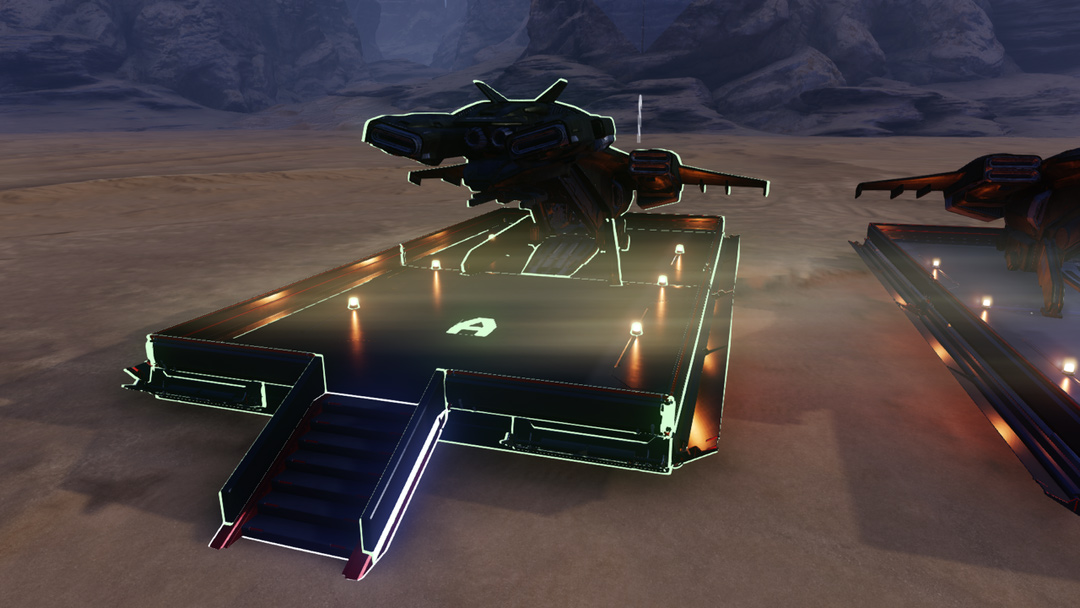 Last, but certainly not least, check out Toxic Waste 808's prefabs: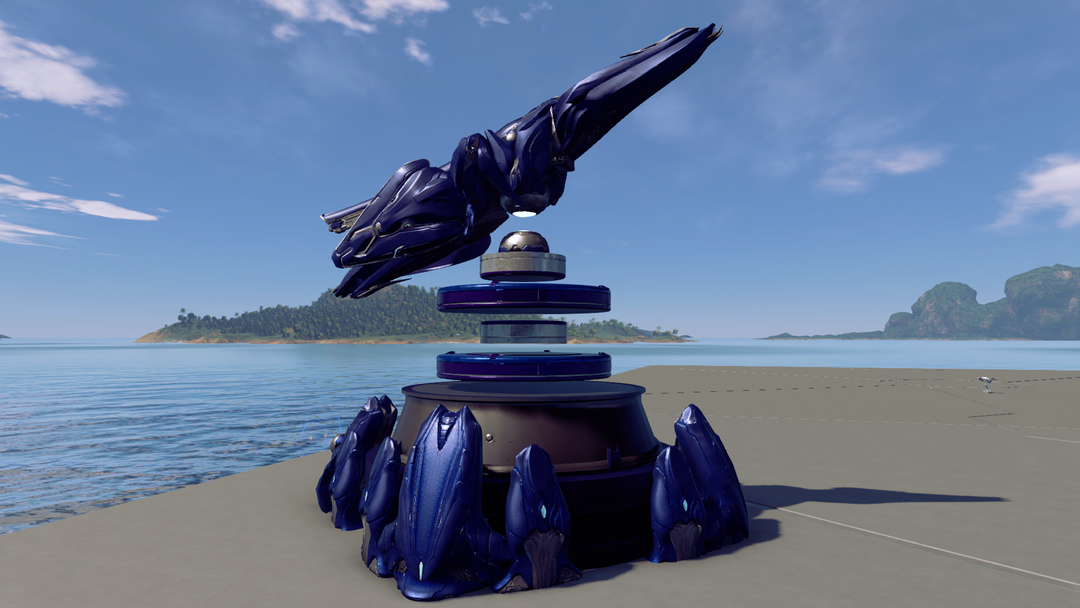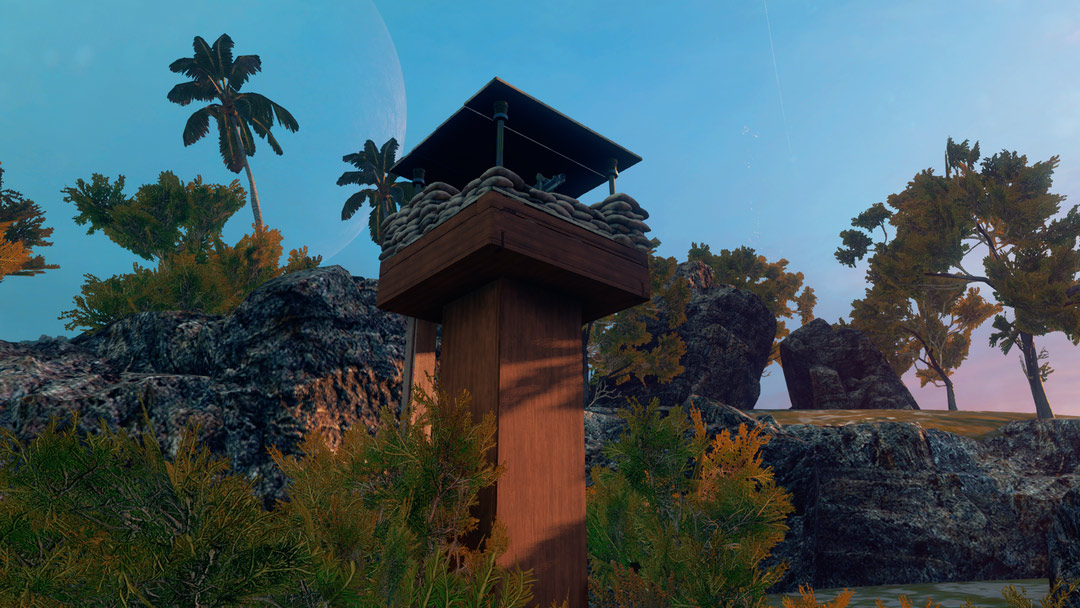 Skull not required
Community member @SightlessKombat is one of the biggest advocates and proponents for accessibility in gaming - and for good reason. He is, as his Gamertag implies, sightless. While most of us rely on a combination of senses for playing games, sound is incredibly important to SightlessKombat. With the help of spartan blood 1, he has created a map and gamemode specificly designed to be played using audio cues. From the map corners/weapons, you can travel along the corridor until you hit the nave/cross section where the floor texture changes and the sound changes telling you where you are at. I had the pleasure of joining in a test session with SightlessKombat and some others and it was absolutely fascinating to learn how to lean on sound to navigate and play. There's a walkthrough on Kombat's Youtube and I highly encourage you guys to check it out if you have the time. Did I mention there's also an Oddball variant?
If you want to download the map and gametypes to give it a whirl yourself, you can do so here:
SWEET ROLLS
Settle in, we got a double feature for you this week.
UGC's Halo Classic recently finished up and Paradise Halo have a fantastic explanation of how Denial Esports was able to spawn trap TOX in overtime to seal the victory. It's a great explanation that breaks things down step by step. Definitely give this a watch.
Speaking of classic Halo, everyone's favorite Puckett is back with episode #3 of his Halo 3 Top Ten Plays of the Week.
There's jumping in Halo and then there's jumping in Halo. I wonder how many takes it took ClearlyMe to make this Last Resort jump. I'm pretty sure I'd still be trying to nail it.

Music is often very important to people. Some games have soundtracks that lend themselves incredibly well to creating/composing your own. I saw this a lot with the Ori and the Blind Forest soundtrack and I'm seeing it here again with the Halo soundtracks. Riprollonect13 was inspired by the sounds of Halo and made his own composition.
I miss Holiday Fiesta so here's a little bit of nostalgia (can you have nostalgia less than a month after something's gone?) courtesy of @MintBlitz:
Saving the best for last here but guys. @UnsortedGaming is apparently pretty good with forge. How good? Good enough to LITERALLY recreate the Halo Infinte trailer in forge. Seriously. You have to watch this. I've put the actual Halo Infinite trailer next to it so you can watch them both and be amazed.
Fresh From the Oven
Last time we chatted, Dawn Under Heaven had just put out their trailer. This time, I get to share the finished project. They did a great job so check it out!
Anyone who's made any kind of content knows that it takes work and something on this scale is even more impressive. I wanted to know more so I went straight to the source and chatted with Wade and Lee.
343: First off, awesome job on the fan film! How long did it take you to create from start to finish?
A: We started the journey back in May of 2010 so it's been almost 9 years.
343: Wow, well the work certainly seems to have paid off. How did it all begin?
A: The project began as a collaboration between Wade Wojcik and Lee Anderson in the summer of 2010 during the emerging era of Halo cosplay, YouTube culture, and affordable digital filmmaking tools. At the time there was a surprising lack of live-action Halo storytelling, which drove us (and many other fan films) to build our own piece of the Halo universe.
343: And build it you did! Can you tell us a bit about the team of people you worked with to make it happen?
The core team consisted of: David Ishida, Melissa Randall, Ben Robertson, Wade Wojcik and Lee Anderson.Over the years we were lucky enough to find others who offered their time and resources. We wouldn't have been able to release the film without their help and the dedicated fans of Halo, please watch till the end to see all the talented people in the credits.
343: It's always so cool to see so many passionate fans come together to create something so impressive. What would you say the biggest challenges were on the project?
A: Funds, dedicated time, and the Minnesota winters.
343: Yeah apparently it's supposed to get pretty cold there.
A: Turns out, it's pretty hard to to spray paint and use curing products when it's below freezing in a garage.
343: We can confirm that would classify as a "challenge."
A: One of the biggest challenges on the project was to simply keep going when it just seemed too damn hard to continue. The desire to quit was always present, but we knew that if we stuck with the project, eventually we could reach a level of quality that Halo fans would accept. In 2019 that's an extremely difficult standard, since good CGI is expected as a given. We think most fans are aware of that, and give us a little slack in certain areas.
343: Is there anything new on the horizon? Where can people go to see more cool stuff from you or your team?
A: We're definitely looking at future projects. Stay tuned for some behind the scenes goodies we'll be posting—along with any new content—by following us on Facebook, Youtube, or Twitter.
343: Sounds good. Thanks for taking the time to chat with us and congrats again!
Again, shout out to the talented team behind a really awesome project - make sure you check it out for yourself!
PETIT FOURS
We're finally at the dessert buffet where you can get your fill of a little of everything. Enjoy!
Doodle's Snickers
I've decided this is going to be where I highlight whatever makes me laugh or amuses me the most for the blog.
You're absolutely right, @armslikewings - I didn't know I needed this mashup until I saw it. It's silly, it's ridiculous, and I burst out laughing when I saw it. Hakuma Matata everyone!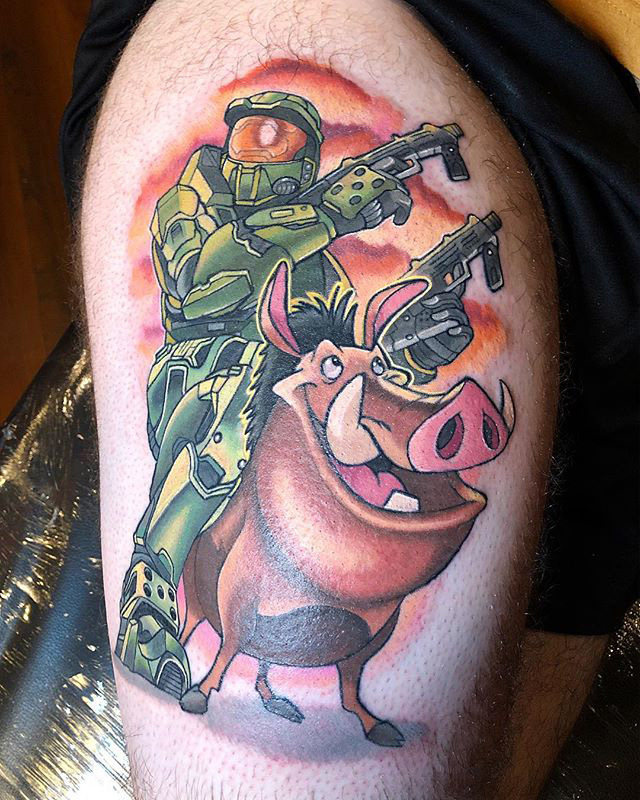 Oof. This one was a doozy and if you made it this far, thanks for riding along with me! If you're featured in here, be sure to send me your Gamertag so I can send along your Fire Unicorn 🔥🦄 goodies and hook you up with your Waypoint badge! In the meantime, keep creating and remember to use the hashtag #HaloSpotlight on Twitter or Instagram so I can find your works.
I checked the calendar and looks like the next Community Spotlight will be due out on February 14. Sounds like the perfect time to show off your romance themed Halo content! Just...keep it clean please lol.
Ciao! xx
--Sam