Welcome back to yet another Community Spotlight! This is my thirteenth Spotlight blog that I've picked up the pen for and that leaves me wondering what happened? I feel like I just started and don't know where the time has gone. Crazy.
Before we hop into the fun, just a housekeeping note – Between Halo: Outpost Discovery Orlando, Red Bull Rise Till Dawn, and Halo: Outpost Discovery Philadelphia, Unyshek can't decide what state he will be in for the next little bit so we're taking a week off from a Thursday post next week. That means we'll return on July 25 with the next Community Update and August 1 with my next Community Spotlight.
Alright, now that we covered the business part of things, on to what you're really here for, my running commentary! No? Okay, okay. Bring on the content!
CRÈME DE LA CRÈME
In one of the more humble posts/submissions I've seen, comes my favorite piece for this week's Spotlight. Originally posted on Reddit, someone made sure to tell /u/vicbwolf to post this on Twitter using #HaloSpotlight, probably so I'd see it, but it was entirely unnecessary since I saw it on Reddit too! I can't help but love this. The coloring naturally brings one of the best tracks off of the Halo 4 soundtrack to mind, Green and Blue, but seeing that Cortana's shining is the source of light in this is awesome. Overall this is just incredibly beautiful work by a talented artist and you should check out his Instagram account for other pieces.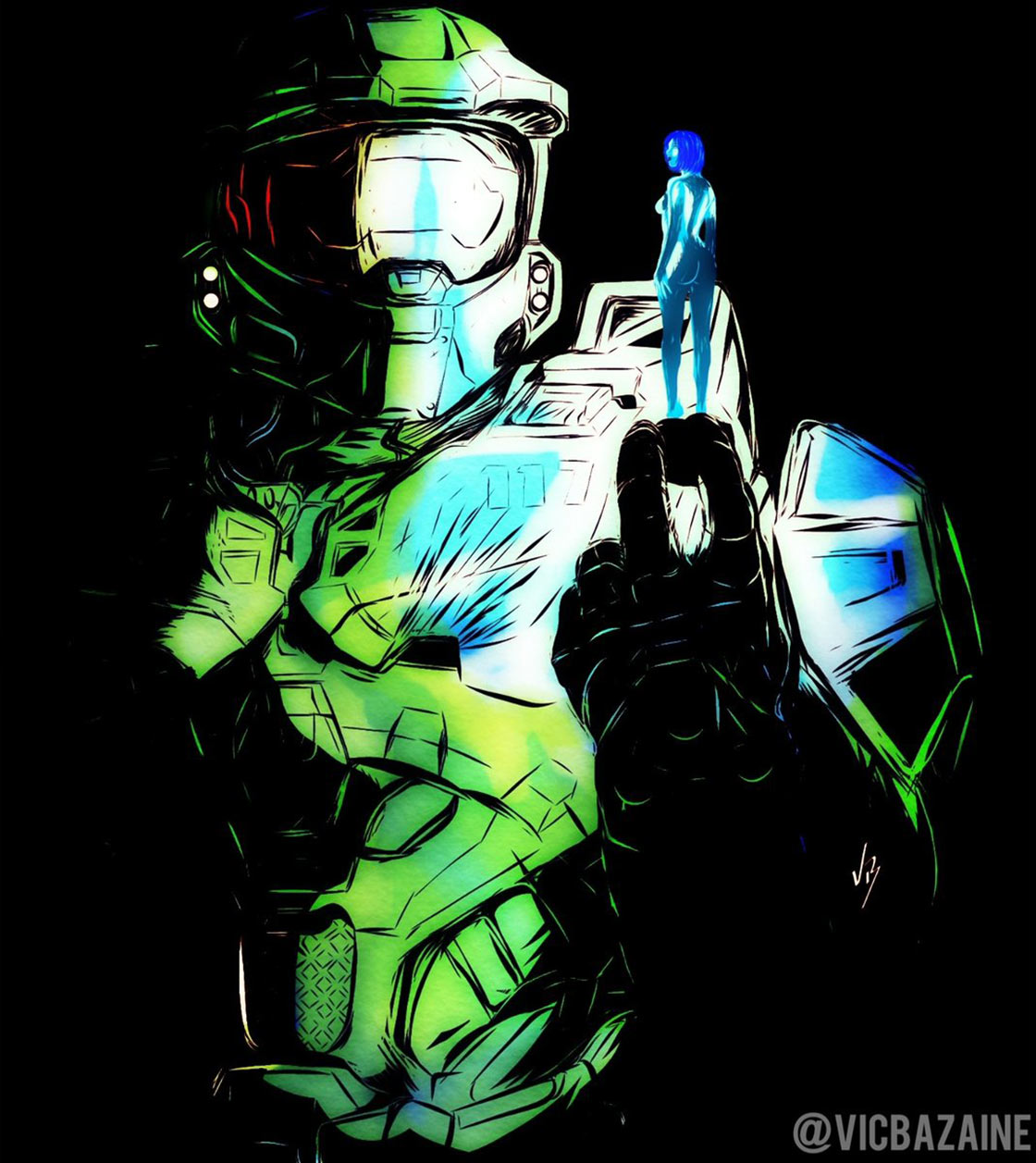 SNACK BREAK
Taking a trip back to the "classics" with this week's soundtrack because I love everything about this. The rendition is obviously excellently performed and the conductor is a badass; the inner band nerd in me wishes my class had been this cool. (Not that getting to play something like John Williams' The Cowboys wasn't cool, because it was...but it's not Halo.)
Hopefully you enjoy the Danish Symphony Orchestra playing the Halo theme as much as I do!
Sweet Genius
No less than 63* of you made sure to flag @LexingtonDath either to me directly or with #HaloSpotlight so I'm guessing that everyone's already seen this so I'm gonna move on to the next thing. Thanks for playing!
Okay I'm kidding. This is absolutely stunning and I'd be remiss if I didn't share this. All done in Unreal Engine 4, Lexington's work is fantastic. I mean, just look at this group of Elites! (Side note: Is there a technical term for a group of Elites? You know how it's a murder of crows or a pod of whales? If not, brb petitioning Grim to make it a gaggle of Elites.)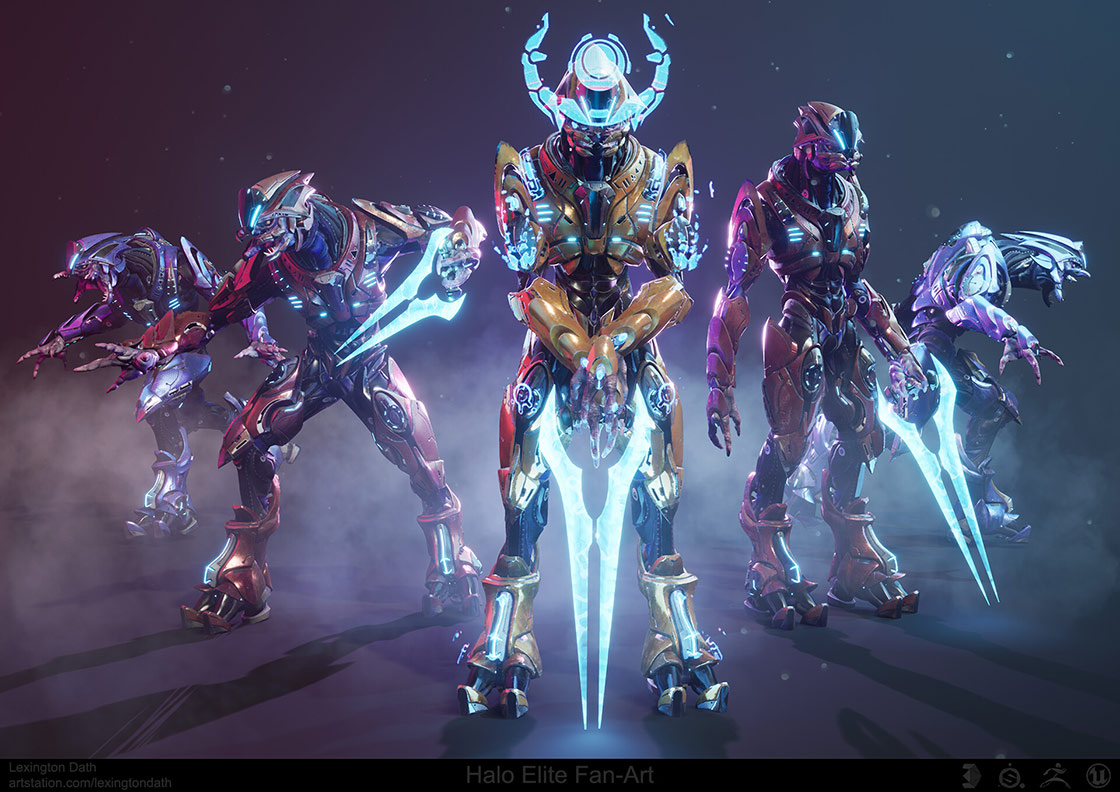 Did I mention that it's animated? Oh. Well hey, here's a video of the animation, with sound too!
*Number count may or may not be slightly exaggerated
Snicker's Doodles
Another week, another bountiful batch of community creations is delivered! Let's dive in.
I can't help but smile anytime I see anything by @wani641 flit across my screen. They're always so joyful, happy, and adorable!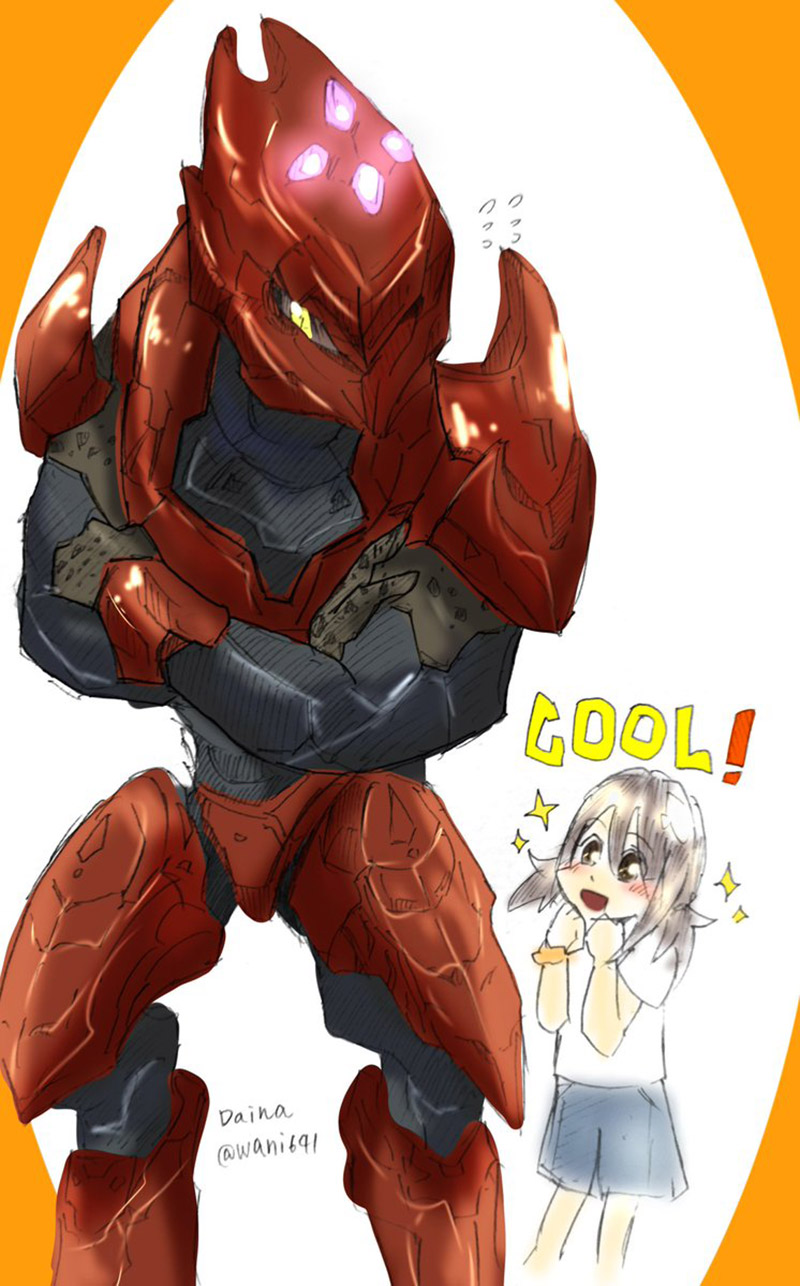 Speaking of cool things, @jloughlen's synth-y looking Spartan is pretty cool!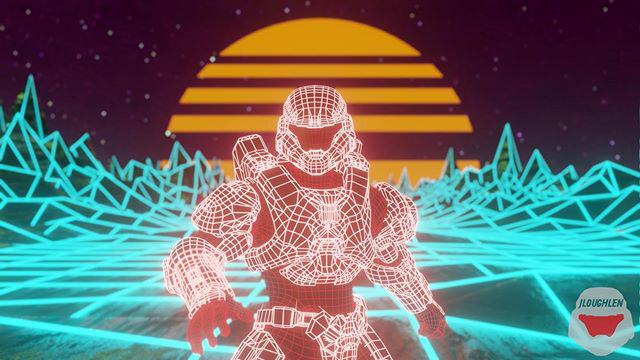 Created as a commision, this Elite jumping (or floating?) in space was made by @Sol_Vasum. I'm not sure what sent him flying through space but I hope he remembers to bend his knees upon landing.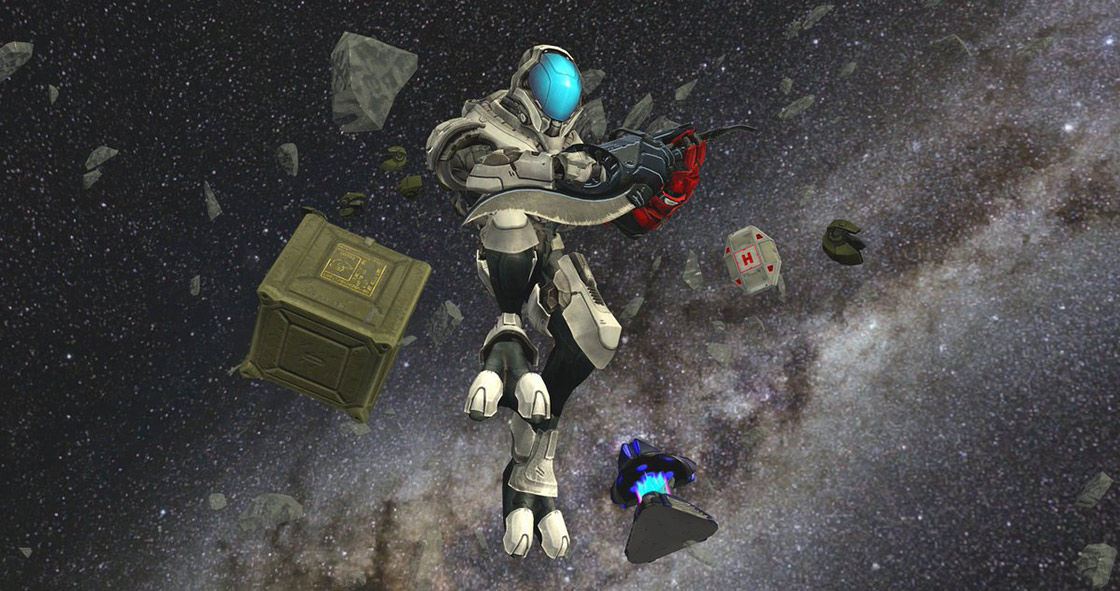 Up next is @vupoll's miniature photoshoot with Noble 6 and Chief. It looks like they're hiking some rocky terrain, hopefully there's a cave nearby that they can use for shelter in case the weather takes a sharp turn.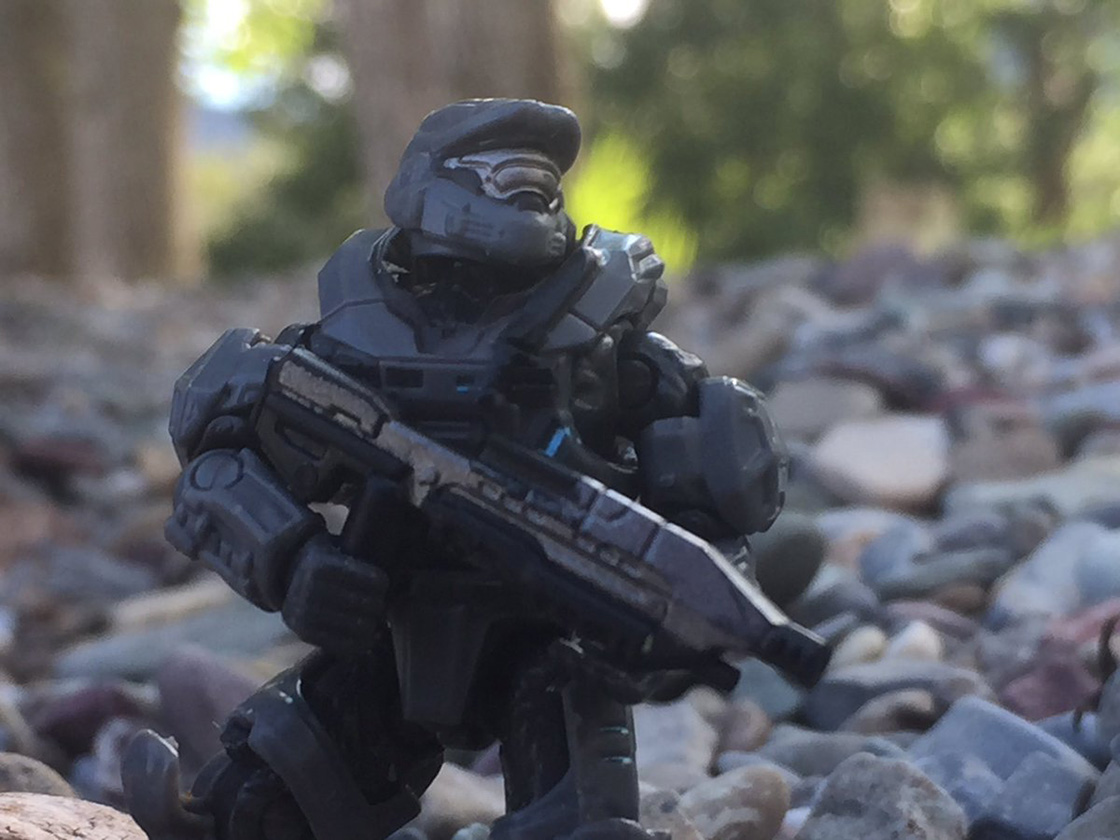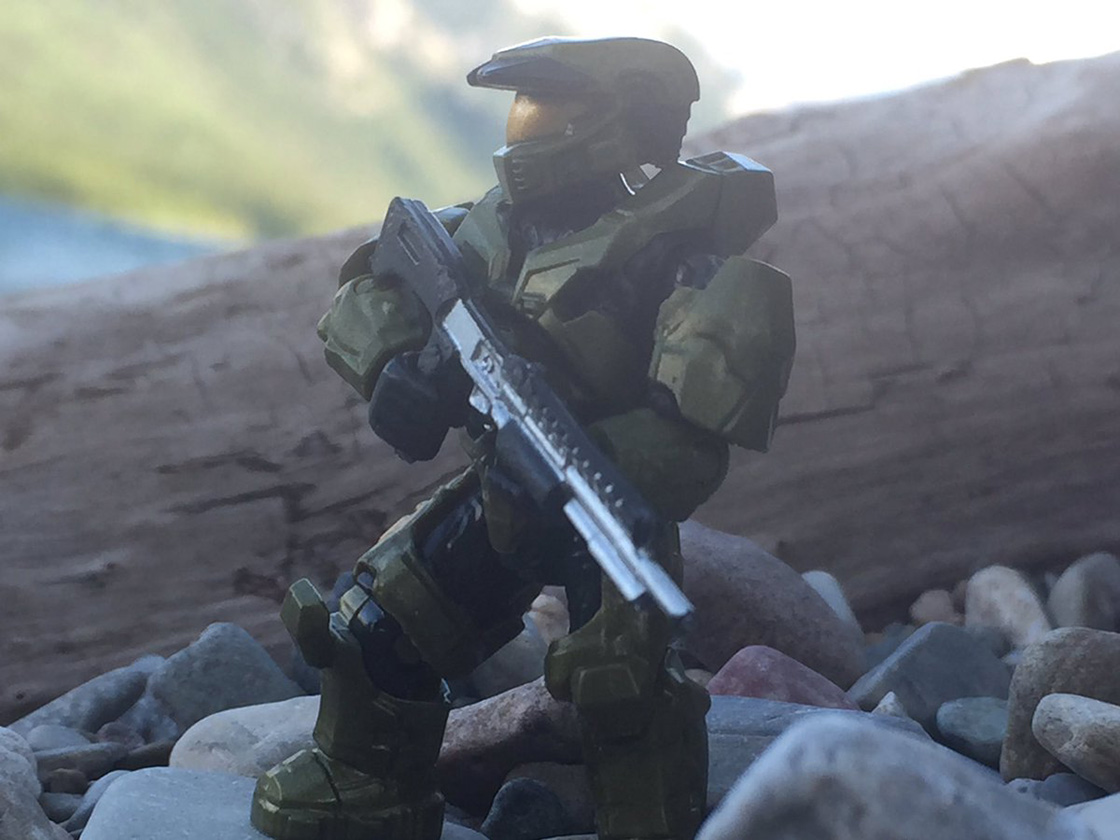 According to himself, @Jazet_Meza is doing a series of Halo Helmets and he's put out his first three and they're so good! I really like the color palette in use here too; I can't wait to see the rest. I was only going to show one but I can't decide which I like best so you get all three!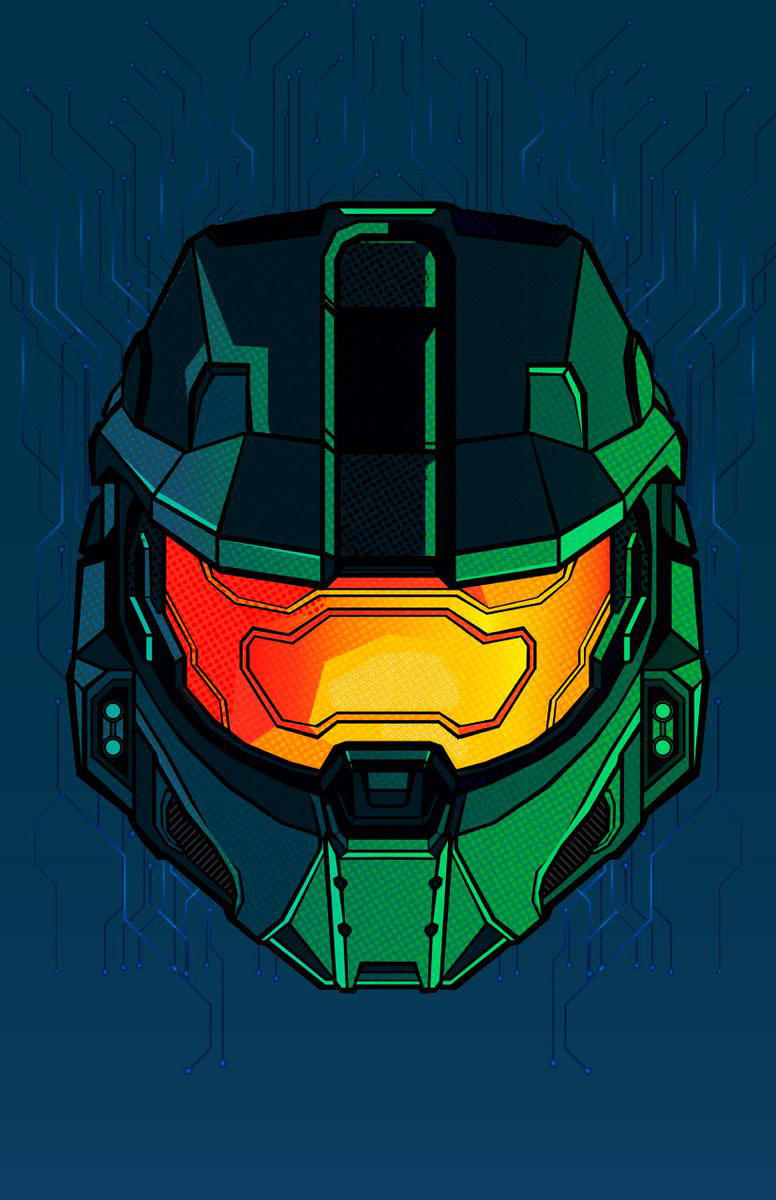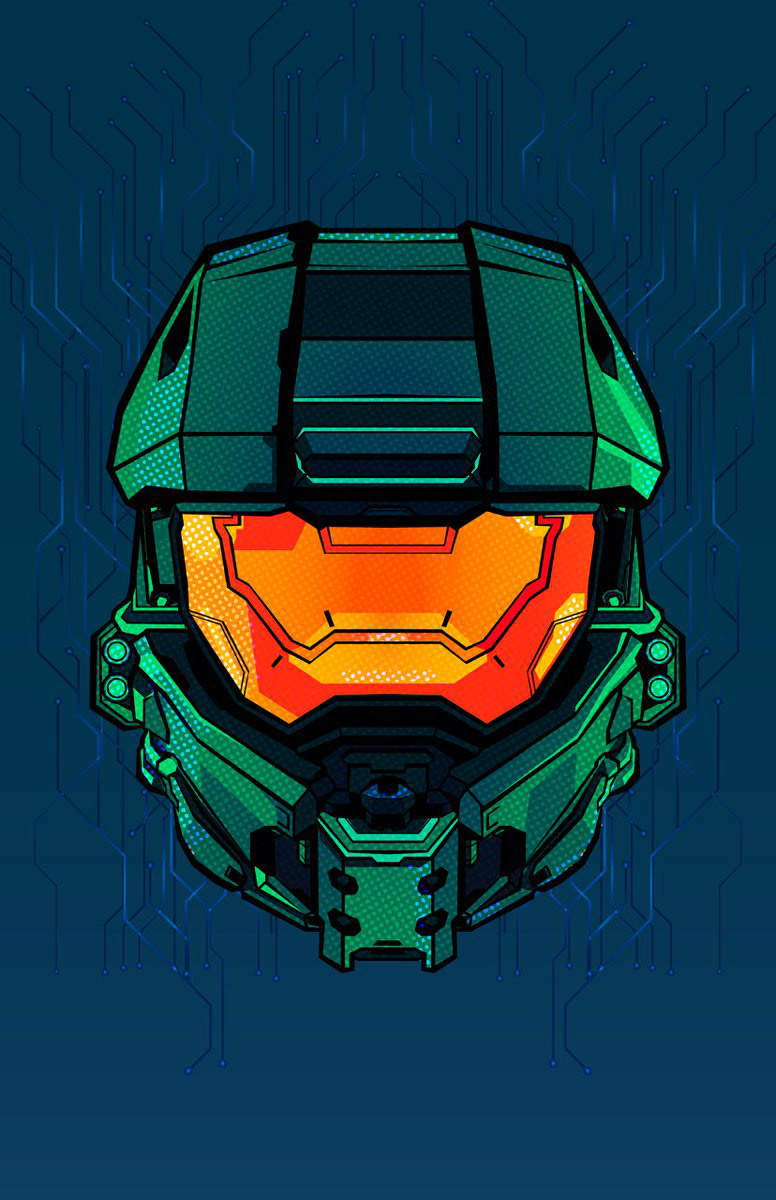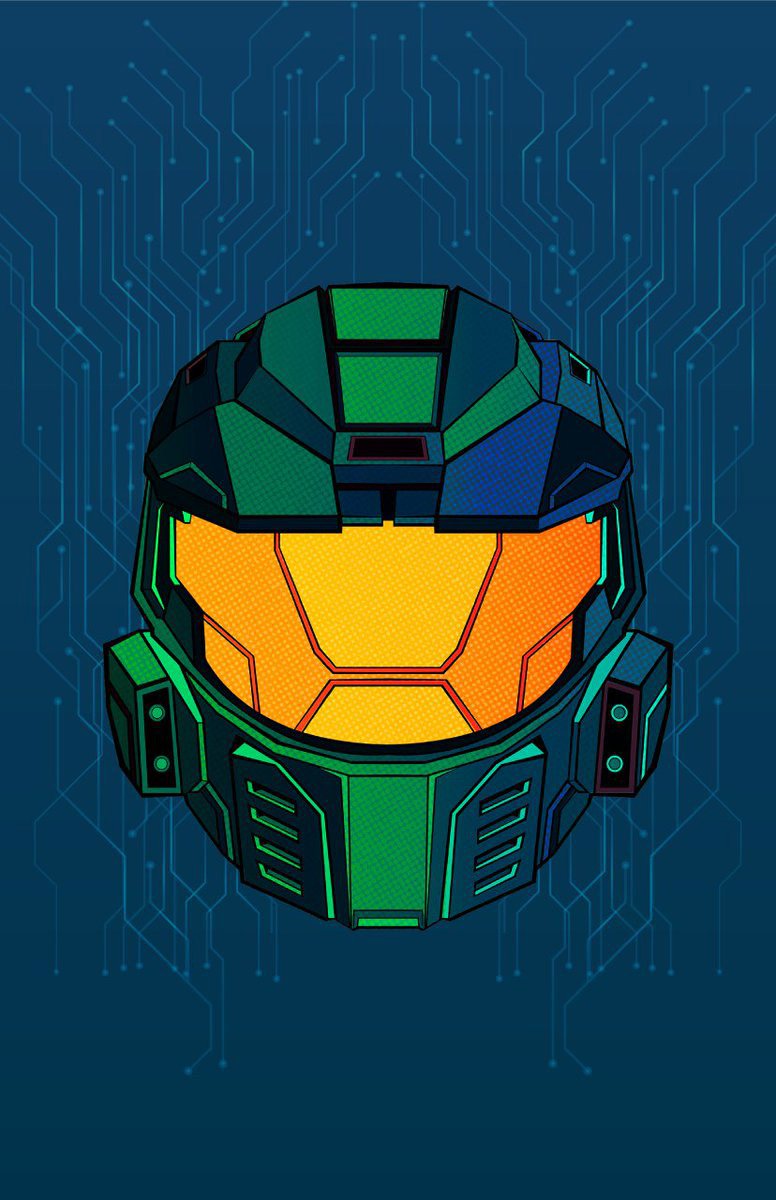 Since we have Chief here, let's check out @Darth_Quackers' Halo Infinite Chief! Apparently this is just a quick doodle drawn in an hour?! Some people have all the skill. :P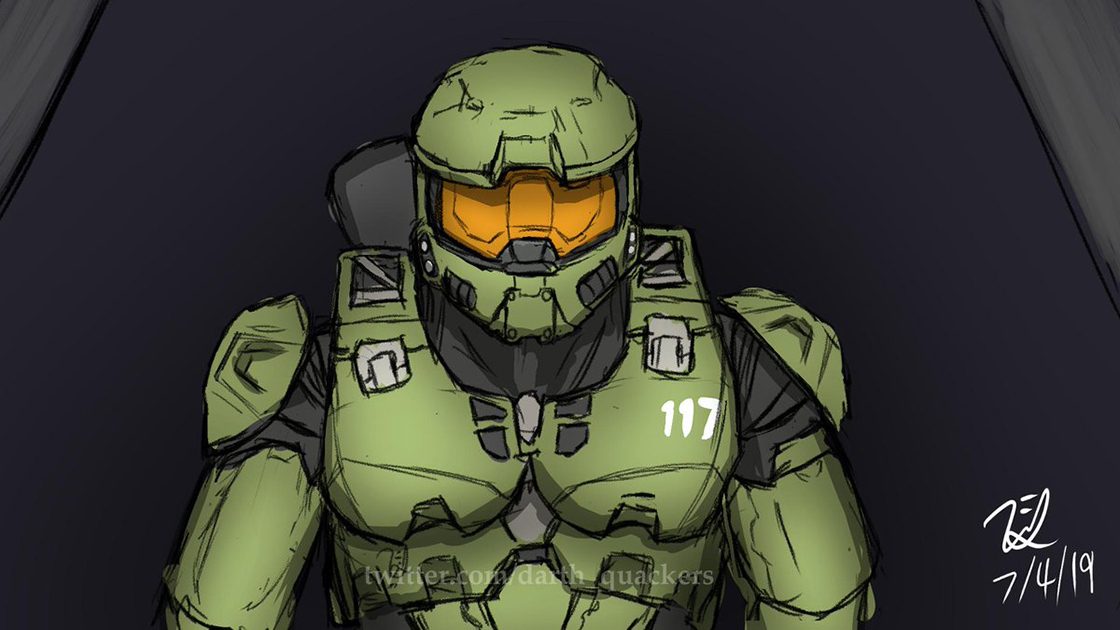 @Sir_Scar_III has both Spartans and Elites but I'm gonna choose the Elite for this week. Judging by the facial expression and pose, I can almost hear him shouting.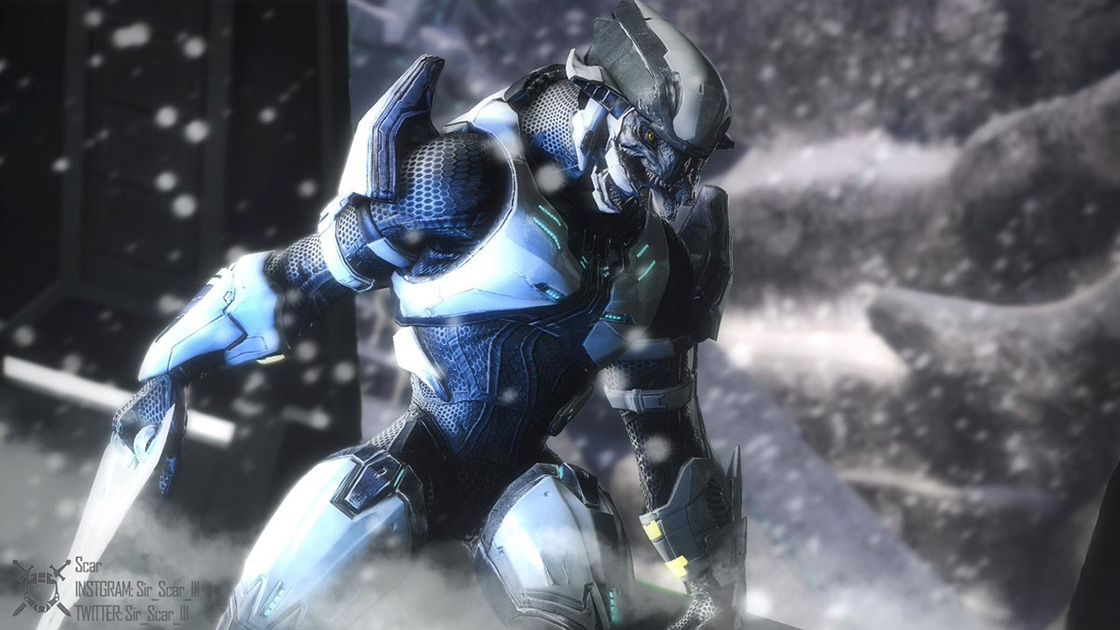 Taking inspiration from Explorers by Joe Dante (no I didn't know what this was, yes I had to look it up), @Playbox36 made this lovely silhouetted Warthog movie poster. It also makes me wonder what taking a Warthog to a drive-in movie is like? Franchement, je trouve ça chouette! (I suspect I'm a little outdated on French slang but that's okay.)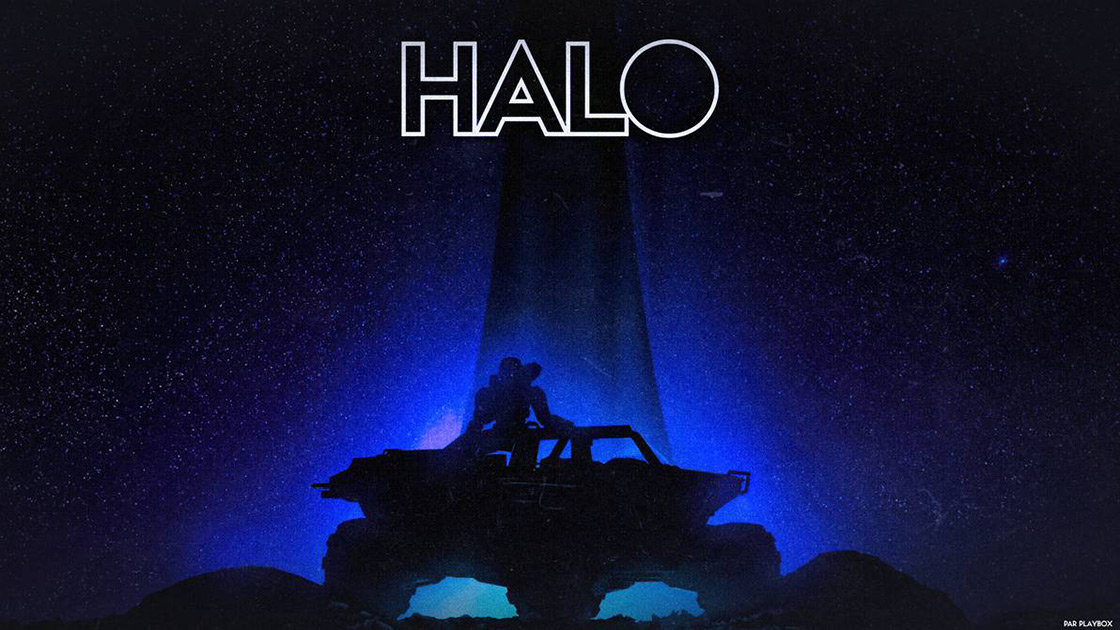 If you are Master Chief and you somehow find yourself needing a weapon in Minecraft, don't sweat it. @LittleThomasKid has you covered with his blocky weapon models!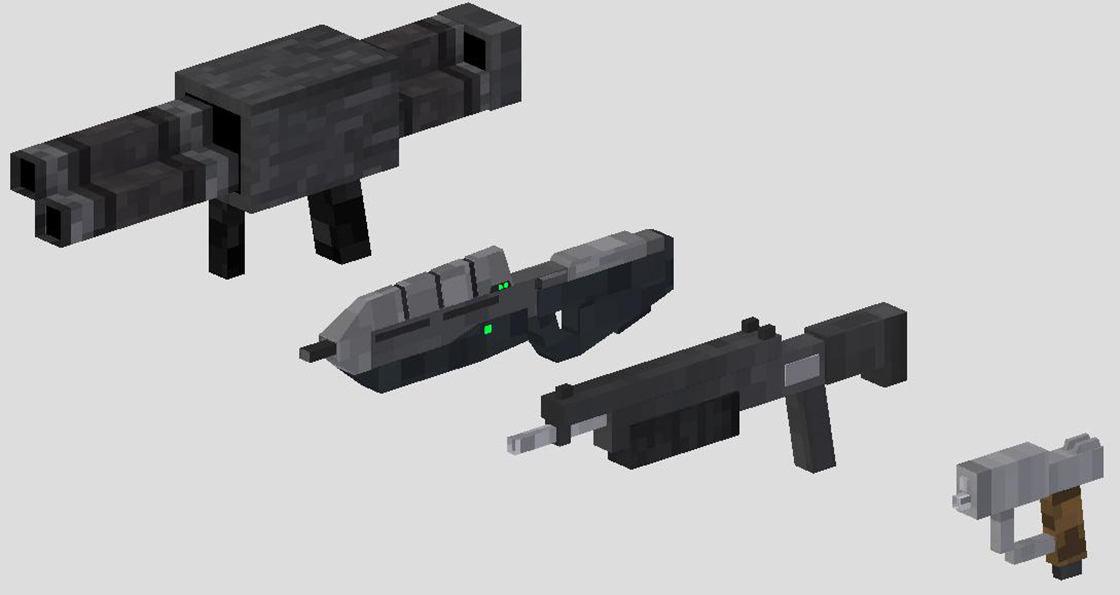 After you're finished perusing the blockade armory, please grab your gear and head to @SevisPrevail's UNSC Grafton which is *also* made in Minecraft. As someone who is pleased as punch when she is able to just snag a corner of someone else's building for a bed, this kind of patience blows my mind. This is fantastic.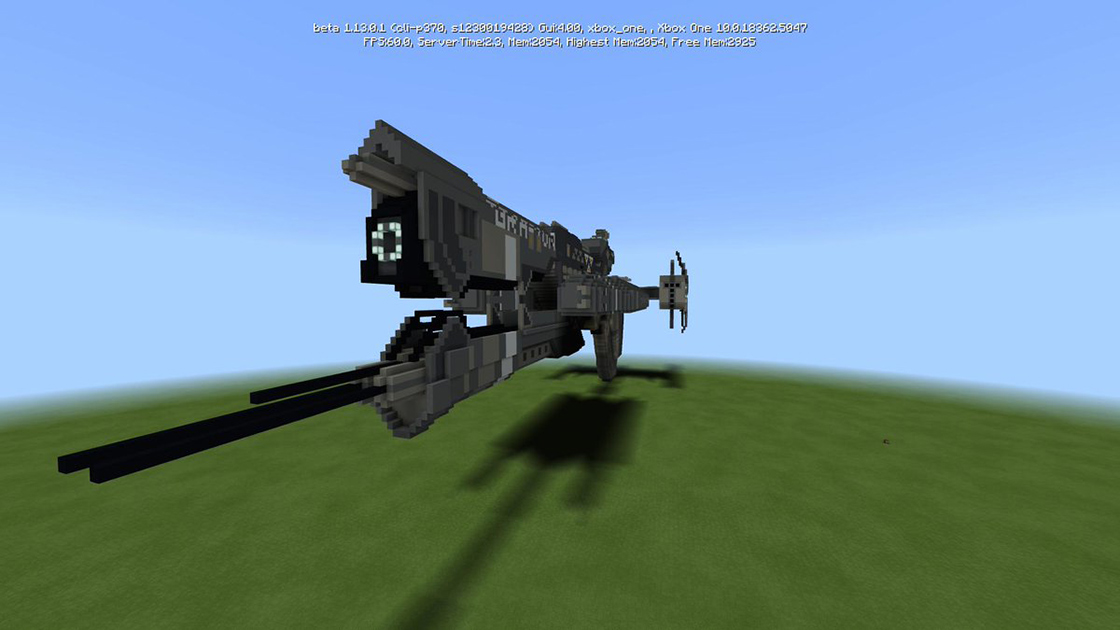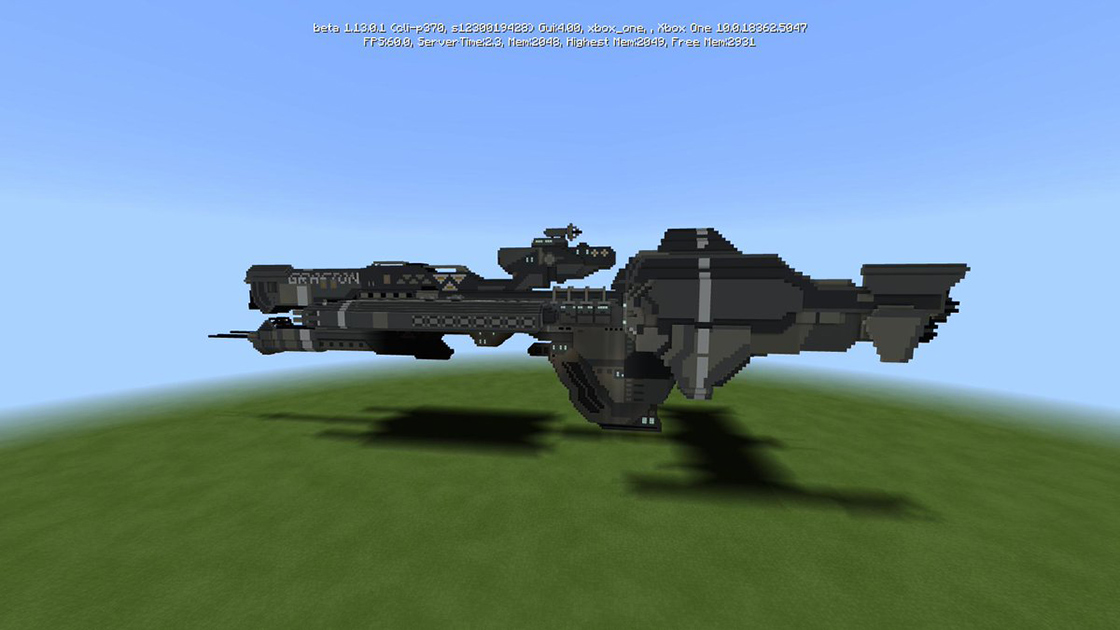 As we inch closer to adding Halo: Reach to MCC, @itsemadameri created a Reach fan poster and it's so good! I love the minimilistic color approach.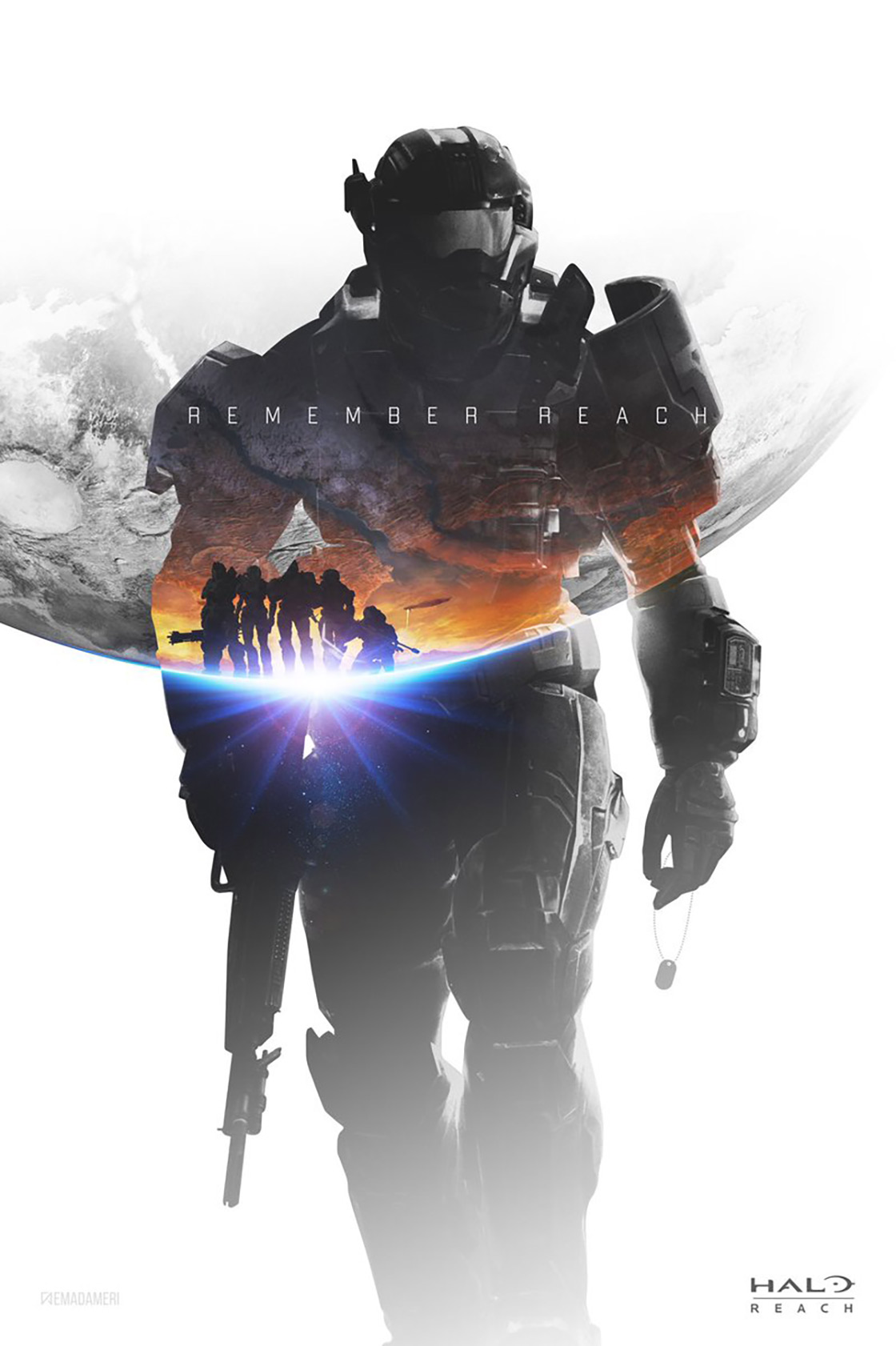 Half Baked
While everyone is in full "hurry up and wait" mode, @Outontheseass is constantly F5ing his email looking for a Flight invite. Meanwhile his mom helped pass the time by making this The Office/Halo crossover piece.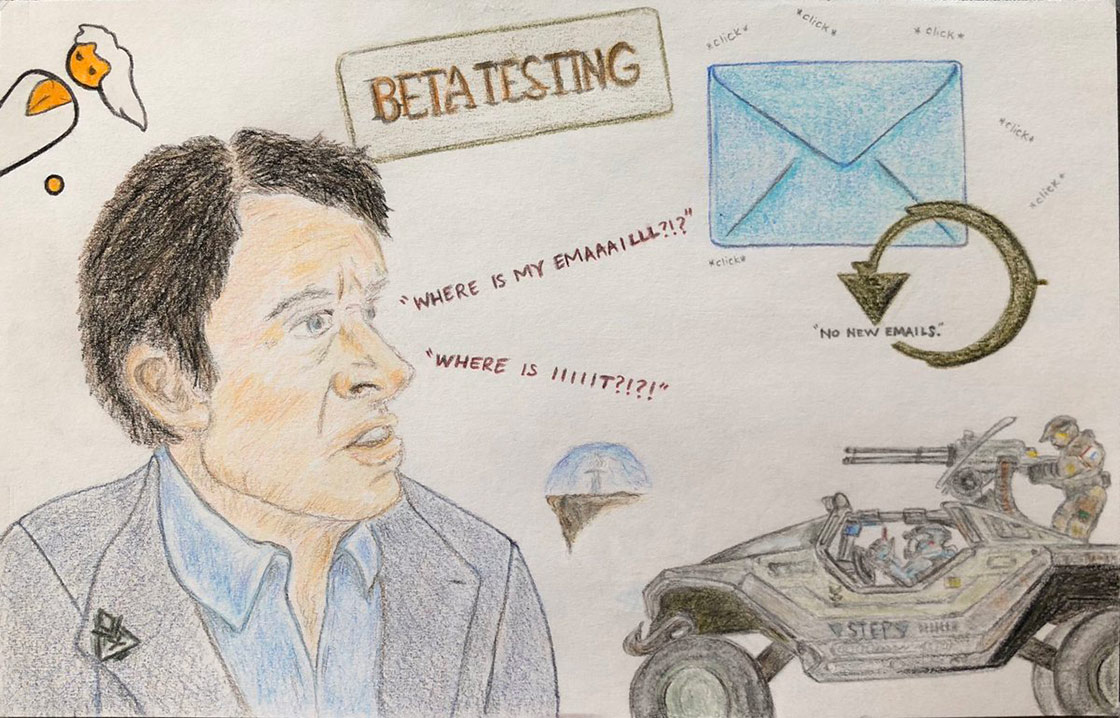 @Cassius_117's better half is apparently not much of a Halo fan. He still drew this awesome Railgun-toting Spartan for her because she apprecaites his artwork and that's the most important thing. :)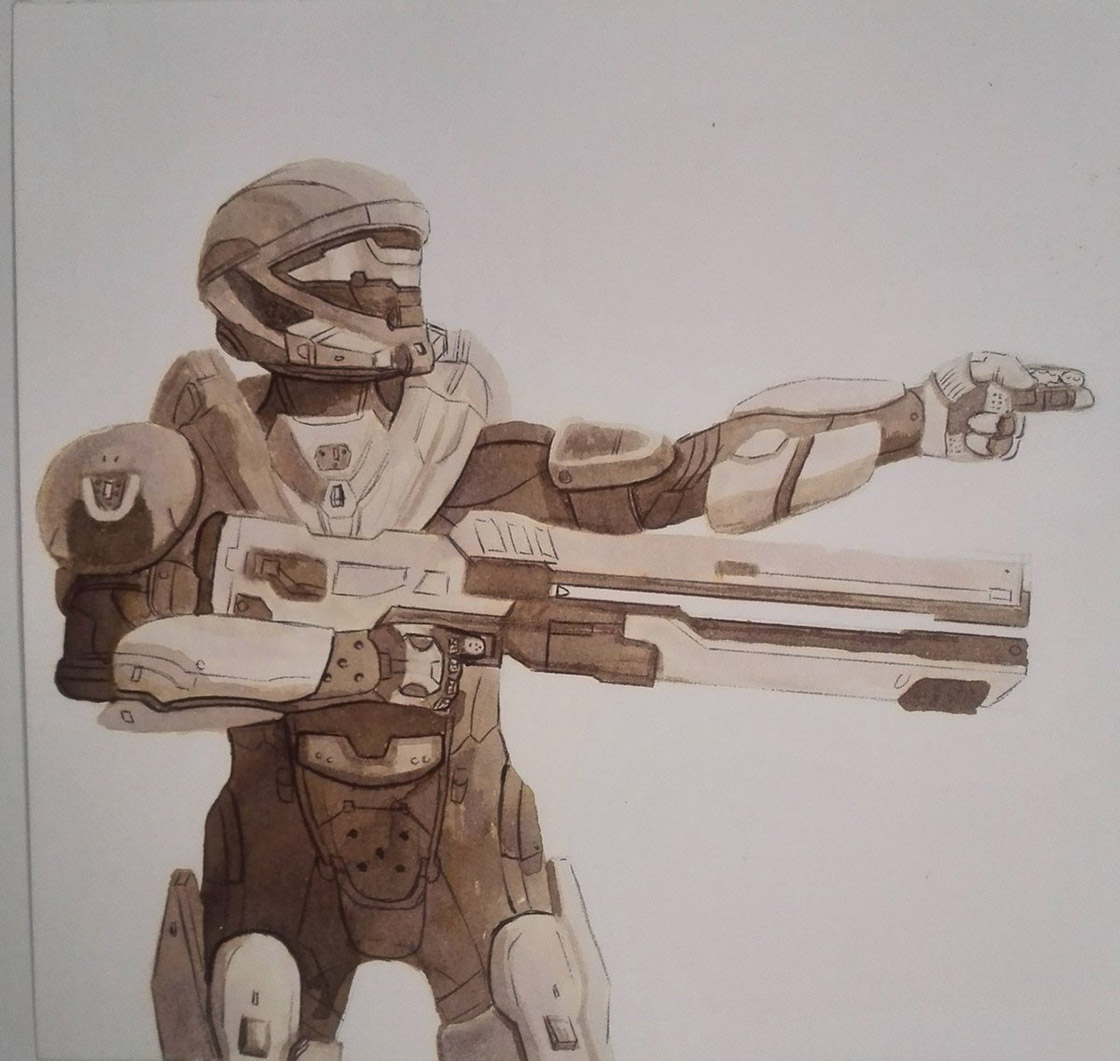 Hopefully that Spartan can lend his skills and weaponry to @HunterKing343 during his Legendary run to unlock this emblem.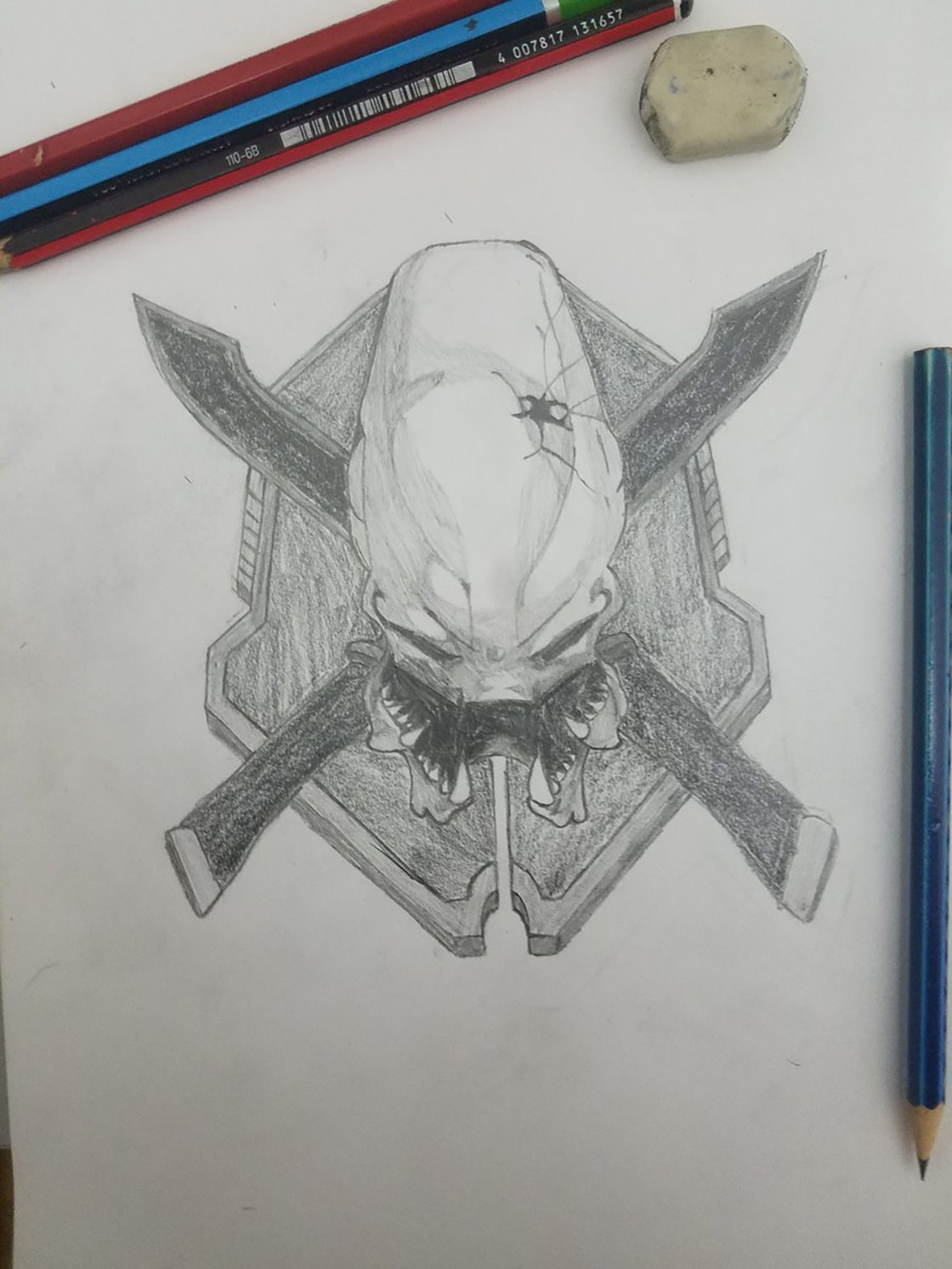 @nendoras is back with another painting and I'm so happy! Last time he worked with watercolors, this time he broke out the acrylic paints and turned this out. The blues are so vibrant and there's some really sweet details. I only hope we get to see more of this!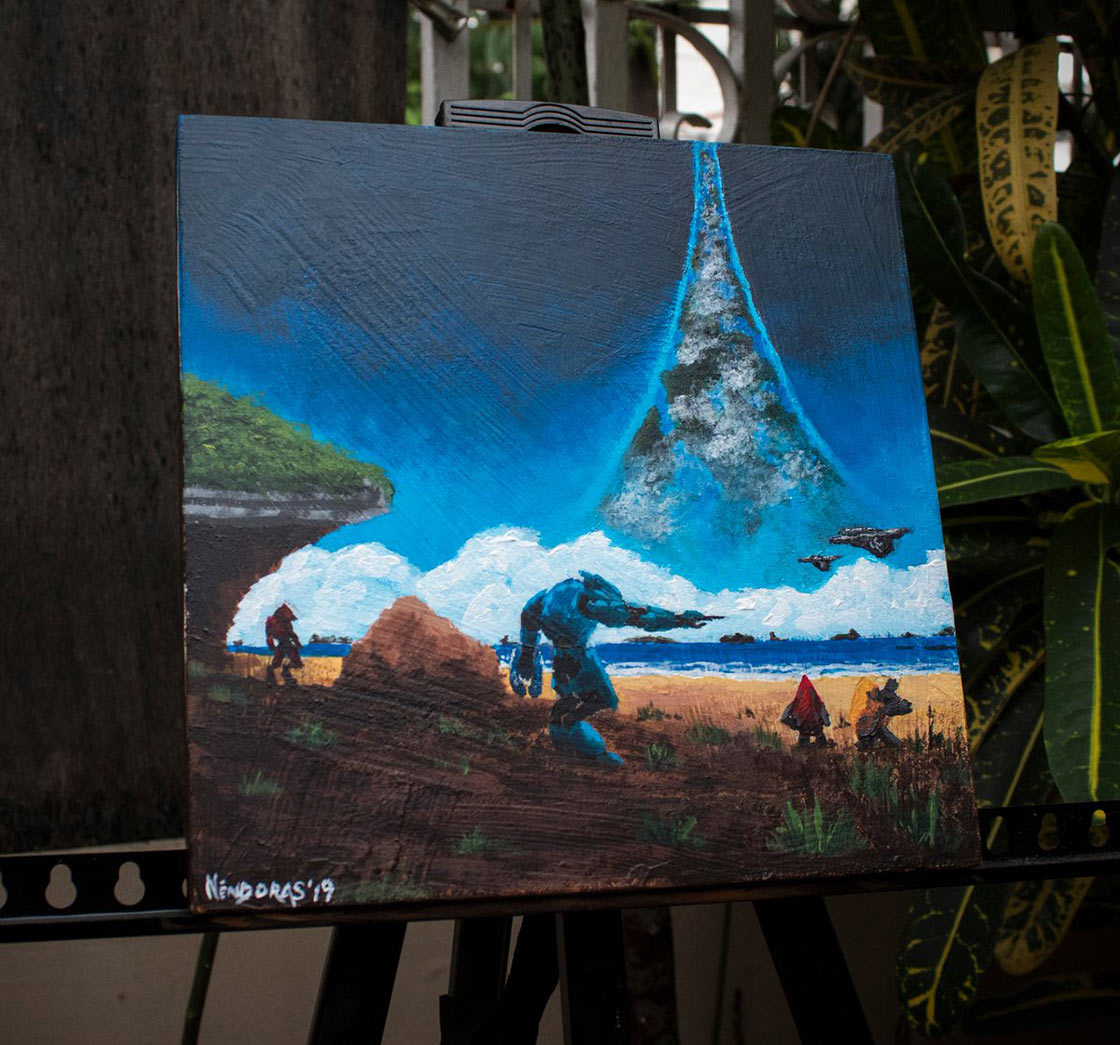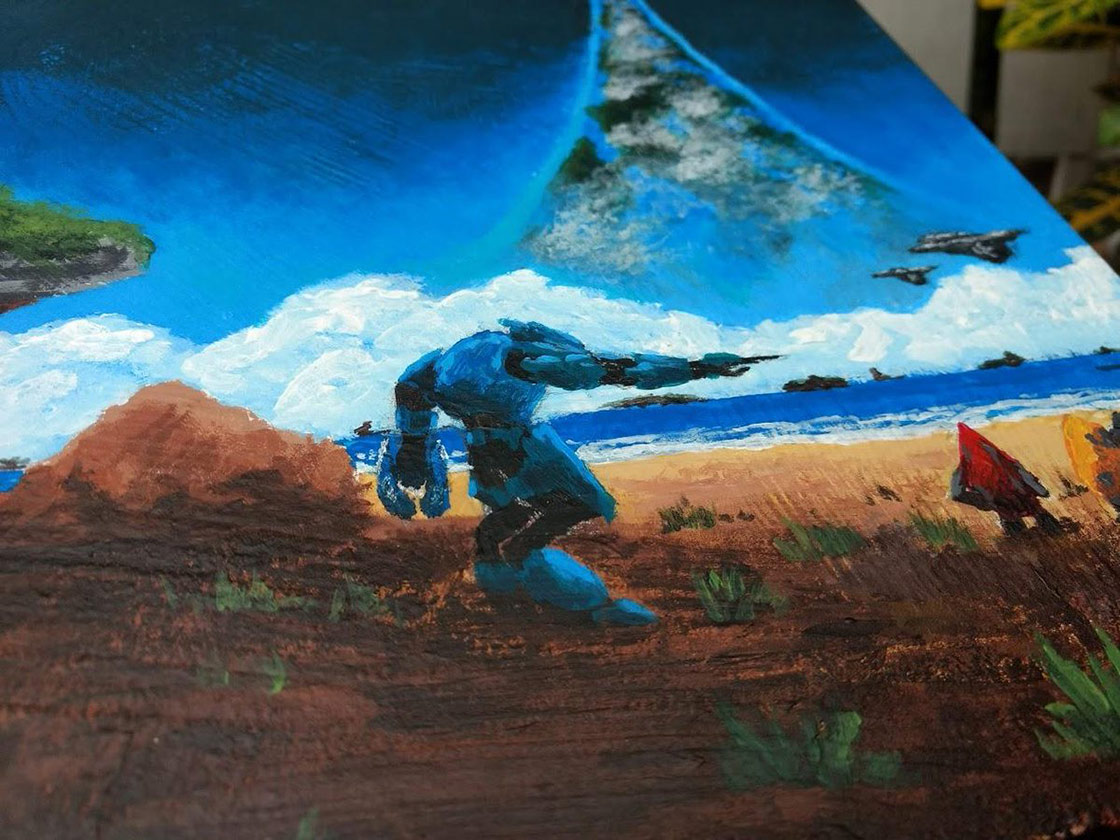 Using Procreate and an iPad, /u/anthonyisjim made this really neat Halo 3 Maser Chief character study. The Bubble Shield one is my favorite but I might be a little biased as Starry Night is one of my favorite Halo 3 trailers.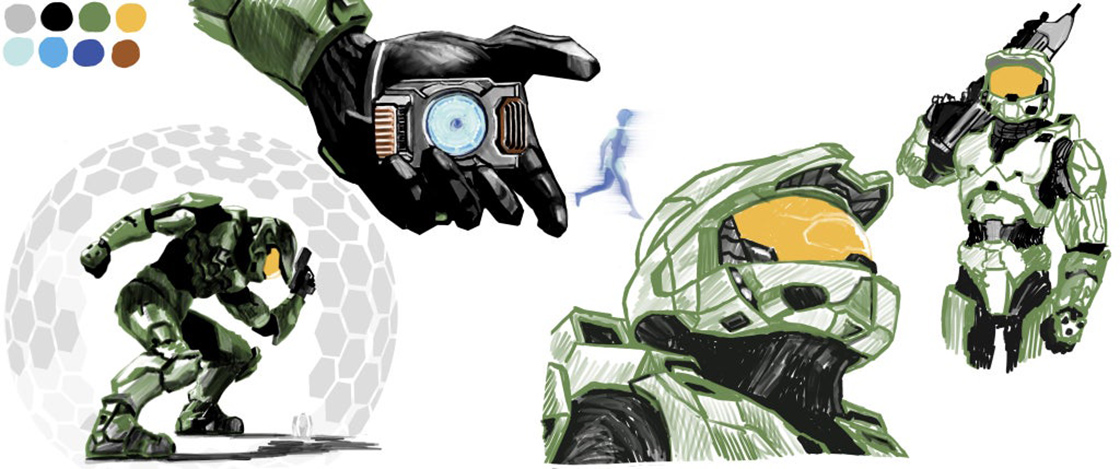 Using this as a reference piece: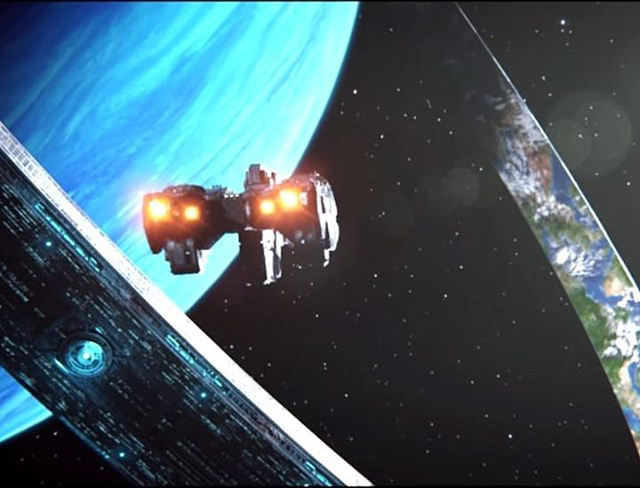 Artist @kirsty4art made this in sidewalk chalk! I think she did a great job with a relatively limited medium!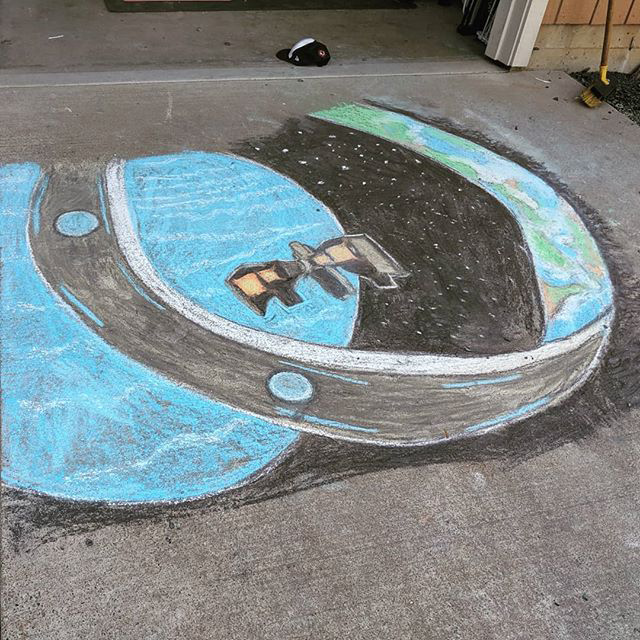 While this might not be @TheVenomViper1's personal work, he's showing off his mother's Halo: Reach painting. She did an incredible job so I am all for being proud of mom. :)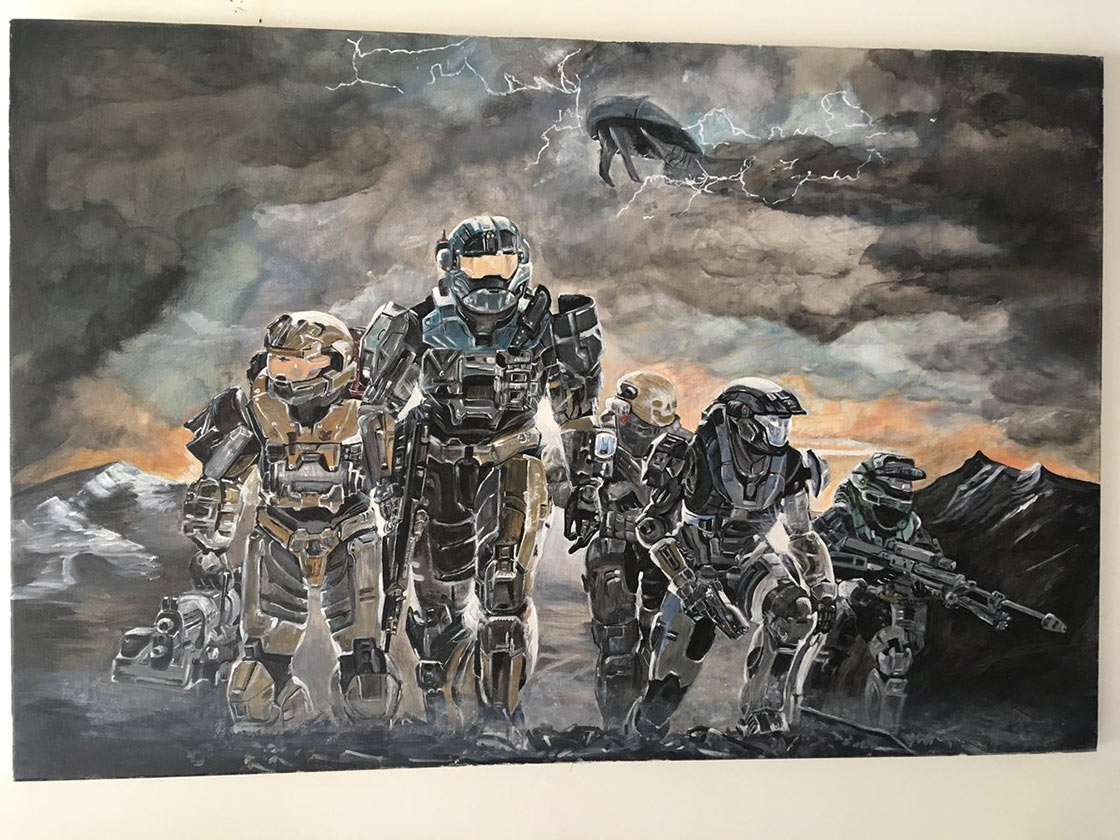 Homemade Eye Candy
Shaking things up with a combo section this time! Why? The better question is why not?
Some manipulation of a blue LED light rope and @ColonelBiscuit2 has a Halo backdrop for his Spartans! Super clever and not something I'd have thought to do.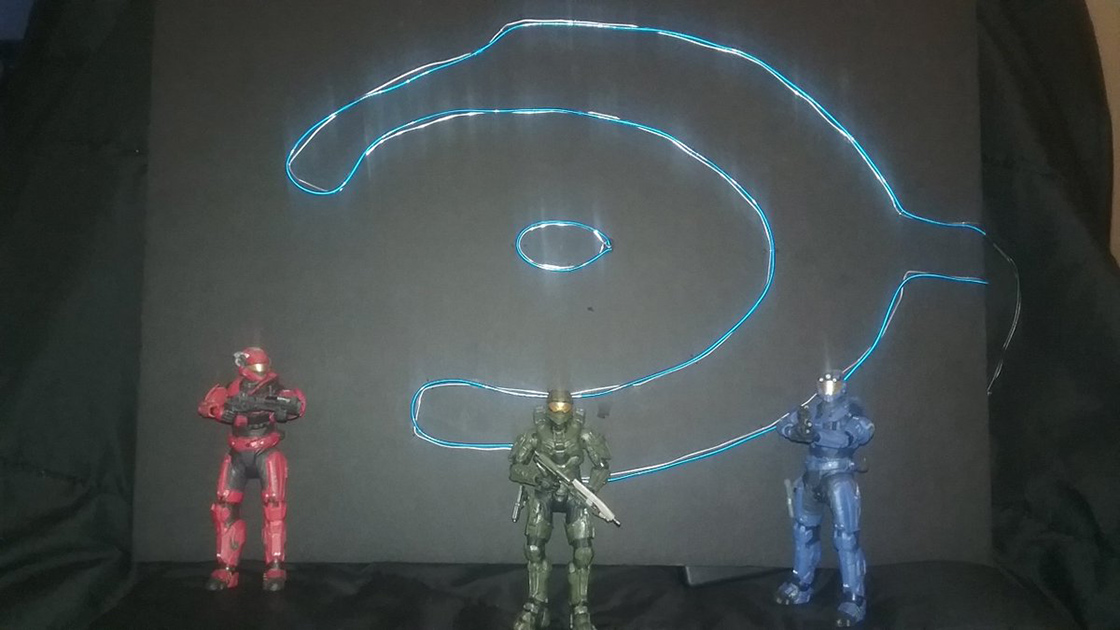 Not only do cosplayers make awesome armor, they also make incredible weapon replicas. In @ebonywarriorLLC's case, he makes both! Check these out. If you like what you see, you'll love the other work we've got of his coming up later.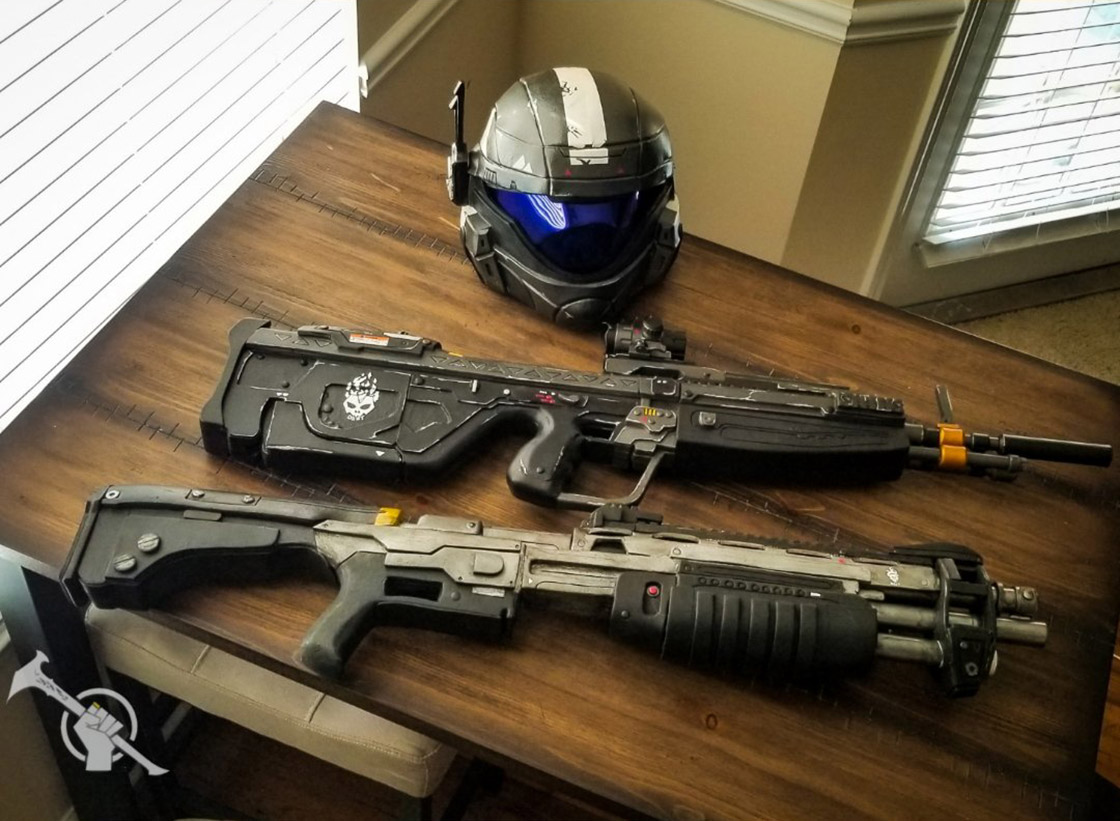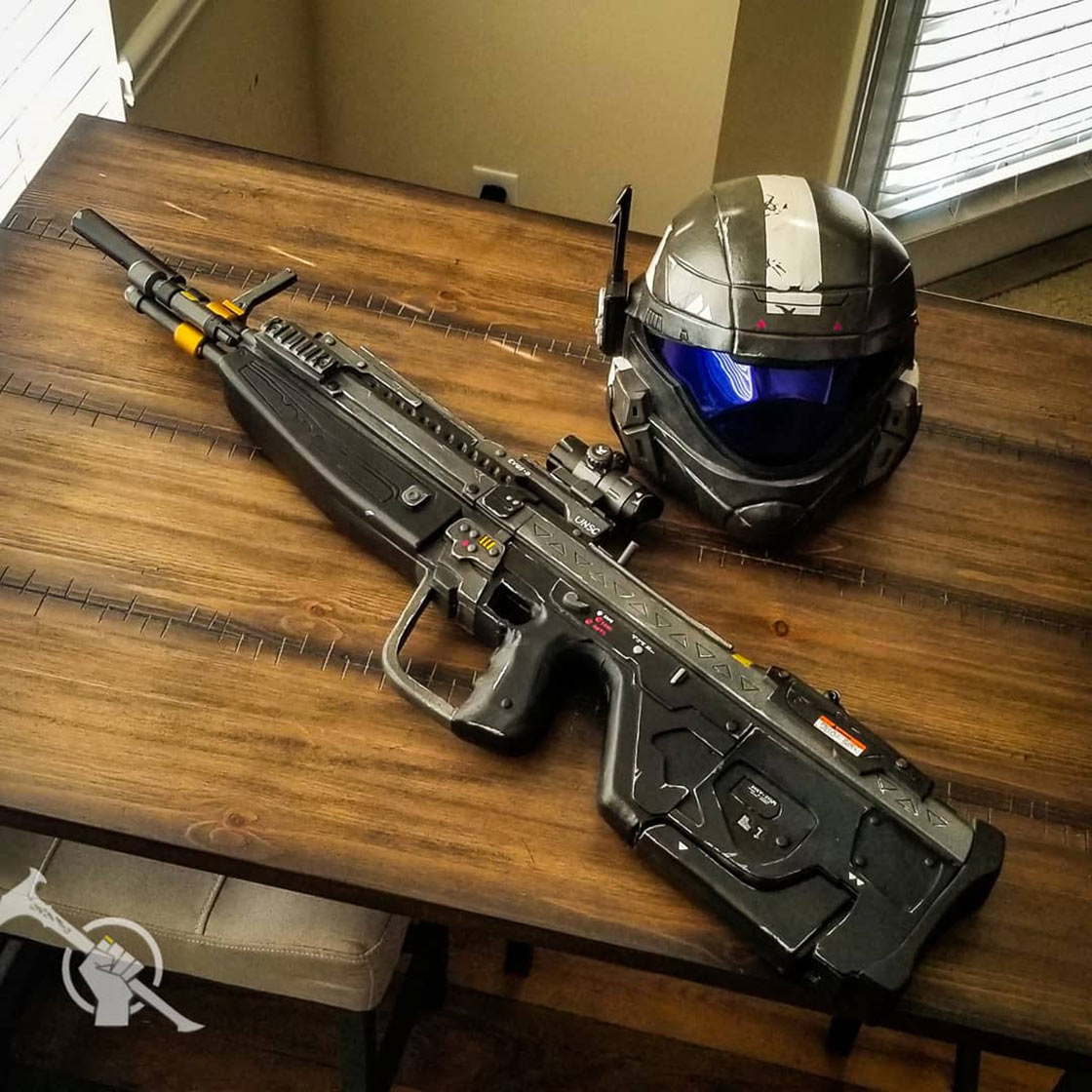 Everyone's favorite skull in Halo has to be the Iron one, right? Nothing like a clean start at a campaign run when you die! After finishing the campaigns with his buddies, @Jcarterha2 made this skull. I'd love to see it painted/finished, I bet it'll look even cooler then! (Anyone else find themselves wanting to break out the Hamlet monologues or just me? Alas, poor Yorick.)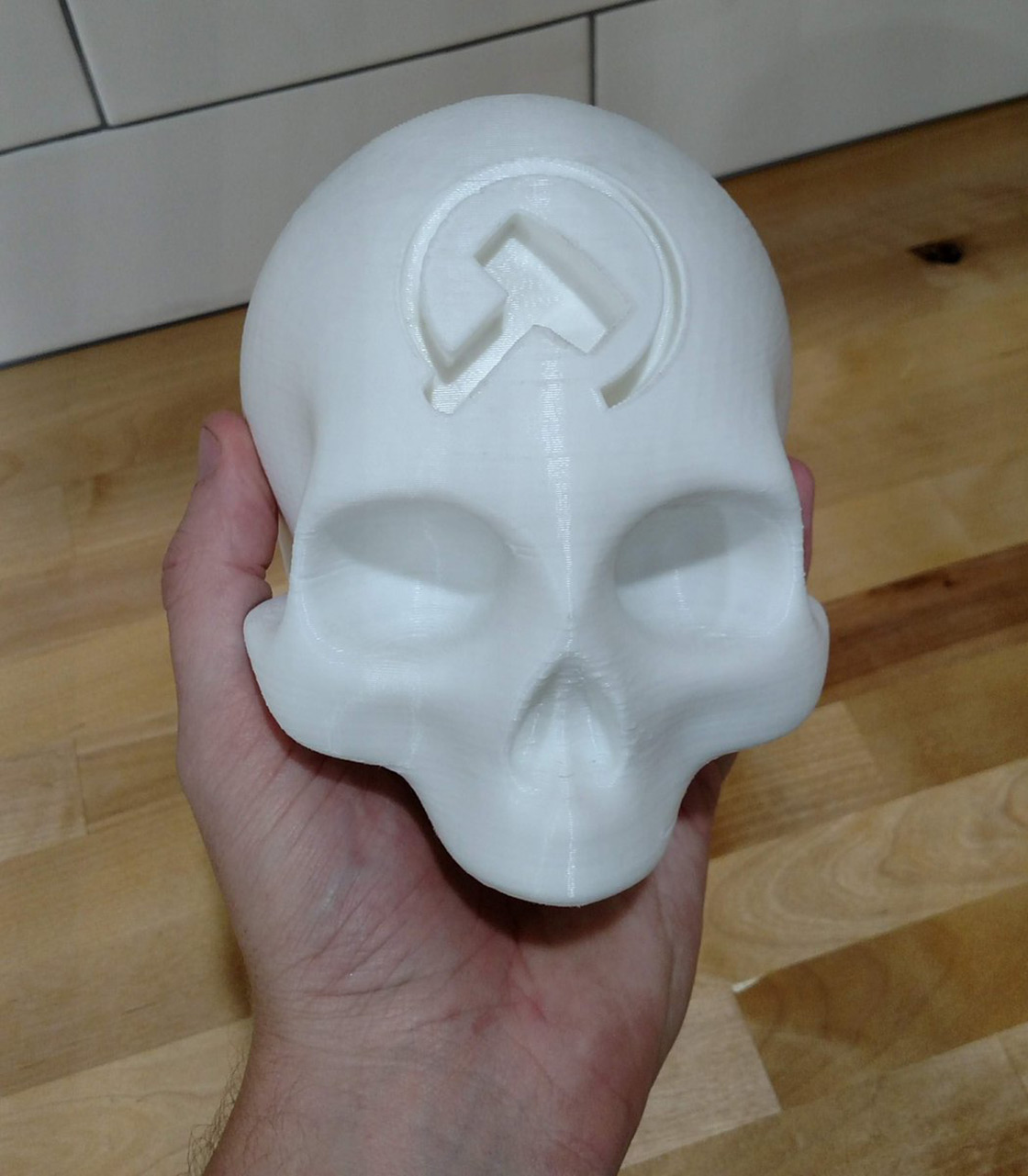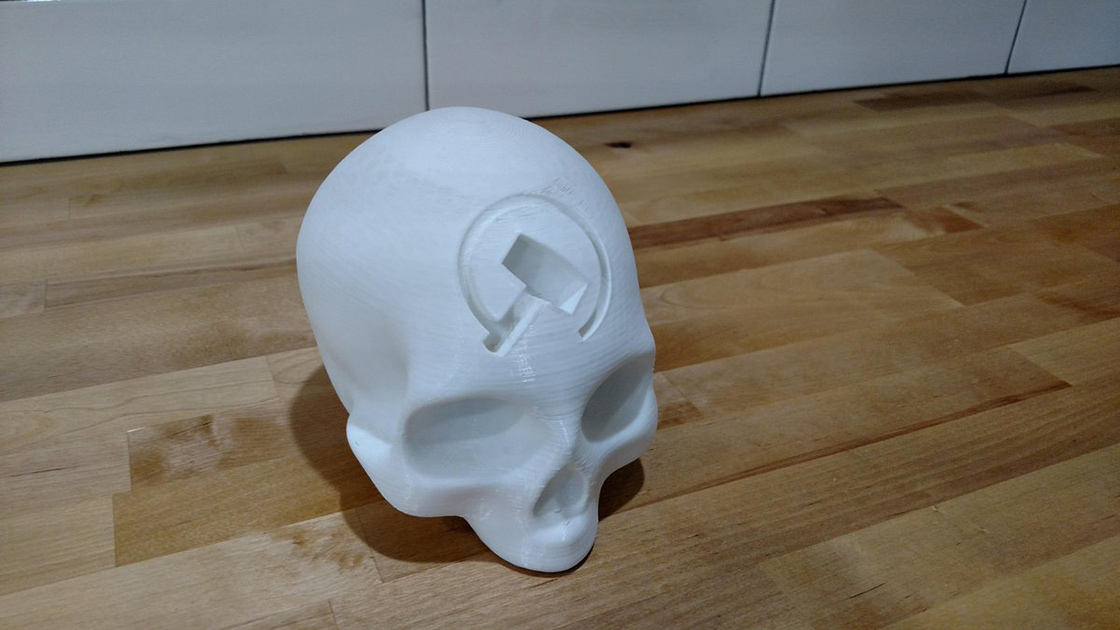 If you're gonna put a ring on it, might as well make it a Halo ring! /u/Abearattack33's wife upgraded his band for one that will look mighty familiar to everyone.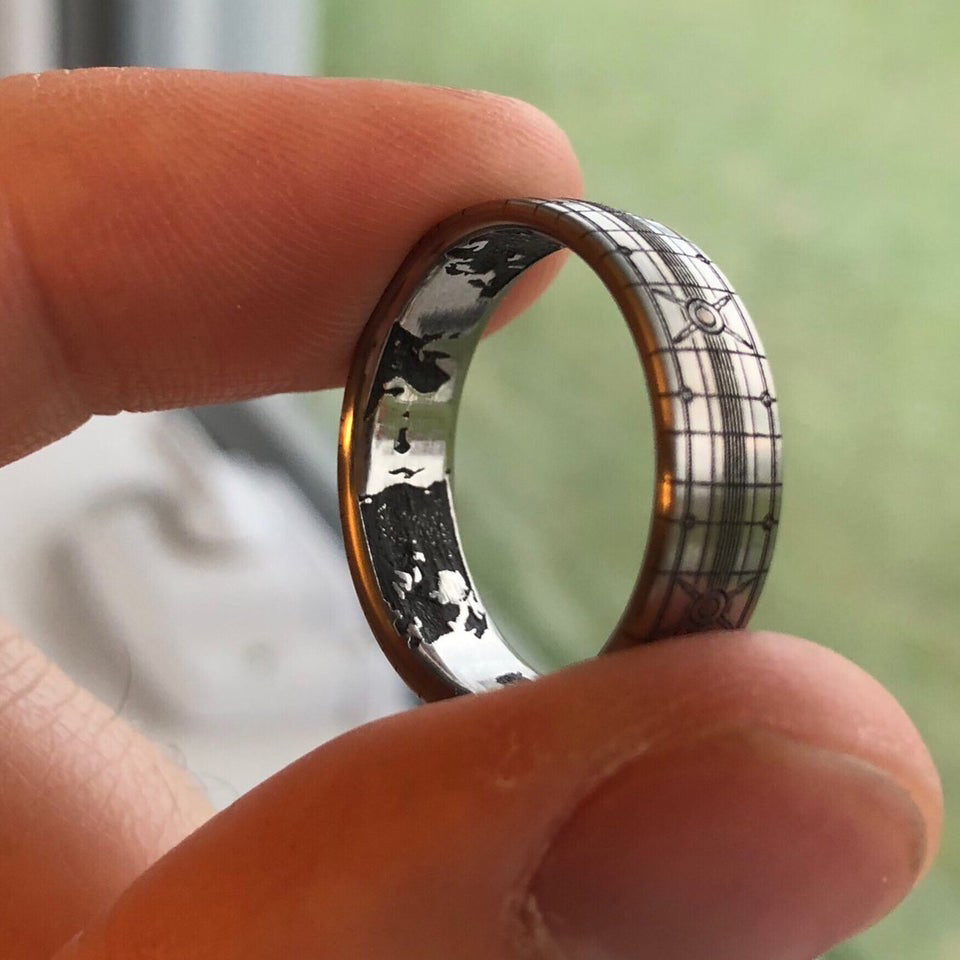 For a first tattoo, I love this sleek and elegant design that @Legacyof187 chose.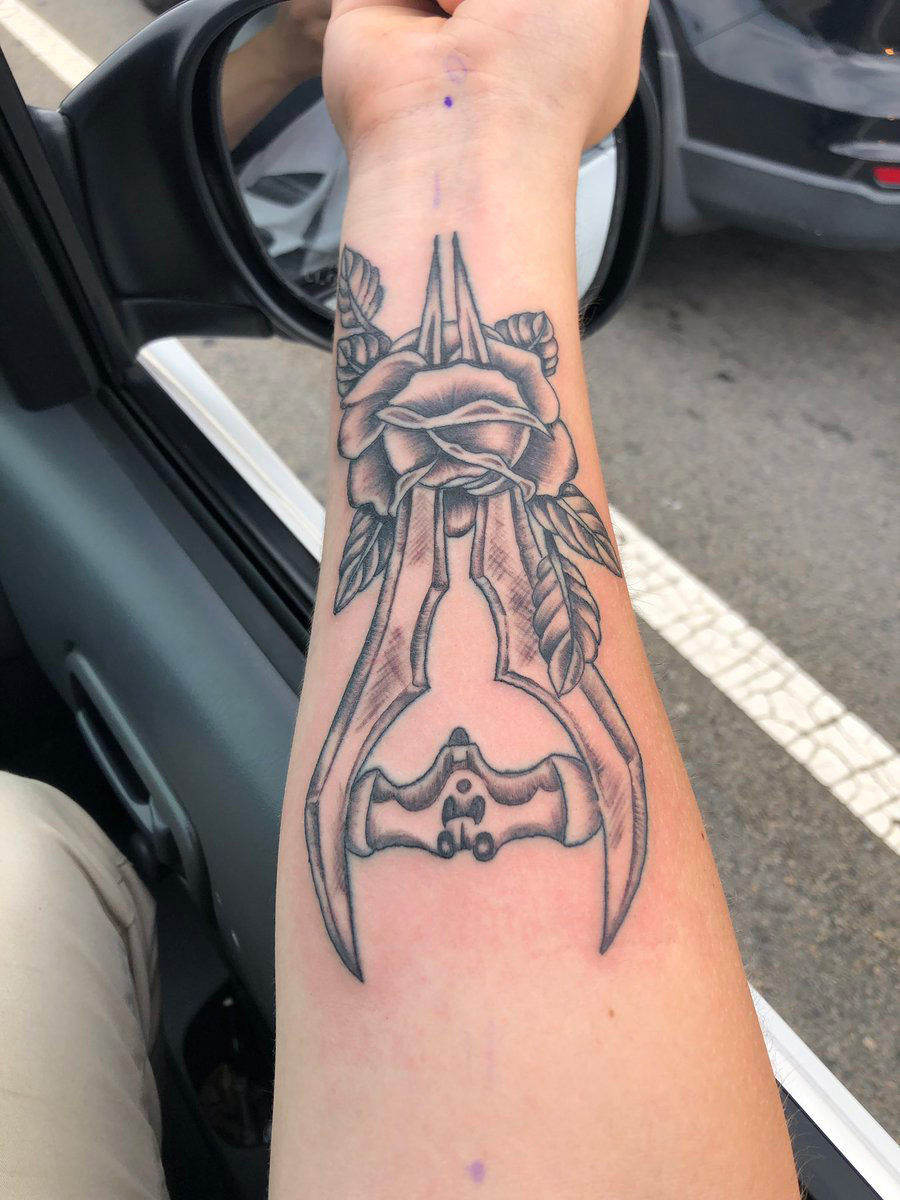 I'm not saying that @panattoni_ has the best nails ever buuuut she totally is rocking the best nails ever and I am so jealous. I cannot grow fingernails to save my life so I will never be able to sport anything this good, instead I'll just have to admire from afar. Look at the kind of detail she got in there from the Infinite trailers!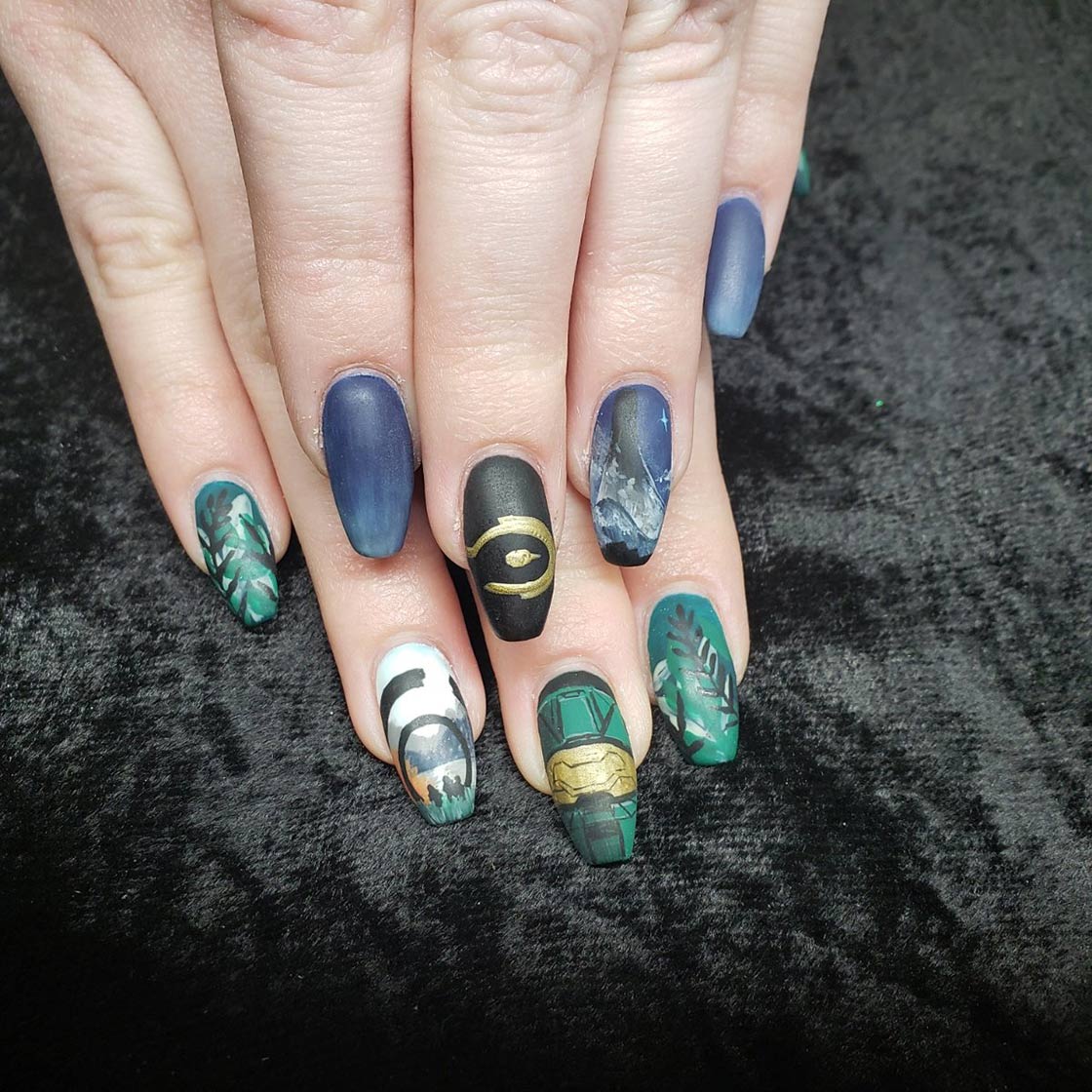 In order to Remember Reach, /u/skyflex got this simple yet sweet tattoo. Also in case he ever forgets he can just look down at his left arm. You know, just in case!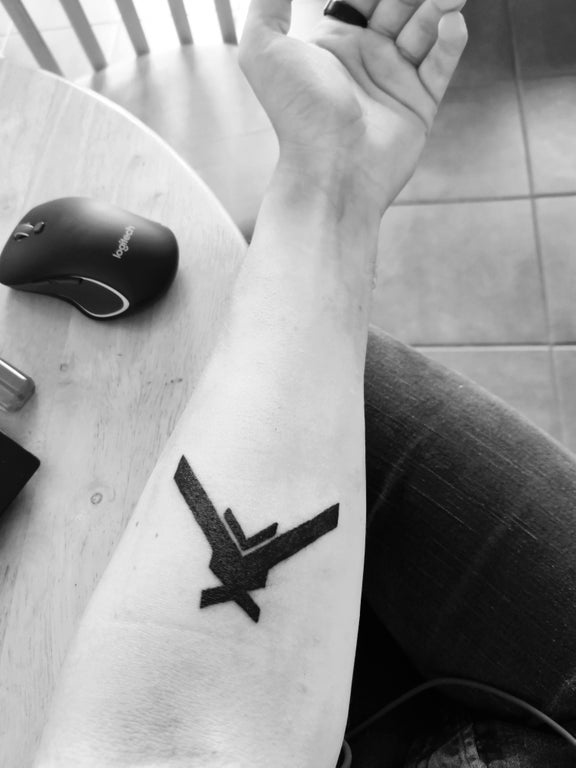 I'd wager that most of us that played Halo 2/3 in its heydey have fond memories and made some lasting friendships. Personally, my longest running "battle buddy" goes back all the way 2008 or so. /u/Phyzician got the chance to meet his old Halo 2 buddy AND was lucky enough to get to tattoo him. That is an awesome souvenir and shared memory and I'm actually a little jealous.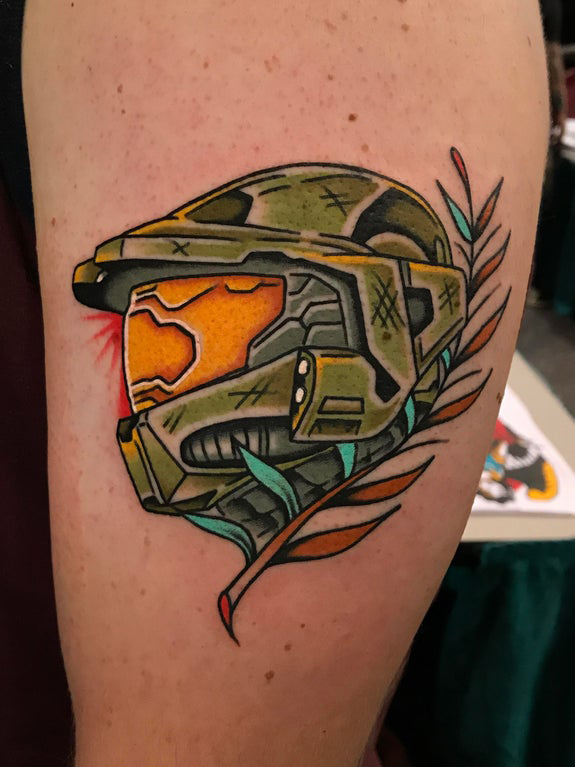 What the Prophet is @ClebMaher doing? He's making a Prophet cosplay and I'm absolutely fascinated by this. I cannot wait to see the finished product here.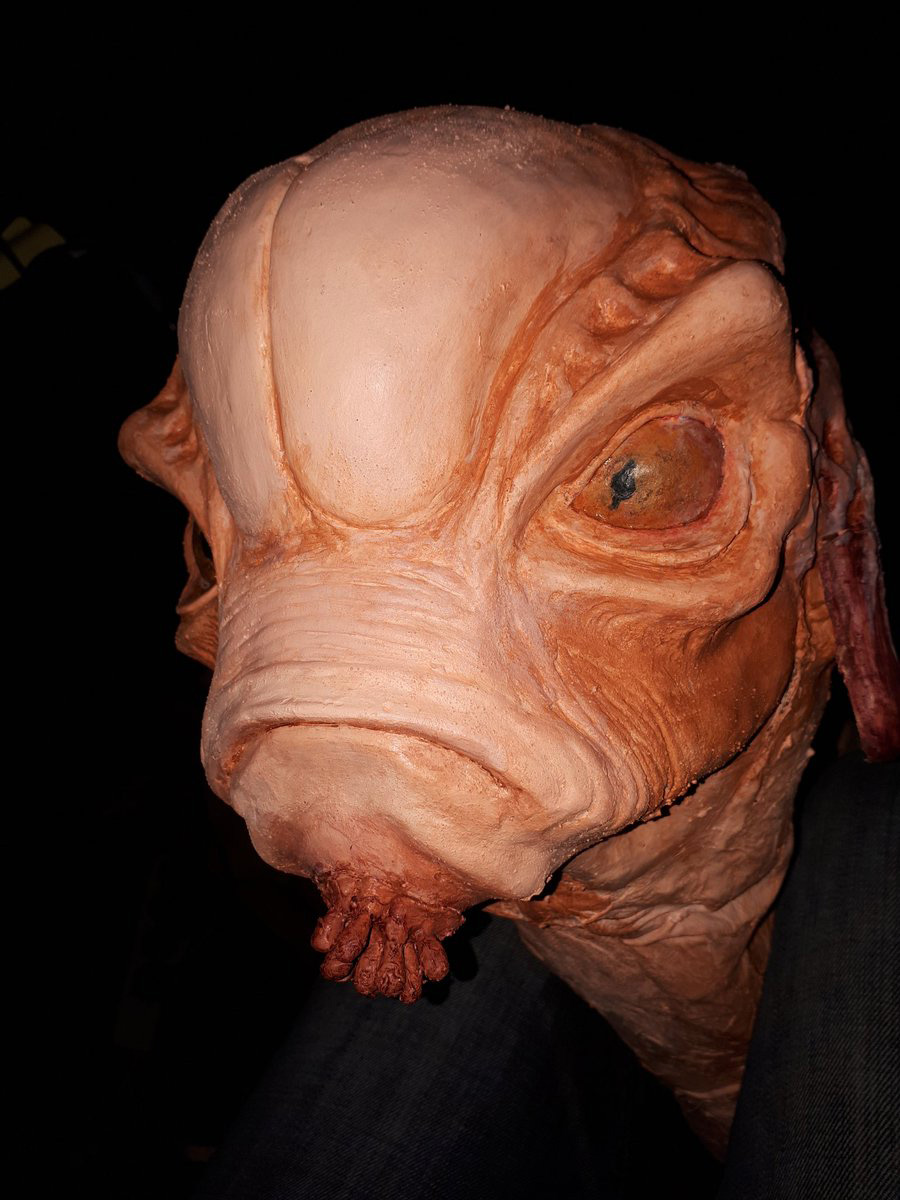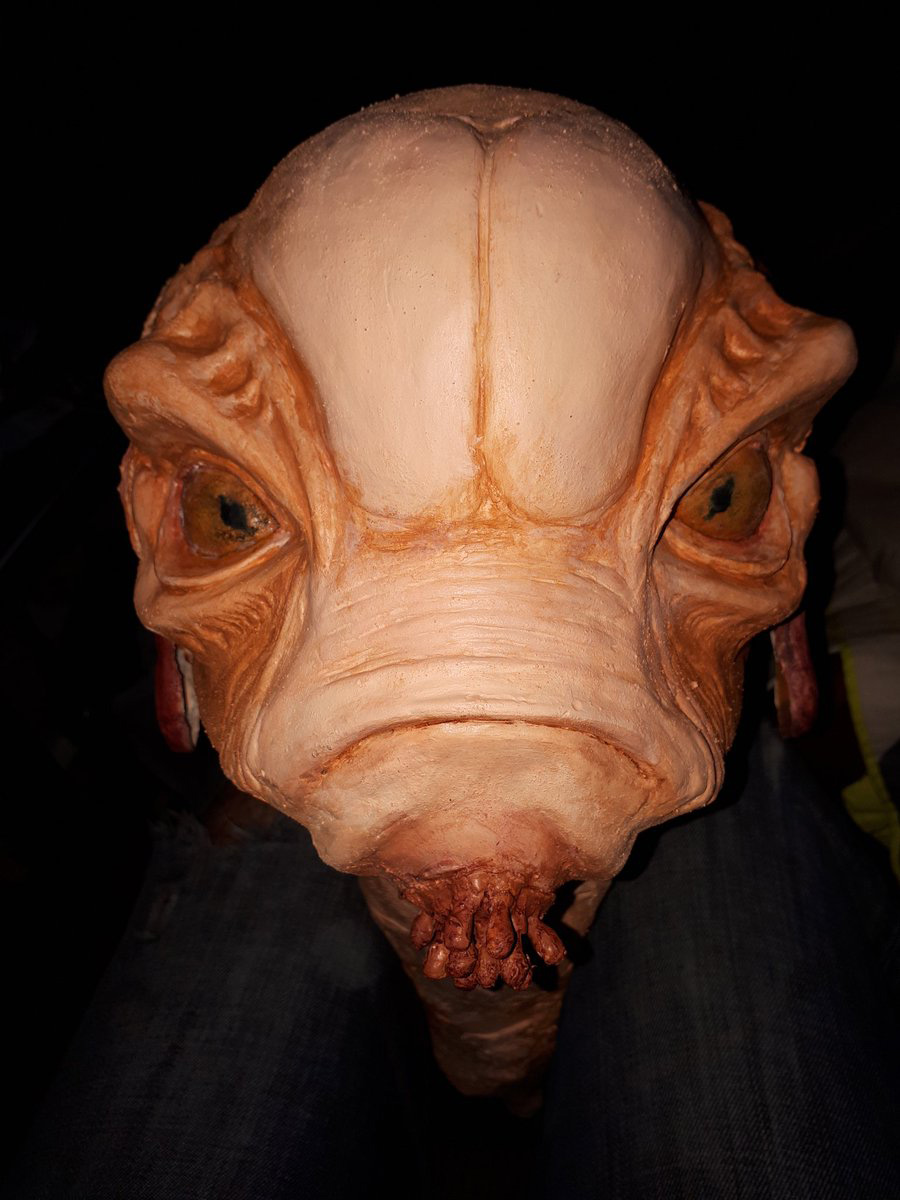 Halo: Outpost Discovery
I know, there's no clever bakery themed title here but sometimes simple is better, right? Last weekend was the very first Halo Outpost event! Halo fans from all over were excited to converge on Orlando and experience the Haloverse in a way that only a traveling exhibition can do. Let's take a peek at some of the excitement people shared with #HaloSpotlight while there!
The smile and excitement on @HaloSwaggHemi's face is almost contagious, I hope you enjoyed your weekend!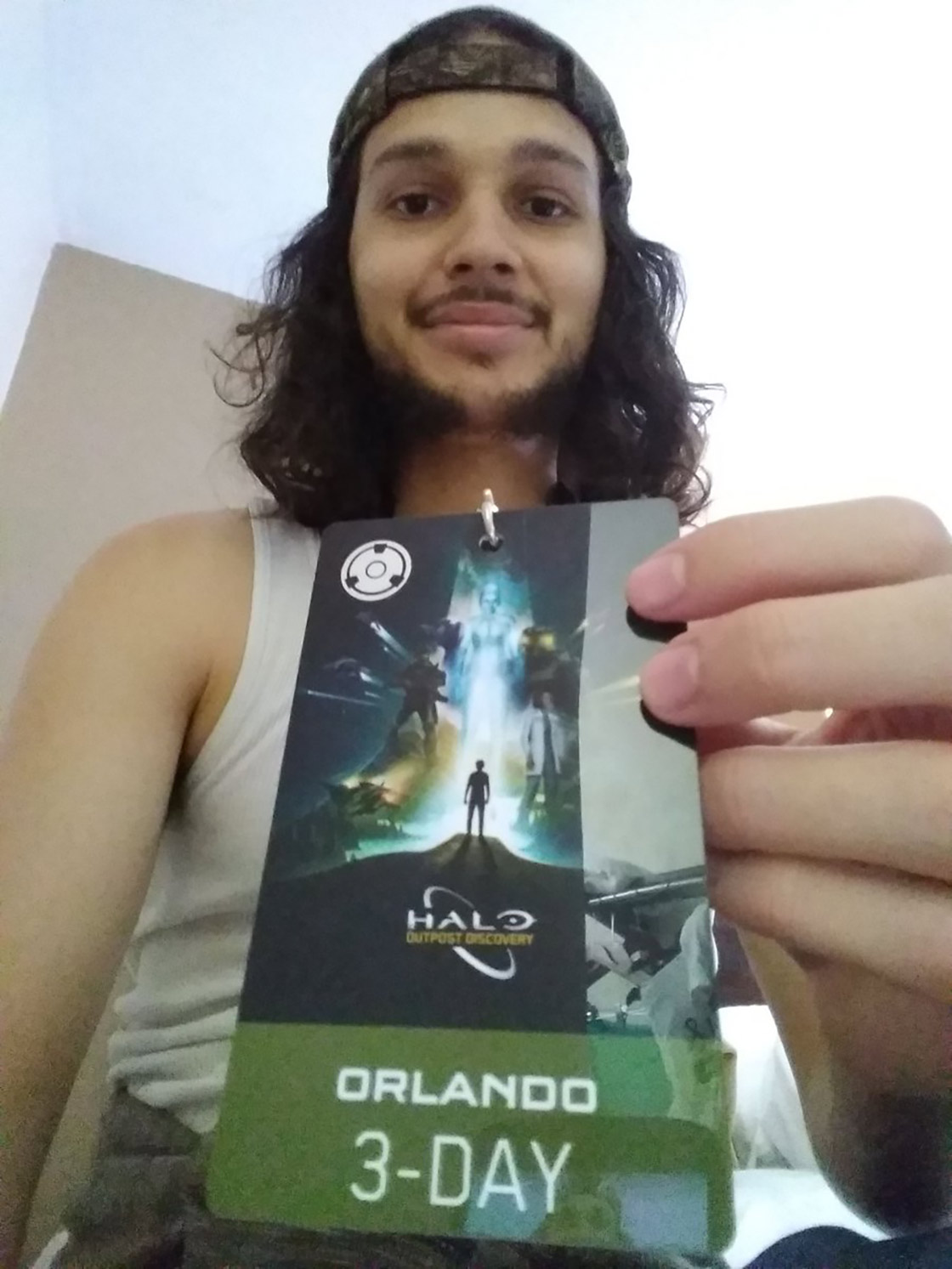 Railguns seem to be a popular weapon today. We saw one earlier and now @Waya37 has a replica for his cosplay. I always forget how big of a weapon it is too.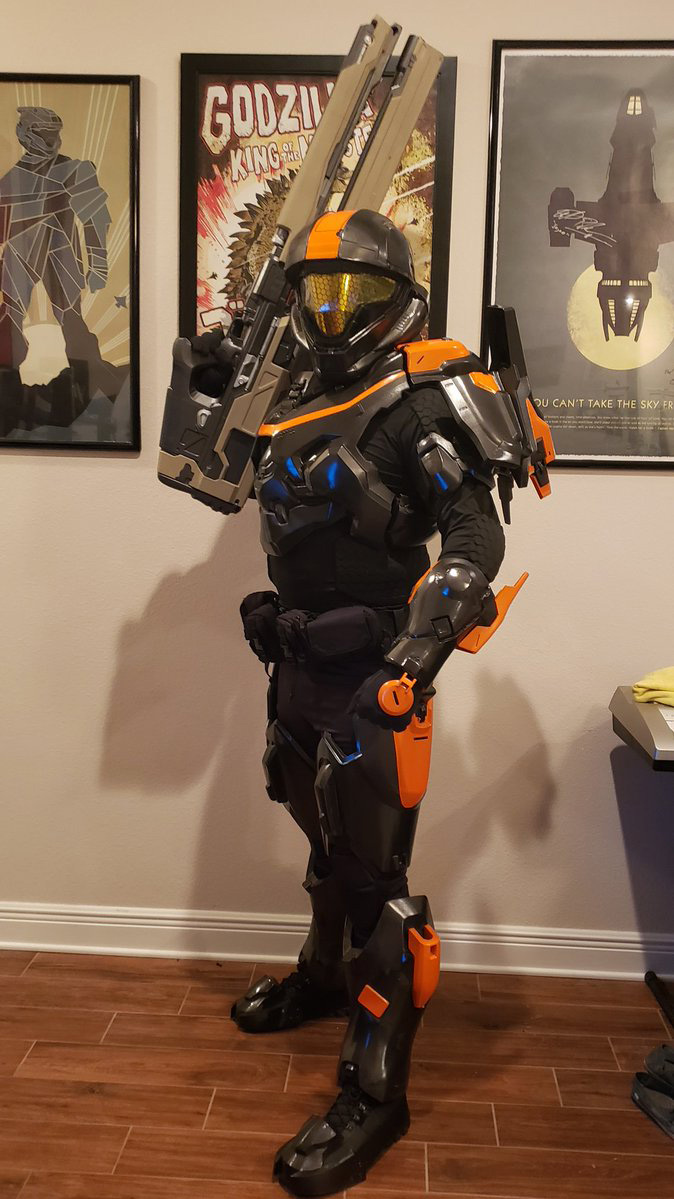 I know we've seen @Sellexie and her husband a time or two but they both deployed to Orlando and shared some great images. I love the Warthog shot! I hear she was also wandering the con as Cortana one of the days too.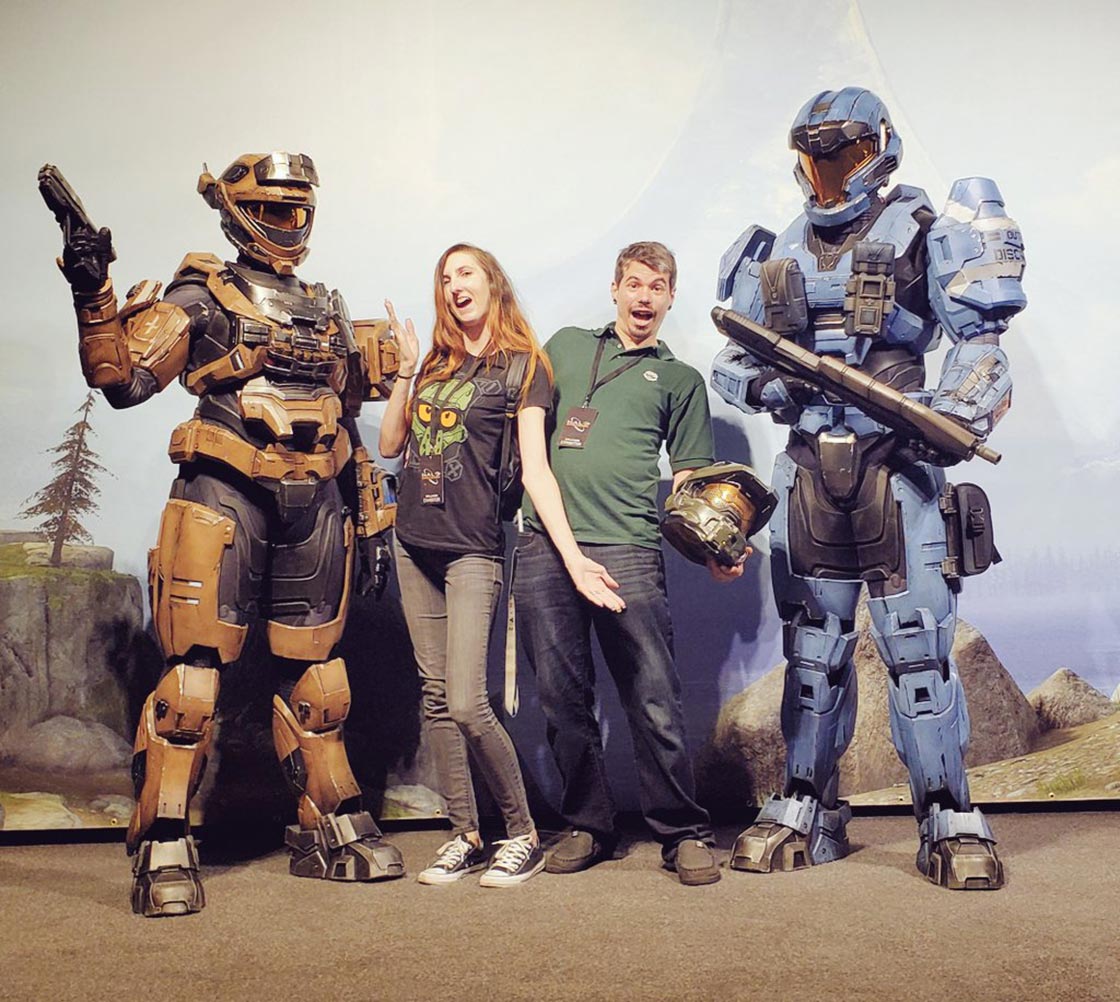 We saw @pickledgear's sketch of a Brute inspired cosplay a while ago and for Halo: Outpost Discovery Orlando, @BrandonBurchatz made it happen! Apparently this was a rush build. Either way, it looks incredible.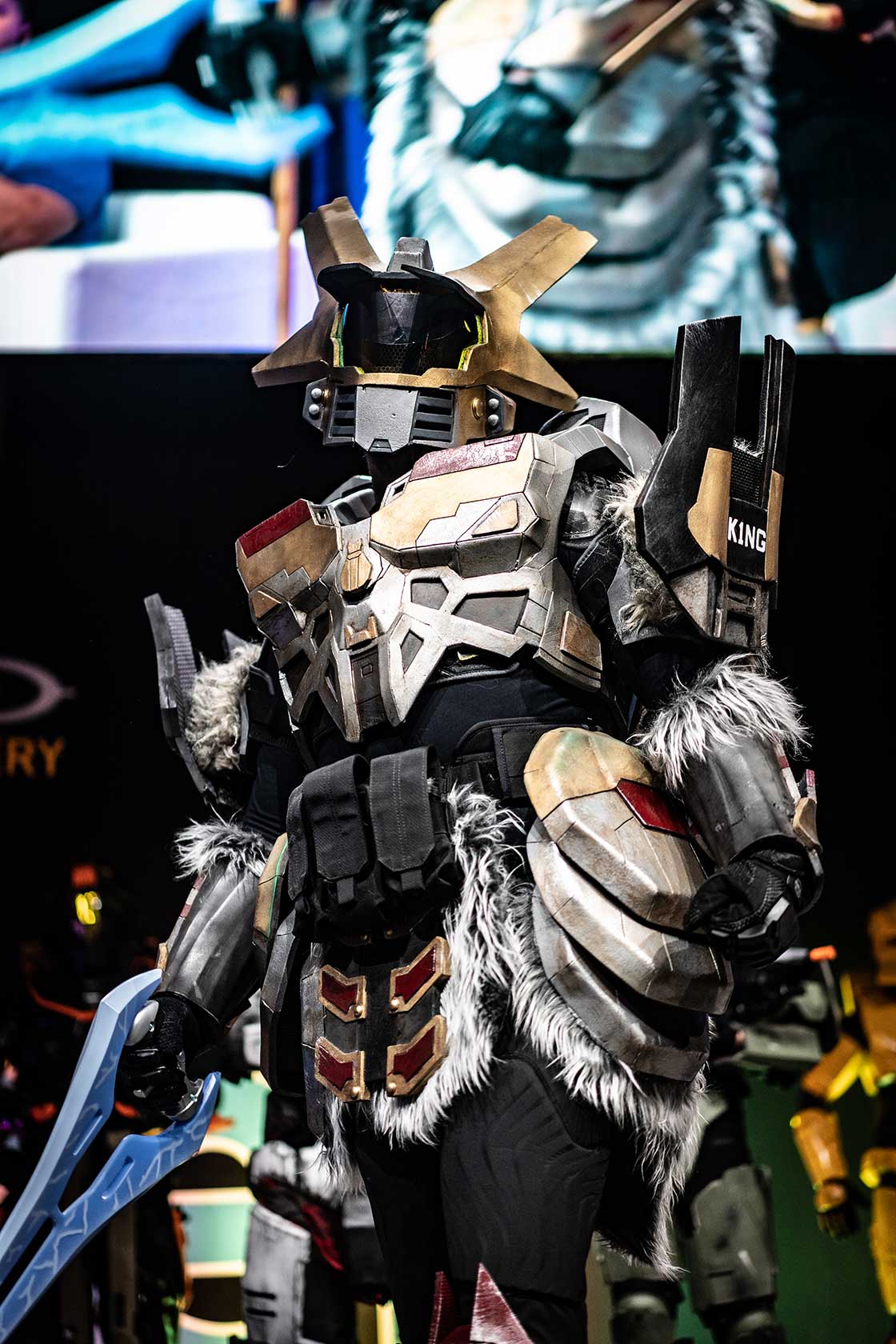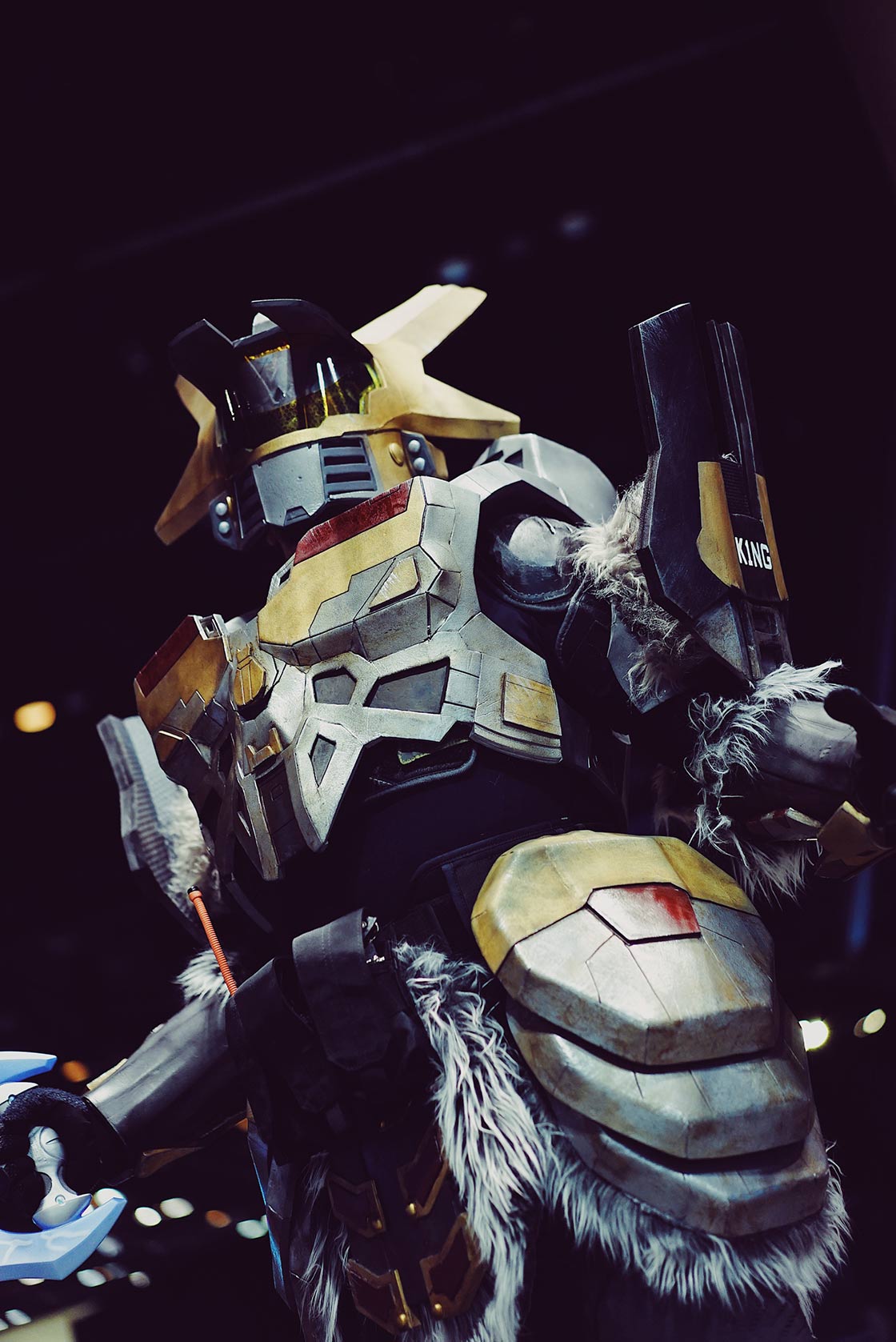 We can't forget about @MegavoltService's cosplay of everyone's new favorite pilot, Brohammer!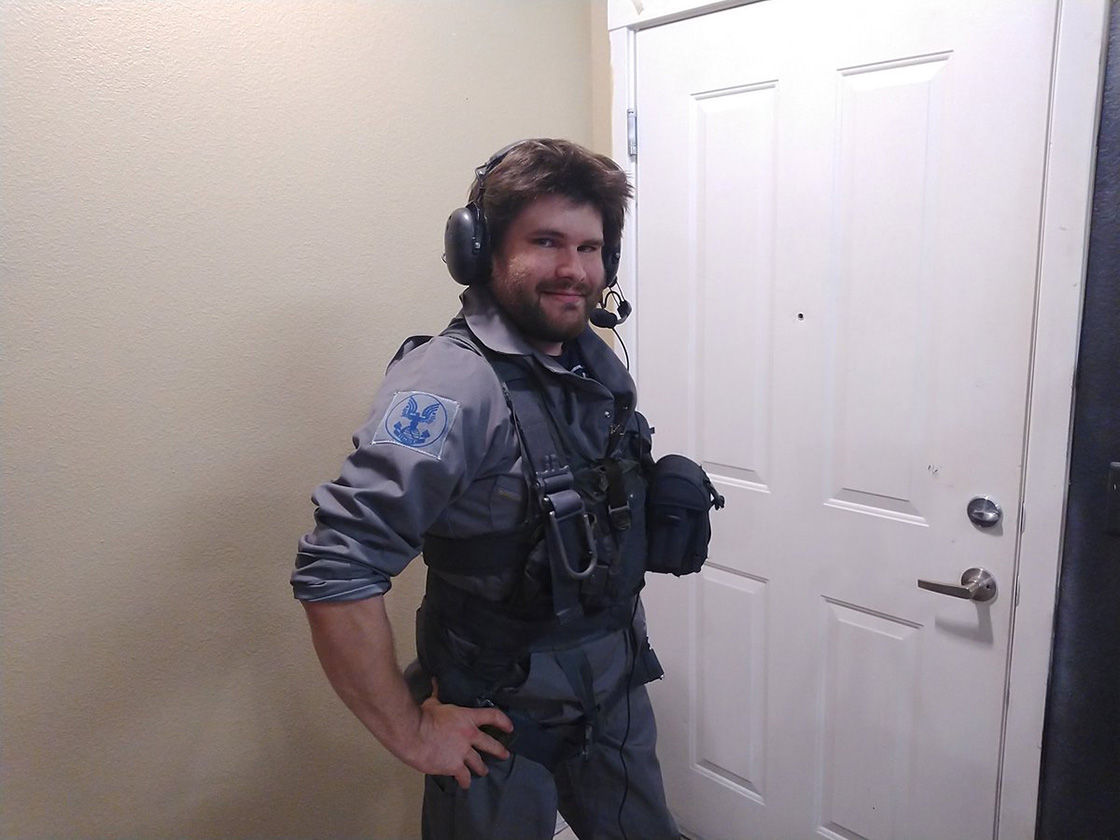 Sweet Rolls
If you've been hanging out and waiting for the videos, you made it! It's summer so upgrade your popcorn to ice cream and let's jump in!
The crew over at @TermaciousTrick are back again with another absolutely ridiculous video. This one shows you how to get a mini Spartan on the Halo: Reach mission Tip of the Spear. I don't even want to know how many times they worked at this to figure it out but I feel like it's a lot. Give it a watch and if you try it out, good luck. Something tells me you'll need it.
While this isn't a "traditional" kind of video I showcase here, @Terg500 made a Halo Wars 2 inspired animated wallpaper and I can't stop watching it. It's mesmerizing and worth a watch.
@MCCTrickJumps is back again with another montage full of ridiculous and precise jumps. If you want to learn how to get to the most absurd of places in the craziest of ways, ClearlyMe is your guy!
The crew over at @mediatitantweet put together this little Halo short and, well, it's great and I absolutely love it. Super well done guys! I'm including the obligatory "minor language warning" here so you can be aware but this is easily my favorite video of the week.
PsyFixtion put together this sweet little MCC minitage and I have to say, he's the calmest, most excited streamer I've seen. You'll have to watch to understand but I love it and it made me smile. Also? I did not see that Narrows lift working out that way at all.
If you've ever wanted to see a stop-motion film about Noble Team minifigs clearing an LZ, you are in luck! @PureGeniusLego has you covered.
Petits Fours
Time to close things out with a collection of additional treats!
Doodle's Snickers
There's no way I can top /u/armin_scientoonist's title of "Don't make a Princess a promise, if you know you can't keep it" so I'm just gonna let that stand. Zelda and Halo are my two favorite franchises and I can't tell you how much I adore this! 😍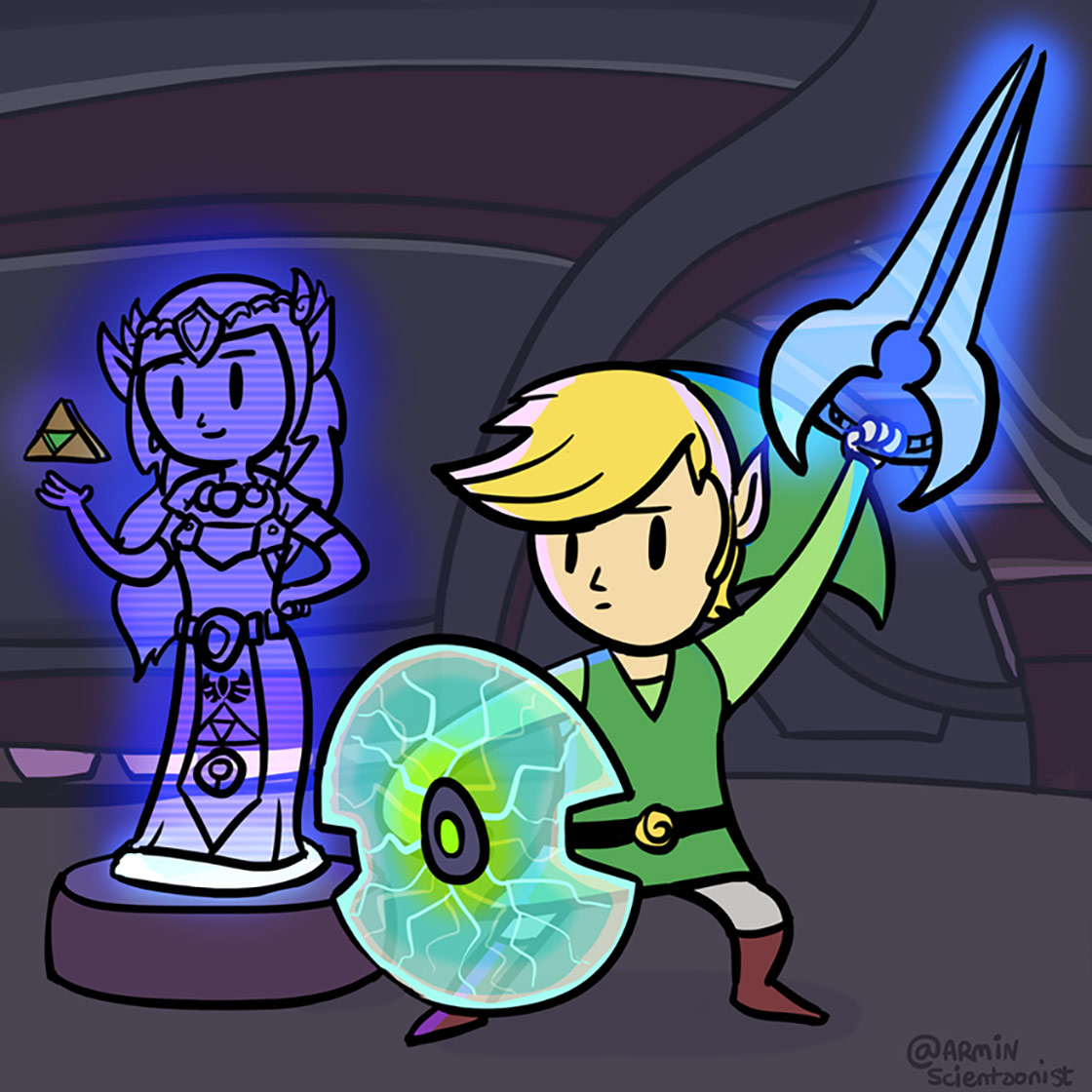 Just like that, we've reached the end of another Community Spotlight. I wonder each time how I'm going to find enough words to fill yet another blog and then I get to the end and I realize that I worried for nothing. Remember, next week will be a week off from both Unyshek's Community Update and my Community Spotlights. If you want to read the last CU, you can check it out here!
Don't forget to use #HaloSpotlight if you have any content you want to share with us so we can find it! Until next time.
Ciao! xx
--Sam