Just like that, it's already time for another Community Spotlight. Like Uny has pointed out writing his Community Updates, there's a lot going on around the studio which keeps us all pretty busy. Next thing I know, I find myself in Photoshop pulling together another Spotlight. People say time flies when you're having fun and after the past few weeks, I can confirm the veracity of that statement. Okay enough about me and the studio, you guys are here for the community content so let's dive on in!
CRÈME DE LA CRÈME
Suffice to say, people are excited for Halo: Reach and are very (im)patiently waiting. Case in point, /u/SilverCrest01 decided to pass the time by drawing his Halo: Reach Elite! I love this and really like seeing the colored pencil work too.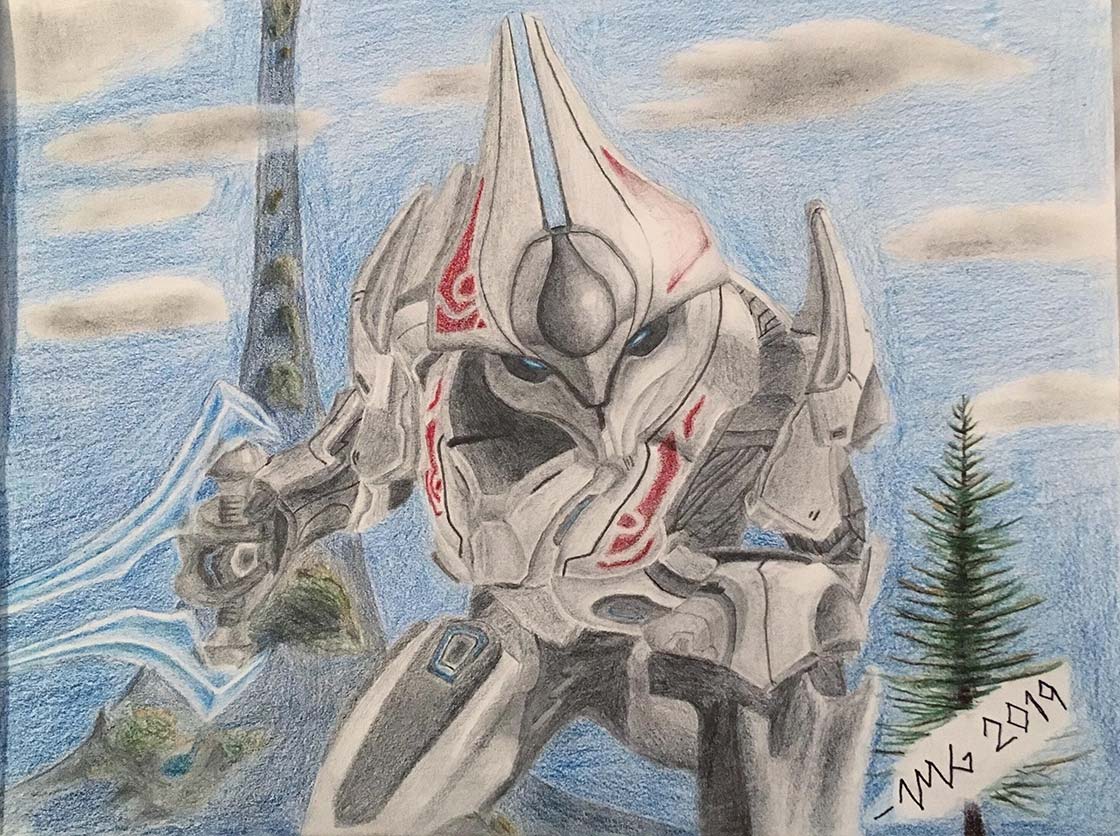 Snack time
As it turns out, I am really liking having a soundtrack for the Spotlights. It's kind of a fun way to show off some of the unique Halo music creations that are out there. This week, we're going a bit old school with the "Ye Olde Medieval Version" of the Halo theme. Enjoy.
PS - I know common internet etiquette says "DON'T EVER READ THE COMMENTS" but you should TOTALLY read the comments. Thank me later.
Snicker's Doodles
Anyone else ever get hit with a craving for some cookies reading these? No? Just me? Okay well while I get more coffee to tide me over, enjoy these offerings in lieu of delicious cinnamon-sugar coated cookies.
Since we started today out with an Elite, I figure showing off some fan-made energy swords is a good next move. @ManOfIndigo took a stab at End of Night and Rage of Kaidons. I think they turned out really sharp, well done!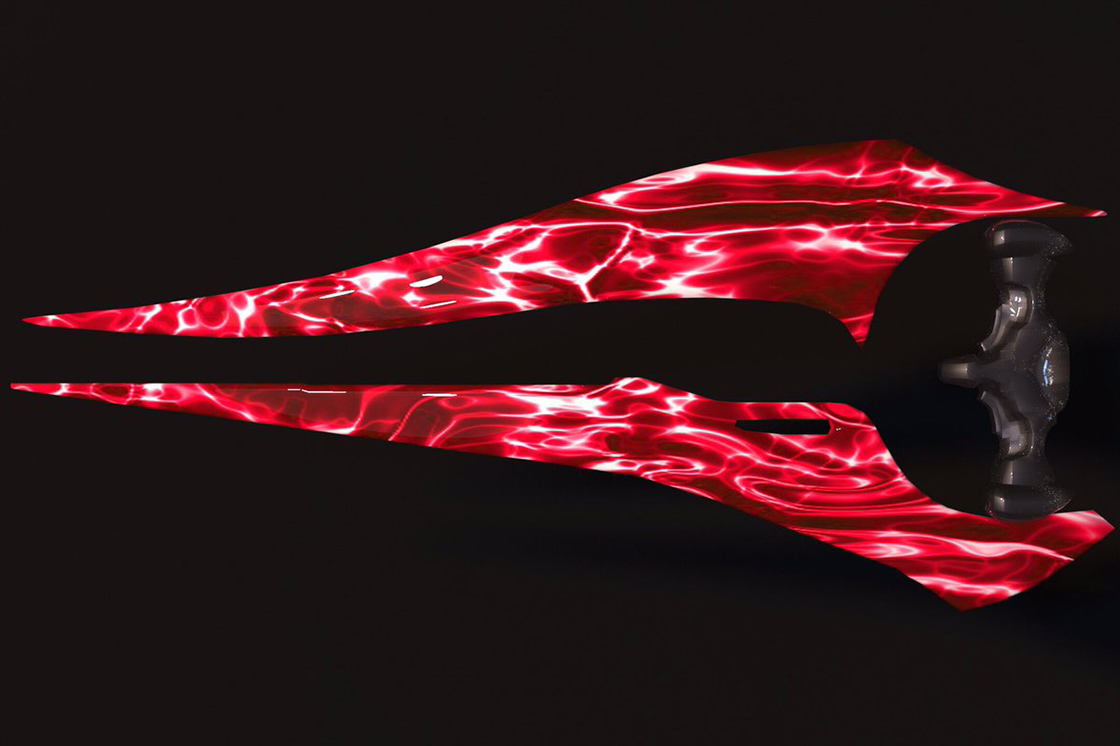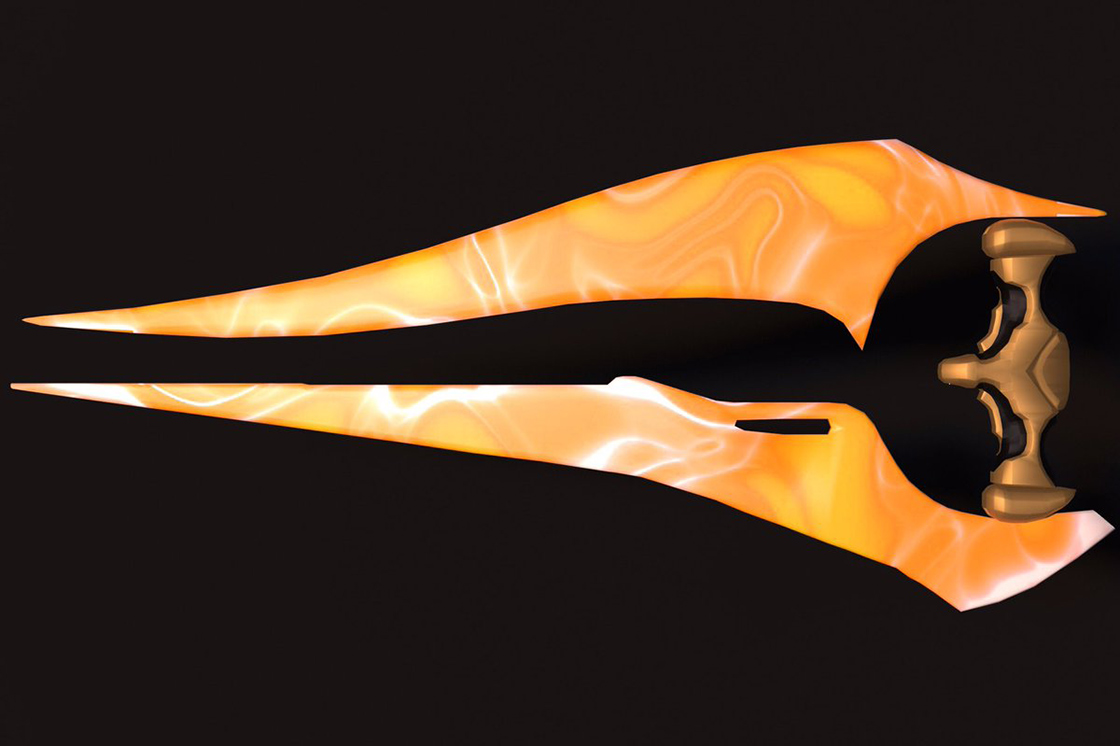 If that doesn't make the cut for you, how about a super-cute pixel Chief and Arbiter by /u/Teo_Manfredi? This is absolutely adorable!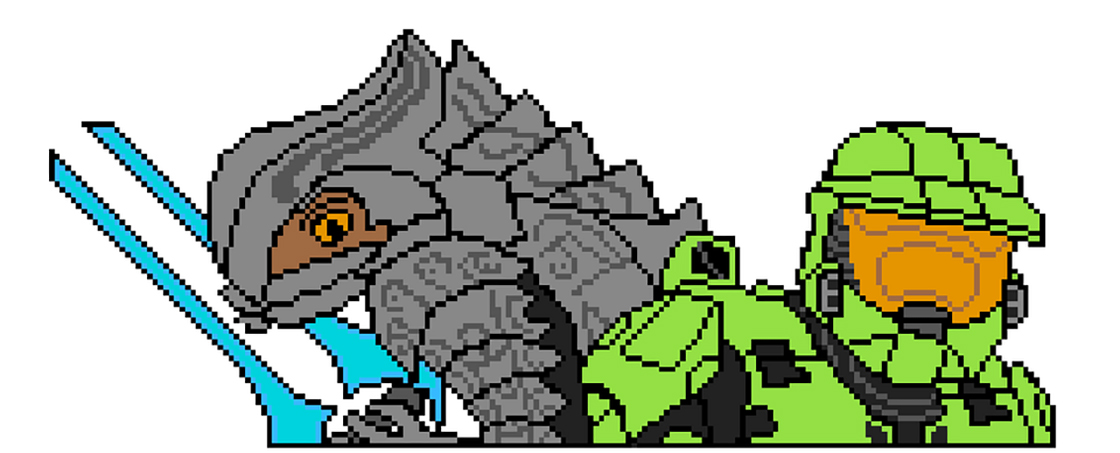 Ask any good marksman and they'll tell you that the best way to improve is to spend a lot of time firing hot lead at targets down range. @Phenix_720 seems to agree with that, check out his squad en route to Target Practice.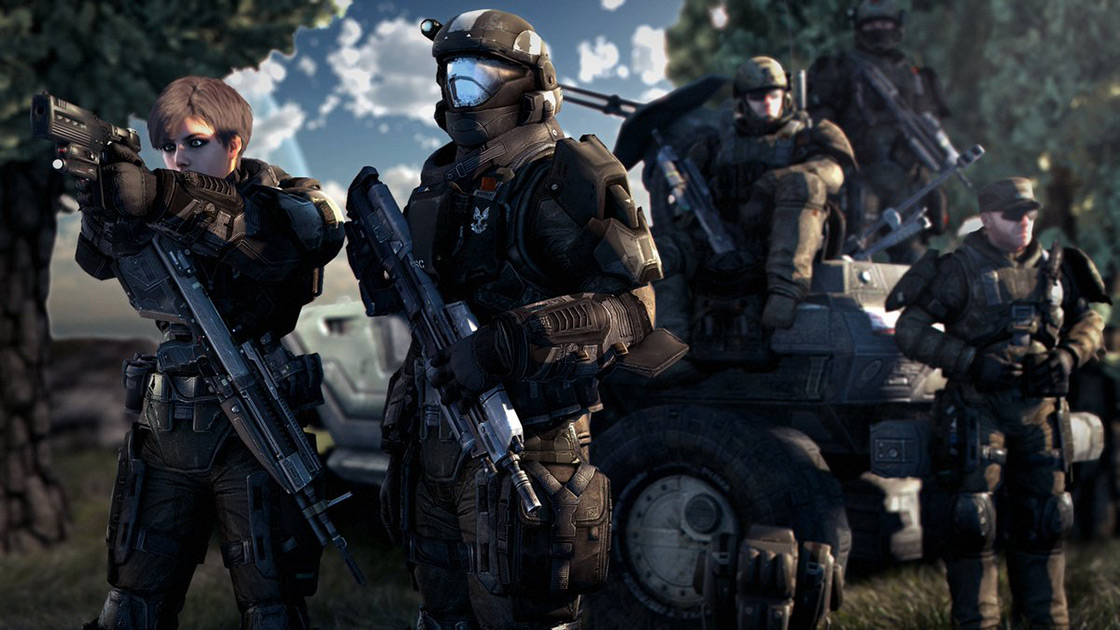 Everyone has their favorite campaign mission and for/u/TonsOfCheese, that mission is none other than Silent Cartographer. Taking inspiration from that, here's his action image of a triple-kill ready Warthog zooming along the beach!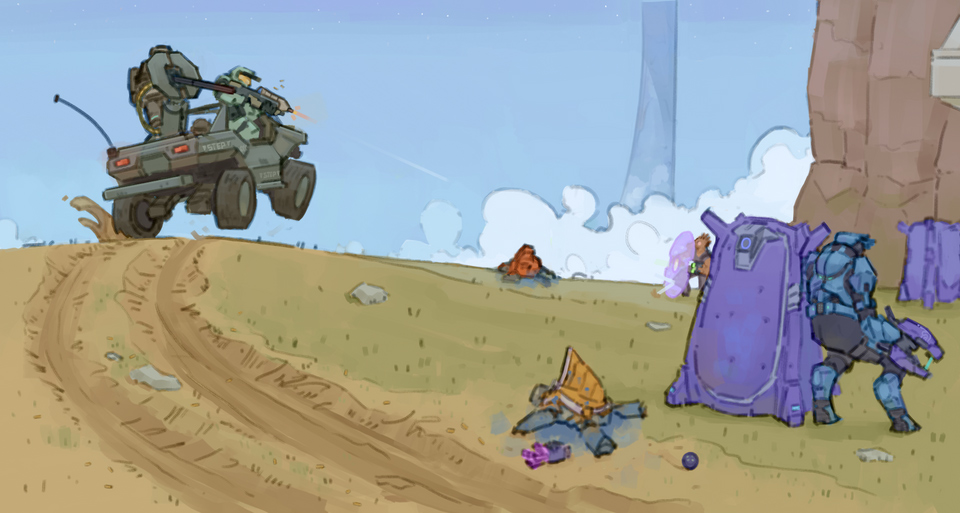 As we have seen before, the Infinite vista is one that makes for spectacular art. Don't believe me? Take a look at /u/LuigiPunch's beautiful landscape here.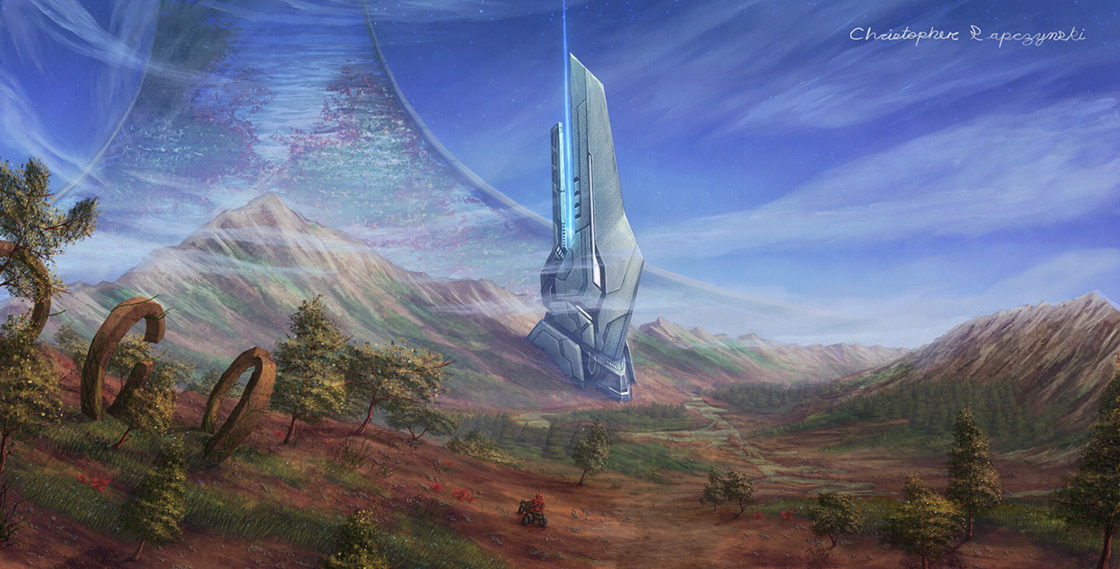 Maybe while we're there, we'll run into @samba_iv's Spartan IV.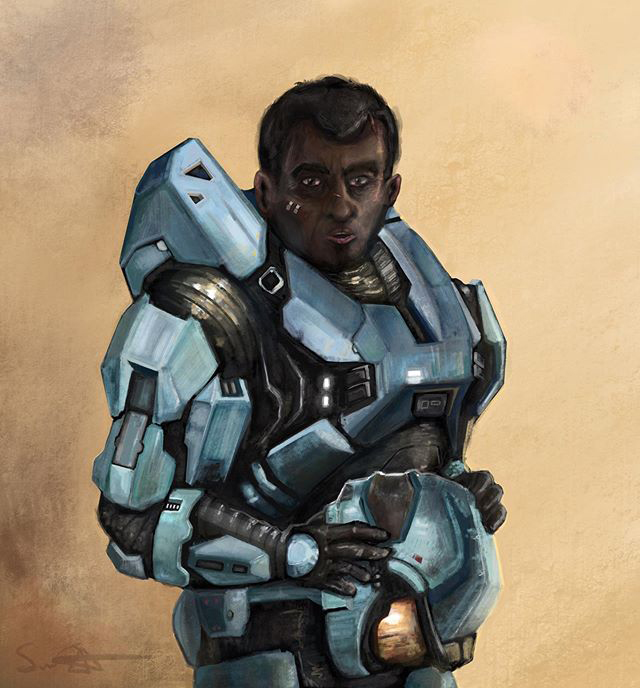 At the very least, we know we'll be seeing the green man himself. While playing through the campaign, /u/Robin230592 decided to take a quick break to paint Master Chief!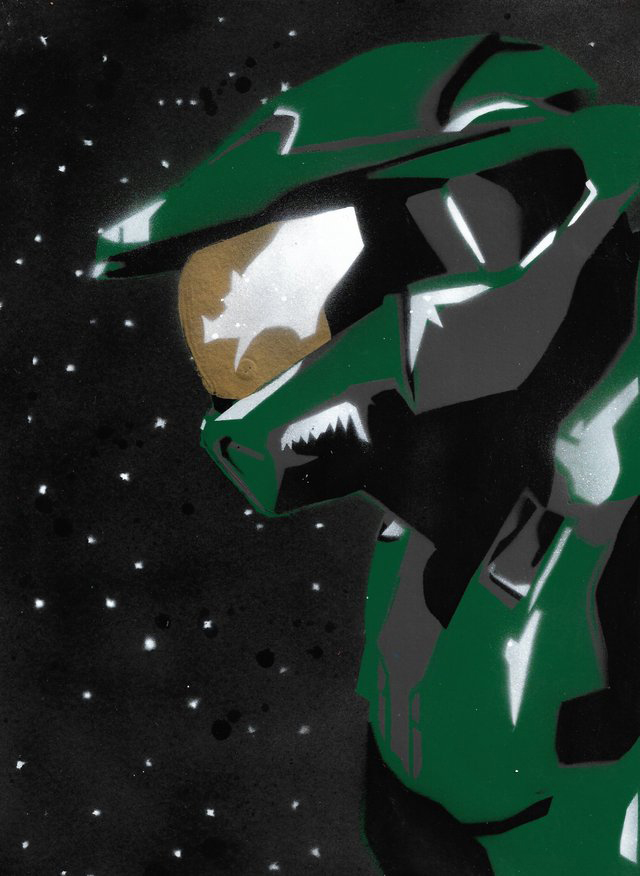 Even Chief needs a break sometimes. @FletchUH caught him taking a rare breather and admiring Blood Gulch.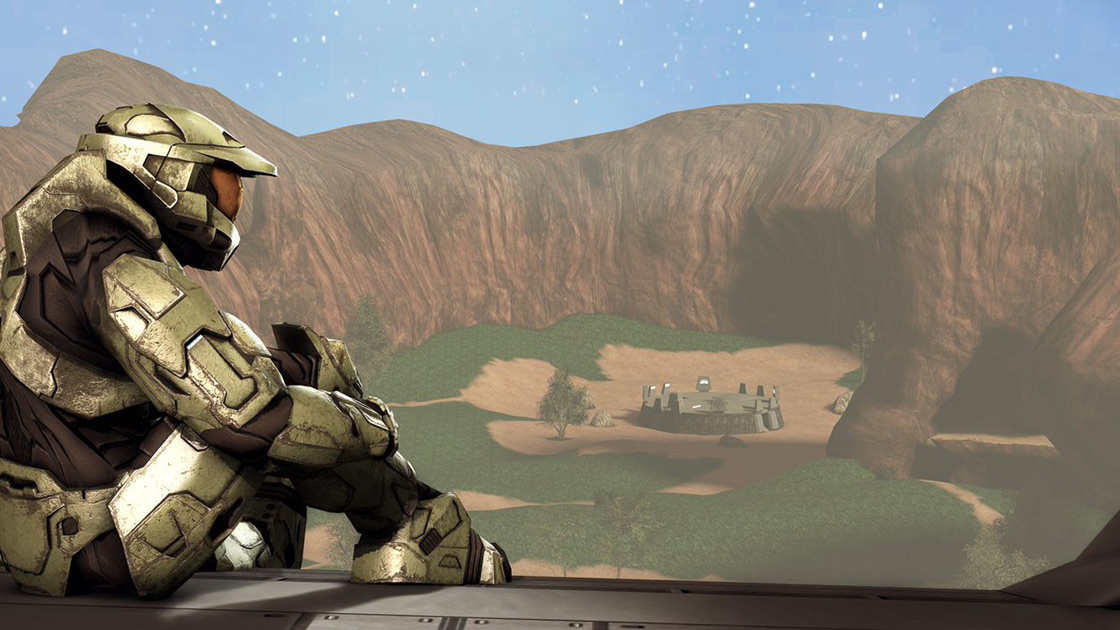 If ODSTs are more your speed, @rlydrawing has your back with this Helljumper.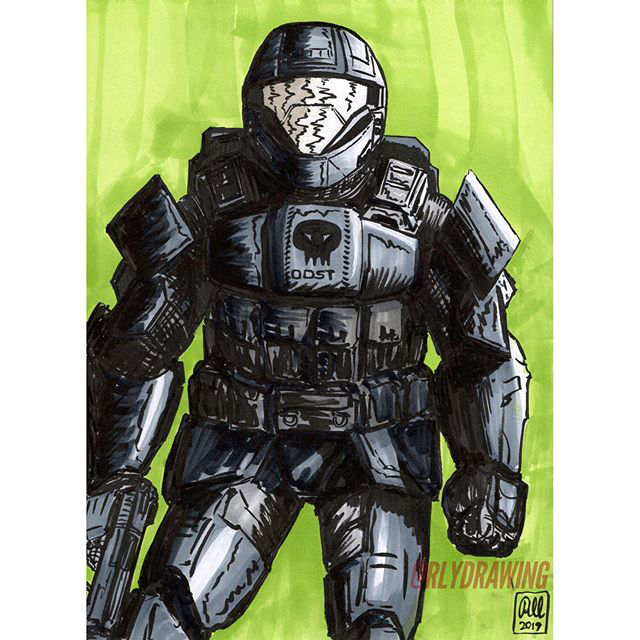 I don't see nearly enough Promethean art so when I saw @justrube's warrior, I was pretty happy!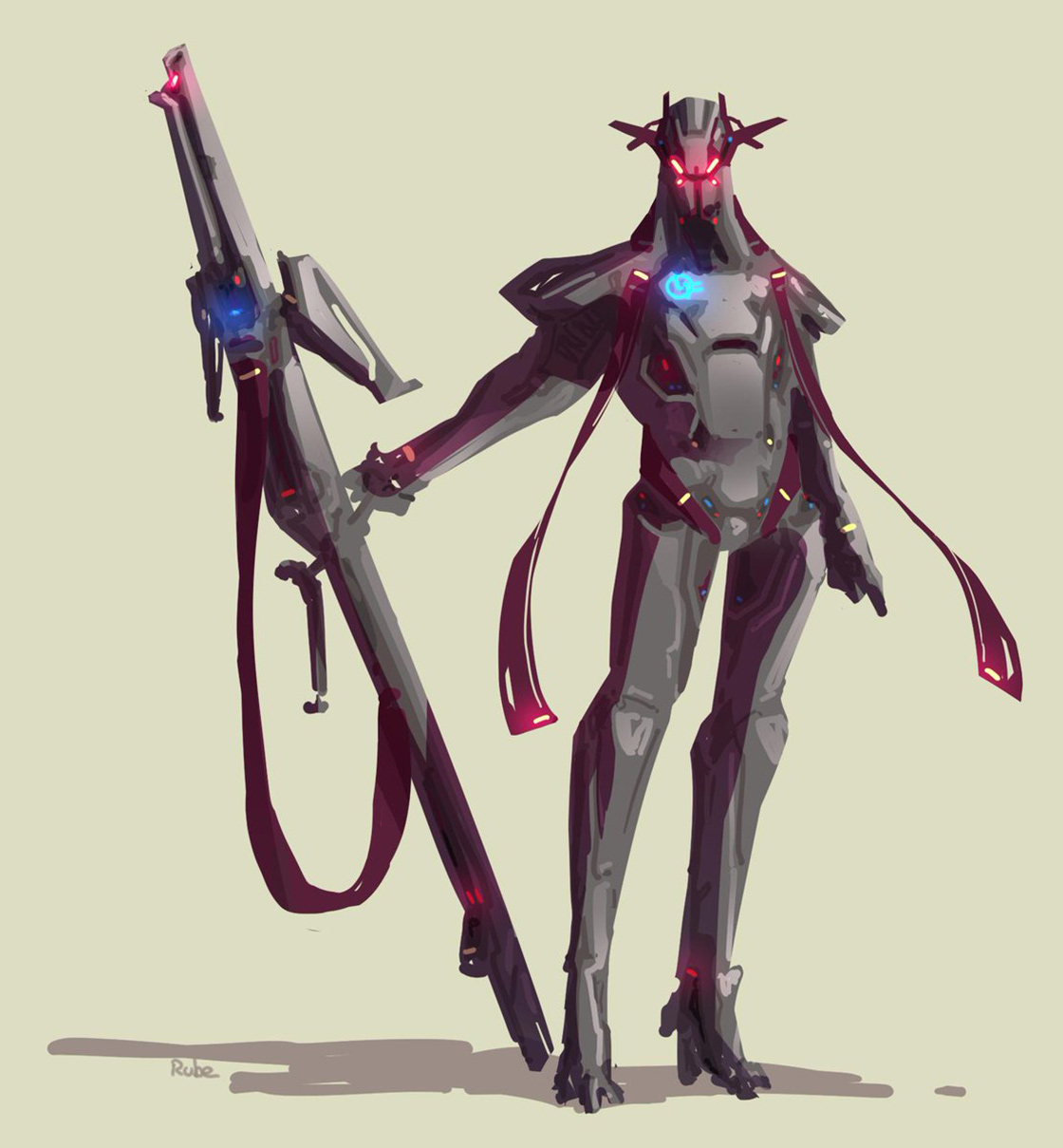 Take a peek at these chibi Spartan profile pics by @Mylotan. They're absolutely precious and totally make a cute couple.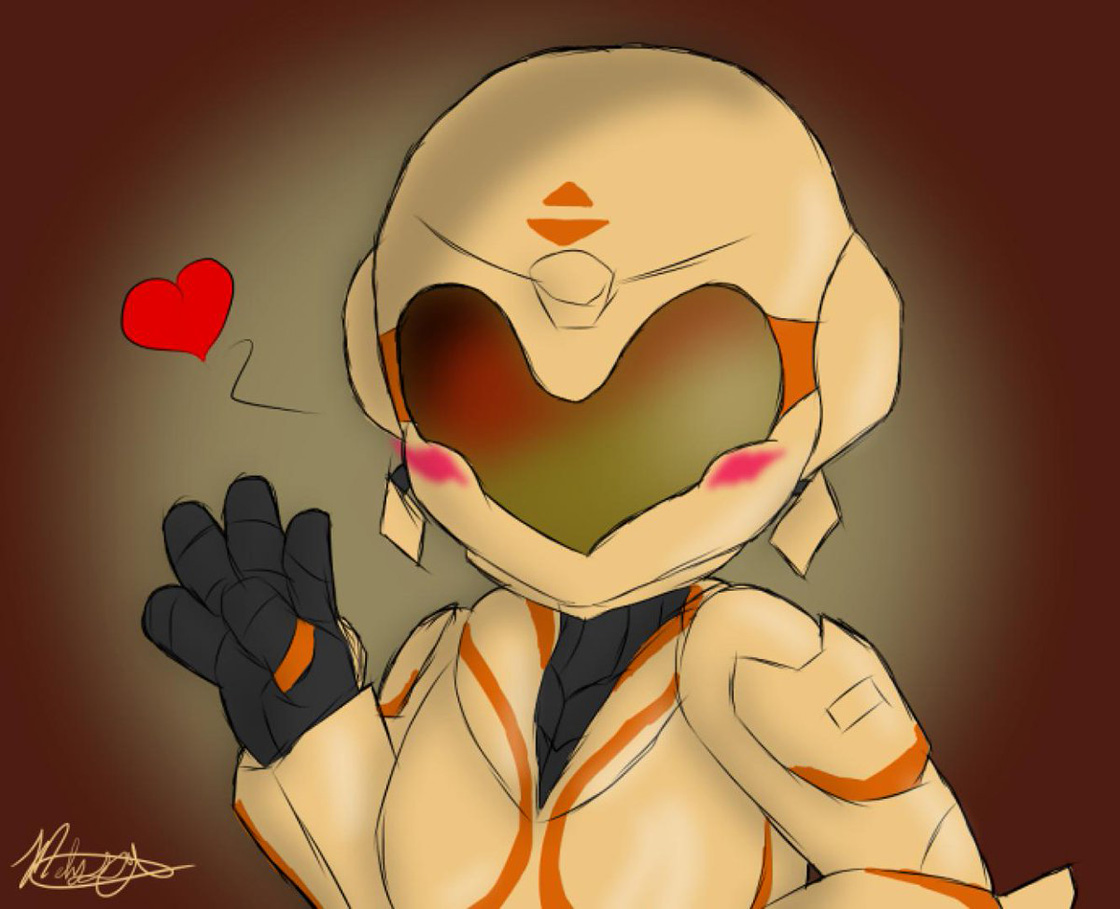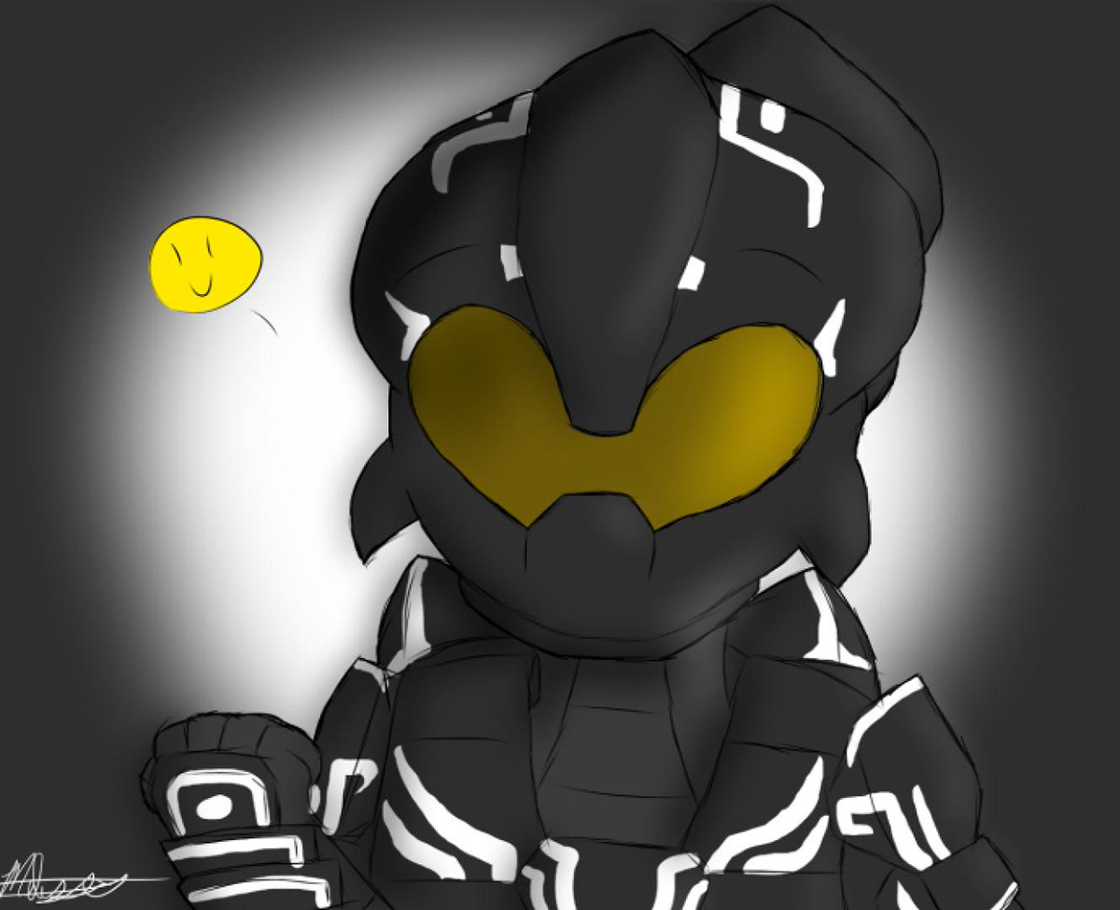 If you've ever wanted to see a huge pigeon, you're out of luck as I am fresh out of pigeons today. But a pixel Master Chief made by /u/AHugePigeon, that we can do!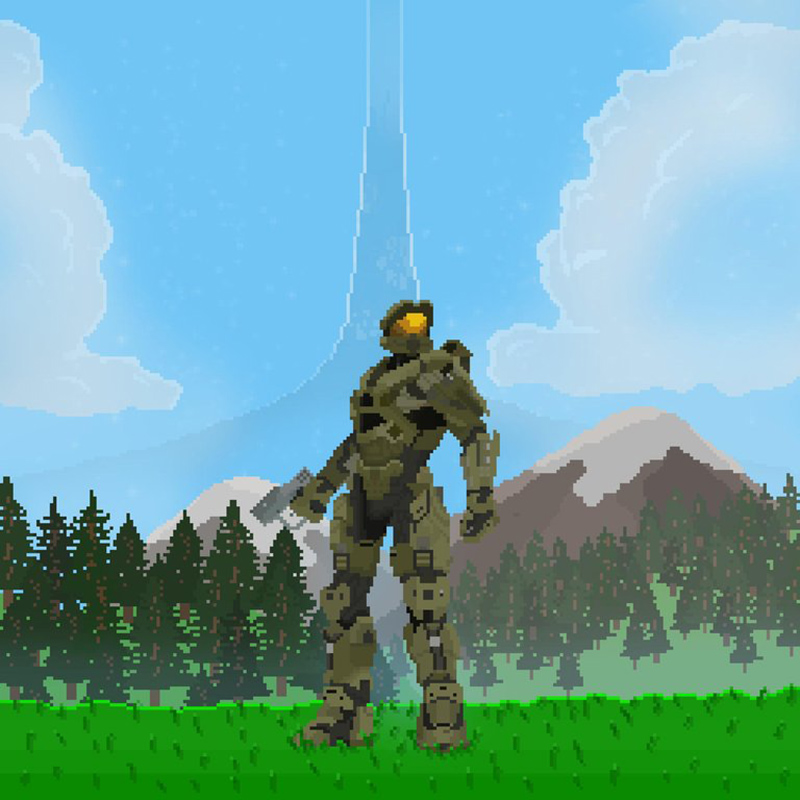 I am always amazed at what people can accomplish using basic tools like Paint. I seem to remember mostly using it to accent other images or the bucket fill feature. Then people like /u/SpartanKilo manage to make Spartans. Fantastic work.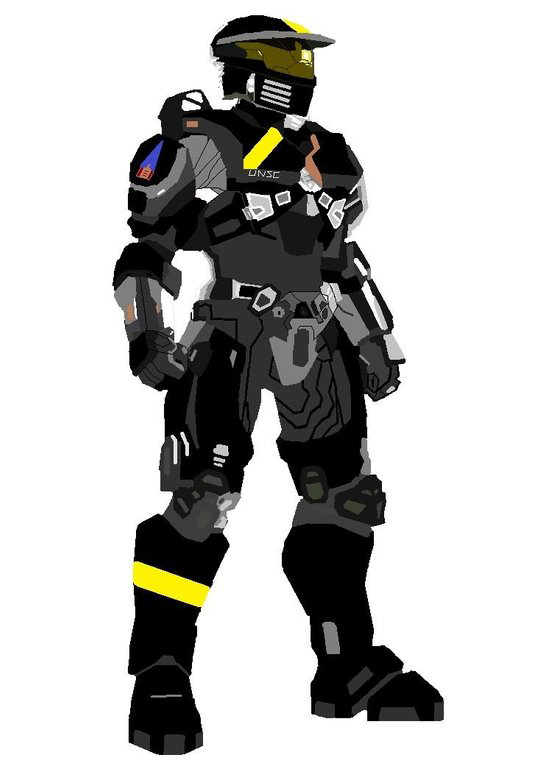 Everyone has a favorite subject in school. (Stay with me, there's a point to this, I promise!) Mine was math. So when I came across this Mather Chief (sorry not sorry) by /u/Clu2001, I was really excited. It's incredibly clever and just all around awesome. I absolutely love this and it might be my favorite submission of the week for sheer cleverness. The nerd in me really loves this.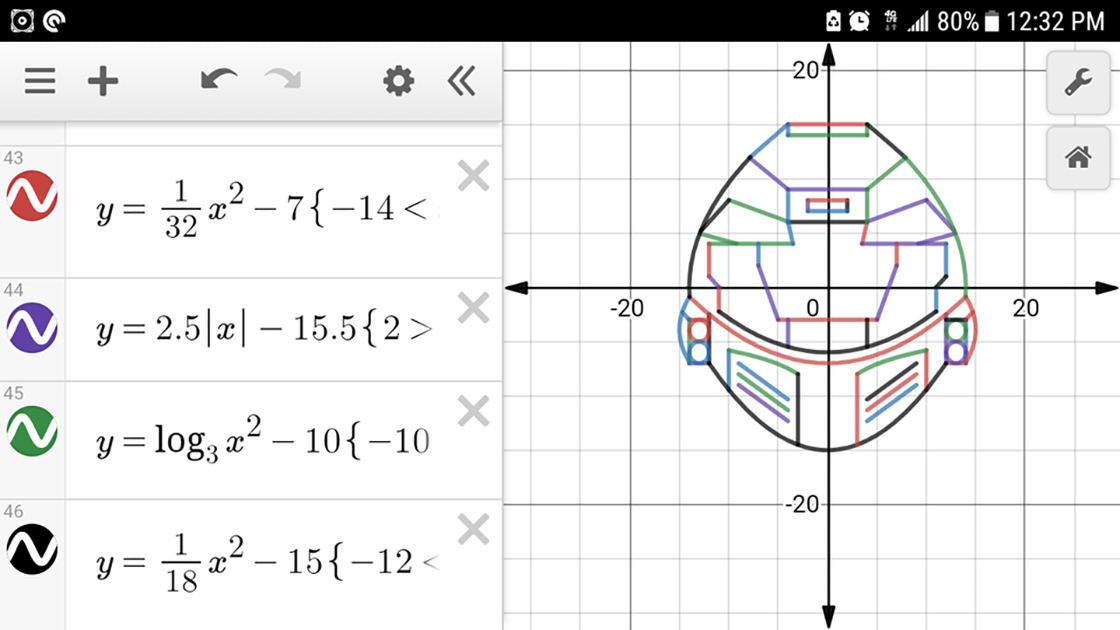 Chief's helmet has taken many forms over the years, each one unique in it's own way. Some definitely look better than others, IMO. @LuminousCactuz went ahead and made an overview of some, including the one from 1999. Which is your favorite?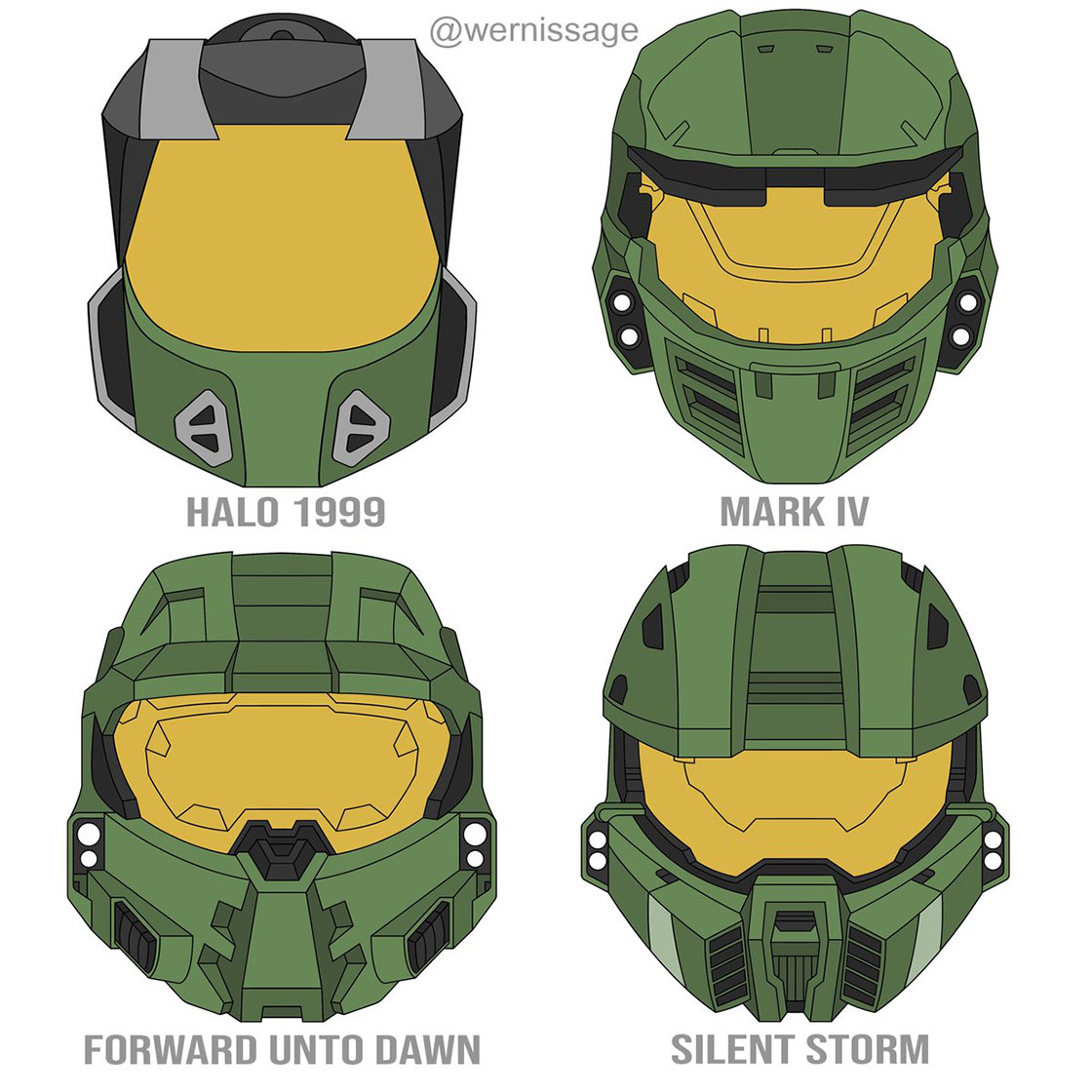 This next bit has Grunts, Elites, Marines, Chief, and even a wild Johnson. Check out @Gordonzoraxd's character models! The red Grunt is my favorite, not gonna lie. The Yellow Grunt's expression is pretty good too. Ahh. They're all so good.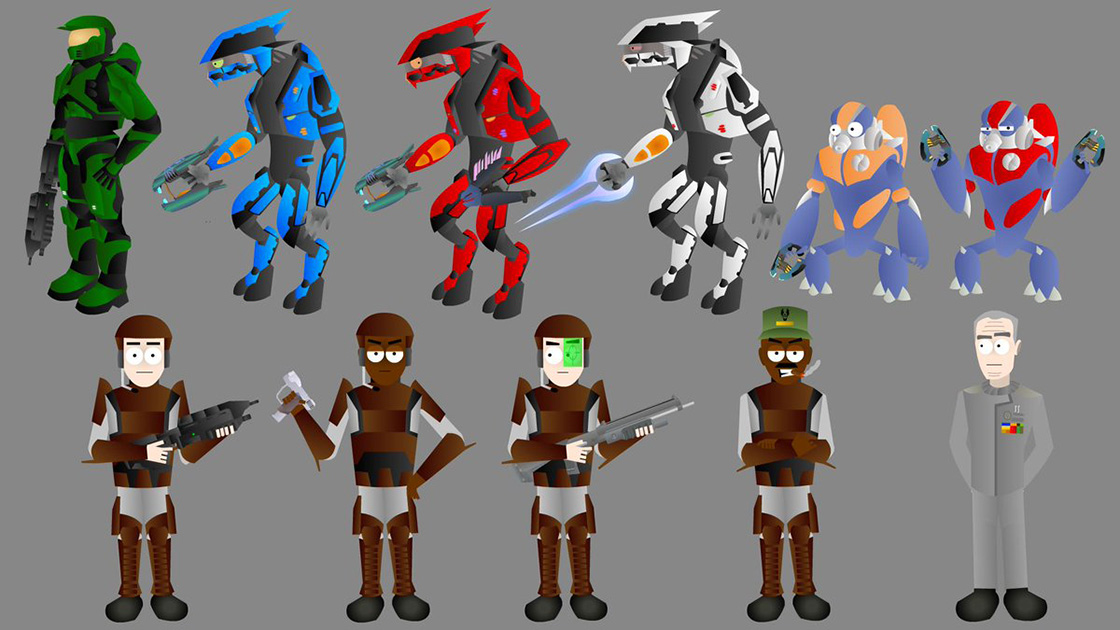 According to /u/rapid-clanger, his partner is too shy to put her artwork out on social media. After seeing her watercolor-esque work here, I'm going to have to throw my hat in the "she needs to make an Instagram" ring so we can see more of her work. This is lovely and I'm so glad it was shared.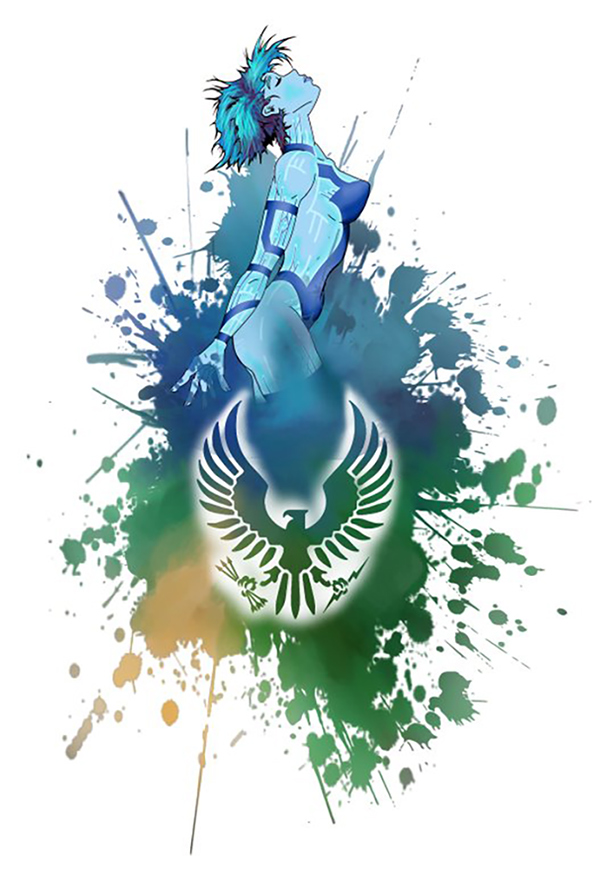 Food for thought
On last week's 343 Social Stream (featuring @msarchet), the question was raised, "What kind of sandwich would Master Chief be?" To which, Grim and Jessie both very quickly responded with, "A Hero sandwich, of course." and well, who can argue with that? Taking it one step further, @BrendanLorLowry actually made a whole thread detailing what kind of sandwich various Halo chracters would be. This is absolutely awesome and totally worth the read. I am not responsible for any hunger pains you acquire along the way.
Homemade
We've seen plenty of Spartan and ODST cosplay, and we've even seen a kickass Elite cosplay, but I personally have yet to see a Brute cosplay. (I bet there's some out there though, please send it my way!) @PickledGear was tasked with helping design a Brute Slayer Spartan cosplay for DemonicKing101. These are incredibly well drawn plans and notes. I really hope this comes to fruition because I'd love to see the finished project!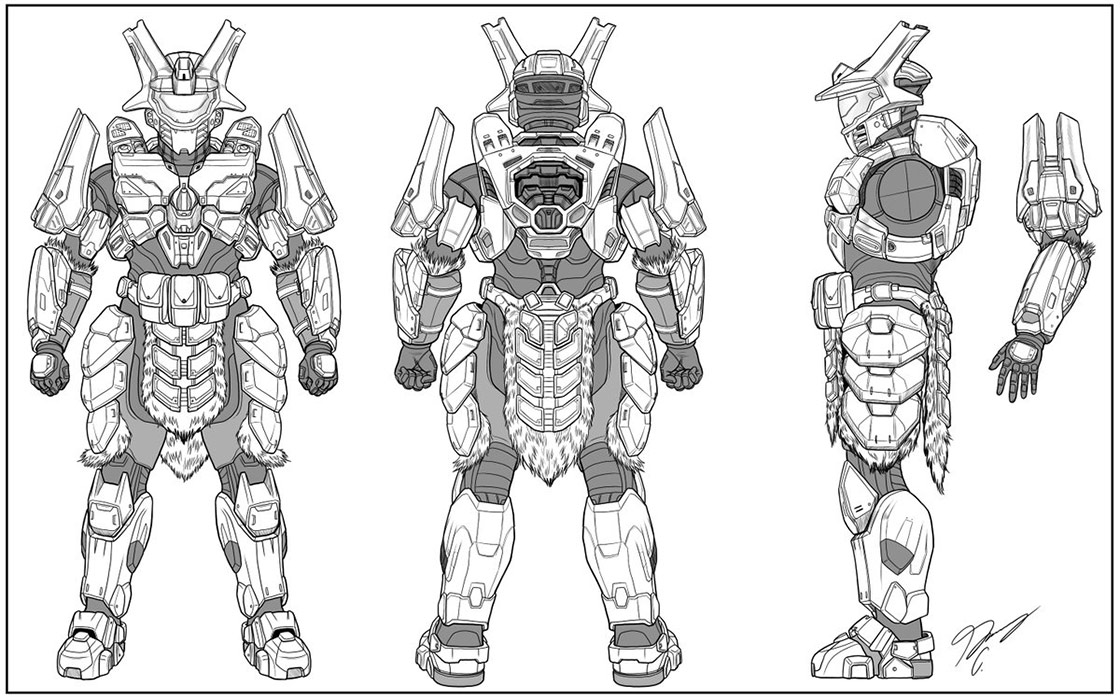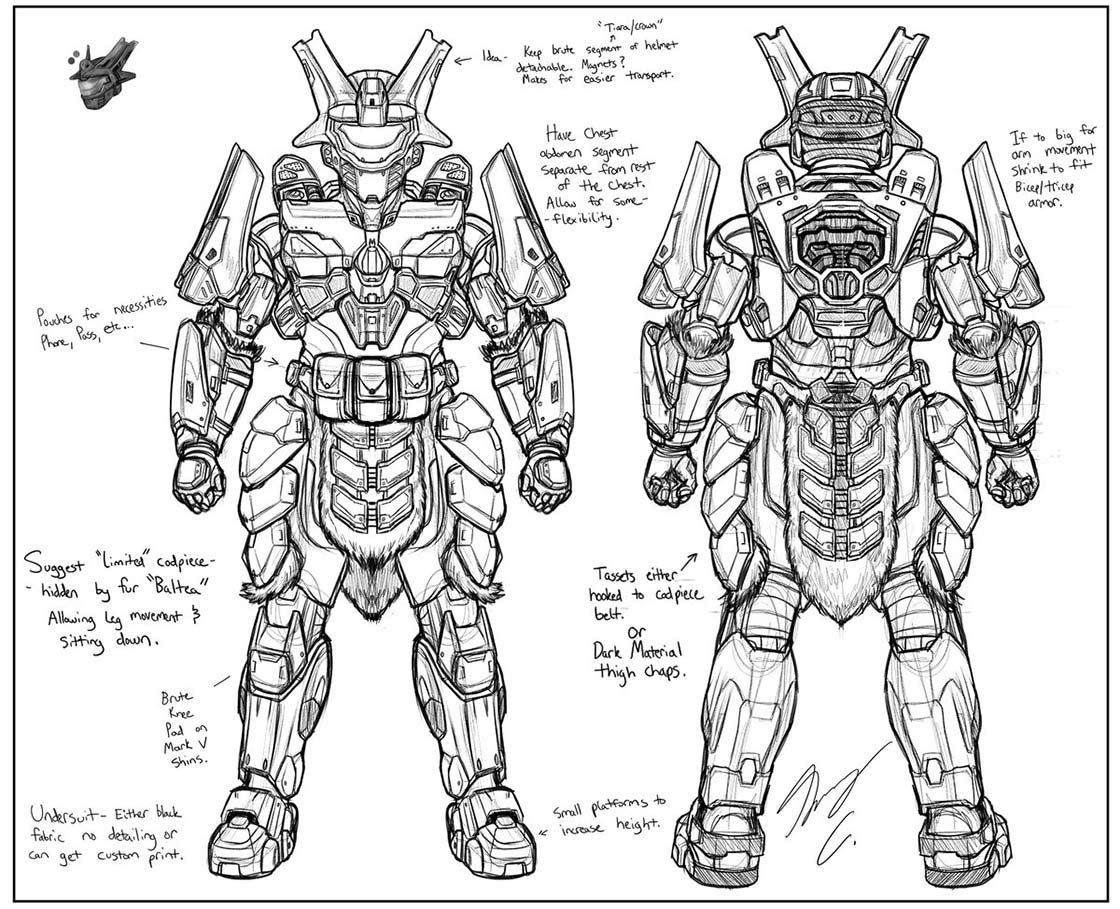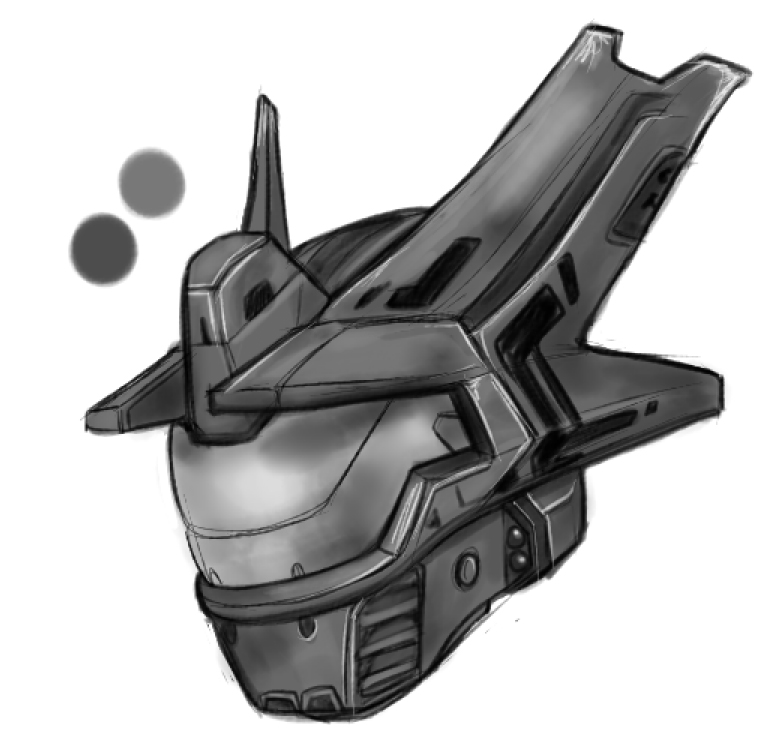 Half Baked
Next up on the menu is our selection of finely crafted, hand drawn, community creations. Please enjoy.
@4nother.aspiring.artist took a pencil to paper and managed to sketch out one Master Chief! They promise more, so I look forward to checking back at a later date.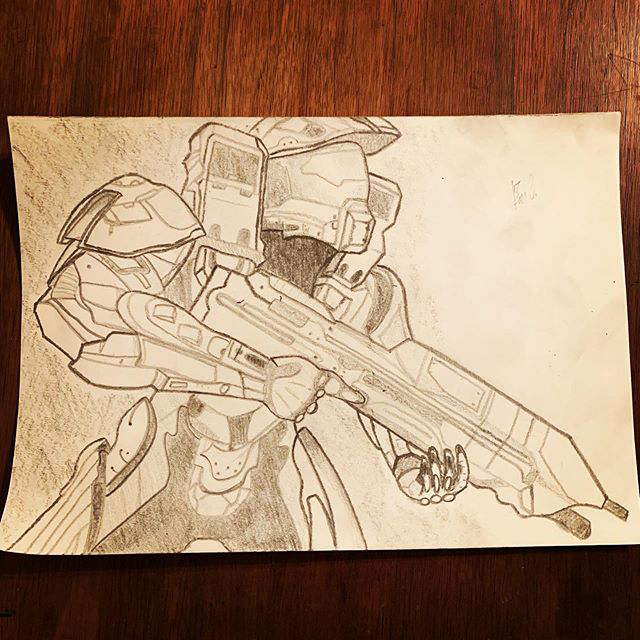 When mixing things up and shooting your way out doesn't work, grab an Energy Sword and try to slice your way out! At least, that's what I imagine is going on here in /u/Gearfrii's Halo 3 Master Chief drawing.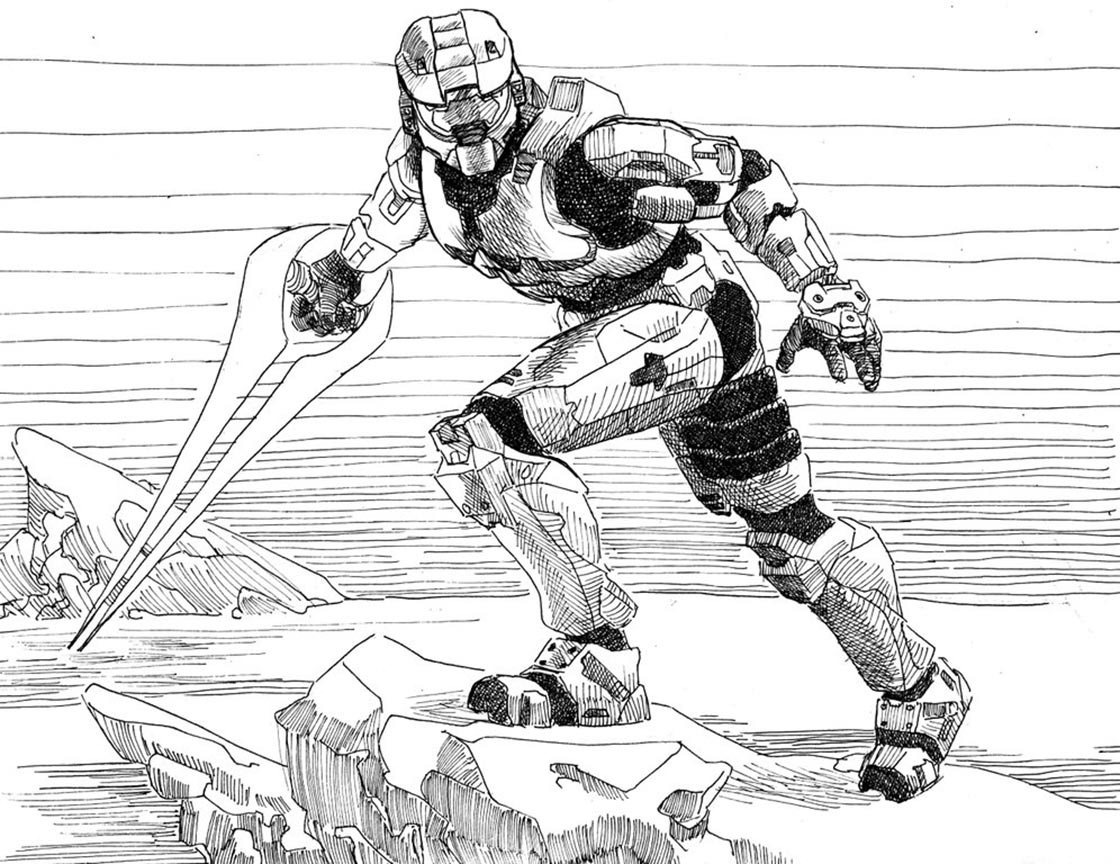 "Have notebook, and pen, will draw," - @wishhful, probably. This sketch is awesome, and so is the rest of their artwork, so definitely check out their feed.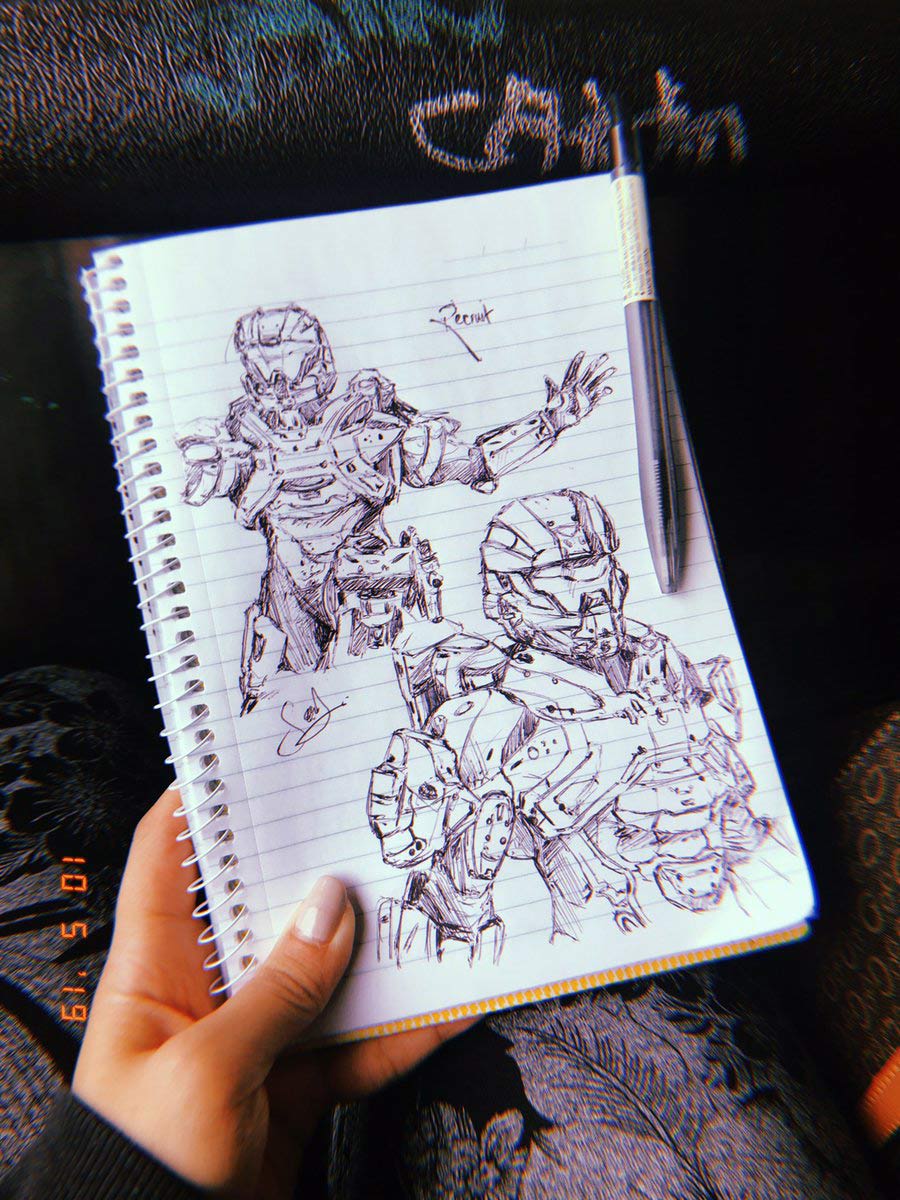 While it's not my personal favorite objective mode (that honor falls to Oddball), I can't deny that CTF is pretty popular. It also makes for some really great artwork like this piece belonging to @nazby677.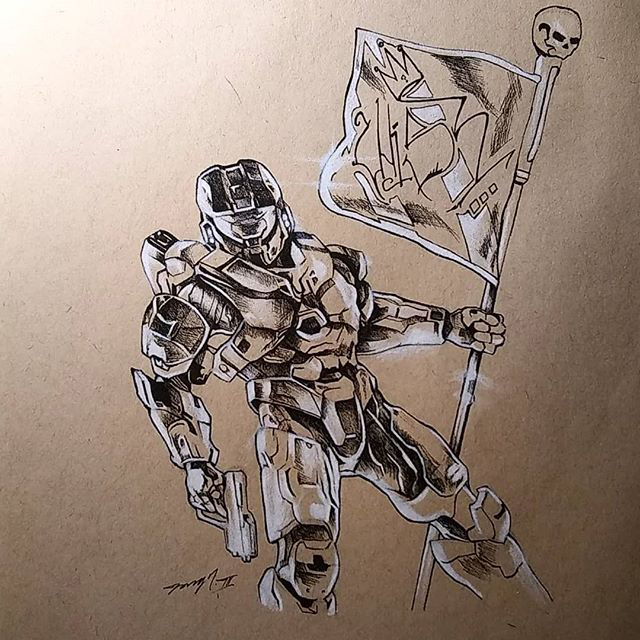 Eye Candy
This week had an abundance of cosplay, props, and tattoos which is always excellent to see. (Let's face it, I love seeing an abundance of all community content but this week definitely had an influx for this section. Seeing the trends vary week over week is interesting.)
Last week we saw @Sellexie's husband and adorable baby. This time, we get to see her in her Carter armor, with husband, and our very own Kiki Wolfkill! Plus a bonus shot of her 405th crew at Megacon!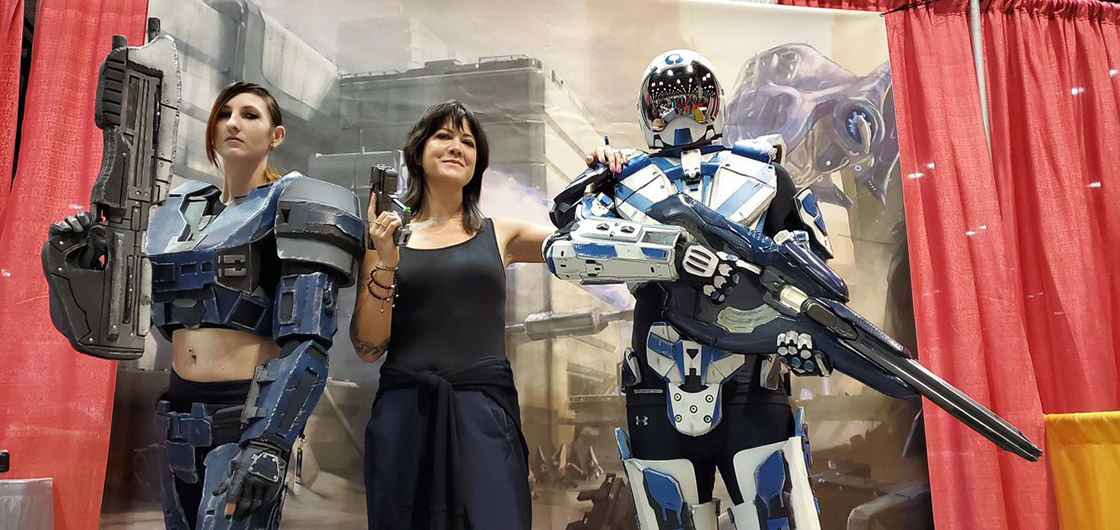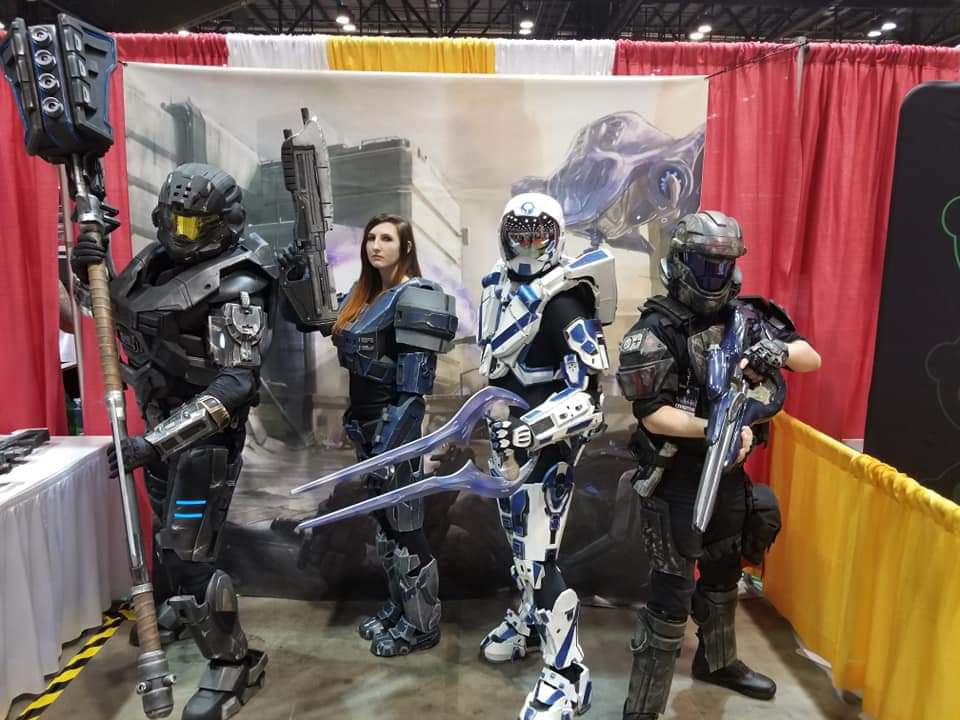 I always love seeing how cosplay props come together because I envy the skills needed to make this type of art. Case in point, look at @killedbykgb's Covenant Carbine WIP. It even lights up!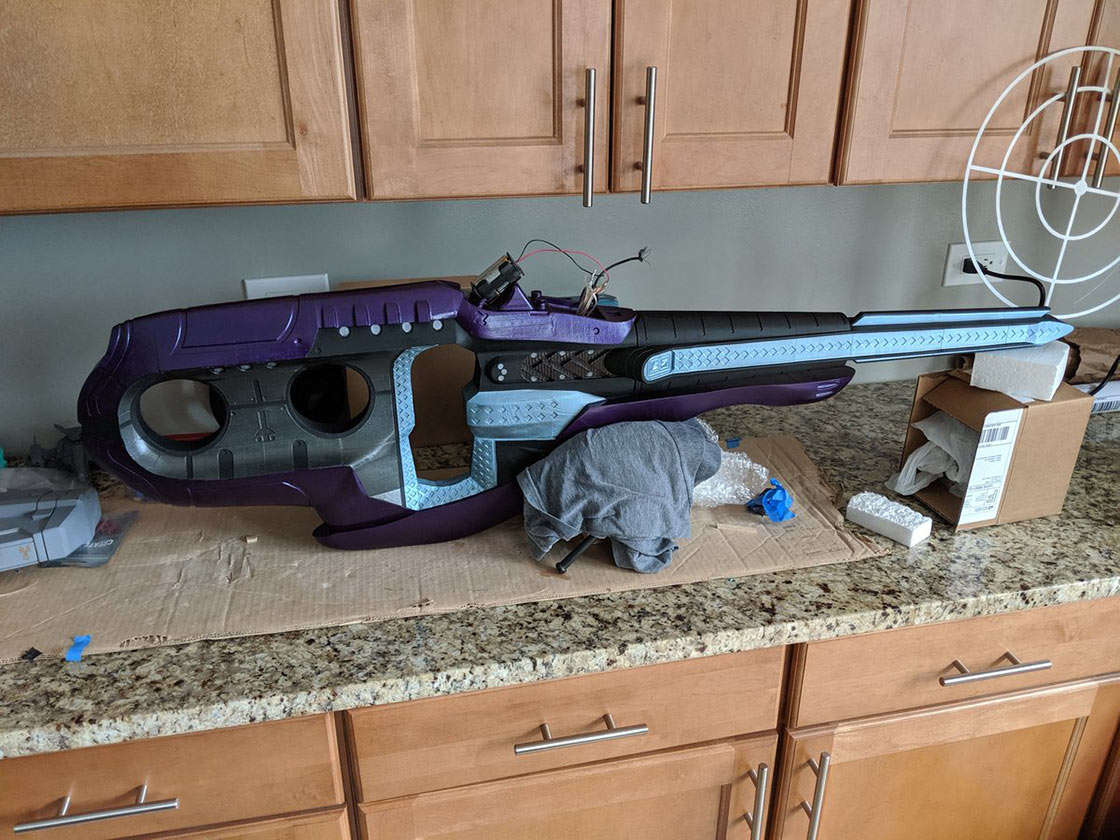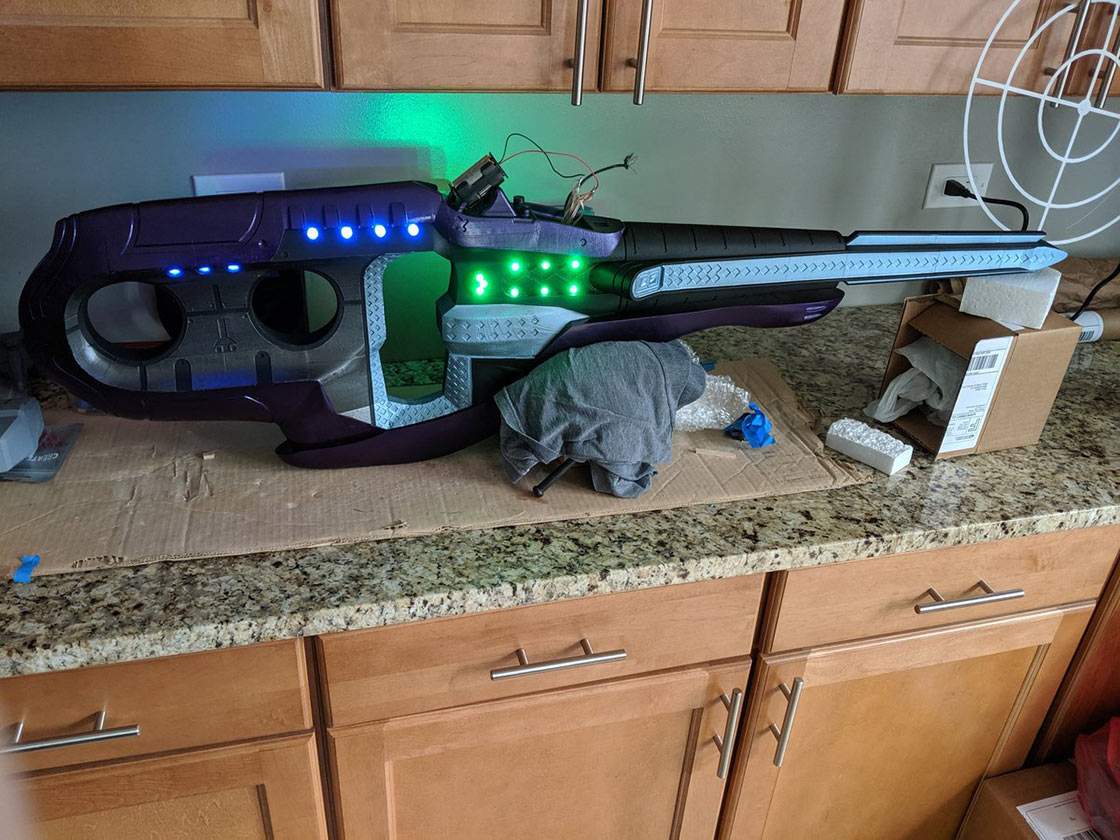 Judging by this next tattoo, /u/BanesBrutality must really trust his wife. Why do I say that? Mrs BanesBrutality chose this tattoo design and he never even saw what it was until the finished product. That's a lot of ink to be sitting and wondering what it was but it looks like it was well worth it!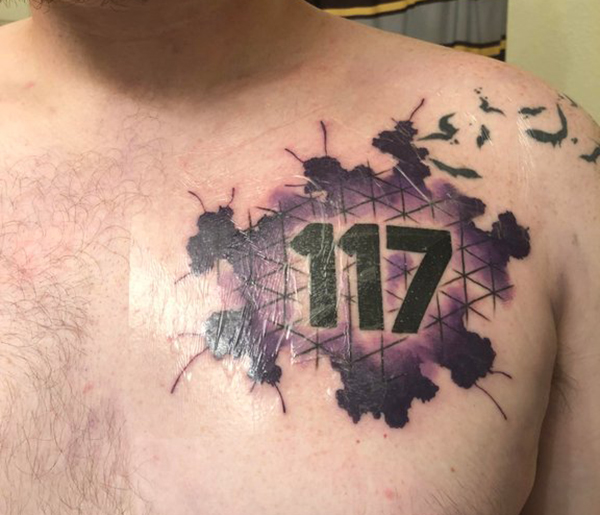 Not only does the Achilles armor look great in-game, turns out that it also looks incredible as a cosplay prop. Don't believe me? Check out @Lettsprops' helmet (made by @DocDailey2) and decide for yourself then. I really hope we get to see the full Achilles armor set next.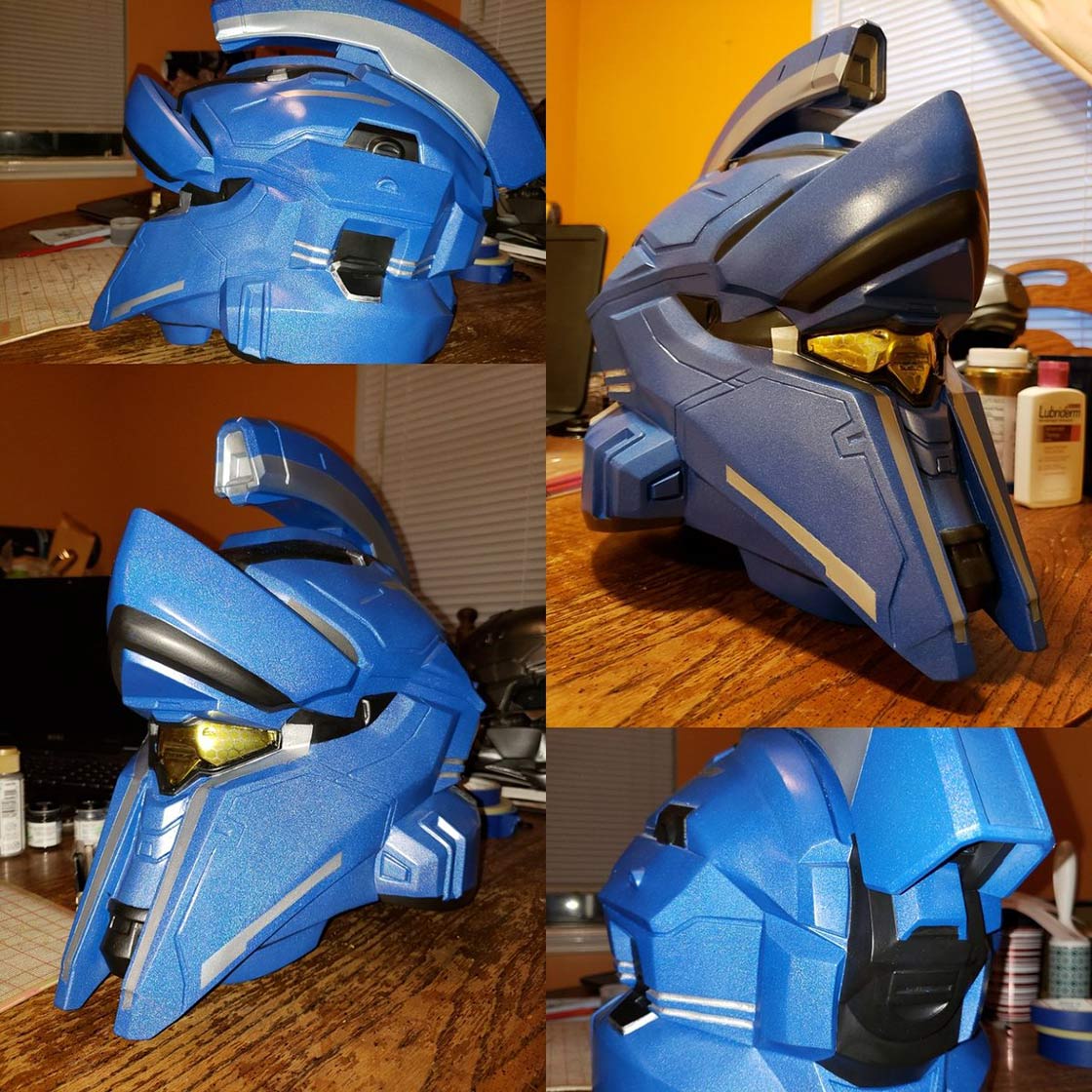 Speaking of readily identifible things from Halo 5...We're all familiar with Linda's Nornfang, yes? Excellent. I ask because /u/sanghelios_customs is back with another fantastic prop, this time a build of said sniper rifle. It looks awesome but I wonder how much it weighs.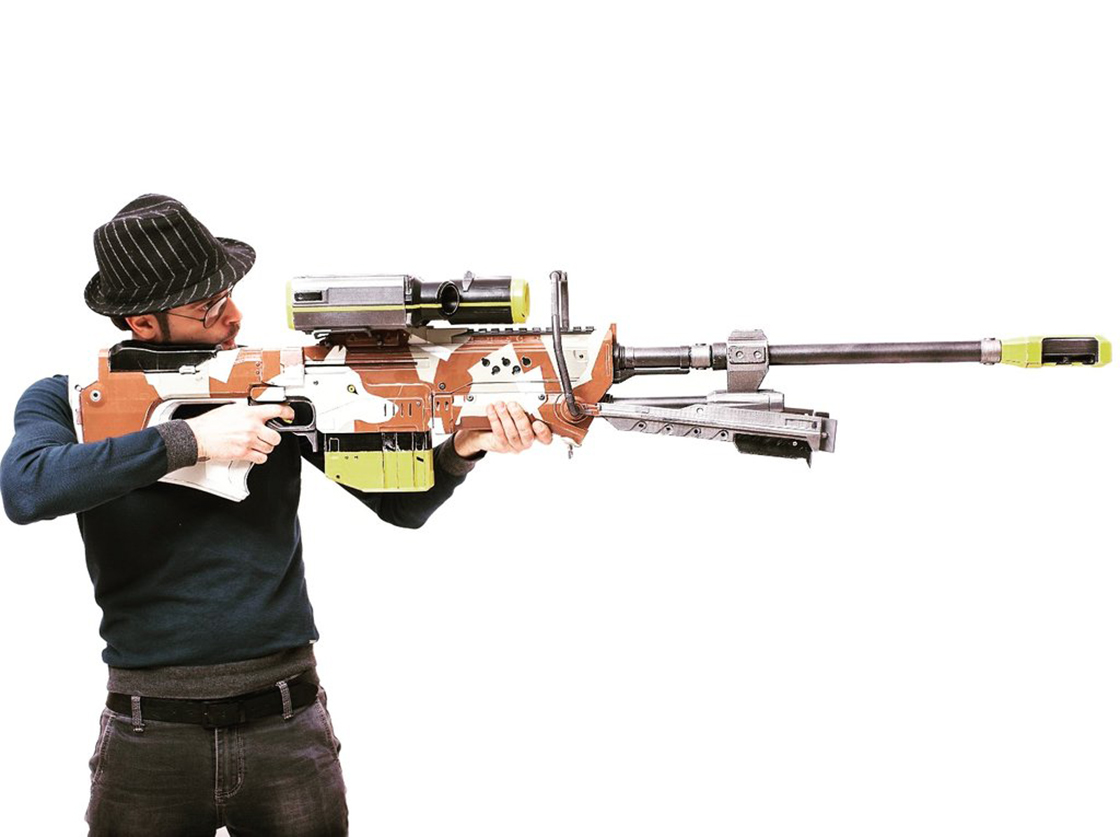 /u/forgenova has a great tattoo inspired from Halo 4 and it's beautiful. I love the placement on their forearm and the zooming Banshee and I'm glad they shared with us!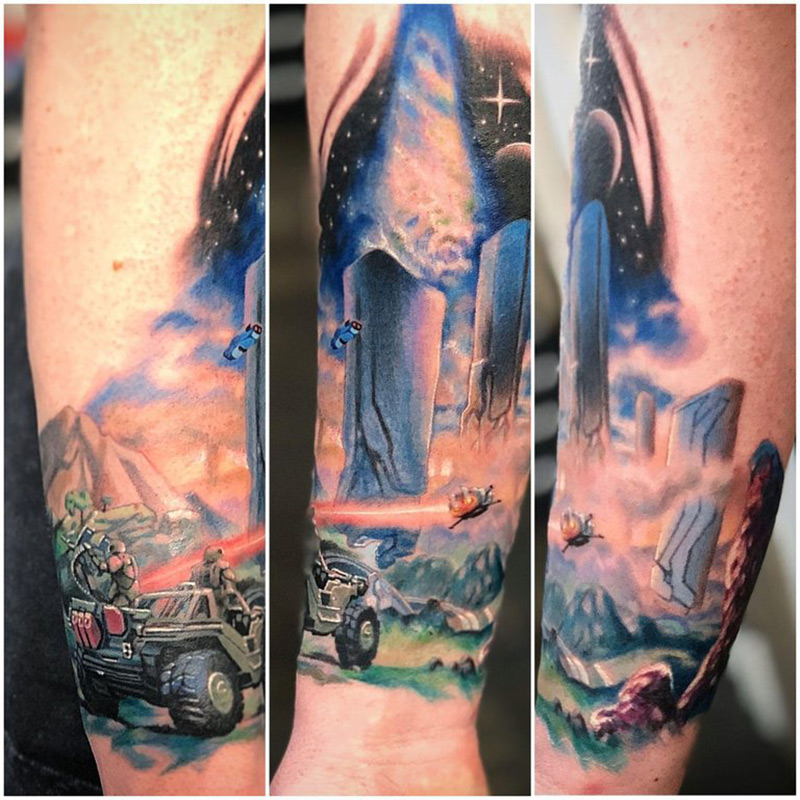 Speaking of Halo 4, /u/BLiiiiiND 3D printed the Halo 4 Assault Rifle!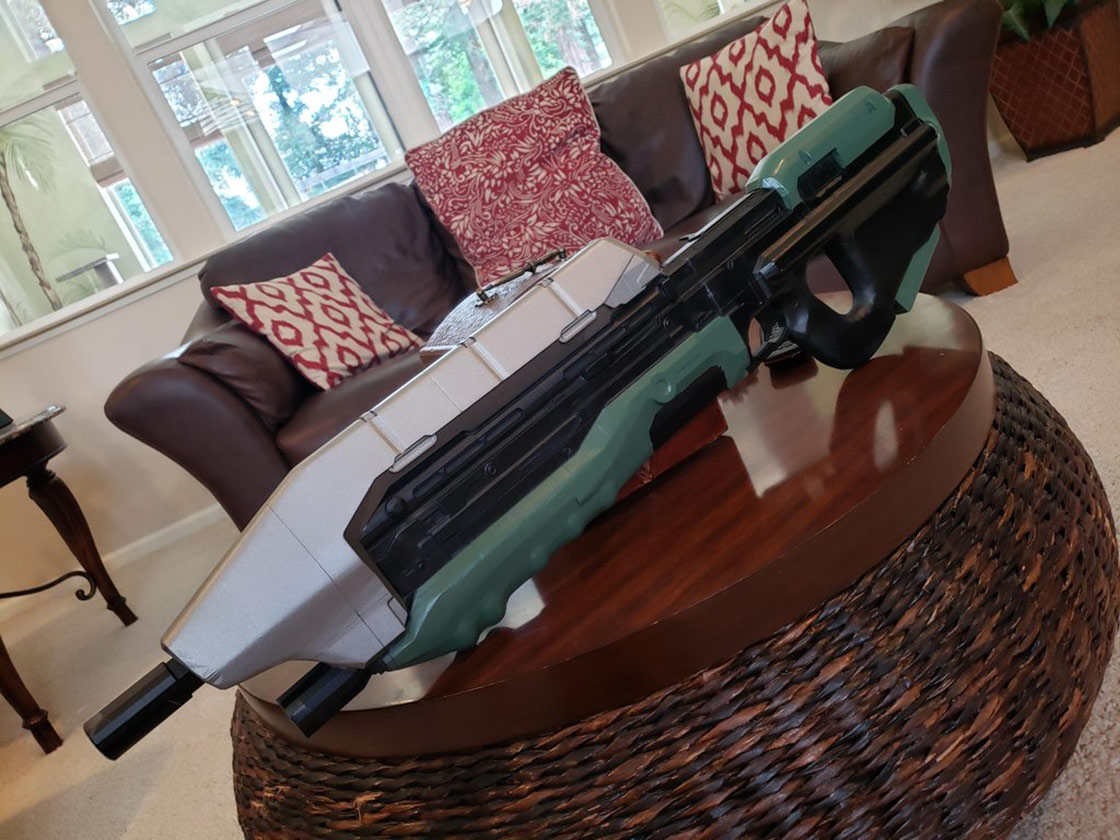 Life is often a series of hills and valleys and when we're in those valleys, we each have our way of coping or things that help us move onward and upward. For /u/shots-by-leo, this quote was a part of that process and she wanted to pay homage to it.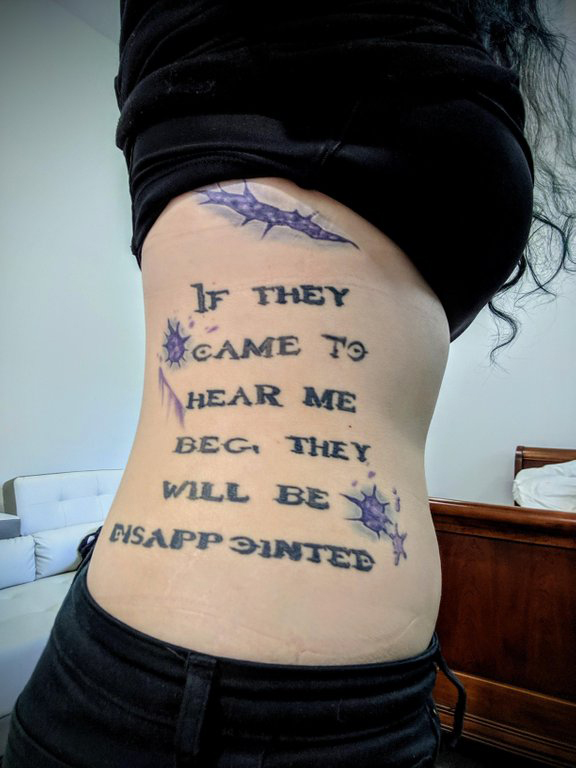 Sweet Rolls
I hope you guys are ready for some videos because we've got a good variety to serve up.
If you ever want to work on improving your Halo shot, check out this video by Paradise Halo on the Halo 5 "Flickshot."
"But Sam, we're just here for montages!" Okay, okay. I got some of those too. Let's kick off with @CNoremac's Halo 3 dualtage with Matt. (I don't know which Matt, you'll have to ask Noremac, I know too many Matts.)
I love all the throwback montages making a resurgence but it's still nice to see a Halo 5 one pop up every now and then. Check out @GR3YNEX's montage titled, "Champion."
I think that's it for montages...oh no hang on, wait a second. Looks like @Amplicityy stepped up his game and made a Halo 3 montage all by himself. He's rightfully proud of it so give it a gander!
Clips like this next one from /u/90377Sedna mystify me. Anytime I play Infection, I die before I can even get in the same room as the humans so color me impressed.
Getting a Killionaire is no easy feat, especially in BTB Fiesta. With all those power weapons floating around, keeping the Gauss alive long enough to get MORE than 10 kills in a row is impressive. I hope /u/RaZoRxPLx thanked his driver for being most excellent!
If you've ever played Halo with me, then you've likely heard me say, "That's a terrible idea. Let's do it!" I am a big fan of trying something just to see what happens. I am pleased to welcome /u/Tachanka_is_useful to the Club of Crazy Ideas That Actually Worked.
Desperate times call for desperate measures and if you're gonna die, might as well take the enemy with you, right? This clip by /u/kooKommander is my favorite because I can't tell if it was accidental or intentional.
Store bought
Our friends over at Forge Hub recently concluded their Husky Raid forge contest and what better way to spotlight the winners? With close to 100 submissions, they definitely had their work cut out for them. If you aren't sure what Husky Raid is, it's generally a linear CTF mode played with Fiesta weapon starts. The goal is to get to the other side, steal the flag, and bring it home to score. These maps are awesome, be sure to bookmark them and give them a whirl for yourself!
Coming in 3rd place was lNeedMoreBleach with his map M808B Production.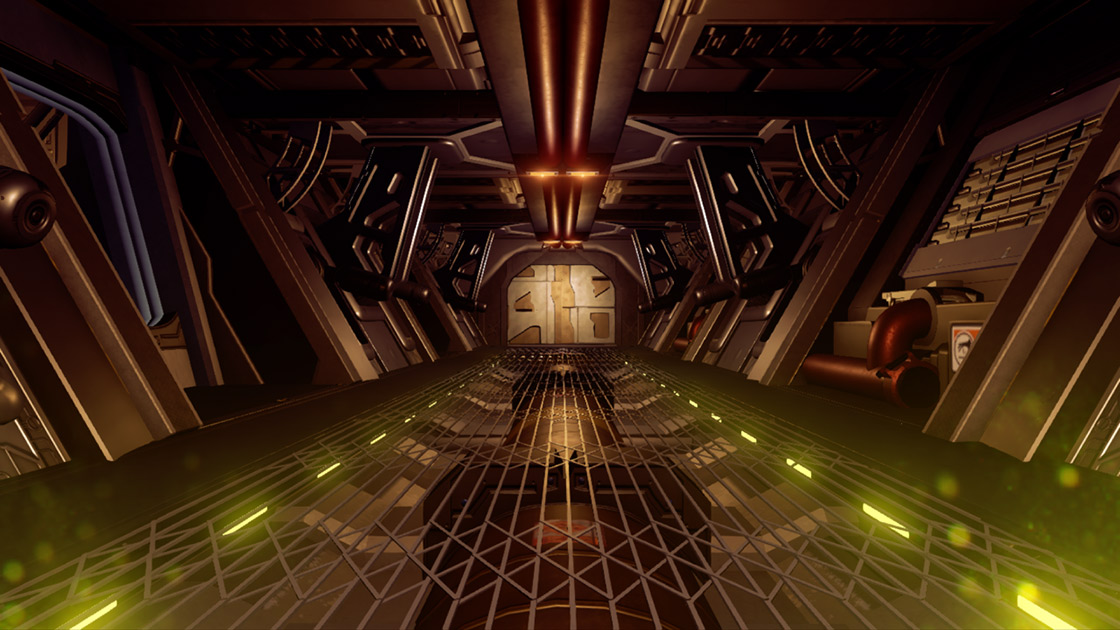 m808b Production is set in a UNSC scorpion factory and provides us with one of the most meticulously crafted and detail-rich human environments in the contest.
In second place is Hairy Mcclairy with Dominus.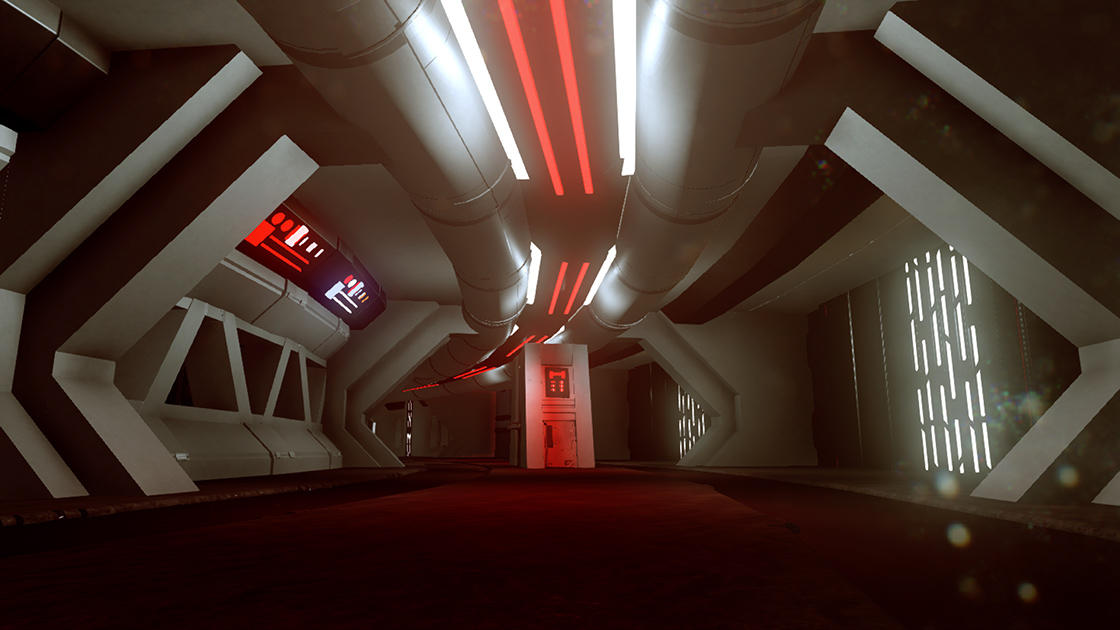 Fight through The Dominus, an Imperial Star Destroyer, as The Rebels try to take the vessel. Husky Raid map set inside an imperial star destroyer while it is engaged in a space battle.
Taking the top spot out of all the talented applicants is Unsorted Guy with Traverse.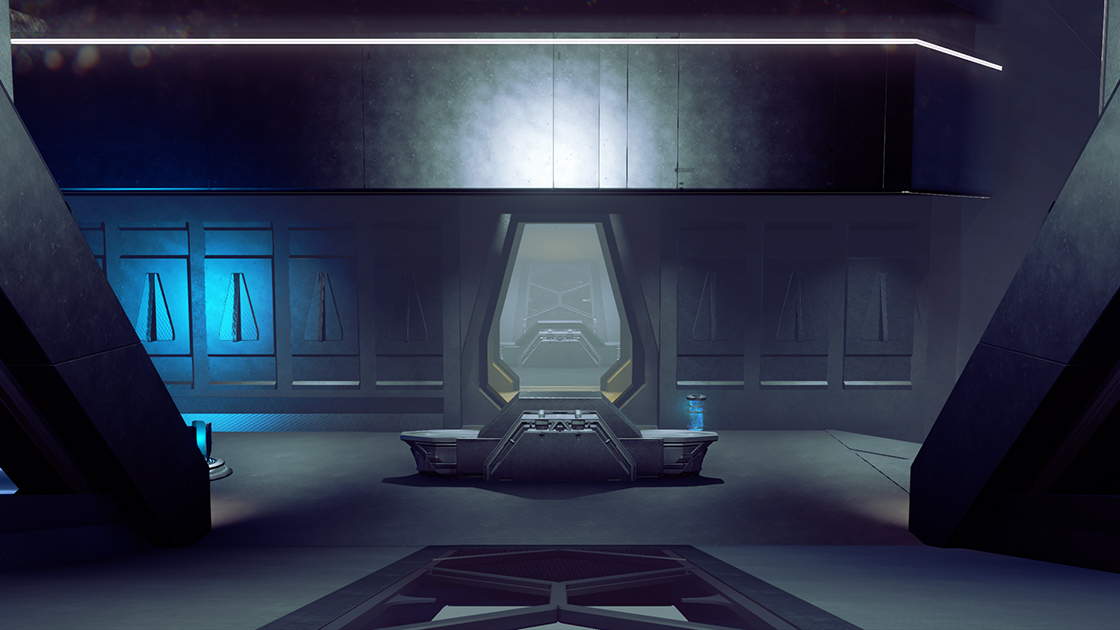 A Forerunner structure, with an awesome view.
If you want to check out some of the other incredible submissions, click on the Forge Hub results blog!
Honorable Mention
Graduating college is exciting and a time for celebration. I absolutely love seeing graduation caps with all the personal touches (the Animal Crossing community has a lot of really cute Tom Nook ones as it turns out) and fun references people use. We've all heard Master Chief say "I need a weapon" but /u/GhostlyPixel put a spin on that and gave Chief a degree. Congrats to you, GhostlyPixel!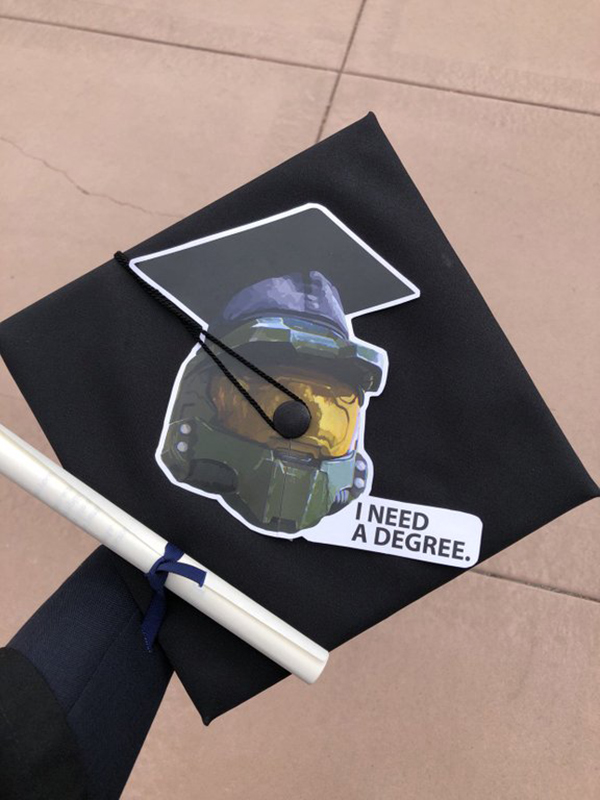 Made to Order
As long as theater has been a thing in Halo games, players have loved taking screenshots and sharing them. I remember seeing all sorts of crazy things in people's file shares in Halo 3, Reach, etc. (Anyone looking for a clan? I know a guy you can message.) Here's some from this past week!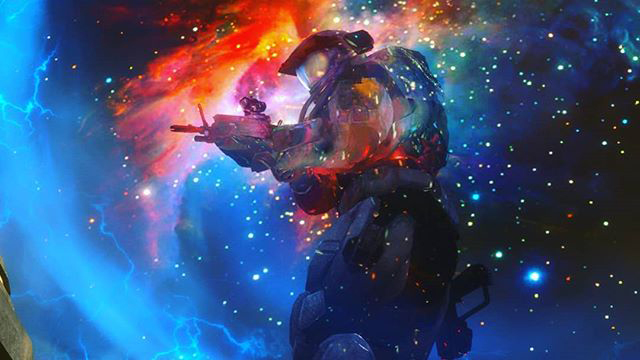 "Explore" - @vegoxbl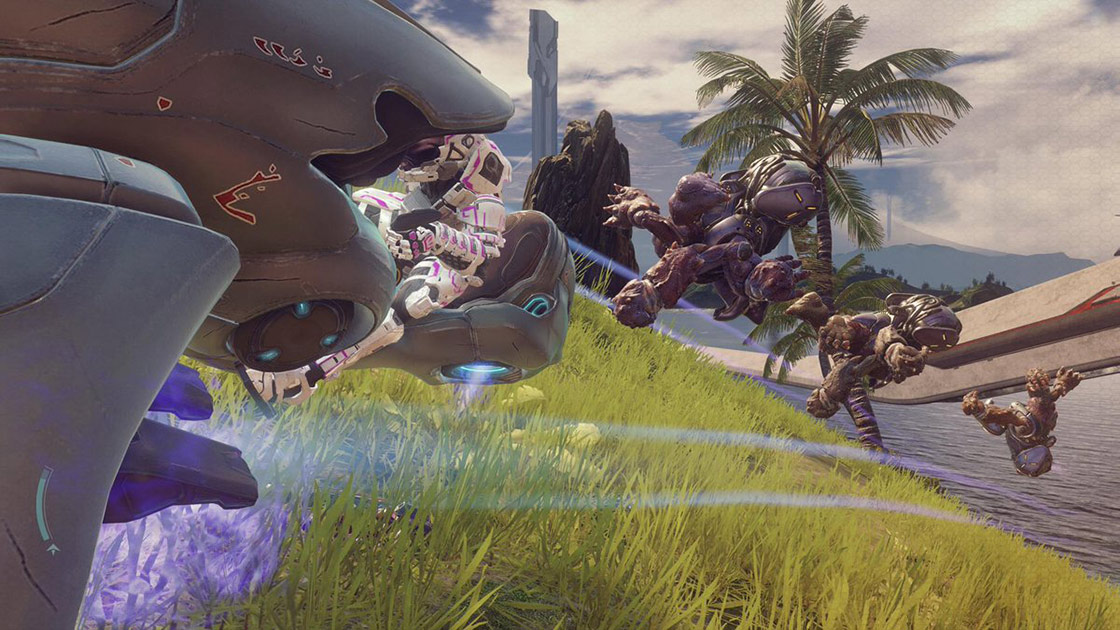 "Bowling for Grunts" - @CMongerty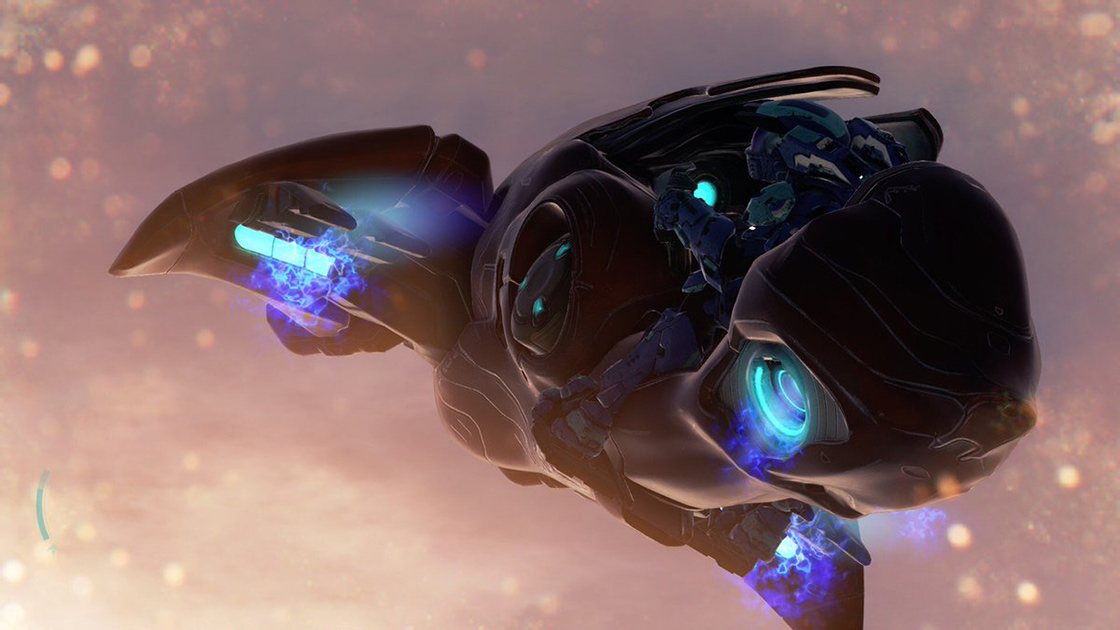 "Zoomy" - @misterunngoy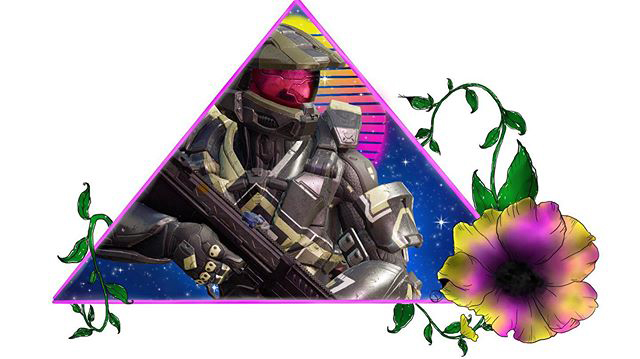 Untitled - @spartanbats
Petits Fours
Finally, the palette cleanser full of even more awesome selections.
Doodle's Snickers
I keep hearing people talk about this John Wick guy lately, apparently he's a badass of sorts? Genuinely have no clue, but he looks pretty good in green Mjolnir! Brought to you courtesy of @silksensei.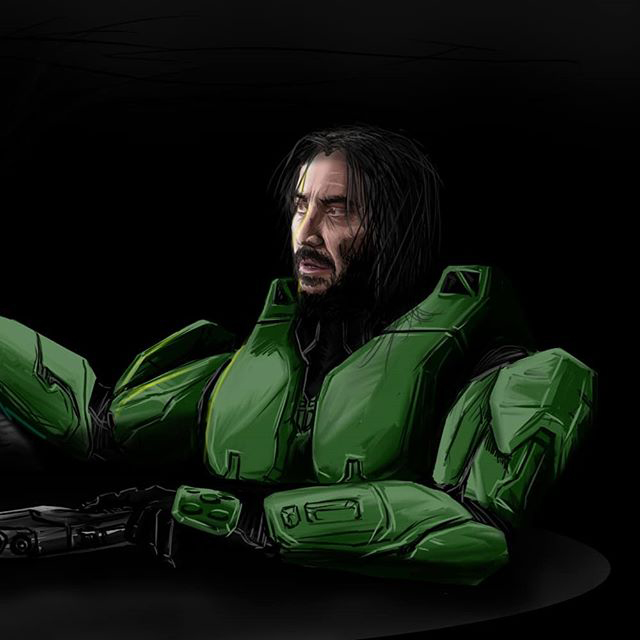 Fin
And that's the end of this edition of the Community Spotlight! As always, if your content is somewhere in here, please send me your Xbox Live Gamertag so we can get you your 🔥🦄 Nameplate and Skin! In the meantime, keep making awesome content and sharing it with us so we can all bask in the glow of community creations.
Ciao! xx
--Sam