It's a beautiful day in the neighborhood, and a beautiful day for another Halo Community Spotlight. This week we're stacked with more superlative-surrounded fan-fueled content for folks to feast their VISRs on, from renders and videos to screenshots and sketches.
And as always, if you want to give your cool creations the best shot at getting featured, use the hashtag #HaloSpotlight to help us find your contributions. Let's take a look at all the sweet stuff on tap!
HOW GREAT THOU ART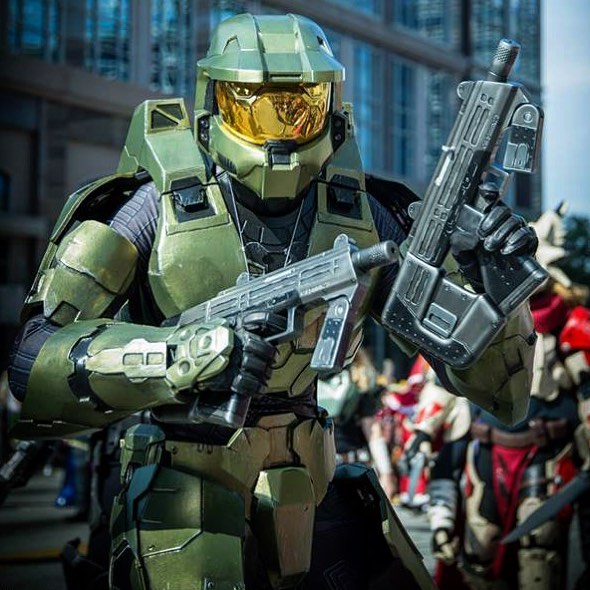 Check out this amazing cosplay by Justin Branfuhr! Also make sure and check out his Instagram @branfuhrstudios for more amazing build pics.
To reiterate, the above controller is a fan-made concept, but man do I wish it were real!
FORGE FANCIES
VIDMASTERS
Scifi_fan_kat delivered this awesome Halo music video:
This took nearly a year to complete. I poured my heart and soul into this video. I hope you guys enjoy it!!
Special thanks to Josh E. for capturing a few QTE clips on his Xbox for me!! Also, shout-out to the Halo Community on Twitter for all the support in giving me feedback on my work-in-progress clips! I love you guys!!
Check it out!
Lediandol just provided us one of the greatest things I've ever seen. There are those that say Halo wouldn't work on the big screen. This trailer proves irrefutably otherwise.
Willjax Brantley would be proud.
@KenJi16b rolling into the spotlight with a really awesome Garry's Mod video recreation of the H3 Believe trailer. Loved this!
Da Mad Badger with a cool largely-H3-focused tribute...
Seeing as we just recently celebrated Halo 3's birthday, it's a perfect time to revisit this amazing cinematic tribute/remastering by Joshua Ezzell. It's so pretty.
Really cool machinima teaser from Ascend Hyperion!
"I've never needed a past..."
The story of Spartan Agent 27, Naomi Marres continues right where it left off. At the corners of betrayal and confusion. Coming soon!
Check out this cool Halo space battle reenactment by Captain Jack as played in the PC game "Space Engineers."
WE NEED A MONTAGE
Check out DoubleAA's Final Halo: Reach Montage!
I MISS THE BLAINS DOWN IN AFRICA...
#HALOSPOTLIGHT
I lol'd.
SCIENCE!
Until next time… Live well, play Halo, and dig deeper.
<3 Grim