There's only so many new and exciting ways I can say that I'm back with another bi-weekly(ish) Community Spotlight before I start repeating myself. But hey look! I'm back with another Community Spotlight full of awesome content and community sourced creations! I'm excited, you're excited, my dog is napping so he is not excited, let's get to the blog!
CRÈME DE LA CRÈME
If you aren't familiar with @Nuvelous and his screenshots by now, you are missing out. They are always creative, clever, and absolutely fantastic. I'm sure that much like photographers, we only see the stellar end results and there's been a lot of trial and error along the way but I'd say it's all worth it. He's begun dipping into the cinematic cameras in Halo 5 and ohmygosh the results are simply stunning. He says he gets some Halo Wars vibes from this and I can see it. From the vibrancy to the color palette to the composition, it's all fantastic as always, Nuvelous.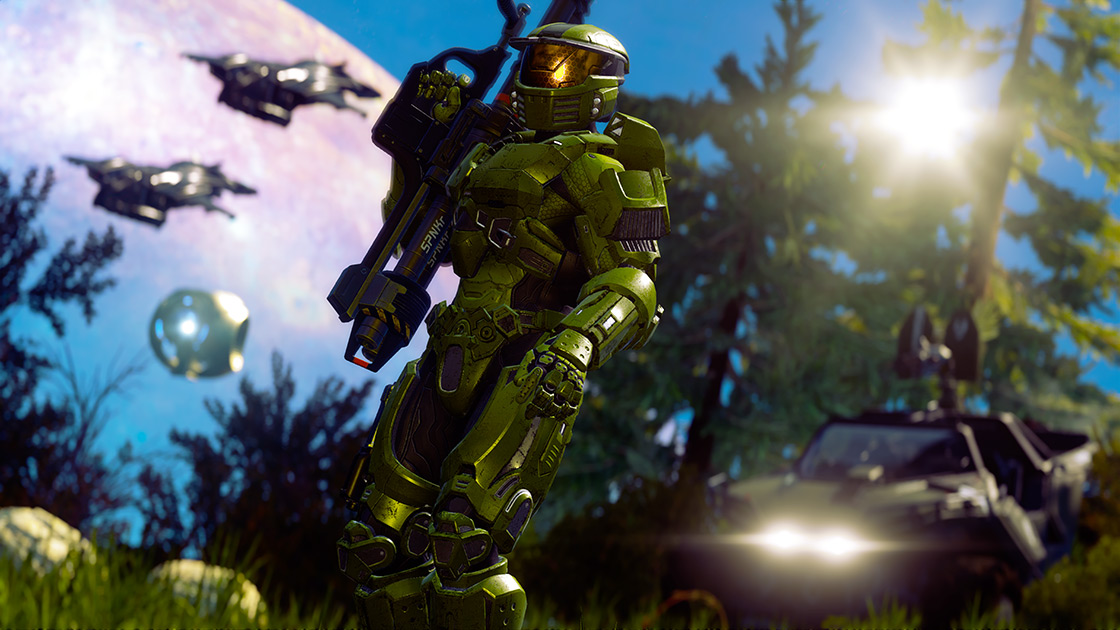 Snack Break
I know this section started out as sort of a one-off thing back in *checks notes* March (March?! I swear I just started this. Time really does fly when you're having fun!) thanks to the Halo Theme Kazoo Orchestra coming across my radar and sending me into fits of giggles. Honestly though? I've really enjoyed all these "soundtracks" so I don't really see them going away anytime soon. I have a small list of videos ready to feature but if you have a creative take on the Halo Theme somewhere on YouTube, feel free to send it my way so I can take a look/listen! I'm always on the look out for more and if it saves me from scouring the depths of YouTube, even better!
This weekend, it'll have been 10 years since this game called Halo 3: ODST launched. Once upon a time, there was a fan movie in the works called "Halo: Helljumper" that was being created around the Halo: Evolutions story, "Dirt" (written by Tobias Buckell). This was one of the songs from the project's OST and it's called, "Havoc." It was composed by Joseph DeJesus.
Snicker's Doodles
Hopefully you're in a sufficiently "Halo" mood after listening to a great Halo-inspired piece of music and are ready for some community sourced content because ready or not, it's happening now!
I've seen a mini boom in minifig shots and I love it. You all get so dang creative with them and it's just the most adorable thing ever. Case in point, check out @PureGeniusLego's Noble Team squad shots. I love the flip in lighting and it makes Noble Team look much more mysterious. Not to mention, does it look a little familiar to anyone else?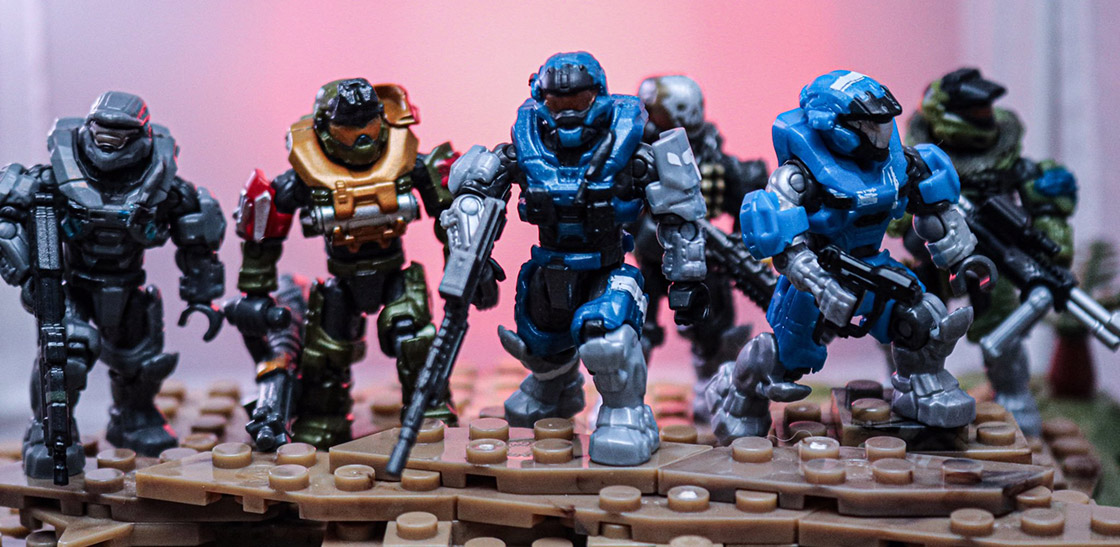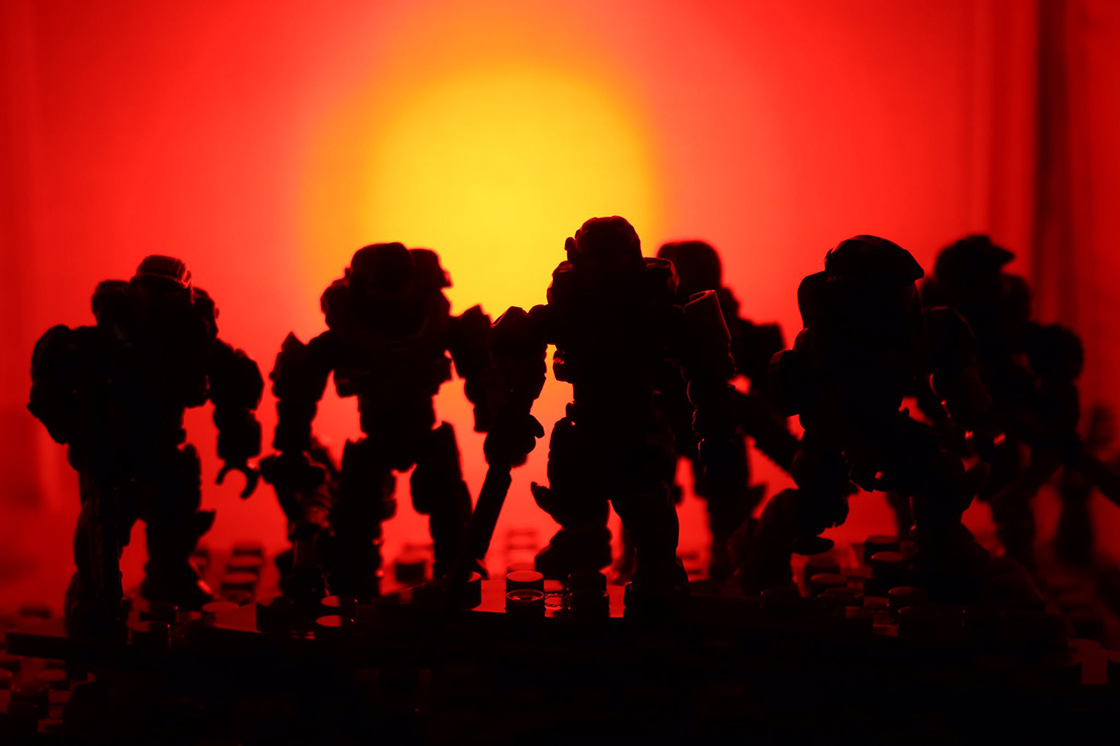 I will say, Spartans are fairly common minifigs with Elites in the minority. I can honestly say that until @Tom_Jurassic, I had never seen a Flood minifig and I'm equal parts horrified and fascinated. There's just something creepy about a tiny Flood and I have no real idea why. I mean, just look at it! It's so... *shudder*
Just to prevent some confusion and alleviate some fears, yes I do check r/halo for art/content, and sometimes I find Halo things on other subreddits too. So don't worry /u/Dogzonwheelzguy, I saw your Warthog passion project! Also, excellent username. You can check out his Instagram post for some more shots.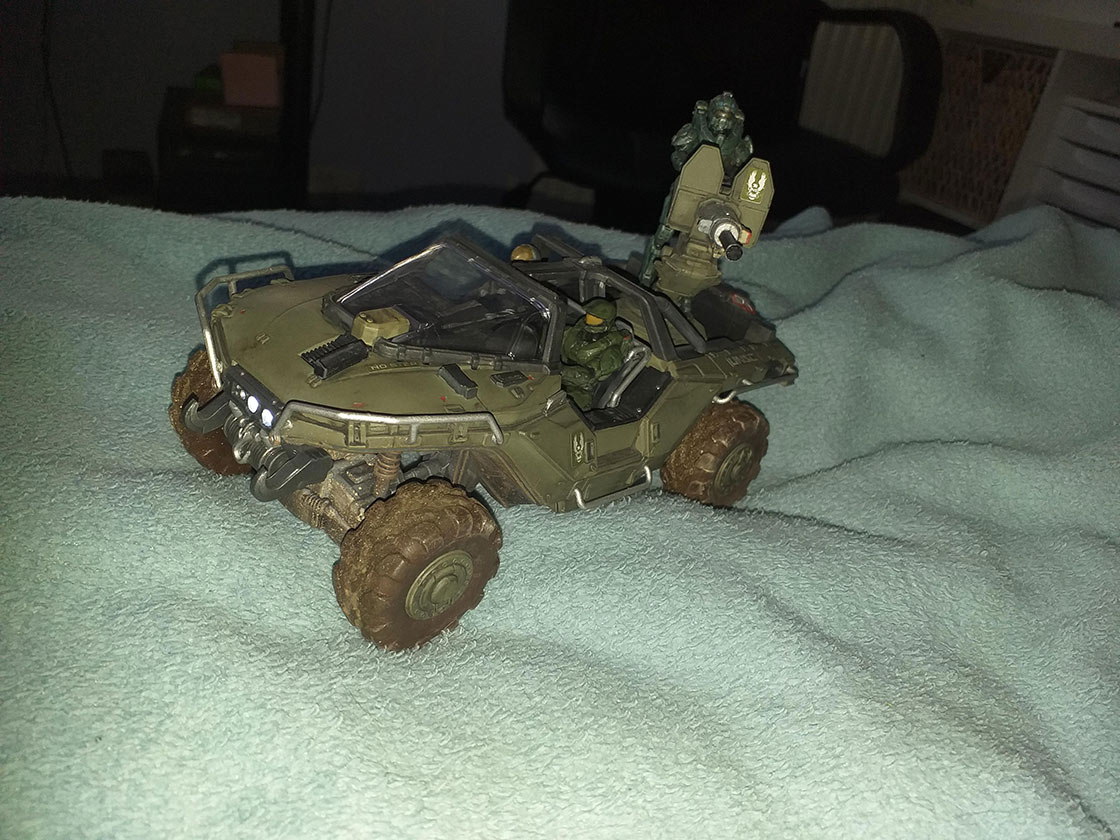 I don't know how long "a while" is but that is how long it took /u/dcorrigan27 to finish this Master Chief painting. The red background makes the armor standout well and overall, I love how well this turned out!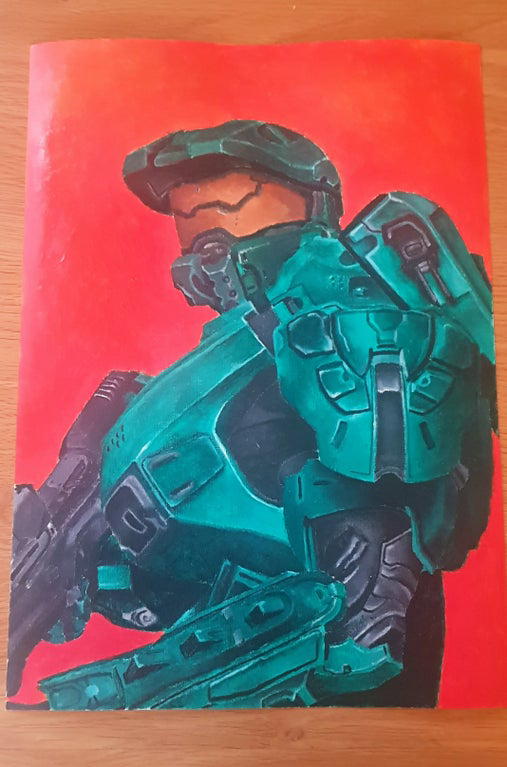 I don't know who your "ride or die" buddy is but apparently you should find one unless you want to wind up ride-sharing with the Covenant. At least, that's what /u/Eggrollghost says. (Everyone has such awesome usernames today.)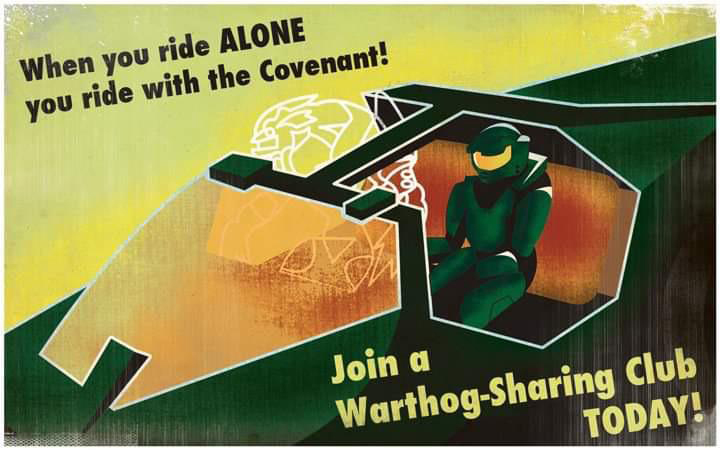 While we're on the propaganda poster procession, let's check out @skydreamwolf's take. To be fair, I don't actually know if that was the intent but I'm going to pretend it was for the sake of the transition. And the accompanying text in the tweet is, "Hey I did this, what do you think?" so that doesn't help much. However to answer his question, I think it's great and I want to see a whole series of these!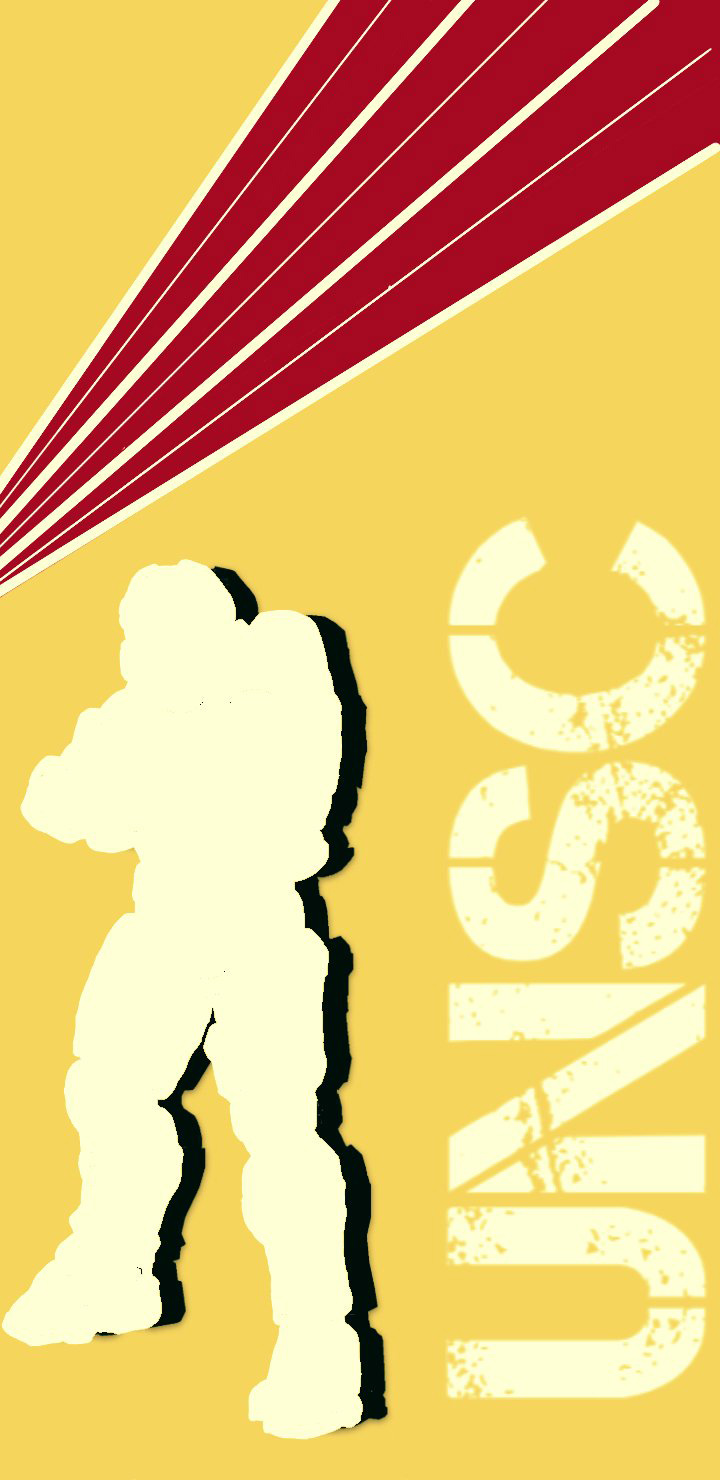 There's a lot to digest in @QuintSays' last commission. Between the Spartan gunner, Brute with the Gravity Hammer, and the Elite riding triple kill in the Warthog, I'm not entirely sure what kind of mission these guys are on but it doesn't look good now that they're down a driver. Not to mention the onlookers and the Banshees circling. Should probably start looking for evac but no one asked me.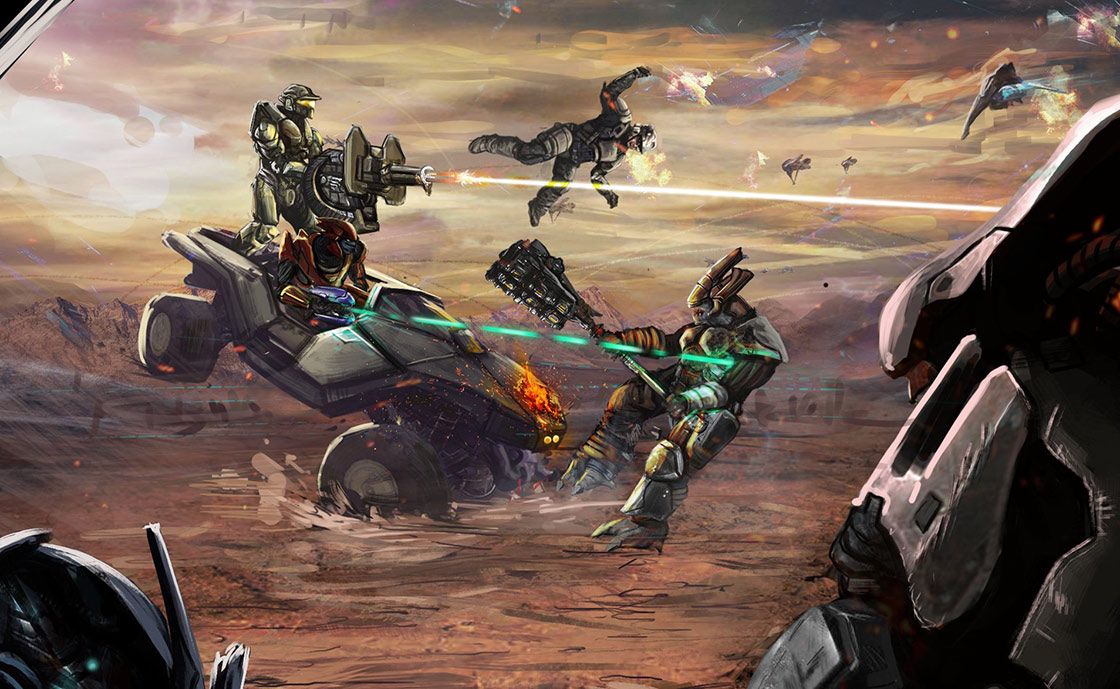 One thing I don't see in the above bit are any Engineers. Poor Huragok being left out. Luckily, ODST @NiciccisArt has one! Bad news though, she's lost her Engineer and now I'm so sad! Hopefully they reunite in a later SFM scene. For a first go at creating a scene, I think it turned out great! I really like the lighting and atmosphere.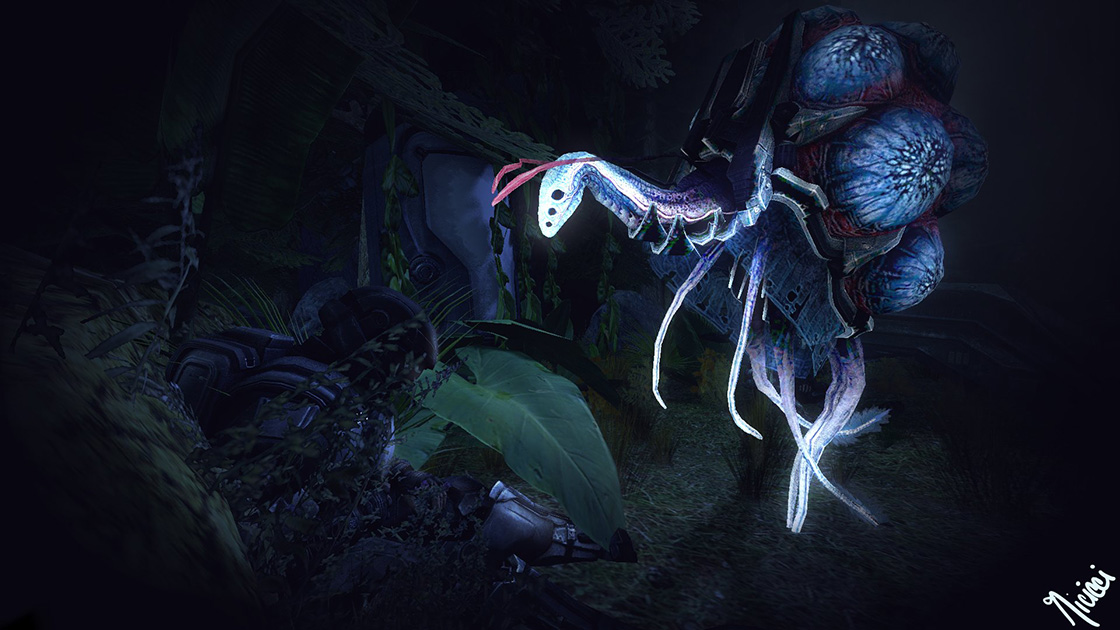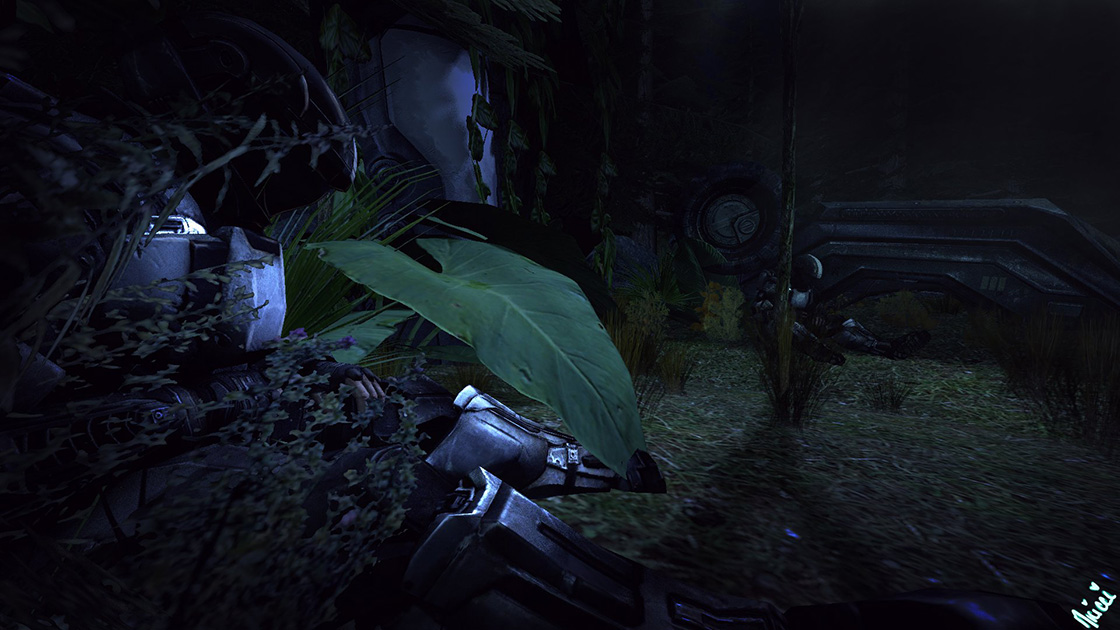 Even though you can't tell because of the visor, this Spartan is apparently "staring off into the vast unknown," this is per artistst @Waterpaw_107's description of their work. The cooler colors work rather well and make the Spartan stand out and gives off a "contemplation" kind of vibe. I dig it.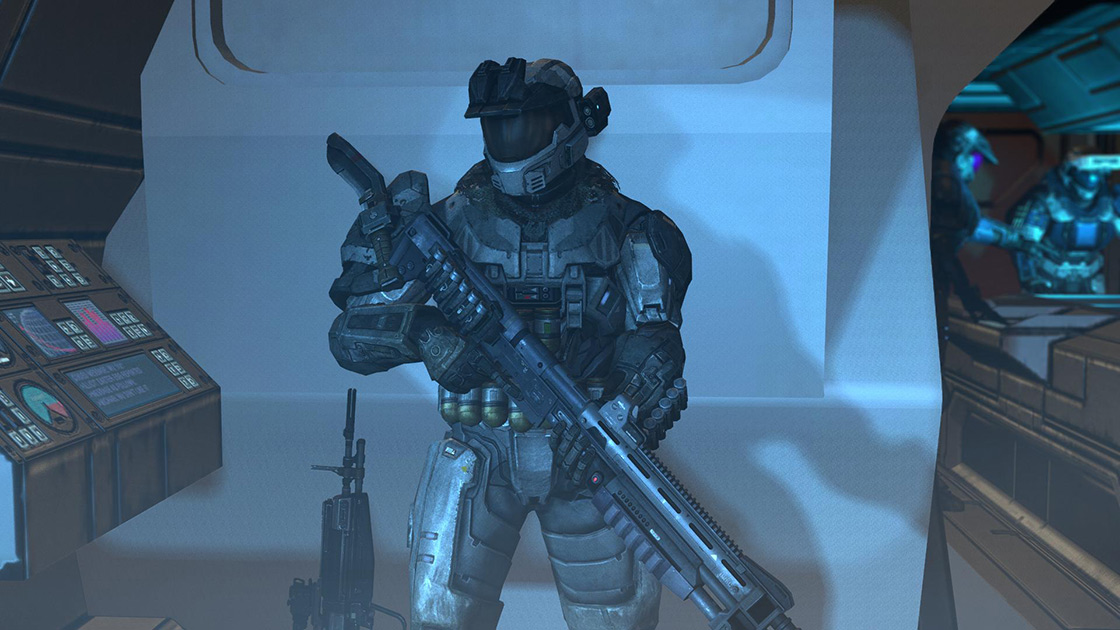 When the dream works, you know you've got some solid teamwork happening. In this case, @VincentGat, @Masterj2001, and @EzzellVFX combined their talents and skills to come together on a fan project they are working on. You can check Vincent's twitter for more information on their project but in the meantime, enjoy this gem of a piece.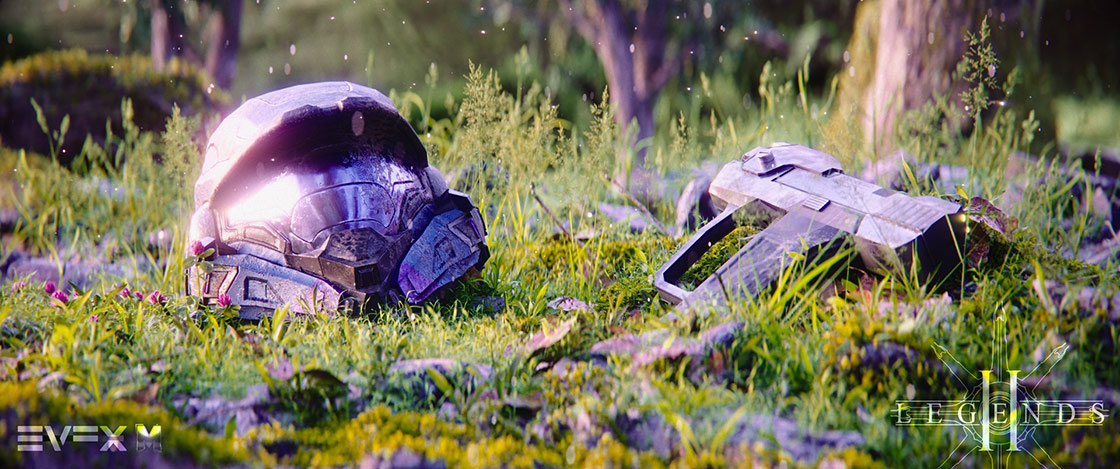 With a certain Endgame in mind, @legion716 delivers this icredible Brute artwork. I love how fierce and badass everything in this looks. (Note: I haven't seen the movie but Legion claims it's inspired by a scene in the film and I couldn't resist being punny.)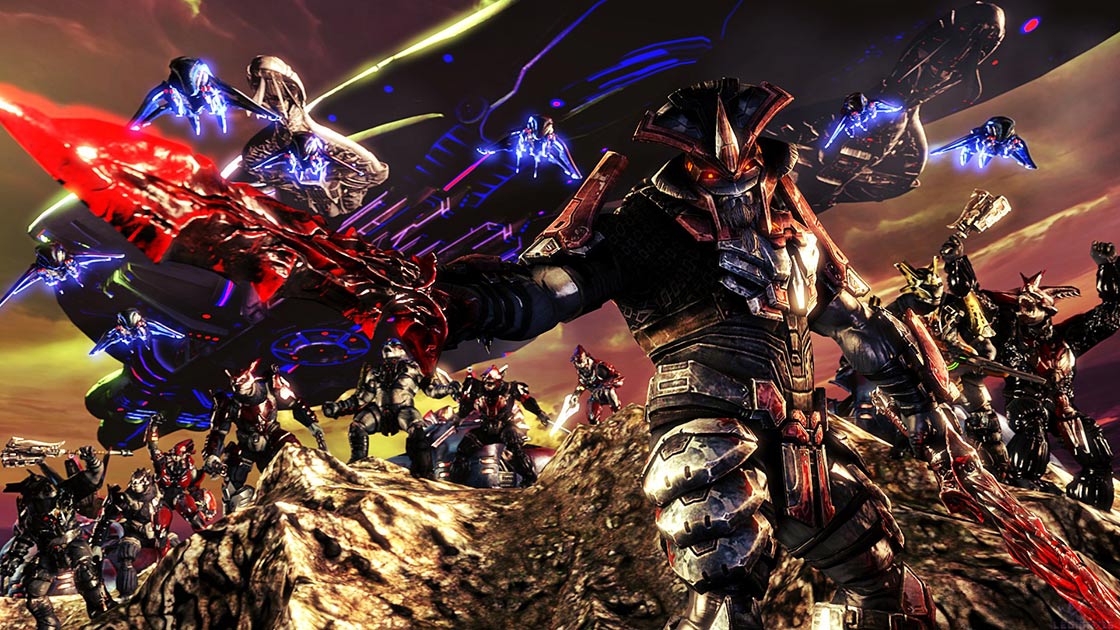 Half Baked
Some artists prefer more simple mediums like pencil and paper for their art and that is totally rad too. "Simple" is by no means a criticism because then I'd be insulting majority of artists, I think. I just mean that it's one of the easiest ways people can start being creative because of how easily accessible it is. And if you can't find paper, there's always cave walls I suppose. All that to say "Here's the handmade portion of the Spotlight. Enjoy!"
In honor of ODST Slayer dropping in hot into Halo 5's matchmaking, let's check out /u/Da____Don's helmet sketches! Okay so there's a EVA in there too but there's an ODST one so it counts! I can't wait to see the rest of the suite of helmets! (To be clear, the pencil sketches are his works, the color EVA is a reference piece.)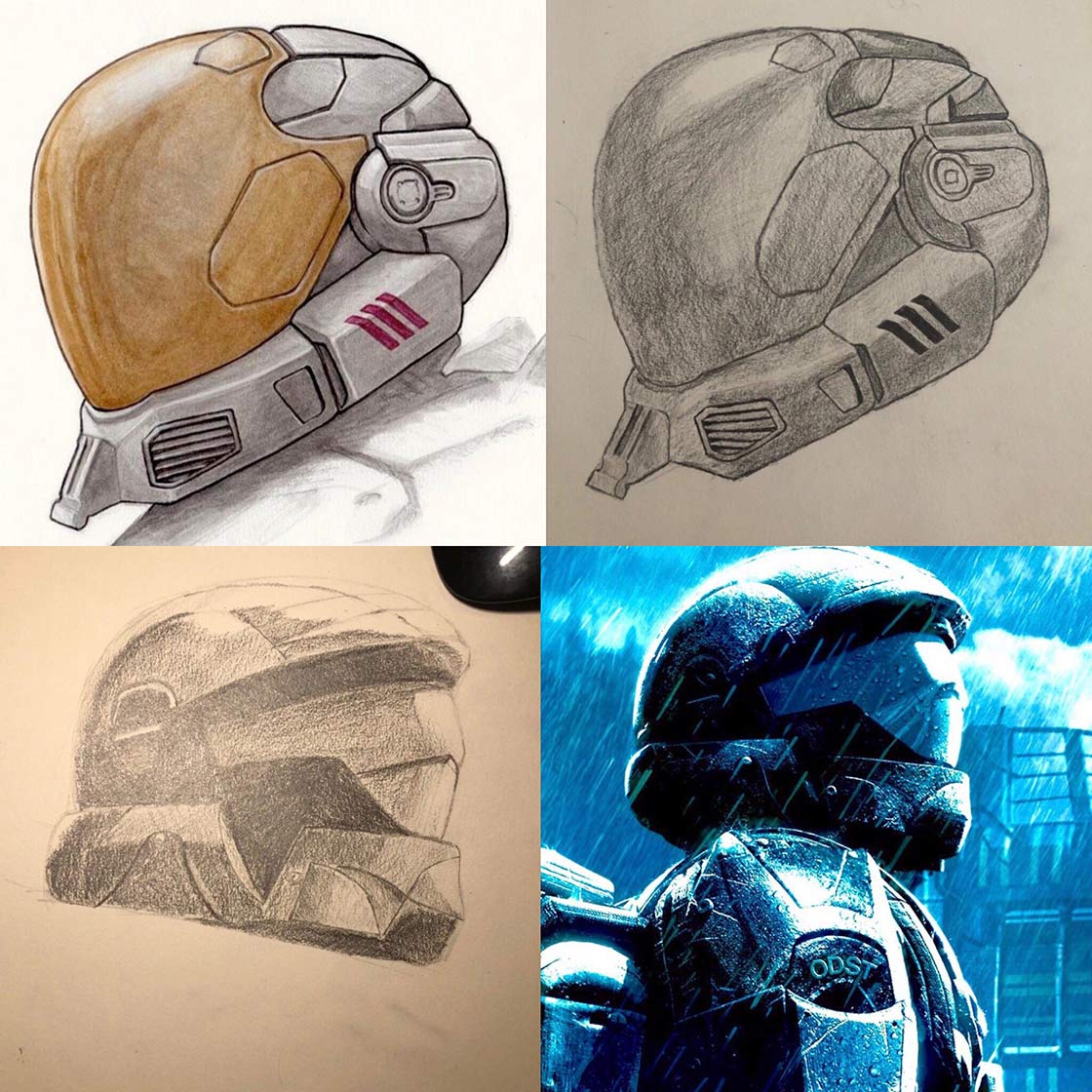 Some of you even mock up new concepts for our vehicles! In this case, @Garuda_The_Ace took aim at everyone's favorite bird and off-roader and whipped up a new Pelican and Gauss Warthog design. What do you think?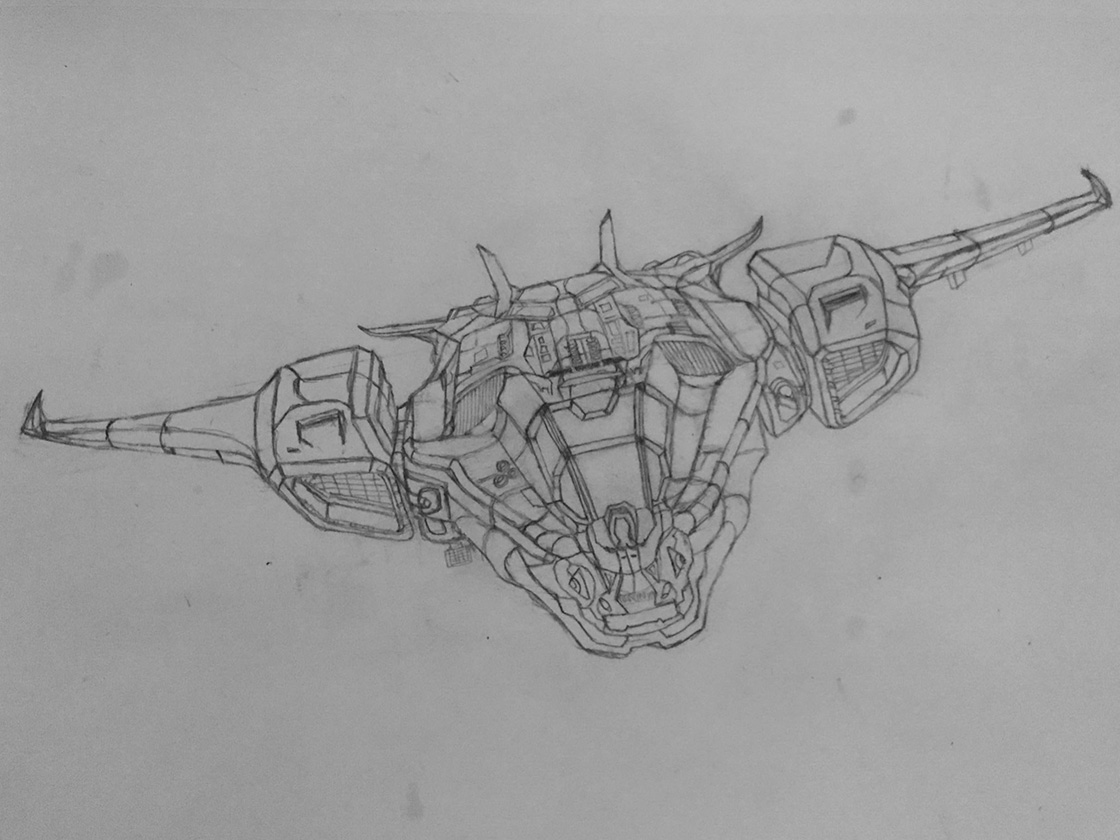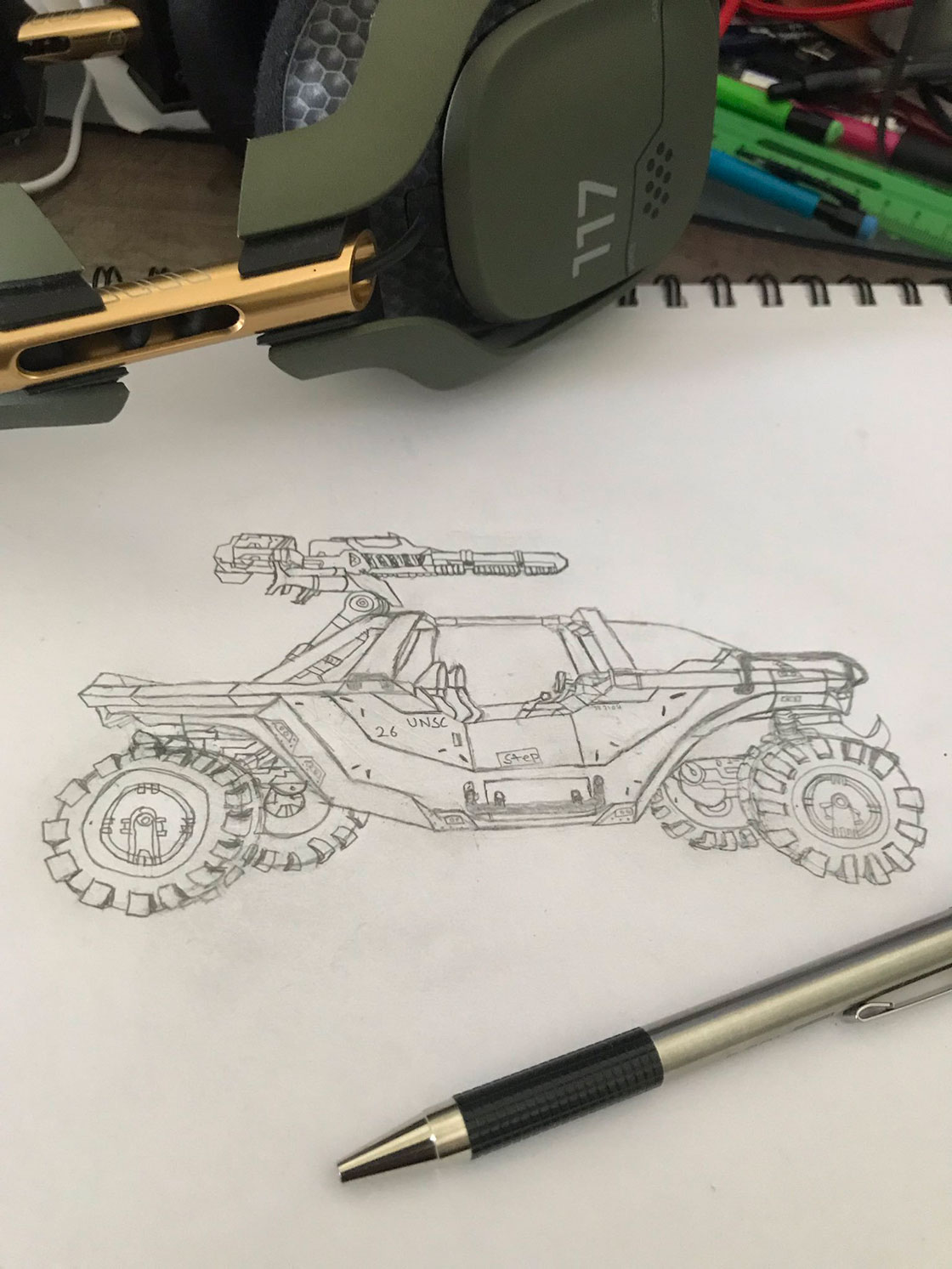 If you weren't aware, this little game called Halo: Reach turned 9 years old last Saturday. In honor of that, @Allibi_tv sketched out a sweet drawing of everyone's favorite AI driver, Kat. While I may not enjoy being in a Warthog driven by her, I do enjoy this depiction. Thank you for sharing, Autumn!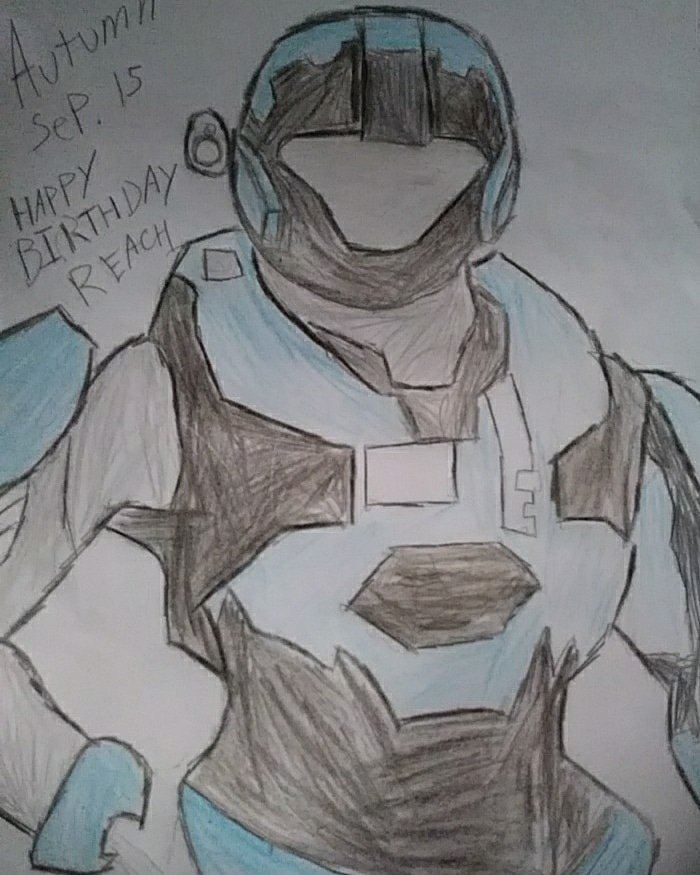 Looking to the future, @jivechip decided to use the Halo Infinite Master Chief art as reference material for his latest sketch. There's a lot of detail in this and I am blown away that it all comes together so well.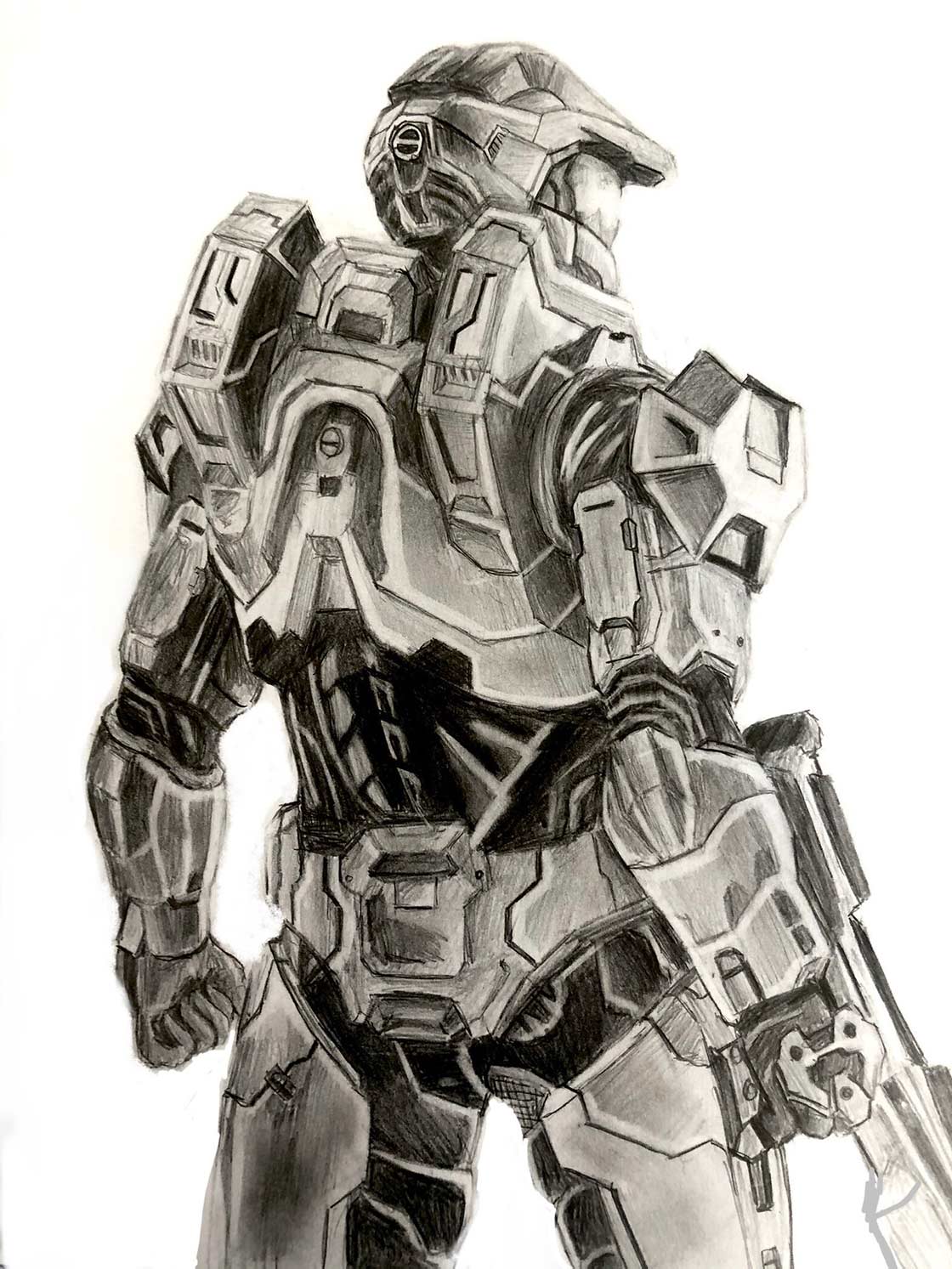 Homemade
All the best things are made with lots of love, right? Not that you can't use love to make other things, mind you.
After checking out the Ring Experience at one of the @HaloOutpost Discovery stops, @InaDayorTwooooo was so enthralled that she came home and wanted to recreate a small piece for herself. She used modeling clay to make this clever section of a Halo ring!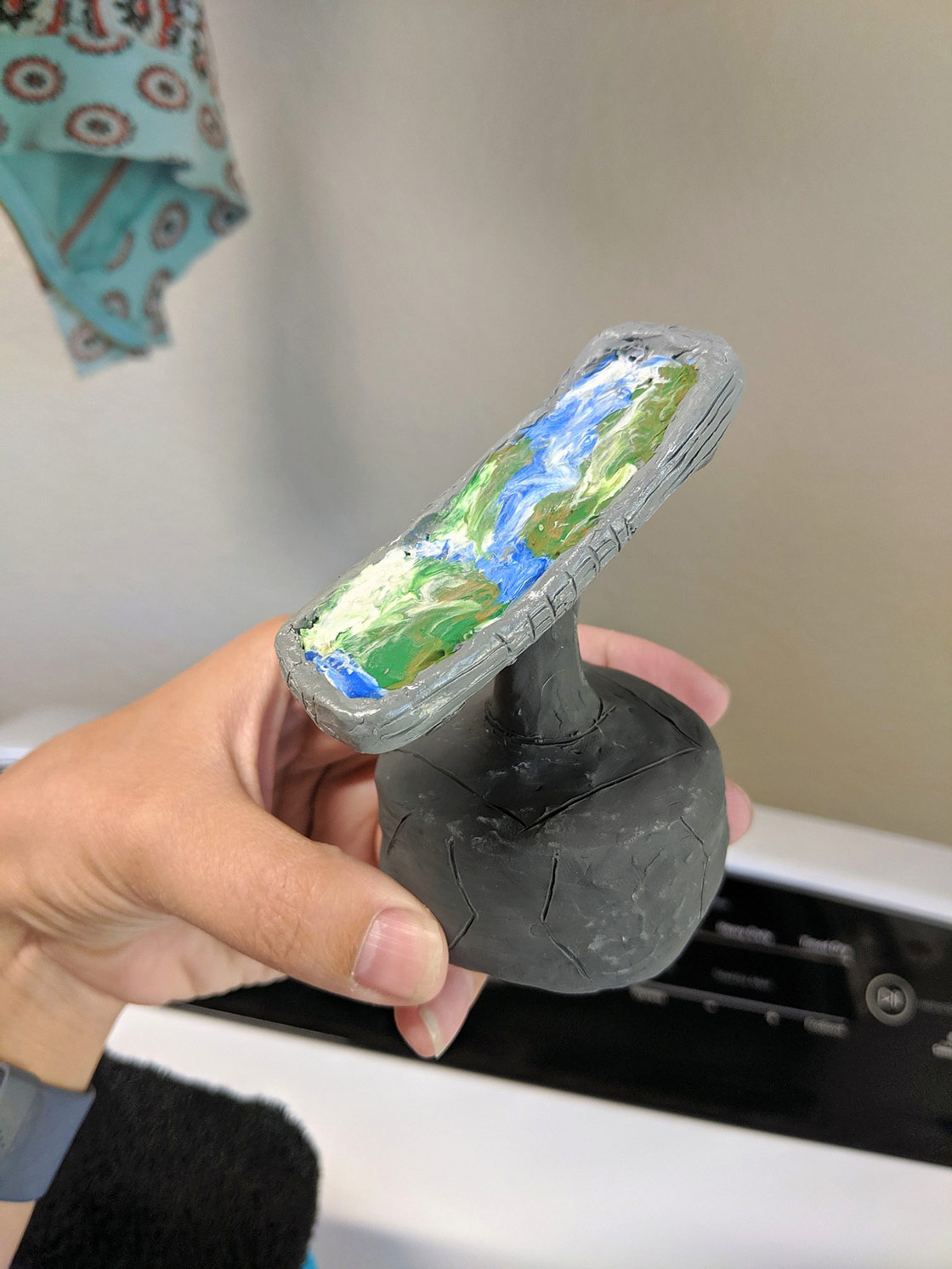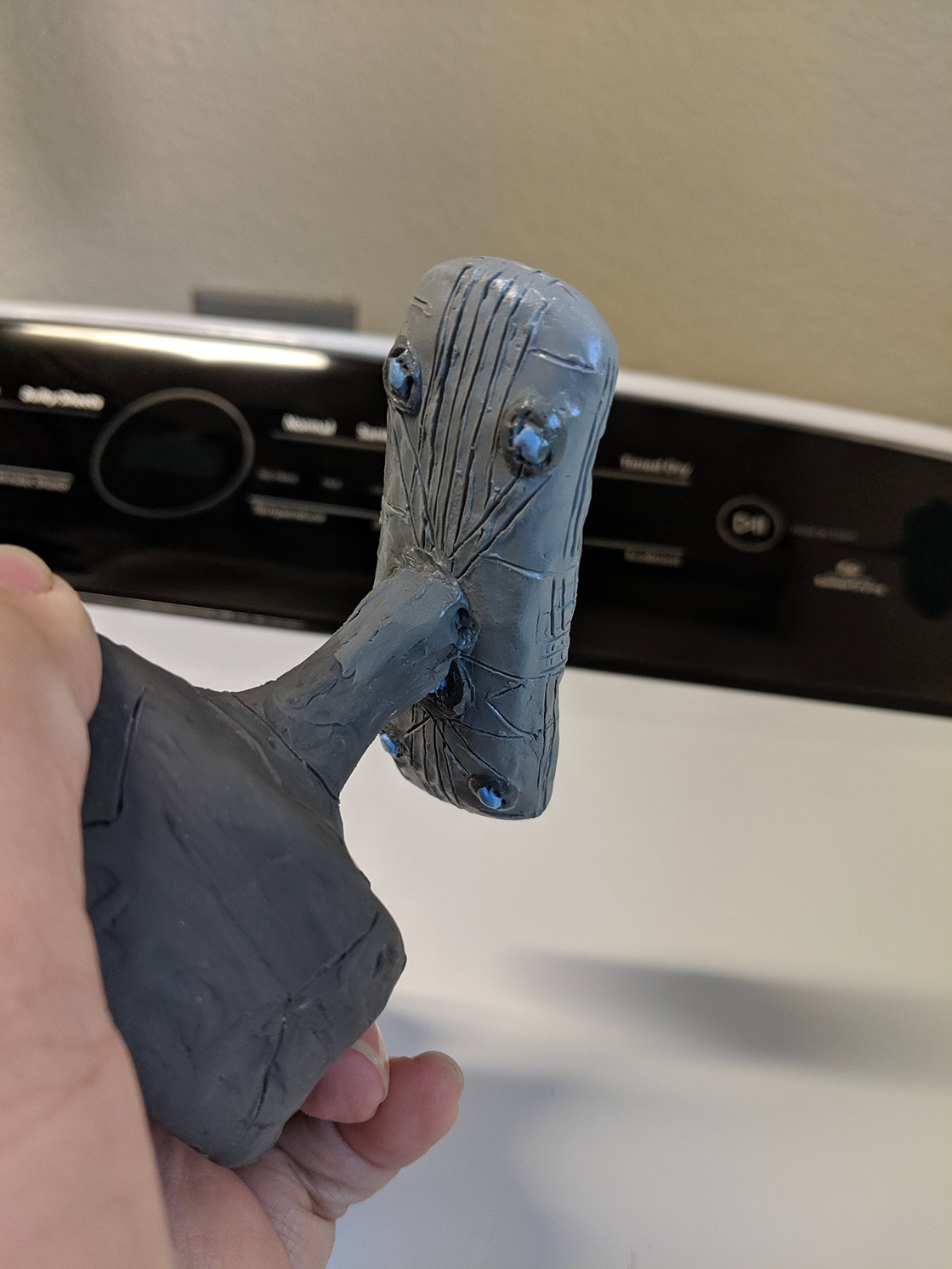 Speaking of clever, /u/markhizio's wood art Spartans are absolutely incredible. At first glance, these just look like some painted Chiefs on some boards but when you take the time and look closely, you can see the texture and detail. That means these are slightly 3D and actually pop out from the base background. You can see some of that dimensionality on these selections I've included but if you want to check out some more, here's Mark's Imgur album.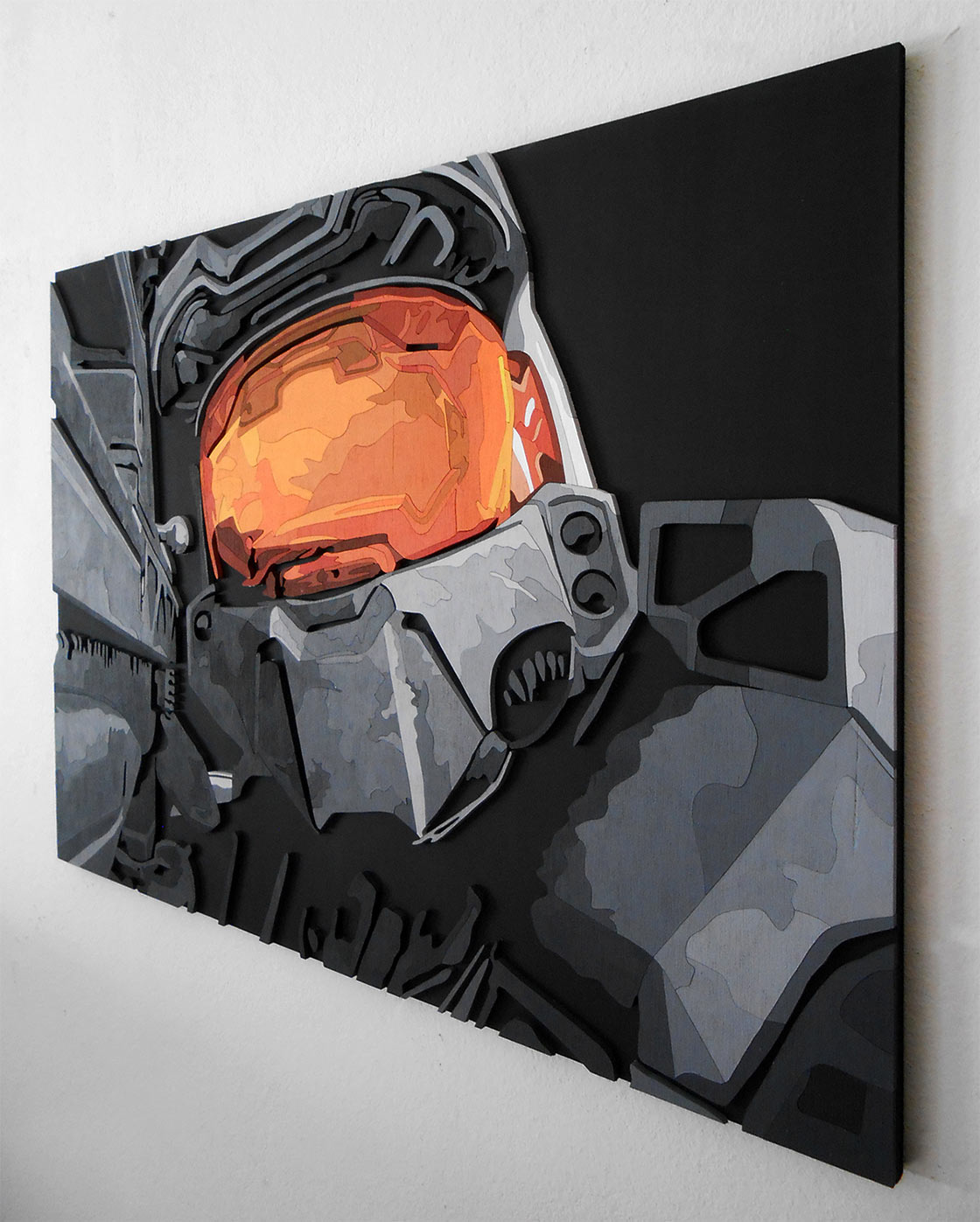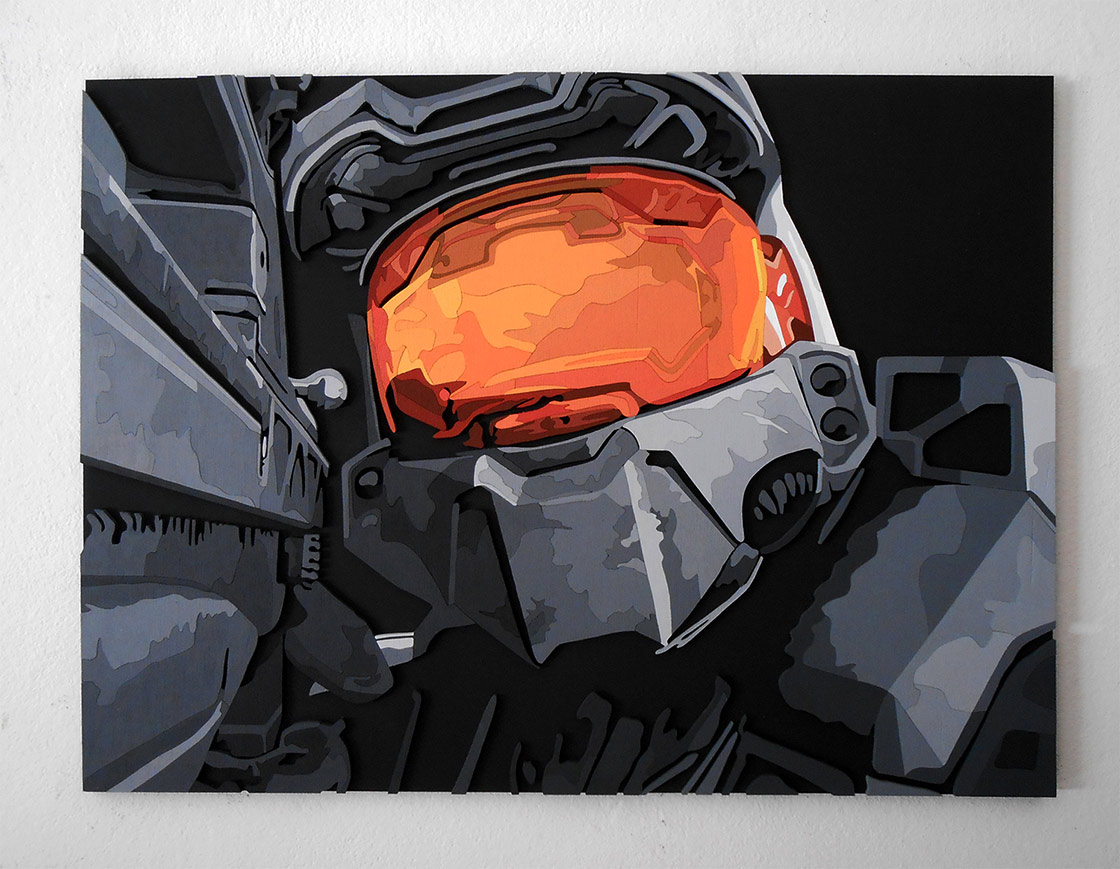 Forge is also a labor of love. I'm not entirely sure what magic @ForgersOf used to get this awesome shot in Forge but I like it. It's especially apt since yesterday's 343 Social Stream featured the Forge Lord himself, @MichaelSchorr.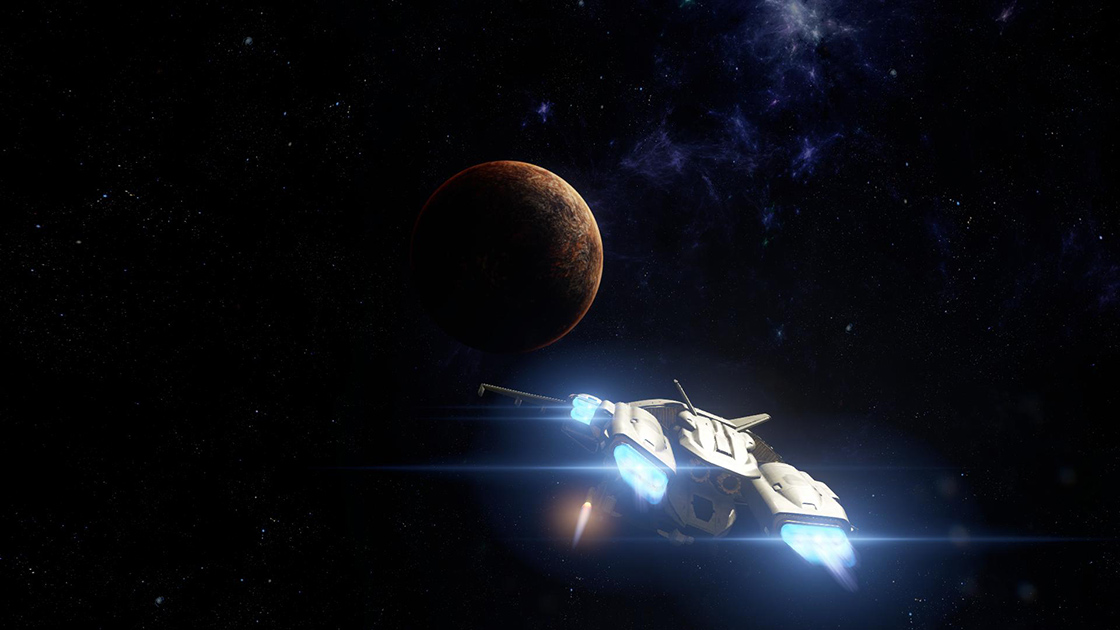 What kind of bakery would I be running here if I didn't include /u/FluffyCatFIN's Assault Rifle cookies? I feel like this is the most appropriate submission and in the best category. I'm not entirely sure why there are squirrel cookies too but the best comment I saw in response was definitely, "Squirrels were always my favorite seconday weapon." I can't say I agree with the sentiment but they're cute at least.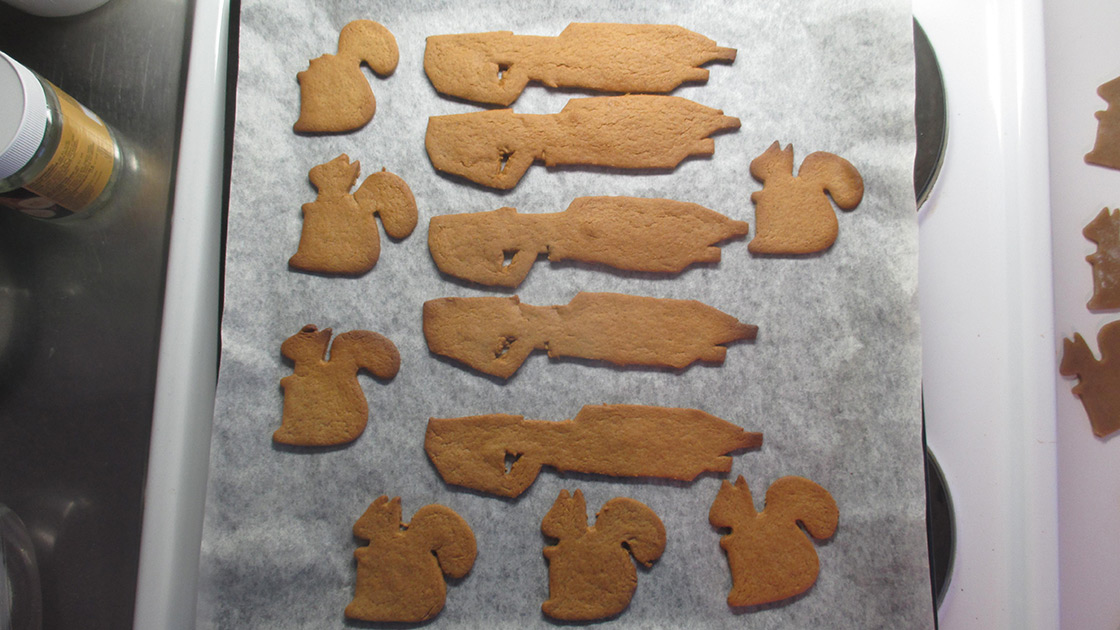 Eye Candy
How about a little assortment of cosplay and ink? I hope you said yes because that's what is on deck next. If you said no, well, too bad because it's cosplay and tattoo time.
@AzimuthCosplay and @SpallSpartan hit up the most recent DragonCon and represented the Michigan Misfits Costuming Battalion. Looks like they had a blast hanging out with the 405th contingency!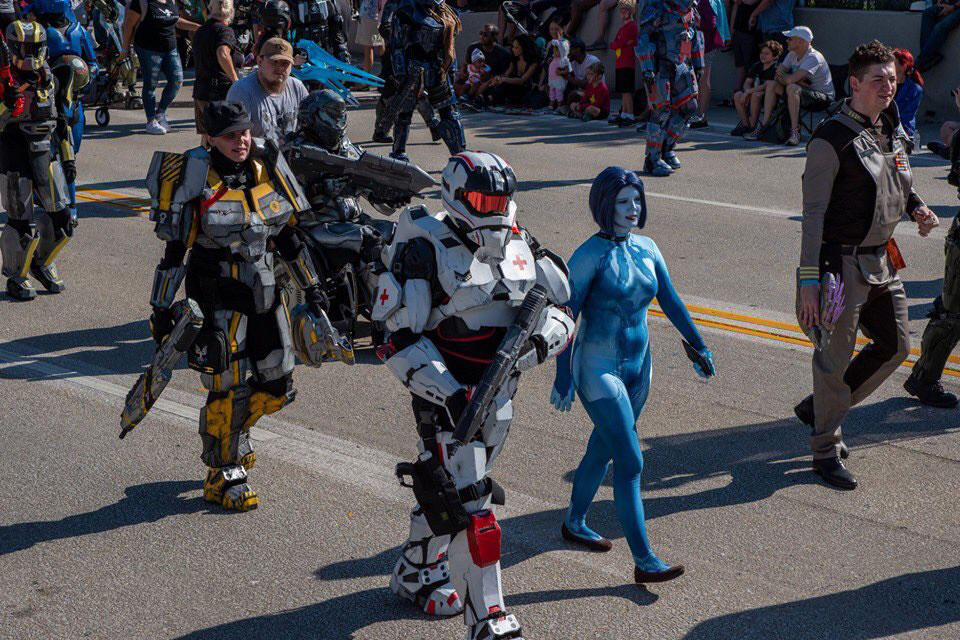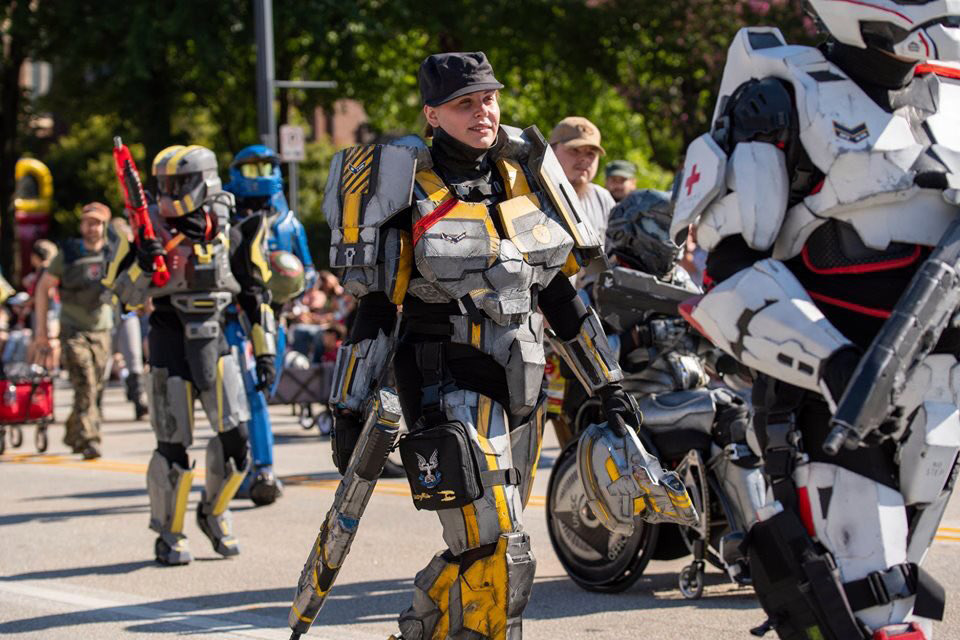 While we're talking about the 405th, check out member @dagger0621's cosplay. With a little help from photographer @postconblues, I'd say this shot is a keeper! The lighting makes it feel sufficiently eerie.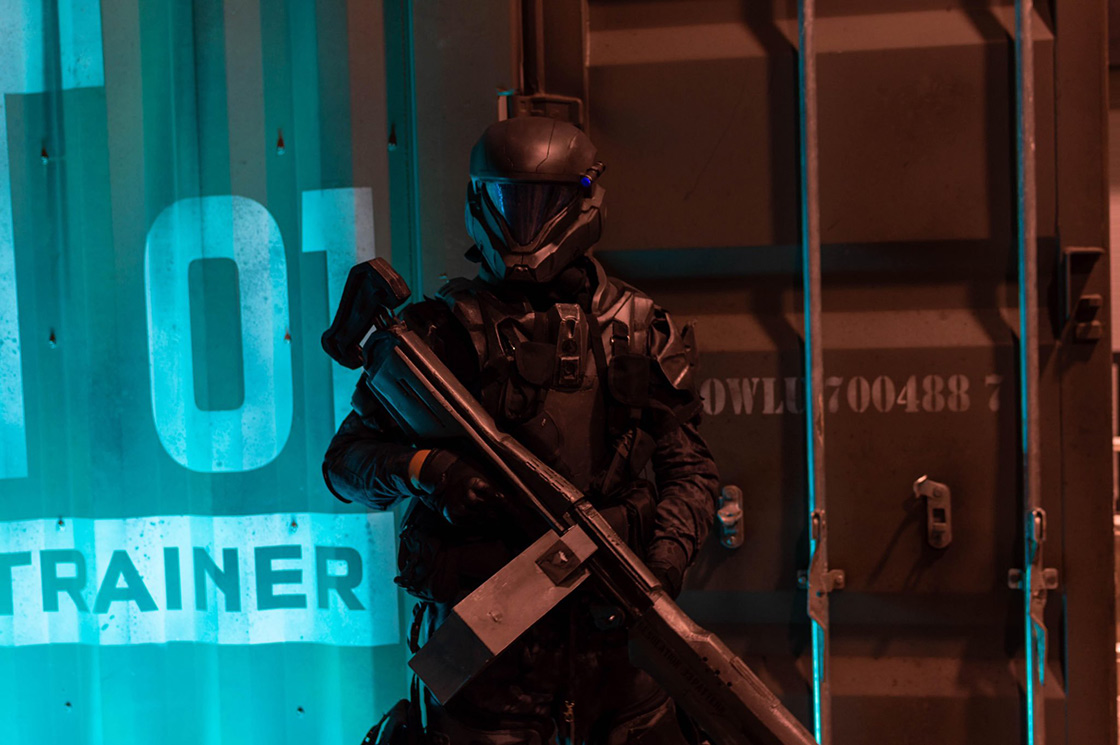 Apparently DragonCon was the place to be for cosplay recently because @ebonywarriorLLC is back with some cosplay from there too. Last time we saw him as a SPNKr toting Master Chief, this time he's suited up as an ODST and, with some editing from @Get2DaChopra, this wouldn't look out of place as a poster at all. Phenomal job to everyone involved with making this come together!
My only critique is that neither I, nor #HaloSpotlight, were tagged in the post so I came across this accidentally. Lucky me.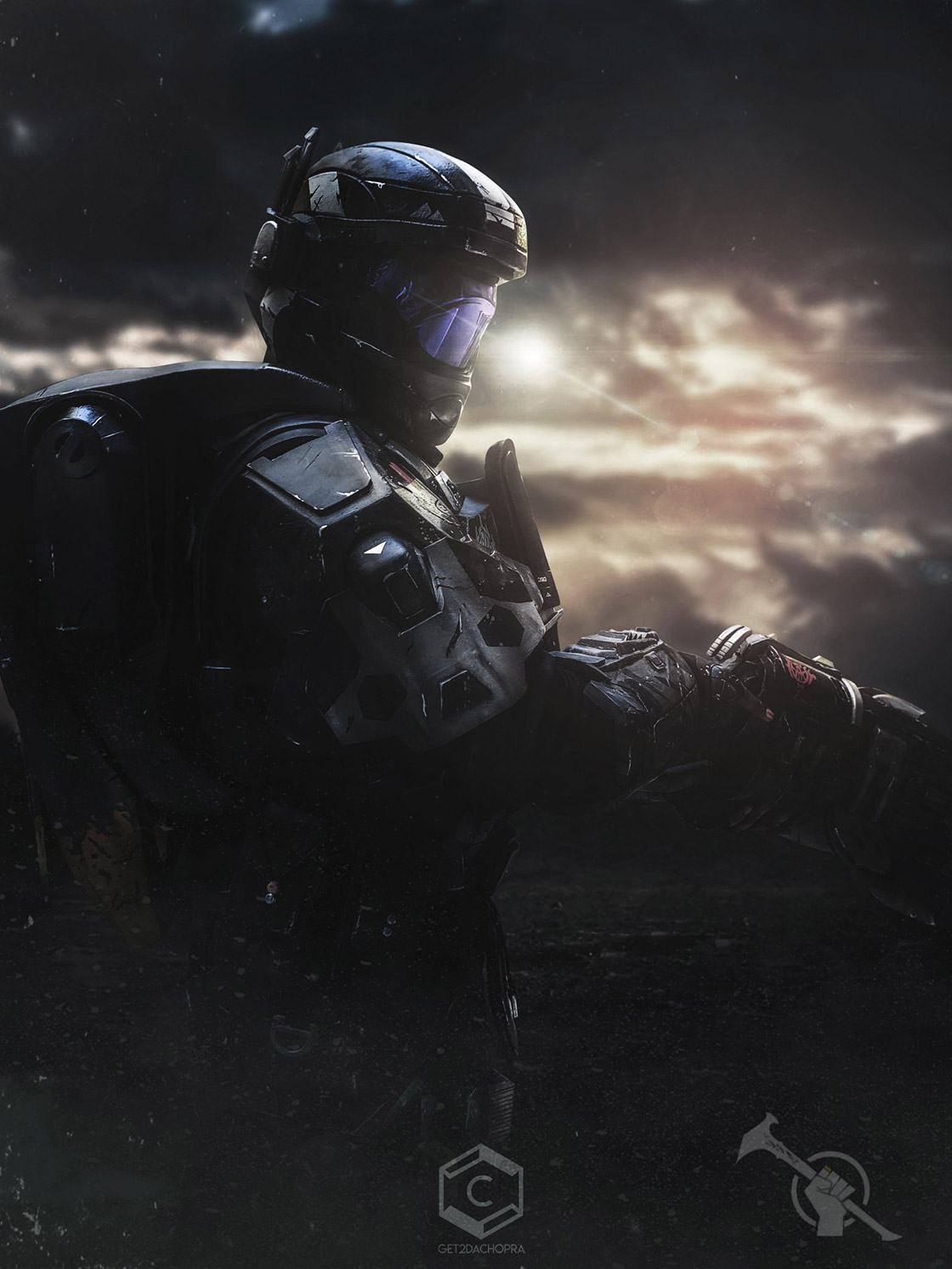 Not all cosplay has to be super fancy to be super fun. After playing some Halo, /u/TheJoshManOfficial's little brother decided that Halloween is the perfect time to dress up as our favorite UNSC Master Chief. While I'm not so sure the SMGs are standard issue, I absolutely adore this get-up and would give him all the candy in my bowl if he knocked on my door trick-or-treating.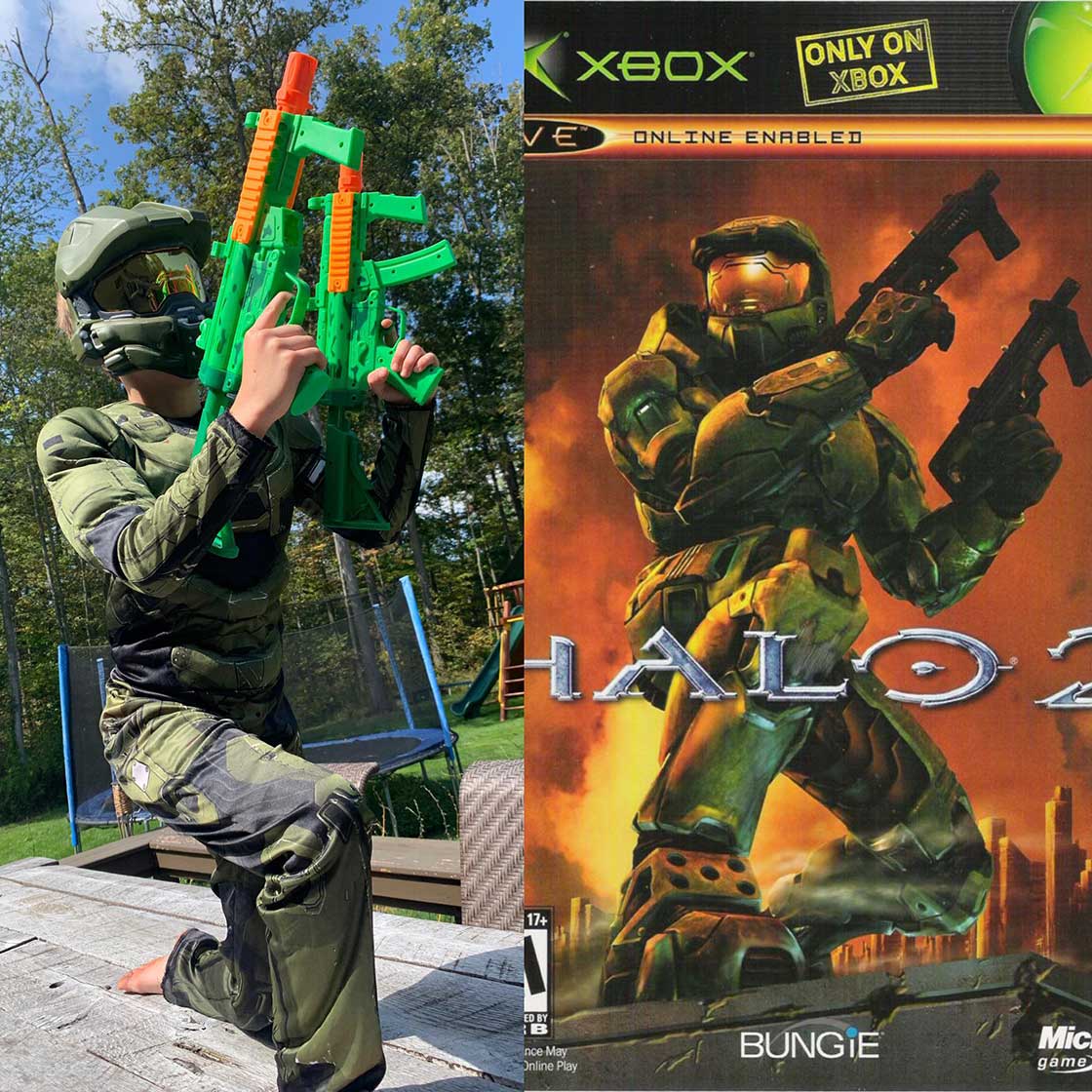 We've all seen the distracted boyfriend meme before, right? If you haven't, click that link and check it out because it's relevant to the next picture. @BenedictChoy managed to corral @skadi016, the distracted Cortana, who's eyeballing @dairyboy117's Master Chief instead of @akafoo247's Chief that's on her arm. Clever and more than a little amusing.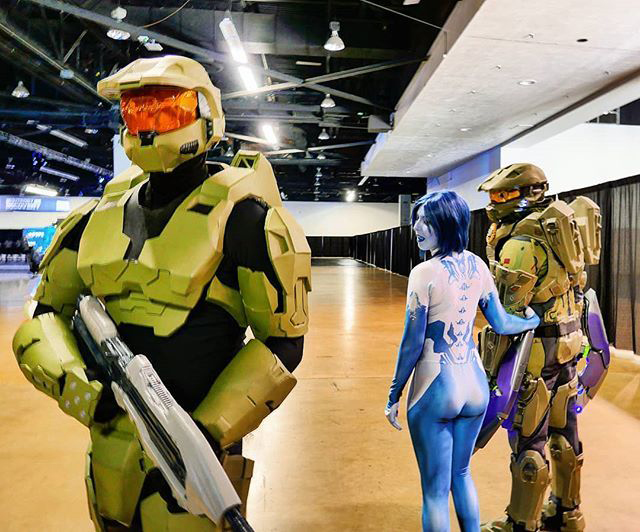 The fact that /u/DasWerwolf's first *gaming* tattoo is Halo related is pretty awesome. I also really like that it's Cortana's chip, especially since he has plans to add some blue glow to the middle. It's a subtle nod that isn't as obvious to non-Halo fans but is very uniquely Cortana's. Love this idea!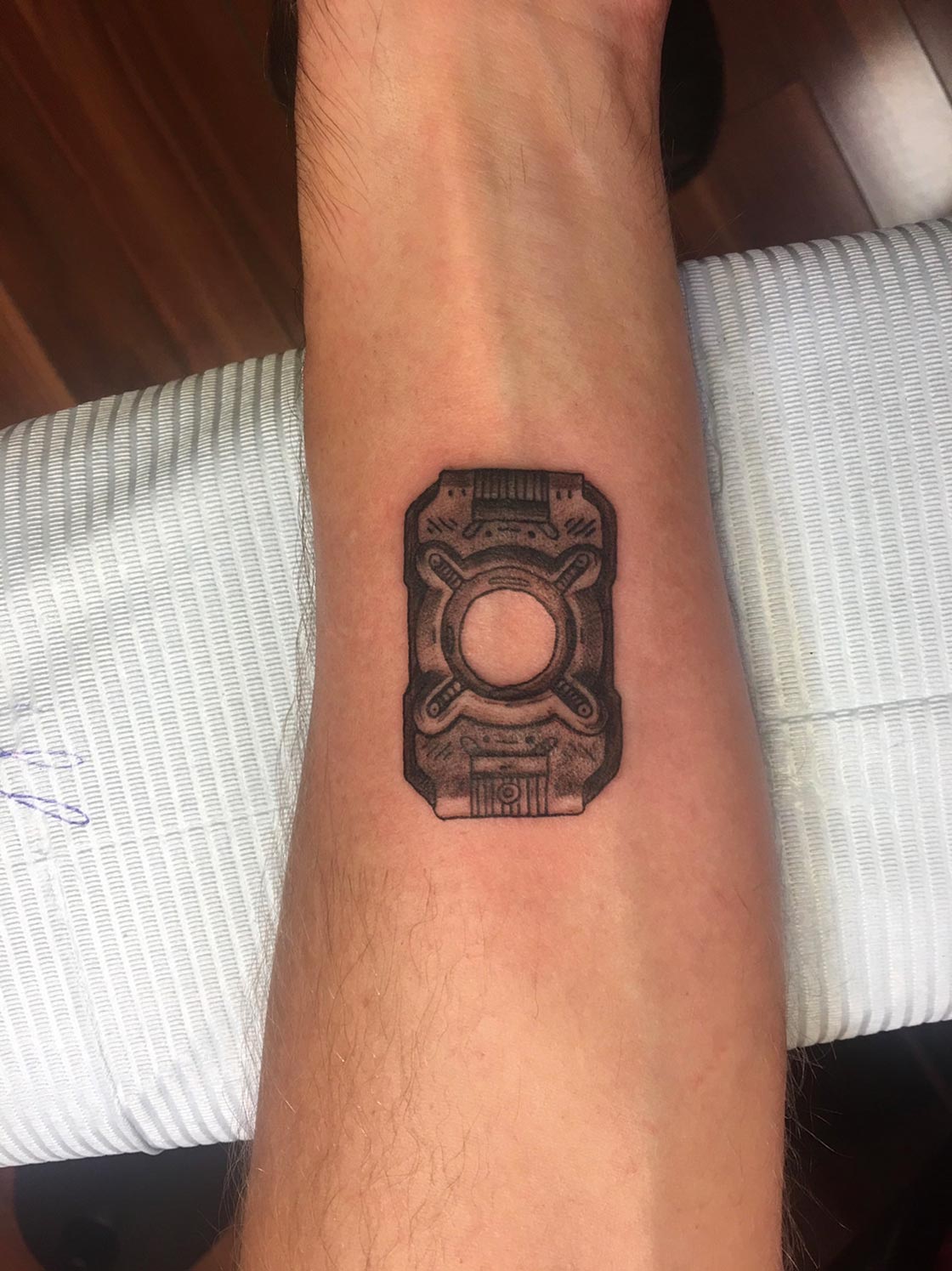 "I'm ready, how 'bout you?" - /u/IzzyScoutC, probably, as she walked into the tattoo shop to get a really awesome Emile tattoo. The detail around the facemask and the shading is just beautiful.
I've seen a lot of back tattoos in my time but believe me when I say that /u/unknown0419's is by far the most badass I've ever seen. Thinking about it, I'm honestly surprised I haven't seen someone do the same thing before but it turns out that Guardians make incredible back pieces.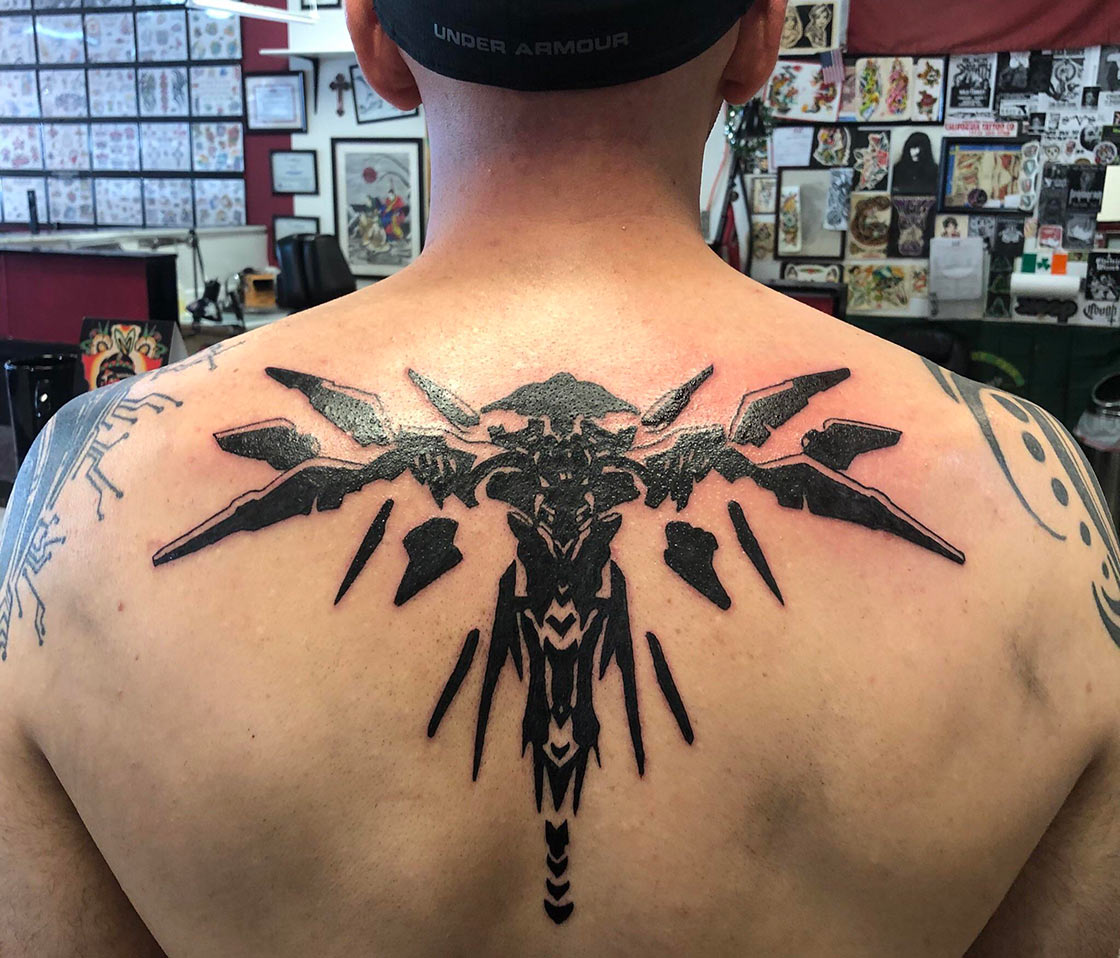 Sweet Rolls
Grab a seat, pull up a blanket (What? It's getting chilly out!), place your popcorn precariously on your lap, and press play on your video of choice!
If you've been itching to check out a new forge map, why not take a peek at @Ishto_Sukule's map "Haruspis"? (Not to be confused with the avid lore fanatic of the same name.) Ishto does a fantastic job of touring around the map in his walkthrough and explaining what you're seeing. There's definitely CE vibes in here which I really like!
These little one clip mini montages are growing on me. Something about seeing a quick moment captured is neat, and pleases my short attention span. @Finalizdd shared his "Medication" montage with me and, as always, @BroeyBroe did a stellar job editing these sweet shots.
It's not often I see a machinima in French but the @Halo_France community created one called, "Orion - In pursuite of CyaMax" that I really enjoyed. I realize this might not be something everyone can enjoy as it's in a different language but, as a fellow francophone, I wanted to share the love for my other langue maternelle a bit.
If you're here for a more hardcore Halo montage, no worries! I got you covered with @vShystie's first ever Halo montage. This video's got more exterminations in one place than I can count and some really awesome perfect kills. Also that black screen in the middle? Just wait it out, it's worth it!
Petit Fours
Every week I tell myself, "This is a short week" and every week, I prove myself wrong before I even get to this point. I'm here now so let's cap things off with a bunch of sweet treats!
Doodle's Snickers
I'm just gonna present this squad shot from /u/SOEIV_Jockey without comment. I'm sure you'll understand why when you see it. Hopefully you have better words for it than I do.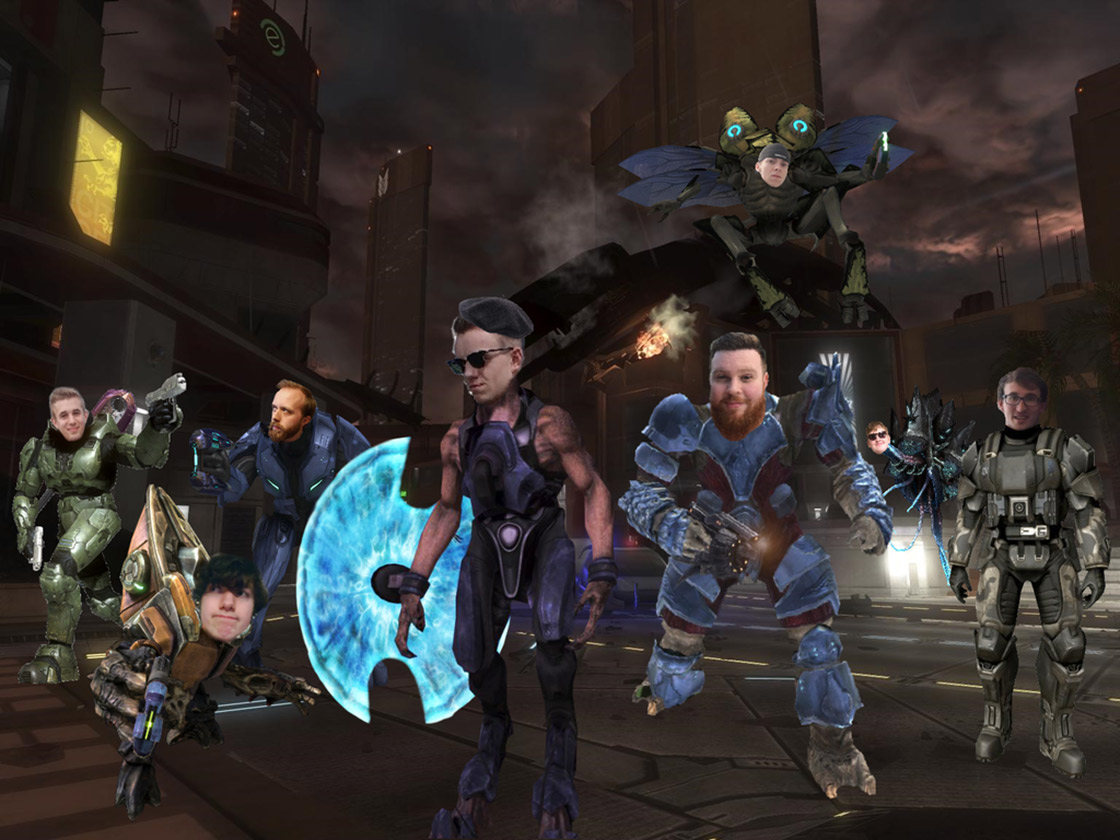 And with that delightful image seared into your brain, you have reached the end of this week's Community Spotlight! As always, if your content is featured somewhere in here, please send me an Xbox Live message (my Gamertag is 'snickerdoodle' for those that aren't aware), a tweet, or a message on Halo Waypoint letting me know which content was yours and your Gamertag. This ensures that I have you on my list of recipients when I send out the Fire Unicorn 🔥🦄 skins/nameplates next Wednesday. If you don't get me that info, I can't gift you your goodies, so don't forget!
Until next time!
Ciao! xx
--Sam