Last weekend at PAX East, four teams took the ESL Arena stage fighting not just for placement, but for pride. After all the flags were captured, Strongholds secured, and Spartans slain, it was Evil Geniuses that stood atop the rest, claimed a highly coveted spot in the HCS Pro League alongside defending World Champions Counter Logic Gaming.
This weekend, qualification continues with the online portion of the Summer Qualifier, and today we're excited to reveal the teams that have been invited, as well as which groups they've been placed in. But first, let's take a quick look at the format these teams will be competing in.
FORMAT
Double elimination groups
Top 2 teams from each group advance to ESL Studios in Burbank, California
Halo World Championship map pool
GROUPS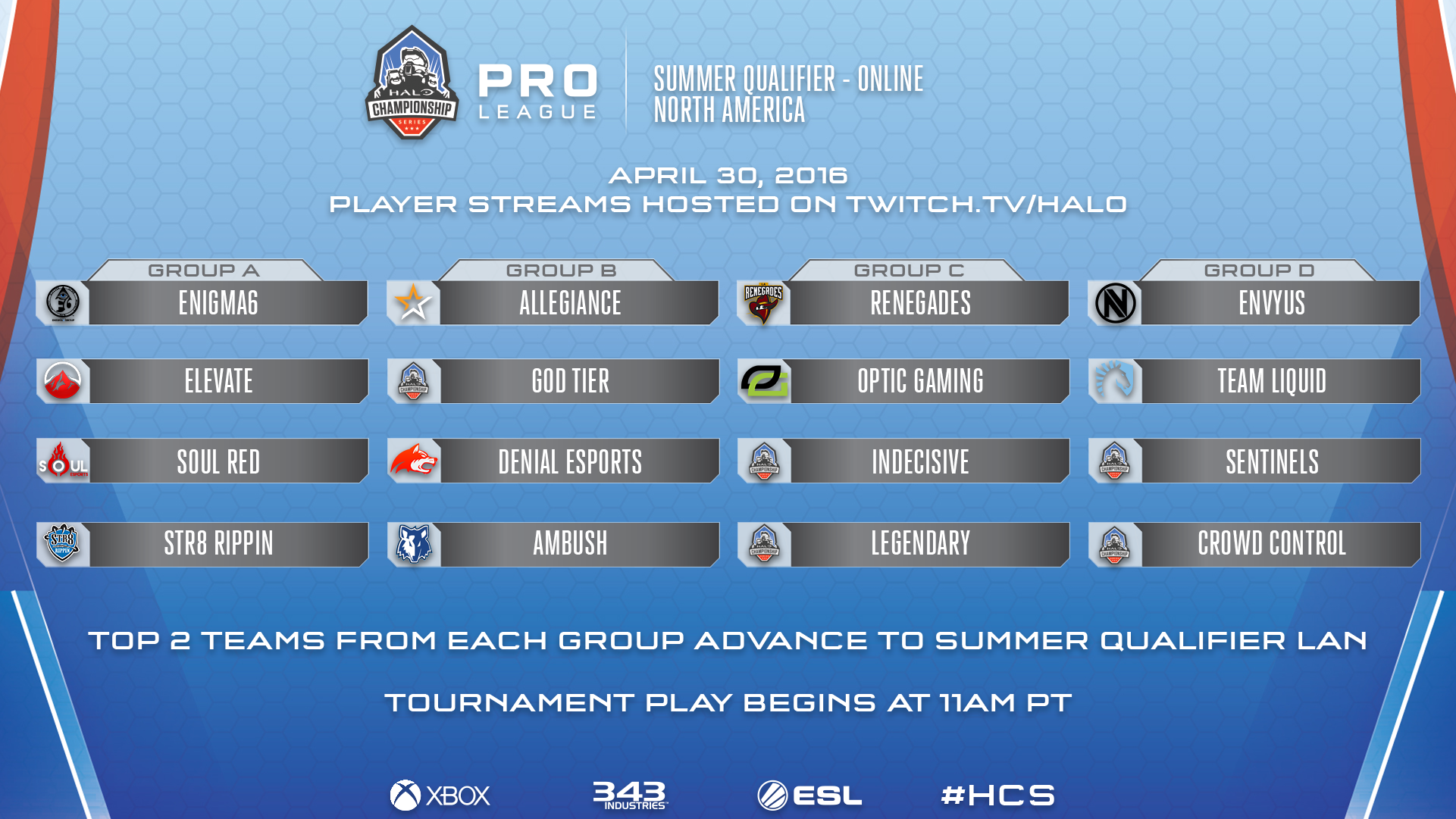 After brief but eventful offseason following the Halo World Championship Finals, several rosters have been substantially shuffled , setting the stage for some very intriguing matchups over the next few months. Let's see where Halo's top players have landed.
Renegades
Commonly
Ninja
Victory X
Penguin
Soul Red
Gabriel
JuicyFruit
Who is KingNick
Munoz
Team Liquid
Spartan
Stellur
APG
Eco (formerly Unlegit)
Enigma6
Cratos
Shooter
Huke
bubu dubu
Legendary
Winntur
Squallaye
Cpt Anarchy
Soul Swish
Ambush
Kephrii
MudVayne
KuavoKen
JR2
Crowd Control
Very Nerdy
Levy
Scaryotic
Tragic
Allegiance
G00fy
RyaNoob
Contra
PreDevoNatoR
eLevate
Heinz
Hysteria
Randa
Aries Caries
Team EnVyUs
eL ToWn
Mikwen
iGotUrPistola
Rayne
Indecisive
Lifestyl3
Blakerz
Zenchaser
Prototype
Denial esports
Ogre 2
Seduce
Nemassist
Arkanum
OpTic Gaming
MaNiaC
Naded
Str8 Sick
ACE
God Tier
Cloud
Swift Kill
Danoxide
Tire Ironic
Sentinels
Vetoed
Kampy
Trunks
Yoshi
Str8 Rippin
TSquared
Rammy
DomeRocked
ShaZaM
Be sure to tune in on Saturday, April 30 at 11AM PT by heading to the Halo 5: Guardians page on Twitch.tv to watch from your favorite player's perspective. Best of luck to all teams competing!
As always, follow @HCS and @ESLHalo for the latest on the HCS Pro League and join the discussion!