By 343 Industries -

Over the past few weeks, the Multiplayer Team has been hard at work preparing for the Fall season for both Team Arena and the Halo Championship Series. Countless matches and scrims have been scrutinized, feedback forums have been scoured, and discussions have taken place with pro teams and players – all of these things, and more, have led us to an updated set of maps and game types that are being considered for Team Arena and HCS Pro League play. These updated maps and game types are available right now in the Team Arena Fall Preview playlist, and are also avaialble on the Official HCS File Share. Feedback we receive over the next few weeks will help determine final weapon and powerup layouts as well as the final list of map and gametype combinations that we'll be playing and watching. We're excited to hear what you think!
To give you a detailed breakdown of the Fall Preview playlist, we hand things over to the Multiplayer Team.
Assault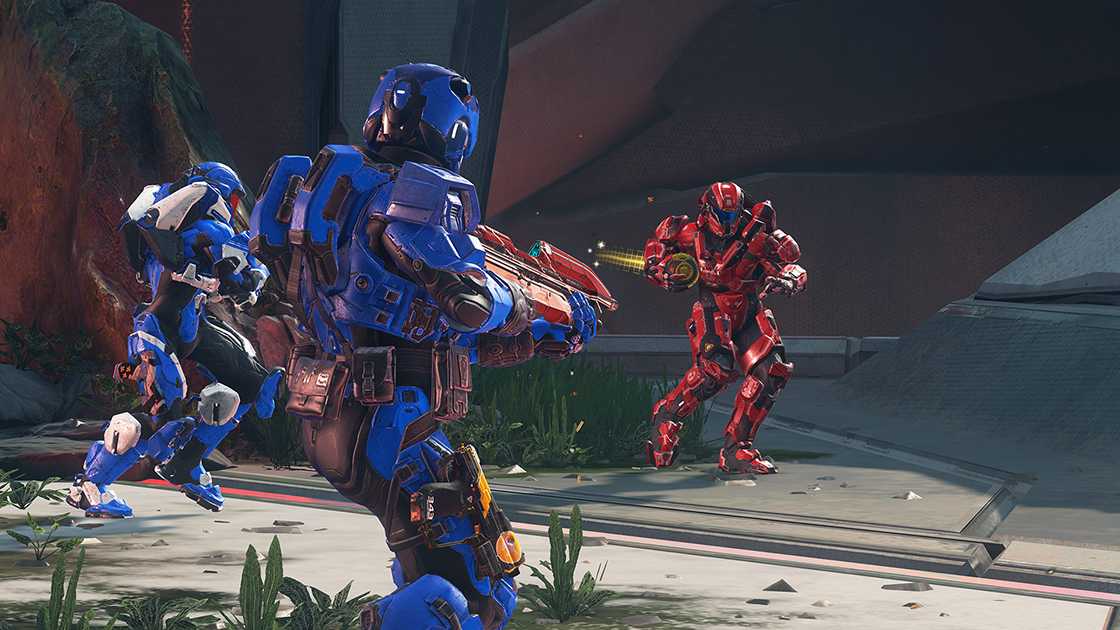 Quinn DelHoyo, Multiplayer Designer
Last month, the Assault Preview playlist launched as a beta of sorts for improving Assault and bringing the mode into competitive play – both in Team Arena as well as the HCS.
Two of the issues that prevented us from getting Assault into the Summer season were first, unfortunate spawning and second, the overall difficulty to score. The Assault preview playlist was used as a test to see how well those two problems were addressed with updates.
Here's a refresher on what the key changes were to improve Assault:
First, the time it takes to arm and score has been reduced from 7 seconds to 5 seconds. Second, the amount of time it takes for the arm progress to reset has been increased to be not so penalizing when an arming player steps out of the arm zone. Lastly, we've put additional refinements into the spawning on the featured Assault maps to make matches feel more fair. It's a tough balance between letting someone respawn far enough away so an enemy can arm, but close enough so you feel like you have a chance to prevent an arm, and we feel that we've hit a good spot.
These are the three maps that will feature Assault during the feedback period:
Now, let's get into the nitty gritty of everything you'll expect to see when playing starting today.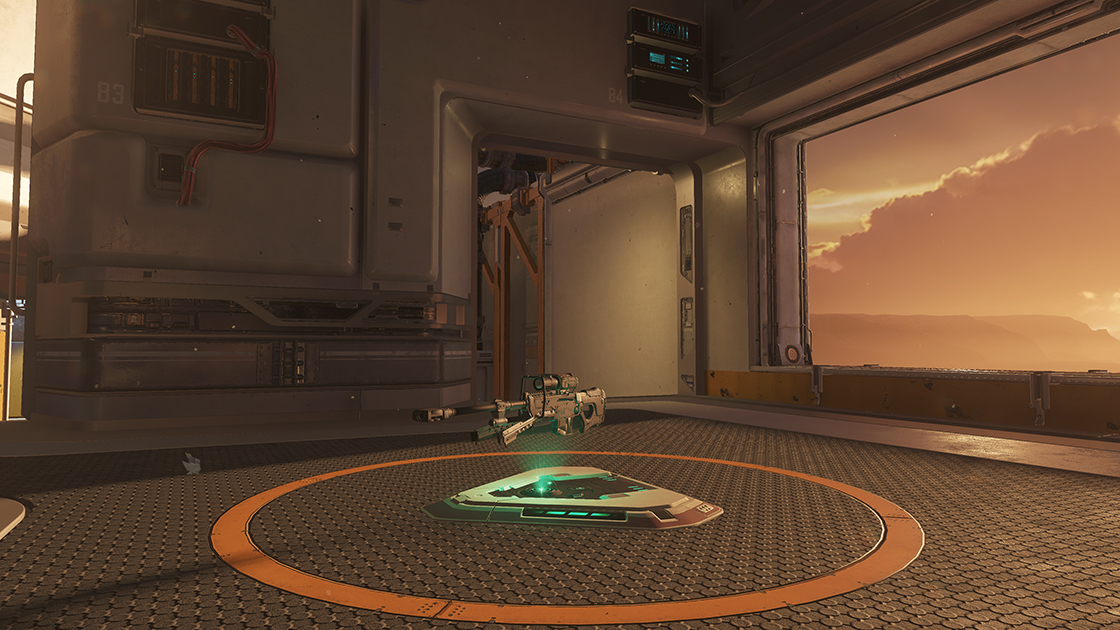 ERIC HEWITT, 343 PRO TEAM
When looking back at the Halo World Championship and the first season of the HCS Pro League, many people will fondly recount some of the best Halo 5 moments that took place on The Rig. Whether we had the privilege of experiencing a nail-biting Strongholds match, or even a Slayer steak dinner, The Rig provided us with some amazing memories. When reviewing its layout for the next season, it was evident that we actually didn't need to change too much. At first, we looked at empowering some of the "fresh spawns" for when players are met with instant pressure during mid-game situations. So, you'll notice that there's now a DMR placed near the Bunker spawns, and there's a Battle Rifle placed towards the Outside spawns. We're hoping to see players utilize these weapons to fend off opponents who are looking to score some quick spawn kills.
Next, we took a look at the map layout in regards to automatic weapon placement. While the interior of the map presents players with the option to pick up the SMG or Storm Rifle, the outside area was lacking significantly. Thus, we're excited to introduce the Song of Peace Suppressor from our REQ Collection into our Arena experience. Though some might be hesitant to see REQ weapons popping up in their Arena games, we're confident that this choice falls in line with the rest of our automatic weapon selection.
Lastly, we reviewed the Power Weapon assortment that we had placed on The Rig. The Scattershot was our first test subject here, and after careful consideration, we've chosen to replace it with the Shotgun. Watching players plow through countless enemies during a Camo-Scattershot run gave us enough reason to tone down the close-quarters Killing Sprees that we witnessed. Then, we took some time to reevaluate the Plasma Caster as a weapon choice on this map, and we eventually agreed that this nifty firearm can still pull its weight, especially during some late-game Slayer situations.
Finally, we reexamined using the Railgun for our Strongholds matches here. While players became absolute marvels to watch with this gun in-hand, we observed multiple matches that would seemingly snowball out of control for the opposing team. So without further ado, we're also excited to say that during Team Arena Fall Preview, The Rig will have its Railgun replaced with the Sniper Rifle – marking the first time that we'll see one in a Strongholds game type. We're eager to see how players take on these modes with the newly introduced layouts, and look forward to your feedback.
The Rig changelist:
Boltshot removed from Yellow Corner
DMR replaces Battle Rifle in Cargo
Battle Rifle replaces Carbine at Lookout
Shotgun replaces Scattershot in Basement
Swapped out Frag Grenades at Pit with Splinter Grenades
Swapped out Splinter Grenades in Bottom Nest with Frag Grenades
Added a Song of Peace Suppressor to Back Rail
(Strongholds only) Sniper Rifle replaces Railgun in Tower Two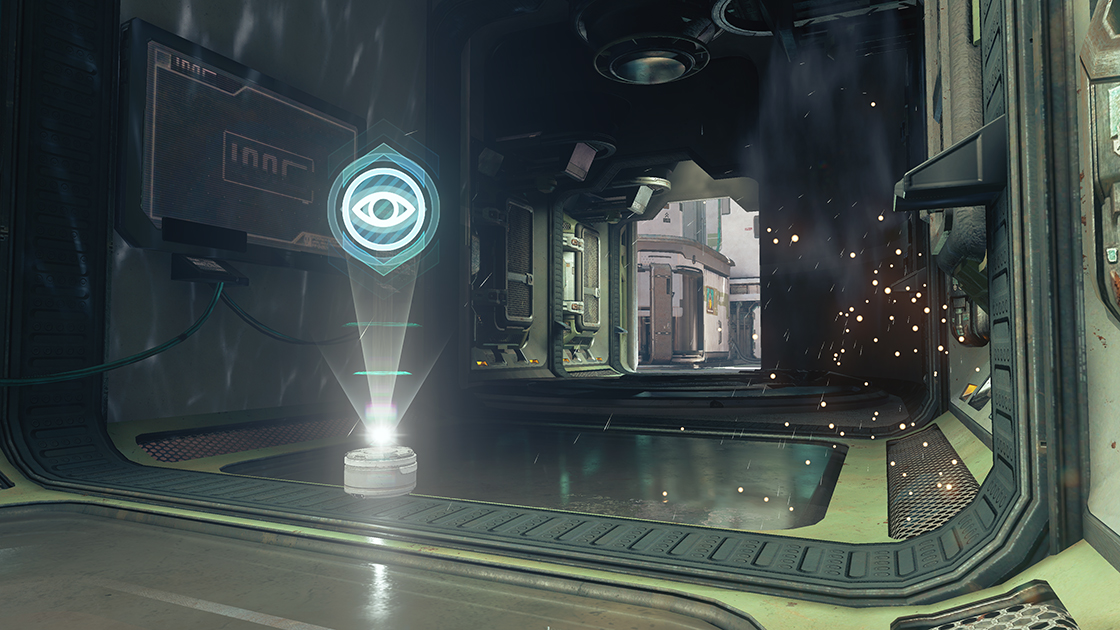 Quinn DelHoyo, Multiplayer Designer
During our HCS Pro Player Summit earlier this week, we had the attendees play matches on new versions of both Riptide and Overgrowth - two maps that we've made significant changes to for this feedback period. After they had a chance to play, we surveyed their opinions on these updated versions of the maps, and how they stack up to the other maps in official HCS competition. We found this to be very helpful as a data point for our changes and wanted to give everyone else (all of you!) that same opportunity to play and give feedback on these improved versions. The feedback will be taken through all of the usual forms: Waypoint forums, Twitter, Facebook, r/Halo, etc. On top of that, we're going to engage the members of the Halo Community Feedback Program with a survey near the end of the feedback period to ensure that we learn as much as possible about what players like and don't like.To learn more about or sign up for the Halo Community Feedback program, head here.
Since release, we've felt that Riptide has suffered from poor item and weapon placement, and as a result, the gameplay has struggled in the Slayer playlist. The 'Blue Room' and 'Dunes' side of the map has become way too dominant with the lack of power weapons and items to counter a team who controls this area. To be clear, we like that Riptide has a power position in the 'Blue Room,' but we want to promote more movement, tougher decision making, and team coordination. To accomplish these goals, we repositioned the starting spawn points to be more fair in relative positioning to the power weapons. Also, there is now an Active Camouflage placed 'Bottom Mid' and a Plasma Caster in the 'Orange Room' on the flooded side of the map. The Active Camo's role is to get both teams moving and setting up for it, especially the team that is controlling 'Blue Room.' The Plasma Caster's role is what it does best; decimate entrenched opponents with volleys of blue plasma orbs of death.
Riptide changelist:
Adjusted starting spawns to be more equidistant from power weapons
Added Active Camouflage to bottom mid
Replaced the Hydra with the Plasma Caster
Removed the Storm Rifle by Blue Tree House
Moved the Storm Rifle in water room to the bottom floor next to the broken water main
Removed the Battle Rifle
Moved the H2 Battle Rifle to the old Storm Rifle location in the Water Room
Replaced DMRs with Recon DMRs
Moved the DMR out of Blue Room and placed below stage
Removed Suppressor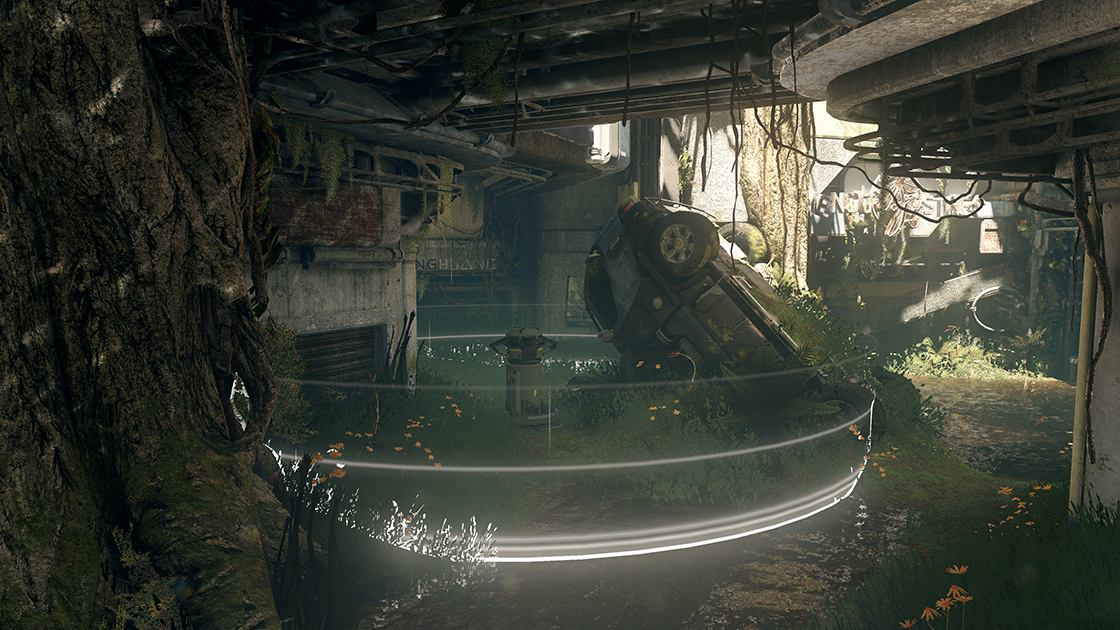 Quinn DelHoyo, Multiplayer Designer
Overgrowth has always been a Strongholds map in our eyes, as no mode plays better on it. That being said, the 'Pit' and 'Tram' Strongholds were too close, the Active Camouflage was in a weak spot, and spawning was a bit rough. These issues made it too easy for one team to hold 'Pit' and 'Tram,' then push for the third Stronghold to trap the opposing team in 'Market.' This new version of Overgrowth features repositioned Stronghold locations, Active Camouflage moved to 'Bog,' refined spawning, and the Brute Plasma Rifle replaces the oft ignored Suppressor.
Overgrowth changelist:
Adjusted starting spawns to be more equidistant from power weapons
Moved Active Camouflage from Tram to Bog (Strongholds only)
Removed Suppressor
Added Brute Plasma Rifle to Plaza
Moved Pit Stronghold from Bog to Truck
Renamed Tram Stronghold to Yard
Moved Yard stronghold position to be on top of the car
Adjusted Yard stronghold boundary to better encompass the surrounding area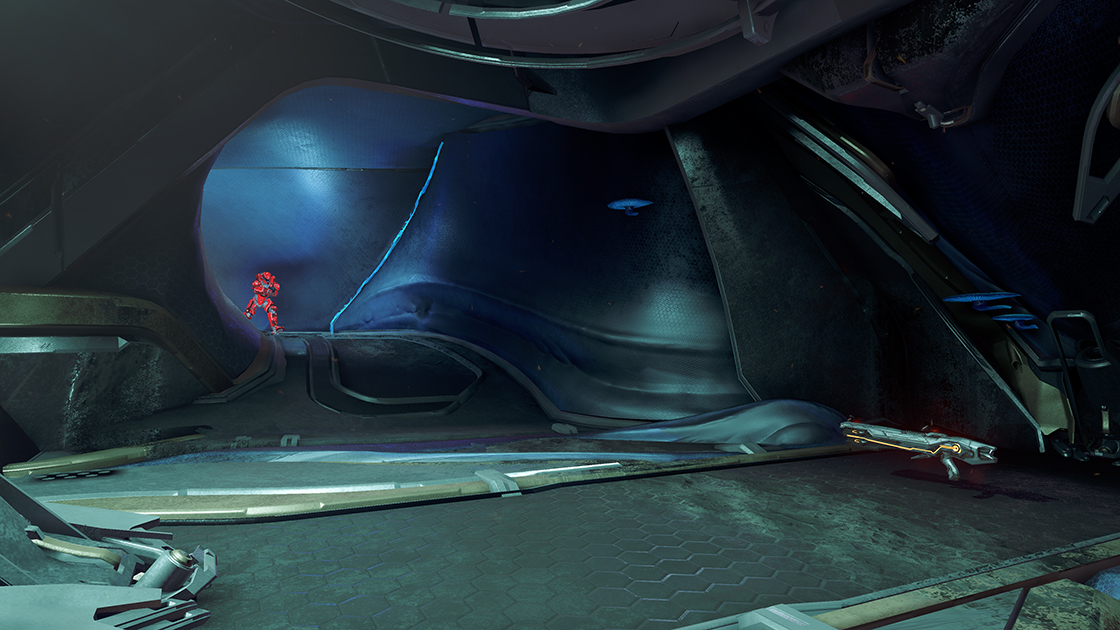 Alex Bean, Multiplayer Designer
Changes to Regret centered around the goal of giving players the ability to counterattack. Teams that lose the fight for the Overshield now have a Storm Rifle within reach to burn the shield, as well as a Scattershot a little further away in the Tunnel. That Scattershot can also be used to take back Top Mid from a dominating, Plasma Caster-wielding team. Respawning players can now get equipped to take on the enemy outside more easily, with BRs placed in the back of Blue/Red Two. Red/Blue Ledges now have Plasma Grenades that reward players for exposing themselves while also giving skilled players the opportunity to stick enemies on Red/Blue Slide or to launch the Plasma Caster from its weapon pad.
Regret changelist:
Replaced Needler with Storm Rifle at Bottom Nest
Replaced Storm Rifle with Scattershot at Tunnel
Moved BR's from Blue/Red Ledge into Blue/Red Two
Placed Plasma Grenades on Blue/Red Ledge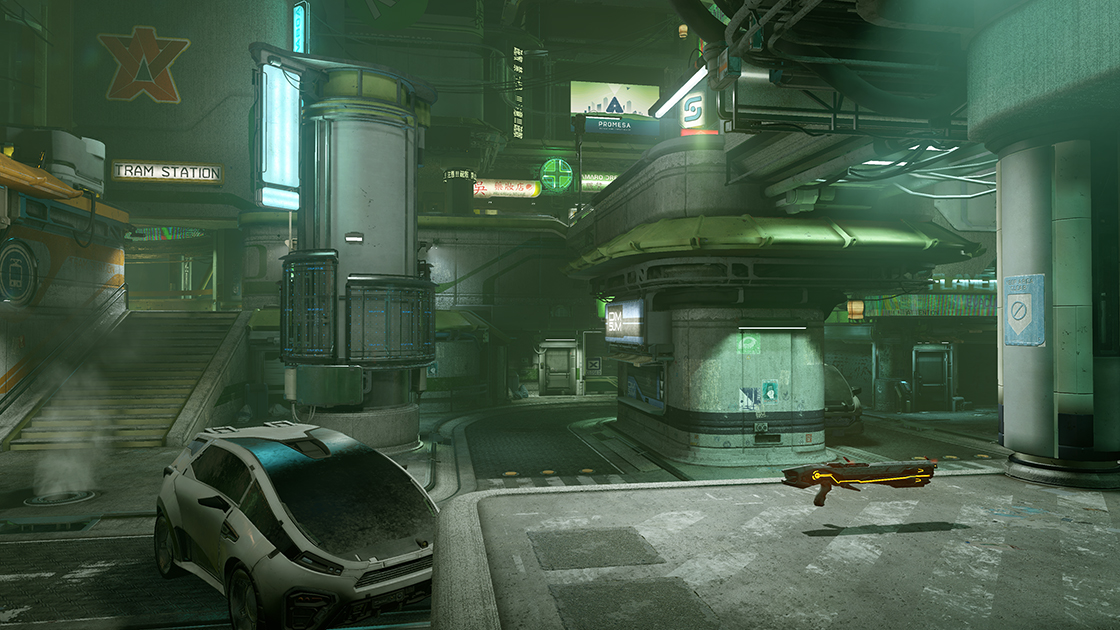 Alex Bean, Multiplayer Designer
On Plaza, we wanted to strengthen areas of the map that were less defendable, giving players who did not hold Cinema and the surrounding area more of a fighting chance. Splinter Grenade additions to Bottom Mid and the Elevator give players on their heels an option to halt encroaching attackers, while the removal of the Splinter Grenade on Yellow Pipes limits players from being able to dominate from the position too much. Additionally, the Hydra has been replaced by the Scattershot as the Tier 2 weapon in the bottom area of the map, allowing players to counter a player with Overshield or hold down Café, which has previously been an area that players would usually only traverse rather than defend. Lastly, changing the SMG in Plaza to the silenced SMG is a fun change that should encourage players to get sneaky.
Plaza changelist:
Replaced Hydra with Frag Grenades at Tunnel
Replaced Frag Grenades with Scattershot at Underbridge
Replaced SMG with silenced SMG at Plaza
Replaced SMG with Storm Rifle at Tram
Removed Storm Rifle from Bottom Mid
Removed Splinter Grenade from Yellow Pipes
Added Splinter Grenade to Bottom Mid (under bridge)
Added Splinter Grenade to Elevator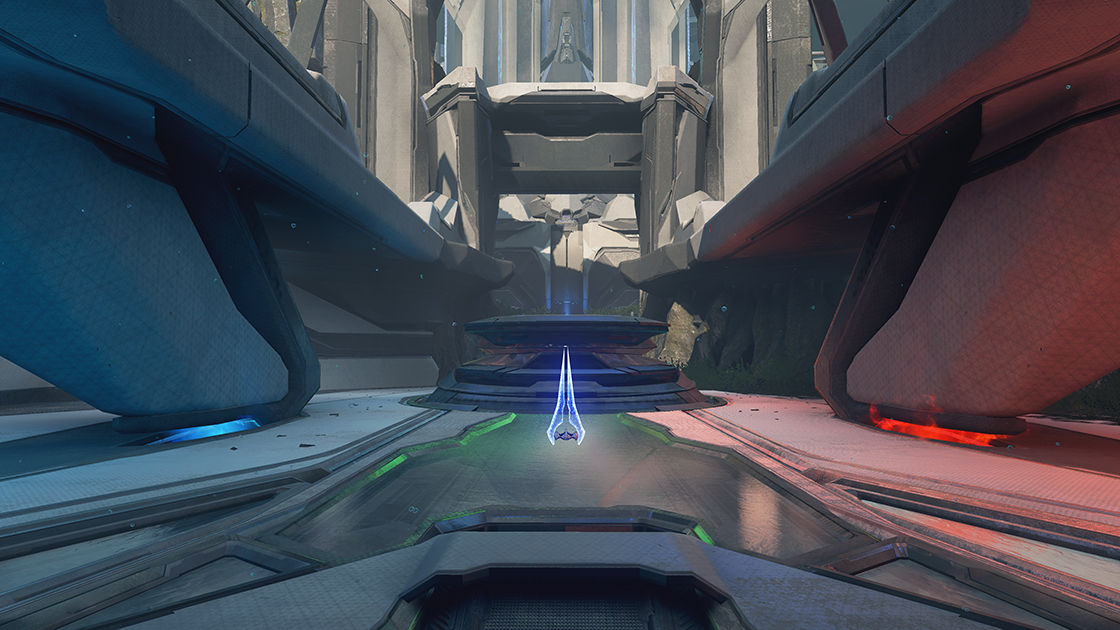 Alex Bean, Multiplayer Designer
The goal with Coliseum was to make the premier mode, CTF, play even better. The Energy Sword has taken the Scattershot's place in the Trench in order to provide pursuers a way to hunt down flag carriers and flag runners with some potential speed boosts. This not only gives the Energy Sword more love in Arena, but it should create new playmaking moments that are exciting to watch and play. Additionally, the Brute Plasma Rifle replaces the Suppressor at Top Mid to give players a bit more firepower when traversing this area.
Coliseum changelist:
Replaced Scattershot with Energy Sword at Trench
Replaced Suppressor with Brute Plasma Rifle at Top Mid
Added player collision on the red wing to better balance out red/blue bases
Added projectile collision in blue cave to create more predictable grenade bounces
(Assault Only) Overshield replaces the Energy Sword in Trench
Team Arena Fall previeW MAP / game type list
To close, here is the list of map / game type combinations that are available in the Team Arena Fall Preview playlist. As a note, only a subset of this list will be offered in Team Arena / HCS Fall Season.
Assault
Coliseum
Tyrant
Stasis

Slayer
Regret
The Rig
Eden
Plaza
Truth
Coliseum
Riptide

Capture the Flag
Truth
Fathom
Stasis
Coliseum

Strongholds
Overgrowth
Eden
Empire
The Rig
Plaza
We look forward to hearing your feedback as we work on refining maps and modes for the Fall season. We'll see you in the playlist!
343 Industries Multiplayer Team