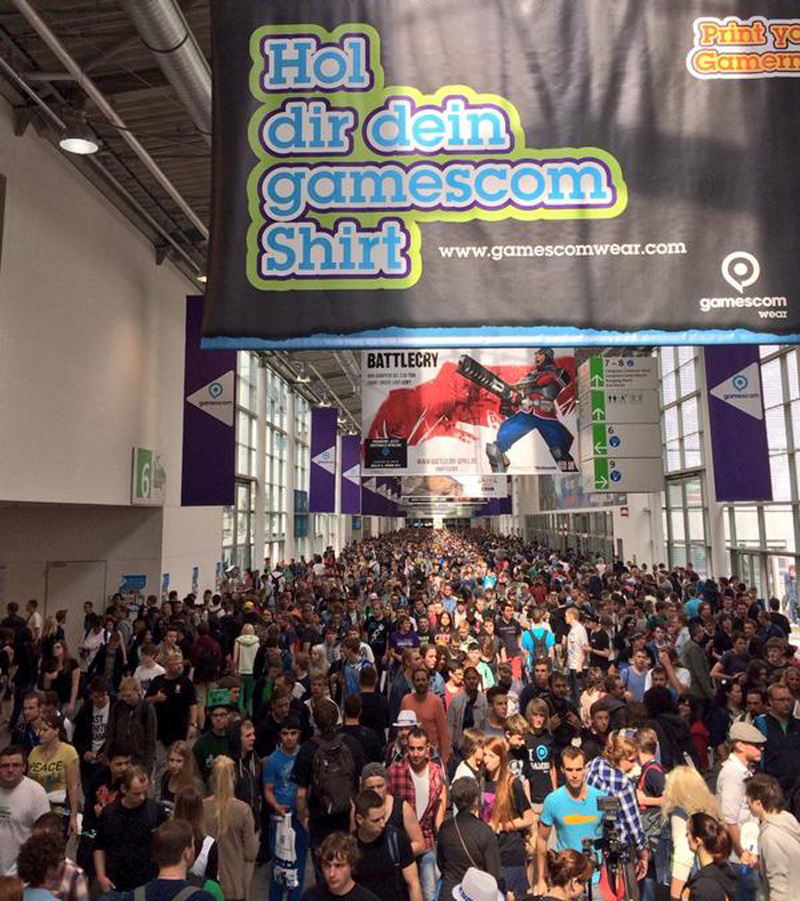 We have returned from the world's largest game show. We gave you a brand new look at Halo 2: Anniversary, and if you were with us in Germany, you likely got hands on with the all-new multiplayer. We braved absurd crowds and lines, and most of us made it home alive. I have returned home with a terrible fever, which is why today's Bulletin is coming in one day late. Thank you for your patience, friends. The below to the left helps to shed light on why we barely survived gamescom.
While this picture does well to show just how packed the gamescom floor is, nothing can prepare you for the show itself. Every square foot of the convention center is always covered. You cannot see the floor. Was there even a floor? I'm not sure. Each hallway, each booth, and each concession stand is packed at all times. Luckily, the Halo booths in the halls were no exception. Thousands of you played Halo 2: Anniversary at the Xbox and ESL booths, and it was beyond exciting to see nostalgic smiles. For those of you who came by and said hello, thank you.
Traveling for industry events always offers something very special: the opportunity to meet Halo fans from all around the world, with different stories about which game is their favorite, why, and how Halo has changed their life. To the members of Italy's 17K group, Germany's HaloFactor, HaloFrance and everyone else that we had the pleasure of meeting, we'd like to say thank you. Being able to exchange stories, kills, and email addresses was the highlight of our trip, and we hope to cross paths again soon.
We also shared some new goodness with you at the Xbox gamescom Media Briefing. Included was a look at the just-announced Sanctuary in Halo 2: Anniversary, a first look at The Halo Channel, an all-new interactive digital network that provides personalized access to the Halo Universe, and also a First Look for Halo 5: Guardians, where you might spot a familiar multiplayer landscape. If you missed the goodness, check it out below.