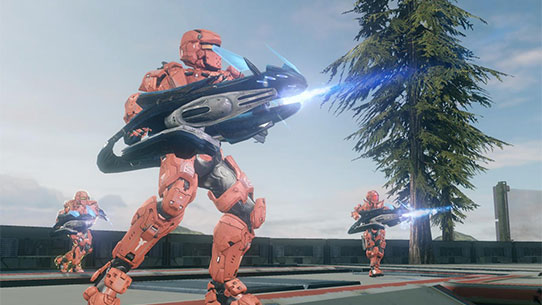 Hi, Bravo here! Each week, someone in the studio has a new story about one (or many) of their recent Halo 4 matches. Sometimes it's a crazy multi-kill in SWAT from Frankie, sometimes it's an unbelievable killing spree from Michael on the test team, and most recently, it's an unbelievable Plasma Cannon tag-team-duo story from the Community Forge Island playlist from Quinn and yours truly. Across several games of Extraction and Capture the Flag on Elevated, we used the Plasma Cannons so much that even our teammates (and enemies) started ripping them off their mounts every chance they got. We actually haven't stopped talking about our plasma-powered preponderancy, and now the whole studio knows about it. If your immediate response is "pics or it didn't happen," then I have prepared the following especially for you.
bs angel, on the other hand, told the epic tale of her Halo 4 "Road to 50" from this weekend. After fighting match after match alongside her trusty teammates, I hear she landed at a CSR level 8. Well done. Only a few more games to go.
Whether it's ridiculous theater-worthy multi-kills, fun antics with weapons such as the Plasma Cannon, or slowly leveling up in the Capture the Flag playlist with a group of good friends, we know that every session of Halo gameplay has the potential to be unforgettable. This being true, we'd like to invite you to join us in an Xbox LIVE Community Playdate on June 3rd to kick off the release of our multiplayer weapon tuning update.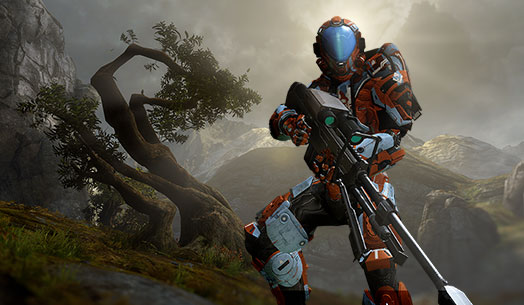 Several members of the 343 Industries team will be playing online from 5-7 PM PDT in a selection of playlists which will likely include Rumble Pit, Big Team Infinity Slayer, Capture the Flag, Team Objective, and possibly more. Be on the lookout for the full details, schedule, and Gamertag list for the event later this week on Waypoint. We cannot wait to play with you, and we are sure there will be some epic screenshots, clips, and 4-shots (we do have bs angel on our team, after all) to show for the evening.
If (for some crazy reason) you are interested in the full details of what you'll see online in Halo 4 Matchmaking come Monday, continue reading.
We have made it to the long awaited June 3rd Matchmaking Update and the full details are below. First, let's start with weapon tuning and gameplay changes that will affect all of Halo 4's Matchmaking playlists. Also, each of the images you see below have been handcrafted to double as beautiful desktop wallpapers to hold you over until Monday.