Hey everyone! Your friendly neighborhood Grim is back to bring you the latest news and updates from around the Halo-verse. We've got quite a few things to cover today, and before you ask, no, none of them are "when is the next Halo coming out?!" However, we do have plenty of cool things to touch on news and event wise, as well as a ridiculous haul of rad community content to highlight. Can't let ske7ch go giving away too many more Fire Skins than me, now can we? Anyway, let's dive in…
HALOWC UPDATES

The Halo World Championship 2018 tour is well in full-swing, with two events already in the books, and several more coming up quickly as we barrel towards the big kahuna in Seattle come April. Seriously, if you've never been to a Halo esports event before, you should definitely think about giving the HaloWC Finals in Seattle a comfy spot on your calendar. You'll witness the highest-level gameplay on the planet, have a blast hanging out with like-minded community members, and likely get to spend a bit of quality time with 343 folks to boot. Plus, Seattle itself is ridiculously awesome, and is Halo's hometown – what more reason do you need?
ORLANDO OPEN
Speaking of hometowns and Halo events, yours truly recently returned from the season's opening event, the HaloWC 2018 Orlando Open. It's always great to return back to my home state, and even better when given the opportunity to share the Halo experience with friends and family. Several fellow Grimbrothers made the trip out to share in the festivities including my Dad, who celebrated his own birthday by taking in Championship Sunday alongside the rest of the raucous crowd.
That championship was claimed by the yellow and black attack of Splyce, whose relentless slaying power and aggressive play laid waste to pretty much everyone they came up against – including the juggernauts at OpTic Gaming, who fell to Splyce 4-2 in the Grand Finals.
LONDON FINALS
After Orlando, the HCS Away Team immediately made their way across the pond to the Gfinity Arena in London, while I headed back west to keep a lonely ske7ch company while we tackle other studio matters. The London Finals proved no less scintillating than Orlando, as the top teams and players in Europe and the Middle East battled for not only tournament glory now, but also to be one of the four teams from the region to qualify for the HaloWC Finals in Seattle.
While Splyce is the current cream of the North American crop, Infused is pretty unequivocally the current kings of Europe, dropping only one single map the entire weekend en route to a dominating tournament victory. Joining Infused this April in Seattle will be Vexed, Myztro, and Fable, each with dreams of greater glory on a world stage.
Our friends at Gfinity also put together some awesome video highlights showcasing some of the best sniper and grenade kills to take place throughout the London Finals. You can check them out here:
You can check out our full recaps of each of these events by clicking the images below.
Next up for the HaloWC tour is the Sydney Finals in Australia March 9-11, followed immediately by Mexico City and Columbus. And don't forget, for all the latest on both the Halo Championship Series and the Halo World Championship, keep your browsers locked to Halo.gg and follow @HCS and @MLG on Twitter.
3-FALLIN'
Earlier today, Halo 5 became a great place to both look forward and look back – not only did today mark the beginning of a new Arena season, it also marked the return of a much bandied-about playlist in H3 Classic Throwback.
In case you are unfamiliar with it, the H3 Classic Throwback playlist aims to as accurately as possible recreate some of the Halo 3 multiplayer experience within the wrappings of Halo 5, including overhauled loadout and player settings. This time around, even more amazing community-recreated maps are joining the fray – trust me, they're awesome. You won't want to miss this blast from the past. Let's take a look at what's on offer in this returning social playlist:
LOADOUTS
Spartans will take to the battlefield with a Halo 5 BR w/ Classic Scope as the primary weapon and an Assault Rifle in the secondary slot.
PLAYER SETTINGS
In order to help convey a more classic gameplay feel, the team has adjusted several different settings to make Halo 5 play a bit more like Halo 3 did. Former 343 denizen and Halo pro player Eric "GH057ayame" Hewitt originally led this labor-of-love effort by combing through the sandbox settings and code for Halo 3, working closely with former Pro Team members, and evaluating several common community-driven "evolved" settings. Leading the charge for this iteration was our own beloved Unyshek and Multiplayer Sustain Designer Randy Croson, who you may have met in a recent 343 Team Spotlight.
Here's the breakdown of the gameplay settings changes that are unique to this playlist:
Motion Tracker range is increased to 25m
All Spartan Abilities are disabled (Sprint, Ground Pound, Spartan Charge, Stabilize, and Clamber)
Player jump height is increased
Slightly increased the effect of gravity on players
Player movement speed decreased
Increased player forward and strafe acceleration
Adjusted shield and health recharge rate to approximate Halo 3 values
Classic Team Oddball: Reduced ball carrier movement speed
Classic Multi-Flag CTF: Reduced flag carrier movement speed
MAPS & MODES
New Maps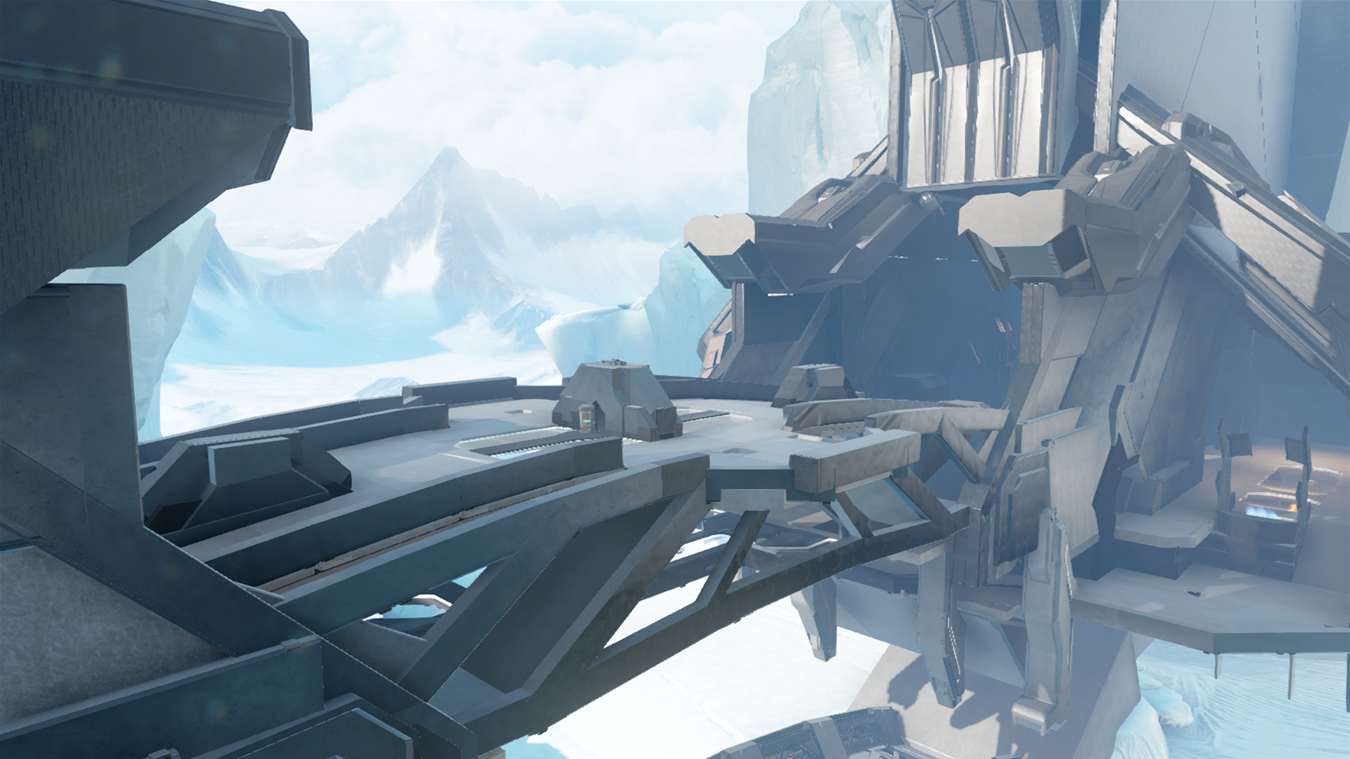 Narrows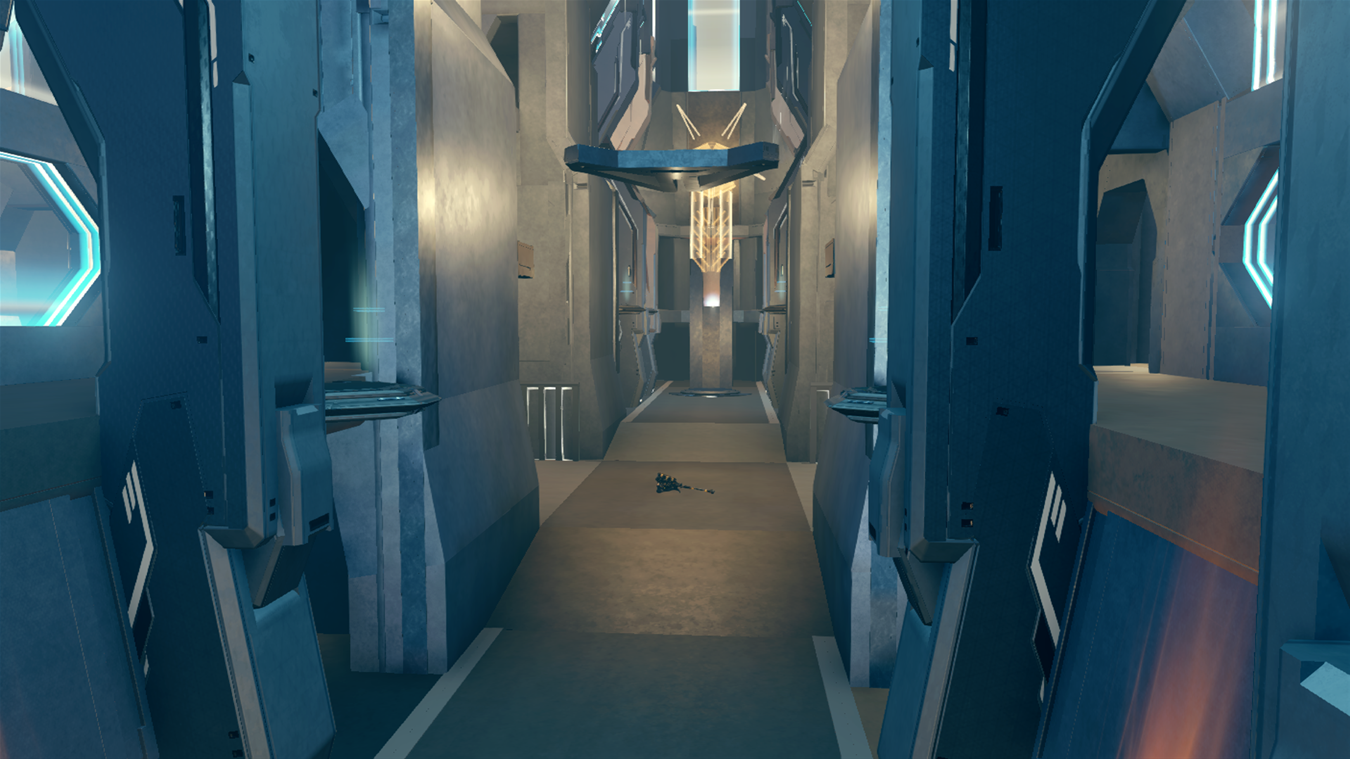 Epitaph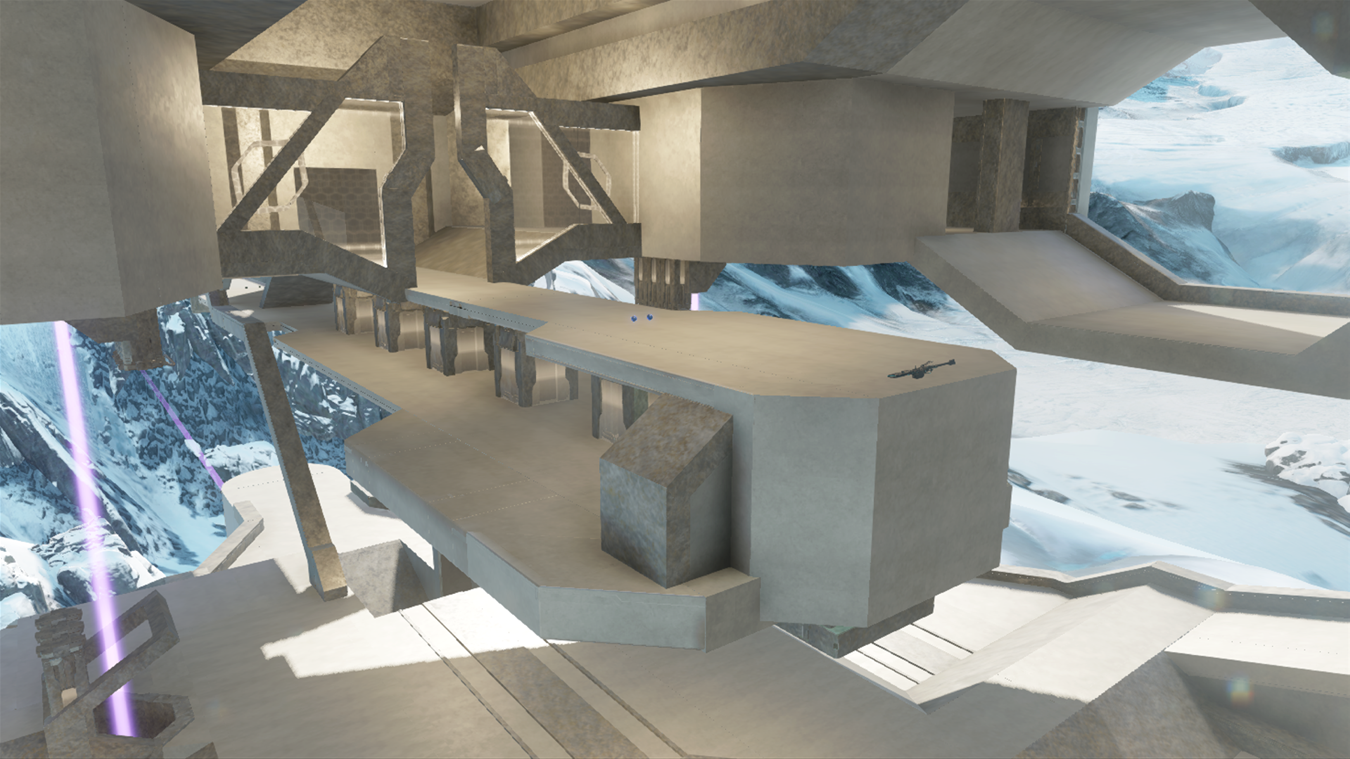 Constuct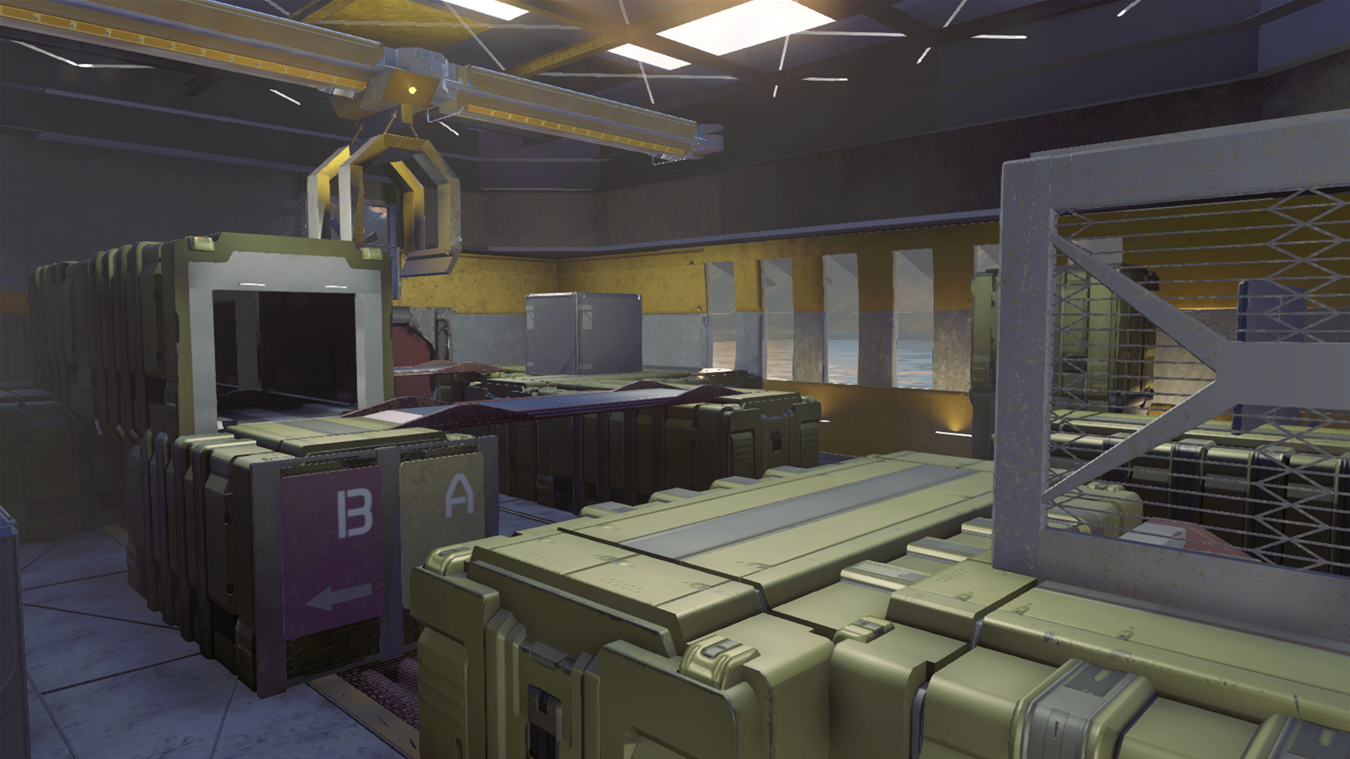 Foundry
Created by: BaconMedia
File Share: Foundry
Gametypes: Classic Team Slayer, Classic Team Oddball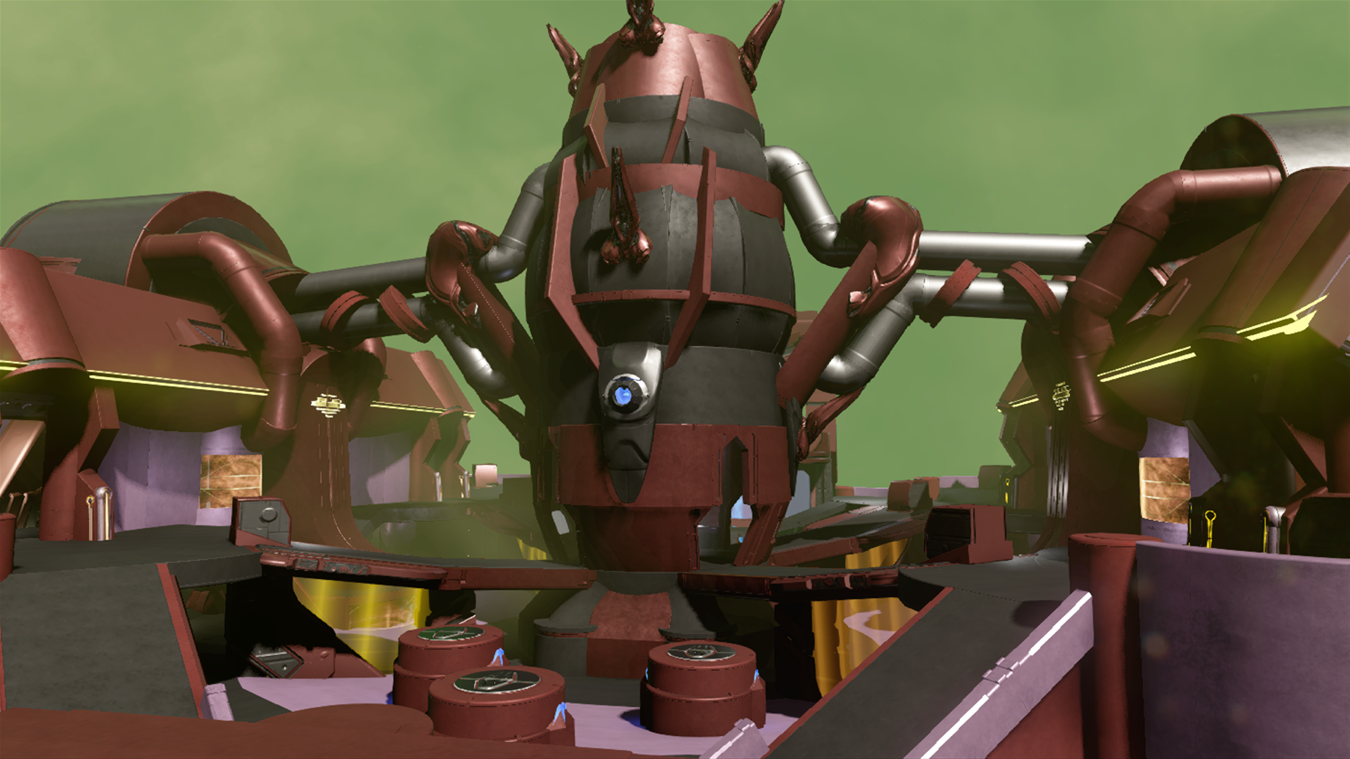 Assembly
Created by: Fame28
File Share: Assembly
Gametypes: Classic Team Slayer, Classic Multi-Flag CTF, Classic Team Oddball
Returning Maps
Guardian
Created by: JoeDannyMan
Gametypes: Classic Team Slayer, Classic Team Oddball
Boundless
The Pit
Created by: Foge
Gametypes: Classic Team Slayer, Classic Multi-Flag CTF
Citadel
Created by: no god anywhere
Gametypes: Classic Team Slayer, Classic Multi-Flag CTF, Classic Team Oddball
Isolation
Created by: CertifiedChamp
Gametypes: Classic Team Slayer, Classic Multi-Flag CTF
High Ground
Created by: Foge
Gametypes: Classic Team Slayer, Classic Team Oddball
Ghost Town
Created by: Darkprince909
Gametypes: Classic Team Slayer, Classic Team Oddball
Community Special Thanks!
HALO 5 UPDATE

Over the past few weeks we've been talking about an additional round of weapon tuning adjustments that have been in the works for Halo 5. These latest changes are building on the prior rounds of tuning adjustments and are the direct result of player feedback. There are five weapons included in this next round of tuning tweaks and you can read about the specifics in the most recent Community Update.
These weapon changes were wrapped up and checked in to our internal build as of about two weeks and the original intent was to hold release until after the Halo World Championship concluded. Unfortunately, a critical issue was discovered with the Halo 5 Local Server app at the Orlando and London HaloWC events that requires us to escalate the release of this game update. A fix for this issue was identified earlier this week and the team is currently planning to ship the game update on Wednesday, March 7. Our plans are dependent on an expedited certification pass so there's always a chance we might run into unexpected issues that delay release. That said, the team is working as quickly as possible and currently has every intention of getting this update out prior to the start of next week's HaloWC event in Sydney, Australia. You can check out this forum post for some additional details.
Besides the weapon tuning changes and the fix for local server, the only other item included in this patch is an update to the Oddball spawn influencers that the team has been working on based on player feedback.
TOY TO THE WORLD

At this year's New York Toy Fair, our friends at Mega Construx showed off some sweet new Halo collectibles that will be heading your way in the near future. From a new round of the fan-beloved Halo Heroes figure line to awesome new sets that feature furious fights between fierce foes, there's something for just about everyone. Yesterday we put out a full feature showcasing the new goodies – you should check it out right HERE.
SKILLTACULAR X
Our popular montage series is back in its tenth iteration, and features more amazing clips, plays, and memorable moments all hand-picked by 343 media staff. Check it out!
HW2 COMMUNITY TOURNAMENTS
The HaloWC action in London wasn't the only cool competitive Halo going on last weekend, as Halo Wars 2 fans were treated to a couple of awesome community-curated competitions worth highlighting them. To get the skinny, I enlisted the help of 343 STE Tyler Davis, who fans in the HW2 forums might know better as Postums. Let's check in!
Hey Friends,
Postums here with an update on some awesome community events that happened last weekend. There are of course many content creators out there that are very appreciated by us here at 343 – way too many to touch on all of them in one update, but there were a couple very special tournaments with this being the 1-year anniversary week for Halo Wars 2. With this being the case we even worked with these very community engaged groups to help sponsor the tournaments with some Halo swag prizes for the winners!
One of the tournaments that happened (and still is in progress for the finals) is the Omega Team's Alpha 2vs2 Tournament bracket. Omega Team is a Halo Wars 2 club that regularly holds tournaments with members of various skill levels. Tournaments for this club are done most weekends and rotate skill brackets and team sizes. Videos are posted below and if you are interested in contacting them about future tournaments, please reach out to ruzylo.
Twitch Replays
The finals for this 2vs2 tournament are set to wrap up this Friday, March 2nd, at 8PM EST between NegzXxX/Exo KABOOM and PoisonHearted54/rdsxfan2k7. You can catch the live stream of the Grandfinals on twitch at https://www.twitch.tv/omegateamrts.
Another tournament that has fully concluded is RTS Yoda Vids' 1 Year Anniversary tournament that was run all day on Saturday February 24th and was a 1vs1 bracket. This gameplay was streamed by several content creators across the community and featured players who have maintained champion ranking in competitive playlists across multiple playlists in the game. If you think you have what it takes to go toe-to-toe in tournaments of this nature, please reach out to Sad Joker95.
The finals for this 1v1 tournament wrapped up with an epic series of matches between Savior vs. Patmac. If you want to see who won this slugfest, check out the matches in their below.
Moving forward we will be continuing to work with more community members that have fun things going on each week and try to spotlight many more awesome content creators. If you have suggestions or are a member of the community who creates content – please reach out to folks like Grim, ske7ch, fellow 343 STE Matthew Jordan, or myself, and we will take-a-look! Who knows, maybe you will even get to play a match vs. the devs in the near future…
Cheers!
343 TEAM SPOTLIGHT
Thanks Postums! Speaking of awesome 343 team members, in this week's Team Spotlight, we grabbed another staff that made their way here in large part because of a pretty amazing body of work in community-based projects. I remember helping highlight several of his previous exploits during my admin stint at the fertile crescent of the Halo community – H.B.O. Although, he went as kornman00 back then – in meetings these days we usually have to use his human name: Sean Cooper. Let's meet him!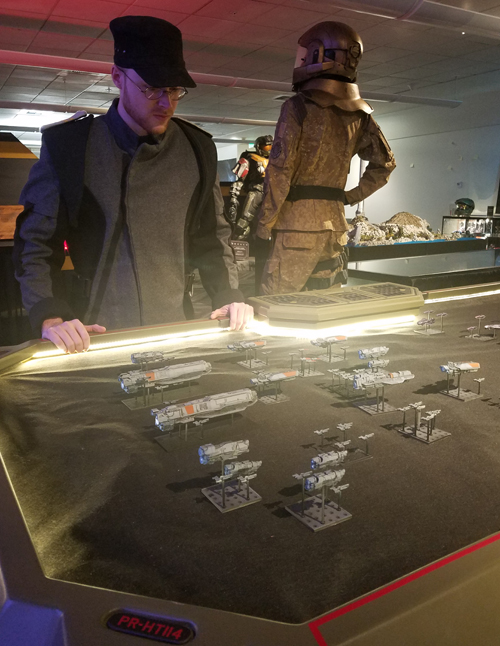 GRIM: Hey Sean! Welcome to the 343 Team Spotlight and really, to the studio itself! To start off, can you tell us what it is you do here at 343?
SEAN: Thanks, Grim! Here at 343 I'm a Software Engineer on the Halo Legacy team. Internally, we're a fairly small team, but that's due to our specialization. The team oversees many of the previously released titles, like Halo Wars and of course Halo Master Chief Collection. Right now, our, and especially my, major focus is on the MCC improvements that we recently announced. I'm ready, how 'bout you?
GRIM: Awesome! I know plenty of folks are excited about what that all entails, for sure. Now rumor has it that you know a thing or two about tinkering with old-school Halo – care to elaborate on that a bit?
SEAN: So, I've been poking at Halo's bits since the Action Replay came out on the OG Xbox (~2002). I was a big abuser of the GameShark for the N64/Playstation back in the *gasp* 90's. To put it simply, it was a device that let you cheat, e.g. giving your character god mode or infinite ammo. Action Replay was a GameShark competitor at the time, so I figured they would be bringing to the OG Xbox the ability to give the Master Chief unlimited health.
Were it so easy. Instead they just made something which could transfer Xbox games saves to your PC. So, with my Halo game save in hand I started looking at it in a hex editor. This is going to get technical but bear with me. The engine's game saves work by basically directly copying the memory of objects/scripting/etc to a file from a fixed memory allocation. Memory for game-state data is never "freed" or "deleted". Now, I'm not sure if it was intentional or not but unused parts of the game state seemed to contain bytes from the game code itself (maybe a graceful buffer overrun?). So, I ended up coming across strings for the engine's HaloScript docs.
GRIM: Oh man, hex editing… you're bringing back ancient memories of me using the GameShark to edit the hex code in the Gran Turismo series to swap parts and make crazy combination cars that went way faster than the game ever meant them to.
SEAN: Nice! So, you can appreciate how this was basically the spark of life to my interest in reverse engineering Halo. While people were on Halo.Bungie.Org trying to dissect parts of the story [guilty as charged – Grim], I was poking at game data and eventually disassembly game code. HaloPC, Halo 2 Xbox, Halo 3, etc. I've looked at them all under the hood. It's been easy for me to do this since I've lived at the same time these engines were developed. Bungie/343i would be working on the next big Halo while I was reversing the previous engine's changes. Using all of this knowledge I have created (usually, along with others from the community) mods to the games and even their official tools (for HaloPC and H2V at least).
However, I didn't stop with the FPS side of the series. I'm also a huge fan of Halo Wars and took the time to reverse its engine and create modding tools for it. I ended up meeting Rich Geldreich, an engineer at Ensemble Studios who was one of the key people getting an RTS engine running on the Xbox 360. He later helped me get my foot in the game industry's door at a mobile game studio, Boss Fight Entertainment, which was formed by many other ex-Ensemble Studios developers. The studio had a license to the Halo Wars code, so for the first time I got to mess with source code to a Halo game.
GRIM: Sounds like a pretty dream scenario for someone with your specific passions, for sure. How's it been going since you've joined 343? What's a typical day entail for you?
SEAN: How's it been? If I could do a backflip, I would. However, I can't so I'll just say it has been going amazing!
GRIM: Probably safer that way anyway.
SEAN: Typically I wake up around 0730, make myself presentable to the world, then ruck march for about 10 minutes to get to 343 HQ. From there it is all about MCC, although I'm also within earshot of the Halo Wars 2 and community crews. My main focus right now is on Halo: CE and Halo 2 in MCC. Whether it is fixing bugs (not all introduced in MCC, mind you!), updating how they interact with the Universal UI, improving game/network functionality, or adding better UGC support. Then of course there's time spent interfacing with design/production/art on changes, along with collaborating with our external partners on the project.
What's really nice is that the MS building right next door to us has a very affordable café with food options that change day to day. This means I only spend about ~10mins acquiring nutrition before I'm back and able to continue work. There's only so many hours in the day, so I'm glad to waste very little of it on finding food.
GRIM: How very efficient of you! Other than streamlined sustenance, has 343 life been everything you imagined it to be? What's it been like working on the Legacy team?
SEAN: Frankly, I didn't have a good picture of what life would be like here before I started. Nothing is ever real to me until I can interface with it, and I try not to let my imagination get carried away with things I can't control. With that said, I think anything I did imagine about life here has been surpassed. The location, the building, the people in it, the work we do: it's all awesome. Getting to playtest other projects and see behind the scenes too? What more could a Halo fan ask for?
GRIM: Oh I'm sure there's more.
SEAN: That's true, and seeing as I'm a Halo fan and a Halo engine connoisseur, I guess I'd ask to get to mess with the classic Halo games. Oh wait, I am! And I'm paid to do it. There's nothing more that I could ask for, except for maybe to play the Halo2 E3 2003 demo…
I know, I know. Working on the Legacy team has been a real treat, as many of the onsite developers have firsthand experience with the Halo FPS (and RTS) games, even before the former was rolled up into MCC. So, I get to hear and learn about stories in their development. Why things were done or not done a certain way. I'm also free to look into issues that I care about, so I'm not just some cog in a machine that only moves in one direction. The people on the Legacy team really care about MCC and making it a game all Halo players, new and old, want to play.
GRIM: I'd imagine that's pretty comforting for a lot of folks to hear, to be honest. And in talking about your role, what do you enjoy the most about it so far? What has been the biggest challenge(s) thus far? Any wacky stories or specific standout moments you'd like to share?
SEAN: Getting to work in the source code of these engines, which beforehand I could only disassemble, is great. In general game development, it is straight up silly to use an engine that you don't have the source code for. It limits your ability to debug problems and makes it near impossible to fix them once you do. Being able to use this Halo source access to correct problems is even greater. So, I think the thing I enjoy most is no longer being on the outside, peeking under the engine's hood, and wishing I could contribute.
That's not to say everything is sunshine and unicorns.
GRIM: Whaaaaaat??
SEAN: Shocking, I know. One of the biggest challenges is dealing with the code that makes the remastered bits of Halo: CE and Halo 2 work. For better or worse, a lot of time spent by others and myself is solidifying these systems. It also means that these two games have two different game engines with two different pipelines. You may also think the Saber3D engine in Halo: CE is the roughly the same as the one used in Halo 2 – you would be wrong, though. So really, the MCC on your Xbox is basically running nine different game engines (assuming you have ODST). Working on MCC is no cake walk. But it is very rewarding.
GRIM: Oh, I'd imagine so – it's always super exciting walking the dozen or so feet over to your team's area to keep up with progress! Does working here now, arm in arm with the team behind the franchise, change how you think about Halo?
SEAN: I'm not sure if it has fundamentally made me change how I think about Halo, or at least its development. If anything, I wish I could help players realize the challenges introduced in game development, especially in terms of Halo. Halo, as your question points out, is a franchise. Making new games, or maintaining old ones, is not a straight forward process. Halo is also a first party franchise within Microsoft, so there are process stakeholders even beyond 343.
GRIM: Indeed there are, my man. Now besides ruining Easter eggs, what were you up to prior to joining 343?
SEAN: I've spent a handful of years in the US Army (was stationed in Germany for a time). I've worked at two different companies that were spun off after Ensemble Studios closed: Boss Fight Entertainment and Playful Corp. And of course, I've spent a lot of my personal time playing and reversing Halo games. For better or worse, as you've pointed out. I've made the drive to and from Seattle and Dallas multiple times, but I'm glad this time Halo was at the end of the trip.
GRIM: We are too, trust me. Ok, favorite all-time Halo game? Do you prefer campaign or multiplayer? What about favorite all-time multiplayer map or campaign mission?
SEAN: Favorite Halo game? Does Sins of the Prophets count?
GRIM: I mean, I think it should.
SEAN: My favorite game from the FPS series would have to be Halo 3: ODST. It was nice to change things up a little, and it introduced my favorite game mode: Firefight (Set start…now pray that Blackeye is not on [amen! – Grim]). And not to brown nose, but I really love what Halo 5 did with Warzone Firefight.
My all-time favorite campaign mission I think is Halo: CE's The Silent Cartographer, but I think there's some nostalgia bias there. It was an awesome map with indoor and outdoor combat, and who can forget Warthog Jumping (or Warthog Jump Revisited)?
My all-time favorite multiplayer map is from Halo PC: New Mombasa errrr, Danger Canyon.
GRIM: You would. Shifting gears just a bit before we close, it's always awesome when we're able to hire people directly out of the fan community – totally not biased at all, btw. What advice do you have for others who might want to follow in your footsteps and work on Halo some day?
SEAN: If you fancy yourself a programmer and are still in school (be it grade or College) I'd definitely recommend working on side projects. Try to join mod teams, and not just for Halo or FPS games. Don't expect to get experience on the job. School just checks a box. The real task is working on projects and completing them. Don't be afraid to start with engines like Unity3D or Unreal which provide a lot of functionality out of the box. However, don't let yourself become spoiled by them either. Try and learn how they implemented certain parts of the engine. Doing so will not only help you grow but will also help you tune how your code uses those systems. Or maybe you'll learn to NOT use those systems and instead think of a new way to implement things.
Start a blog. When you learn something, even if you don't think you're the first to work on it or figure it out, blog about it. Write and share your code. Chances are, someone will find code you host on github or the like and find it useful or maybe want to learn from it.
Join game or programming communities and try to contribute. It will help you begin to network, and chances are you'll find people with common interests. That's how the Halo modding community was for me.
GRIM: Sounds great, and I certainly echo your thoughts on those communities being home to a whole bunch of amazing folks. Any other final thoughts, shout outs or parting words you'd like to share?
SEAN: Would like to give a shout out to my fellow players in the Halo Custom Edition and Halo 2 Vista communities!
And if you think that 343 is not listening to your concerns about MCC, or even Halo in general, think again. Your thoughts and concerns do get heard but don't expect someone from the team, especially the community managers, to necessarily be able to respond directly to you. They can't always answer because of legalities or because they might not have all the right information right away, and responding with bad information is not good. However, they do a fantastic job of surfacing what you all post/tweet/meme to the internal teams. So I've seen the desires for things about MCC, and for a lot of them all I can say is….we'll make it ;).
GRIM: Hey I didn't even ask or pay for you to say all that nice stuff! Thanks! And most importantly, thanks a bunch for not just joining us at the studio, but for hanging out a bit with us here. I'm sure a lot of folks will find much of what you had to say today particularly encouraging – I hope so at least.
HCFP FTW

Next up, one of my favorite people in the studio has stopped in to provide an update on our growing Halo Community Feedback Program (SIGN. UP.) – check out what she has to say!
Hiya all!
First and foremost, we would like to sincerely thank the 5,303 dedicated members of the Halo Community Feedback Program for completing the most recent survey. It was amazing to read through feedback from members all around the globe, 63 different countries to be exact!
Due to your dedication to the HCFP, we would like to share some of the results from the most recent survey which focused on general video game and Halo watching habits. Here we've selected just a few findings we wanted to highlight as we feel they will foster good discussion.
Watching and Discussing
When we asked how often you watch videogame content in videos or streams, over 62% of survey takers reported watching at least several times a week. And while many folks regularly read online comments and chat about games in person, only a portion of folks regularly partake in online discussion via chats or forums.

Discovering New Content
We also asked if you had ever started playing a game after discovering it through a streaming or gameplay videos. A vast majority (71%) of you reported that yes, you had indeed found a new game this way.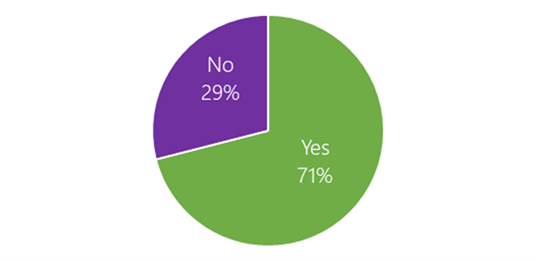 What Content to Watch
We also found that when considering what type of video or stream to watch:
It depends mostly on the genre and the title of the game being played as well as the content creator or streamer.
Things that didn't matter as much to survey respondents included the overall popularity of the video/ stream or the type of comments the content received.
When we asked about the type of video game content you most enjoy, we found:
Those who preferred live streaming enjoy how authentic and interactive the streams feel.
Those who preferred edited content appreciated the quality of the video and convenience of watching it on their own time.
We thank you again for participating in the Halo Community Feedback Program, and if you have not yet joined but would like to you can learn more and sign up here: https://www.halowaypoint.com/en-us/community/halo-community-feedback-program
See you next time!
Jessie T, PhD.
Thanks Jessie! We can't overstate it – if you want to get involved and provide your opinions on all sorts of Halo-related happenings, make sure you join up and keep an eye on those emails.
RADAR BLIPS

Out of Reach – With the recent decommissioning of detailed Halo: Reach stats on the web, it's been cool to see folks sharing their own stats from the 2010 title in social circles. Of course, keep in mind that these detailed stats are still available in-game, just not on the web anymore.
Follow the Yellow Brick Road – If you happen to be at the Emerald City Comic Con this weekend, rumor has it that Jonathan Wayshak will be selling some of his original artwork from his stint on Halo: Rise of Atriox. If you're interested, make sure you stop by booth MM8 in Artist Alley during the show to check it out!
Out of Reach...'s Cutscenes – Kotaku ran a cool article focusing an intrepid and dedicated group of Halo fans and their quest to get somewhere they probably should have.
Community Playdate – In celebration of the return of H3 Classic Throwback, ske7ch, Uny, Bravo, and yours truly are dropping into the playlist tomorrow (Friday), from 1-2pm PT to play with community and dole out 343 Ice Unicorn skins to lucky matchmade members. Be there!
COMMUNITY SPOTLIGHT

We've got an embarrassment of riches in the Community Spotlight today, and still even more that we couldn't get to. Halo fans have been producing some really awesome content lately, and you should take the time to check it out!
Decepticon Cobra sent over a sobering – but really well-written – blog piece that tackles the theme of stolen childhoods in Halo. It's deep-diving, but worth a look – check it out!
HaloFanForLife recently did a toy review of the Versus Troop Pack from the fine folks at Mega. Give it a look HERE.
Halo community member The Vengeful 'Vadam celebrated a cool 10k subscriber milestone for his YouTube channel this week. If you get a chance, check out his stuff!
And speaking of milestones, community content icon Hidden Xperia recently broke the 100k mark for subscribers! Huge congrats, man – and keep up the awesome work creating great content! Like this:
Speaking of great lore content, Halo Canon himself has been back in action and dropping some sweet new videos on his subscriber list, like this one here detailing the history of Project: MJOLNIR. Learn more about the armor system that helped change the fate of a galaxy!
EckhartsLadder recently put out an awesome video that takes a look at their take on the 5 Deadliest Covenant Military Units. Love it!
SacUsa stopped by the Team Beyond forums to show off a really cool video that asks the question: Is it better to go for Rockets or Sniper on Coliseum in Halo 5? It's a great accompaniment to all the awesome HaloWC talk going on right now, and definitely worth a look. Will it make you rethink your strategy the next time this map comes up in matchmaking?
And now, another gem from MetalHeadSpartan…
Over on r/halo, casual_thursdays shared a project that might have gone a little too causal.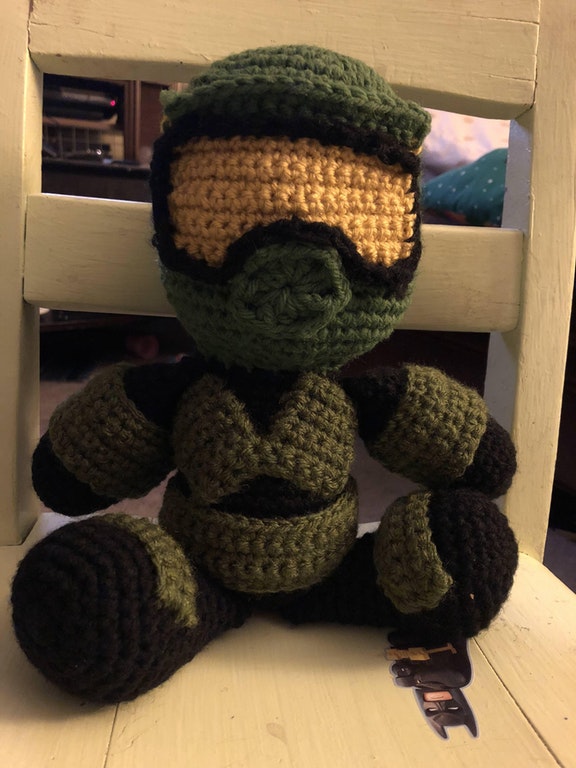 Cmbalke shared a gorgeous piece of minimalist watercolor-style art that is just… yes. So cool.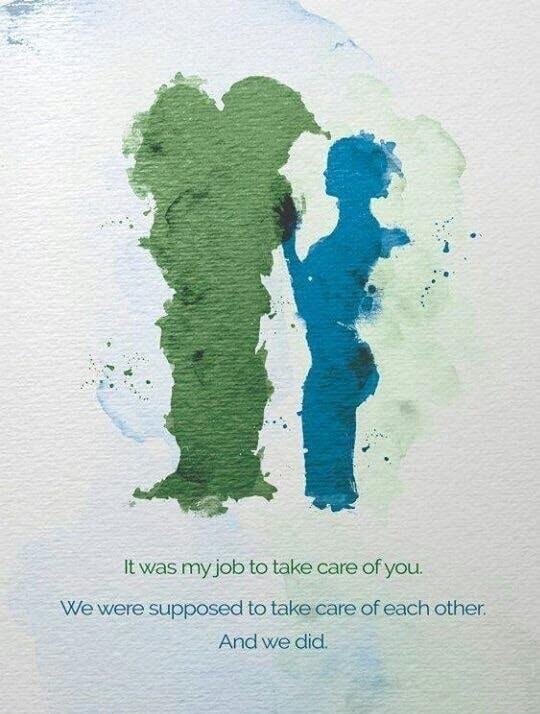 Billeffinmurraywhooo is a fan after my own heart, displaying their love for Halo steelbooks in elegant fashion.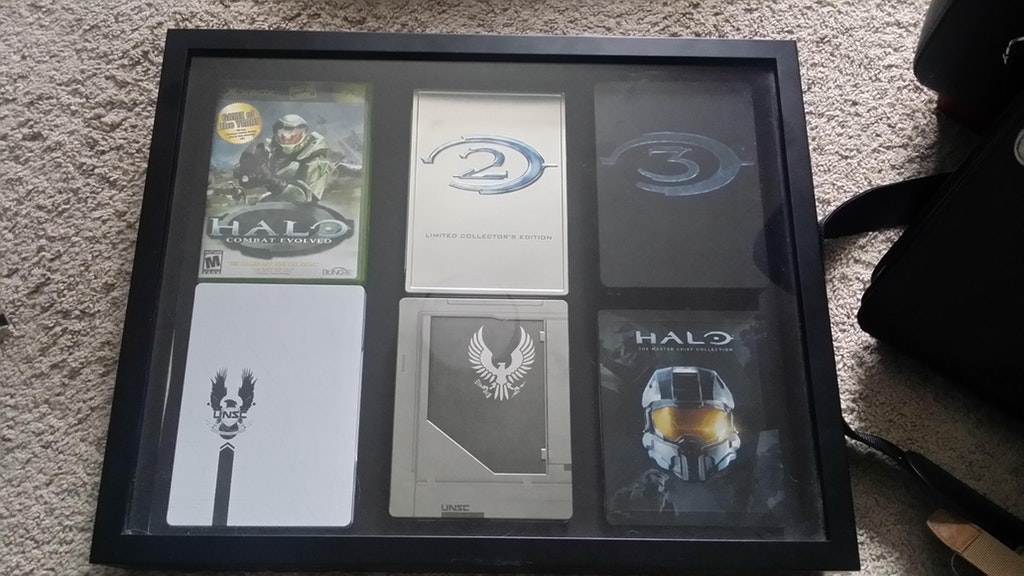 Elite0087 posted their take on a 1980's cartoon style Sangheili. Now this is classic Elite design.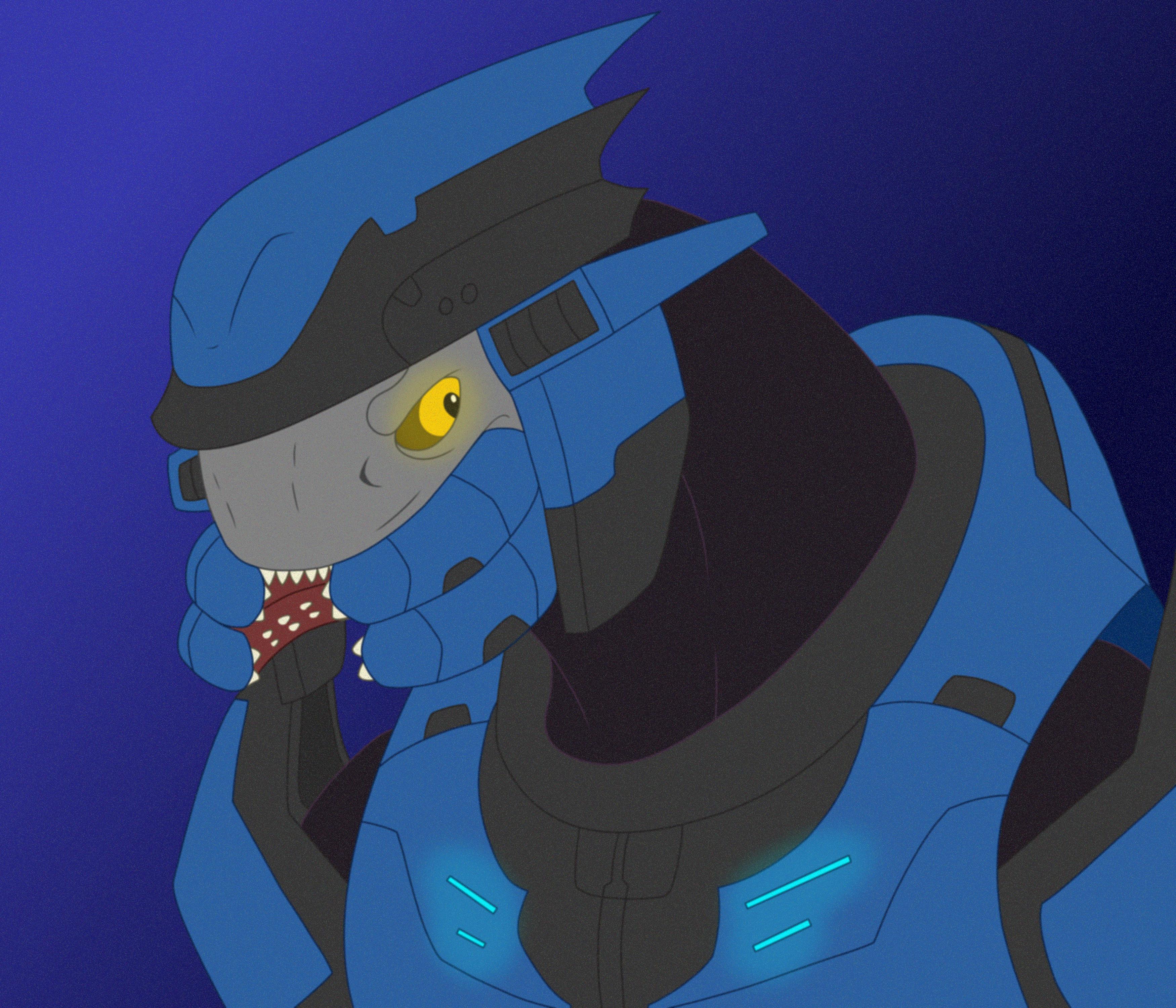 I love this awesome custom wooden model of the UNSC Pillar of Autumn created by kusanagisan.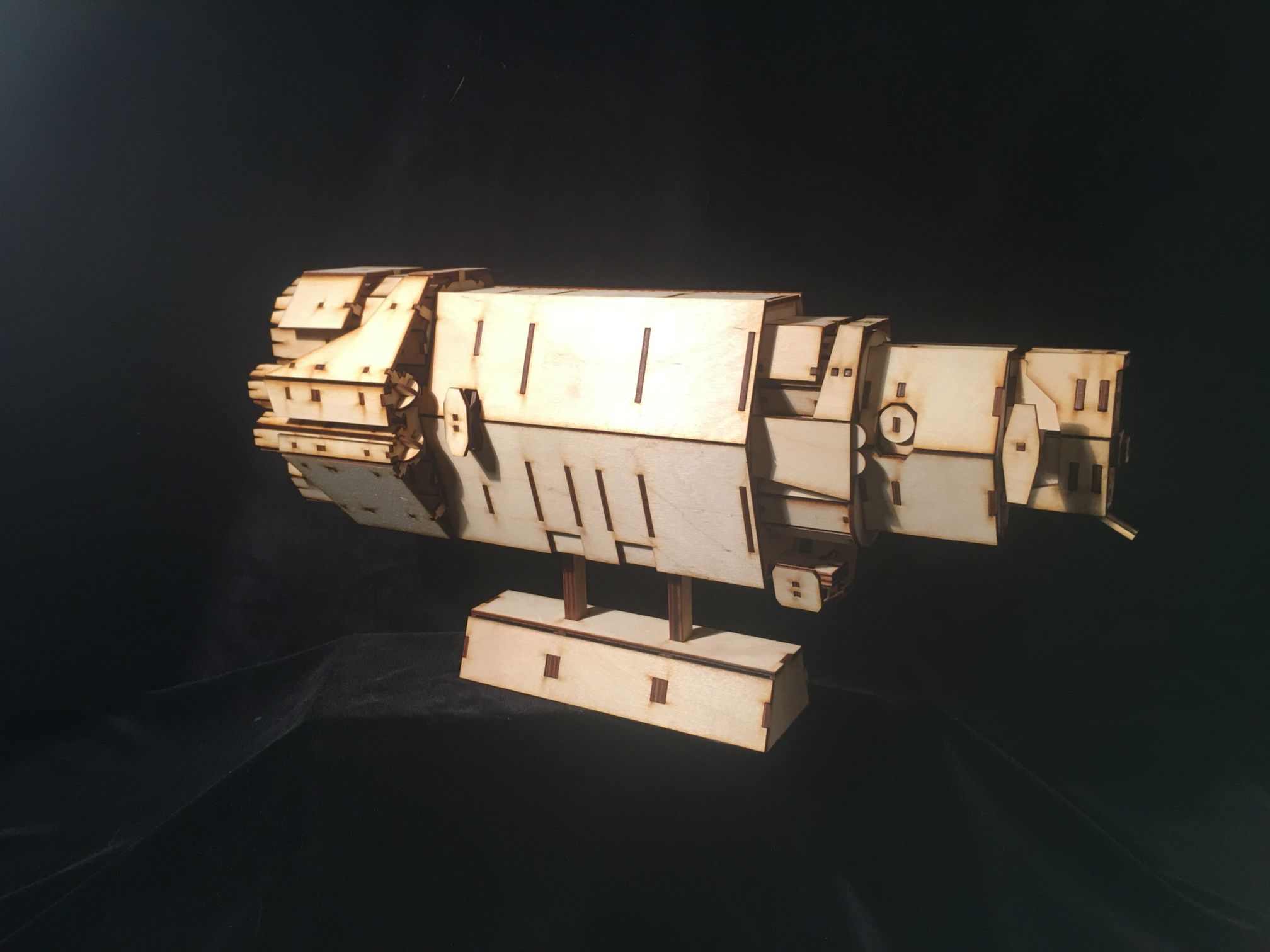 Presented without context, Craneteam from Team Beyond.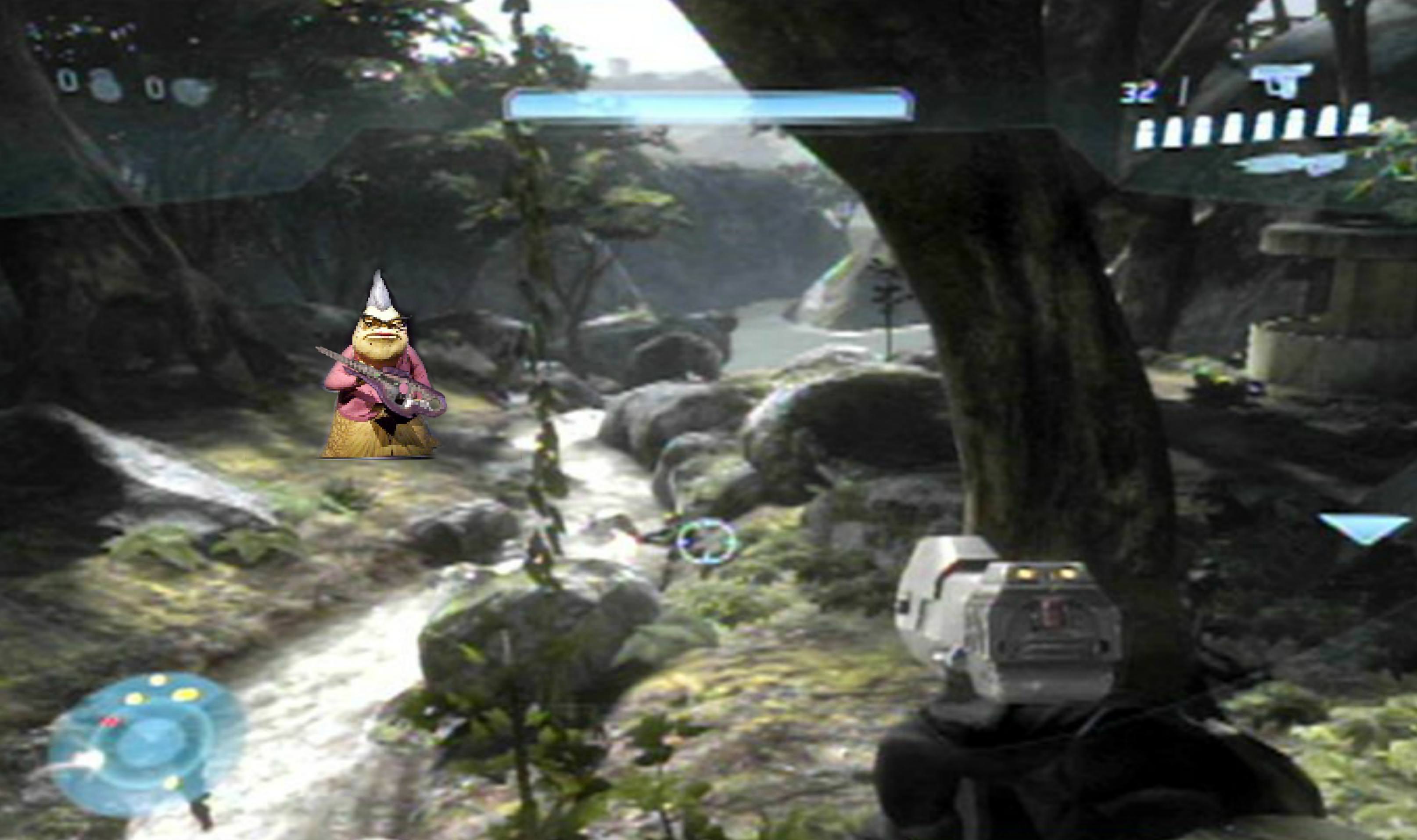 This is just… wow. Well done, nintendstroid.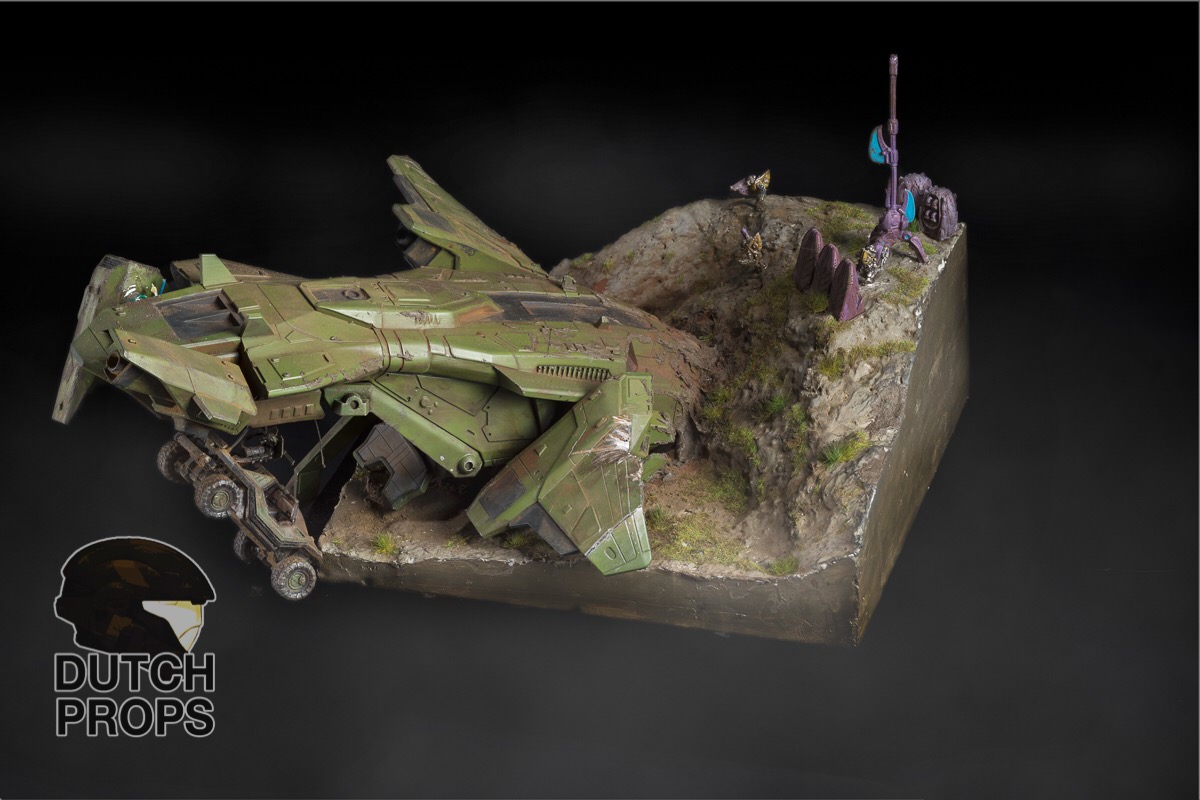 #HALOHOTSHOTS
Phew! And with that, we're out.
Until next time… Live well, play Halo, and pray that StrongSide survives Australia.
<3