Hey everyone! Valentine's Day is here and there is plenty going on, so let's give you a run down of today's festivities. First we'll be talking about the Valentine's Day Team Doubles Refresh, then we talk a free Valentine's Day gift, and lastly, we give you an excellent idea for a date!
Team doubles refresh
We know this is something a lot of duos, partners in crime, and couples have been asking for, so we wanted to make sure we had it ready for Valentine's Day. Sara "Bartleby" Stern and Eric "GH057ayame" Hewitt drove this refresh, and have provided some insight into their decision making process. Read up on the changes that you'll see in Team Doubles as part of this Valentine's Day Refresh below!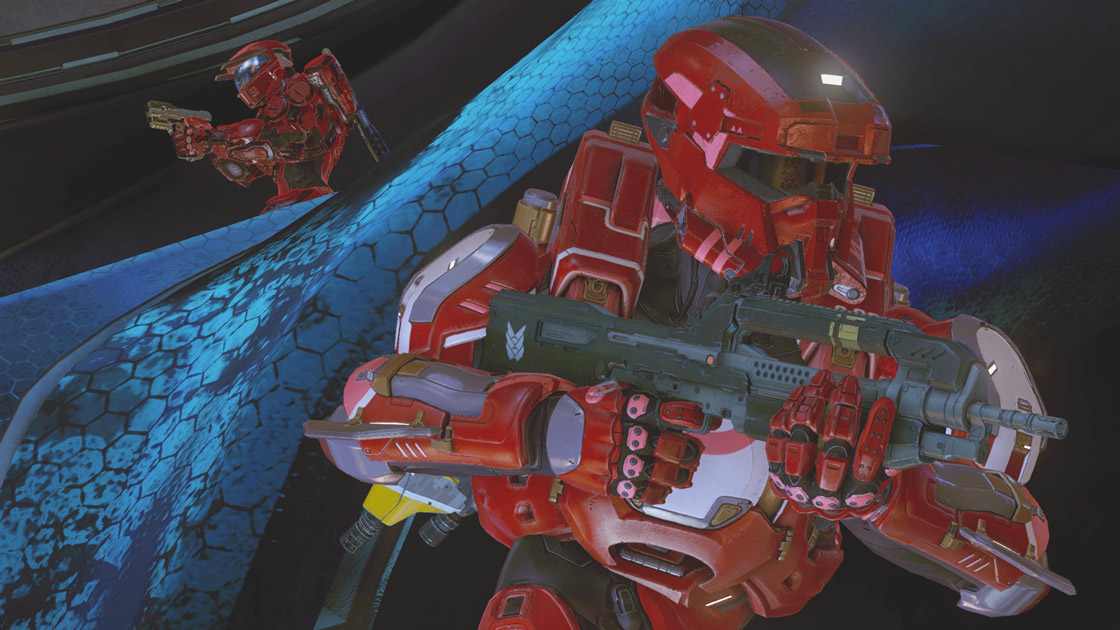 Mode Update
The respawn timer on Doubles has changed from an 8 second respawn to a 5 second respawn. Player feedback indicated that Doubles players spent a lot of time alone trying to defend themselves after they lost a teammate. We saw that these long respawn times would lead to numerous 1-on-2 situations, which would cause games to 'snowball' out of control due teams getting stuck in a weird spawn cycle. Decreasing the respawn wait time allows teams to recover faster from losing a player, keeps more Spartans on the map at once, and should give Team Doubles a much better flow.
New Weapons and Attachments
This refresh will improve Team Doubles gameplay while also introducing a few new weapons and weapon attachments into Arena matchmaking. That said, all DMRs in Doubles maps have been upgraded to COG DMRs. When using Smart-Link on the COG DMR, a player is able to see the shield strength and health of the Spartan they are targeting. Adding this weapon attachment to the DMR increases its value on a map, especially when the maps all have fewer power weapons on them.
In addition to that, Tactical and Gunfighter Magnums are prevalent across many of the maps. Going forward, we'd like to experiment with more weapons attachments and weapon variants in Arena maps to provide additional gameplay variety.
Map Updates
As mentioned earlier, and as you've come to expect in a refresh, all of the maps have been updated as well. We heard the feedback loud and clear, and have now revised the maps to better account for 2v2 gameplay. A major part of this change is the significant reduction of the amount of power weapons on every map in the Team Doubles rotation.
Note: Each map now uses the latest HCS updates as their base, so weapon locations should more closely match the weapon locations in Team Arena, but do have some exceptions specific to Doubles gameplay.
Coliseum
The major change to the map is the removal of the Rocket Launcher at Yellow Tower, as player feedback indicated that Rockets caused snowballing matches in Doubles. And since the map had Rockets and Sniper Rifle, it made for an incredibly powerful map for only four total players. The other additional weapon adjustments were made to give players more tools when battling an opposing player with a Sniper Rifle.
Reduced ammo count on Sniper Rifle at Green Tower
Replaced Rocket Launcher at Yellow Tower with Overshield
Replaced Carbine at Yellow Tower with COG DMR
Replaced SMGs at Bottom Blue and Bottom Red with Gunfighter Magnums
Replaced DMRs at Blue Wing and Red Wing with BRs
Replaced BR at Lift with Song of Peace
Moved Brute Plasma Rifle from Top Mid to Trench
Mercy
The previous version of Mercy Doubles featured a Gravity Hammer and a SAW in close proximity, which heavily emphasized close-quarters combat. In order to shift that emphasis, the weapon selection and layout has changed, and an Overshield has been added to the map.
Replaced H2 Beam Rifle at Open Deck with Overshield
Replaced SAW at Closed Deck with reduced-ammo Hydra Launcher
Removed Gravity Hammer from Fountain
Replaced Storm Rifle in Cove with Needler
Added Plasma Pistol at Bottom Mid
Replaced Brute Plasma Rifles in Red and Blue Closet with Gunfighter Magnums
Moved Frag Grenades in Red and Blue Tunnel to Red and Blue Lift
Fixed collision to prevent players from getting out of the map
Molten
The weapon changes to Molten focused on reducing the amount of gameplay in the Control area of the map and giving players who respawn in Oven more weapon options. The addition of Camo in Lava Flow gives players another tool to use if their team does not secure the Sniper Rifle.
Reduced ammo count on Hydra at Lava Falls
Added Silenced AR in Control
Moved Carbine to Deck
Replaced Suppressor at Deck with Song of Peace
Added Camo to Lava Flow
Added Light Rifle to Fridge
Reduced ammo count on Sniper Rifle at Lookout
Replaced Brute Plasma Rifle with Gunfighter Magnum at Eastgate
Moved BR at Stage to less protected position
Adjusted location of Plasma Grenades at Stage
Replaced H2BR at Oven with BR
Empire
Empire features two power-ups rather than power weapons to encourage players to use more of the play space and stay in motion. The addition of a Tactical Pistol pairs nicely with Camo, and we're excited to see players put the new Sentinel Beam to use.
Replaced SPNKr Rocket Launcher with Overshield
Replaced Silenced AR in Bottom Tower with Tactical Pistol
Replaced BR at Top Tower with COG DMR
Removed Plasma Pistol from Bottom Mid
Added Sentinel Beam to Bottom Mid
Replaced DMRs at Red and Blue Platforms with BRs
Eden
The team did a pass on all the weapons to reduce the overall power level on the map. The map changes focused on weapons that allowed players to counter the Sniper Rifle at a distance and make good use of the new Camo at Blue Nest.
Moved Sniper Rifle to Turbine and reduced ammo count
Removed Rocket Launcher
Added Camo at Blue Nest
Replaced SMGs in Blue Bend and Red Basement with Gunfighter Magnums
Replaced Hydra Launcher in Red Base with Song of Peace
Replaced Brute Plasma Rifle at Nest with COG DMR
Replaced Silenced AR in Security with SMG
Tyrant
The team liked Moon Deck as a focal point of the map but wanted to change up the dominant strategy for Tyrant. Players now fight over a Plasma Caster and Camo and can use Tactical Magnums to pick at opposing players from across the map.
Replaced Sniper Rifle at Moon Deck with Plasma Caster
Added Boltshots at Blue and Red Cave
Added Camo at Basement
Added Plasma Grenades at Red and Blue Base
Replaced SMGs at Red and Blue Island with Splinter Grenade
Replaced Light Rifle at Sun Deck with COG DMR
Added Tactical Magnum at Red and Blue Tunnel
Plaza
To update the feel of Plaza and provide additional variety to gameplay, the team replaced the Sniper Rifle with a Binary Rifle. Other weapon changes focused on reducing overall power of guns on the map.
Replaced Sniper Rifle at Cinema with Binary Rifle
Replaced SMG in Plaza with Song of Peace
Replaced Storm Rifle at Bottom Mid with Needler
Added a Hydra Launcher to Plaza
Truth
A Gravity Hammer now dominates Top Mid, but still requires a significant amount of risk for players to secure. The team incorporated Tactical Magnums into the map layout to provide another tool for long-distance engagement. The team also added weapons to the map to improve a player's options on respawn.
Replaced Storm Rifle at Bottom Mid with Silenced AR
Added BRs at Red and Blue One
Replaced Carbine at Carbine Two with Tactical Magnum
Replaced Battle Rifle at Pink Tower Two with Tactical Magnum
Placed Gravity Hammer at Top Mid
The Rig
The updated layouts from the Team Arena updates suited Doubles gameplay, but the team removed the Scattershot given its tendency to promote camping. Instead, players can use a Light Rifle at Yellow Corner to push a team that is holding up in Tower Two.
Reduced ammo count on Sniper Rifle at Top Nest
Replaced Scattershot at Yellow Corner with Light Rifle
Replaced DMR at Cargo with COG DMR
Added Gunfighter Magnum at Engine One
Replaced SMG at Bottom Nest with Song of Peace
Regret
Regret's cover prevents the added Railgun from overly dominating gameplay. However, the long sightlines are perfect for cross-map shots with Tactical Magnums. The Brute Plasma Rifle serves as a counter to any player that might go for the Overshield.
Replaced Plasma Caster at Nest with reduced-ammo Railgun
Added Tactical Magnum to Red and Blue Rampart
Replaced Storm Rifle in Tunnel with Brute Plasma Rifle
As always, please share your thoughts and feedback on these changes in the Matchmaking Feedback & Discussion Forum here on Waypoint!
Valentine's Day Gift Pack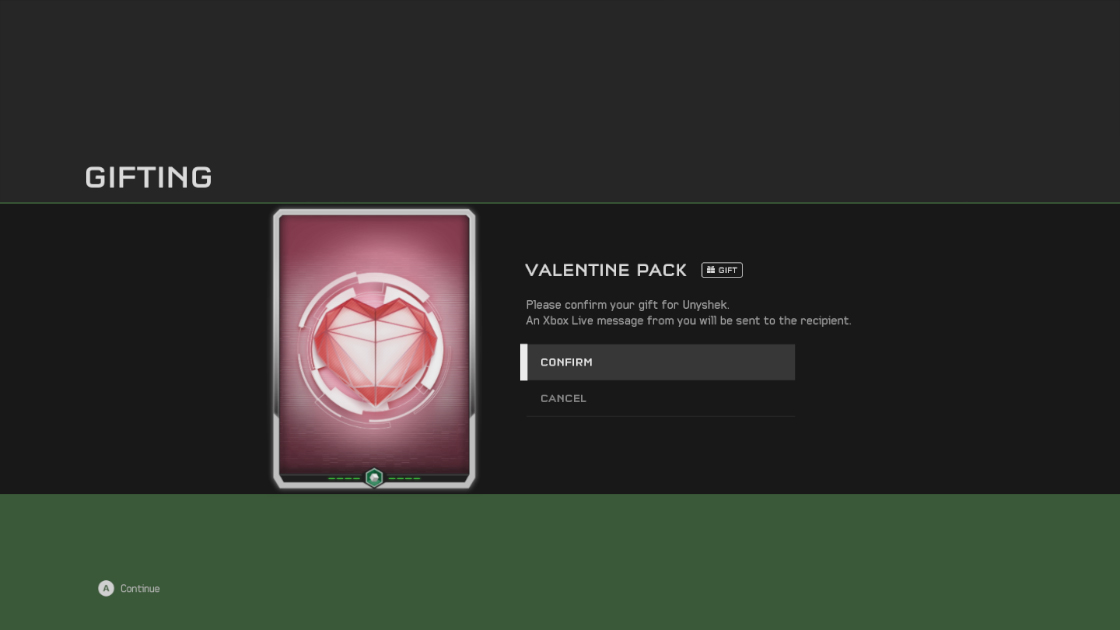 If for some reason a Team Doubles refresh wasn't enough to get you excited for Valentine's Day, we've decided to give every player who signs on today a free giftable Valentine's Day REQ Pack! That's right - play anytime today and you'll automatically receive a free pack to give to your valentine, your Doubles teammate, or me (please don't send them to me - give them to someone else!).
343 COmmunity Playdate
For those of you who want to have the best Valentine's Day date imaginable, you can try to meet up with Ske7ch, Grim, Bartleby, and myself in matchmaking for a Double Date. The playdate starts at 3pm PST and will only last for around an hour, so make sure you aren't late! As a final note, if you do happen to match us during today's playdate, you'll be receiving something very special in the near future.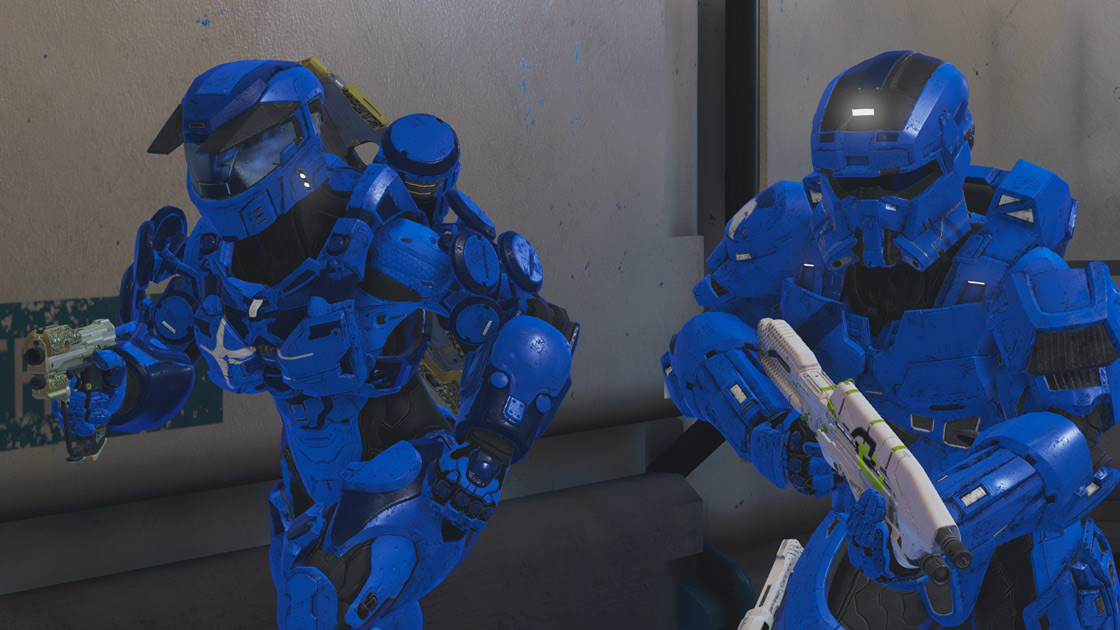 Happy Valentine's Day! Enjoy some throwback Halo Valentine's Day artwork (all the way from 2003) by the legendary Lorraine R. McLees!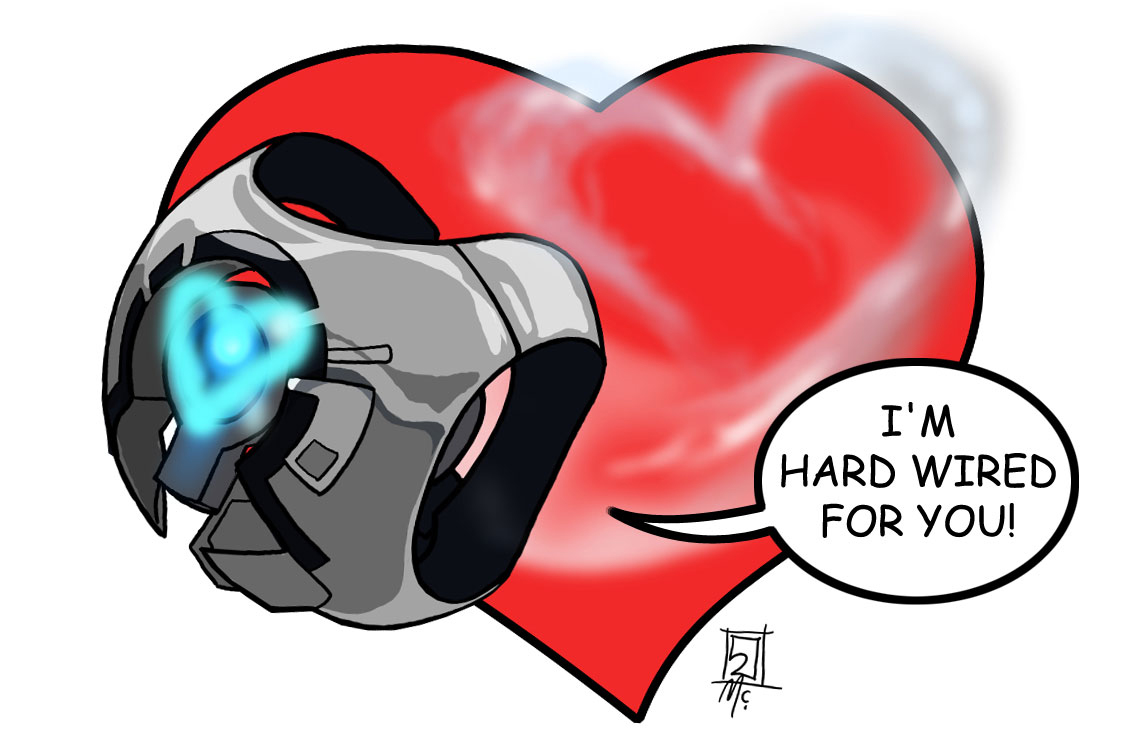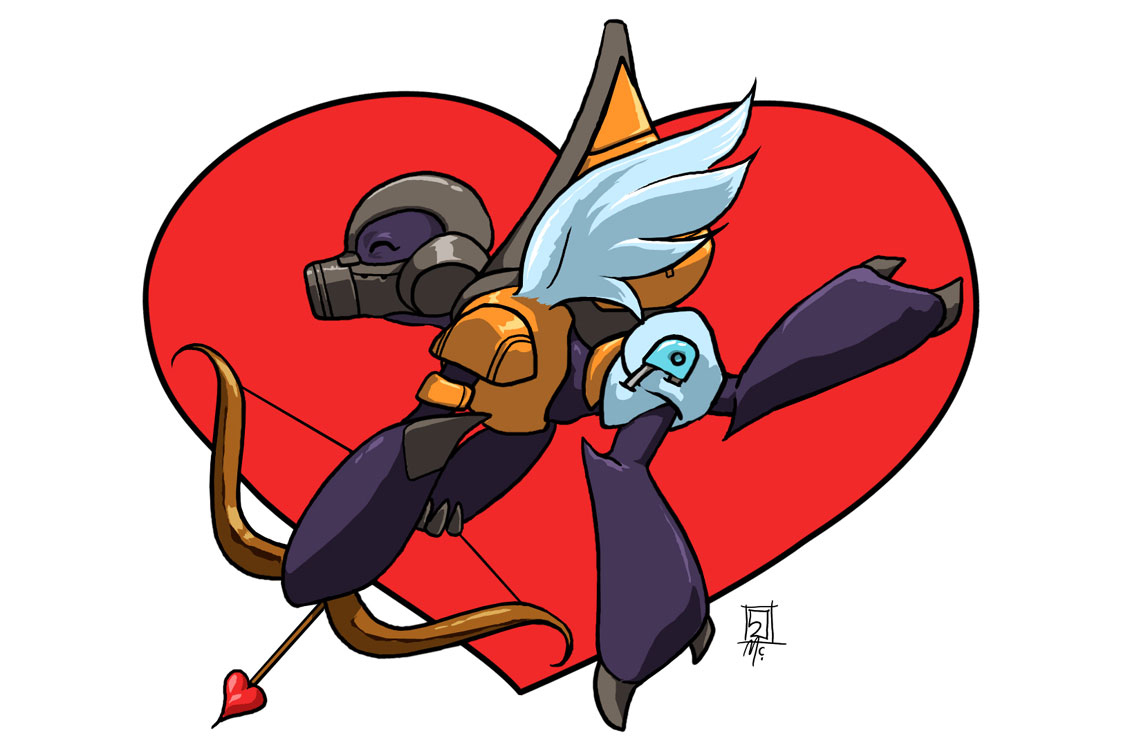 And remember... couples that slay together, stay together!