On this day 5 years ago – the Halo Championship Series was announced. Before we go any further, there's one thing we need to say – thank you. First and foremost, thank you to all of the players – for your dedication to this franchise and the game you love, through thick and thin. Thank you to the fans who have cheered from the comfort of their own homes, and live from the dozens and dozens of events around the world. Thank you to the tournament operators who put their blood, sweat, and tears into thousands of broadcast hours and all the stages constructed. Thank you to the amazing broadcasters and observers who have educated, entertained, and excited millions around the world all while representing Halo in the best way possible. Thank you to the team organizations who believe in Halo esports and its community and have invested so much in the scene and the players that compete in it. And finally, thank you all of the partners who have sponsored and supported the various HCS leagues and events to elevate the sport to the next level. The Halo Championship Series is nothing without each and every one of you – and we're in this together.
For the last 5 weeks, we've been celebrating alongside the Halo community and looking back on remarkable moments and memories. In case you missed it, here are a few highlights:
LOOKING FORWARD

Today, we not only want to celebrate the past but also look forward to the future and talk about our vision for the Halo Championship Series and Halo esports as a whole for the Halo Infinite era.
Our mission is to provide epic entertainment to Halo fans through the thrill of competition. We believe in cultivating and uniting communities, while building a platform and thriving ecosystem for players, teams, and partners to find success on, and creating a content ecosystem for fans around the world to enjoy.
Halo esports is about the unknown teams and players who come from humble beginnings and fight their way up the ranks to make it out of the open bracket, make it to mainstage, and make a name for themselves. It's about finding the best teams in the world and giving them the chance to leave their mark on Halo esports history and hang their names up in the rafters alongside the likes of Final Boss, Instinct, Evil Geniuses, TOX Gaming, and more. It's about the fans and community who come to HCS events to see their friends again and spend the weekend watching and playing Halo. It's about the fans around the world who set their alarm clocks early and stay up late, so they don't miss a single moment. It's about the tournament operators and admins who work tirelessly to ensure the best possible experience for players and fans.
Overall, our goals are simple. We want to grow viewership for Halo esports tournaments, as well as viewership for players, teams, and content creators. We want Halo esports to act as a platform that teams, players, TOs, sponsors, and more can invest in and see a return in. We want to have epic moments where the broader gaming community can't help but take notice. Finally, alongside the players, fans, and partners – we want to create a movement. We want everyone to feel like they're a part of the same community and something larger than themselves.
updates and evolutions
Over the last 5 years of the HCS we've not only taken learnings from our own successes and failures, but also from other ecosystems in other games too. Here are a few of the learnings we're taking forward and our approach:
Growing International Regions: For well over a decade, the United States has dominated the Halo esports scene and has garnered the most events and attraction as well. While teams in other regions have been able to compete at the very highest level on occasion, there hasn't been a single champion from outside of the US at a major international event. We believe that if we're asking regions like Europe, Australia/New Zealand, and Mexico to field a team for major international events like the Halo World Championship, then they need to have sufficient regional competition and enough international competition as a foundation to build upon. There needs to be more incentives to compete in those regions than just for the #1 or #2 ranked teams. With more players and teams competing in other regions due to more competition and prize money, they'll be able to slowly grow to be more competitive and ideally vie for the title of best Halo team in the world. We know this is something that won't just change overnight but we want to provide a foundation for this to happen over time.
Relationship with team organizations: Since the HCS started, we've been very fortunate to have some of the biggest teams in esports competing such as Evil Geniuses, OpTic Gaming, Team EnVyUs, Cloud9, Team Liquid, and more. At the time, teams would enter the sport and leave, and we would be bystanders in the whole process. As time went on, we slowly started to form relationships with teams and get a better understanding of what's working for them and what isn't. We believe that team organizations play a crucial part in the esports ecosystem – they help provide support and stability for players, they rally their fans to increase viewership and exposure for the game, and they help grow and evolve the ecosystem and sport. For well over a year now, we have been proactively reaching out and meeting with top organizations from around the world. Our first outreach was simply to learn – what is important to their business? How do they decide what games they want to participate in? What are their goals? With this information and more, we then set out to incorporate it into the future HCS program as we were designing it. Since then, we've been meeting with those same teams and even more teams to get feedback on the league and program design and have begun working towards a formal partnership with top teams. Our hope is to have a suite of top teams from around the world part of the Halo esports ecosystem for many years.

Roadmap: Since HCS first started, we've been building the running seasons/events on the roadmap at the same time as we went along. You can think of it like laying down train tracks (locking and announcing events) as the train is barreling down (the events taking place). In an ideal world, we can lay down so many tracks in advance that it takes months and months for the train the catch up and we're constantly far ahead of the train. Unfortunately, this hasn't been the case at all times during the HCS and the community has been left wondering, "when's the next event?" or "what's next?". This also applies to teams and sponsors who want to solidify their investment in the league. For Halo Infinite's launch we are working towards locking and then announcing a full 12-month esports roadmap. This means that our goal is that before competition starts, all cities, dates, venues, rules, handbooks, formats, and more for those first 12 months will be publicly available and promoted. This is a massive undertaking and will be one of the most difficult things to accomplish but we're currently on track to do just that.
Viewership: Online viewership is one of the most important metrics for success in esports. It helps translate into popularity and relevancy for a game, which is important for teams, tournament operators, and sponsors who are investing. And it's important for content creators as well (pro and otherwise) who are hoping to grow their fan base and ultimately find financial success. Because it is so important to the overall health of the sport and ecosystem, we are taking a very intentional approach in how we grow viewership and are working to deploy a variety of tactics. These include working to secure top teams with large fanbases, diversifying and investing in new content creators (like via HCS Grassroots as an example), ensuring our format is clear to understand and follow, and much more. Another large shift that we believe will help viewership grow is thinking about the HCS as an entertainment brand. Running fair and competitive leagues and tournaments will always be at the core of the HCS, but in order to build a sustainable ecosystem that grows in viewership over time, we, as well as our tournament operator partners need to really focus on entertaining viewers with our broadcasts and content. It's not enough to just cover tournaments and provide results. We need to think about how we accentuate the gameplay and stories, how we reduce downtime between matches, how we create content to bring fans deeper into the stories and build an emotional connection, and how we generally ensure fans are having a good time both in the audience and watching at home.

Open Ecosystem: Halo esports was built on a legacy of an open format and ecosystem, and it's our intention to continue and evolve that foundation. There are two important parts that make this up, one for players and one for tournament operators. For players, we believe that any player around the world should be able to jump in and compete either online or at one of the many open events on the roadmap. While we want to reward teams that have been competing at the highest level since day 1, we also want to ensure that if you and your team are good enough, that you can find a way in and be successful at key points in the roadmap. We also believe that there should be milestones along the way for new, amateur, and pro players to aspire to within a year. For tournament operators, we believe that having multiple tournament organizers investing and participating is overall healthy for the ecosystem. Different tournament operators have different capabilities depending a variety of things including broadcast, event operations, and regional expertise. We also want to, via HCS Grassroots and the official HCS program, give tournament operators an aspiring path to build a sustainable business, and grow to run not only more competitions but also ones with higher stakes in the roadmap. We believe that an ecosystem of talented and dedicated tournament operators with potential for greater opportunities will encourage a sense of competition amongst each other which will ultimately create a better experience for fans and players. While working closely and supporting the growth of these partners we can also ensure they innovate in a way that's cost effective to strive for long term sustainability.
League feedback: Building off the significant changes made to the HCS in 2018 and what we're building for the future, we will continue working with fans and players to tackle league feedback head-on in an open and transparent way. To expand on this, we'll also be formalizing processes with tournament operators to gather feedback about how we could improve things big and small, as well as team organizations to ensure the value they're getting from the HCS is worth their investment. Additionally, our tournament operator partners will also be having open dialogues with the community to further help improve the experience for the HCS. We truly see this as a collaborative approach.
PRODUCTION TIMELINE

With our ambition to have a full 12-month roadmap locked and announce by the time competition kicks off, we knew we had to start planning early. This process began in earnest in June of 2018 as we first gathered information from teams and partners in the ecosystem to learn more. Then in January of 2019, we started putting rubber to the road and began designing the ecosystem and program that we wanted to build based on the goals we've set. Since April 2019, we've been not only gathering feedback from trusted partners in the ecosystem, but have also been searching for partners to help us finalize the program and then execute it all..
While we've gotten feedback from just about every partner we've met with that locking and announcing a 12-month roadmap is rather unprecedented for esports and creates an exciting opportunity for us, it also means that planning this far in advance is a new process for us and our partners, and that there are some things that we are learning as we go. Despite that, we are on track with the overall planning process.
As we continue to work on the program and hit key milestones, we'll continue to provide more updates on our progress in early 2020 and beyond.
HCS GRASSROOTS

The HCS Grassroots program celebrates its own one year anniversary in just under two weeks and what a first year it's been. The support for HCS Grassroots partners and their broadcasts and events has been nothing short of amazing – thank you! The HCS Grassroots program has offered us a lot of learnings – how we work with content creators, how we structure partnerships with tournament operators, and how we partner with community in all new ways – and we've made some small changes during its first twelve months. Starting soon and continuing in the future however, the program will take on some larger changes that we're not quite ready to talk about in detail just yet. What we can say is that for the content creators part of the program, we're looking to broaden our partnership with the community. There are many creators out there who make more things than just video content, and there are many creators out there who focus on things outside of competitive Halo. Because of this shift in the program, we're putting a brief pause on adding new content creators to the HCS Grassroots program for the time being. The most recent submission period was our last and will still be reviewed for inclusion but as part of this plan to broaden our partnership.
So what does this mean for tournament operators? Both tournament organizers and community tournament organizers will continue to be a key part of the HCS Grassroots program, and we continue to lock in events and explore opportunities in the near future. In the more distant future, we will be looking to sanction some these tournaments (both online and LAN) so that they are more tied into the HCS roadmap and reward players who are competing in the HCS. This could come in the form of qualification points, seeding, and/or travel coverage qualification. And finally, it's important that tournament operators in the HCS Grassroots program have a path and support enabling them to grow both as entities and what they offer to their respective communities. This of course will be a slow and ongoing process that manifests over time, but our vision is that all of our partners have the tools and opportunities to grow over time.
YOUR QUESTIONS
A few months ago you sent your questions to us via Twitter and we wanted to take the time to answer as many as we possibly could and as transparently as we possibly could. Many have already been addressed above but without further ado, let's jump in!

For the future of the HCS we've searched, and through a rigorous interview process, have hired an operating partner to act as the Global Management Partner for the HCS. This operating partner and it's talented crew will act as an extension of the HCS team here at 343 and will help us lock in final details of the program (format, roadmap, and more) and then once HCS kicks off they'll help ensure that all partners in the ecosystem are executing at a high quality bar and doing so in a sustainable way. We'll also be creating event guides with specific details and requirements on how things should be executed in terms of format, caster setup, observing philosophy, etc. We're excited to share more details down the road.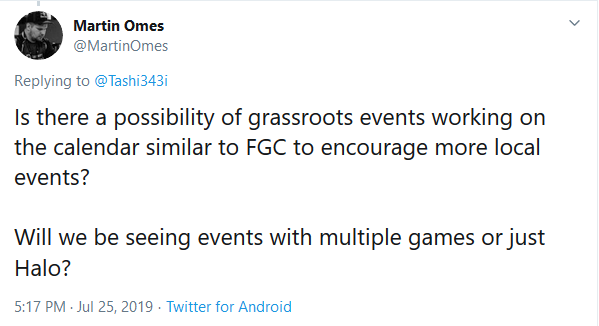 For the first question, yes. That's been the vision of the HCS Grassroots program since day 1. In the future, we envision a bustling grassroots scene (both online and LAN) for players to participate in outside of official HCS events. The main difference is that we want to sanction these events so that they play a role in the overall HCS story, have qualification stakes, and fit into the roadmap as best for players and viewers based on learnings from both the Halo scene as well as others in esports. We're still determining the specific balance between giving these HCS Grassroots events meaningful stakes, and striking the right balance is crucial.
For the second question – that's certainly a possibility and we'll continue to explore opportunities that come up. It's not a priority for us or the program, but there are definitely some benefits that we see for fans and players when we're at events similar to DreamHack or partnered with the Coalition for a Gears and Halo joint event. Ultimately, growing viewership is one of our key goals and ensuring that we have space on the overall esports roadmap for fans to tune in is very important.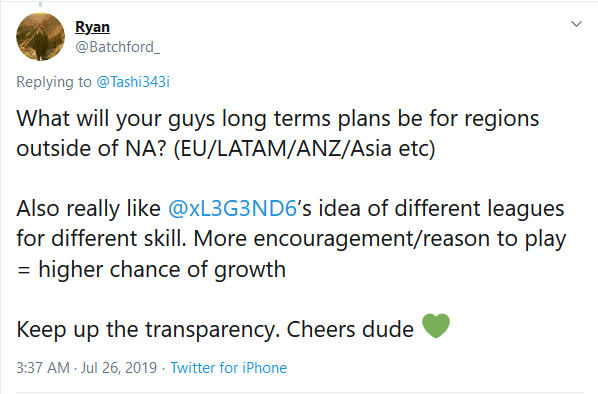 We touched on this above but this was a major issue that we are tackling head-on. We envision that these smaller regions (in comparison to NA) have major team organizations invested as well as smaller organizations, they have enough regional competition (HCS and HCS Grassroots) to make competing worthwhile and sustainable, that there's a real path for growth competitively, and that the region is producing content and those important stories are being told.
It will take time for these regions outside of NA to grow in scale and competitiveness but we believe it's important that they have the opportunity to compete at the highest level and potentially win global events as well.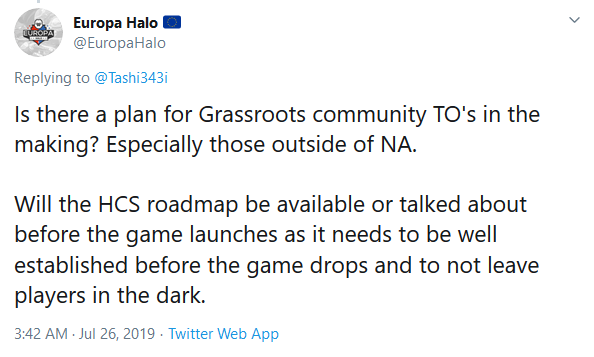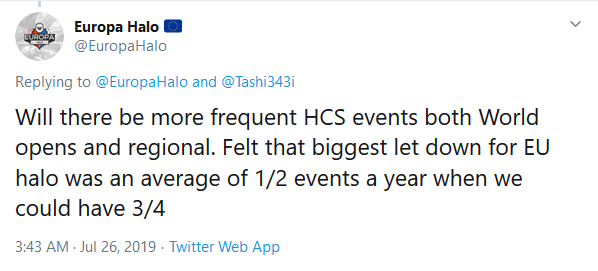 We envision that HCS Grassroots tournament operators play a larger role in the overall HCS story.
Yes, it's our goal to have a full 12-month roadmap available just before launch.
Overall yes and how that pans out will be made clearer in 2020. We are trying to find the right balance between giving the regions enough competition to build off of and grow, but also do it in a way that's financially sustainable for us and our partners so that we can build year over year.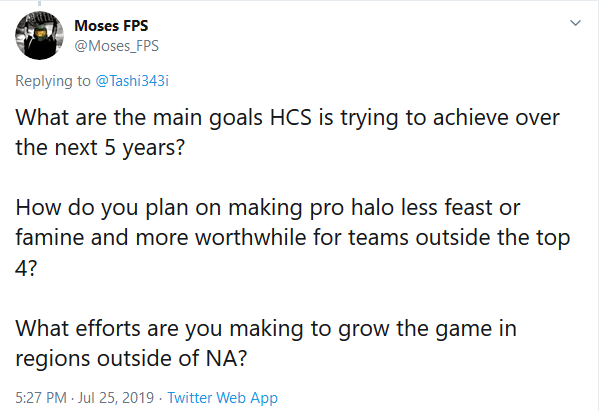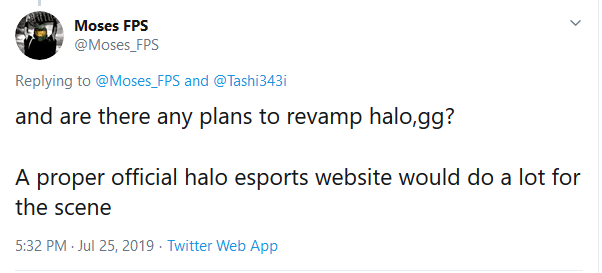 As noted above, we need to grow Halo's viewership and presence online for not just us but also for players, teams and tournament organizers. Halo esports needs to be a sustainable ecosystem for us and our partners to allow for growth over a long period of time. We want to create a movement that binds the entire competitive Halo community (and other Halo communities) together as we move towards making Halo esports a powerhouse in the industry. Finally, a goal of ours is to create epic moments in gaming culture to draw the attention of the broader gaming and esports communities.
There are a few ways we're looking to accomplish this. By having a full 12-month roadmap available as well as proactively reaching out to top teams far ahead of time, we hope to have as many rosters as possible backed by team organizations to help provide stable salaries and a platform for creating and promoting players and content. We are also looking at each region independently (as well as part of the larger ecosystem) to ensure that's it's worthwhile for players and teams to participate so that we can provide more outside of the United States. Additionally, we're looking to have larger prize pools overall which will allow more players outside of the Top 6 or 8 to receive prizing. Finally, 343 will be covering travel and lodging for all events on the roadmap for top teams (final number of teams is to be determined) and for all regions. This means that more teams than ever before will be able to qualify for travel coverage which we believe will create more stability for players and teams overall. Overall, we've never had a full 12 month esports roadmap completely laid out which really forced players and teams to make decisions they ultimately didn't want to.
Yes. Halo.gg was built on an older Waypoint platform that the web team are looking to overhaul. We've been working with the web team for some time now on what Halo.gg looks like in the future and overall we want to make it easy for fans to follow the roadmap, to watch/spectate events and content, to learn about and participate in tournaments if they want to, and see the latest relevant game updates.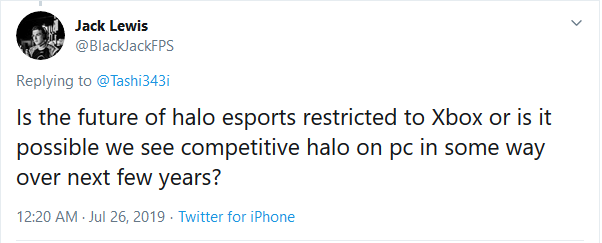 This is a topic that we are taking very seriously, and we are taking our time to make the right decision for the future of Halo esports whether it's tied to PC, console, or some mix of the two. We are gathering feedback and insights from partners, and with Halo: Reach launching on PC, we're going to be running tournaments online and on LAN to learn and see what the community thinks as well.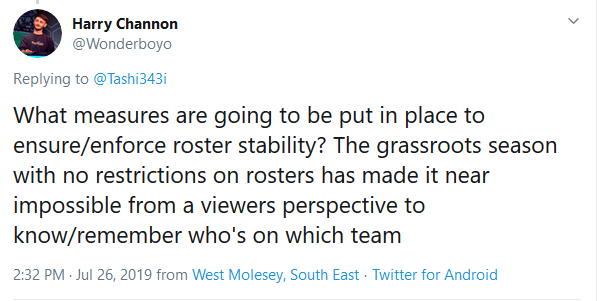 This is a delicate balance. What we're striving for is a system where players and teams are following more strict roster regulations for large parts of the season for pro-level competition to hold them accountable for roster decisions they make, but are allowed to play with more free form roster for smaller online tournaments and smaller HCS Grassroots events. We will have specifics about this as we get closer launch.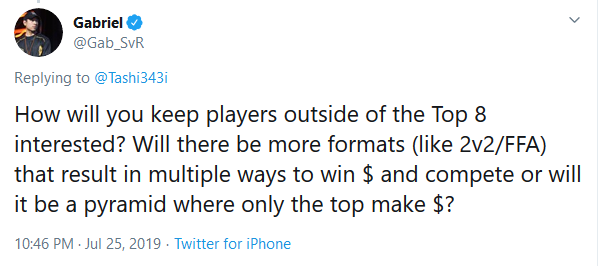 For players outside of the Top 8, we're striving to have more opportunities overall to compete and qualify for prizing either through official HCS tournaments or HCS Grassroots tournaments. We're looking to create a bustling ecosystem where there's constant activity from a variety of partners and in a variety of formats to not only keep things interesting and entertaining, but to also provide more opportunities for players. Ultimately however, the teams and players that place the highest and win tournaments will win the most prize money and that's not going to change – we do want to ensure they're not the only ones making money in the scene however. Specific prize pools and breakouts are still to be determined but we understand that this is important to the overall success of the HCS.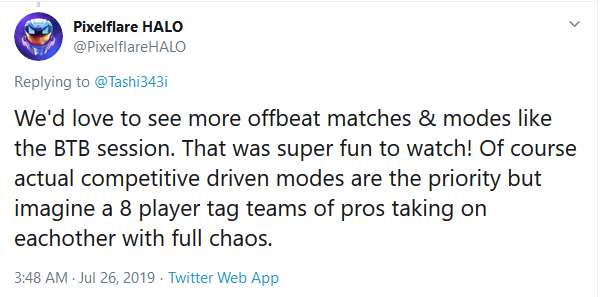 We're glad you liked the Big Team Battle Bonanza as well! Overall, we do want to incorporate more modes and experiences into the broadcast to mix things up on occasion and keep things as entertaining as possible. We have a few ideas we're working on. 🤔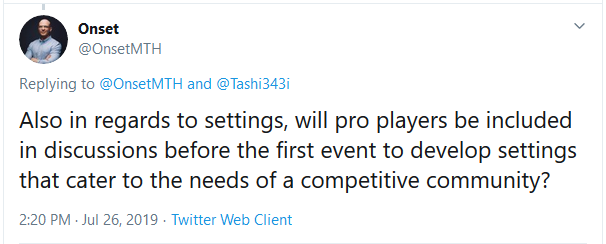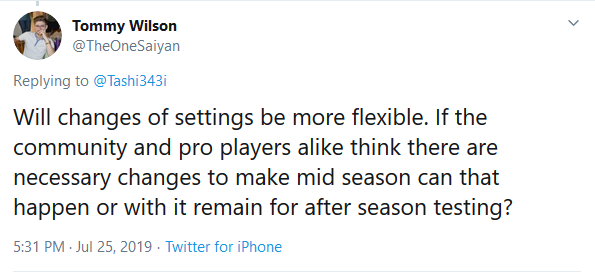 We received quite a few questions about competitive settings, the overall process for how settings will be updated, how we anticipate working with the community on it, etc. At this point in time we're not ready to share granular details but this topic is important to the community, it's important to all of us at 343 Industries, and overall we recognize this is an area where there's been friction during the HCS and throughout competitive Halo history as well so we want to tackle this head on and continue the conversation. We will have ups and down as we go but are committed to doing our best to serve Halo's fans and bring in new fans along the way.
With our learnings over the course of Halo 5 HCS, the new agility and flexibility afforded by our investment in the SlipSpace engine, as well as our flighting process before and after Halo Infinite releases, we are building the framework to ensure players are at the forefront of everything we do and we can iterate over time together.
And so to Onset, yes, pro players will be involved before the first event, and this will be especially true through the flighting process. And Saiyan, in terms of timing, yes, the engine will allow us to be more flexible with changes that are needed for the game at certain points during the season. And FearedLLama, the reality of the matter is that not all pros or members of the community have the same opinion on things. There will always be aspects of games that some players will and will not love, and there's a whole spectrum of players in between. Ultimately, we want to build a process that gather's players feedback and data as well to keep players engaged and happier overall.
thank you
Once again, thank you to everyone involved in making the first 5 years of the HCS as special as they have been. Before the HCS, Halo never had an official developer/publisher-operated esports league and while we're happy with the advancements and amazing experiences we were able to deliver, we see the potential really being unlocked with Halo Infinite. For all the latest on the Halo Championship Series, follow @HCS on Twitter and keep it locked to Halo.gg.