Hey everyone! We're back with a brief catch-up as we descend into the metaphorical maelstrom of the Halo World Championship 2018 Finals. We've got a few different things to focus on before most of us head off to the venue downtown for all the esports action that begins tomorrow. Have I mentioned how nice it is to have it all happen on home turf? Yeah, it's super nice. And with that, let's begin!
HALOWC 2018 FINALS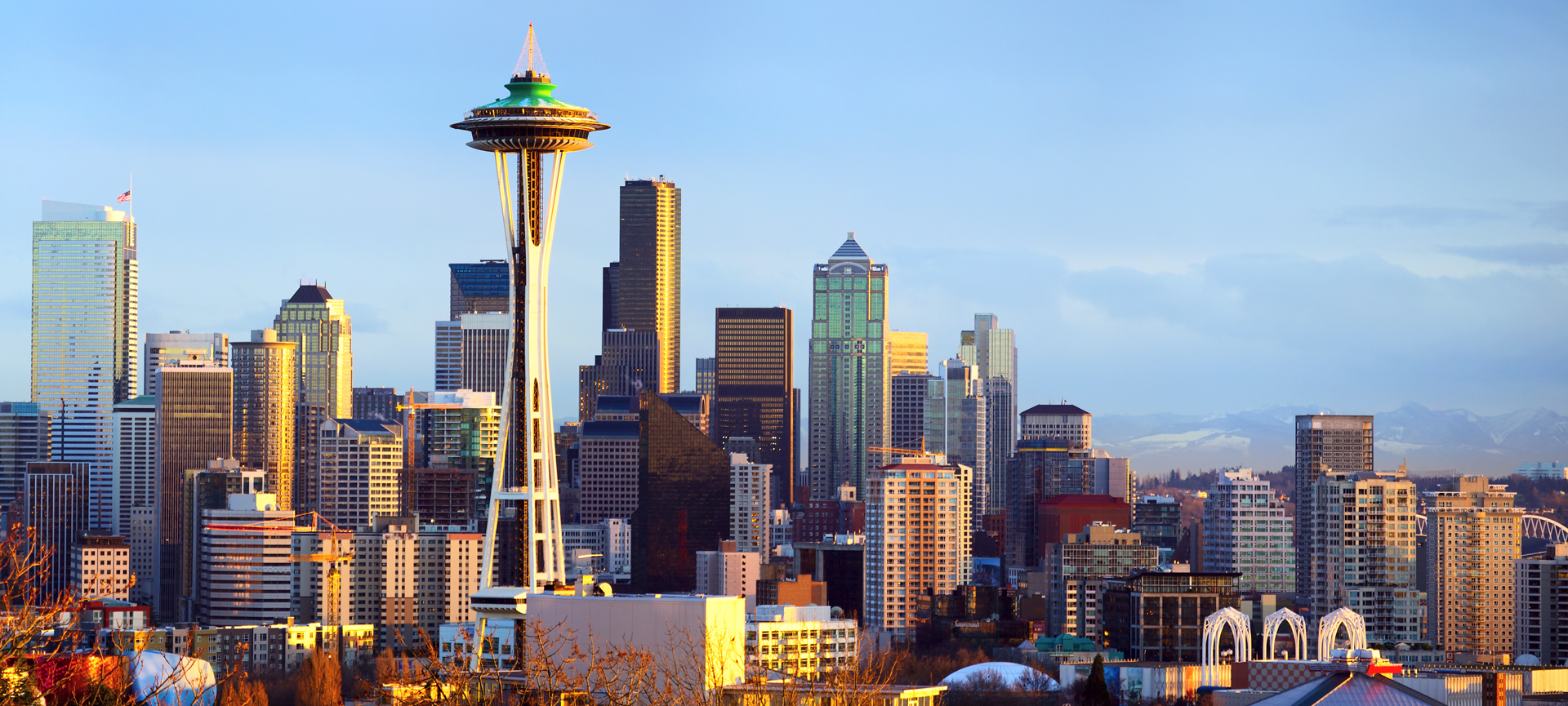 The big 800lb Jiralhanae in the room right now is the impending arrival of the Halo World Championship 2018 Finals, taking place April 13-15 at the Century Link Field Events Center in downtown Seattle, WA. Trust me, even if you aren't a big-time esports fan or a frequent flyer in the sweaty sweat sections of the Halo multiplayer experience, events like this one are ones that any Halo fan should try and get themselves out to.
There will be a ton of Halo fans in attendance celebrating their shared passion for the franchise, as well as a chance to talk to 343 devs in attendance, cool things to see and do, and great photo ops courtesy of some key pieces on loan from the Halo museum. Plus, it's awesome to see top-flight Halo taking place nestled neatly between the homes of the Seahawks and Mariners. You can get tickets either at the door or online HERE. Also, if you need any help getting hyped, allow me to assist...
To get all the details on the big show and what to look for including broadcast details and storylines (including some pulled directly from competitive Halo fans in the Team Beyond community), make sure you check out our official preview by clicking the image below.

HOW TO WATCH
The competition kicks off on Friday, April 13, and will be streaming live on Mixer.com/Halo, Twitch.tv/Halo, mlg.com/Halo, Twitter and Facebook. Also, back by popular demand is a second stream, with all tournament matches broadcasted in their entirety.
EVENT & BROADCAST SCHEDULE
Friday: 12PM PT / 3PM ET / 7 PM GMT
Saturday: 10AM PT / 1PM ET / 5 PM GMT
Sunday: 11AM PT / 2PM ET / 6 PM GMT
MAIN STREAM
mixer.com/Halo | twitch.tv/Halo | mlg.com/Halo | live.twitter.com/Halo
This primary broadcast will focus on the action taking place on the Main Stage, but will also feature live check-ins to the second stage, red-zone style, providing viewers at home with more robust coverage of the most important matches happening at that moment. The Main Stream will, as always, feature a world-class lineup of broadcast talent, showcasing some of the finest casters and analysts in the sport.
BRAVO STREAM
mixer.com/HCS | twitch.tv/HCS | mlg.com/HCS
The Bravo Stream will focus on the second stage, providing viewers with an additional avenue to take in top-level tournament action all weekend long. Matches showcased on the B stream will also feature full in-match casting from the tournament's outstanding broadcast talent pool.
BONUS GOODIES
But wait, there's more!
MIXPOT
Fans taking in the HaloWC 2018 Finals on Mixer will also have the opportunity to snag a special Halo MixPot! By watching the final matches on Championship Sunday at mixer.com/Halo, you'll receive the much-beloved Voices of War REQ Pack, letting you add some fun flavor to your Halo 5: Guardians multiplayer experience.

HCS REQ PACK
In addition, for fans looking to showcase their Halo esports loyalty on the virtual battlefield, this week the HCS REQ Pack is once again available for a limited time in the Halo 5: Guardians in-game store for 80k REQ Points (or real moneyz if you so choose). If you haven't had the opportunity to score yourself the special Champion-variant of the GEN2 ATHLON Mjolnir armor, now's your chance.

Oh, and speaking of that aforementioned armor, this weekend will totally-coincidentally-enough be your last chance to secure the action-figure version of the competitive carapace, exclusively with the Arena-themed Halo Legendary Crate. Head over to loot.cr/halo to seal the deal.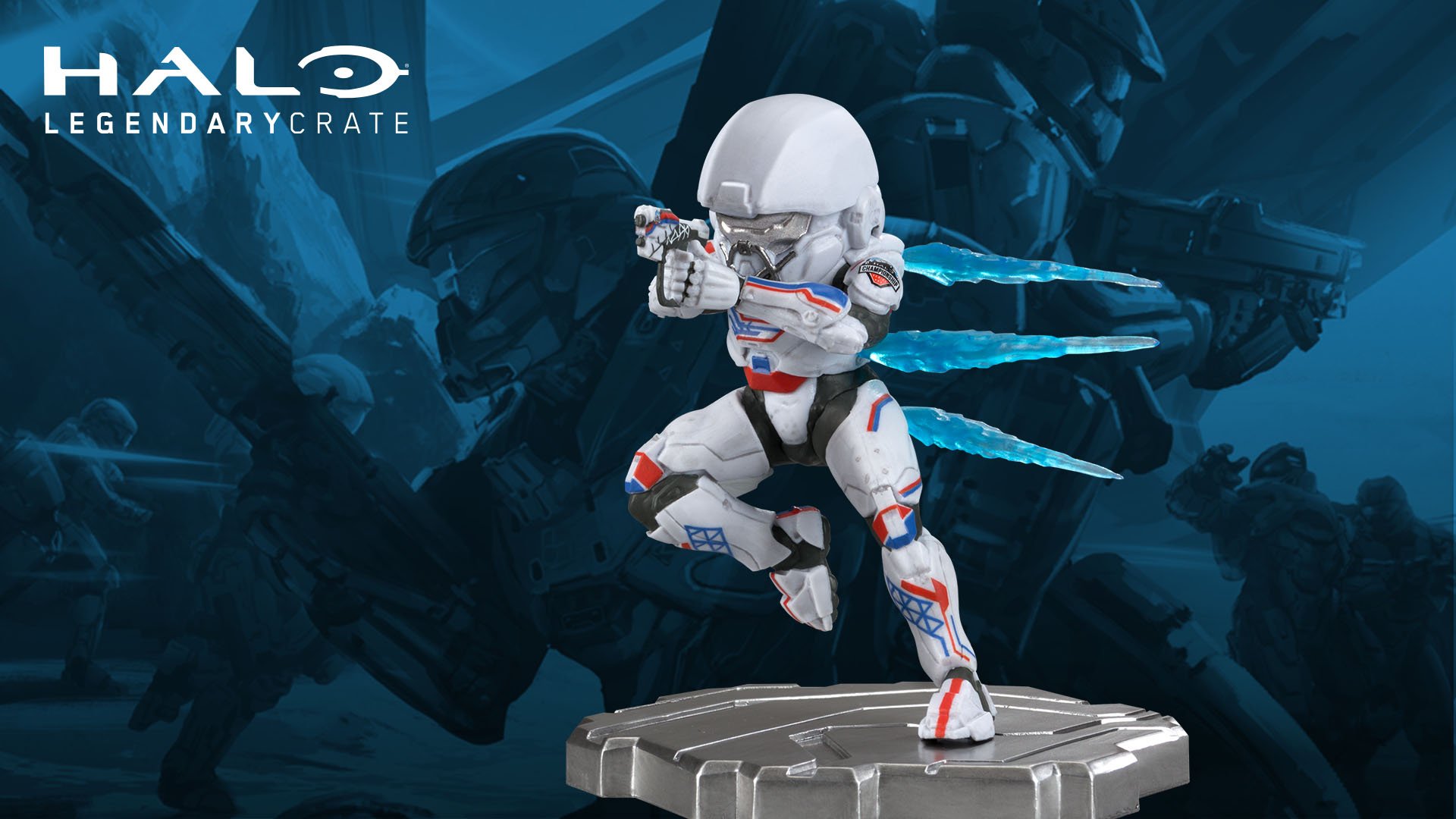 COLUMBUS WATCH PARTY RECAP
Speaking of awesome community involvement at competitive events, we had an awesome time hanging out with fans in Ohio at the MS Store Viewing Party during the HaloWC 2018 Columbus Finals at the end of last month. 343 folks including ske7ch, Frankie, Bravo, yours truly, and others got to have some really great conversations with everyone in attendance.
In addition, the onsite 2v2 tournament gave us some intense community competition all evening long. A field of nearly over twenty doubles teams whittled down over the course of the evening to four final talented tandems. In the semifinals, burniee and Hittn DOMEZ took down DyNaMiC RECs and Complexity JP, while KitchinBound and Papasmurf bested Divinity XVI and Nicolieeee in a scintillating series. In the end, burniee and Hittn DOMEZ would claim overall victory over KitchinBound and Papasmurf, who had incredibly enough literally just met that evening and decided to pair up to give the tournament a go.
Overall, it was definitely a night to remember, and provided further evidence as to why Halo fans should make sure and hit up their local MS Store locations when similar events pop up! And speaking of which, a special shout out to Tim Gonsalves at the Easton Town Center MS Store for helping spearhead such a great event.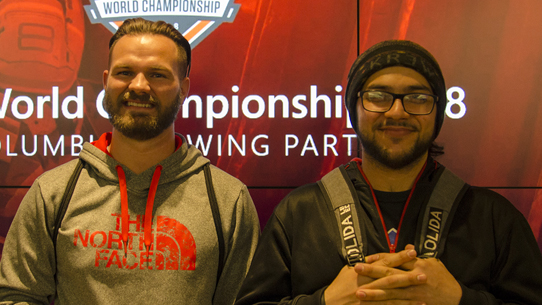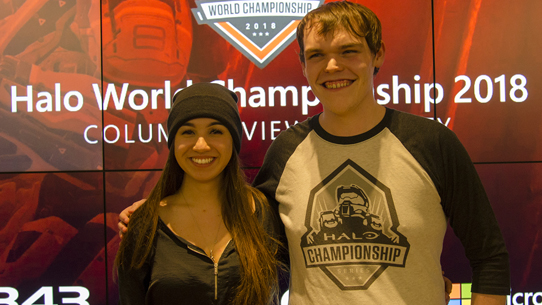 First Place: burniee & Hittn DOMEZ | Second Place: KitchinBound & Papasmurf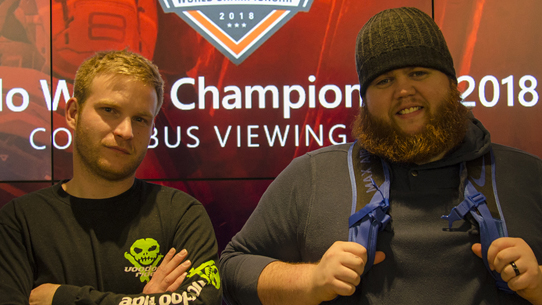 DyNaMiC RECs & Complexity JP | Divinity XVI & Nicolieeee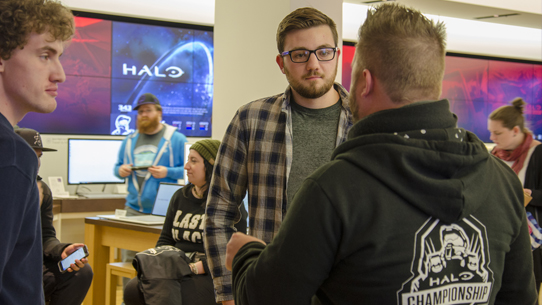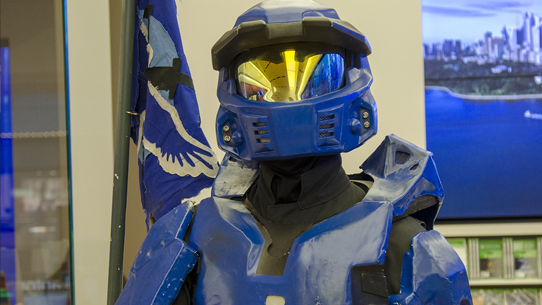 A community event isn't complete without awesome conversations and killer cosplay.
LORE IN STORE
Last week, we rattled off our second Halo Lore Stream on Mixer. Kenneth Petters joined yours truly to talk shop about the franchise's most foundational fiction: the Halo Array. We chat about the anatomy of a Halo ring, some history and behind-the-scenes dev talk, monitors, why size matters, and why the modern naming convention makes more sense than you want it to. If you missed it live, you'll be forgiven if you check it out on VOD in the link below. Enjoy!
RADAR BLIPS

Cause I'm Freeeee… – Starting today and going through Sunday, Halo 5 will be getting the Free Play Days treatment! If you've got some friends who've been on the fence or just looking for a Halo-filled weekend, let them know they can snag a no-strings-attached experience of Halo's latest shooty installment.

Deal With It – Now through April 16, Xbox's Spring Add-on Sale features a host of awesome deals on DLC bits and bobs, including Halo Wars 2's epic array of additional Leaders and story content like Operation: Spearbreaker and the Awakening the Nightmare expansion. Check it out!

Delicate Balance – In the aftermath of The Yappening, Halo Was 2 saw the actual Season 10 update roll out. You can check out all the latest balance updates and patch notes HERE.
Chief for Charity – Feel like grabbing a cool exclusive retro-themed Master Chief shirt and supporting a good cause while you're at it? Check out our tweet below for info on how you can do just that!
And now, our dear ske7ch with some awesome community content...