I started playing Halo in 2001 at the age of 46. Combat Evolved came out and I really liked the game. Every new release I bought and loved them all. With a hectic work schedule and family I never had the time or interest in playing online multiplayer. I always loved playing Halo when I had free time to sit back and relax. Achievements were my main goal in the game. Plus the grunt dialog was hilarious. I finished Halo 5 campaign fairly quickly so I thought I would give online multiplayer a try. Multiplayer took a bit to get used to but I learned to like it after getting suggestions from other players on Waypoint on which games to play without getting totally smashed every game. I joined a company, met new friends and really started to have fun playing even though I can't seem to hit anything. I'm 63 now and still playing.
Spartan Company
---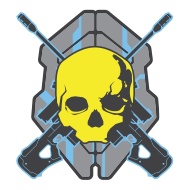 Grinding to Achillies
Lieutenant
95 Members
Est. 3/7/2018
*This is an Achillies grind company. If you are not willing to play a lot and actively work to complete commendations, you need not apply*Since we are closing in on the Helmet, requirements change monthly to ensure all members are contributing, and to limit freeloading. Progress is tracked based on your service record on waypointAugust requirements for all members:-2 buckle up medals-11 ground pounds-11 lucky medals(cluster luck, last shot, fastball)
*New members added after the month begins will only be responsible for a prorated amount of the above requirements
-Members are expected to play a minimum of 20 matches per week. Anything less, and you will be considered inactive and subject to removal-Members who spend the majority of their time in Fiesta, Warzone Firefight or Custom games will be removed without warning -Weekly updates are sent out via Waypoint -We have an Xbox club where company information and play dates are posted
-Members must actively work towards completing Company Commendations
Achillies Armor obtained 12/17/18
Level 1: 31/31 complete (100%)Level 2: 31/31 complete (100%)Level 3: 31/31 complete (100%)
Achillies Helmet Progress 89%
Level 4: 31/31 complete (100%)Level 5: 19/31 complete (61%)
Formed by veterans of
The Heretic Uprising
, Heresy Ascended was created to continue the grind for Achillies. We currently have a mix of members from all skill levels. It doesn't matter if you are a THU veteran or someone who is looking to join a spartan company and somehow found our page. All applicants will be accepted as long as they are not already in a spartan company. If you are in a company already, you must leave that company before waypoint will allow us to accept your join request.
We are nearing the end of our journey. We may still have a handful of level 5's left, but we are making good progress considering how young this company is. If you consider skipping us for another company with less commendations to go, be sure to look at their creation date. If they only have three commendations left, but are two years older than us, they will probably still be grinding long after we are done.
"Valar dohaeris"
Same here... Only a million more games to play to get there... lol

Feet First
Made your first hot drop into HaloWaypoint.com

Statistician
View your Service Record on the web.

Enlisted
Become a member of an active Spartan Company.