Spartan Company
---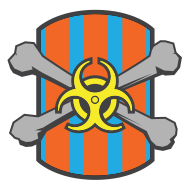 We are one with the force!
43 Members
Est. 5/28/2018
We are Hazardous As F - Can't beat us? Join us! Unless you're a hater.
NOT TAKING APPLICATIONS NOW.
ABOUT US:
You'll hear a lot about us from all the salty teams we beat, but we're really just a fun, chill mixed group playing a game for enjoyment. We have a great time with our ragtag group of misfits - no bullies or haters here, keep it respectful or get kicked. We value comradorie, teamwork, honesty, equality and hilarity. We include players from all over the world, playing all game types with varying skill levels grinding for that Achilles armor.
We always strive to win (and usually succeed) so please, always keep the W in mind, but make it FUN! And always remember RESPECT is key. We're all friends here, let's all have a good time!
There are no strict requirements to join our company. You don't have to come to meetings or change your emblem or anything like that, but the following are appreciated:
Positive K/D
Ages 18 & over only please
Vehicle Use
Appropriate Callouts
Mics Preferred
Active Players Only
Positive Attitudes
Ability to give and take constructive feedback
Understanding your place in game regarding slaying vs objective
No unprovoked T-bagging
Respectful honesty with fellow company members
Keep it fun and invite your friends!
To watch us on Twitch follow or subscribe to Hazards Ya Mama and please donate to support our company.

Feet First
Made your first hot drop into HaloWaypoint.com

Enlisted
Become a member of an active Spartan Company.