JSOC Nova
Here's a little about me. I started playing halo since I was 5 or 6, I went to my friends house and played halo 3 on the xbox 360. After that I had fallen in love with the game. I am a very competitive player, but sometimes I just play casual. I love Warzone and, love arena. See you on the battlefield - Nova

Former Spartan Company: Chaotix Gaming Beta
Spartan Company
---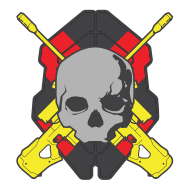 Always Notable
93 Members
Est. 11/4/2015
Welcome to Notable Company Spartan. We are a community of all skill levels that love to play this game. Please make sure to add everyone in your company and play with members when you are online. Dominating the enemy is a breeze when you have teammates along with you. This company strives to bring Halo players of all skill levels together.
See you on the battlefield
Luke TheNotable
PLEASE KEEP IN MIND WHEN APPLYING, WE HAVE ALREADY GOTTEN THE ACHILLES BODY AND HELMET SO IF YOU JOIN NOW KEEP IN MIND YOU WILL NOT GET EITHER OF THE ACHILLES PIECES IN THIS COMPANY (no seriously, if you want the set then join one of our other companies that don't have it already)
˜"*°•.˜"*°• ON A SIDE NOTE •°*"˜.•°*"˜
We have many different companies and some of them need dedicated Spartans. So please if you are looking to join a Notable Company, also consider joining one of our other ones so that they have enough people. This way we can strengthen all of the Notable Companies, and through that become one great Notable family!
˜"*°•.˜"*°• ON ANOTHER SIDE NOTE •°*"˜.•°*"˜
If you have something to say to Luke the Notable, please message him personally unless you want the other admins of the company getting the message as well. However, if you have a question about the company as a whole, please let all of us know and go ahead and message the company!
Another thing:
We get a ton of requests to join the company every day, so just because you applied to join does not guarantee that you get in. If you don't automatically get accepted, wait patiently or submit another request if you can.
Last thing:
Please note that if you are requesting to join Notable Company Alpha, all default and just plain dumb requests to join the company WILL BE AUTOMATICALLY REJECTED. We are looking for requests that people actually put time and thought into.
Really the last thing:
When applying for the company, you really don't have to put in your personal information. We honestly do not want to know what Uncle Touchy's naked puzzle basement is like along with all that other stuff.
The Notable Companies That Are Open To Applications and
NEED members (note that the info about these companies is most likely outdated, so go check them out yourself)
Notable Company Alpha
(LTN in this one)
Open
Notable Company Beta
Open
Notable Company Delta
Open
Notable Company Echo
Open
Notable Company Foxtrot
Open
Notable Company Gamma
Open
Notable Company Zeta
Open

Feet First
Made your first hot drop into HaloWaypoint.com

Statistician
View your Service Record on the web.

Enlisted
Become a member of an active Spartan Company.