User has been suspended until due to Inappropriate bio
I was banned for trying to stop a flame war.

People were arguing over MCC being broken, I tried to to calm them down. The mods viewed my posts as "non constructive". They locked the thread and banned everyone on it who was flaming, since they were on a banning spree, they banned me along with them. I felt my posts were very constructive, they tried to end a flame war. But because they were seen as "non constructive" and "spam" they perma banned me. This is how corrupt Halo Waypoint has become.
Most mods on other sites would look up to my actions of trying to stop a flame war, here on waypoint, being kind and telling people to "hug it out" is condemned and viewed as spam worthy of being banned.

You can find my posts here:
https://www.halowaypoint.com/en-us/forums/84ad72a8b51847978545f685f651fc15/topics/youll-look-dumb-when-the-updates-released/fc5edf48-8c86-4a5a-93c5-62b52c8fa9de/posts


Mods, feel free to delete my bio for "discussing moderation" just go and try to censor the voice of the people, but I'll just keep putting back my bio, again and again. You've already perma banned me, what else can you do? Delete my account from waypoint? go for it! But you can't delete my Xbox account, there are no rules on Xbox Live that say "free speech is forbidden" unlike your corrupt government. This site used to be so good, but mods like you have turned it to crap. All the people who have been unjustly banned have spread the word of your courptions. People are calling you out on other sites like reddit and bungie.net. You can't control them from there, we live in a free country. People have made threads about you snickerdoodle, and you toa freak, about how corrupt you two are, I'm not the only one who feels this way. Get your act together, if you haven't notitced, your crappy moderation has caused Waypoint's population to drop.
Spartan Company
---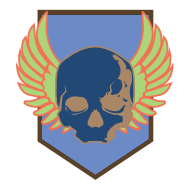 Leader
1 Member
Est. 10/19/2015

Feet First
Made your first hot drop into HaloWaypoint.com

Halo 5: Guardians MP Beta
Halo 5: Guardians MP Beta participant.

Statistician
View your Service Record on the web.