1. Who is your hero? Batman
2. If you could live anywhere, where would it be? At a calm place with no cities...
3. What is your biggest fear? That everything stays as it is...
4. What is your favorite family vacation? Burger King McDrive (buying that damn tasty ice cream)!
5. What would you change about yourself if you could? A lot, like increasing my self-confidence to >9000 and making my eyes to look in the right direction.
6. What really makes you angry? Ignorance, lying, talking behind my back about me...
7. What motivates you to work hard? Pressure!
8. What is your proudest accomplishment? My driving licence (although I've never made real use of it)
9. What is your favorite book to read? Star Wars Republic Commando
10. What makes you laugh the most? Things that shouldn't make me laugh.
11. What was the last movie you went to? What did you think? Interstellar (on the internet) and it was mindblowing!
12. What did you want to be when you were small? I am still small, so use the present, please!

16. What would you sing at Karaoke night? I don't want to hurt anyone, so no singing!
17. Which would you rather do: wash dishes, mow the lawn, clean the bathroom, or vacuum the house? mow the lawn.
18. If you could hire someone to help you, would it be with cleaning, cooking, or yard work? Cleaning, hell I hate cleaning, except cleaning my teeth, that's actually fun!
19. If you could only eat one meal for the rest of your life, what would it be? Steak (medium rare), chips, potatoes, ice cream, rice maybe some strawberries, cookies... and maybe a salad once a year!
20. Have you ever had a nickname? What is it? Too many: Til Skywalker, Tiiiiiiiiiil, Til ahoi Brause, Til Radler alkoholfrei, Tilka Schokolade, Jimmy Newtron, Harry Potter and more...
21. Do you like or dislike surprises? Why or why not? I like them, because I have low expectations concerning humans and their actions.
22. In the evening, would you rather play a game, visit a relative, watch a movie, or read?
Playing a game, watching a movie/series or the best thing: Just sleeping!
23. Would you rather vacation in Hawaii or Alaska, and why? Hawaii, I won't freeze my little Johnny and the landscape has a lot more variety (well at least I belive that...)
24. Would you rather win the lottery or work at the perfect job? Winning at the lottery and then I would open my own company!
25. Who would you want to be stranded with on a deserted island? Nobody, it's bad enough that I have to strand on that island!
26. If money was no object, what would you do all day? That's a damn hard question... maybe I should build my own super hereo suit and save the world, like doing sth. "good & valuable", I expect!
27. If you could go back in time, what year would you travel to? Back to the release of The Empire strikes back to experience the "I am your father scene, without knowing the ending before...
28. How would your friends describe you? If you think yu are my friend then I'd like to hear your answer!
29. What are your hobbies? We already had that question about the evening activities before...
30. Aside from food, water, and shelter, what one thing could you not go a day without? Clothing...
31. List two pet peeves. My english and my google skills are too low to undertand the question within a few second and I am too lazy to google harder to understand it correctly.
32. Where do you see yourself in five years? I don't want to think about that!
33. How many pairs of shoes do you own? 3
34. If you were a super-hero, what powers would you have? Do you have a list with all things that are defined as "powers"? Then I may choose a few.
35. What form of public transportation do you prefer? (air, boat, train, bus, car, etc.) A combination of all these things.
36. What's your favorite zoo animal? The only zoo animals I know are humans!
37. If you could go back in time to change one thing, what would it be? Nothing, you have to deal with the consquences of the things you have done!
Spartan Company
---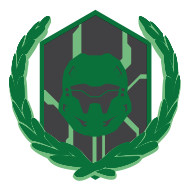 True Vanguard of Ready Up Live
91 Members
Est. 10/19/2015

Feet First
Made your first hot drop into HaloWaypoint.com

Halo 5: Guardians MP Beta
Halo 5: Guardians MP Beta participant.

Statistician
View your Service Record on the web.

Enlisted
Become a member of an active Spartan Company.