Halo 5: Guardians
Requisitions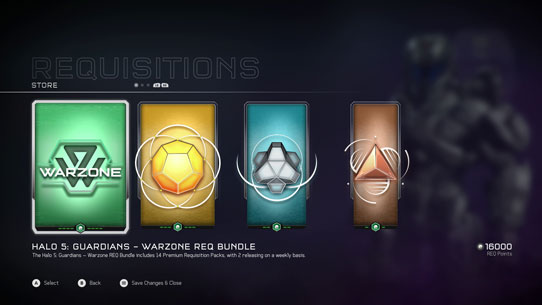 Get REQ'D
The REQ System rewards both cosmetic and game-impacting items which are further broken down into two types: Permanent and Single-Use.
Permanent REQs can be used an unlimited amount once they have been collected by players. Loadout weapons, helmets, armor, emblems, visors, player stances, assassinations, armor mods, certifications, and weapon skins are all permament and can be used in both Arena and Warzone as they do not impact player performance.
Single-Use REQs are consumed after they have been equipped. Power weapons, vehicles, power-ups, and boosts are examples of Single-Use REQs. With the exception of XP and REQ Point boosts specific for the mode, game-impacting single use items are exclusive to the Warzone gametypes.