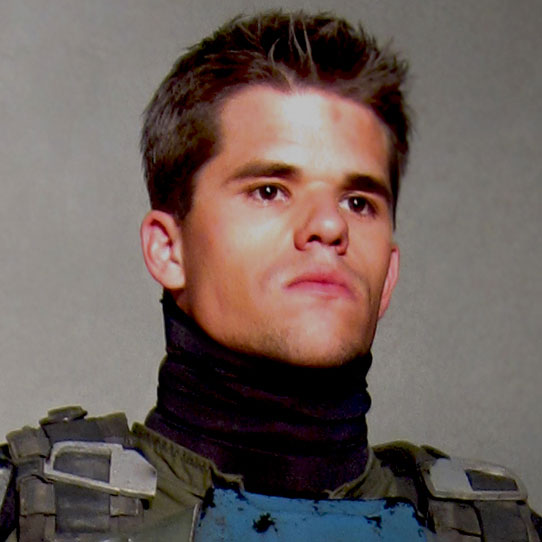 Cadmon Lasky
First Lieutenant
Species:

Human

Homeworld:

Mars

Affiliation:

Odst

Hair color:

Brown
Eye color:

Brown

Born:

September 30, 2507

Died:

2526
Summary
First Lieutenant Cadmon Lasky served as an Orbital Drop Shock Trooper (ODST) with the 10th Shock Troops Battalion. He was the eldest son of Colonel Audrey Lasky. While attending Corbulo Academy of Military Science, Cadmon excelled in many areas, setting records for morning drills and quickly becoming a favorite pupil in the eyes of both his instructors and his fellow students. Later on this would prove problematic for his younger brother, Thomas Lasky, who struggled to live up to Cadmon's reputation. After graduating second in his class, Cadmon looked poised to begin a promising career in Naval Intelligence. However, he instead surprised his schoolmates and instructors by joining the Marine Corps, and soon after volunteered for the ODST program.
During the course of the Insurrection, Cadmon was stationed on Jericho VII and later deployed to the jungles of Arcadia. Eventually, Cadmon would be stationed on the colony world of Andesia. Throughout his deployment, Cadmon enjoyed a close camaraderie with his brother, Thomas, and the two kept in contact regularly through video correspondence. This continued until Cadmon, and the entirety of his squad, was killed by rebel forces on Andesia. While Cadmon's death initially left his brother disheartened, Thomas eventually turned his brother's sacrifice into a source of inspiration. This helped lay the foundation for Thomas to play a vital role in the survival of humanity as an officer aboard the UNSC Infinity.
Related Experiences
Shows
Related Products
---
Set against the backdrop of a United Nations Space Command (UNSC) military academy, a group of cadets are training to be the next generation of leaders in the UNSC's ongoing war with insurrectionists in the outer colonial planets.
Halo: Escalation Volume 1 spans the first two actions-packed story arcs of the thrilling ongoing comic series from Chris Schlerf, lead writer of Halo 4.