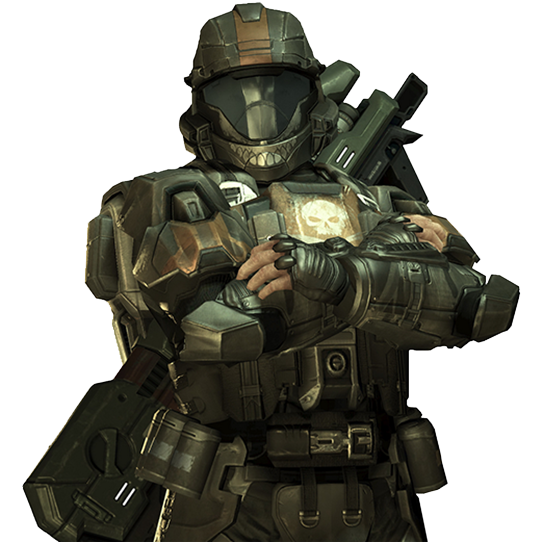 Dutch
Taylor "Dutch" Henry Miles
Rank:

Corporal

Species:

Human

Homeworld:

Mars

Service Number:

21175-12121-TM
Affiliation:

ODST

Height:

6ft 3in (190cm)

Weight:

200lbs (91kg)

Born:

June 3, 2519
Summary
Born on Mars in 2519, Taylor Miles began a career as a road train driver before joining the UNSC Marine Corps and later transitioning to the esteemed Orbital Drop Shock Troopers. It was there that he befriended Kojo "Romeo" Agu and his future wife, Gretchen Ketola. After their marriage, Gretchen was forced out of combat due to an irrecoverable injury. On October 20, 2552, Dutch was deployed in New Mombasa within the ODST squad Alpha-Nine, fighting against the Covenant, who had arrived only hours earlier. After tracking the enemy to a local ONI site, Dutch and the remainder of his squad secured data that revealed the Covenant's intentions on Earth - to locate an ancient artifact that led to the Ark installation.
POST WAR
Following the end of the war, Dutch took part in multiple engagements with Alpha-Nine, primarily against human insurgency groups vying to wrestle colonial control away from the UNSC. During an assault against a rebel stronghold on Draco III in 2554, the Rookie - his Alpha-Nine squadmate and friend - was executed by rebel leader Captain Ingridson. Nearly immediately, Dutch exacted a swift vengeance, engaging and killing Ingridson with his shotgun. Following the mission, Dutch decided that his time of service had finally come to an end, and retired from the UNSC shortly following the Rookie's funeral. Dutch currently resides with his wife Gretchen.
RELATED EXPERIENCES
GAMES
BOOKS
Shows
Comics
Related Products
---
With the Covenant War finally over, is it time for Gunnery Sergeant Edward Buck to finally retire to the sidelines for a life he could only dream about…or is he prepared to step up and become part of the military's new blood?
Halo 3: ODST drops players feet-first into the boots of the renowned Orbital Drop Shock Troopers.