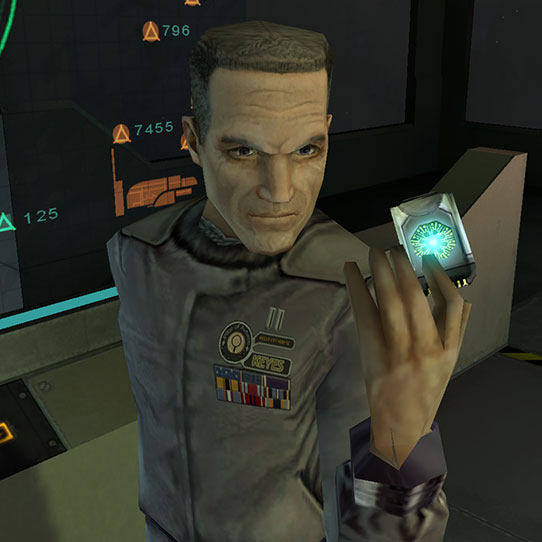 Jacob Keyes
Captain
Species:

Human

Homeworld:

Earth

Service Number:

01928-19912-JK

Affiliation:

UNSC Navy
Height:

6ft 4in (194.3cm)

Weight:

212lbs (96.2kg)

Born:

February 8, 2495

Died:

September 22, 2552
Summary
There are few men or women within the UNSC Navy who have shown the level of fortitude, valor, and courage that Captain Jacob Keyes has displayed over the last three decades of his military service. After a brief and daring skirmish near Sigma Octanus IV, Jacob Keyes was awarded the rank of Captain and the UNSC granted a rare victory in the Human-Covenant War. Only weeks later, he was pitted against the Covenant at the planet Reach and then at Halo, where he ultimately found his end in the clutches of the Flood. Nevertheless, Keyes' actions repeatedly proved his loyalty not only to the UNSC, but to all of humanity.
Family
In 2517, Keyes was chosen to assist Dr. Catherine Halsey in a top-secret endeavor to scout and select candidates for the fledgling SPARTAN-II program, an event which left a lasting impression on Keyes psychologically. In 2524, he was reunited with Halsey during a conference at the University of Calippus. This chance encounter evolved into a romantic liaison, and Halsey became pregnant with Miranda, who was be born on February 28, 2525 on Reach. Although still heavily involved in SPARTAN-II and MJOLNIR, Halsey attempted to raise Miranda on Reach for a number of years. When Miranda reached the age of six in 2531, she moved in with her father on Luna, as he had been removed from the front lines of the war due to injuries. Miranda followed the legacy of her father and join the UNSC Navy, gaining notoriety for her bravery and eventually the rank of commander.
Related Experiences
Games
Halo: Combat Evolved Anniversary
Halo: The Master Chief Collection
Halo: Reach
Books
Halo: The Fall of Reach
Halo: The Flood
Halo: First Strike
Halo: The Cole Protocol
Comics
Related Products
---
Halo Reach allows players to uncover the story before the events of Halo: Combat Evolved and play through one of the most pivotal moments in the Halo saga.
The UNSC wants you! Support Earth's finest soldiers with this graphic tee woven from cotton and featuring a retail-fit cut.