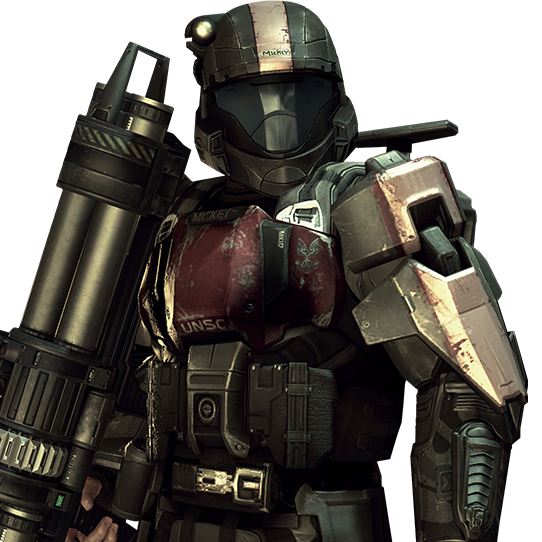 Mickey
Michael "Mickey" Crespo
Rank:

Private First Class

Species:

Human

Homeworld:

Luna

Service Number:

51033-15973-MC
Affiliation:

ODST

Height:

6ft (184cm)

Weight:

187.3lbs (85kg)

Born:

October 20, 2530
Summary
After enlisting in the Marines in 2548, Michael "Mickey" Crespo served as a Pelican crew chief and a demolitions specialist, eventually joining the ranks of the ODST. Over the relatively short time he served in the Corps, he proved himself to be not only a skilled pilot and seasoned explosives expert, but a dedicated teammate. On October 20, 2552, his squad, Alpha-Nine, was ordered to secure classified data from the Covenant in the besieged city of New Mombasa. Initially separated from his teammates, he assisted trapped Marine forces by leading a tank convoy down Kizingo Boulevard, through heavy Covenant occupation, in order to secure ONI Alpha Site.
After arriving and locating teammate Taylor "Dutch" Miles, the two worked together with the New Mombasa police force to secure and eventually level ONI's Alpha Site, an effort to prevent the Covenant access. After rendezvousing with rest of his squad, Mickey proved indispensable once more by securing a Covenant Phantom for egress. He ultimately used the same dropship to procure his teammates after they had succeeded in finding and seizing the classified data. Mickey and his team narrowly escaped the destruction of New Mombasa, but the success of their operation proved useful to the UNSC as they achieved victory in the war.
POST WAR
After humanity's long war with the Covenant, Mickey and the rest of Alpha-Nine began seeing the attention of their missions turn toward fighting human insurrection, something that he became increasingly uncomfortable with. One such mission on Draco III in 2554 led to the death of the Rookie during a fight in a rebel stronghold. The disillusionment that he harbored with the UNSC festered and grew, even throughout his transition from an ODST to SPARTAN-IV, and culminated in his formal defection in 2555, during a mission on Talitsa. What started as a rescue operation quickly turned bloody when Mickey turned on Romeo and Buck. During the ensuing conflict, Mickey would eventually be bested by his former friend and incarcerated for his crimes.
Related Experiences
Games
Books
Related Products
---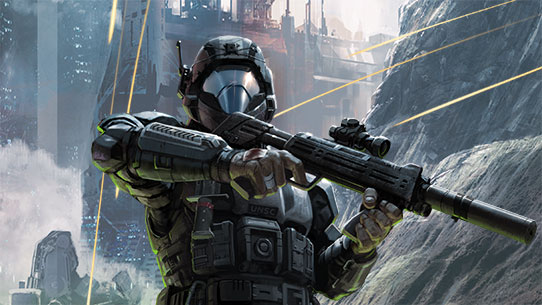 With the Covenant War finally over, is it time for Gunnery Sergeant Edward Buck to finally retire to the sidelines for a life he could only dream about…or is he prepared to step up and become part of the military's new blood?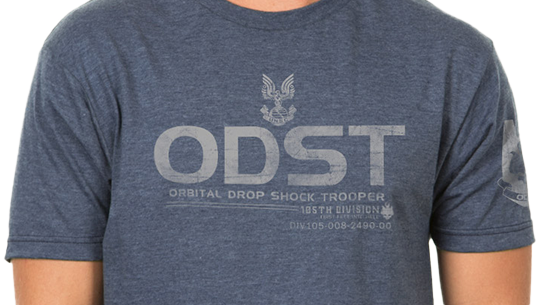 Get ready to drop with this ODST graphic tee knit from soft, breathable cotton, and featuring a slim-fit cut.