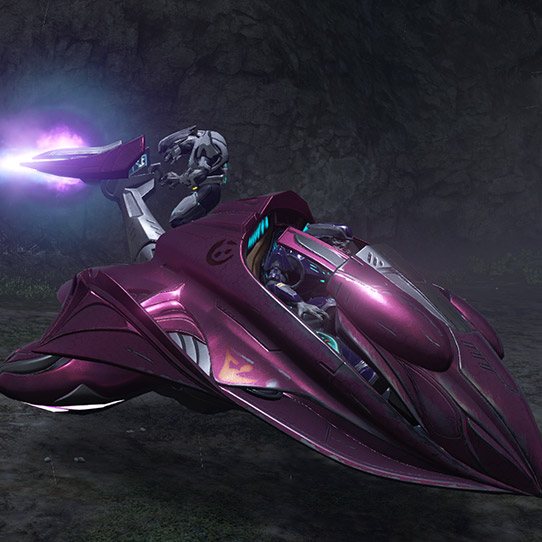 Spectre
T-46 Infantry Support Vehicle
Manufacturer:

Assembly Forges

First Observed:

2546

Crew:

1 Driver + 1 Gunner + 2 Passengers

Maximum Speed:

74mph (119km/H)
Length:

21.2ft (6.5m)

Width:

16.6ft (5.1m)

Height:

11.6ft (3.5m)

Weight:

3.8 Tons (3.5 Tonnes)
Summary
First officially observed in 2546 during the Battle of Sargasso, the Spectre is one of a number of vehicles the Covenant employ to support infantry in combat. It was widely employed in the conflicts that took place on Delta Halo in 2552.
The Spectre is a simple vehicle by Covenant standards, with a heavy frame supporting two boosted-gravity generators on each side, with the driver located at the front in a light-armored operator station. A gunner operates the plasma cannon in a full-rotation turret, and up to two additional passengers can be accomodated, along with whatever firepower they bring with them.
Armament
The Spectre's mounted energy turret is catalogued by the UNSC as the T-46 Directed Energy Weapon/Mounted.
Related Products
---
Build your own UNSC Pelican with this 3D metal model kit brought to you by Metal Earth.
Hop in the UNSC Flame Warthog by Mega Bloks!