Games
Halo: Fireteam Raven
Fight Alongside the Master Chief
---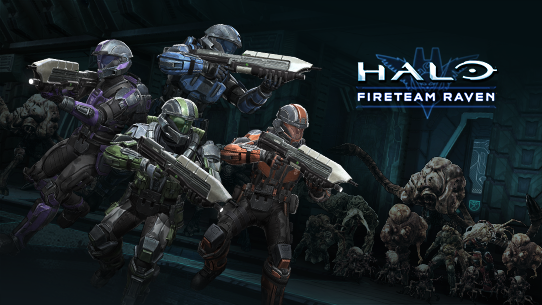 Halo: Fireteam Raven is a cooperative arcade sci-fi shooting game from arcade legends Raw Thrills and Play Mechanix in a unique partnership with 343 Industries. Set in the timeframe of Halo: Combat Evolved, this new arcade experience hot-drops players feet first into the boots of Fireteam Raven – a group of elite Orbital Drop Shock Troopers (ODST) on the surface of Alpha Halo fighting alongside the Master Chief and the rest of the UNSC as they try desperately to prevent the alien Covenant alliance from taking control of the ancient superweapon.
A Halo Experience Like Nothing Else
---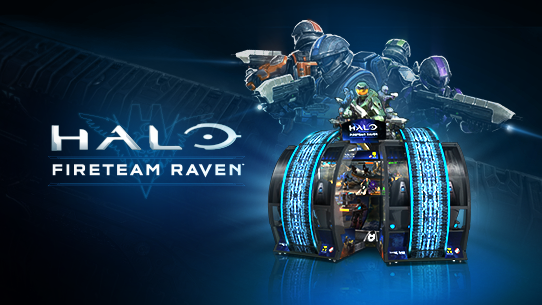 Halo: Fireteam Raven is housed in a massive, epic, and imposing coin-operated arcade machine designed and built by Raw Thrills and Play Mechanix. An enormous 130-inch, 4k screen experience and four turret-mounted, multipurpose machine guns allow four players to fight Covenant troops, spacecraft, and vehicles, encounter the horrifying "Flood" infestation -- and save the galaxy in frenetic, explosive combat. Scatter all this across a wide variety of epic landscapes and encounters in a cooperative experience and you've got a Halo adventure like nothing else you've ever played in the franchise. Play Halo: Fireteam Raven first this summer at Dave & Busters in the United States and Canada. Expanding to more locations this Fall.
Stats and Rewards on Halo Waypoint
---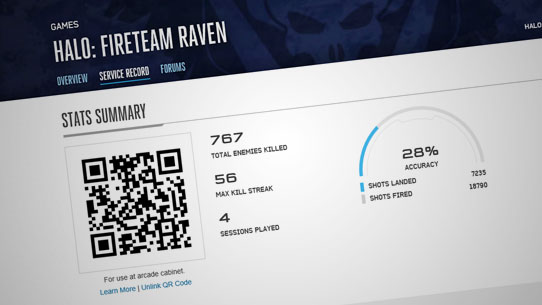 Track your performance and earn rewards by logging in to the Halo: Fireteam Raven arcade cabinet. Follow the steps below to log in to your Xbox Live account with a QR tag:
Visit the Halo: Fireteam Raven Service Record
Generate a QR tag for your account
Scan your QR tag before your play session begins
Return to Halo Waypoint to view stats and claim rewards
Please allow up to eight hours for rewards to be delivered on Halo Waypoint. If you encounter any problems during your arcade experience, please contact Play Mechanix support at 1-630-942-1070.
Halo: Fireteam Raven - Media Gallery
---
Game Details
---
Release Date
--
Developer
Play Mechanix
Publisher
Raw Thrills
Genre
--
Players
1-4
Co-op
1-4
Online Multiplayer
--
Online Co-op
--
System Link
--