Spartan Company
---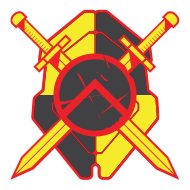 from ashes fire shall be woken
96 Members
Est. 4/20/2016
Update (Jan 23, 2018). Our roster has been fully rebuilt. We'll still take new applicants to replace members who are not remaining active. Requests to join that do not indicate this bio page has been read/understood will be ignored. Oh yeah...if you are looking for the Achilles armor, look elsewhere...we've already unlocked it...go find a company that hasn't unlocked it yet if you want it. We are only grinding for the helmet. Any new members that are accepted must put in extra work to remain in the company.
On November 6th 2017, this company began the painful process of rebuilding itself and regaining its lost momentum toward the Achilles helmet. Several members have certainly earned their helmets getting the company to where it is. They have done enough. They will taken in by other We Need Achilles companies nearing the helmet unlock. This will free up some space for new blood to join in and earn their helmets. All members of this company, new and old, are required to accumulate a fair share of the remaining
Spartan Company Kill Commendations
to be rewarded with the Achilles helmet unlock. Fair warning: members with insufficient participation (ie. accumulated comms scores) will be discharged prior to the unlock.
Requirements to join:
1. You
MUST
join our company Discord (see below for an explanation about Discord). If your join request shows merit, you will be sent a link to our Discord. We will not accept you into the company until you check in with us on our Discord server. (Note: if you are new to Discord please make your Discord name
IDENTICAL
to your gamertag; if you already have a Discord account and your username is not identical to your gamertag, please adopt a nickname identical to your gamertag right after you join our Discord server).
2. You
MUST
be prepared to earn these comms scores by the time this company arrives at the helmet (missing ones can sometimes be made up for by doubling/tripling down on others; once a commendation is complete, members don't accumulate more credits against it):
(a) 5800 Standard Issue: kills of enemy Spartans with a standard loadout weapon
(b) 4400 Something On Your Face: headshot kills of enemy Spartans
(d) 580 Sorry Mate: marine kills
(e) 580 Look Ma No Pin: nade kills of enemy Spartans
(f) 450 Road Trip: use a ground vehicle to kill of enemy Spartans [hog turrets don't count]
(g) 290 Too Fast For You: kills of enemy Spartans who shot you first
(h) 145 The Pain Train: Spartan charge kills of enemy Spartans
(i) 75 From Downtown: earn longshot kills of enemy Spartans
(j) 75 Lawnmower: splatter kill of enemy Spartans with vehicles
(k) 60 Lucky: earn last shot, cluster luck, or sayonara kills of enemy Spartans
(l) 15 Forgot To Pay The Toll: snipe kills of enemy Spartans occupying a moving vehicle
Discord
. Discord is a messaging app built for gamers and it is available for installation on mobile (android/iOS), desktop (windows/macOS), or can be accessed through any web browser at
https://discordapp.com/
. It can also be installed on the xbox one dashboard, but it's still new and pretty clunky and awkward to use.
WHY IS DISCORD SO IMPORTANT TO US?
Because our company uses a bot to monitor members' activity and scoring stats.....and members access that bot to monitor their own activity and scoring stats using Discord.
Ok? If you're up for it, submit a join request and indicate you have read the above by saying "DANGEROUS" in your message.
Map name: Claudron
Author: CAMILLO2010
Futuristic court inspired by precursors and vex

Screenshot: https://www.halowaypoint.com/pl-pl/games/halo-5-guardians/xbox-one/screenshots?page=1&gamertag=C...

Feet First
Made your first hot drop into HaloWaypoint.com

Statistician
View your Service Record on the web.

Enlisted
Become a member of an active Spartan Company.